New Age Islam News Bureau
09 December 2021
• Honour Killing: Woman Shot Dead On Peshawar Court Premises by Brother and Father
• Black Muslim Woman, Deqa Dhalac, Elected As Mayor in Majority White City in US, Maine
• Progress for Saudi Women Is Uneven, Despite Cultural Changes and More Jobs
• Women Seek Diverse Paths to Leadership In Islamic Spaces
• Farida Osman Inspires a Generation of Arab Female Athletes as Her Eyes Glory At FINA World
• New Riyadh 'Innovation Lab' To Focus on Developing Saudi Women's ICT Skills
Compiled by New Age Islam News Bureau
URL: https://www.newageislam.com/islam-women-feminism/sheikh-hasina-bagladesh-equal-rights-women/d/125930
--------
In Islam, Girls Have Been Given Equal Rights; Move Forward Breaking Barriers: Bangladesh PM Sheikh Hasina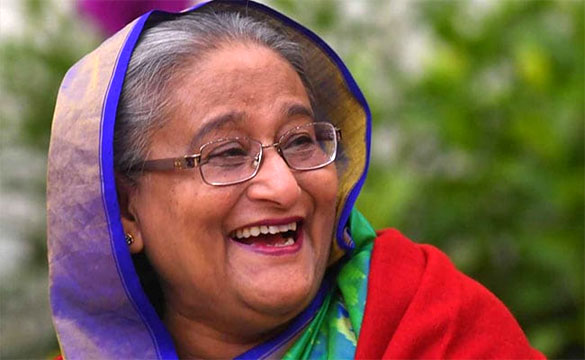 File photo: Prime Minister Sheikh Hasina
-----
December 9th, 2021
Women have to overcome every obstacle that appears before them, says Sheikh Hasina
Prime Minister Sheikh Hasina on Thursday urged women to move forward breaking all social barriers – big or small – taking the path shown by Begum Rokeya, a pioneer of women's rights.
"Once you move forward breaking through this stalemate, there'll be no more obstacles. And in Islam, girls have been given rights… equal rights (for men and women) are there. Even then, such obstacles appear and will appear in our country. But we've to overcome these obstacles and move forward," she said.
The prime minister was addressing the Begum Rokeya Padak 2021 award giving ceremony and celebrations of Begum Rokeya Day 2021, joining it virtually from her official residence Ganabhaban.
The Women and Children Affairs Ministry arranged the program at the city's Osmani Smriti Auditorium, marking the 141th birth and the 89th death anniversary of Begum Rokeya Shakhawat Hossain, a pioneer of women's rights in the subcontinent.
Describing Begum Rokeya as a model for women, the prime minister said: "If she had not lit the light of education by breaking the social stalemate (for women), we wouldn't have been able to go forward so far today. She showed us the path. She made us move forward on the path of light."
Sheikh Hasina said her government has largely been able to fulfil the dream of Begum Rokeya.
She, however, said the thing that hurts her the most is violence against women. Though the government has enacted laws against rape, women's repression and domestic violence, it is essential to change the mindset of men to stop violence against women, she said.
"We've to change our mentality and bring changes in our minds. Here trust is the most important thing. We've to believe that women are not just objects of enjoyment, women are co-fighters and co-partners, and they have to move forward equally and be given equal rights," she said.
Five eminent women personalities were honoured with the prestigious Begum Rokeya Padak 2021 for their outstanding contributions to women empowerment and social development.
On behalf of the prime minister, State Minister for Women and Children Affairs Fazilatun Nessa Indira handed over the medals and certificates to the recipients and their relatives.
The recipients are Prof Hasina Zakaria Bela, Archana Biswas, Shamsunnahar Rahman Paran (posthumous), Dr Zinat Huda and Dr Saria Sultana.
Prof Hasina Zakaria Bela also spoke at the function conducted by Women and Children Affairs Secretary Sayedul Islam.
Spelling out the government's measures taken for women empowerment, the prime minister said she had taken some steps for women's economic freedom after forming the government in 1996.
She said her government made women's education free and kept 60% posts of teachers reserved in primary schools for women. Following the steps, many parents did not prevent their girls from continuing their education, she said.
When the government introduced women's football in the country, it faced many obstacles, the prime minister said.
Sheikh Hasina said women have now been given the scope to join every sector, including the judiciary, army, navy, air force and BGB.
She said the female officers of the Bangladesh Army, Air Force and police are doing very well in UN peacekeeping missions. So, the demand for Bangladeshi women is high in UN peacekeeping missions, she added.
"Our girls are now working in many risky places. They're also operating fighter planes. So, Girls are no longer lagging behind in any area. The biggest thing is that women can do better than men in some cases," she said.
Sheikh Hasina urged all to pray for her daughter Saima Wazed Putul, a globally renowned autism activist, on her birthday on Thursday.
Source: Dhaka Tribune
https://www.dhakatribune.com/bangladesh/2021/12/09/prime-minister-sheikh-hasina-calls-for-changing-mindset-about-women
--------
Honour Killing: Woman shot dead on Peshawar court premises by Brother and Father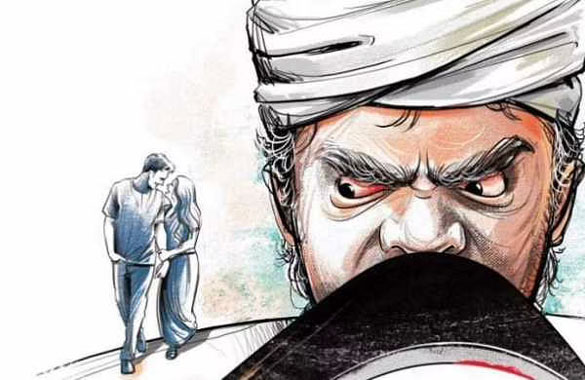 (Representational Photo)
-----
December 9, 2021
PESHAWAR: Relatives shot dead a woman for honour on the premises of a court here on Wednesday.
The incident took place inside the judicial complex located on the Khyber Road in the limits of east cantonment police station.
The police identified the accused as a brother and father of the slain woman.
An official of the east cantonment police station told Dawn that the woman belonged to Sheru Jhangi area. He said the woman had eloped with a man from Bannu about a month ago.
He said the victim was detained by the Bannu police and handed over to the Khazana police, which had presented her in court.
However, her brother and father shot her dead on the court premises.
The police official said they had taken both the accused into custody after the firing, and were investigating how they managed to enter the court premises carrying a gun despite screening.
The police registered FIR of the murder.
Source: Dawn
https://www.dawn.com/news/1662734/woman-shot-dead-on-peshawar-court-premises
--------
Black Muslim Woman, Deqa Dhalac, Elected As Mayor in Majority White City in US, Maine
Islam Dogru
08.12.2021
NEW YORK
A Black woman in the US was elected mayor in the state of Maine in a city with a 90% white population.
Deqa Dhalac, 53, became the first Black Muslim mayor of South Portland, a small city on Maine's southern coast, on Tuesday.
South Portland's other city councilors -- all white -- unanimously voted for Dhalac, who came to the US in 1992 after civil war broke out in Somalia.
According to New American Leaders, a group that trains and supports immigrants, refugees, and other diverse candidates for government positions, Dhalac is the first Somali-American mayor in the US.
"As a Black, immigrant, and Muslim woman who was previously the first Black person and first Muslim elected to the South Portland City Council, Mayor Dhalac is a force for positive change in her community," the group said on Instagram.
"We couldn't be more proud to have her in our network of New American elected officials and look forward to all of the amazing things she will accomplish as South Portland Mayor," it added.
Speaking at the inauguration ceremony, Dhalac said: "People will always have some kind of reservation ... but will get to know you, listen to you and see who you are through that."
Saying that she decided to enter politics against the Islamophobic policies of former US President Donald Trump, Dhalac said she hopes her election will set an example for other minority groups and new generations in the country.
When she was running for City Council elections in 2018, people were afraid to open the door to her when she knocked to ask for their vote, she said, adding that some thought she did not speak English.
She expressed her pride at setting an example to future generations who are in a similar position as she is now.
Source: Anadolu Agency
https://www.aa.com.tr/en/americas/black-muslim-woman-elected-as-mayor-in-majority-white-city-in-us-maine/2442010
--------
Progress for Saudi Women Is Uneven, Despite Cultural Changes and More Jobs
By Kate Kelly
Dec. 9, 2021
RIYADH, Saudi Arabia — At the cramped shop where Kholoud Ahmed sells the traditional Muslim women's gowns known as abayas, the rainbow of colors is a revelation.
In the past, women in Riyadh typically dressed in the same black abaya no matter where they were going. Now, observed Ms. Ahmed, 21, there's a differently colored or styled abaya for every occasion: weddings, meeting friends at a cafe, visiting parents.
"Colored abayas used to be a strange thing for us in Riyadh, something unusual," said Ms. Ahmed, the store's clerk. "Within a year it has significantly changed. It has become normal nowadays."
Since Crown Prince Mohammed bin Salman became Saudi Arabia's de facto leader more than four years ago, he has promised new opportunities for Saudi women as part of a broad modernization plan called Vision 2030.
The plan, which is advertised across Riyadh on posters and flags, is meant to wean the kingdom away from its historical reliance on oil and shift it toward new industries, including technology, pharmaceuticals and tourism.
But to create more job opportunities for Saudis and draw international investors and corporations to the desert monarchy, Prince Mohammed is also chipping away at the conservative culture that has kept many women close to home for years and scared away many foreigners.
Over the last five years, the percentage of women working outside the home has almost doubled, according to official statistics, to 32 percent from nearly 18 percent. Women today serve as customs officials at the King Khalid International Airport in Riyadh, client relationship managers at banks and hostesses at restaurants.
In addition to changes in the workplace, public space is becoming less strictly segregated by sex. In coffee shops in Riyadh like Overdose (motto: "Caffeine, it's my drug of choice"), male and female customers can now sip lattes in mixed company.
Women can attend certain sporting events at stadiums, which was forbidden until a few years ago. They are no longer required to use separate entrances from men although some establishments still use them. They can also now apply for passports, live by themselves and travel on their own.
But the progress has been uneven.
The guardianship system, which despite some recent reforms is still in place, means that women must rely on permission from men — often their fathers or husbands, but in some cases their sons — to enter into marriages and make key decisions.
One prominent women's rights activist was jailed for three years after pushing publicly for some of the very changes Prince Mohammed wanted to make — including allowing women to drive. She has since been released and has published a research paper on the status of Saudi women.
Those fits and starts are also evident in quotidian ways. Women's attire in Riyadh, though more relaxed than a few years ago, is still far from liberal; even women who avoid abayas wear clothes with long sleeves, high necklines and low hemlines.
They may be using money from their newly earned paychecks to shop for kitten-heeled boots and slip dresses at Zara, but such outfits are still worn only in private settings.
"It's not like before, like you have to wear, like, hijab and everything," said Marwa, a 19-year-old university student who was shopping at Ms. Ahmed's shop, referring to the traditional head scarf worn by Saudi women. "Now you can have free choice, but limited. It's not like you are showing parts of your body."
However much things have changed, the culture remains sufficiently conservative — and cautious of angering the authorities — that Marwa, like many of the Riyadh residents interviewed for this article, declined to give her full name.
Marwa said other cultural changes, like allowing store owners to remain open during prayer time to accommodate both merchants and shoppers, created problems of their own.
Some people who are devout and would pray no matter what, she said, could be offended by the business-as-usual attitude. "It's like you're not respecting the prayer time," she said. Her friend Alaa — who wore sweatpants and sneakers under her abaya and sported a wrist tattoo that said "Trust no one" — nodded.
During the call to prayer a few minutes later, a number of male store workers nearby locked their doors and walked to the mall's prayer room on an upper floor. On the ground floor, about 10 women, patrons who were wearing black abayas and hijabs, took rugs from a corner pile and knelt on them to pray. Other women sat quietly on benches, watching their children ride around in battery-operated toy cars.
A 52-year-old father of six, who gave only a nickname, Abu Abdullah, said he saw the benefits of more flexible prayer times and new opportunities for women. "During traveling, we don't pray," he said. "Even women, they don't pray for seven days," referring to the fact that women are forbidden to pray when they are menstruating.
Several of Abu Abdullah's five daughters were standing nearby, eating buttered corn and French fries. One of them, Nout al-Qahtani, 13, said she was thrilled about the changes for women in Saudi Arabia. "I want to work," she said. "I really want to be a doctor."
Her father noted that not every dream job would be appropriate.
"Some jobs don't fit for some women," he said, citing roles in plumbing and construction work as examples. "It's better to put her in the right place," he added.
Five miles north of the mall, a local soccer club, Al Shabab, was playing an out-of-town team at Prince Faisal bin Fahd Stadium. It was a mild evening, and the crowd was animated when the home team scored. On the men's side of the stadium, hundreds of men jumped to their feet, chanting and clapping for the players.
Across the stadium on what's known as the family side, where women and children were directed to sit, Najiba, a nurse at the hospital complex King Fahd Medical City, was watching with two colleagues. Although women have been able to go to sports events in Saudi since 2018, it was only her second time at a match.
Najiba, 34, and her friends said that they were seeing far more Saudi women working at the hospital in recent years, and that the idea of women in medical careers had become more palatable to families who might previously have considered a mixed-gender working environment problematic.
"Now the family accepts if they have a daughter or a wife working in health care," said Najiba, who was a nurse in a neonatal intensive care unit for years before taking on an administrative role.
Below the nurses, a few children were playing in the front row. One child, who had been running around and yelling, was scolded by a female security guard.
Several female spectators said they never missed a match. One, a 29-year-old manager at the Saudi British Bank attending with her brother, spoke highly of Riyadh's new entertainment options and the growing economic opportunities for women. "We're so excited," she said.
A little after 9:30 p.m., the match ended in a 3-0 victory for Al Shabab.
As the crowd dispersed, one of its star players, the midfielder Hattan Bahebri, was signing autographs for dozens of fans through the fence that separated the stands from the field.
At one point, he held his hands in a heart shape in front of him. A clutch of men encircled the player, some with children hoisted on their shoulders. But one woman, her pink-tinted sunglasses atop her hijab, walked to the front of the crowd, raised her phone and got the shot.
Kate Kelly covers money, influence, and policy as a correspondent in the Washington bureau of the Times. Before that, she spent twenty years covering Wall Street deals, key players and their intersection with politics. She is the author of three books, including "The Education of Brett Kavanaugh." @katekelly
Source: New York Times
https://www.nytimes.com/2021/12/09/world/middleeast/saudi-arabia-women-mbs.html
--------
Women seek diverse paths to leadership in Islamic spaces
9 December 2021
CAIRO -- Shortly after Kholoud al-Faqeeh was appointed judge in an Islamic religious court in the Palestinian territories, a woman walked in, laid eyes on her and turned around and walked out, murmuring that she didn't want a woman to rule in her case.
Al-Faqeeh was saddened, but not surprised — people have long been accustomed to seeing turbaned men in her place. It was only in 2009 that she became one of the first two women appointed in the West Bank as Islamic religious court judges. But she sees her presence on the court as all the more important since it rules on personal status matters ranging from divorce and alimony to custody and inheritance.
"What was even more provoking is that these religious courts are in charge of women's cases," al-Faqeeh said. "A woman's whole life cycle is before these courts."
Women like al-Faqeeh are increasingly carving out space for themselves in the Islamic sphere and, in doing so, paving the way for others to follow in their footsteps. Around the world, women are teaching in Islamic schools and universities, leading Quran study circles, preaching and otherwise providing religious guidance to the faithful.
———
This story is part of a series by The Associated Press and Religion News Service on women's roles in male-led religions.
———
The formal ranks of Islamic leadership remain largely filled with men, but while women don't lead mixed-gender congregational prayers in traditional Muslim settings, many say they see plenty of other paths to leadership.
"When it comes to knowledge, the leader who is the religious scholar, the spiritual guide, the one who is teaching people their religion ... that can be done by women or men, and historically always has been," said Ingrid Mattson, the London and Windsor Community Chair in Islamic Studies at Huron University College in London, Ontario.
There are diverse views across the different regions, cultures and schools of Islamic thought about the permissibility and scope of women's leadership roles in the faith.
Some of the Prophet Muhammad's traditions and practices were preserved and transmitted by the women closest to him, such as his wives. Many women say that provides a foundation they seek to build on.
Mattson said that people always ask whether a woman can be an imam, but that framing reflects a Western context focused on the weekly congregational prayer rather than "what our Islamic heritage did in terms of providing religious leadership across society to meet many different needs."
Aziza Moufid, a 40-year-old in Morocco, is one of those who have taken up the mantle of leadership within the faith, in her case by serving as one of the country's "mourchidat," or female religious guides.
The "mourchidat" are trained at an institute for male and female students founded by and named after Moroccan King Mohammed VI. Women graduates teach religion classes and answer women's questions at mosques or during outreach work in schools, hospitals and prisons.
Moufid, who recalls looking up to the female university professors who taught her Islamic studies, has been working as a guide mostly via WhatsApp during the pandemic. She uses the platform to explain sayings of the prophet to children; to help women learning to memorize and recite the Quran; and to counsel teenage girls about a myriad of topics from modesty to prayers to menstruation.
"There are sensitive issues that some of them may not dare discuss even with their mothers or sisters," Moufid said. "But there's no such shame between us. I tell them, 'I am your sister. I am your friend. I am your mother.'"
Mohammed VI institute director Abdesselam Lazaar, who is a man, said the services of the "mourchidat" have been in high demand: "The women here in Morocco are very keen on memorizing the Quran and learning about religion."
Half a world away in the United States, Samia Omar, who became Harvard University's first Muslim woman chaplain in 2019, said female students there similarly appreciate being able to bring questions about things like menstruation to her instead of to a man.
Omar also sees herself as saving them from being taught a version of Islam devoid of discussion of their rights.
"I'm serving and teaching these young girls and women the way I hope other women will help teach my daughters later," she said.
Omar didn't always plan to become a religious leader. But the twists and turns of her life, including an abusive marriage, a divorce and losing a daughter to cancer, led her to the calling she now practices alongside her current husband, who also serves as a Muslim chaplain.
During the divorce, some at her mosque tried to dissuade her from turning to the legal system. She ignored that pressure and ultimately won full custody of her kids, but the experience left Omar feeling that some men exploit the religion to oppress women.
That can have grave spiritual consequences, Omar said: "Many young women don't understand that we're important in Allah's eyes."
Many in the U.S. have advocated for a larger role for women in mosques, from better prayer spaces for female worshippers to more seats on governing boards and a more friendly mosque culture. Some are also calling for a more decentralized leadership model at mosques, one that includes a paid female resident scholar in addition to a male imam.
While there is hope for such advances, "things are not great for women in leadership ... in our sacred spaces," right now, said Tamara Gray of Rabata, a nonprofit working to empower Muslim women to imagine themselves as leaders, scholars and teachers.
Change takes "a lot of patience and a lot of discussion and a lot of just being able to be courageous," Gray said, adding that Islamic scholarship by women is sometimes met with distrust in Muslim communities.
To that end she founded the Minnesota-based nonprofit, whose programs include online courses in Islamic sciences. Through virtual gatherings focused on spiritual growth and worship, Gray said, women are able to experience being in a sacred space and then "go back to their own mosque and insist, really, that their mosque make them feel valued, respected, seen."
During a recent virtual event joined by dozens of women, there were tears, laughter and ululations as the group celebrated Gray's receipt of a certificate authorizing her to teach certain sayings and traditions of the prophet.
"The words of the prophet ... they are weightier than a mountain of gold," Gray told the group.
Promoting women's spiritual leadership is crucial to keeping Muslims connected to their faith in America, in the eyes of Celene Ibrahim, a chaplain who researches gender and Islam.
"You can't carry this on your own," Ibrahim said, referring to male religious leaders. "This is a big task, and it's an all-hands-on-deck kind of task."
Al-Faqeeh, the judge, said that women's long absence from judgeships in the Palestinian Islamic court owed in part to custom and to the fact that many viewed the post "as a religious position, like that of an imam."
On the contrary, she said she saw it as a judicial one that relies on the rulings of the Islamic Shariah, and argued that there are no reasons to exclude women.
There were bumps in the road, both big and small, after her appointment, as some male judges and court employees seemed less than happy about it. Opposition also came in the form of a Friday sermon that she did not attend but in which, she was told, the speaker railed against allowing women to hold the position.
But things have gone smoother since, and she often senses relief on the part of women with cases before the court who feel they can talk openly to her about sensitive personal issues. "The once-impossible dream became possible," al-Faqeeh said.
Reem Shanti, 40, who recently applied to become a judge on the religious court and considers al-Faqeeh a role model, said the appointment of women has opened up a world of possibilities for her and others.
"It provided women with an incentive," Shanti said, "and gave them a strong push."
———
Khan reported from Boston. Associated Press journalist Mosa'ab Elshamy, in Rabat, Morocco, contributed.
———
Associated Press religion coverage receives support from the Lilly Endowment through The Conversation U.S. The AP is solely responsible for this content.
Source: ABC News
https://abcnews.go.com/International/wireStory/women-seek-diverse-paths-leadership-islamic-spaces-81625988
--------
Farida Osman Inspires a Generation of Arab Female Athletes as Her Eyes Glory At FINA World
December 08, 2021
The first time I saw Farida Osman in action, she was 16 years old and was obliterating the field at the 2011 Pan Arab Games in Doha, clinching seven gold medals in the pool and making it look easy in the process.
A decade later, the Egyptian has firmly established herself as the fastest female swimmer in Africa and the Arab world and is the only athlete from her nation to ever make the podium at the FINA World Swimming Championships, snagging bronze in both 2017 and 2019 in the 50m butterfly.
The three-time Olympian holds the African record in the 50m freestyle and 50m butterfly in long course, as well as the 50m freestyle and 50m and 100m butterfly in short course.
A trailblazer for women's sports in the region, Osman arrives in Abu Dhabi next week as one of the faces of the upcoming FINA World Swimming Championships (25m), set to take place at Etihad Arena from Dec. 16-21.
Inspiring a region
From an early age, the 26-year-old realized she was swimming for more than just herself, as she made history for an entire region with every new milestone she hit in the pool.
"Honestly, I think my main purpose is just to inspire people, especially women at a young age, to pursue not only swimming but sports in general," Osman told Arab News in a phone interview last week.
"I feel like swimming and sports give you so much more than just medals and achievements. They give you a healthy lifestyle. You learn stuff about yourself like strengths and weaknesses, discipline, and all these things will help you eventually in your life.
"Our region isn't really big on swimming for females, so I personally want to defy those odds and break the stereotype that says that women, when they reach a certain age, cannot do sports or cannot swim.
"I want to always inspire others to do that and hopefully my journey, with its ups and downs, will show that while it's not an easy road, it's worth it."
Whatever it takes
It certainly has not been an easy road for Osman. The Cairene went to great lengths to fulfill her dreams, starting with her move to the US as a teenager to study and swim at the University of California, Berkeley.
Sharing a Cal Bears roster with the likes of five-time Olympic gold medalist Missy Franklin, Osman thrived during her university years, setting school records, clinching NCAA titles and putting Egypt on the world swimming map along the way.
Her successful college experience, coupled with her history-making performances at global meets, sparked a swimming revolution back home, as scores of swimmers decided to follow suit and accept athletic scholarships for top swimming programs at universities in the US.
"I think just by going there, being myself and showing that I could still be an Egyptian girl even living away from home is what encouraged other Egyptians, men and women, from a young age to go to the US for university because, honestly, it does give you the best of both worlds," explained Osman.
"In Egypt, when we reach a certain age, unfortunately, we have to choose either sports or academics because it's so hard to balance both. But the best thing in the US is that everything is on campus, everything is tailored toward you, and you have the resources to help you to perform your best in both swimming and academics."
'Toughest two years of my life'
After spending five years training at Berkeley, Osman felt like she needed a change and wanted to make the most out of the two-year period in the build-up to the 2020 Tokyo Olympics.
With the main goal of improving her 100 fly, Osman moved to Blacksburg, Virginia to train under Spanish coach Sergio Lopez. She was warned it would be a difficult transition, leaving sunny California behind and the relationships she built there in favor of training under Lopez in a relatively remote setting, but Osman was willing to do whatever it took to be ready for the Olympic Games.
"Mentally, I wasn't really prepared for how challenging it was going to be outside of swimming," admitted Osman, who described her time ahead of Tokyo as the "toughest two years" of her life in swimming.
The Egyptian explained how the postponement of the Games due to the pandemic hit her hard, and the challenge of having no social life in Virginia that would help her recharge between training was not easy to navigate.
Traveling to new places and meeting new people at competitions, which she said was the fun thing about being a professional swimmer, was not possible because of the pandemic, and she was mentally drained by the time the postponed Olympics came along. A glitch during the taper before the Games also did not help.
"The build-up — physical, mental, emotional — means that you're ready to perform, you're literally like a machine ready to explode. Up to 2020, everything in my life was on hold and I was just focusing on swimming," said Osman.
"I personally recharge from being social, going out with my friends, having a nice dinner. Because there was nothing to do during the two years in Virginia, I felt like I was always on low battery. I wasn't even mentally recharging.
"So, I think that was the hardest part. Instead of mentally preparing to compete then, in 2020, I had to extend it for another year in a location that was really hard to be at in the first place. And with the pandemic, there were no breaks; I was just stuck in one place."
Returning to her roots
The Tokyo Olympics did not go according to plan, and Osman took a month off upon returning to Cairo in August to recover and reset. It was the longest break she had ever taken from swimming, and it allowed her to reconnect with family and friends.
Instead of returning to the US, Osman decided she needed to stay at home after eight years of living abroad. She has been training solo in Cairo, working with Egyptian coach Sherif Habib with some consultation from her coaches in the US.
"I just wanted to be home, especially after a really hard two years," said Osman.
Training in Egypt naturally has its pros and cons. Besides being close to family, Osman is benefitting from having practices that are tailored to her needs as opposed to those of a larger group of swimmers. But her current situation can also feel like a lonely experience at times.
"That's the worst part. If I stay here, I have to be okay with the fact that I'm going to train alone. Sadly, there isn't anyone I can actually train with here, girls or boys," she said.
'I'm really honored'
When she got the call from FINA about being named an ambassador for the World Championships in Abu Dhabi, Osman was reminded of how much she has given the sport and the role she has played in vitalizing swimming in the region.
"I'm really honored. It was really nice, especially given that it came after Tokyo. It reminded me that what happened in Tokyo does not define your whole career," said Osman.
"I've done so much for this sport and so much for Egypt, Africa, the Middle East, this region, and I feel like being an ambassador was just proof that I'm so much more than what happened in Tokyo."
Reigniting the spark
Osman is approaching these championships "pressure-free" and is on a journey to rediscover her passion for the sport more than a decade after she was crowned a junior world champion in the 50m butterfly in Lima, Peru.
"I'm just doing this for myself. I know I can do so much better than what I did in Tokyo, so I feel like this is a way to prove to myself that it was a mishap and something just went wrong and it's not like I'm no longer a good swimmer. So, this is something that I'm excited about," she said.
"I'm taking this year to just focus on myself. I want to just swim for myself. I want to enjoy it again. I want to feel happy that I'm swimming again."
Osman's biggest crowning moments were her World Championship medals in Budapest 2017 and Gwangju 2019. On both occasions, she shared the 50 fly podium with Olympic and world champions Sarah Sjostrom and Ranomi Kromowidjojo and proved she belonged among the very best on one of the sport's grandest stages.
"I feel like 2019 was definitely harder for me. Emotionally, I just felt the pressure of the expectation," she recalled.
"It was a moment for me just to remember that now I've become part of something bigger than myself. It's not just me swimming for myself; now I feel like there's a whole world behind me. In 2019, as happy as I was to get the medal again, it was twice as hard."
Looking ahead, Osman is hoping to get back to swimming personal best times as she builds toward next year's long course FINA World Championships in Fukuoka, Japan. She is not contemplating retirement just yet but feels like she wants to end her career on a high.
"I feel like I haven't swum best times in a really long time. So, I think just getting there would definitely be an achievement for me. And obviously, when I go a best time, I'm looking at medals and finals and stuff like that. But I think once you focus on your time, the rest just takes care of itself," she concluded.
Farida Osman will be swimming the 50m and 100m butterfly and freestyle events in Abu Dhabi.
Source: Arab News
https://www.arabnews.com/node/1983256/sport
--------
New Riyadh 'innovation lab' to focus on developing Saudi women's ICT skills
December 07, 2021
DUBAI: As more women join Saudi Arabia's workforce, a multinational company is setting up an "innovation lab" to support digital skills development.
The new platform, created by India's Tata Consultancy Services, will work with startups and universities to provide participants, particularly women, a chance to "explore and innovate with new technologies."
Women's participation in the Kingdom's workforce has increased from 20 percent in 2018 to 33 percent in 2020 — a 64 percent rise in just two years.
Although the all-women center will focus on developing IT and digital-related skills, Tata said it will also support participants to pursue long-term careers in finance, accounting, human resource operations, and supply chain management.
Several representatives from different Saudi bodies were present at the inauguration, including Ahmed Altheneyan, the deputy minister for future jobs and digital entrepreneurship.
Source: Arab News
https://www.arabnews.com/node/1982391/business-economy
--------
URL: https://www.newageislam.com/islam-women-feminism/sheikh-hasina-bagladesh-equal-rights-women/d/125930
New Age Islam, Islam Online, Islamic Website, African Muslim News, Arab World News, South Asia News, Indian Muslim News, World Muslim News, Women in Islam, Islamic Feminism, Arab Women, Women In Arab, Islamophobia in America, Muslim Women in West, Islam Women and Feminism