New Age Islam News Bureau
1 Jun 2017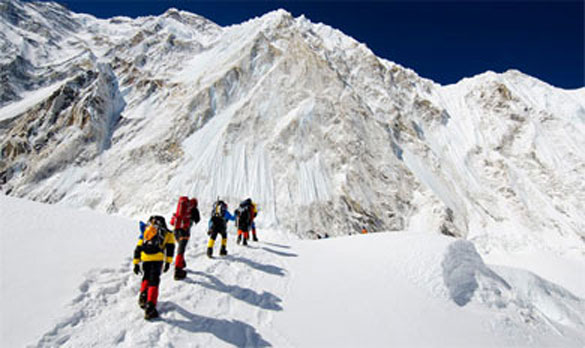 A Chinese Muslim woman from Northwest China's Xinjiang Uyghur Autonomous Region has successfully scaled Mount Everest.
----
• Sayeeda Warsi Hopes Women Will Give Up Burqa Themselves
• Chinese Muslim Woman Scales Mount Everest
• Muslim Women in Philippines Confront ISIS Terrorists, Save Christian Lives
• Jalandhar Woman Sold In Saudi Arabia Returns Home
• Indonesian Muslim Women Engage With Feminism
• Saudi Prince Supports Women Driving
Compiled by New Age Islam News Bureau
URL: https://www.newageislam.com/islam-women-feminism/in-indonesia-female-clerics-seek/d/111373
--------
In Indonesia, Female Clerics Seek Recognition and Rights for Women
June 1, 2017
"WHY IS THERE nothing written in the Quran or the [Book of] Hadith about husbands who do not satisfy their wives sexually? Are there any punishments for men like there are for women who refuse sex?"
The question drew loud applause, as the woman asking it, wearing a colorful hijab like all the 800 or so women in the audience, sat back down.
This was the first gathering of the national congregation of Muslim women "ulama" (clerics) from across Indonesia. They met for three days in late April in Cirebon, West Java, to assert themselves as scholars and preachers of Islam on par with men.
At the gathering, referred to as Kongress Ulama Perempuan Indonesia (KUPI), a wide range of socio-political issues were discussed and fatwas were issued, all of them informed by the clerics' study of Islam and their experiences as women.
The idea for the gathering was born five years ago. The Indonesian Ulama Council (MUI) refused to recognize women as ulama, a position conferred based on a person's knowledge of the Quran and the Book of Hadith. In response, various women's groups from different Muslim organizations came together and discussed the need for a space that would empower women ulama to assert their own positions, issue fatwas and question the state.
Attendees included women working at the community level as well as those immersing themselves in Islamic study at universities. KUPI also invited ulama and scholars from Nigeria, Kenya, Pakistan and Saudi Arabia to share their experiences. A number of non-clerics were also present, notably secular activists who believed it was important to engage with religion in this Muslim-majority country. This included Kamala Chandrakirana, who founded the country's National Commission on Violence Against Women and who took part in planning KUPI.
"Women have been ulama since the beginning of Islam, but women's names have disappeared from any references thanks to a patriarchal interpretation of Islam and political history," Chandrakirana says.
Prior to the conference, as the organizing committee discussed the three-day program's structure via WhatsApp groups, she says she realized that many women did not describe themselves as ulama. She says this shying away from owning their religious erudition explains the absence of documentation on the number of female ulamas in Indonesia.
"Women ulama have created spaces in their communities for conversations that enable women to speak up and question whether Islam permits husbands to beat wives," Dwi Rubiyanti Kholifah, Indonesia country director of the Asian Muslim Action Network says. "The ulama is able to respond from the perspective of classical texts as well as feminism."
The gathering's location was symbolic. It took place in the expansive courtyard of the Kebon Jambu al-Islamy Pesantren, an Islamic boarding school led by a woman, Nyai Masriyah.
In her speech at the gathering's opening ceremony, during which several male ulama and male students were present, she said, "I have been crowned a feminist. But what does 'feminist' mean? It is forbidden for a woman to conform to man or any other creature, except God. She does not need a man, except as a comrade and a friend. So ladies and gentlemen, do not worry. The KUPI movement is very affectionate to men – we will treat them with the highest respect, as much as any other creature created by God."
Anthropologist Kathryn Robinson of the Australian National University, who has extensively researched Islam in Indonesia, was present at the opening ceremony.
She remarked, "They held up the Quran, the Kitab Kuning [the Indonesian "Yellow Book" of Hadith], the constitution, and the Convention on the Elimination of All Forms of Discrimination Against Women, as they proclaimed these as the basis of their [discussions] and of their fatwas.
"They have immense pride in upholding the values that each of the documents represent, and that is essentially what secular Islam in Indonesia looks like."
The conference included several parallel sessions in which pressing issues were discussed, including sexual violence, polygamy, radicalism, peace and security, and education. Three fatwas were issued: against sexual violence, against child marriage and against environmental degradation. Even though not legally binding, fatwas can be tremendously influential.
During the three days of the gathering, attendees could also get free pap smears at a designated room inside the compound.
Nenny Agustina Adamuka, a graduate student of international studies, thought she had signed up for a religious meeting, but was surprised to see that issues pertaining to women were also being discussed. "I never knew that my religion has never allowed women to be subjugated. I was also surprised when some women were so progressive that they said that Muslims can marry non-Muslims – I am still not sure about this," she said.
A visit from the Minister of Religious Affairs, Lukman Hakim Saifuddin, was seen as a clear message that women ulama were recognized as legitimate. At the closing ceremony, many women were in tears, hugging each other, ecstatic over this newfound acknowledgment of their role as torchbearers of Islam and defenders of women's rights.
As the dust settled in the Pesantren and the residents of Cirebon returned home, Chandrakirana said she felt that history had been created: "Such a communal spirit is true to the spirit of Islam."
Even after KUPI had concluded, the WhatsApp groups kept buzzing with activity, with the 200-plus core organizers sharing photos and texts. But Kholifah says the work is far from over: "We will need to use the energy created to engage in advocacy, lest this first gathering be just a bubble with no action."
https://www.newsdeeply.com/womenandgirls/articles/2017/05/31/in-indonesia-female-clerics-seek-recognition-and-rights-for-women
--------
Sayeeda Warsi Hopes Women Will Give Up Burqa Themselves
June 1, 2017
Britain's first Muslim member of the Cabinet, on Monday, said she hoped Muslim women should soon do away with 'Burqa' themselves but emphasised that the change should come from within the community than on government's dictation.
"I want British Muslims to lead that charge … but I don't want it to be done with a government diktat of what women can or can't wear, because at what point do you start to draw the lines?" said Sayeeda Warsi, adding that she thought the head-to-toe garment was "not the best manifestation of British Islam."
"What else will offend us that we don't want people to go around wearing? There are people in conservative societies across this country who would be offended at what certain girls are wearing out on a Friday night. What are we going to do, ban that next because we're offended by it?"
British media forced to make corrections in stories about Muslims
During her speech at the Hay literary festival, Lady Warsi also criticised the British government's policy to tackle home-grown 'radicalisation'. "We cannot afford to have sloppy, lazy, ideologically driven decision-making in this area of policy. It is about our national security," she stressed.
"We say it is all ideology," she said. "Ideology is a part of it, but it is not all ideology. And the concern that I have in terms of government decision-making is if we genuinely want to deal with this – which we are – then we have to go back to seeing what the evidence says …"
Born and raised in Dewsbury, Yorkshire, the conservative peer highlighted that despite her and the 7/7 suicide bomber growing up a few streets away from each other, their lives ended up so differently. "We went to the same schools, the same mosques, had the same friends, had a similar experience," she told the audience. "Why does one person end up becoming the first Muslim in the British cabinet and the other becomes Britain's first suicide bomber? We have to track that and find detailed evidence-based answers to that, if we're genuinely going to tackle this."
Pope lauds British Muslim leaders
Warsi, who previously supported faith schools, said she was "not convinced bringing up kids in a single-faith school is good for them."
Meanwhile, Tariq Ramadan, a professor of Islamic studies, said Muslims had a "moral duty" to condemn militant attacks. "If someone is saying, 'I am doing this in the name of religion,' and you are a Muslim or a Christian or a Jew or a Buddhist, you have a moral responsibility to say, 'No, not in my name, that is not me.' You have a moral duty," he said while speaking at the event.
However, he highlighted that "the problem we have in the west is that we keep asking, 'You have to condemn, you have to condemn.' Well, this is is the fiftieth time I am condemning it, so please listen."
"We are responding. What would be good is for our fellow citizens and our politicians to listen to us," he added.
http://www.getnewsviews.com/world/britains-muslim-cabinet-minister-hopes-women-will-give-up-burqa-themselves/
--------
Chinese Muslim woman scales Mount Everest
31 May,2017
BEIJING (APP) - A Chinese Muslim woman from Northwest China's Xinjiang Uyghur Autonomous Region has successfully scaled Mount Everest.
Officially named Ma Liyamu, a Muslim from Jichang Hui Autonomous Prefecture, Xinjiang, Maizi started doing outdoor sports in 1996 but concealed her career from her other family members except her father until the media widely reported her in 2015, official sources said here on Tuesday.
In 2015, she was severely injured in an avalanche at her base camp in Nepal as she was preparing to climb Everest. But after recovering, she geared up again and successfully reached the top of Everest last May.
From being an amateur climber, and later a coordinator for a mountaineering firm, to running a high mountain trekking agency, the 47-year-old woman has been persistent in her efforts despite suffering obstruction in this male-dominated industry.
Maizi became an assistant of Yang Chunfeng, known as the pioneer of Chinese folk mountaineering in 2009.
Mainly in charge of logistic support services, she assisted Yang, also from Xinjiang, in scaling 11 of the 14 mountains in the world that are taller than 8,000 meters, including Everest.
She set up a trekking company and founded the first China Women's Everest Team the next year
As the world's third registered women's Everest expedition team, the five members – Maizi and four other climbers from Hong Kong, Shanghai, Sichuan and Yunnan – have received nationwide attention.
http://dunyanews.tv/en/World/390808-Chinese-Muslim-woman-scales-Mount-Everest
--------
Muslim Women in Philippines Confront ISIS Terrorists, Save Christian Lives
05-31-2017
As the Philippine Army continues to battle ISIS affiliated rebels in Mindanao, some bright spots are shining in the midst of the crisis.
Tuesday, two Muslim women stepped in to protect some Christian workers from possible death or certain kidnapping in Mindanao.
Cris, a Christian worker at a gun shop in Marawi City, said his Muslim employer, Ma'am Farida, stood between her 13 male employees and 10 Maute terrorists.
Farida confronted the Islamic rebels when they stormed into her shop telling them, "You have to kill me first before you can even touch them!"
The gunmen seized weapons and ammunition, but left the Christians unharmed.
Cris said the Maute rebels--all of them teenagers--were armed and dangerous and could have easily abducted the Christian males and used them for their technical skills.
A short time after the terrorists left her shop, Farida enlisted the help of her uncle to take the Christian workers and their families to a safe location near Iligan.
Our CBN News Asia Correspondent Lucille Talusan is in Iligan and she reports that tens of thousands of people--mostly residents of Marawi -- are now residing there as refugees.
Most fled their homes because of heavy fighting between the Philippine army and the Maute rebels.
How likely would Muslims step in like Ma'am Farid and risk their lives to protect Christians in Marawi City?
Watch my interview with Lucille Talusan and find out what she thinks may happen next in the Philippine government's battle against the ISIS affiliated extremists.
Also, learn what CBN is doing to make a difference near the battle zone.
https://www1.cbn.com/globallane/archive/2017/05/31/muslim-women-in-philippines-confront-isis-terrorists-save-christian-lives
--------
Jalandhar woman sold in Saudi Arabia returns home
May 31, 2017
AMRITSAR: Had it not been for a noble nurse and the power of social media, the relatives of 55-year-old Sukhwant Kaur would never have known her whereabouts.
Sold as a house maid for Rs 3.5 lakh to a Saudi Arabian family by a fraud travel agent, Kaur spent nearly five months in the custody of her 'owners' enduring verbal abuse and starvation. She even fell ill and was admitted to the hospital.
"There was a nurse from Kerala who realized the trouble I was into and called up my family," said Sukhwant Kaur while talking to TOI upon her return from Saudi Arabia via Mumbai on Wednesday.
At Amritsar, she was received by BJP leaders Anil Joshi, Manoranjan Kalia and officials of district administration.
Resident of Ajtani village of Jalandhar district, Kaur revealed how she was forcibly made to work all day and was often thrashed by her owners.
She added that despite being a strict vegetarian, she was forced to consume meat.
Kaur had gone to Saudi Arabia in January this year to help her husband pay back his debts.
"Earlier, she used to call me quite often but few days later she stopped calling which worried all of us. On May 7, I received a call from a hospital and came to know about her condition. That is when I sent a message to external affairs minister Sushma Swaraj on Twitter and she thankfully responded. And within 24 days, my wife is back with her family" said Kaur's husband Kulwant Singh.
Kaur recalls that a travel agent named Pooja had taken 40,000 from her and sold her through her contacts in Saudi Arabia.
With the help of Indian Embassy officials in Saudi Arabia, Kaur was flown to Mumbai from where government arranged for her travel to Amritsar since she was left with no money.
With tears flowing from her eyes, Kaur's daughter Ranjeet Kaur said that she could never ever imagine that her mother was sold like a commodity and also expressed gratitude towards the government for rescuing her mother.
The accused travel agent was held by Mumbai police.
http://timesofindia.indiatimes.com/india/jalandhar-woman-sold-in-saudi-arabia-returns-home/articleshow/58929927.cms
--------
Indonesian Muslim women engage with feminism
June 1, 2017
Can a Muslim be a feminist? Many Muslim women and men have fought for liberation, justice and freedom, but some still question if feminism and Islam are aligned.
The practice of Muslim women wearing headscarves is often taken as a sign that they are objectified through religious practices. Genital mutilation, child marriage, domestic violence and polygamy in Muslim majority societies are practices said to be based on Islamic teachings.
This leads to the argument that being a Muslim means one lacks "agency" as one must submit to certain teachings.
Western feminism understands agency as a self-realisation and freedom for everyone to exercise their free will. Therefore, they should not be subject to tradition, culture or social coercion.
Indonesia's first feminist
Stories of Indonesia's early feminist, Kartini, and the recent world-first female Muslim clerics congress in Indonesia both offer insights in this discussion. They highlight the struggle of Muslim women for equality, justice and freedom.
A national hero, Kartini was a young woman fighting against feudalistic and patriarchal Javanese culture founded on diverse foreign values, including Hinduism, Islam and Western colonialism. In her time (she was born in 1879), education was not for girls. Society's expectation was only for girls to become a wife, give birth and look after children.
Her story, which has recently been made into a feature film in Indonesia, suggests her ideas about equality were influenced by her Dutch friends. But it was also Kartini's encounter with Islamic teachings that allowed her to learn that the Quran guaranteed equality for men and women.
Tragically, although she campaigned against polygamy, her ailing father's request forced Kartini to accept marriage to a man who already had three wives.
Female clerics taking over
As if in the steps of Kartini, the gathering of almost 500 female religious scholars in Cirebon, West Java, is a milestone in Muslim women's fight for equality.
The well-versed clerics are leaders of Islamic boarding schools and preachers. They believe gender equality is guaranteed in Islam and that the Quran, the source of Islamic teachings, is not misogynistic. The subjugation of women has instead been influenced by the male domination of Quranic interpretation.
Since the time of the Prophet, the authority to read and interpret the Quran has always been in the hands of men. In the congress, female religious scholars from the Middle East and the region passionately discussed strategies to take over this space and gain authority.
Malaysian Zainah Anwar, the founder of Sisters in Islam, delivered a passionate speech about fighting male domination in Quranic interpretation.
She told congress participants Islam gives women the right to define what Islam is. It is important for women to initiate reform and participate in public policy within the framework of Islam, the Indonesian constitution and universal human rights and women's rights, she said.
The clerics believed complex issues like child marriage, domestic violence, polygamy and women's role in combating the rise of radicalism could only be challenged if women took the lead in the interpretation of Islamic teachings.
Polygamy was one of the prominent themes in the congress. Ruhaini Dzuhayatin, a former human rights official at the Organisation of Islamic Cooperation, told the audience she always had to argue against her male colleagues in various meetings on women's rights, and on polygamy in particular.
She said: "I told them it [polygamy] is not the teaching of Islam and I use verses in the Quran to support my argument."
The audience responded with a big round of applause.
Nur Rofiah, a professor in Quranic studies, explored how men have exploited particular verses to justify taking additional wives. According to Nur, Islam says every human being has to elevate the status of humankind, and polygamy does not.
At the congress, the female clerics released a fatwa to lift the minimum age for girls to marry to 18. The Indonesian Marriage Law stipulates 16 as the minimum marrying age for girls.
Although a fatwa does not have legal force in Indonesia, by issuing it the female clerics have taken a bold stand. Fatwa-making is traditionally a male-dominated field.
By taking this approach, the female clerics are attempting to open Muslim women's minds to the idea that they should not only listen to male clerics on questions affecting their identity as Muslim women.
Muslim women's agency
The idea that Muslim women lack agency is hard to reconcile with this vibrant new network of intellectual women. They no longer accept becoming victims of male domination and they use Islamic teachings to challenge patriarchal practices. They take advantage of any available public avenue to express their need for independence, to be seen and heard.
Does this make them feminists? If they look upon their faith as one source of inspiration that motivates and helps them to achieve strength and independence, then Indonesia has millions.
http://theconversation.com/indonesian-muslim-women-engage-with-feminism-78424
--------
Saudi prince supports women driving
May 31, 2017
Manama: A Saudi former minister said that allowing women to drive was bound to happen and that women would be driving society, not just cars.
"The ban on women driving has been imposed on us, and women in the past used to lead their own camels. Women need to be empowered because they represent more than half of the society and they are highly dependable," Prince Faisal Bin Abdullah said.
"Maybe some people are afraid of change, but it is inevitable. Change in all cases must start from within and women need to prove their success and their positive influence on society," he said during a talk show on Rotana Khaleejia Television.
Prince Faisal who held the education portfolio in the Saudi kingdom from 2009 until 2013, said that he held Saudi women in high esteem and respected their achievements.
"I have great pride in Saudi women. They are mothers, wives and daughters and I take immense pride in them and in their faith, beliefs and commitments in our modern times. Women in Saudi Arabia are the bases of society and they hold a significant place in the Islamic civilisation. I am confident they can succeed whenever they have the opportunity," he said, quoted by Saudi news site Sabq on Tuesday.
Prince Faisal is the latest of Saudi princes to call publicly for allowing women to drive.
In 2013, billionaire Prince Al Waleed Bin Talal tweeted in favour of allowing women to drive in the kingdom, sparking a heated debate on social media.
"Allowing women to drive will result in saving at least 500,000 jobs held by foreign drivers and subsequent economic and social benefits for the nation," the billionaire prince posted on his Twitter account.
The presence of thousands of male drivers to drive mainly Saudi women and girls has been regularly used by supporters of allowing women to drive to highlight negative social and economic problems associated with the ban on women driving.
No legal text bans women from driving in Saudi Arabia and the issue is related mainly to social traditions.
The de facto ban has been at times challenged by women who, if spotted behind steering wheels, are pulled over by traffic police for driving without a Saudi licence. They are allowed to go home after they sign a pledge not to drive again.
Attempts by women and their supporters to get permission to drive have become more intense lately, but the challenges to overcome the stiff resistance of conservatives are proving singularly formidable.
The camps supporting and opposing lifting the social ban on women and allowing them to drive have been using religious, economic and social arguments to reinforce their positions.
The chasm between them is invariably clear in their reactions to reports related to women driving.
http://gulfnews.com/news/gulf/saudi-arabia/saudi-prince-supports-women-driving-1.2035965
--------
URL: https://www.newageislam.com/islam-women-feminism/in-indonesia-female-clerics-seek/d/111373
New Age Islam, Islam Online, Islamic Website, African Muslim News, Arab World News, South Asia News, Indian Muslim News, World Muslim News, Women in Islam, Islamic Feminism, Arab Women, Women In Arab, Islamophobia in America, Muslim Women in West, Islam Women and Feminism