New Age Islam News Bureau
23 Sept 2019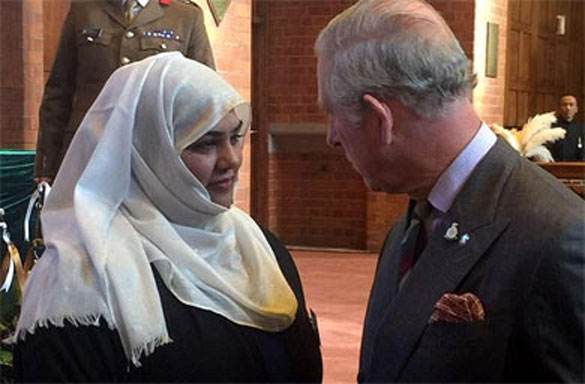 Mrs Farrukh is a strong campaigner for Muslim rights and regularly posts on social media. Pictured with Prince Charles
-----
• Muslim of the Year Nominee, Sumaira Farrukh, Is Probed By Police After She Was Filmed Telling A Rally 'Jihad Is the Only Solution'
• Giving Up the Hijab: Is Ascia Al Faraj's Decision Cause For Controversy?
• Burqa, Illegal Islamic Videos Could Land Uyghurs in China's De-Radicalisation Centres
• 'Over Two Million Women In Pakistan Without Identity Documents'
• Turkey's First Lady Meets with Women Leaders of US Muslim Community
• Saudi Women Celebrate New Freedoms on Saudi National Day
• Sporting Success Puts Saudi Arabia on Track for Glory on Saudi National Day
• Afghan Women Stand in Solidarity with Iranians after 'Blue Girl' Sahar Khodayari's Death
Compiled by New Age Islam News Bureau
URL: https://www.newageislam.com/islam-women-feminism/in-bangladesh-bride-brings-groom/d/119813
--------
In Bangladesh Bride Brings Groom to Her House
September 22, 2019
Dhaka: A 19-year-old bride has challenged Bangladesh Muslim wedding tradition by taking a groom to her home to marry him, with the ceremony going viral on social media and sparking debate about women's rights in the conservative nation.
In what local media are describing as a first, Khadiza Akter Khushi led hundreds of guests to the wedding ceremony at her groom Tariqul Islam's residence in the western rural district of Meherpur on Saturday, before taking him to her home.
It overturned a longstanding tradition where a groom kicks off the festivities by first going to the house of the bride.
"Yes, it is uncommon. But I did it so that other women can follow me," Khushi told AFP on Sunday.
Islam, 27, said the couple faced no resistance or criticism from families and friends.
"We did it as part of our efforts to end gender discrimination and to establish equal rights for women," he told AFP.
"I am sure our marriage will send a message that a woman can do whatever a man can." Footage of their wedding went viral online, generating heated debate on social media.
The marriage also made national headlines in the Muslim majority country of 168 million people, where conservative values remain strong.
"Definitely it's a big news in our culture," Sadaq Hasan wrote on the Bengali daily Prothom Alo's website, while others wrote "courageous women" and "I want to marry like this".
Others were highly critical, saying the wedding reflected badly on the couple and their families.
"Their families should be beaten with shoes," Mohammad Abul Hasnat wrote on the website of television station Channel 24.
https://www.news18.com/news/world/bangladeshs-wedding-with-a-twist-challenges-conventions-as-bride-brings-groom-to-her-house-2318627.html
--------
Muslim of the Year Nominee, Sumaira Farrukh, Is Probed By Police After She Was Filmed Telling A Rally 'Jihad Is the Only Solution'
22 September 2019
A prominent activist once nominated for a 'British Muslim of the Year' award is being investigated by police after she was filmed saying 'jihad is the only solution'.
Sumaira Farrukh, 38, who has rubbed shoulders with Chancellor Sajid Javid and been pictured with Prince Charles, was filmed using the inflammatory word at a rally in Birmingham.
Mrs Farrukh, a businesswoman and journalist, spoke at a demonstration attended by hundreds demanding action over India's plans to strip Kashmir of self-rule.
A host of Labour MPs including deputy leader Tom Watson, Jack Dromey and Liam Byrne had given speeches on the issue 24 hours earlier.
Mrs Farrukh denied inciting violence by using the word jihad, saying it simply referred to a struggle, and she was being singled out because she was 'an outspoken woman in a headscarf'.
In the video, she is seen on the steps of Birmingham's Council House last month, telling supporters: 'There is only one slogan for today. It is remove curfew from Kashmir.
'Let them live their own lives – nothing more than that. And one thing to truth-tell to the Muslim community. There's only one solution, which is jihad. No protest, nothing. Just jihad.'
Police have examined the footage and visited Mrs Farrukh at her home in Birmingham.
Tensions are running high in Kashmir and there have been a number of protests in the UK including one in London at which windows at the Indian High Commission were smashed.
Jihad in Islam can mean any type of struggle but the word has violent connotations after being hijacked by terrorist groups such as Islamic State.
Miss Farrukh, who is chief executive of Noor TV, a Muslim channel, was a losing finalist in the 'businesswoman of the year' category at the British Muslim of the Year awards in 2017.
She is a strong campaigner for Muslim rights and regularly posts on social media. In April last year she hailed Mr Javid, now Chancellor, on his appointment as the UK's first Muslim home secretary, writing on Facebook: 'May Allah bless you with more courage to work for the community.'
Mrs Farrukh was also a member of a faith group set up by West Midlands Mayor Andy Street to organise a summit aimed at tackling community divisions in 2017.
Asked about her comments yesterday, she said: 'The meaning of jihad is not a particular one meaning.
'If you have a problem with the Government of the UK and you want to raise your voice, the struggle is called jihad in the meaning of Islam. Muslims know the meaning of the word in that context.
'Do you think I'm the kind of person who would use that word to encourage people to go and fight? I work with communities and the British military encouraging the Asian community to join the Army – how can I encourage violence?'
Asked if it was wise to use the word in the current climate, she said: 'The people who are criticising me are the ones who don't want a woman to speak out.
'There are men saying we are going to get freedom with guns. People are chanting bad words, saying come out and fight, but they don't get investigated. People always attack me because I'm an outspoken woman.'
She said she did not regret her choice of words, adding: 'I'm very clear with my words. As a human, it is our responsibility to raise our voices for the people of Kashmir.
'That is my meaning – stand up for the people who are suffering. Jihad is meaning struggle – the same meaning as if we are protesting outside 10 Downing Street.'
The footage of Mrs Farrukh at the rally on August 31 was passed to West Midlands Police at the force's request.
A spokesman said: 'We are assessing the content to see whether any criminal offences have been committed.'
https://www.dailymail.co.uk/news/article-7492141/Muslim-Year-nominee-probed-police-saying-jihad-solution.html
--------
Giving Up the Hijab: Is Ascia Al Faraj's Decision Cause For Controversy?
Hafsa Lodi
Sep 23, 2019
"This is going to break the internet," reads one ­user's comment under an ­Instagram post by Ascia Al Faraj last Thursday. The post in question is not a pressing world issue or a meme worthy of going viral, but an image of the popular American-Kuwaiti fashion blogger dressed stylishly all in white, with her tattoos and curly hair visible.
Al Faraj, 29, is famous for being one of the fashion blogsphere's first hijab-wearing faces, and therein lies the apparent controversy: she has decided to stop covering her hair.
The image amassed 97,000 likes and 11,000 comments within five hours of being posted, with many supporting the ­blogger and cyberbullying spokesperson, and others attacking her decision to de-veil.
Infusing the hijab with positive connotations
Al Faraj was one of the region's early influencers to make it big ­internationally, becoming a front-row regular at European fashion weeks and a star of digital campaigns by luxury labels. She and the UK's British-Egyptian blogger Dina Torkia were the first to use social media to promote positive and stylish images of hijabs in a post-9/11 era.
Together, Al Faraj and Torkia influenced countless Muslim women, including Zahra Valji, founder of home decor brand Ayah Home, who was raised in the UK and was the only hijab-wearing student at her Essex school.
"It was so inspiring to see girls the same age as me paving the way for modest fashion with such confidence and style," says Valji, who lives in Dubai. "It made me realise that wearing the hijab should not hold me back nor make me feel like I couldn't do and be anything I wanted to."
No longer identifying as 'hijabi'
Al Faraj may look like she's living the dream through globetrotting escapades with luxury labels and collaborations with Chanel, Aigner, Kenzo and more. But in the nine-minute video she posted to YouTube last week, the influencer opens up about how anxiety due to being in the public spotlight has severely affected her, and how she no longer feels like her identity now – 10 years after wearing the hijab – is congruent with her online image. So, to stay true to herself she says she will stop wearing the turban beanies and headwraps that have become her trademark.
A day before Al Faraj's Instagram post, British-Muslim fashion designer and BBC's The Apprentice star Bushra Shaikh, who has worn the hijab for 26 years, also decided to stop wearing it. She wrote an article for The Telegraph, explaining that for her, too, it was necessary that her inner faith be authentically represented by her public image. Incidentally, Torkia, too, decided to stop wearing the hijab full-time earlier this year.
While many Muslims believe that covering your hair is a mandatory requirement for women, others contest the obligatory nature of the headscarf. Religious debate aside, for some Muslim women, the garment makes a political or even feminist statement – it is a way to assert their faith and identity in societies that are prejudiced against Muslims, and often sexualise women and their bodies.
"My wearing of the hijab was like shouting out to the world: 'I am a Muslim and a proud one, too!' We were very much unapologetically Muslim back then," writes Torkia in her 2018 autobiography Modestly.
She and Al Faraj embarked on a plight to paint a picture of a modern Muslim woman who wasn't oppressed or drably dressed. Over time, they were unwittingly branded as ambassadors for Muslim women worldwide, answerable as role models to hoards of young girls.
Targeted by trolls
However, when they wore headscarves that revealed their necks or a few strands of hair, this went against the "rules of hijab", according to some of their social media followers, many of whom would leave insulting comments under their posts.
When Torkia and Al Faraj stopped identifying as "hijabi" altogether, the negativity intensified, often from users who had followed their journeys from the beginning and felt let down by their decisions to "leave" the hijab-­wearing community. Some called out the bloggers for being hypocritical, for abandoning the message that they had earned them their fame and money, and helped them brand themselves.
Al Faraj acknowledges this reality in last week's YouTube video, even as she states: "Because I can no longer say that I identify with my headscarf, it's time for me to take a step back from [the spotlight] and no longer take a spot in campaigns or other media."
Fashion designer Safiya Abdallah, who lives in Dubai and chooses to wear a hijab, says: "It's so irritating to read the incredibly rude and obnoxious comments here by people who feel ­holier-than-thou to judge someone who started her journey never asking to be the role model for all Muslims. I hope people find their own inner peace and stop bringing so much negativity to others lives."
Valiji agrees: "I think the comments that some of their followers on social media give are awful, ­disrespectful and completely anti-feminist. We should be supporting each other, not trying to bring another woman down," she says.
Modestwear on the rise
Hijab-wearing women have come a long way in the mainstream media. Today, they're part of campaigns for brands such as Fenty Beauty, shown on characters in television shows such as Tom Clancy's Jack Ryan, and are increasingly being included at major fashion weeks, thanks largely to model Halima Aden. The movement shows no sign of slowing its pace – just this month at London Fashion Week and Milan Fashion Week respectively, Burberry and Fendi enlisted Somali hijab-wearing model Ugbad Abdi for their shows.
The hijab is also finding a place in mainstream fashion magazines, reality shows and museum exhibitions, and the modest fashion blogging movement, pioneered by Al Faraj and Torkia, certainly helped fuel this newfound celebration of the headscarf.
"Never has there been a time where people have been confronted with the image of the modern Muslim woman so much – I think we've hit a new milestone. I think it has been accepted, it's mainstream now," says Sabrina Salhi, founder of ladies-only event concept Unveiled DXB. "I remember when Dina Torkia first started, and the whole social media scene was still beginning, just to see someone wearing the hijab on the platform was like wow, it was so new. But now with thousands of influencers, I think it has become normalised. Dina achieved what she set out to do – take the hijab and make it mainstream."
When Torkia and Al Faraj rose to fame, they were fighting for space, respect and representation as visibly Muslim women. Now, both married mothers of two, their lifestyles, priorities, beliefs and appearances may have slightly changed (both still continue to dress modestly from the neck down), but the message they've championed all along is one and the same: that women's decisions about covering (or not) are reflective of their own personal choices and identity.
As Al Faraj concludes in her testimony after unveiling: "Choosing to cover at 19 felt spiritually, mentally and physically correct. And now I'm 29 ... and as I've aged, I've grown so much. I've left so many silly ideas of other people and myself behind. The disconnect of my identity, how I truly feel, and the identity that I continue to portray online despite having outgrown it caused me so much sadness that I just wasn't being 100 per cent honest with who I was. And I would really like that not to be so anymore."
https://www.thenational.ae/lifestyle/comment/giving-up-the-hijab-is-ascia-al-faraj-s-decision-cause-for-controversy-1.913603
--------
Burqa, Illegal Islamic Videos Could Land Uyghurs in China's De-Radicalisation Centres
September 22, 2019
Wearing a burqa or watching "illegal" Islamic videos could land you in trouble in China's restive Xinjiang province where the government is running a number of 'Vocational Training Centres' to re-educate thousands of Uyghur Muslims, who Beijing thinks have radicalised.
Mlherban Ximih, 28, a Uyghur Muslim from Asku prefecture in Xinjiang, has been lodged at the Wensu County's Vocational Training Centre since June 2018 for wearing burqa.
Her mother-in-law had "forced" her adhere to strict dressing rules like not wear make-up and western outfits, she said.
Ximih's mother-in-law and her husband Iblyim Kader were sentenced to 17 years in jail for "inciting people".
Fearing that Ximih could have also been "influenced by extremist ideas", authorities sent her to the vocational centre to undergo de-radicalisation.
"The neighbours informed the police about this (she wearing burqa) to the local police following which I was sent to the vocational training centre," said Ximih, whose three-year-old daughter is now being looked after by her mother.
She is one of the several 275 "trainees" (as addressed by the government), including 11 women, lodged at the "vocational training centre", many of them are here for over a year now.
These centres have come under intense criticism from human rights bodies for mass arbitrary detention, forced political indoctrination, and religious oppression of Uyghurs, the ethnic Turkish Muslims.
There was no official figure of how many such centres exist in Xinjiang. An official of the Xinjiang Uyghur Autonomous Region said almost all counties in the province have at least one such centre but many have been shut.
Xinjiang, the western province of China, is one of the largest in the country and borders India, Pakistan, Afghanistan, Mongolia, Kazakhstan and Kyrghzstan. The Uyghur Muslims dominate the demography in the province.
The Chinese government organised a media visit to two centres - in Wensu and Kashgar - recently and this correspondent was part of the press delegation.
As the metal doors slide, and the delevan enters the compound of the Wensu County 'Vocational Training Centre', the delegation is greeted by Rebigul Requtela, a woman in her 30s, and the dean of the vocational centre, along with two other officials.
The centre has three buildings, all painted in light brown -- the five-storey main administrative block, the other two blocks of three-storey each serve as classrooms and training centre. It also has residential blocks that house the trainees.
The outside premises of centre also houses a basketball court and a stage where programmes can be hosted. The journalists were also taken to a small room where young Uyghur men and women practise dance and songs.
A plethora of surveillance cameras monitor every activity at the centre.
Ilxat Tursun, 28, was caught watching "illegal" videos on "believers and non-believers" of Islam, and since February 2018 he has been lodged at the centre.
While Tursun was using a Virtual Private Network (VPN) to watch videos, he came under the scanner of the "online police".
"One day, the online (cyber) police called me saying I was watching illegal videos. I was given the option to go to the court and accept the punishment, or join the vocational centre. Now, I am willing to stay here," he said through an interpreter arranged by the Chinese officials.
Tursun, who is learning horticulture at the centre, said the videos revolved around the idea that those who did not believe in beliefs of Islam would not go to heaven.
He said he often visits his family over the weekend but does not know when he can be out permanently.
Requtela said those lodged inside are taught about de-radicalisation and laws, Chinese language and vocational skills ranging from horticulture to electrical works.
Timorjong Eqbal, 22, who hails from Kashgar, said he was "influenced by extremist ideas". He has been at the Kashgar Vocational Training Centre, larger than the Wensu centre, since September 2018.
"I was heavily influenced by extremist and wrong ideas like I avoided interacting with non-Muslims. My mother talked to the village officials, who informed the local authorities," Eqbal said.
China has justified these centres citing the violent attacks by extremists.
A document titled 'Vocational Education and Training in Xinjiang, released by China's State Council Information Office, states that for some time Xinjiang, especially the prefectures of Kashgar, Hotan, Aksu, the Kizilsu Kirgiz Autonomous prefecture, where religious extremism has had a long and widespread presence, suffered badly from "frequent acts of terrorism".
Xu Guixiang, Deputy Director of the publicity department and deputy director of Works Department of United Front Work Department of the Party Committee of Xinjinag Uyghur Autonomous Region, scoffed off the criticism against such centres.
He said, since 1990s the "extremist and terrorist force" have played into each others hands to "instigate" thousands terror incidents, causing great losses of masses of various ethnic group.
"Their crimes are numerous to record and make people boil with anger," he said.
A White Paper on the centres, published by the Chinese government, said Xinjiang is a "key battlefield" in the fight against extremism in China.
The purpose is "to curb religious extremism, help trainees acquire a better education and vocational skills, find employment, and increase their incomes, and most of all, to safeguard social stability and long term peace in Xinjiang," it states.
https://www.indiatoday.in/world/story/burqa-illegal-islamic-videos-could-land-uyghurs-china-de-radicalisation-centres-1601988-2019-09-22
--------
'Over Two Million Women In Pakistan Without Identity Documents'
September 23, 2019
Islamabad: Trust for Democratic Education and Accountability (TDEA), a non-profit organisation released a data which revealed that over two million women have no identity documents in the country.
According to available data, close to 2.6 million women in Pakistan's north western province of Khyber Pakhtunkhwa does not possess National Identity Card (NIC). It said that their ability to play a role in political, social and economic progress is restricted and they are unable to take advantage of public social safety, education and health services.
An identity card allows citizens in Pakistan to vote, seek membership of political parties, gain access to government welfare schemes and services including hospitals, education, and banks. Women, who do not have identity documents, are deprived of participating in public life and becoming full citizens of the country.
According to TDEA, of the 2.6 million disenfranchisedwomen, 100,000 are from Swabi. More than 100,000 women are still disenfranchised in Swabi as they don't have a CNIC and their votes have not been registered, it added.
When contacted official sources they said that National Identity Card (NIC) is issued to the citizens of Pakistan. It is a blend of state-of-the-art technology and well-defined business rules to guarantee its authenticity and validity.
They said that every citizen of Pakistan, 18 years and above, is eligible for CNIC with unique 13 digit identification number which is recognized all over the country. They said that NIC is the first requirement of individuals as it is mandatory to obtain documents like license, NTN, bank account, passport, cellular connection etc.
They said any eligible Pakistani can apply for NIC by either visiting nearest NADRA Registration Centre (NRC) or through Pak Identity website. He said that people should avail the opportunity to get their CNIC through Nadra mobile van service.
He said that NADRA has also been active in KP to fully help the eligible citizens particularly women to get their NIC. He added at Union Council level, NADRA has established 669 new Civil Registration and Management System (CRMS) sites (total of 7893 sites) for computerization of birth, death, marriage and divorce records.
https://www.thenews.com.pk/print/530587-over-two-million-women-without-identity-documents
--------
Turkey's First Lady Meets with Women Leaders of US Muslim Community
23.09.2019
First lady Emine Erdoğan met with female representatives of the U.S. Muslim community on Sunday in New York, where she is part of a Turkish delegation to the 74th United Nations General Assembly.
Erdoğan spoke to the group of Muslim women, who met Sunday at the New York Hilton hotel in Midtown Manhattan.
She said being with the women gave her the feeling of meeting with relatives she hadn't seen in a long time.
Erdoğan spoke out against the rise of racism and anti-Muslim hatred.
"Muslims are mentioned with terrorism, cruelty toward women and war," she said, pointing out the links wrongfully drawn between certain reproachable cultural practices and Islam. She emphasized the need for unity among Muslims.
Inspiration can be drawn from prominent Muslim Americans such as fencing athlete Ibtihaj Muhammad, political activist Malcolm X and boxer Muhammad Ali, Erdoğan said.
Touching specifically on the misrepresented topic of women's rights in Islam, Erdoğan mentioned that in the Islamic Golden Age, which lasted from the 8th century to 14th century A.D., women were involved in every aspect of life as "pioneers" and leaders. She gave the example of the oldest, continually-operating university in the world, which was founded in Morocco by Fatima al-Fihri, an Arab Muslim woman.
"We should follow in these footsteps… We need to tell aloud the value that Islam has added to science and art, and the civilization it has created," Erdoğan said.
The gathering was also attended by Foreign Minister Mevlüt Çavuşoğlu's spouse Hülya Cavuşoğlu, Treasury and Finance Minister Berat Albayrak's spouse Esra Albayrak and Defense Minister Hulusi Akar's spouse Şule Akar.
https://www.dailysabah.com/politics/2019/09/23/turkeys-first-lady-meets-with-women-leaders-of-us-muslim-community
--------
Saudi Women Celebrate New Freedoms on Saudi National Day
NOOR NUGALI
September 23, 2019
RIYADH: Life for many young women in Saudi Arabia in the 1970s was an enjoyable mix of study, watching movies and looking forward to a normal, peaceful future in a growing society.
But as the decade drew to a close, an attempted terrorist overthrow and attack on the Holy Mosque in Makkah changed the lives of women and Saudi society as a whole.
Manal Aqeel, who later became an arts and crafts teacher in a government school, recalled: "We lived in peace, our children lived in peace. We knew our religion, we prayed, fasted, preformed Hajj and were kind to one another. I was in middle school when the attack happened on our Holy Kaaba and the aftermath was disastrous.
"Before the attack we would go out and live our daily lives normally. Our attire would consist of lightweight silk abayas wrapped around our waists to show off our colored skirts underneath."
However, the seizure of the Holy Mosque by Juhayman Al-Otaibi and his militant followers in November 1979 sparked paranoia and fear among the Saudi population, and in the aftermath of the uprising people found themselves facing a rising tide of ultra-conservative restrictions in their daily lives.
"Our family gatherings before the attack consisted of all the family having dinner and enjoying our time like everyone else. But the incident changed our lives. An air of tension lingered in the air as there was surveillance. People started saying, this is halal, this is haram," Aqeel said.
Within two years, her lightweight abaya was replaced by a full-length black garment that covered her head.
"I don't know what it was that made women resort to this? Influence? Fear? But one thing for sure was even niqabs (clothing covering the face with slits for the eyes) weren't acceptable."
After the events of 1979, conservatism intensified in Saudi Arabia as people adapted to a life filled with restraint and fear.
"The days before Al-Otaibi were the best. We lived in security and safety, and enjoyed our lives without complications. We didn't even lock our doors. It was a simple life," Aqeel remembers.
Women were TV anchors, radio presenters, actresses, teachers and more. With the oil boom, the country was flourishing. Before the terror attack, segregation was done out politeness and choice, not by force.
However, after 1979, Saudis adopted a more conservative approach to female clothing, with heavy, black abayas considered the only acceptable form of attire.
"My sister, beware of men wolves; cover yourself and you will not be harassed" was a familiar saying in the 1990s, leaving young women in fear of normal life.
Religious police encouraged the notion that women should be "hidden," and neither heard nor seen in case their presence evoked deep desires which men could not control.
Saudi men also were left in a state of confusion, forced to look down on women as lesser beings, and with the right to control every aspect of their lives.
Fayga Redwan, a former school principal, recalls how her extended family stopped gathering on the beachfronts of Jeddah to relax with their children around, for fear of being confronted by the religious police.
"We all lived together in our big family home, my brothers and their wives and children. We would pack separate lunches as we had to segregate our picnics. Women would sit together, while our husbands and brothers sat nearby. We weren't afraid, but there was still a sense of uncertainty," she said.
"People's views changed, they were skeptical at all times. They were dark days, indeed."
Mother-of-three Haya Saeed said that the 1990s were the toughest time for women. "By then the mutawa, or religious police, had greater influence and power. I remember how frightening it was just going to a shopping mall was because they would stop us and harass us," she said.
"We couldn't even go to a restaurant without a male guardian, and the religious police would go from table to table to make sure that there was no indecent mingling and that the male was either father or brother."
However, over time, the restricted freedoms young women faced after the 1979 attack began to ease. Women were given more rights to hold higher managerial positions, education was a tool, and society began to realize that their role is vital to ensure progress.
The "dark days" began to fade, ushering in a new chapter in the nation's history.
In 2005, the late King Abdullah launched the King Abdullah Scholarship Program (KASP) for both men and women.
The initiative was welcomed by many Saudi families, who encouraged their young daughters, sisters and wives to apply — a blow to the extremists who opposed the program.
In 2010, King Abdullah appointed women to the Shoura Council, a groundbreaking move that highlighted the importance of having women in high positions.
Then, on Sept. 26, 2017, King Salman ordered that women be allowed to drive cars, another major blow to the ultra-conservatives.
In light of Vision 2030, a strict anti-harassment law was introduced in June 2018 to protect women and allow them to enjoy their newly won freedoms.
Times have changed, indeed.
Under the leadership of King Salman and Crown Prince Mohammed bin Salman, the Kingdom is regaining its former tolerance and moving ahead with lightning speed.
On Aug. 1, 2019 a decree signed by King Salman declared that Saudi women no longer require permission from a "male guardian" to travel or obtain a passport.
"Life has changed so much now. This change is amazing and the new generation has more confidence," said Latifa Al-Bazeay, a travel agent.
"There was a loss of nationalism after 1979, people wouldn't even celebrate National Saudi Day. Now we see the difference," she said.
"Saudis have always loved their country, but now their loyalty shines through. It is our duty to celebrate this day for its greatness," she said.
The militant extremism of 1979 left an open wound that has only healed with the reign of King Salman and the crown prince.
"We will return to what we were," the crown prince said — famous words that have been put into action, whether by eradicating extremism, fighting terrorism or empowering women.
https://www.arabnews.com/node/1558211/saudi-arabia
--------
Sporting Success Puts Saudi Arabia on Track for Glory on Saudi National Day
September 23, 2019
DUBAI: Many Saudis look back on the 1970s as a time of unprecedented development when sport, along with other aspects of life in the Kingdom, enjoyed rapid growth.
A government push to improve sports organization and boost participation in international competitions led to Saudi Arabia making its Olympic debut at the 1972 Munich Games. It marked the first time the Saudi flag was raised at the opening ceremony, although the Kingdom had been part of the International Olympic Committee since 1965. Saudi Arabia also participated in the first Arabian Gulf Cup in 1970, and made its debut at the Pan Arab Games in 1976 and at the Asian Games two years later.
Also in the 1970s, the Kingdom attracted foreign players to its football teams, including Brazil's Roberto Rivellino, who played for Riyadh's Al-Hilal.
Mohammed Al-Kharashy, a former manager of the Saudi national football team, told Arab News that in the 1970s, "there was a lot of funding to improve sports facilities to the highest level. More focus was put on international participation in football and many other sports."
Although sport was part of Saudi culture, its official development can be traced back to Interior Minister Prince Abdullah bin Faisal Al-Saud, who created the Department of Sport in the Interior in 1952.
Sporting development gained momentum with the introduction of the First Development Plan in 1970. A network of sports and athletics facilities was established along with recreational programs and sporting clubs for the Kingdom's youth. These included federations for tennis, basketball, martial arts, handball, fencing, swimming, shooting and archery. The mandate of the General Presidency of Youth Welfare in 1974 was "to get as many people interested and involved in these activities as possible," according to a statement published by the Saudi Embassy in the US.
While sporting standards in the Kingdom have improved dramatically, women's participation is a more recent phenomenon. In 2003, the first women's basketball team in Saudi Arabia was formed by Lina Al-Maeena. Three years later, she co-founded the Jeddah United Sporting Company, to encourage the development of female athletes; it now has a football club for women. In 2010, equestrian Dalma Rushdi Malhas became the first female athlete from Saudi Arabia to compete at the inaugural Youth Olympic Games in Singapore, winning a bronze medal.
Saudi Arabia sent its first women's team to compete in the 2012 London Olympics. The team included Wojdan Shaherkani in judo and 800-meter runner Sarah Al-Attar. In 2016, Al-Attar, Lubna Al-Omair, Cariman Abu Al-Jadail and Wujud Fahmi represented Saudi Arabia at the Summer Games in Brazil.
In 2017, the Kingdom announced that public schools would begin offering physical education for girls as part of Crown Prince Mohammed bin Salman's reforms.
https://www.arabnews.com/node/1558226/saudi-arabia
--------
Afghan Women Stand in Solidarity with Iranians after 'Blue Girl' Sahar Khodayari's Death
Hikmat Noori
Sep 22, 2019
An Iranian football fan's defiant act of self-immolation has sparked a movement in neighbouring Afghanistan, where sports stadiums are still recovering from their use as execution sites.
Sahar Khodayari, 29, set herself on fire after being arrested on charges of trying to enter a stadium - a punishable offence for women in Iran – and succumbed to her injuries on September 8.
Following her death, human rights groups Amnesty International and Human Rights Watch, among others, have issued strong condemnations of Iran's sexist policies and asked Fifa, international governing body of football, to take action against the country.
Iran has barred female spectators from football and other stadiums since 1981, with clerics arguing they must be protected from the masculine atmosphere and sight of semi-clad men.
Activists, celebrities and football players from around the world are castigating Iran online over the death of the 'Blue Girl', a nickname given to Ms Khodayari in reference to the colours of the team she supported—Esteghlal FC.
However, none have come out in stronger solidarity than women from Iran's neighbour Afghanistan, perhaps drawing a parallel with their own past. In the late 1990s, Afghan women suffered under the repressive regime of the Taliban, where sports stadiums were converted into a popular venue for public executions.
SAMRI
@SAMRIReports
Afghan women stand in solidarity with Iran's #BlueGirl #SaharKhodayari at #Kabul's Ghazi stadium that the Taliban used for public executions. Iran is the only country that bans & punishes women for seeking to enter stadiums. https://twitter.com/FForotan/status/1172529711693668352 …
Farahnaz Forotan
@FForotan
Women like men are citizens of a country. Their rights should be equal! We have come to the #RAPL stadium today to support the Iranian women's struggle for equal rights. #BlueGirl @Nargisazaryun @RaminMazhar @AtahiMariam #Kabul #Afghanistan
View image on Twitter
3
1:28 AM - Sep 14, 2019
Twitter Ads info and privacy
See SAMRI's other Tweets
On September 13, less than a week after Ms Khodayari's death, hundreds of Afghan women attended an Afghan Premier League (APL) football match in Kabul, many of them carrying hand-drawn placard with messages of solidarity for the Blue Girl.
"When something happens to Afghan women, people from around the world stand by our side, so why shouldn't we stand by the Iranian women who are our neighbours with whom we share a common culture and language," Mariam Atahi, a women's rights activist who participated in the campaign at the Kabul Stadium told The National.
"Going to a stadium and watching a football match is not a crime, it is not something bad and neither is it forbidden in Islam. When men can go to a stadium and watch their favourite sport, why can't the women?" she questioned.
Afghan football player Hajar Abulfazl, although not present at the Kabul match, shares the demonstrators' sentiment.
"It is very tragic and it is hard for me and other women to see this [treatment of Iranian women] and remain silent," she said. "As women we know we how hard we have to struggle for our basic rights to live.
Ms Abulfazl urged for international community to take note of Ms Khodayari's cause.
"We need to come together and support women's rights all over the world, whether in Iran or Saudi Arabia or in our own Afghanistan," she said.
For Ms Atahi, who lived in Kabul during the Taliban regime and experienced the clamp-down on her freedoms and rights, the plight of the Blue Girl and Iranian women hits too close to home. "We've lived through dark time during the Taliban regime. Women were not allowed to get out of the house, even to go to school," she said.
"But over the last 18 years Afghan women have come a long way and made significant achievement that we fought for, we struggled for and raised our voices around the world."
However, as governments, including the Afghan and US administrations, seek to engage the Taliban in a negotiation to end this war, many Afghan women remain concerned over losing their freedoms and reversing gains in the exchange.
Ms Abulfazl, who has played for the Afghan National team and later coached younger women, shares these fears. "Right from the beginning the US talks started with the Taliban, I thought to myself why should we engage with them [Taliban] when we all know who they are and what their beliefs are."
"If they return [to power], they will find that it is not the same Afghanistan that they ruled 18 years ago," Ms Abulfazl said, adding that in Afghanistan today, men and women study, work, and socialise together.
"We have women ministers, ambassadors and sports players. Will they accept us?" she asked.
While the last round of talks between the US administration and Taliban ended abruptly earlier this month, there is speculation that negotiations will be revived following the Afghan presidential elections scheduled for September 28.
Ms Atahi hoped that, unlike the talks in the past year that did not include Afghan women, the eventual peace process would consider the "significant dynamic of Afghan women and our achievement of 18 years".
Meanwhile, the Blue Girl protests in Kabul have reasserted the voices of Afghan women within the international community. "We do not want to go back to a time when we weren't allowed to go to a stadium, or even out of our homes for that matter. Afghan women are raising our voices to preserve our dignity and identity," Ms Atahi said.
"As Afghan women, we actually have lots of our own problems and challenges, but sisterhood and the fight for women's rights doesn't recognise any boundaries. Our advocacy and struggles go beyond our own boundaries," she said.
The international outcry may lead to changes. Fifa said Sunday it had been "assured" by Iranian authorities that women will be able to attend the October World Cup qualifier in Tehran.
"We need to have women attending – we need to push for that with respect but in a strong and forceful way and we cannot wait anymore," Fifa President Gianni Infantino told a Fifa conference on women's football.
"We have been assured, that as of the next international game of Iran, women will be allowed to enter football stadiums," he said.
https://www.thenational.ae/world/asia/afghan-women-stand-in-solidarity-with-iranians-after-blue-girl-sahar-khodayari-s-death-1.913627
--------
URL: https://www.newageislam.com/islam-women-feminism/in-bangladesh-bride-brings-groom/d/119813
New Age Islam, Islam Online, Islamic Website, African Muslim News, Arab World News, South Asia News, Indian Muslim News, World Muslim News, Women in Islam, Islamic Feminism, Arab Women, Women In Arab, Islamophobia in America, Muslim Women in West, Islam Women and Feminism