New Age Islam News Bureau
7 Apr 2013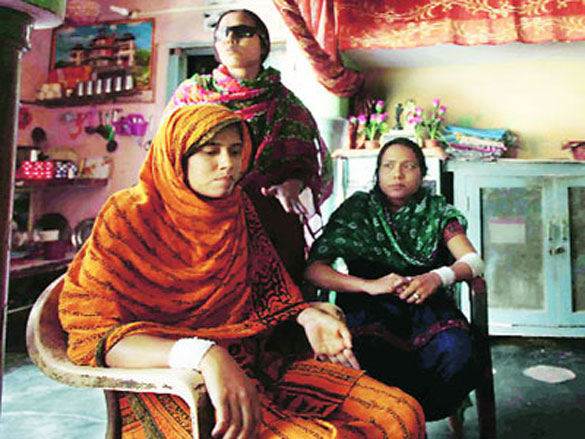 Photo: Kamerjahan (standing) with sisters Aisha, Sanam; (below) Isha, who is admitted in a Delhi hospital with serious injuries
---------
• Many Emiratis Remain Open to Marriage with Non-Nationals
• Nude Facebook Photo Protest Exposes Rift over Women's Rights in Tunisia
• Removal of Ban on Women Cycling In Saudi Arabia Is Just Gesture Politics
• Tunisian Activist 'Fears for Life' After Topless Protest
• Academic Becomes First Muslim Woman MP in Australia
• In Bangladesh 950 Women Get Registered For Foreign Job
• An Emirati Woman 'Assaulted Parents', Dubai Court Told
• Education of Afghan Girls Thrived During U.S. Invasion
• Pakistanis Seek Friendship with India: Woman Activist
• Maternal Death Claim 287, 000 Women, Girls Every Year in Africa
• Women in the World 2013 Recap: Girls' Education, Women in Syria Take the Stage
• Six Months Jail for Attempted Rape of Female Subordinate
• 6th Women National Conference in Sana
Compiled by New Age Islam News Bureau
URL: https://newageislam.com/islam,-women-and-feminism/new-age-islam-news-bureau/in-acid-victims--story,-a-widow,-nine-daughters-and-a-village/d/11044
--------------
In Acid Victims' Story, A Widow, Nine Daughters And A Village
Prawesh Lama
Apr 07 2013
Shamli, UP : Nine daughters of a Muslim widow, all pursuing higher education or holding jobs, sisters Anjum, Jahan, Sana, Kamerjahan, Sanam Jahan, Alisha, Isha, Aisha and Alina would have been the envy of any. In the small village of Kandhla, in this region steeped in orthodoxy in western Uttar Pradesh, that may have run deep enough to bring them an acid attack.
Isha, 23, is now in New Delhi's Sir Ganga Ram Hospital, with burns to her face and battling to save her left eye. Kamerjahan (30), Sanam Jahan (28) and Aisha (21), who too had acid thrown on them by two unidentified men on a bike on April 2 evening, also received burns on their face and other parts of the body.
In the village, everyone knows about what happened and will guide you to their house, that has been getting a stream of visitors, including politicians. However, no one claims to have seen the bikers.
Questioning the village's silence, Aisha says: "There were a lot of people at the spot. One of the shopkeepers even tried to stop the bikers and hurled a few abuses at them. However, they have denied any knowledge about the identity of those bikers. Someone must have seen their face or heard their voices."
The confidence with which they sped away through the narrow village lanes appears to indicate they were locals. The villagers The Sunday Express spoke to also denied any information of who the men could have been.
However, it's not the first time the girls have felt isolated in this predominantly Muslim village. Apart from poverty, their mother Nur Jahan, in her 60s, fought battles at various levels to ensure them an education — often putting her at odds with fellow villagers. Her husband Salim, a tailor, died nine years ago following a heart attack. Nur Jahan also has a son, 19, who is studying in Ghaziabad.
The four sisters who were attacked work as temporary teachers at local schools and earn Rs 2,000 each per month. They were returning from exam invigilator duty at the Hindu Inter College School when acid was thrown on them just metres from their house.
While Anjum, 35, has done M.A. in Economics, Jahan, two years younger, is a constable with the Uttar Pradesh Police. Sana has done M.A, and M.Ed and is teaching in a school in Delhi. Alisha did M.A. in Home Science. All four are married.
Isha was planning to give B.Ed exams in June. The Delhi hospital where she is admitted has said the next two weeks will be crucial in determining if her eye can be saved. It has also promised to bear the entire cost of her treatment.
Villagers vouch for Isha's beauty. She won a college beauty contest four years ago, says a worried Alina, the youngest sister who is in Class XI.
SSP Shamli Abdul Hamid said the police had identified some suspects and were questioning them, though no arrests have been made. Admitting that some villagers may have resented the girls working, he added: "As of now we cannot say anything on the reason why they were attacked... Another reason could also be that some students were angry with the victims. There could be a third angle too."
The girls can't identify the men as the one driving was wearing a helmet and the pillion rider who threw the acid had his face covered with a handkerchief. "Both of them were well-built and wearing shabby clothes. They did not utter a word and just attacked us. For a second I thought it was water but the next moment, I felt my eyes burning. Isha and I fainted right there," says Kamerjahan, who also received injuries to her right eye.
The attackers used a bottle meant to spray water, commonly used by a barbers, for the attack.
With the village silence ringing loud, Nur Jahan, who never got swayed by what others thought, now wonders if it is all her fault. "I never asked my daughters to wear a burqa despite all the villagers asking me to. After my husband's death, our relatives discouraged them from pursuing higher education as everyone here believes women aren't meant to study... My daughters have always been outgoing, I hope this is not the reason they were attacked."
http://www.indianexpress.com/story-print/1098807/
------------
Many Emiratis Remain Open to Marriage with Non-Nationals
Anna Zacharias
Apr 6, 2013
ABU DHABI // Since 2005, more than a quarter of Emirati marriages have been to non-nationals, but the children of such marriages face the risk of discrimination, academics say.
"I think the ethno-politics and the attacks are becoming stronger, they're becoming more aggressive," says Dr Rima Sabban, an associate professor of sociology at Zayed University.
"The issue of identity and who you are and where you're coming from is becoming more aggressive, and people are becoming more vocal. Nationalism is definitely an issue."
Emiratis from mixed marriages feel the value traditionally placed on lineage and tribal affiliation is increasingly framed in terms of nationality.
"[Nationalism] has had more of an impact than anything else," says Tariq bin Hendi, 30, an Emirati PhD candidate at Imperial College London who has an American mother.
"You have an embedded segregation in that and to me that's very disturbing, and that's the problem I have. I actually am really worried about this process that we're undergoing because it's very in your face and it's very unwelcoming."
Mixed marriages are often interpreted as a sign of the times - a result of globalisation, the rise of romantic love or a reaction to the rising cost of Emirati weddings.
Yet generations of mariners and traders have married women from across the Arabian Gulf, the Indian Ocean and beyond.
The rate of Emiratis marrying non-nationals has changed little since National Statistics Bureau records started in 2005, fluctuating between 25 and 27 per cent.
The highest rates of mixed marriages were in Dubai and Abu Dhabi, where 37 and 33 per cent of marriages were to non-nationals in 2011.
The lowest rates are in Fujairah, where only 8 per cent of marriages are to foreigners. Mixed marriages rose from 23 per cent in 2005 to 37 per cent in 2011 in Dubai, but stayed constant in Abu Dhabi.
Statistics for last year are not yet available.
With more children having mixed parentage, some feel that the stigma has receded in recent years thanks to media, social networking and a more open society.
"Before we used to hear about these things but now everybody is becoming more open-minded," says Sumayya Al Maftool, 31, an Emirati with an Indian mother, who works in Dubai.
"We see in our religion, in Islam, it is written that we should not look at the difference in other nationalities."
Where you live is important as there is less discrimination in the big cities, says Mr bin Hendi. "I think in Dubai they accepted a long time ago that there are no 'pure' Emiratis, irrespective of what people try to pretend."
Others feel that as globalisation takes increasing hold in the Gulf, segregation is paradoxically growing.
"There's no friendship like before between locals and others," says Maryam Al Ali, 30, an Emirati from Ras Al Khaimah with an Egyptian mother.
At the same time, the high rate of mixed marriages is also causing some anger and a fear that a foreign mother will somehow "dilute" Emirati culture.
The Grand Mufti of Dubai, Dr Ahmed Al Haddad, called for restrictions on mixed nationality marriages in 2010, stating that "in Islam choosing your life partner is a personal freedom" but "personal freedoms can be restricted for the benefit of public interest".
One of the explanations put forward for why men marry non-nationals is the high cost of dowries and weddings, but those men lose their right to financial support of up to Dh70,000 in wedding costs.
For Dr Sabban, the solution to the problem of discrimination is more discussion.
"The society has to find ways for this type of politics to be let out, to be spoken of, to be encouraged into coming out in a creative way and less in tension," she says. "It requires more, as I see it, social awareness, more social programmes, more government and also media."
http://www.thenational.ae/news/uae-news/many-emiratis-remain-open-to-marriage-with-non-nationals#ixzz2Pm11Aw9w
--------------
Nude Facebook Photo Protest Exposes Rift over Women's Rights in Tunisia
Alice Fordham
Apr 7, 2013
TUNIS // For a country whose economy depends on sunbathers baring their flesh on its sandy beaches, Tunisia was surprisingly easily shocked by the photographs of Amina Tyler.
Last month, the 19-year-old activist posted two photographs of herself topless on a Facebook page she had created as the Tunisian voice of the radical movement, Femen.
"My body is my own, not the source of anyone's honour," was written in Arabic on her skin in one picture.
She told the Ettounisia television channel she had seen photographs of the Femen movement in July last year and liked their strong message. She contacted them and had several Skype conversations.
"If I posted a picture of myself wearing a T-shirt with that slogan, it wouldn't have any impact," she said. "I want the message to be read this way. [A woman's] body is hers - not her father's, her husband's or her brother's."
The reaction was immediate, with thousands of people in Tunisia and further afield supporting her on Facebook, posting nude pictures in solidarity and eagerly watching her appearances on television.
Conservative leaders, meanwhile, denounced her furiously, as did more traditional Tunisians.
The split in opinions goes to the heart of the different ideas of freedom held by women in Tunisia two years after the fall of the autocratic Zine El Abidine Ben Ali.
After participating fervently in the uprisings that expelled the leader, many secular women are worried that the increasingly Islamist political scene will erode hard-won women's rights. But religious women who felt oppressed under the secular regime say they are delighted to embrace their Muslim identity.
Souha Ben Othman is an activist with the Tunisian Association of Democratic Women, a group founded nearly 25 years ago that campaigned in particular for women in the impoverished interior of the country under Ben Ali.
Since winning independence from France in 1956 under the leadership of Habib Bourguiba, Tunisia has had a progressive attitude to women's rights. Bourguiba promoted secular thinking, encouraging women to participate in politics and the workplace.
Bourguiba passed the Code of Personal Status into law, outlawing marriage without consent of the woman, polygamy and summary divorce. It remains among the most progressive women's reforms in the Arab world.
And yet, said Ms Ben Othman, the work of her organisation was not always easy. After it supported women in the mining town of Gafsa in 2008, when many men who took part in industrial action were jailed, police stood outside their offices and noted everyone who came and went.
As 2011's protests gathered momentum, activists gathered in those offices before going on marches.
Ms Ben Othman had high hopes in those euphoric days that after Ben Ali's fall some lingering restrictions on women's rights - inheritance laws, for example - would be lifted and work would begin on economic empowerment of rural women.
The reality was different. "We were a little surprised that some women chose this way of life - not just the hijab, but the burqa," she said.
Since the fall of Ben Ali, the number of women covering their heads - a practice previously discouraged by police - has increased significantly, while some women have also adopted full-face veils and black abayas. Ms Ben Othman said religious television channels from outside Tunisia encouraged the more conservative forms of dress.
"What surprised us most was that the women delegated in the National Constituent Assembly, from the Ennahda party, actually work against women's rights," she said.
This is a common view of the moderate Islamist party that dominates the elected interim governing body, especially among secular women.
As successive drafts of a new constitution have been made public they are scrutinised, and last year a clause that described women as "complementary" to men prompted a protest by thousands of women. The clause was removed.
There have been other incidents that stirred debate, such as when the interior ministry was perceived as being slow to act against two policemen accused of raping a young woman last year.
"The government has a retro-Islamic view on human rights," said Essia Belhassen, a founder member of the Tunisian Association of Democratic Women.
After the fall of Ben Ali, she said, "I had a dream that I would get the chance to fulfil the goals of the revolution, but I am stuck fighting for rights that I accomplished in the past".
The accusations of eroding rights are denied by Farida Laabidi, a senior Ennahda member and the head of a government subcommittee on rights and freedoms.
Wearing a coloured headscarf and matching sweater, she said, the government "has not changed the rules on the rights of women".
"The woman is an essential part of the democratic transition," she said, adding that she had personally overseen a section in the new constitution guaranteeing equality of rights and responsibilities.
There are more than 40 women in the 217-seat interim ruling body, almost all of whom are from Ennahda, she said, but she wants to see more in future, especially at the top of ministries. The Code of Personal Status will, if Ennahda gets its way, remain unchanged.
But, she added, the previous regime had harassed and even jailed religious women and the new reality in Tunisia would not impose secular practices.
A presidential decree passed in 1981 by Bourguiba forbade women from covering their heads in public institutions.
The ruling was supported by his successor, Ben Ali, in a much-criticised speech in 2006. The decree is now no more.
Many Tunisian women who now cover their heads, bodies or faces tell of once being ejected from school, university or a government job because of their headscarves.
"Happy!" sang Zeidi Meriam, a 25-year-old charity worker, when asked how she felt when she could dress more modestly after the fall of Ben Ali. She wears a long dress and jacket, as well as a headscarf, and said its that it made her feel more comfortable and confident. "Women's rights are essential to Islam," she said, adding that she felt that an Islamist government could be a force for good on women's rights.
She said that Tunisians all support each other, no matter what their ideology or religion. But she had little time for the topless antics of Amina Tyler and others from the Femen movement.
"I feel like it is an empty act," she said. "I don't see the point. I think she could have expressed herself with a different method, which would have had the same impact.
"What's the difference between an animal and what she did?"
afordham@thenational.ae
http://www.thenational.ae/news/world/middle-east/nude-facebook-photo-protest-exposes-rift-over-womens-rights-in-tunisia#ixzz2Pm2QLQiS
--------------
Removal of ban on women cycling in Saudi Arabia is just gesture politics
6 April 2013
This week Saudi Arabia reportedly lifted its ban on women cycling and riding motor bikes. However, before we all celebrate that women are a step closer to emancipation in the Kingdom, let's have a look at the many caveats.
In actual fact women will only be able cycle in designated areas and only if accompanied by a male. Not only this but they will only be allowed to cycle in designated recreational areas and will have to wear the full Islamic head-to-toe abaya.
Women are still prohibited from using bikes as a mode of transport or taking part in competitive cycling. Apparently women should also avoid cycling where there are young men to 'avoid harassment'. Yet again women's lives have to be restricted to avoid men's unacceptable behaviour.
Cycling still gives women the possibility of being independent and autonomous and gives women a way of transcending personal and social barriers
Until last year cycling was also banned for women in North Korea. In the mid 1990s Kim Jong Il ruled that it was illegal for women to ride bikes and until August it was punishable by a fine.
While women are allowed to drive in Iran, cycling is socially frowned upon. During the Olympics Ayatollah Elm Alhuda, Friday prayer Imam in the holy city of Mashad, argued: 'It is not a sin for a woman to sit on a bicycle saddle, provided she does so indoors or in her backyard.
'But if she cycles in public her movements and posture will lead to corruption and prostitution.'
In 2000, the award-winning Iranian film The Day I Became a Woman used the idea of women cycling competitively to highlight the position of women in Iran.
These restrictions reflect an oppressive attitude to the position of women, their freedom and sexuality.
The bicycle has long been a symbol of women's freedom and liberation. The advent of the bicycle had a profound affect on women's position in society, giving them greater freedom to travel and become self-reliant. The bike was a tool of the suffragettes, who were able to travel and promote the right to vote around the country.
Cycling still gives women the possibility of being independent and autonomous and gives women a way of transcending personal and social barriers.
Cycling makes women more independent and mobile without relying on men. That is why Saudi Arabia has said that women must be accompanied by a man and won't be able to use the bike as a form of transport. The fact that the ban on women driving cars remains shows that Saudi Arabia do not want women to be mobile or independent.
The continued restrictions show that Saudi Arabia is not really serious about women's equality. As with its inclusion of two women in the Saudi 2012 Olympic team, this change in the law is, in my opinion, merely a gesture to defend its position of trade partner and ally to the West.
http://blogs.metro.co.uk/news/removal-ban-women-cycling-saudi-arabia-just-gesture-politics/
--------------
Tunisian Activist 'Fears for Life' After Topless Protest
7 April 2013
PARIS — A Tunisian activist said on French television Saturday that she feared for her life after courting controversy by posting topless pictures of herself online in support of Arab women's rights last month.
The young woman, who goes by the name of Amina Tyler, provoked the ire of Islamist groups when she posted the pictures of herself online with the words "My body belongs to me" and "F(expletive) your morals" emblazoned across her naked breasts, in feisty homage to the Ukrainian women's power group Femen.
Shortly after, she disappeared from public view, raising fears that she had suffered reprisals at the hands of extremists and giving rise to a number of rallies around the globe supporting her.
Full report at: Copyright © 2013 AFP. All rights reserved
--------------
Academic becomes first Muslim woman MP in Australia
7 April 2013
Australia will have its first Muslim woman MP, the Greens party in News South Wales (NSW) said on Sunday.
Academic Mehreen Faruqi, of Pakistani origin, will replace NSW upper house MP Cate Faehrmann in the new parliament later this year.
"As the first Greens MP in NSW from a migrant background, I'm also excited about building stronger relationships between the Greens and migrant communities," Dr. Faruqi said in a statement.
She said she looks forward to tackling issues concerning gender equality and same-sex marriage, among other topics.
Full report at:
http://english.alarabiya.net/en/News/world/2013/04/07/Academic-becomes-first-Muslim-woman-MP-in-Australia.html
--------------
In Bangladesh 950 Women Get Registered For Foreign Job
Apr 07 2013
Only 950 women have registered their names for foreign jobs until Sunday afternoon as the government launched online registration in three divisions today.
According to Bangladesh Manpower, Employment and Training (BMET) Bureau information cell, 950 women enrolled their names for jobs in Singapore, Hong Kong and Middle-Eastern countries till 3:30pm.
The online registration of female workers in three divisions– Rajshahi, Rangpur and Sylhet– will continue till April 11.
Full report at:
http://www.thedailystar.net/beta2/news/950-women-get-registered-for-foreign-job/
---------
An Emirati Woman 'Assaulted Parents', Dubai Court Told
Salam Al Amir
Apr 7, 2013
DUBAI // A woman assaulted her parents and grandparents after they quizzed her about staying out past midnight, a court heard.
SM, 26, an Emirati, punched her mother, threw cups and glasses at her grandparents and pushed over her "half-paralysed" father, prosecutors told the Family Court.
Her father regained his balance and slapped her, so she called police and said her family were beating her up, but she was arrested.
Her mother, AM, 44, said her daughter would often return home late and hit her if she asked questions about her whereabouts.
Full report at:
http://www.thenational.ae/news/uae-news/courts/woman-assaulted-parents-dubai-court-told#ixzz2Pm2Y4ZrN
--------------
Education of Afghan girls thrived during U.S. invasion
Apr 04, 2013, CNN
(CNN) - The U.S. military is winding down its mission in Afghanistan.
One of the big achievements since the invasion nearly 12 years ago has been the rebirth of education for girls.
Under the Taliban, they were banned from going to school, and when the war kicked off in 2001, only 900,000 boys were getting an education.
Now there are more than 8 million students across the country, of which 40% are girls.
"Education in this country has a momentum. We believe that's the case," Alistair Gretarsson of UNICEF said.
Full report at:
http://www.myfoxal.com/story/21876539/education-of-afghan-girls-thrived-during-us-invasion
--------------
Pakistanis Seek Friendship with India: Woman Activist
7 April 2013, IANS
New Delhi, Apr 7 (IANS): Leading Urdu poet, progressive writer and women's activist from Pakistan Fahmida Riaz has said that all three major political parties in her country seek friendly ties with India.
The Pakistan People's Party, the Muttahida Quami Movement and the Pakistan Muslim League (Q) -- all want amicable ties, she said in conversation with journalists at the Press Club of India here.
The Karachi-based writer, known to lean Leftward, and active on issues pertaining to women's empowerment and human rights, said that if India spurned Pakistan's friendly overtures, it would have unpleasant consequences for people-to-people contacts between the two neighbours.
Full report at:
http://www.daijiworld.com/news/news_disp.asp?n_id=169729
--------------
Women in the World 2013 Recap: Girls' Education, Women in Syria Take the Stage
Suzanna Bobadillain World,Human Right
7 April 2013
What an evening! Thursday night marked the kick-off proceedings for the Daily Beast's fourth annual Women in the World Summit here in New York City. The two day event, described as "an intimate and impactful gathering centered on vivid storytelling and live journalism," seeks to raise consciousness about gender advocacy and inspire solutions to the world's greatest problems.
From its speaker list, it certainly is rolling in the mainstream big leagues (on the first day, attendees got to hear from Christiane Amanpour, Barbara Walters, Angelina Jolie, and Meryl Streep) but perhaps more impactful, attendees heard the testimony of women who are making incredible changes in Syria, South Africa, and especially Pakistan.
The second day of the summit will be lived streamed, but to catch you up on what you missed, here's a quick run-down of the first day's events.
Full report at:
http://www.policymic.com/articles/33037/women-in-the-world-2013-recap-girls-education-women-in-syria-take-the-stage
--------------
Six Months Jail for Attempted Rape of Female Subordinate
Staff Reporter / 7 April 2013
A judge who retaliated in the court room to the unremorseful remarks of a man accused of rape said that he was lucky not to have been sentenced to 10 years in jail for the crime he had committed.
Enraged by the verdict, which sentenced him to six months in jail for attempted rape, the accused, appearing in the dock, shouted: "I did nothing wrong to her" and asked the court: "So what if I did so?"
In response to the disgraced manager's cold comments the judge replied: "Thank Allah the God that she had pushed you away from her and escaped, or else you would have got at least 10 years in jail," clarifying to the accused: "The woman did not save (only) herself when she had pushed you away, but had saved you too."
Full report at:
http://www.khaleejtimes.com/nation/inside.asp?xfile=/data/courtroundup/2013/April/courtroundup_April15.xml&section=courtroundup
--------------
6th Women National Conference in Sana
April 06, 2013 1
Participants attend the 6th Women National Conference in Sana'a, Saturday. The conference discussed issues relating to ending discrimination against women in Yemeni legislation as well as political and economic empowerment for women. – Reuters
http://www.saudigazette.com.sa/index.cfm?method=home.regcon&contentid=20130407160240
--------------
URL: https://newageislam.com/islam,-women-and-feminism/new-age-islam-news-bureau/in-acid-victims--story,-a-widow,-nine-daughters-and-a-village/d/11044