New Age Islam News Bureau
16 Aug 2017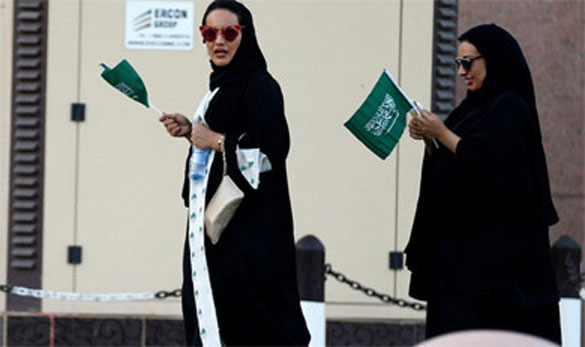 The decisions pertain to protecting minors, divorcees, women who have custody of their children and law graduates. (Reuters)
-----
• Saudi Arabia Approves Four Decisions in 10 Days to 'Boost Women's Rights'
• Al-Azhar Rejects Tunisia's Call for Gender Equality in Inheritance
• Saudi Female Surgeon Named Goodwill Ambassador for Orthopaedics Society
• 3 Female Suicide Bombers Kill 28 In Nigeria
• Picador Pre-Empts Essay Collection by Muslim Women
• UAE to celebrate 'Emirati Women's Day'
• The Female Face of Islamic Law in Malaysia
• PM Modi Pledges Support to Women Fighting Triple Talaq
Compiled by New Age Islam News Bureau
URL: https://www.newageislam.com/islam-women-feminism/in-first-yari-road-mumbai/d/112217
--------
In A First, Yari Road, Mumbai, Mosque Opens Door to Women Ulema
Aug 16, 2017
Maulana Mohammed Fayyaz Baqri's wife is among the many women who impart knowledge about the Quran to fellow Muslim women.
At a time when Muslim women are breaking into many a male bastion, a mosque on Yari Road has taken an exemplary decision — which is being touted as a first in the city — to allow Shia women to don the role of Ulemas.
While the "Jumme ki namaz" is still read out by the Maulana at Mehfil-e-Saani-e-Zahra or the Zaib Palace mosque, as it is popularly called, there are women Ulemas or scholars, who impart knowledge about the Quran and Islamic teachings to females in the community. Uzma, the wife of Maulana Mohammed Fayyaz Baqri, is one such woman scholar.
Maulana Baqri said that his wife offers sermons on the importance of women's education and the role of women in Islam.
"Once you educate women, you educate a family. Once you educate a family, you educate a society. Women who sermonise offer lessons on a number of subjects — how to read Quran, how to bring up children and educate girls, and how to become better human beings by leading a righteous life. They basically preach on Islamic beliefs and the need to find a balance between 'deen' (knowledge of religion) aur 'duniya' (world),"he said.
Uzma said, "I also conduct classes on the Quran at the mosque. I teach girls and women from 5 to 15 years of age on how to pray and how to behave in the society according to Islamic rules."
Fatima Ali (name changed), a resident of Yari Road who has attended the sermons at the Zaib Palace mosque, said that before "Jumma namaz", "khutbah" is offered by the Maulana. "But learned women Ulemas conduct sermons at the mosque. They tell us a number of things — the Israeli war, whatever is taking place in Iraq and other happenings that we are not aware of. We are also apprised of our duties. We are told how to work for the oppressed," she said.
Fatima said that women Ulemas mainly lecture on the Quran, as many among them don't know how to read the religious text perfectly and to comprehend it in the correct manner. "We are also taught how to bring up our children in a responsible manner. A majority of mosques in the city don't allow women to offer sermons, but this mosque works towards our uplift," said Fatima.
The women are also sensitised against terror outfits like Daesh. "We have been taught to send a strong message to the Daesh… that we don't support them and that we strongly oppose their ideology," she added.
Maulana Farmaan Mossavi, who belongs to a mosque in Govandi and is associated with NGOs Sar-Allah and Husseini Youth in Gujarat, stressed that women don't face discrimination in their community. "If no male scholars are present at Khoja Masjid in Dongri, women are invited to lecture. They also mentor and counsel the women of their community," he added.
Maulana Ather Ali of Mohammed Ali Road's Minara Masjid, which still doesn't allow women on the premises, welcomed the move.
"Our mosque is too small to accommodate men, leave alone women. But this is a welcome move by the Zaib Palace mosque. We already have women on the executive board of the All India Muslim Personal Law Board, who deliver speeches on microphones from behind purdah," said Maulana Ali.
Dr Zeenat Shaukat Ali, directorgeneral of the World Institute of Islamic Studies for Dialogue, Organisation of Mediation and Gender Justice (Wisdom Foundation), which is fighting in the triple talaq case, called it a step in the right direction.
"On the 12th day of Muharram, which is observed as a mourning period, a gathering of 200 women is held in Muslim homes and that is the only time, women scholars are invited to impart knowledge to fellow women. So, the mosque has indeed taken an exemplary step," she explained.
Dr Ali hoped that other mosques would allow women Ulemas in a year's time. "Such a practice will infuse confidence in women. I want women to speak about the rights that the Quran has given to them. There are 805 verses in the Quran on education and 'ilm' (education) is the most frequently used word after Allah. It is important for us to understand that knowledge of the religion and the world (deen and duniya) go hand-in-hand," she said.
http://mumbaimirror.indiatimes.com/mumbai/cover-story/in-a-first-yari-road-mosque-opens-door-to-women-ulemas/articleshow/60078262.cms
--------
Saudi Arabia approves four decisions in 10 days to 'boost women's rights'
15 August 2017
Saudi Arabia's Justice Ministry has approved four decisions in support of women's rights in the past ten days, the Saudi Okaz daily reported.
The decisions pertain to protecting minors, divorcees, women who have custody of their children and law graduates who have not practiced the profession yet due to male lawyers' arbitrariness.
Legislative authorities approved 10 proceedings to control the marriage of minors, such as limiting the permission to marry off girls below 17 years old to the relevant court. The marriage application must be submitted by the girl, her mother or legal guardian in marriage.
The cabinet also approved organizing the Alimony Fund for divorcees and children. The fund will be directly linked to the justice ministry and it will have its independent budget.
The Fund will pay alimony to beneficiaries before a verdict to cash one is issued. It will also pay alimony to women whom ex-husbands did not pay on time. The ex-husband will then pay the Fund later.
Meanwhile, the Supreme Judicial Council approved a decision pertaining to women's custody of their children. The decision stipulates that if there are no disputes regarding the custody of children, the woman can prove they are in her custody without having to file a lawsuit in personal status courts.
As for female law graduates who haven't been able to work and who have been exploited by some lawyers as interns, the Justice Ministry approved a three-year law diploma that concludes with granting the intern – whether male or female – a license to practice the profession.
The diploma will prepare law graduates to practice law as the intern programs which some lawyers provide do not teach interns well as they're often assigned irrelevant tasks.
https://english.alarabiya.net/en/News/gulf/2017/08/15/Saudi-ministry-approves-four-decisions-in-10-days-to-empower-women-.html
--------
Al-Azhar Rejects Tunisia's Call for Gender Equality in Inheritance
16 August 2017
Cairo- The calls of Tunisian President Beji Caid Essebsi for gender equality in marriage and inheritance began on Tuesday to take a regional dimension after several Arab regional institutions commented on the issue.
Essebsi had called for the abolition of a circular that banned Tunisian Muslim women from taking non-Muslim husbands and to amend inheritance laws to allow equality between male and female inheritors.
In this regard, Egypt's Al-Azhar criticized the move.
Deputy of Al-Azhar Sheikh Abbas Shuman said equality in inheritance is "unjust for women and is not in line with Islamic Sharia."
In a statement, Sheikh Shuman said: "The call for equality in inheritance between genders is unfair because women can already inherit more than men in certain situations."
As an example, Shuman said a mother would receive a bigger share of her deceased daughter's legacy, as the mother receives one-third while the brother inherits only one-sixth.
He also commented on the law to allow for marriage between a non-Muslim man and a Muslim woman, saying that such a move is not in the interests of either women or men.
"Such a marriage would obstruct the stability of marriage," the Sheikh said.
Under the current law, a Tunisian Muslim woman is banned from marrying a non-Muslim man unless he converts to Islam.
In a speech marking Women's Day on Sunday, Essebsi said he had set up a committee to look into his proposals and present a report.
On Monday, Tunisian Islamic scholars at Diwan al-Ifta issued a statement in support to the president's proposed changes.
The scholars said that Essebsi's proposals "support the status of women, guarantee and activate the principle of equality between men and women in the rights and duties called for by Islam," in addition to the international conventions ratified by Tunisia in this regard.
https://english.aawsat.com/waleed-abdul-rahman/news-middle-east/al-azhar-rejects-tunisias-call-gender-equality-inheritance
--------
Saudi Female Surgeon Named Goodwill Ambassador for Orthopaedics Society
15 August 2017
The American Society for Orthopedics has declared a consultant in the field, Dalal Bobsheet, as the goodwill ambassador for the international program on orthopedic surgery.
The award has been given with the hope of improving the standard of the surgery in the Middle East, and enhancing patient service.
Bobsheet is considered the first orthopedics consultant in the region and the second in Saudi Arabia as of 2011.
Choosing her field
Speaking on her choice of specialization, Bobsheet said that she explored numerous others before settling on this one. In her opinion, she felt that this specialty was the hallmark of her career while working as a specialist, she found that she was skilled in surgery in general.
The ambassador suggested that such a field holds creativity, artistry, and precision. She also belives that is a humane profession.
Loving what you do or the field you work in is the barrier between you and excellence, said Bobsheet.
The surgeon has achieved important scientific and national accomplishments. She's also known for her social and loving personality, making her a prominent figure in Saudi society.
Social initiatives
Bobsheet has worked her way up the ladder in volunteer and humanitarian work. She also carried out several community service initiatives.
She's also been part of numerous social awareness initiatives. Her latest initiative was on the dangers of quad-bikes.
Bobsheet highlighted the consequences of misusing them and their driving safety rules and regulations. At the same time, she provided medical insight in the case of an emergency.
She also pointed out safe clothing options for when driving the bikes, the way they should be worn, tested and how drivers should handle wounds and breaks.
https://english.alarabiya.net/en/features/2017/08/15/Saudi-female-surgeon-named-goodwill-ambassador-for-Orthopedic-surgery-society.html
--------
3 female suicide bombers kill 28 in Nigeria
August 16, 2017
Kano, Nigeria: Three women suicide bombers blew themselves up at the entrance to a camp for displaced people in northeast Nigeria on Tuesday, killing 28 people and wounding 82, local sources said.
The attack took place in the town of Mandarari, 25 kilometres from Maiduguri, the capital of restive Borno state, said Baba Kura, a member of a vigilante force set up to fight extremists.
"Three female bombers triggered their explosive outside of the IDP (internally displaced persons) camp... killing 28 people and wounding 82 others," Kura said.
The first assailant blew herself up, triggering panic, Kura said.
"People were trying to close their shops when two other female bombers triggered their explosives, causing most of the casualties," he said.
Ebrahim Liman, the head of a local anti-extremist militia force, confirmed the details of the attack, and said that more than 80 injured had been taken to Maiduguri hospital.
A source at the hospital said a "huge number" of patients had arrived.
Northeast Nigeria is a hotbed of activity by the Boko Haram jihadist group, involving shootings, bombings and kidnappings.
It launched an insurgency in 2009 that has killed about 20,000 people and displaced around 2.6 million others.
On Saturday, Boko Haram killed four people and torched homes in a night-time raid on the village of Amarwa, about 20 kilometres from Maiduguri, according to local sources.
http://gulfnews.com/news/africa/nigeria/3-female-suicide-bombers-kill-28-in-nigeria-1.2074933
--------
Picador pre-empts essay collection by Muslim women
August 16, 2017
Picador has pre-empted a collection of essays about the Muslim female experience, edited by social media activist Mariam Khan.
The yet-to-be-named essay collection, completely authored by Muslim women "speaking up for who they are and what they believe", came out of a desire to challenge Western views that Muslim women don't speak and to create "a new narrative where Muslim women write about their lives outside the parameters of the expectations projected on them".
Prompted by a leaked conversation in which David Cameron said the "traditional submissiveness" of Muslim women made them unable to speak up against radicalisation of young men in their communities, 24-year-old Khan wanted to show rather it is the West that "always tried to speak over Muslim women, to tell their story for them".
The collection will comprise pieces by Muslim women about the Muslim female experience, answering questions such as: Can Muslim women be feminist? Can Muslim women identify as queer? Are Muslim women oppressed by their hijabs? Confirmed contributors include Mona Eltahawy, Blair Imani, and Malia Bouattia.
Senior editor Sophie Jonathan, who bought world English rights from Molly Ker Hawn at The Bent Agency, hailed it "the most exciting proposal I've seen in the last few years", promising the "powerful" collection would "extend the conversation" around the Muslim female experience.
"This is the most exciting proposal I've seen in the last few years and every word of this carefully conceived project blew me away," said Jonathan. "There is such erudition and confidence in Mariam's writing, but also an intimacy I find profoundly moving. This will be an enormously powerful book, and one I know so many people want and need to read. Mariam does not propose to speak for a faith or a group of people, but the book will extend the conversation, and it will help to ensure that we learn about the Muslim female experience from Muslim women and no one else. Varied, dynamic and passionate, this is a project about listening and talking, a book for discussion and debate, a tool for education but also for celebration, and I know it will be at the heart of so many conversations. I cannot wait to get it out into the world."
Khan, author "Femsplain" essay "So, What Generation Immigrant Are You?", said: "I'm delighted to be working with Sophie at Picador to create a book where Muslim women can tell their own stories, because honestly, when was the last time you listened to a Muslim woman speak for herself?"
http://www.thebookseller.com/news/picador-pre-empts-essay-anthology-muslim-women-speak-614551
--------
UAE to celebrate 'Emirati Women's Day'
August 15, 2017
The day will recognise the contribution of the nation's women in the development of UAE.
The UAE is celebrating the 3rd Emirati Women's Day, in recognition of the contribution of the nation's women, and their role in the development and advancement of the country.
HH Sheikha Fatima bint Mubarak, Chairwoman of the General Women's Union, Supreme Chairwoman of the Family Development Foundation and President of the Supreme Council for Motherhood and Childhood, has chosen 28th August as the Emirati Women's Day, to celebrate the birth of the General Women's Union on 28th of August 1975.
"The first celebration was in the year 2015, and in light of this occasion, the UAE people celebrated the great path of the late founder, Sheikh Zayed bin Sultan Al Nahyan, who established the foundations of wise leadership and what this country has achieved, where women were fortunate to bear the fruits of its renaissance," Sheikha Fatima said.
"There has been continuous attention to and advancement in the role of women, under the support of President His Highness Sheikh Khalifa bin Zayed Al Nahyan, especially in the recent years, where women's issues across all areas and sectors have become a top priority for developmental policies," she added.
The strategic vision of the state is to implement policies and programmes for women, as part of the national agenda to give importance to women's education. Today, the number of women in schools exceeds the number of men, and 65 percent of the university graduates in the UAE are women.
H.H. Sheikha Fatima Bint Mubarak has actively promoted the role of Emirati women and raised their status in society. She had recognised the importance of enhancing the role of women through institutional work. The Abu Dhabi Women's Association, the first women's organisation in the country, was founded on 8th February, 1973, after which the General Women's Union was established in 1975.
As part of the process to empower women in all sectors, there are special military bodies for women in the UAE named after talented Arab women such as
Khawla bint Al Azwar Military School - the Gulf region's first military school for women.
The College is a military training institute for women, which has been training women since 1992. It conducted a six-month training course, which included theoretical and military training for the women, so that they can take part in maintaining the safety and stability of the country, along with their fellow brothers.
Emirati women have been able to take part in the UAE's renaissance and take on the highest positions, due to the attention of the late Sheikh Zayed.
This attention continues to be strengthened under the wise leadership of President His Highness Sheikh Khalifa bin Zayed Al Nahyan, and Vice President, Prime Minister and Ruler of Dubai, His Highness Sheikh Mohammed bin Rashid Al Maktoum, and His Highness Sheikh Mohamed bin Zayed Al Nahyan, Crown Prince of Abu Dhabi and Deputy Supreme Commander of the UAE Armed Forces.
The greatest witness to the policy of enabling Emirati women, the state gave eight women ministerial portfolios out of the 29. In an unprecedented historical achievement at the local and regional level, Dr. Amal Abdullah Al Qubaisi was elected the Speaker of the Federal National Council (FNC), the first woman to head a parliamentary institution at the regional level.
During the 16th legislative term of the Federal National Council, a total of 330 candidates from all the emirates of the UAE competed in the 2015 legislative elections. Of these, 74 were women. The total number of women participating in the elections made up 38.94 percent of the candidates. A total of nine women were elected, which made up 22.5 percent of the total 40 members.
As part of the steps and initiative taken by the UAE to enable women, who comprise 49.3 percent of the population, His Highness Sheikh Mohammed bin Rashid launched the UAE Gender Balance Council at a government summit in Dubai in 2015.
The "UAE National Strategy for the Empowerment and Entrepreneurship of Women in the UAE 2015-2021" was also launched to provide a guiding framework for all government, federal and local institutions and civil society organisations, to develop plans and programmes to help Emirati women to be more capable and proactive.
This year, the women of the UAE will celebrate the 3rd year of the Emirati Women's Day, especially those holding senior positions in the Ministry of Foreign Affairs and International Cooperation.
According to a report issued by the ministry on the occasion of International Women's Day, the permanent representative of the state to the United Nations is occupied by a woman for the first time.
In addition to the seven women ambassadors and consuls in Spain, Sweden, Portugal, Milan, Kosovo, Hong Kong and the Republic of Montenegro out of the 157 diplomats, 42 women were working in diplomatic missions, demonstrating their exceptional work in air defence and civil aviation, military, judiciary, public prosecution, education and other units of the Ministry of Interior.
Emirati women now occupy 66 percent of government jobs, including 30 percent of senior decision-making positions and 15 percent of specialised academic posts.
Women's contribution to economic activity and the labour market has steadily increased since the establishment of the UAE Businesswomen's Council with around 23,000 businesswomen working in the local and global market and running projects worth over AED50 billion.
This excludes the number of women working in banking, which is one of the most important economic sectors in the country and makes up approximately 37.5 percent of its working force.
Emirati women have proven their merit as a major driving force in the community and now are forging ahead confidently armed with science, knowledge, experience and determination to increase their role in the country's sustainable development.
http://www.khaleejtimes.com/nation/uae-to-celebrate-emirati-womens-day
--------
The female face of Islamic law in Malaysia
byLiz Gooch
16 August 2017
Kuala Lumpur - Sitting in a court library surrounded by Islamic law books, Nenney Shushaidah Binti Shamsuddin is polite and softly spoken as she describes the rigours of her job.
Nenney Shushaidah Binti Shamsuddin, Syariah High Court judge
One day she could be sentencing an offender to be caned for breaking Islamic law, the next could see her giving a man permission to take a second wife.
Islamic law enforcers are not often credited with being feminist pioneers, but Judge Nenney fits both those descriptions.
She made history in Malaysia last year when she was appointed one of the first two female Syariah High Court judges in this Muslim-majority nation. "Syariah" is the Malay spelling for the Arabic word "sharia", meaning Islamic law.
And the 42-year-old mother of three doesn't shy away from imposing the harshest punishments prescribed by Islamic law.
"When I'm on the bench, I'm not a woman, I'm not a man. I'm a judge," she says. "I need to deal with the case fair and firm, to follow the law, no bias."
In Malaysia, more women are pursuing careers in the Islamic justice system, from judges and lawyers to court mediators.
Under Malaysia's two-tier court system, Islamic law courts deal with family and morality cases involving Muslims, such as consuming alcohol, gambling and polygamy, while secular courts hear criminal and many civil cases.
Malaysia appointed its first two female Syariah judges in 2010.
Now, 27 of the country's 160 Islamic court judges are women.
Rising female judges
"Personally, I think it's not a question of gender," says Mohd Na'im Mokhtar, the former chief judge in the state of Selangor who oversaw the appointment of Judge Nenney and her colleague. "We are looking for the best people to administer justice."
Other countries such as Indonesia, Pakistan and Sudan also have female Islamic law judges, however, some religious scholars argue that Islamic law does not allow women to hold the position.
Malaysia's national religious authorities issued a fatwa (religious edict) declaring that women could be Syariah judges in 2006.
But the country's top Islamic court judge and director-general of the national Syariah Judiciary Department, Ibrahim Lembut, said last year that some state religious councils continue to block their appointment.
Shareena Sheriff, from Sisters in Islam, a Muslim women's advocacy group in Kuala Lumpur, says some states impose restrictions on the types of cases female judges can hear.
"I don't see why there should be a differentiation between the men and the women," she says.
While she welcomed the rise in female Syariah judges, especially the two high court appointments, Shareena says it is too early to tell whether the court's treatment of women has changed.
"Even though the numbers have risen, the numbers relative to men are still very low," she says, pointing out that Malaysia's secular court system also remains dominated by men.
"We feel that it's extremely important for the courts to have a balance in terms of gender because a lot of the issues involve women. So we need some level of balance in the way in which they deliver justice and also gender sensitisation of the justice system."
Women can put emotions aside
There are no restrictions on the cases Judge Nenney hears in the state of Selangor. Her weekly caseload can range from child custody to prostitution and polygamy.
Nenney Shushaidah Binti Shamsuddin, Syariah High Court judge
In Malaysia, Muslim men are allowed to marry up to four wives, but they must first obtain permission from the Islamic law court.
When hearing such a case, Judge Nenney says she verifies the husband's income to see if he can afford to take another wife and finds out whether the existing wife agrees.
"If the wife agrees and if the husband can afford it, I give permission," she tells Al Jazeera.
Judge Nenney also hears "khalwat" cases, an Islamic offence where unmarried men and women are found together in "close proximity".
She says in the most serious cases, she sentences offenders to six strokes of the cane, a 5,000 ringgit fine ($1,166) and a one-month jail term.
Some critics have suggested that female judges may favour women, but Judge Nenney denies being more sympathetic towards women.
"We can put our emotions aside," she says. "I have my empathy to them, I can put myself in their shoes, but not sympathy. I need to play my role as a judge, then make a decision on how they present their case."
Changing perceptions of gender roles
Judge Nenney is hopeful that the rising number of female judges will help change the perception that Syariah courts do no treat women fairly.
"The public perception said male judges must be biased to women. I hope after this, to the women who come before me, they must know there's no difference between a male judge or a female judge. The judge just does their job."
On the other side of the bench, more women are also working as Syariah lawyers.
The number of women registered with the Syariah Lawyers Association, a voluntary membership group, has increased by more than 200 in the last five years, and they now make up more than 40 percent of the group's members.
Sa'adiah Binti Din was working as a lawyer in the secular courts when she first volunteered to do Syariah legal aid work 18 years ago.
She says she realised then that many Muslim women appearing in the Syariah courts were unrepresented, so she began taking on more divorce cases.
"That was my turning point," says Sa'adiah. "Now, I'm in the Syariah Court almost every day."
She says her female clients often find it less difficult to appear before a female judge and court officials.
"I believe now they find it easier to talk to a woman," she says.
At Malaysian universities, Islamic law courses are increasingly dominated by young women.
Judge Mohd Na'im, who now sits on the Syariah Court of Appeal, says women are the top performing students in the classes he teaches at local institutions.
Nur Farhana, 22, was one of four students completing an internship at the Selangor Syariah Court in June. All but one were women.
She is studying both Islamic and civil law at the International Islamic University of Malaysia, but has already decided to pursue a career in Islamic law because she says civil law is "man-made law".
"Most of the (Islamic) laws have been said in our Quran and the Sunnah, so … I prefer that," she says.
Farhana may now have female role models, but when Judge Nenney graduated in 1998, the prospect of being a judge seemed far-fetched.
Not only had no woman ever been appointed to the Syariah bench in Malaysia, but simply finding a job in the field was tough.
"Even to be a Syariah court officer was quite difficult for women because they preferred men," she says. "I needed to study two years more."
After returning to university to complete a Masters degree, she started working as a lawyer in a legal aid office before moving to the Attorney-General's department.
Now, she says, the Syariah justice system offers young women a good career path.
"To me, it was quite difficult to reach this position. I needed to compete with the male officers," she says. "But it's not about gender now, it's about your qualification."
http://www.aljazeera.com/indepth/features/2017/08/female-face-islamic-law-malaysia-170802110726630.html
--------
PM Modi pledges support to women fighting triple talaq
Aug 16, 2017
NEW DELHI: Days before Supreme Court is to give its verdict on the legality of triple talaq, Prime Minister Narendra Modi once again came out openly in support of Muslim women who have challenged the constitutionality of oral or instant talaq, pledging support to them and saying that their success will be a boost for women empowerment.
"I heartily commend those sisters who have launched this movement, who have been fighting against 'triple talaq' and I am confident that the country will help them in this struggle," said Modi, who has supported the campaign against the controversial practice of oral and instant divorce while electioneering in UP early this year.
Expressing solidarity with "victims of triple talaq", Modi said they had to launch the campaign because there was no recourse for them. "They shook the conscience of the intellectual class of the country", the PM said.
The Supreme Court is expected to give its verdict by August 27 when Chief Justice J S Khehar, who heads the bench, retires. Centre has opposed the practice in court in the face of the argument of Muslim bodies and clerics that the issue be left for the community to handle.
Supporting the demand for the scrapping of triple talaq and polygamy among Muslims, the Centre argued in court that these practices were not protected by fundamental right to practice religion and that these made women insecure socially and financially.
It countered the argument that the matter be left to the Muslim community. It emphasised that Muslim personal law has not been reformed in the last 65 years, and Muslim women, who constitute 8% of the total population, "remain extremely vulnerable, both socially and financially" because of the fear of instant divorce through triple talaq.
http://timesofindia.indiatimes.com/india/pm-modi-pledges-support-to-women-fighting-triple-talaq/articleshow/60078887.cms
--------
URL: https://www.newageislam.com/islam-women-feminism/in-first-yari-road-mumbai/d/112217
New Age Islam, Islam Online, Islamic Website, African Muslim News, Arab World News, South Asia News, Indian Muslim News, World Muslim News, Women in Islam, Islamic Feminism, Arab Women, Women In Arab, Islamophobia in America, Muslim Women in West, Islam Women and Feminism