New Age Islam News Bureau
11 January 2022
• Bangladesh Rape Reporting App Seeks To Stop Crime Before It Starts
• Iranian Regime In Isfahan Bans Bodybuilding For Women
• Turkish Scientist Enters List Of '100 Women In Polar Science'
• Sulli Deals Group Used 30 Twitter Handles To Target Muslim Women: Cops
• Punjab: Malerkotla Women Link Their Vote To Access To College Education
• LHC Seeks Govt Reply On Plea For Free Legal Aid To Women Inmates
Compiled by New Age Islam News Bureau
URL: https://www.newageislam.com/islam-women-feminism/saudi-parade-camels-beauty-pageant-ships-desert/d/126133
--------
In A First, Saudi Women Parade Camels In Beauty Pageant For The Prized "Ships Of The Desert"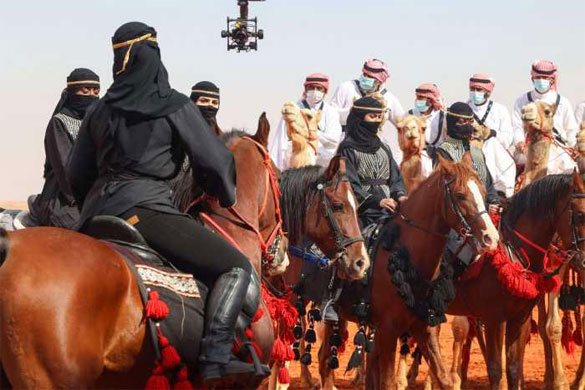 Saudi cameleers and horsewomen take part in a parade during the sixth edition of the King Abdulaziz Camel Festival in the Rumah region, January 8, 2022. (AFP)
-----
10/01/2022
RUMAH, Saudi Arabia -
Saudi women, in a first for the kingdom, have paraded their camels in a beauty pageant for the prized "ships of the desert."
"I hope today to reach a certain social standing, inshallah (God willing)," said Lamia al-Rashidi, 27, who participated in the weekend contest in the Rumah desert northeast of the capital Riyadh.
The event, part of the prestigious King Abdelaziz Festival, was previously a men-only affair.
"I've been interested in camels ever since I was little," said Rashidi, whose family owns 40 camels.
"Once this event was opened to women, I decided to participate," said the young woman, wearing a black face covering and with a colourful shawl over her shoulders.
The top five in the field of about 40 participants in the women's event went home with total prize money of one million riyals (about $260,000).
The camels' beauty is judged on several criteria, but the shape and size of the lips, neck and hump are the main attributes.
In December, several participants were disqualified because their animals had been given botox injections.
In a parade at the event on the red sand track of Rumah, women in black on horseback rode ahead of men in white robes on camels as male musicians, some with swords, danced to the beat of drums.
The oil-rich Gulf state adheres to a rigid interpretation of Islam, but since the rise to power of Crown Prince Mohammed bin Salman in 2017, some restrictions on women have been lifted as the country opens up with sweeping reforms.
Saudi Arabia is seeking to diversify its economy away from oil, investing heavily in the tourism, entertainment and sports sectors.
The shift has enabled women to get behind the wheel of motor vehicles and take part in mixed-gender gatherings.
"Women have always been an integral part of Bedouin society. They owned and looked after camels," said Mohammed al-Harbi, a manager of the festival.
Women's participation was in keeping with "the historical heritage" of Saudi Arabia, he said.
Munira al-Mishkhas, another participant, chimed in: "Camels have been a part of us for a long time, but staging a contest for us (women) is a big step forward."
At just seven years old, Malath bint Enad was the youngest contestant and her animal won third prize.
Her proud father, a 35-year-old camel dealer who said he owns more than 200 beasts, was very pleased with the entrance of women.
"This will increase enthusiasm for the festival and increase the value of the camels," said Enad bin Sultan, clad in traditional costume and red-and-white keffiyeh headdress.
The 40-day festival, which kicked off last month, is an annual Bedouin event that lures breeders from across the Gulf with total prize money of up to $66 million.
Source: The Arab Weekly
https://thearabweekly.com/first-saudi-women-parade-camels-beauty-pageant
--------
Bangladesh Rape Reporting App Seeks To Stop Crime Before It Starts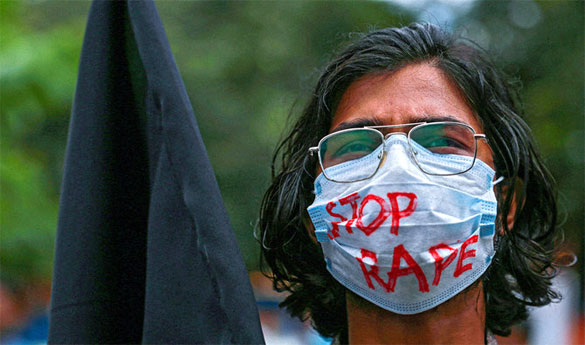 A student holds a black flag to protest against an alleged gang-rape and torturing of a woman in the southern district of Noakhali during a demonstration in Dhaka, Bangladesh, on October 6, 2020. (AFP/File)
----
January 10, 2022
DHAKA: A new app funded by the brother of a rape victim aims to reduce sexual violence against women in Bangladesh, where despite increased punishment the prevalence of the crime has been on the rise.
At least 1,247 women were raped in Bangladesh, while 286 faced rape attempts in 2021, according to Bangladeshi human rights group Ain O Salish Kendra. Forty-six of the victims died following rape, while nine committed suicide.
Ain O Salish Kendra's 2021 statistics showed a rise of 25 percent in rape cases from the year before. The increase was observed despite the introduction of capital punishment for rapists, which the government passed in October 2020 following nationwide protests sparked by a series of high-profile rape cases that year.
The numbers are just the tip of the iceberg, as rights activists say most women do not report rape, fearing victim-blaming and stigmatization and not believing they would get justice. According to Human Rights Watch, less than 1 percent of reported perpetrators in Bangladesh are convicted.
The new app, Bachao (Save Me), aims to stop the crime before it happens. The app's founder, Jalal Ahmed Mirza, hopes it will be able to reduce the prevalence of rape at least by half.
"My sister was a rape victim, and she suffers from trauma to date. My mother died due to this shock. As a last wish, my mother asked me to do something to protect the girls of the country," he told Arab News.
"Our target is to halve the rape rate per day from 17 to eight."
Mirza, a 45-year-old IT professional, founded Bachao as a non-profit initiative but would need support to be able to expand it to the level of unions — the smallest local government units in the country.
"We have spent around $100,000 from our own funds," he said. "We must work in 4,500 unions of the country, and this requires support from the government, the private sector, NGOs and the public."
Since its launch in October, Bachao has already been downloaded by 160,000 smartphone users from Google's Play Store.
When in danger, a user can press the panic button to call volunteers who would track down her location through GPS. If no rescue arrives within 20 minutes, Bachao's monitoring team would share the victim's coordinates with the nearest police station.
The app's data shows over 170 successful interventions have been conducted by volunteers in the past three months.
One of them involved Monica Begum, a 25-year-old garment factory worker in Dhaka, who pressed the panic button in October.
"After regular office hours, when everyone left the factory, Begum was asked by her superior to stay. At that moment, she sensed something was wrong and felt an imminent danger. She pressed the Bachao alert button, and her colleagues were alerted and intervened," Bachao's support team member Zeba Fariha said.
Another rescue, in November, involved 16-year-old Sultana Akter, a 10th grader in Matuail, some 7 km from the outskirts of Dhaka.
She clicked the panic button when she was followed by a group of men on her way home in the evening.
"Within a few minutes, her relatives rushed to the spot following the GPS location and rescued her," Fariha said.
While police were involved in three incidents reported via the Bachao app, a spokesman of the police headquarters in Dhaka said they should be involved in interventions from the very beginning to avoid possible abuse.
"There are chances that some innocent people might be framed," Additional Inspector-General Mohammed Kamruzzaman told Arab News. "People shouldn't be abusive while using this type of initiative."
But women activists are of a different view.
"Sometimes we also notice that people make prank calls to the emergency national helpline. But we don't consider stopping the helpline's services," renowned human rights advocate Khushi Kabir told Arab News.
"There might be some chances of abuse whereby innocent people may fall victim. Police may investigate such incidents."
She added that Bachao should expand its coverage by introducing shortcodes to be available for all mobile phones, not just for smartphone users.
"People's intervention before the crime takes place is a good initiative," Kabir said. "In most cases, women become victims of rape and violence by people they know, sometimes relatives within the family, and it mostly happens in victim's locality. So, this Bachao app would help women in case of emergency."
Salma Ali, president of the Bangladesh National Women Lawyers Association, said the app should be promoted.
"Different rights groups in the country should be engaged so that the nation can build a spontaneous movement over violence against women," she told Arab News. "The government should also extend its support to make the app more popular."
Source: Arab News
https://www.arabnews.com/node/2001736/media
--------
Iranian regime in Isfahan bans bodybuilding for women
JANUARY 5, 2022
The clerical regime in the Iranian city of Isfahan has outlawed bodybuilding activities for women, introducing a new body blow against the already dire condition for women in the Islamic Republic.
Sheina Vojoudi, an Iranian dissident who fled to Germany to escape persecution, said the mullah regime does not want women to "feel powerful in Iran. It's dangerous for the regime. Now the world can notice that this regime is just using Hijab as an excuse to suppress Iranian women.
"The Islamic Republic has been based on anti-women ideology," she said. "To suppress a society, first you suppress the women of that society. Since 1979, the Iranian women have always paid a heavy price for their rights. We've been oppressed, we've been harassed, we've been threatened by Basij and we've been deprived of our rights but we're still fighting."
The Islamic Revolution in Iran in 1979 ushered in the theocratic state that imposes gender apartheid on women, according to critics. The Basij is a volunteer paramilitary force used by the Iranian regime to enforce the disenfranchisement of women and crack down on political dissent.
The Iranian regime-controlled media outlet Iran's Metropolises News Agency (MNA) reported this week that Hossein Zibaei, the deputy director of sports development at the Isfahan Sports and Youth Administration, confirmed the prohibition of women's bodybuilding activities, saying about the ban.
"This section has been notified to the general directorate of the country."
MNA added, "In response to the question whether this notification has been issued for all provinces, he pointed out: This order came from the ministry and we just have to obey this order."
The central Iranian city of Isfahan has been in the headlines over the last few months for execution sprees in its vast prison system and mass protests against economic and political corruption, including water shortages.
Tavaana, the E-Learning Institute for Iranian Civil Society, tweeted to its 137,800 followers: "Bodybuilding activities for women in Isfahan have been banned. Every day, the Islamic Republic takes a new step to eliminate women from society.... We urge sport teams/federations & male athletes not to stay indifferent to the ever harsher restrictions imposed on women athletes."
Source: Jerusalem Post
https://www.jpost.com/middle-east/iran-news/article-691563
--------
Turkish scientist enters list of '100 Women in Polar Science'
January 09 2022
Ebru Caymaz, an academic from Onsekiz Mart University in the northwestern province of Çanakkale, has become the first-ever Turkish scientist to be selected in the "100 Women in Polar Science" project.
The initiative, funded by the Foundation of Curtis and Edith Munson and conducted by the Ocean Foundation and Scientific Committee on Antarctic Research, enables women scientists to conduct research at the poles.
Having worked in Norway, Greenland and Iceland since 2015, Caymaz will now go to Siberia with the help of the project to study the impacts of global warming.
"I will continue my research at the poles and hope to see more women in the list in the coming years," Caymaz told daily Milliyet on Jan. 9.
Nicknamed the "princess of the glaciers," Caymaz often climbs glaciers, does ice diving and visits icebergs as part of her research.
"We have to understand the importance of science diplomacy to cause awareness over the impacts of global warming," she said. "People should unite forces within the scope of the international scientific cooperation."
Now her next mission will be in Siberia "to meet the local community, known as the 'Eskimos' in Turkey, living next to the north pole."
She does not prefer to use the word 'Eskimo' as it means "flesh-eaters."
"In local languages, they call themselves Yukagir, Nganasan, or Inuits. All of them simply means ''human.' I want to meet them and make observations on the global warming effects there," she noted.
After graduating from Istanbul University, Caymaz earned her Ph.D. from Istanbul's Marmara University on "management and organization."
Caymaz has penned many scientific articles on various research she conducted in arctic. Her latest article, "Thinking the Management in the Arctic Region Amid Pandemic," that she penned for the Arctic Institute was delivered to the U.S. Congress.
In 2016, Caymaz became the first person with her colleague, Özgür Korkmaz, to go across Greenland in winter.
She passed all through the world's biggest island in seven days without any assistance as no Danish guide dared to accompany.
"The temperature was minus 45 degrees Celsius. It was a 400-kilometers-route of adventıure," she said. "There is nothing in this world that a woman can not succeed."
During a previous interview, Caymaz also stated that she dreams of visiting the South Pole.
"I have some plans for Antarctica, too," she said without giving any details.
Source: Hurriyet Daily News
https://www.hurriyetdailynews.com/turkish-scientist-enters-list-of-100-women-in-polar-science-170657
--------
Sulli Deals Group Used 30 Twitter Handles To Target Muslim Women: Cops
January 11, 2022
New Delhi: The ongoing probe into the "Sulli Deals" case has revealed that around 30 Twitter handles were misused for uploading the morphed pictures of Muslim women for their purported "auction", Delhi Police said yesterday.
Delhi Police is trying to identify the members of the group which the 26-year-old Indore youth Aumkareshwar Thakur too was a part of, an official said.
They said Thakur had deleted the contents of his laptop, and his laptop and phones along with those of Niraj Bishnoi, the creator of the "Bulli Bai" app and arrested earlier by Delhi police from Assam, have been sent to the National Forensic Science Lab to ascertain their contents and access details.
While awaiting the forensic lab report, the police are trying to identify other members of the group misusing the Twitter handles, they said.
Accused Thakur, who is alleged to be the creator of the derogatory app which targeted Muslim women, from Indore in Madhya Pradesh was arrested on Saturday night, they said.
Interrogation of Thakur revealed that he is an "introvert" who ran his own web-designing firm with clients even from the US.
When his father was questioned, he told investigators that they were not aware of Thakur's actions as he slept throughout the day and worked during the night, a senior police officer said.
He said when questioned by his parents about his habit of keeping awake through the nights, he told them that because of the time difference between India and US, he had to work mostly throughout the night, so they never doubted Thakur, the officer said.
Even though both Thakur and Bishnoi do not seem to regret their activities, Thakur lamented that his family had to face problems due to him, they said.
The accused were part of a traditional group where discussions were held about ancient tradition, the rise and downfall of Hinduism, the police said.
They created various anonymous handles on Twitter and used Virtual Private Number (VPN) to use the internet to conceal their identities.
Police suspect that at least three to five people were misusing these multiple Twitter handles to put up these morphed and objectionable photos and further exchange comments through the alleged "Sulli Deals" app.
Thakur, who did his BCA from IPS Academy in Indore, was taken into custody on Saturday, days after arrests were made in connection with a similar app ''Bulli Bai''.
This is the first arrest made in the Sulli Deals app case registered in July, the police said, adding that Thakur was on Sunday remanded in police custody for four days by the court.
Hundreds of Muslim women were listed for "auction" on the mobile application with photographs sourced without permission and doctored.
Deputy Commissioner of Police (IFSO) KPS Malhotra had said during preliminary interrogation, the accused admitted that he was a member of a group on Twitter where the idea to defame and troll Muslim women was shared.
"He had developed the code on GitHub. The access of GitHub was with all the members of the group. He had shared the app on his Twitter account. The photos of the Muslim women were uploaded by the group members," the officer had said.
The investigation has revealed that the accused had joined the group on Twitter by the name of ''Tradmahasabha'' in January 2020 using the handle @gangescion.
During various group discussions, the members had talked about trolling Muslim women, the police had said.
"He admitted that he had developed the code/app on GitHub. He confessed that he had created Sullideals app and the necessary digital footprints in his laptop and in cyberspace are being probed. After the uproar regarding the Sulli Deals app, he had deleted all his social media footprints," the DCP had said.
During the interrogation of accused Niraj Bishnoi (21), believed to be the creator and alleged mastermind of the ''Bulli Bai'' application, it emerged that he used to interact with various virtual identities on social media and used to engage in group discussions, the police had said.
Bishnoi, who was arrested in Assam, had disclosed that he was in touch with the person behind the Twitter handle @sullideals, the alleged creator of the ''Sulli Deals'' app that was hosted on GitHub in July last year, they had said.
Source: ND TV
https://www.ndtv.com/india-news/sulli-deals-group-used-30-twitter-handles-to-target-muslim-women-cops-2700952
--------
Punjab: Malerkotla women link their vote to access to college education
Shariq Majeed
Jan 10, 2022
MALERKOTLA: First-time voters, the young Muslim women of this Punjab district will choose whoever clears hurdles from their path to higher education. Malerkotla may have advanced but its girls are still in the regressive age where they must study locally and marry before they finish school.
During Id on May 14, when the-then chief minister Captain Amarinder Singh declared Malerkotla as Punjab's 23rd district, he also promised a Rs 500-crore medical college, a women's college, a bus stand, and a women's police station to its people. Many first-time voters, young women especially, said access to higher education was their main issue. A 19-year-old among them from Maler area said: "I want to be a doctor but my parents fear for my safety if I study outside Malerkotla, so I will join a local college instead, even if I can't do much later. Since the local government college doesn't even offer an MSc, I can never hope to earn that degree. Many young women like me will think of it when they go to vote in Vidhan Sabha elections."
Aasma of the Kamal Cinema road said: "I did MA from a local college and wished to study further but even the nearest university is as far as Patiala and my security comes first for the family. It could be the story of every Malerkotla girl."
Her father, badge maker Shafiq Rana, said that: "Parents do find it hard to send their daughters outside all alone. I would love to let her continue her studies, if those were in the town. The girls who stepped out of Malerkotla before faced many challenges."
Advocate Zarka Jaffery, coordinator of Samvidhan Bachao Sangharsh Morcha, said: "It wasn't easy when I went to Sangrur for LLB. During winter exams, there would be no bus and the campus would be deserted after dark. If by chance a bus came by, there would be drunkards on board. Things like these discourage parents from sending daughters outside, and this is also why they marry them off young. We are not a liberal society."
She said: "The girls were happy when the women's college and medical college were announced but, more than six months on, the projects haven't progressed." Punjab Minority Commission vice-chairman Muhammad Rafi accepted that Malerkotla wasn't liberal but said the women's college and medical college will change things, hopefully. He said: "Malerkotla has a co-educational government college that offers BA and BSc. It offers MA but no MSc. The women's college is under construction but the BA classes have started at an Urdu academy, while the medical college project is embroiled in a court case."
Anam Waseem, 23, studying in Ferozepur to be an Ayurvedic doctor, said her parents, too, were worried for her safety when she entered college. She said: "If there were better colleges in Malerkotla, many girls wouldn't have to quit studies. This is will be on my mind when I go to vote."
Source: Times of India
https://timesofindia.indiatimes.com/city/amritsar/punjab-malerkotla-women-link-their-vote-to-access-to-college-education/articleshow/88804606.cms
--------
LHC seeks govt reply on plea for free legal aid to women inmates
January 11, 2022
LAHORE: The Lahore High Court on Monday sought replies from the federal and provincial governments on a petition questioning their failure to provide free legal aid to women prisoners as required under the law.
Advocate Nadeem Sarwar, the petitioner, argued that Free Legal Aid Act was enacted in 1996 with an objective to provide legal aid to deserving women languishing in jails. He said a huge fund was also established for the purpose, however, it had not been consumed for the welfare of the women prisoners.
The lawyer said the governments had failed to discharge their responsibility of implementing the law. He asked the court to order the federal and provincial authorities to enforce the law and provide free legal aid to women prisoners.
After hearing initial arguments, Justice Mirza Viqas Rauf issued notices to the respondents for submission of their replies by the next hearing.
On Monday, Advocate Sarwar also filed another petition for the release of convicts rotting in jails for non-payment of diyat, arsh and daman.
The lawyer contended that the Supreme Court had in 2007 directed the federal government to frame rules under section 338-G of Pakistan Penal Code to provide mechanism for creating funds for the purpose of making payment of arsh, diyat and daman of the deserving convicts.
He said the government later introduced "The Diyat, Arsh and Daman Fund Rules 2007", however, the authorities remained failed to implement the same in letter and spirit.
The petitioner contended that the convicts languishing in jails were being denied their fundamental rights. He said non-release of convicts despite completion of sentence was in fact a sheer failure of the state machinery.
He asked the court to also summon record of such convicts and also those whose cases could not be decided so far.
Adjourned: An accountability court on Monday adjourned hearing of acquittal application of Leader of Opposition in Punjab Assembly Hamza Shehbaz in Ramzan Sugar
Mills reference as his counsel sought time for arguments.
Earlier, Hamza appeared before the court while the defence counsel filed an application for one-time exemption from personal appearance on behalf of Leader of Opposition in National Assembly Shehbaz Sharif.
The counsel said Mr Sharif was in Islamabad to attend the session of the assembly.
The court allowed the application and adjourned further hearing till Jan 20.
Another court adjourned hearings in the references of money laundering and Ashiana-i-Iqbal Housing Scheme till Jan 20.
In the money laundering reference, the NAB alleged that the family members and benamidars of Shehbaz Sharif received fake foreign remittances of billions in their personal bank accounts.
In addition to these remittances, the bureau said, billions of rupees were laundered by way of foreign pay orders, which were deposited with personal bank accounts of his sons Hamza and Suleman.
Shehbaz, his wife Nusrat and son Hamza had been indicted in the case. Being out of the country, Nusrat joined the trial proceedings through a pleader with the permission of the court.
In the sugar mills reference, the NAB accused Shehbaz of issuing a directive, being chief minister, for the construction of a drain in Chiniot district mainly for the use of Ramzan Sugar Mills owned by his sons. It said Rs200 million were spent for this purpose from the public money.
In reference of Punjab Ashiana-i-Iqbal Housing Scheme, the NAB alleged that Shehbaz and other suspects caused a huge loss to the national exchequer by awarding the contract of the housing scheme to a company without bidding.
Former head of Lahore Development Authority Ahad Khan Cheema, former principal secretary to prime minister Fawad Hassan Fawad are also suspects in the housing scheme reference.
Source: Dawn
https://www.dawn.com/news/1668725/replies-sought-on-plea-for-free-legal-aid-to-women-inmates
--------
URL: https://www.newageislam.com/islam-women-feminism/saudi-parade-camels-beauty-pageant-ships-desert/d/126133
New Age Islam, Islam Online, Islamic Website, African Muslim News, Arab World News, South Asia News, Indian Muslim News, World Muslim News, Women in Islam, Islamic Feminism, Arab Women, Women In Arab, Islamophobia in America, Muslim Women in West, Islam Women and Feminism