New Age Islam News Bureau
26 September 2022
• Hundreds Gather In London over the Death of Mahsa Amini in Police Custody for Wearing Improper Hijab
• Community of Adidas Runners Bids to Empower Riyadh Women
• Over 100 Women Police Officer Rehired In Afghanistan's Badakhshan Province
Compiled by New Age Islam News Bureau
URL: https://newageislam.com/islam-women-feminism/iaf-saudi-mishaal-ashemimry/d/128038
--------
In a First International Astronautical Federation Elects Saudi Woman, Mishaal Ashemimry, As Vice President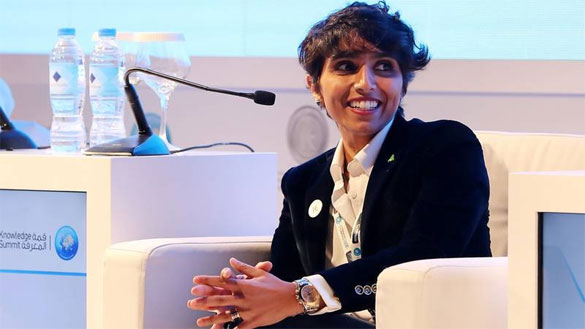 Mishaal Ashemimry , Aerospace Engineer and Founder of Mishaal Aerospace speaking during the Knowledge Summit held at Dubai World Trade Centre, December 2018, Dubai. UAE ( Pawan Singh / The National )
-----
26 September, 2022
Aerospace Engineer Mishaal Ashemimry was elected as one of the Vice Presidents of the International Astronautical Federation (IAF), making her the first female Saudi national in such a leadership position, the Saudi Space Commission (SSC) announced Sunday.
As a representative of Saudi Arabia at the federation, Ashemimry was elected for having a vision which focuses on the development of the global space sector, for contributing to the development of the IAF's strategic directions, for being a key player in consolidating the Kingdom's position in the industry and enhancing global cooperation, the SCC said in a tweet.
"I am very proud and grateful to have been elected as vice president for IAF. I look forward to working with other vice presidents in order to strengthen efforts in the space [field]," Ashemimry said on Twitter.
The IAF has 12 Vice Presidents and consists of elected and appointed staff who are responsible for offering recommendations, supervising the arrangements of the federation's meetings and preparing the agenda for plenary sessions of the General Assembly, among other tasks, the Saudi Press Agency (SPA) reported.
The federation includes over 400 members from around the world, including members from leading spaces agencies and institutions, SPA added.
Source: Al Arabiya
https://english.alarabiya.net/News/gulf/2022/09/26/Mishaal-al-Shemimry-IAF-elects-first-Saudi-woman-as-Vice-President
--------
Hundreds Gather In London over the Death of Mahsa Amini in Police Custody for Wearing Improper Hijab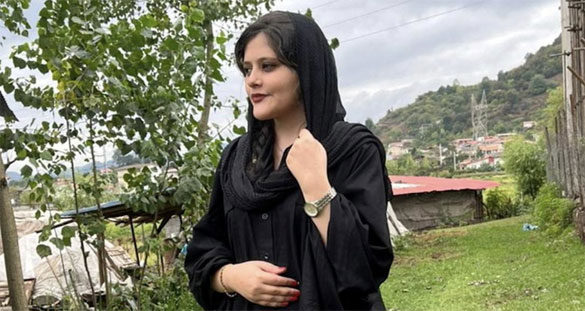 An undated picture obtained from social media shows Mahsa Amini. (Reuters)
----
September 25, 2022
LONDON — Hundreds of people protested in London this weekend to voice their anger about the suspicious death of Mahsa Amini, alongside the Iranian government's violent suppression of continued nationwide demonstrations back home.
Footage circulating online on Sunday appeared to show a group of protestors surging toward the Iranian Embassy in the UK capital but being beaten back by police.
A separate image shows the building, which overlooks Hyde Park, splattered with red paint.
"People are being killed, tortured and harmed in silence," Sepideh Eskandari, who protested at Trafalgar Square with her friend Sogol on Saturday, told Euronews.
"We are here to be their voice and ask every other person — from where ever they are — to stand with women."
"Basic rights are something everyone should want, both women and men," she added.
Deadly unrest has rocked Iran for more than a week. It broke out after 22-year-old Amini collapsed while in police custody, having been arrested for "improper" hijab, a headscarf women must wear by law.
Leaked medical evidence shows the young woman from the Iranian province of Kurdistan suffered several violent blows to the head, which put her into a coma, though Iran's authorities claim she "suffered a sudden heart attack". She died on Sept. 16.
The two friends, who are both in their early 30s, pointed out that the protests are about wider issues of sexism and discrimination in Iran, something brought into sharp focus by Amini's death.
"As a woman, your rights are not equal to men," said Sogol. "You always have to suppress whatever you feel. You can't be truly who you are."
Following the 1979 Islamic Revolution, women must wear the hijab by law in Iran. The policy is largely unpopular, with Iranian women commonly wearing the headscarf loosely around their ears or letting it drop to the neck.
When the rule was implemented in 1981, it triggered mass demonstrations, which have continued sporadically ever since.
Another demonstrator in Trafalgar Square on Saturday told Euronews he was appalled by bloodshed in Iran.
"The regime wants to prove that they didn't use any violence [against Amini] by using violence against protestors," said Mohammad Hoshr, a lawyer. "It does not make any sense."
"They [Iran's authorities] are coming onto the TV and saying that nobody even touched this woman in custody, while at the same time they are shooting people on the streets," he added.
Some 35 people have been killed since protests broke out in Iran last week. The vast majority of these deaths have come from security forces violently suppressing demonstrators, using live ammunition in some cases. Hundreds of people have also been detained by security forces.
Officials in Iran have denied that security forces have killed protesters, suggesting they may have been shot by armed dissidents.
Hoshr called on the UK and other European countries to do more to support the protests.
"We want to UK government to put pressure on the Iranian regime. They should shut down the embassy to pressure them to bring those responsible for Amini's death to account."
"It is a short-term step, but the regime needs to answer for what they've done."
The UK government has sharply condemned the "killing" of Mahsa Amini, alongside other Western countries, though there has been criticism over the fact that Iranian President Ebrahim Raisi was not publicly challenged on the issue during a recent UN meeting in New York.
"The Iranian government is so lacking in every aspect of humanity that they [western leaders] should keep away from them, rather than getting closer," Hoshr continued.
Iranian authorities have pledged to investigate the cause of Amini's death. Interior Minister Ahmad Vahidi has insisted she was not beaten, citing "evidence" from reports and forensic opinion. This is contested by eye-witnesses, Amini's relatives and activists.
Other demonstrators explained how the protests over the death of Amini have morphed into mass dissent against Iran's Islamic government.
"This death has united people to topple the regime," said Hoshr. "It was a kind of spark that blew up all of our frustrations."
"Enough is enough," he added.
Many policies of the Islamic Republic of Iran, such as the compulsory hijab, are deeply unpopular among large sections of the Iranian population.
Economic woes, especially inflation and a hugely devalued currency fuelled by sanctions, have only increased their frustrations.
A reformist group, the Union of Islamic Iran People's Party, has called for the mandatory dress code to be repealed and for "peaceful demonstrations" to be allowed, according to the BBC.
Chants against Iran's supreme leadership and the Islamic Republic have been a routine feature at this week's demonstrations, with many Iranians shouting "down with the dictator".
According to Hoshr, one prominent feature of the current unrest was a large number of very young people on the street protesting.
"In Iran, the young people do not have any aspirations because they [the government] kill their aspirations with all these rules and regulations," he said. "They desperately want change."
President Raisi, a hard-liner, pledged on Sunday to "deal decisively" with the protests, which have now spread to most of Iran's 31 provinces. He has dismissed the protests as "riots".
"The regime thought the protests were going to be over in a day," said Hoshr. "But it hasn't. People are still on the streets." — Euronews
Source: Saudi Gazette
https://www.saudigazette.com.sa/article/625400/World/Europe/Hundreds-gather-in-London-over-the-death-of-Mahsa-Amini
--------
Community of Adidas Runners bids to empower Riyadh women
September 24, 2022
RIYADH: As the sounds of Fajr (early morning) prayers are heard in Riyadh, the sun still submissive to the night sky, you will find a group of women around Wadi Hanifa every Wednesday, pounding a path for anywhere between 4 and 8 km.
Adidas Runners is an international community of joggers and runners that brings together people from various walks of life, uniting them with the goal of becoming a better version of themselves.
Their women's-only group creates a safe space for individuals to empower each other to achieve their aspirations.
The runners see the 4 a.m. wake-up call as a small price to pay for the experience, given the health benefits and friendships it brings them.
Asma Azhari, 31, has never considered herself the consistent athletic type. From mindful yoga to swimming sessions and breezy bike rides, she wanted to try it all and never committed to just one discipline. Only in June 2021 did she discover the Adidas Runners community.
The thought of a women's-only running club intrigued her, but the first steps toward commitment were discouraging.
"I felt like dying," she said. "It was my first run and I thought, 'I am not cut out for this sport.' But after a few months I tried again, and committed even though it was way out of my comfort zone. And here I am now, a runner," she told Arab News.
While she began her journey barely completing the 4K run, Azhari is now training for her first 21K trail race. She aims to participate in a full international marathon next year.
What kept her coming back every week was the community surrounding the running group. She said: "The people, the spirit, the energy, the commitment that everybody shows every single morning before sunrise, and of course the love and support everyone is getting, all of these aspects helped to get me into running. I'm loving it."
On a personal level, running has benefited her by laying the groundwork for discipline in many aspects of her life, including work and family. It has also done much for her physical and mental health. "Sports should be accessible for everyone regardless of gender, age and ethnicity," she said.
Another member, Hadeel Ashour, told Arab News: "I don't think that if I started off running on my own in public, I would be as motivated and persistent in the sport as I am today."
Ashour, 23, had been physically active for years, but a year on from discovering Adidas Runners, she has found that her training helps to complement her participation in CrossFit (interval training) and cycling.
She said: "I generally love outdoor sports and activities that give me a sense of community. Running for me was a beautiful combination of both these things."
While the health benefits of running are plenty, including better sleep and eating habits, Ashour emphasized the mental profits of the exercise.
For her, running has helped cope with anxiety, build patience and create consistency in many aspects of her life.
She added: "I started running in a stage of my life when I was most vulnerable and unconfident. Running has liberated me from these negative feelings and restored my confidence in myself."
The group is working toward creating the first-ever women's training program to run a 5K, starting on Oct. 22 and free to all women in Riyadh.
Ashour is now planning to take part in her first Riyadh 10K, but has set her sights even higher.
She said: "My goal now is training to run the 20K distance in the Tuwaiq Hope Trail Race in November. In the far future, I hope to run full marathons and ultra-marathons both locally and internationally, and aid in expanding the community in Riyadh."
Like Azhari, Ashour found a home within the running community, which changed her perception of women running in public.
She added: "I had the pleasure to meet strong and influential fellow runners who never failed to push me forward and explore my limits.
"Though the number of women runners is not that big, the presence and persistence of the few makes a big difference. We women are unstoppable when we run together."
Club member Nourah Alshehri, 38, told Arab News: "I'm ecstatic for all the wonderful positive transformations in my country and the justice that women have obtained in various fields.
"I am very fortunate to have experienced fair regulations and laws that guarantee freedom for everyone without harming anyone or anything."
The first-ever women's-only race will take place on Dec. 24 in pursuit of creating a safe and healthy running culture for all in Riyadh.
Source: Arab News
https://www.arabnews.com/node/2168756/saudi-arabia
--------
Over 100 women police officer rehired in Afghanistan's Badakhshan province
25 September, 2022
Kabul [Afghanistan], September 25 (ANI): Over 100 women police officers have been rehired in Afghanistan's Badakhshan province, as a ray of hope for women amid the grave challenges of human rights violations in the Taliban-led country.
According to state media, Tolo News, the officials of the Badakhshan Police Command said, "More than one hundred female police officers have been rehired and the majority of these female police officers had previously served in the previous administration.".
"We have about 20 to 25 officers and lieutenants and 70 to 80 female soldiers," said Badakhshan Police Commander Abdulhaq Abu Omer, as quoted by Tolo News.
In this province, female police officers are in charge of conducting house-to-house inspections and searching women. "As criminal department officers, we go when there is a criminal act and enter the house," Khaleda, a police officer, said.
"We search the house and we arrest the women and hand them over to the criminal department," said Gol Jan, a policewoman, reported Tolo News.
Ever since the Taliban took over Afghanistan, the plight of Afghan women has continued to be deplorable in the country.
Contrary to the Taliban's claims, girls were stopped from going to school beyond sixth grade on March 23 and a decree against the women's dress code was issued after a month. There are restrictions on movement, education and freedom of expression of women posing a threat to their survival.
Not only this, the lack of female healthcare workers has prevented the women from accessing basic medical facilities, and the international donors, who fund 90 per cent of health clinics, are hesitant to send money because of their fear of the funds being misused.
Around 80 per cent of women working in the media have lost their jobs, and almost 18 million women in the country are struggling for health, education and social rights. Many women, particularly those who worked in security agencies, lost their jobs after the Islamic Emirate was re-established.
The United Nations Assistance Mission in Afghanistan (UNAMA) released a report the previous month, outlining the human rights situation in Afghanistan since the Taliban takeover.
The report summarized UNAMA's findings with regards to the protection of civilians, extrajudicial killings, torture and ill-treatment, arbitrary arrests and detentions, the rights of women and girls in Afghanistan, fundamental freedoms and the situation in places of detention.
Amid this, the rehiring of women officers comes as a ray of hope for the women facing several severe challenges in the country.
Some female police forces urged the Islamic Emirate to allow more women to work in government institutions. "We ask the Islamic Emirate to let all the women return to their jobs," said Mashoqa, a police officer. (ANI)
Source: The Print
https://theprint.in/world/over-100-women-police-officer-rehired-in-afghanistans-badakhshan-province/1142670/
--------
URL: https://newageislam.com/islam-women-feminism/iaf-saudi-mishaal-ashemimry/d/128038
New Age Islam, Islam Online, Islamic Website, African Muslim News, Arab World News, South Asia News, Indian Muslim News, World Muslim News, Women in Islam, Islamic Feminism, Arab Women, Women In Arab, Islamophobia in America, Muslim Women in West, Islam Women and Feminism