New Age Islam News Bureau
3 May 2017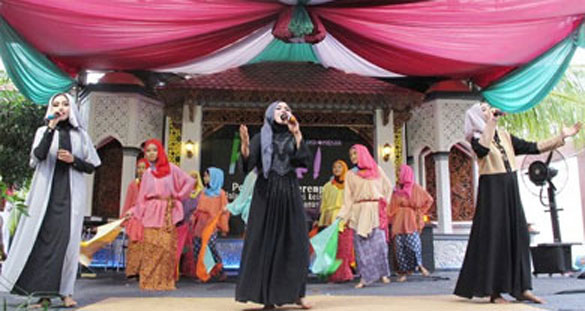 Students perform at the closing ceremony of the Congress of Indonesian Women Clerics in Cirebon, West Java, April 27, 2017.
----
• Muslim Women Speak Out On Putting Up With Abuse For Fear Of Triple Talaq
• Indonesian Muslim Women Leaders Speak Out on Marriage, Extremism, Rape
• Muslim Women Lambaste Modi's Anti-Shariah Tirade
• Gambia: Campaign to End FGM Reaches Madrasa Students As Gaha Trains 40 on FGM
• Afghan Woman Killed By Fellow Asylum Seeker in Germany
Compiled by New Age Islam News Bureau
URL: https://www.newageislam.com/islam-women-feminism/in-12-years-woman-given/d/111009
--------
In 12 Years, Woman Given Triple Talaq Thrice
May 3, 2017
BAREILLY: A 35-year-old woman who has been given triple Talaq+ in three of her past marriages is terrified that her fourth husband too would leave her in a similar way. "The past 12 years have been a nightmare for me," she said. "I have nowhere to go if this happens again."
The first marriage of Tara Khan, who is an illiterate woman, was with Zahid Khan, a resident of Tahaka Nagaria village in Bareilly. "As we never had kids in seven years of marriage, my husband married a younger woman and gave me triple Talaq," said Tara.
When her first marriage ended, she started living at the house of her relatives. Her aunt fixed her second marriage with Pappu Khan of nearby Ghunsa village. "Pappu would often assault me. One day when I resisted, he uttered the dreaded words and left me," said Tara, whose second marriage ended in three years.
After divorce, the woman shifted to the house of her maternal uncle. "My cousin and uncle asked me to remarry, claiming that I have a long life to live and I need a partner. On their persuasion, I married Sonu of Ghundapur. But as luck would have it, Sonu, too, turned out to be a violent wife-beater+ . One day he beat me up and left me at the house of my uncle. Just at the gate, before he turned to leave, Sonu gave me triple Talaq," said Tara, recalling her 12 years of struggle. Her third marriage could survive only four months.
Though she was initially reluctant to marry a fourth time, her family managed to convince her to remarry. She entered into matrimony with Shamshad alias Nanhe in July last year. "Things have got very bad for me now and I am terrified that I will be on the roads if Shamshad leaves me. My five brothers who believe that I have brought embarrassment to the family do not want to keep me either. I do not want this marriage to end, come what may. But Shamshad behaves like the others. Where does a Muslim woman go? I have had enough trouble in the last 12 years and I cannot fight anyone or anything anymore." Tara said, tears rolling down her face.
Tara and Shamshad have been going to a family counselling centre at Police Lines in Bareilly. "If need arises, I will take up the matter with Prime Minister Narendra Modi and chief minister Yogi Adityanath. I want my husband to keep me with him."
Khalil Qadri, counsellor at the family centre, said, "We are trying to unite Shamshad and Tara by sorting out their differences and would not let them divorce."
When contacted, Shamshad said, "I am in Badaun and cannot comment about the matter now."
http://timesofindia.indiatimes.com/city/bareilly/in-12-years-woman-given-triple-Talaqs-in-three-previous-marriages/articleshow/58484110.cms?TOI_browsernotification=true
--------
Muslim Women Speak Out On Putting Up With Abuse For Fear Of Triple Talaq
May 3, 2017
MUMBAI: Shabnam Adil Khan was married in 2015 but within days she discovered that her husband was already married with two children. By then, he had already taken away all her jewellery and wedding finery. Then the torture began.
"He would drink and beat me. He even filmed me in our bedroom and threatened to circulate the clipping," she says. He tried to strangle her and even push her from a moving car. Finally, he abandoned her and went to Saudi Arabia, though he kept returning to Mumbai.
The fear of the casually pronounced triple Talaq forced her to bear the torture. " After the husband divorces you, what is the future?" she asks. It was only in April 2016 that she filed a police case against her husband and in-laws. Like her, there are many who may not have been direct victims of an oral divorce decree, but have borne extreme domestic violence because their husbands threatened them with the triple Talaq card.
Women like Shabnam are now coming out with their stories as the Supreme Court gears up hear petitions challenging the constitutional validity of the triple Talaq on May 11. Shab nam is among those who spoke at a press conference organized by the Bharatiya Muslim Mahila Andolan (BMMA), which has filed an intervention plea in the Supreme Court.
"There are women whose husbands have threatened them with triple Talaq and abandoned them without pronouncing it. They are left with an ambiguous status and no mainte nance," says Noorjehan Safia Niaz, co-founder of BMMA."When there are disputes, the police also don't want to get involved because they say these matters are part of your personal law," says the BMMA 's Khatoon Shaikh.
The organization wants triple Talaq to be scrapped and the Muslim personal law to be codified. "We want the husband and wife to be allowed to present their views over a 90-day arbitration period," says Niaz.
Sofiya Khan who was married eight years ago and was abandoned three years ago wants to retain her marital home and be given maintenance."My husband used beat me, not give me money to run the house and constantly threaten to divorce me. I kept quiet because if he pronounced the Talaq, I would have no future," she said. Finally, he abandoned her without pronouncing a Talaq.
Nasreen Shaikh's husband married another woman after abandoning her. "He used to hit me and say don't tell anyone or I will divorce you," says Nasreen.When she was pregnant, she used to be locked outside the house the entire night. She was sent to her parent's home for her delivery but once she had a daughter, her husband never took her back. Later, she learnt he had remarried.
Nasreen wants her husband to take her back or at least pay maintenance. " After I approached women's groups, he offered to pay Rs 50,000 to leave me.He paid Rs 30,000 and then took it back saying he would buy a house for us. Instead, he used the money to get re-married," she says.
http://timesofindia.indiatimes.com/city/mumbai/muslim-women-speak-out-on-putting-up-with-abuse-for-fear-of-triple-Talaq/articleshow/58486909.cms
--------
Indonesian Muslim Women Leaders Speak Out on Marriage, Extremism, Rape
2017-05-02
Women clerics should take a more active role on issues such as child marriage, polygamy and religious extremism, according to participants at a first-of-its-kind congress in Indonesia.
Demonstrating that principle, the two-day Congress of Indonesian Women Clerics (KUPI) called on the government of Muslim-majority Indonesia to raise the minimum marriage age for girls to 18 and declared that sexual violence is forbidden inside marriage as well as outside of it.
"It's time for women clerics to come forward and discuss these issues and give strength to those working on the ground in all fields," said Bushra Qadim Hyder, an activist from Pakistan whose organization, PAIMAN Alumni Trust Pakistan, is working to promote peaceful Islam.
Religious extremism is one of the most urgent issues for female clerics to address, since women are directly involved in raising children, Bushra told BenarNews on the sidelines of the conference in Cirebon, West Java, which drew more than 200 participants in late April.
"They should condemn extremism, and they should educate mothers to avoid extremism at home, and to support their children as tolerant Muslims and tolerant humans," Bushra said.
Point of view
Some issues facing Muslim women arise from the relative lack of female perspective on Islam's holy book, said Nur Rofiah Bil Uzm, a lecturer in the postgraduate program at the Al Quran College of Higher Education in Jakarta.
"There is a verse about monogamy in the Quran. Why is it not popular? Maybe because female clerics have not yet emerged," she said during one of the congress's sessions.
It's not easy for women to become leaders because of cultural perceptions favoring men, supported by men's interpretations of religious texts, said Muhammad Machasin, a professor at Sunan Kalijaga State Islamic University in Yogyakarta.
"Men alone cannot make balanced religious interpretations because they bring only the male point of view," he said.
Lack of access to education is another factor, according to Hatoon Al-Fasi, a Saudi historian who spoke at a seminar for international guests that kicked off the congress.
"It's really important to establish our rights. We've been put aside and deprived of knowledge because some religious scholars called education as unislamic. That has deprived women of knowledge for a long time," she told journalists on the sidelines of the seminar.
"We've all been affected by the controversial verses that are used to prove that women are inferior to men. These verses are interpreted by men and are haunting for women."
Harmful
The congress ended with a series of recommendations on social issues, including that Indonesia raise the minimum marriage age for girls from 16 to 18.
"All parties must do everything they can to minimize this harmful practice," Badriyah Fayumi, head of the KUPI steering committee, said of child marriage at the closing ceremony.
Government agencies should not register child marriages, and officials who support the practice by falsifying identity documents should face repercussions, she declared.
Religious Affairs Minister Lukman Saifuddin welcomed the recommendation.
"I will immediately communicate with the state minister for women's empowerment and child protection, to conduct this review," he said.
But he called for more concrete specifications on the subject, saying certain exceptional cases need to be considered. He did not elaborate further.
The female clerics also urged religious leaders to support victims of sexual violence, not allowing them to be stigmatized, cast out of society or forced to marry the perpetrator.
"From an Islamic point of view, the state has the obligation to guarantee citizens' rights, especially victims' rights," said Priyati, a congress participant from Jakarta who read out the declaration against sexual violence.
"Sexual violence in all its forms is haram whether in marriage or outside of marriage, because it violates human rights guaranteed by Islam," the declaration said.
Moderation
Lukman, the religious affairs minister, praised the congress.
"This congress has succeeded in affirming and emphasizing that Islamic moderation should always be our priority. Moderate Islam, Islam which is rahmatan lil alamin, Islam that does not marginalize women," he said, using an Arabic phrase that means "a blessing for the world."
Masrivah Amva, owner of Pesantren Kebon Jambu al-Islamy,the boarding school where the Congress was held, said she was very satisfied with its results.
"Our hard work has borne fruit beyond our hopes, and our aspirations have been heard," she told BenarNews.
Masrivah said organizers, including the Syekh Nurjati State Islamic Institute of Cirebon and the Asian Muslim Action Network (AMAN) Indonesia, initially encountered resistance as the gathering was seen as unfriendly to men or aiming to change the role of male clerics.
"The Congress was very friendly and open to anyone, even foreign observers," she said.
http://www.benarnews.org/english/news/indonesian/women-clerics-05022017165424.html
--------
Muslim women lambaste Modi's anti-Shariah tirade
May 2, 2017
MALAPPURAM — The women's wing of Jamaat-e-Islami Hind (JIH) in Kerala has lambasted Prime Minister Narendra Modi and the ruling BJP party for shedding crocodile tears for a few Muslim women suffered by Muthalaq (pronouncement of three-time divorces in one go), saying it would not allow Modi and his party to exploit this minor issue to make political gains and defame Shariah.
"Where were Modi and BJP when Muslim women were raped and their men and children were slaughtered during Gujarat riots? Where were they when hundreds of young Muslim men were arrested and put behind bars making false charges against them? Where were they when Sangh Parivars killed a number of Muslims and Dalits for allegedly eating beef?" asked A. Rahmathunnisa, president of the women's wing, while addressing a mammoth seminar here Sunday.
Thousands of women from all over the south Indian state attended the seminar, which was organized by JIH as part of a national campaign to safeguard Shariah and enlighten Muslims about the Islamic law. V.T. Abdullah Koya Thangal, assistant president of Jamaat in Kerala opened the event and urged Muslims across the country to uphold Shariah and practice its teachings in their daily life.
Rahmathunnisa, who presided over the seminar, said the NDA government wanted to defame Shariah and introduce a uniform civil code by urging Muslim women to stand against Muthalaq. "Everybody knows that Muthalaq is against the text and spirit of the Qur'an and Sunnah (the teachings of the Prophet Muhammad, peace be upon him) and we are totally against Muthalaq," she said, adding that only a few number of such divorce cases have occurred in the whole of India.
The women's wing president described Islam as a complete way life designed by God Almighty the creator of the whole humanity who knows human nature and requirements. "Islamic teachings are relevant for all times and nations. It's not an anti-women or pro-men system. It's the most reformed universal religion," she added. Thousands of men and women in the East and West, including celebrities, academics and scientists have embraced Islam in recent years.
She said the Muslim Personal Law in India, which covers only a part of Shariah, was instrumental in bringing about reforms to personal laws of other religious communities in the country. "Shariah protects freedom, equality and gender justice and we the Muslim men and women of India demand the application of the Muslim Personal Law," she added. The uniform code is not practical in a country like India, which has embraced people of different religious faiths and cultures.
Rahmathunnisa called upon Muslim women to bring up their families under the shade of Islamic teachings, setting a good example for other communities to follow. She urged Mahallu administrators to strictly apply Shariah rules in marriage and divorce cases to ensure justice.
In his inaugural address, Abdullah Koya Thangal emphasized the importance of revising the Muslim Personal Law by experts in light of the teachings of the Qur'an and Sunnah. "The best way to protect Shariah is its application by Muslims in all walks of their lives," he pointed out.
He censured politicians, intellectuals and lawyers for attacking the divine law of Shariah, which is derived from the teachings of the Qur'an and Sunnah. "The Muslim Personal Law in India represents only a small portion of Shariah," he said and urged Muslims to learn more about the Shariah and practice it to achieve success in this life and the hereafter.
"The followers and advocates of Shariah should be vigilant to practice it in order to preserve and safeguard the divine law," the Jamaat leader insisted.
T.K. Jameela, president of JIH women's wing in Malappuram district, highlighted the success of the seminar in terms of large-scale participation, informative speeches and good organization. She said the all-India campaign would play a big role in enlightening Muslims about Shariah.
"This campaign is timely as the NDA government wanted to make the Muthalaq issue live to tarnish the image of Islam and Muslims and make political gains," she told Saudi Gazette.
http://saudigazette.com.sa/world/asia/muslim-women-lambaste-modis-anti-shariah-tirade/
--------
Gambia: Campaign to End FGM Reaches Madrasa Students As Gaha Trains 40 On FGM
2 MAY 2017
By Fatoumatta K. Saidykhan
Stakeholders have intensified their campaign to put an end the old-traditional practice of Female Genital Mutilation with the recent training of at least 40 Islamic students.The forum was organised by Gold Award Holders Association (GAHA) in collaboration with The Girl Generation through its end FGM grants project. It was held on the theme; "Engaging Islamic Students in the Campaign to End FGM"
Speaking at the ceremony, Sainey Drammeh, excutive director of President International Award, said FGM is a traditional-old practice affecting the wellbeing of women and girls. "We want to look at and see ways of eradicating it in our various cultures and traditions in our society with a gentle approach, because we want to win the hearts and the minds of people so that they can adapt various cultural practices that are promoting our personal wellbeing and health".
Drammeh acknowledged that reports have indicated that FGM is detrimental to the health of girls and women in general and that 'if this information can be passed all over', it would help a great deal in eradicating the practice in the country.
For his part, Omar Ceesay, a representative of the secretary general of AMANA, thanked the organisers for the initiative.
Baboucarr Kebbeh, National Chairperson of GAHA, said GAHA conducted its first activity of the grant with the training of 40 Madrassa Islamic teachers drawn from both Greater Banjul Area and West Coast Region through its Islamic secretariat and the regional education directorate in region two.
The training, he went on, was designed to discuss and inform teachers with right information about laws protecting girls and women, citing scientific laboratory proofs on harms of FGM and misconception of FGM on Islam, as key areas to change their mindset about FGM.
"FGM comprises all procedures involving the partial or total removal of the external female genitals or any other injury to the female genital organs for non-medical reasons," he added.
He added; "The Girl Generation intervention in supporting grassroots organisation in its campaign against these deep-rooted traditional practices is very important"
For his part, Lamin Darboe, executive director of National Youth Council, thanked GAHA for organising such a laudable initiative meant to end all forms of violence against women and girls in The Gambia.
The fight against FGM/C, he added, is our collective duty which also involves the National Youth Council and other organisations to support and advocate for behavioral change and perception about FGM/C in our various communities.
According to him, his institution would continue to support stakeholders to make sure that they reach out to every young person in this country to understand and be able to make informed decision in terms of FGM practice.
http://allafrica.com/stories/201705021112.html
-------
Afghan woman killed by fellow asylum seeker in Germany
May 02 2017
An Afghan woman has reportedly been stabbed to death by a fellow asylum seeker from Afghanistan, apparently due to religious rift as the victim was seen by the assailant attending a Church service.
According to the sources quoted by the local news outlet, Bild, the victim was believed to be about 38-year-old and was killed by the fellow asylum seeker in Bavaria of Germany.
The identity of the victim has not been disclosed by the authorities in Germany so far but relatives of the victim have said she was singled out by the assailant and killed with the knife.
The assailant has reportedly been arrested as the authorities are saying that an investigation is underway to ascertain the motives behind the murder.
This comes as the authorities in Germany are concerned that numerous religious extremists including members of the Taliban group have managed to arrive in Germany to seek asylum.
Hundreds of thousands of Afghans left for Europe last year amid deteriorating security situation in the country.
Scores of the migrants lost their lives on the way to Europe by going through the most dangerous routes, including the Iranian land route and the Turkish waters.
http://www.khaama.com/afghan-woman-killed-by-fellow-asylum-seeker-in-germany-02702
--------
URL: https://www.newageislam.com/islam-women-feminism/in-12-years-woman-given/d/111009
New Age Islam, Islam Online, Islamic Website, African Muslim News, Arab World News, South Asia News, Indian Muslim News, World Muslim News, Women in Islam, Islamic Feminism, Arab Women, Women In Arab, Islamophobia in America, Muslim Women in West, Islam Women and Feminism