New Age Islam News Bureau
7 Jun 2017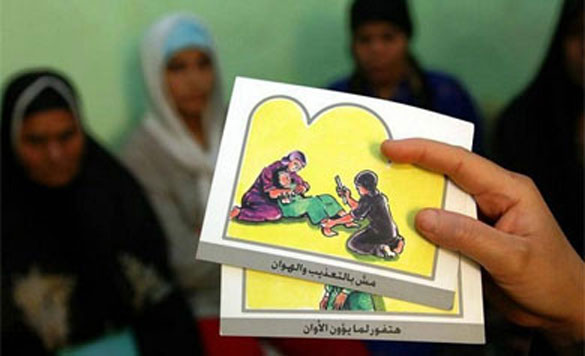 An imam at the Dar al-Hijrah mosque in Falls Church, Virginia, believes FGM prevents "hyper-sexuality" in women
-----
• Hindu Woman Denied Right to Parental Property after Converting To Islam
• Child Marriage Has Been a Cause of Much Concern in Bangladesh
• Dubai Woman Jailed For Flashing Middle Finger in Road Rage
• Women Economic Participation in Kingdom Moving Slowly: Report
• Saudi Woman Jailed For Two Months For Flouting Ban On Female Drivers Is Arrested Again
Compiled by New Age Islam News Bureau
URL: https://www.newageislam.com/islam-women-feminism/imam-virginia-mosque-partial-fgm/d/111448
--------
Imam at Virginia Mosque: 'Partial' FGM Helps Prevent 'Hyper-Sexuality' in Women
6 Jun 2017
WASHINGTON, DC – An imam at the Dar al-Hijrah mosque in Falls Church, Virginia, has reportedly stated in a video posted to the mosque's YouTube account that he believes Female Genital Mutilation (FGM) prevents "hyper-sexuality" in women and endorsed the cutting of a woman's clitoris in order to prevent her from experiencing the urge to engage and act upon her sexual desires.
The video has since "been removed," according to YouTube.
In the YouTube lecture, Shaked Elsayed spoke about FGM as the cutting of "the tip of the sexually sensitive part of the girl so that she is not hyper-sexually active."
According to the Investigative Project on Terrorism, which was able to view the video clip prior to its removal, Elsayed "warned about the dangers of more serious forms of the procedure, but advised congregants to seek the advice of a Muslim gynecologist to see whether minimal action was necessary." He reportedly also warned that, "in societies where circumcision of girls is completely prohibited, hyper-sexuality takes over the entire society and a woman is not satisfied with one person or two or three."
One longtime Dar al-Hijrah member told the Washington Post that the controversy over Elsayed's remarks reflected the ongoing tension between the more conservative and moderate ranks of the mosque's leadership. "He's a very old-school guy," the member reportedly said. "He has old-school views."
On Monday, Dar al-Hijrah's Board of Directors reportedly said it rejected Elsayed's opinion and stated, according to the Washington Post, that the practice is "prohibited in Islam as well as the laws of the land."
The mosque reportedly issued a statement that included Elsayed saying, "I admit that I should have avoided it. I hereby take it back. And I do apologize to all those who are offended by it."
However, the Washington Post noted that the mosque's second imam and outreach coordinator, Johari Abdul-Malik, threatened to quit if the board did not fire Elsayed.
The mosque has fallen into the position of defending its image once again after it tried to recover from the discovery that two of the 9/11 hijackers and Fort Hood shooter, Maj. Nidal Hassan, had all worshiped there at some point. American al-Qaeda leader Anwar al-Awlaki was also an imam at Dar al-Hijrah. The mosque was founded with a $5 million dollar grant from Saudi Arabia's Embassy in the United States.
Some Muslims, like sharia advocate and leftist terrorist supporter Linda Sarsour, were among several people to condemn the action, call for Elsayed's resignation, and argue that FGM has nothing to do with Islam. The practice is common among Muslim and Christian populations in Africa and parts of the Middle East and Asia.
"FGM has no place in Detroit or anywhere else in the world. FGM is barbaric & not an Islamic practice," Sarsour wrote in a tweet in April.
However, Sarsour also seemed to wish the same or similar barbaric practice on Islam critics Brigitte Gabriel and Ayaan Hirsi Ali when she tweeted that she wanted to "take their vaginas away." Ali, an ex-Muslim and former member of Dutch parliament, had undergone FGM as a five-year-old in Somalia.
FGM is recognized as a human rights violation by the World Health Organization (WHO). It involves the partial or complete removal of a woman or girl's external genitalia (the clitoris and labia), often with a blade or knife, in order to deny her of any arousal or enjoyment of intercourse. The procedure is non-medical and is seen as a tool to oppress women.
However, Elsayed is not the sole voice in the U.S. Muslim community who endorses FGM. According to the Investigative Project, the Assembly of Muslim Jurists in America (AMJA) endorses the practice in two fatwas posted on its website in 2012. One of the fatwas reportedly says, "it is considered an honorable thing for females."
http://www.breitbart.com/national-security/2017/06/06/imam-at-virginia-mosque-endorses-partial-fgm-resulting-in-moderates-calling-for-his-dismissal/
--------
Hindu woman denied right to parental property after converting to Islam
June 7, 2017
New Delhi, June 7: A 33-year-old woman, who converted from Hinduism to Islam, has filed a civil suit in Delhi High Court staking claim to one-third share of the property. The woman, who married a Muslim man in 2013, alleged that her brothers were not giving her share from the property owned by her deceased father because she converted to Islam. The woman, who converted to Islam in 2013 when she married a Muslim man following the death of her first Hindu husband, has sought court's direction to declare her one-third owner of her father's property.
Sonia lost her father in 2010 and her husband a year later. Her brothers decided to divide their father's property in Ashok Nagar equally among three of them. They told Sonia that they will give her monthly remuneration from the property, to which she agreed. In 2012, Sonia met Hasan and fell in love with him. Both of them decided to get married. While Hasan's family agreed to accept a Hindu bride, Sonia's not only refused to accept their marriage but also disowned her. They also stopped sending her the remuneration from the property.
"Even after my second marriage there is no change in my living. My husband has never interfered or forced any norms upon me. We value all religions. I tried convincing my brothers but the last time I went there they threatened me with the dire consequence," Sonia was quoted as saying by Mail Today. Eventually, she filed a suit before additional district judge seeking court's direction to declare her one-third owner of the property in Shahdara, Ashok Nagar. Opposing her claim, Sonia's brothers said she cannot claim any right in the property belonging to a Hindu family after she converted to Islam.
Sonia's civil suit:
In her suit, Sonia alleged that her her brothers played fraud with her and executed a false deed of her share in the property in their name. She claimed that they denied her share in the property in 2015 after stopping her share of the rent collected from tenants of the property. And in July last year, they allegedly illegally tried to sell the property. She also filed a criminal complaint against her brothers in the Karkardooma court for alleged offences of cheating, criminal conspiracy and forgery.
The brothers' response:
The two brothers of Sonia said she has no longer any right over the property owned by their deceased father under the provisions of the Hindu Succession Act as she has converted to Islam after marrying a Muslim man and has a child from this marriage. They have sought dismissal of the suit as she ceased to be a Hindu now and claim that they have committed no fraud.
What Hindu Succession Act says:
According to the act, if a relative converts from Hinduism, he or she is still eligible for inheritance. However, the descendants of that converted relative will be disqualified from receiving inheritance from their Hindu relatives, unless they have converted back to Hinduism before the death of the relative.
Can a Hindu woman claim her right to her parent's property after converting from Hinduism to Islam? To find the answer, Additional District Judge Ravinder Singh will begin hearing in this case from August 26.
http://www.india.com/news/india/hindu-woman-denied-right-to-parental-property-after-converting-to-islam-2208658/
--------
Child Marriage Has Been a Cause Of Much Concern In Bangladesh
Zoglul Kamal
Child marriage has been a cause of much concern in Bangladesh
A 15-year-old girl has been saved from the curse of untimely wedlock at the intervention of Jessore's Abhaynagar Upazila administration.
Bonna Roy, a grade X student at a school in Khulna's Batiaghata upazila, fled to Jessore's Abhaynagar with 25-year-old Raju Roy earlier this week.
Raju's family was getting ready to arrange their marriage on Monday at Sundli Union but acting Upazila Nirbahi Officer Mondip Gharai stepped in after being tipped off over the phone.
Around 3pm when everyone was waiting for the priest to come and commence the marriage ceremony, the acting UNO stormed the house with police.
The groom-to-be fled the scene. Raju's father was released after signing a bond promising not to hold child marriage, while the girl was handed over to her parents.
"We are working tirelessly to put an end to child marriage," acting UNO Mondip told the Dhaka Tribune. "Everyone should work together and take social responsibility to stop underage marriages."
Two weeks ago, the upazila administration saved another girl from becoming a child bride.
Bangladesh has one of the highest child marriage rates in the world, where over half (52%) of the girls are married off before they turn 18 and almost one-fifth (18%) before 15.
In February, the government passed a law with a provision for underage marriage in "special circumstances". Rights campaigners say the loophole could be manipulated to force girls to marry their rapists.
http://www.dhakatribune.com/bangladesh/nation/2017/06/07/abhaynagar-uno-foils-child-marriage/
--------
Dubai woman jailed for flashing middle finger in road rage
June 6, 2017
The accused was changing lanes constantly and confusing other drivers.
A Russian woman has been cleared of the charge of putting the lives of two other women at risk during a road rage incident.
The Court of First Instance, however, sentenced the 47-year-old accused to three months in jail and deportation for using her friend's driving license during police interrogation and committing an indecent act in public by flashing her middle finger.
According to public prosecution records, she drove recklessly on May 24, 2016, in Palm Jumeirah and then blocked the road to assault the driver of the other vehicle and made an indecent act in public.
The complainant, a 41-year-old American training coach, said she was driving her car and her friend was with her around 9pm in Palm Jumeirah.
"The accused was changing lanes constantly in a way that would confuse other drivers. At one point, she swerved in front of me and blocked my way then overtook me and drove in front of me while applying the brakes suddenly several times to provoke me. She then stopped her car blocking my way."
The complainant added the accused stepped off and came to her while verbally abusing her. "She assaulted me and flashed her middle finger. A woman, who was with the defendant, came and said she was sorry for her behaviour and that the accused was drunk."
The defendant admitted during public prosecution investigation that she showed the police her friend's driving license, impersonating her, and that she lied about her name as she had a criminal record.
The woman, whose driving license was unlawfully used by the defendant, said the latter had earlier stolen it from her. She came to know about the defendant's using it only when a traffic ticket worth Dh400 was issued in her name for blocking traffic in Palm Jumeirah.
The court ruling may be appealed.
http://www.khaleejtimes.com/news/crime/dubai-woman-jailed-for-flashing-middle-finger-in-road-rage
--------
Women Economic Participation in Kingdom Moving Slowly: Report
7 June 2017
JEDDAH: The number of women in the Saudi workplace has improved slightly since 2011, according to a report released this month by the Riyadh-based Glowork, a women's employment organization.
The report — "Women in Management & Leadership in the Kingdom of Saudi Arabia" — said that female economic participation remains low at 17.3 percent, showing only a slight increase since 2011 from 14.4 percent.
The study by Glowork, which was founded in 2011 by young Saudi entrepreneurs to empower women and increase diversity in the Saudi workforce, found that a number of policy enhancements have significantly supported the empowerment of women in the Kingdom over the past decades. Yet there remains room for improvement in understanding the benefits brought by female inclusion.
Shahad Attar, co-founder of CellA Network, which is involved in matching women's talents with recruiters in Riyadh and Jeddah, said there needs to be more decision-makers leading local companies who can take strong steps to integrate women and create a cultural of inclusion.
"Culture change doesn't happen magically overnight," she told Arab News.
Researchers investigated the current status of female employment in Saudi Arabia and the development into management and leadership roles. It provided recommendations to improve the number of women in the workplace.
"Our findings suggest that the Kingdom is set up to make solid advancements toward a more gender-inclusive workforce using this data as a baseline to monitor progress," the report said.
Research showed that among the policies that would contribute to promoting the inclusion of women in the workplace are offering equal pay for both genders, providing women with transportation to and from the workplace, flexible working hours and the ability to work remotely.
When it comes to policies, there is "no one cookie-cutter solution" that should be applied, Attar said. "Some companies find flexible hours and remote working effective for their employees' needs, while others such as call centers find that providing onsite childcare better accommodates the needs of their female employees."
According to the Glowork, 49 percent of companies report that women make up more than 15 percent of their workforce. Economic participation of Saudi women was 4.2 percent in 1990, showing an increase of more than 13 percent by 2015.
"There are still women who are looking for employment. They need more choices and more options," Attar said. "It is an exciting time in Saudi Arabia for women, as opportunities are being created everyday."
The Ministry of Labor announced in March that it was moving forward with plans to set up nurseries in workplaces and daycare centers to create "a safe and friendly working environment for women." Increasing the number of women in the Saudi workforce from 22 percent to 30 percent is one of goals of the Vision 2030.
http://www.arabnews.com/node/1111241/saudi-arabia
--------
Saudi woman jailed for two months for flouting ban on female drivers is arrested again
6 June 2017
A women's rights activist who was detained for 73 days for openly defying Saudi Arabia's female driving ban has been arrested again.
Loujain al-Hathloul, 27, was arrested on June 4 at King Fahd International Airport in Dammam, Saudi Arabia, though authorities have not revealed why she was taken into custody.
Hathloul has been denied access to a lawyer or her family, human rights group Amnesty International said.
She is expected to be taken to Riyadh later on Tuesday, where she will be interrogated by prosecutors, according to BBC.
Amnesty International has called for her immediate release, saying her 'continuous harassment' was 'absurd and unjustifiable'.
'It appears she is being targeted once again because of her peaceful work as a human rights defender speaking out for women's rights, which are consistently trammelled in the kingdom,' Amnesty International's Samah Hadid said.
'If so she must be immediately and unconditionally released,' Hadid added. 'Instead of upholding its promise of a more tolerant Saudi Arabia, the government has again shattered any notion that it is genuinely committed to upholding equality and human rights.'
Hathloul, who studied at the University of British Columbia, was arrested in 2014 after she tried to drive into Saudi Arabia from neighboring United Arab Emirates (UAE), flouting the ban on women motorists.
Saudi Arabia is the only country that forbids women from driving. It is not illegal to drive in the country, but only men are given driving licences and women risk fines and arrests if they get behind the wheel.
When Hathloul was arrested in 2014, UAE-based Saudi journalist Maysaa Alamoudi was also arrested as she arrived at the border to support the activist.
Campaigners said investigations surrounding the women appeared to focus on their social media activities rather than their driving.
In October 2014, dozens of women posted images online of themselves behind the wheel as part of an online campaign supporting the right to drive.
In response, the Ministry of Interior said it would 'strictly implement' measures against anyone undermining 'the social cohesion'.
Activists say women's driving is not technically illegal but that the ban is linked to tradition and custom in the conservative kingdom.
Upon being released from prison, Hathloul ran for public office in 2015 - the first election in which women were able to vote or stand as candidates.
Her name, however, was never added to the ballot.
Saudi law is based on one of the most conservative interpretations of Islamic Shariah, and no other Muslim countries enforce such strict guardianship measures.
There have been some marginal improvements in women's rights in the kingdom in recent years. In a rare step to partially rein in guardianship, King Salman last month ordered government agencies to stop demanding guardians' permission beyond the areas where the law actually requires it.
Under Saudi law, the guardian's permission is required for a woman to get a passport, to travel abroad or to marry.
It is also often demanded whenever a woman tries to do any number of things, including rent an apartment, buy a car, undergo a medical procedure or take a job. As a result, women are consigned to the legal status of minors.
Rights activists say the system should be ended completely.
Guardianship was a major reason for outrage when Saudi Arabia in April was elected to a UN commission tasked with promoting gender equality and women's empowerment.
The kingdom was nominated to the post by the Asia-Pacific region, and normally nominees are rubber-stamped automatically.
In this case, the US requested a secret ballot vote, a move seen as a symbolic objection, though the kingdom won with 47 out of 54 votes.
The Geneva-based rights group UN Watch denounced the acceptance of Saudi Arabia on the commission, calling it the 'world's leading oppressor of women.'
http://www.dailymail.co.uk/news/article-4577132/Saudi-woman-jailed-defying-driving-ban-arrested.html
--------
URL: https://www.newageislam.com/islam-women-feminism/imam-virginia-mosque-partial-fgm/d/111448
New Age Islam, Islam Online, Islamic Website, African Muslim News, Arab World News, South Asia News, Indian Muslim News, World Muslim News, Women in Islam, Islamic Feminism, Arab Women, Women In Arab, Islamophobia in America, Muslim Women in West, Islam Women and Feminism