New Age Islam News Bureau
20 December 2021
• Deena Shahrabani, ,The Woman Who Helped Alexa Understand Arabic
• Muslim Women Should Be Allowed Divorce If Husband Remarries, Fails To Give Equal Treatment: Kerala High Court
• Iraq: After tragedy, new freedoms, opportunities for Yazidi women
• Women-Led Start-ups Among Finalists In PIF's Sanabil, 500 Global Accelerator Program
• Domestic Violence Against Women 'Almost Satanic,' Pope Francis Says
Compiled by New Age Islam News Bureau
URL: https://www.newageislam.com/islam-women-feminism/saudi-female-dj-nouf-sufyani/d/125998
--------
'I'm Proud To Perform In My Country:' Saudi Female DJ Nouf Sufyani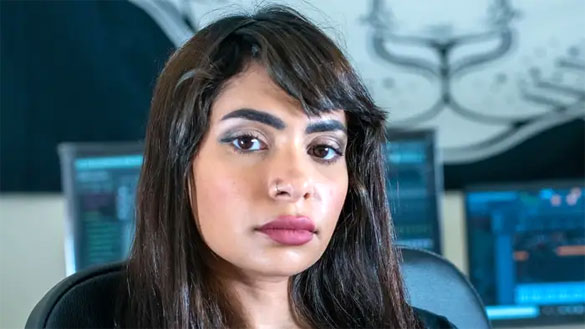 Cosmicat pictured in her studio at home in Jeddah. Supplied
----- -----
December 18, 2021
DUBAI: Riyadh's music festival SOUNDSTORM has returned with an exciting lineup of international musicians, Arab pop stars, and Saudi talent, including DJ and producer Nouf Sufyani, also known by her stage name Cosmicat.
She told Arab News that the festival, which runs until Dec. 19, had opened a "world of opportunities for the music community" in Saudi Arabia.
"As local talent, we've got a huge opportunity now and can see a lot of artists rising to the surface and getting the recognition they truly deserve. MDLBEAST is a game-changer for the music industry in Saudi and the region.
"We've had a thriving underground music community in Saudi for so long. Today, we can pursue our dreams in Saudi, grow our talent through industry events and connect with the wider regional music scene and professionals," she said.
Jeddah born and raised, Cosmicat produces electronic music, specifically deep house, and techno. She grew up listening to pop, disco, rhythm and blues, and hip-hop, the influence of all noticeable in her music selection.
"I bought my first set of gear online and began DJing in my bedroom, using my innate understanding of music flow and online resources to teach myself.
"I decided to take my passion up a level with learning how to mix records and one thing led to another. People started recognizing my sound and I was lucky enough to pursue making music and being able to take my passion as a career," she added.
Her stage name Cosmicat comes from her love for cats. "Combine that with my deep interest in cosmology and there you have it, Cosmicat," she said.
Being a female DJ in the Kingdom has not been without its challenges.
"The most challenging part is thriving in a male-dominated industry which is also quite niche. This isn't the case only in the region, but worldwide.
"We never had actual career opportunities for musicians yet alone female musicians. Now we've got our dreams served to us with incredible opportunities for growth," she added.
When she started her music career, Cosmicat got support from her family and friends, but some people predicted she would never go far in the industry as a Saudi woman. "I never let it affect me – and look how far we've come now?" she said.
Cosmicat took to the stage in 2019 during the first edition of MDLBEAST SOUNDSTORM, an experience she said was a "special moment" in her career. "I'm very proud to be able to perform in my country at one of the biggest music festivals in the world."
The record producer is working on releasing an EP with three to four tracks. "It'll be focused on my emotional journey, but it's still work in progress. Stay tuned," she added.
Source: Arab News
https://www.arabnews.com/node/1988966/lifestyle
--------
Deena Shahrabani, ,The Woman Who Helped Alexa Understand Arabic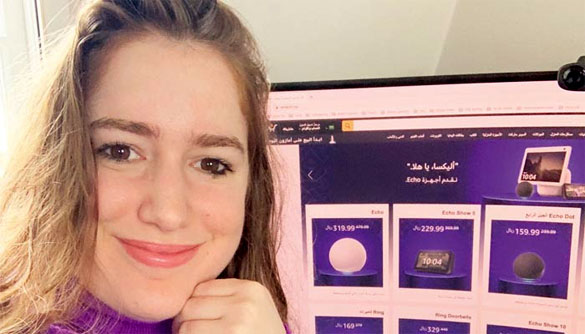 Deena Shahrabani
----
19/December/2021
Muscat: An Omani engineer who worked on providing Amazon's Alexa virtual assistant with the ability to recognise and understand Arabic speech has spoken about the efforts taken by her team and her to make Alexa smarter by making it understand more local words and slang.
Deena Shahrabani, a knowledge engineer who works from the UK for Amazon, was one of four members tasked with helping Alexa understand Khaleeji Arabic, the version of the language spoken in the Gulf. Alexa users in the United Arab Emirates and Saudi Arabia can now issue commands in Arabic, with the service soon to be rolled out among other Arab countries as well.
Deena explained, "We do recognise the various ways customers can ask questions, so we try to be as inclusive as possible to capture the most common shapes in different dialects, so you could be understood if you use the Egyptian way of asking 'how many'. However, in terms of speech, we only speak Modern Standard Arabic and Khaleeji.
"Context is very important in understanding all languages with Alexa, and Arabic is no exception," she added. "We have a team of data analysts and knowledge engineers who manually review any machine translated text and ensure we have a good level of accuracy there. We constantly aim to enrich Alexa with more culturally-specific idioms and phrases and I think that is definitely an area we can work on now that we have launched in two countries."
Deena was one of four initial members tasked with improving Alexa's knowledge of Arabic: she was joined by another knowledge engineer in London, a product manager in Dubai, and a data analyst in Cambridge. That team was supported by other core units, including specialists in automatic speech recognition (ASR), natural language understanding (NLU), and text to speech (TTS).
Other engineers, who were assigned to Alexa's responses to commands regarding prayer times, smart home functions, and alarm calls, were also part of the team.
"My role involves building the question and answering capabilities of Alexa and improving her knowledge in multiple topics including prayer times, football, and Politics," said Deena. "So if you ask in Arabic, 'Alexa, when does Saudi Arabia Play?' you should hear the answer I defined."
"I made sure that Alexa understands each component of that phrase and provides the appropriate response to ultimately provide the best customer experience," she added. "I also worked closely with the product team to ensure we target the highest-traffic utterances, as well as with our software engineering team to ensure we solve any nuances with Arabic that need code modifications, for example, in terms of the understanding of various dates."
Born and raised in Muscat after her father, Dr Rashid Shahrabani, moved from the UK in 1988 to set up the Royal Hospital's cardiology centre, Deena and her family were granted Omani citizenship in 2000, when she was just four years old. She graduated from the Sultan School, and joined Amazon in 2019, as part of their Graduate Retail Programme. Realising she wanted a more technical role, however, Deena joined the Alexa International team a year later to help launch Alexa in Arabic, which she says is one of the hardest languages to learn.
Her native connection to the language and keenness to take on the responsibility thrust upon her attracted Deena to the role, but fresh challenges came in the form of the hurdles brought up by the COVID-19 pandemic.
"Late nights are not unheard of when working on hard projects that might also require working with colleagues in California," she admitted. "It is quite flexible and I really felt the autonomy to work at your own time at Amazon as long as the job is done. Flexible working is probably the best thing to come out of the pandemic - although it can go the other way."
"We started work-from-home at Amazon in the UK quite early on in March 2020, and since have not been required to work in the office," she added. "As my team is really global, I think working remotely is quite the norm with most meetings held virtually. Travel is one thing that affected us as quarterly off-sites were something unique about the role, where we'd all meet in a certain city every few months and reconnect with our colleagues."
Deena revealed, "My job was very exciting but not easy by any means: Arabic was the first right-to-left language we launched, and there were many nuances unique to Arabic such as diacritics which increase the number of homonyms greatly. Disambiguating different words that share the same spelling was an important part of the launch."
Having now established herself at one of the world's biggest tech companies, and on the forefront of cutting-edge innovation, Deena has some advice for other Omanis, who want to make a name for themselves.
Selling points
"Definitely focus on your unique selling points," she said. "I have always searched for Arabic-speaking roles when looking at jobs abroad as I knew it would give me an edge. The UK is not the easiest of countries to sponsor international applicants, so I would definitely focus on nailing a few years of experience in your home country, before applying for a global transfer or an application abroad."
"Continuously learning and building your confidence through online courses is definitely a plus," she added. "I think tech roles are still the most demanded among professions, and having a good foundation will help you sail forward."
Source: Times of Oman
https://timesofoman.com/article/110771-meet-the-woman-who-helped-alexa-understand-arabic
--------
Muslim women should be allowed divorce if husband remarries, fails to give equal treatment: Kerala High Court
Rickson Oommen
December 18, 2021
The Kerala High Court on Saturday said that Muslim women should be granted divorce when the husband has remarried and is not giving equal consideration and providing similar living conditions. The Quran insists on equal treatment of wives, the court observed. The court said that if this is violated, women should be granted a divorce.
The court was making these observations while hearing the plea from a Thalassery native demanding a divorce from her husband who has remarried and lives separately from her. Her plea in the Thalassery family court was declined to prompt her to bring the case before the High Court.
The division bench consisting of Justice A Muhammad Mushtaq and Justice Sofie Thomas said that as per Muslim Divorce Act Section 2 (8) (F), the woman should be allowed divorce when the first wife is being ignored after the husband remarries. The husband not giving the petitioner protection for over two years is grounds enough to grant a divorce.
The woman had petitioned for divorce back in 2019. She has been living separately from her husband since 2014. The husband claims to have been providing her support during the period.
The court, however, observed that they were living separately for years itself shows that the first wife isn't given the same consideration. The husband also doesn't claim to have lived with the wife after 2014. Not living with the wife and failure to do his marital duties is a violation of what the Quran says. The first wife was granted a divorce by the high court.
Source: India Today
https://www.indiatoday.in/law/story/muslim-women-should-allowed-divorce-husband-remarries-fails-give-equal-treatment-kerala-high-court-1889416-2021-12-18
--------
Iraq: After tragedy, new freedoms, opportunities for Yazidi women
18.12.2021
Cathrin Schaer
"We really appreciate your visit," Luqman Suleiman told a group of tourists from around Iraq and Germany recently, when he met them at the entrance of the Yazidi temple, Lalish. For the ethno-religious Iraqi minority this site in northern Iraq is the equivalent of the Vatican to Catholics, or Mecca to Muslims. Every Yazidi is expected to come here at least once in their lifetime. And these days, more outsiders are coming here too.
"It is really so important that people come here and listen to the Yazidis," Suleiman, a spokesperson and guide at the temple, said. "You shouldn't listen to other people. They may speak falsely about us."
Suleiman was talking about long-standing prejudices against his community in Iraq. Their highly secretive and ritualistic religion — traditions and rules are passed on orally and outsiders are prohibited from knowing most of them — has made the minority a target of the Muslim majority in the country.
The Yazidi faith has been described as "dualist" because they believe that good and evil are part of the same divinity. This is also why some Iraqis have described them as "devil worshippers" and, for example, won't eat any food prepared by Yazidi hands.
It is the same sort of prejudice that made the small religious community, which is thought to number around half a million inside Iraq, a target for the extremist group known as the "Islamic State" (IS). As the extremists took over swathes of the country in 2014, the minority's marginal status was part of the reason why the IS militants felt they could kill, rape and enslave thousands of members of the community with impunity.
Unexpected outcomes
The Yazidi minority was forever changed by the IS group's brutal assault on them. By the time the extremists were more or less pushed out of northern Iraq in 2017, thousands of Yazidis had been killed or kidnapped. Several international bodies now classify the events as a genocide. Today, around 240,000 are still living in camps for the displaced, many in grinding poverty.
But the community has also changed in some ways that were perhaps not quite so predictable.
"The Yazidi community has transformed toward more openness," said Murad Ismael, head of the Sinjar Academy, an institute in northern Iraq providing education to locals in the area. "The Yazidi community has nothing to hide but I believe, in the past, many thought it was better to not discuss identity or faith. I also think the world today is more passionate and supportive to the Yazidis, which encourages them to be more open."
Newfound freedoms
One noticeable change has come in Yazidi women's rights, Suleiman told his curious visitors.
"Before the IS group came, a woman was not free to leave her village without a male guardian," Suleiman said. "But after the IS time, people have more of an open mind. Women can leave their village and catch a plane to Europe, if they want to," he said, smiling and gesturing at the sky above the hills surrounding the 4,000-year-old temple.
"In the past, the community would not have accepted that," confirmed Naven Symoqi, a Yazidi activist and journalist from Sinjar, the district where many Iraqi Yazidis reside. " But after many Yazidis became displaced, they ended up in different parts of Iraq and they saw different ways of doing things."
That experience, said a local in northern Iraq, who worked with Yazidis in a displaced persons' camp, has had impact. "Imagine if you come from a really isolated agricultural community without many resources, where many people were not educated beyond primary school level. And then you've been displaced, you're in a camp, and there are all these NGOs running programs on education and women's rights," the source told DW. The person requested anonymity in order to speak candidly about the community with which they still work.
Women drivers
Symoqi marvels at the fact there are now driving schools for women in town. She also knows of Yazidi women studying at universities and praises Amera Atto, a Yazidi who competed in 2021's Miss Iraq contest.
Yazidi women involved in local survivor networks are also doing things they never would have before, such as traveling to cities to meet male politicians to discuss justice and compensation.
Because of the murders of their male relatives, many Yazidi women became heads of their own households, pointed out Abid Shamdeen, executive director of Nadia's Initiative.
His nonprofit organization, founded by Nadia Murad, a Yazidi survivor and Nobel Peace Prize recipient, has been able to help Yazidi women set up their own small businesses, rebuild homes and access education. "We have seen that these kinds of projects have a profoundly positive impact on Yazidi women," Shamdeen told DW. "After IS' destruction, Yazidi women have very much taken the lead in advocating on behalf of their community, both locally and globally."
Yazidi women are also benefiting from better access to education and job opportunities, the Sinjar Academy's Ismael added. "There are more women employed and some even own small businesses or lead NGOs. This is really something new to the Yazidis of Iraq."
Underage marriage
Despite it's awful origins, this new attitude could be seen as a positive development. The Yazidi religion has strict rules. You cannot convert into it, nor can you leave it. Adherents may not even marry out of their own caste within the community, let alone outside of the religion.
In one high-profile case from 2007, Dua Khalil Aswad, a young Yazidi woman, who was thought to have converted to Islam for love was beaten to death in public, including by members of her own family.
In 2011, after a growing number of suicides among young Yazidi females, researchers from the International Organization for Migration conducted community interviews to find out why this was happening. They concluded "the marginalization of women and the view of the woman's role as peripheral" were to blame, alongside isolation, unhappy arranged marriages, unemployment among females and community and sectarian tensions.
More to come
Still, community members told DW that, despite recent changes, much remains to be done.
For one thing, the former camps worker explained, there's still a big difference between the way Yazidi survivors and other women in the community are treated.
"Some are welcomed back by their families, others are not. Although the community doesn't like to talk about it like this, it's a bit of a disaster," the source said. "And all this [the new rights Yazidi women have] is still only possible with the permission of male family members. It's still deeply patriarchal here. Then again," they concluded, " these things take time. And once people are given opportunities, it's very hard to take them away again."
"Definitely there is still some social friction," Ismael agreed. "It will take time and education," he argued. "But I think in many ways Yazidi women led by example, during and after the genocide. [They] were at the forefront of everything that happened and in many ways became symbols of the people."
Source: DW News
https://www.dw.com/en/new-freedoms-yazidi-women/a-60130898
--------
Women-Led Start-ups Among Finalists In PIF's Sanabil, 500 Global Accelerator Program
December 19, 2021
RIYADH: Sanabil Investments, wholly owned by the Public Investment Fund, and 500 Global, a leading global venture capital firm on Sunday unveiled 11 startups in the second batch of the Sanabil 500 MENA Seed Accelerator Program 2021.
Female founders lead a third of the batch, signaling 500 Global's commitment to continue supporting diversity. The program provides pre-seed and seed-stage startups across the Middle East and North Africa with the foundation they need to validate and scale their business regionally and globally.
Selected out of 500 applicants, the finalists are working in a diverse range of sectors, including fintech, ecommerce, NFT, health tech, and real estate tech.
"The Sanabil 500 MENA Seed Accelerator aims to create a resilient, integrated, and sustainable entrepreneurial ecosystem that attracts young companies from around the region and contributes to its growth. We're excited to support such talented founders as they embark on a promising journey," said Bedy Yang, managing partner at 500 Global.
More than 60 percent have their main operations in Saudi Arabia or have a founder of Saudi origin, while startups without headquarters in the country have indicated their intent to establish operations in Saudi Arabia within the next three years.
"Our 11 finalists reflect the evolving breadth and depth of today's entrepreneurial ambitions and where founders believe their products and services could soon make a difference in our everyday lives," said a Sanabil spokesperson.
The 12-week program, which concluded in Riyadh with Demo Day, offered founders dedicated mentorship with a focus on business strategy development, fundraising, and growth.
Following is the list of the batch 2 startups:
Bringy: Enables customers to purchase and claim insurance online with a few simple clicks.
Nuqtah: NFT marketplace for creatives in Saudi Arabia.
Ameen: Licensed therapist in the comfort of your home.
Jingle Pay: Digital banking app that simplifies expats' everyday financial needs.
Below: Direct-to-consumer focused on below-the-waist hygiene products for men in MENA.
Playbook: Edutainment platform and professional network that accelerates career progression for women.
Nitros: Multicarrier shipping software empowering online merchants to automate their shipping operations.
Letswork: A marketplace and digital membership that connects users to on-demand workspaces, private offices and meeting rooms.
Juleb: SaaS for pharmacies that helps increase their sales and guarantees compliance through an enterprise resource planning system that streamlines point of sale processes.
TeamUp: Event management app for organizing and sharing sports competitions.
Twinn Health: Enables early disease detection using imaging and AI tools to extend a healthy human lifespan.
Source: Arab News
https://www.arabnews.com/node/1989686/business-economy
--------
Domestic violence against women 'almost satanic,' Pope Francis says
20 Dec 2021
Pope Francis has said that men who commit violence against women engage in something that is "almost satanic".
He made the comment, some of the strongest language he has used to condemn such violence, during a programme broadcast on Sunday night on Italy's TG5 network in which he conversed with three women and a man, all with difficult backgrounds.
"The number of women who are beaten and abused in their homes, even by their husbands, is very, very high," Francis said in answer to a question by a woman named Giovanna, a victim of domestic violence.
"The problem is that, for me, it is almost satanic because it is taking advantage of a person who cannot defend herself, who can only (try to) block the blows," he said. "It is humiliating. Very humiliating."
Giovanna said that she had four children to care for after they escaped from a violent home.
Since the Covid-19 pandemic began nearly two years ago, Francis has several times spoken out against domestic violence, which has increased in many countries since lockdowns left many women trapped with their abusers.
Police figures released last month showed that there are about 90 episodes of violence against women in Italy every day and that 62 per cent were cases of domestic violence.
Francis said women who were beaten and abused had not lost their dignity. "I see dignity in you because if you didn't have dignity, you wouldn't be here," he told Giovanna.
Turning to other examples of human misery, he listened to a homeless woman speak of life on the street and a man trying to get back on his feet after 25 years in jail.
Francis has set up services in the area around the Vatican to give Rome's homeless healthcare, bathing, and hair-cutting facilities.
In 2020, when a palazzo just off St. Peter's Square that was once a convent became vacant, he ordered it to be turned into a homeless shelter, overruling suggestions that it be converted into a luxury hotel.
Source: Khaleej Times
https://www.khaleejtimes.com/world/domestic-violence-against-women-almost-satanic-pope-francis-says
--------
URL: https://www.newageislam.com/islam-women-feminism/saudi-female-dj-nouf-sufyani/d/125998
New Age Islam, Islam Online, Islamic Website, African Muslim News, Arab World News, South Asia News, Indian Muslim News, World Muslim News, Women in Islam, Islamic Feminism, Arab Women, Women In Arab, Islamophobia in America, Muslim Women in West, Islam Women and Feminism