New Age Islam News Bureau
9 Apr 2016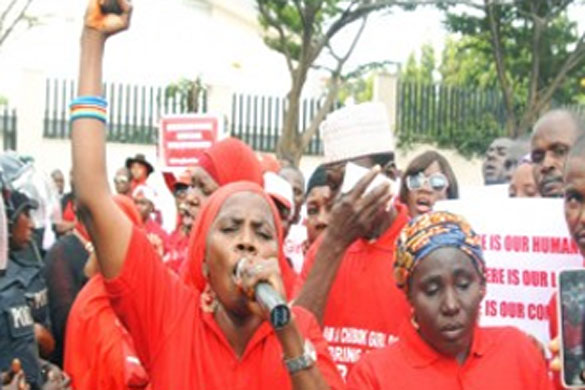 Photo: 'Ignorance, Culture, Misinterpretation Cause Of Low Girl-child Education'
------
• Why Can Only Muslim Men Debate Whether Muslim Women Need Feminism?
• International Women of Courage Award Winners Offer Mideast Hope
• Women Create History in Pakistan: Tribal Police Appoint Female Officers for the First Time
• Muslim Hijab-Wearing AFL Player Competes For a Spot in the Top Women's League
• Building Bridges: Muslim Women's Group Will Host Community Gathering At Islamic Center Of Daytona Beach
• Islamic Awareness Week at UMD: Hijab Day
Compiled by New Age Islam News Bureau
URL: https://newageislam.com/islam-women-feminism/'ignorance,-culture,-misinterpretation-cause-low/d/106932
---------
'Ignorance, Culture, Misinterpretation Cause of Low Girl-child Education in Africa
Apr 9, 2016
The Chief Imam of Apo Legislators' Quarters Mosque in Abuja, Sheikh Nura Khalid had stated that ignorance, culture and misinterpretation has been the cause of low girl-child education especially in the Northern part of the country.
Sheikh Khalid who was speaking while giving a talk on "Importance of Girl-Child Education in Islam" during the Global Week Of Action to commemorate the two years anniversary of the abduction of the Chibok schoolgirls, stated that the nation must rise to fight ignorance, urging Nigerians to stop the misinterpretation of religion to suit their personal interest.
He added that Islamic religion encourages education, adding that some people used religion to keep their women indoors, denying them access to education which have also deprived them the opportunity of being ideal wives and mothers.
"People are ignorance in their religion especial as it pertains to gender equality. There is no difference between a girl-child and a boy and should be given equal treatment. No religion is against human right. The essence of religion is the protection of human right. If we are to look at historical aspect of girl-child education during the early stage of Islam, girls were encouraged to search for knowledge.
"Something went wrong when Islam came to Nigeria. Men are jeolous and want to own their women especial the African man and in particularly, the Hausa, Fulani. They make their wives stay inside the house. They used some verses in the Koran to lock their women. It is important to advocate to our people to understand that an educate woman is an ideal wife and mother. She will know how to control and train her children.
"This should not be left for government alone. All of us must do something to make sure that a woman, a girl is given the chance to education. Islam encourages people to learn. Imans and other scholars should understand this and promote it so that our society will be better for it," he said.
Earlier during her opening address, one of the leaders of the group, Aisha Yesufu stated that the group have stood for the Chibok girls believing that one day, the girls will be back, which informed the theme of the commemoration was #Hope Endures.
"It is day 725 of abduction and Day 715 of the advocacy. It is a sad day for us. It is depressing. We are looking at two years. We will continue to hope on our girls, no matter how long it is. We hope and keep hoping that they will come back and will make our country proud," she said.
The first day of the Global Week Of Action was marked with a special prayers at Jumat service, including Asr prayers at the Unity Fountain in Abuja led by Sheikh Khalid after which two lectures was delivered by the Sheikh and Uztaz Abdulfatah Adeyemi on the topics: "Importance of Girl-Child Education in Islam" and "Islamic Prohibition of Forced Marriages".
leadership.ng/chibokgirls/516411/ignorance-culture-misinterpretation-cause-low-girl-child-education
---
Why can only Muslim men debate whether Muslim women need feminism?
8th April 2016
IT may be news to some people, but religion and feminism are not (and should not be) diametrical concepts. However, this might be hard to believe, especially after a Malaysian university hosted a debate entitled 'Do Muslim women need feminism?' on Wednesday.
Funnily enough, this debate about Muslim women did not invite any actual Muslim women to speak and share their views on the topic. Instead, it had two Muslim men discuss the issue.
Perhaps a more accurate title, then, would have been, 'Do Muslim men think Muslim women need feminism?'
After the event, one of its attendees shared her experience, posting it to her Facebook page. It didn't take long for the post to spread – the original post has seen more than 400 reactions and up to 145 shares at the time of publishing.
In the post, Maryam Lee said that the two debaters – Muhammad Kashmiri and Asadullah Al-Andalusi – used "great fallacies" to push forward the notion that Muslim women do not need feminism.
"Women's physique and biology were used to justify the systemic and structural oppression of women – it was hard to believe that we were in the 21st century," she wrote.
Maryam criticized the use of Saudi Arabia as a prime example of how well women are treated in the Muslim world, since rape cases there were low – she argued that the male speakers ignored "the fact that women there get jailed for reporting rape".
Footage of the debate in question, obtained by Asian Correspondent, shows Muhammad attempting to argue for feminism, while Asadullah was against it.
In the video featured below, during his turn to speak, Asadullah posited that while feminism has its benefits, supporting feminism and its inherent Western concepts is akin to working with the enemy. He also critiqued the four fundamental things that Western feminism wishes to bring about – education, career, health and leadership.
Speaking to Asian Correspondent, Maryam said she took issue with the fact that a Muslim woman was not given the opportunity to speak during the debate to give a woman's perspective.
Later on, during the Q&A session, she attempted to challenge Asadullah's arguments presented during the debate, but was prevented from doing so by the event's organizers.
"They took the microphone away from me and asked me to not be emotional. The men were given the space to have their say, but when I wanted to say something, I was told by the organizers that we were out of time," she said.
She also lamented the fact that not many people in the audience tried to speak up if they disagreed with Asadullah's views, though she said that afterwards that several people approached her outside the venue and shared their dissatisfaction with what was said during the debate.
From Asadullah's side, he explained in his own Facebook post that the debate had merely been a part of an event called "Mars vs. Venus" which did include women.
In the post, he said that although he was not a woman, that did not mean he could not discuss "the issue of whether or not Muslim women needed feminism".
However, many commenters on that post still felt that holding a debate about Muslim women without including one was problematic.
Shamsiya Noorul Quloob wrote: "As a speaker you should have refused this 'debate' and nominated more educated women to speak on this topic."
Safiya Ravat added: "[…] are you telling me that at an International Islamic University in Malaysia where there are hundreds if not thousands of capable intelligent female Muslim students and professors who could have been asked to speak… women with Masters and PhDs in Islamic studies… that there was not ONE female suitable for the job? Not even one?!"
While Tariq Maketab commented: "It speaks volumes about your perspective on female voices and empowerment when you think speaking on behalf of women is the same as letting them speak for themselves. That's MY problem with a 'debate' presuming to talk about feminism without female voices and perspectives."
Essentially, this is not to say that the two men could not share their views on whether Muslim women needed feminism, but the irony was not lost on many when women were not included in the debate.
Because when a discussion on whether Muslim women need feminism excludes Muslim women, it only highlights why they DO need it.
To sum it up, Maryam said: "Women don't need men to tell them what to think."
asiancorrespondent.com/2016/04/malaysia-muslim-women-feminism-debate/
---
International Women of Courage Award Winners Offer Mideast Hope
April 8, 2016
Middle East alliances — this month's Global Minnesota Great Decisions dialogue — have often been between governments ruthlessly ruled by so-called "strongmen."
But in some areas an even more fundamental force — strong women — are rising despite spiraling violence. Two such women, Dr. Nagham Nawzat Hasan of Iraq and Nihal Naj Ali Al-Awlaqi of Yemen, who were among 14 honored with the State Department's International Women of Courage Award, visited Minnesota this week to talk about their countries' crises. Their grit, and gifts, show how much Mideast societies could benefit from fuller participation by women.
Hasan, a gynecologist and activist, was among the first to respond to the horrors inflicted upon her Yazidi community by the Islamic State in Iraq and the Levant (ISIL). Secretary of State John Kerry, referring to those "dark days," summarized the nihilists' crimes as he lauded Hasan's "perseverance in championing the rights of Yazidi women and girls, even in the face of extraordinary adversity."
Yet the most telling testament to what Yazidis face — especially women — came from Hasan herself. "There are some stories I'm not able to forget," she said in an interview. With chilling detail she recounted how scores of Yazidi girls and women have been kidnapped, gang-raped, sold as sex slaves, tortured and sometimes eventually killed. Even children are brainwashed into killing or are used as human shields. Many escapees, despite being welcomed back in their communities, attempt suicide. Describing survivors' "total psychological collapse," Hasan said that this was not the first attempted genocide against Yazidis, but that previous attempts were in "the Dark Ages and we never expected in the 21st century" such "animalistic behavior."
Then, reflecting an alliance often overlooked here at home, she thanked America for striking ISIL just in time. "I want to thank the U.S. for the wonderful thing they did for us," Hasan said. "If it were not for hits from the U.S., the whole Yazidi minority would have been victims of genocide."
Yazidis have fiercely fought back, too, including some women combatants. "Personally, I salute any woman who fights ISIL from wherever she is, and I consider this honor I have received is not just for me, it is for them, and all the survivors and mothers who have lost their sons in this battle."
It's not Mideast alliances, but adversaries that are among the defining dynamics in Yemen's warfare. But Al-Awlaqi, Yemen's minister of legal affairs, said in an interview that it's more complicated than the depiction of an Iran-Saudi Arabia proxy war.
Al-Awlaqi is well-credentialed to decipher the conflict's complexities. Kerry hailed her as a "breaker of barriers" who helped draft her country's constitution, is the only woman in the peace talk delegation with Houthi rebels, and is a champion of girls and women.
"I'm a living example of the Arab Spring being a source of empowerment for women," Al-Awlaqi said. As for the Arab Spring itself, while it's much maligned by many Western observers surveying the regional chaos, Al-Awlaqi defended its origins while lamenting uneven outcomes. "The root causes for which the Arab Spring came about are noble causes. People have the right to transition to democratic societies, modern societies with equal rights for everybody. But it is unfortunate that the path to this transition was derailed."
This path to democracy and modernity would be advanced by enhancing the role of women, added Al-Awlaqi. "If Yemeni women were empowered, they would contribute socially, politically, economically in the welfare of Yemen."
Al-Awlaqi also appreciated the U.S. for "supporting the legitimate government in Yemen," yet she hopes that the Obama administration will exert even more pressure on the Houthis to comply with the latest U.N. resolution.
Both women also appreciated Minnesota's interconnected internationalism. In particular, Al-Awlaqi, a professor at the University of Aden, lauded the Law School, the Humphrey School of Public Affairs, and programs focused on women's rights and human rights at the University of Minnesota, while Hasan cited the Center for Victims of Torture as an example of "the humanity and kindness of Minnesotans."
While thoroughly modern, both women also turned to timeless cultural touchstones to reflect their views.
"As the saying says, 'a bird has two wings,' " said Al-Awlaqi. "One wing is men and one is women. If you have one wing down, the society would fall."
Neither woman will let her society fall. And Hasan spoke beyond Yazidis in Iraq to the wider world when she said: "This earth, this land belongs to everyone. And everyone of any belief and any religion should have the freedom to live peacefully under the canopy of humanity."
The Star Tribune Editorial Board and Global Minnesota are partners in "Great Decisions," a monthly dialogue discussing foreign-policy topics. Want to join the conversation? Go to globalminnesota.org.
John Rash is an editorial writer and columnist. His weekly Rash Report column analyzes media news and trends. His focus on foreign policy as an editorial writer has taken him on reporting trips to Japan, Turkey, Rwanda, Kuwait and Kazakhstan. John was the recipient of a 2014 Society of Professional Journalists Page One Award for editorial writing. John's commentary can be heard Fridays at 8:20 a.m. on WCCO-AM (830), the CBS radio affiliate in the Twin Cities. Prior to joining the Editorial Board, John was a senior vice president, director of media analysis for Mithun, a Minneapolis-based national advertising agency. He is a graduate of the University of Minnesota, and has been an adjunct faculty member at the U's School of Journalism and Mass Communication. He lives in St. Louis Park with his wife and two children.
startribune.com/international-women-of-courage-award-winners-offer-mideast-hope/375099701/
------
Women create history in Pakistan: Tribal police appoint female officers for the first time
Apr 8, 2016
Landi Kotal: Pakistan tribal police have for the first time in the country's history recruited three Christian women to work alongside their Muslim male colleagues.
The three were among a group of 15 female Christian applicants for the job, despite the fact that the posts were open to all religions. Officials said no Muslim women applied due to local traditions in the conservative tribal society.
"Their basic job is to carry out body searches of women passing through the Torkham border crossing," Khalid Khan, a senior official in Pakistan's Khyber tribal district told AFP.
Khyber is one of Pakistan's seven tribal districts situated next to Peshawar and bordering Afghanistan, and thousands of Afghans families pass through the Torkham border crossing between the two countries daily.
"But they will also help us in house to house raids," Khan said.
Male police carrying out female body searches is a sensitive issue in Pakistan.
Security agencies elsewhere in the country have recruited women police, but Khan said the tribal districts were facing a shortage of female applicants.
"We consider it as a first drop of rain and we are hopeful that more women, both Muslims and Christians will apply," another official in Khyber tribal district told AFP, requesting anonymity.
A tribal police force with more than 4,500 personnel assists other security agencies to maintain law and order in Pakistan's seven tribal districts.
The tribal force are mainly responsible for controlling local crime and drug smuggling while the military and paramilitary are responsible for border control and security.
The new recruits will do three months of basic training before being deployed at Torkham.
"I do not want to be at home like other women, I want to serve my country and help my family," twenty-one-year-old Riffat Abid, one of the successful applicants, told AFP in Landi Kotal border town.
Landi Kotal is home to a limited number of Christian families. The men mostly work as sweepers while men and women with basic education also work as nurses at local hospitals.
Another successful applicant Mehak Ghaffar, 20, said her husband was getting up to 7,000 rupees ($66) which was insufficient to feed 12 members of the family.
"This was the happiest day of my life, our family has been facing extreme poverty for generations and I want to get rid of that," Ghaffar told AFP at her small home.
"At least my kids will not work as sweepers, we, the three women, will be the initial drops of rain for our families," Ghaffar added.
The other fortunate candidate Naila Jabbar, 22, said she feels like a man when she leaves her home.
"I become a man when I leave my home, I am happy that I will support my family," Jabbar said.
Christians make up an estimated 1.6 percent of Pakistan's 200 million people and have long faced discrimination in the Muslim-majority country.
firstpost.com/world/women-create-history-in-pakistan-tribal-police-appoint-female-officers-for-the-first-time-2719984.html
---------
Muslim Hijab-Wearing AFL Player Competes For a Spot in The Top Women's League
9 April 2016
Muslim AFL player Lael Kassem competed with her team, the Greater Western Sydney Giants, on Saturday in a bid to win a spot in the first AFL women's league.
Wearing a white hijab and her orange and black Giants jersey, Ms Kassem and her team played the Sydney Swans in the AFL women's exhibition match at Sydney Cricket Grounds.
The Giants, which has ties to primarily Muslim team Auburn Giants, put in a bid earlier this month to be one of eight teams to compete in the AFL women's league that will begin in 2017, according to The Daily Telegraph.
Nicola Barr of the Swans (right) marks during the Women's AFL exhibition match
Ms Kassem grew up playing AFL with her nine brothers after they were introduced to the sport during a school trip, according to The Sydney Morning Herald.
It was a fun and safe activity for the large brood after they moved to Australia from Lebanon with their parents in 1976.
'Our family came in 1976 just after the civil war in Lebanon when Australia was looking for unskilled migrants,' her older brother Salem Kassem said.
'My parents didn't speak English or know the culture. We only ventured out of the house to go to school because we were scared.'
'That was really our first venture outside the house,' he said.
The hobby soon became a passion for most of the family and now several of the siblings play for the Auburn Tigers in the Sydney AFL, according to The Age.
In 2013, Ms Kassem was the recipient of the Greater Western Sydney Giants Women in Community Football Award for her dedication to the sport.
dailymail.co.uk/femail/article-3531155/Muslim-female-AFL-player-competes-spot-women-s-league.html
---------
Building bridges: Muslim women's group will host community gathering at Islamic Center of Daytona Beach
Friday, April 8, 2016
Imam Belal Alzuhiry of the Islamic Center of Daytona Beach stated the meaning of that Arabic word in a gentle voice but with conviction: "One nation, one community, one family."
And it is not simply a word for the religious leader, either. It is a way of life he embraces and preaches to his followers at the mosque.
In that spirit, the Islamic Center is opening its doors to all from noon until 5 p.m. Saturday, April 16, for its annual Community Outreach Program, an afternoon of free food, fun and information.
"It is a positive way to bridge understanding with others in our community," Alzuhiry said. "Our objective is that we know each other. We want people to have a better understanding of the religion of Islam."
Hussam Reziqa, president of the Islamic Center of Daytona Beach, also sees the benefits of the religious and cultural exchange event.
"We are happy and excited to have programs, to have open dialog with our community," he said. "It gives them a chance to ask us questions and to get answers. The crowd grows each year. We are doing something right."
The day starts with a keynote speech by Alzuhiry, followed by an interactive Q&A to answer "curiosities and concerns" fielded by the community about the center and its beliefs.
"With all that is going on in the media, people see what is happening (with terrorism) in other parts of the world and many use the same brush to paint all Muslims," Alzuhiry said. "This is a way to educate people and for them to understand the religion of Islam and who we are."
The community day is organized by the Muslim Women's Association of Daytona Beach Inc.
There's plenty to do for the younger generation with face painting, basketball shoot, a Disney's "Frozen"-themed bounce house inflatable, a 25-foot rock-climbing wall, 25-foot bungee jump, 70-foot inflatable slide and a giant tricycle race course.
But it is not all about the wee folks. There is fun for adults such as African drummers, Muslim Women's Association Chairwomen Linda McGee said.
"We are offering 40 homemade dishes from around the world — lamb, chicken, rice with foods from Pakistan, Africa, Yemen, and of course there will be barbecue and mac and cheese, American dishes," she said. "We are very diverse and have Muslim members from all over the world and the food will reflect those countries. And, it is all free."
Parking will not be a problem, McGee added. There will be a parking attendant and a shuttle for handicapped attendees to help them get around easily.
"This is a taste of Islam through our delicious culture from around the world," she said. "We will also have our signature hot tea with the flavor Muslims are famous for. It has fresh mint in it. It is delicious."
The annual event is one of many activities the women's group is involved in. Others include feeding programs for the needy, back-to-school supplies and Coats for Kids drives, an animal shelter feeding program and hospital care baskets to name a few.
"Women play an important part in the Islamic religion," the imam said. "Men and women are equal in the eyes of God and share rights and responsibilities. They are very active in our Islamic center."
The center also has a summer day camp program with breakfast, lunch and snacks provided, and plenty of volunteers to help out.
"We even take them on field trips. It is a free program," organizer Bernadette Ramsey said.
Ramsey, a retired administrator for Daytona State College, has been instrumental in starting a Muslim scholarship program to help college-bound students with financial aid.
Organizers agreed that one of the important lessons to be learned is generosity, a value taught in the Quran.
"The community matters and we matter," McGee said. "We are brothers and sisters to each other. We need to see the person not the religion in each other."
If you go
WHAT: Community Outreach Program presented by the Muslim Women's Association of Daytona Beach
WHEN: noon-5 p.m. April 16
WHERE: Islamic Center of Daytona Beach, 347 S. Keech St., Daytona Beach
ADMISSION: Free
news-journalonline.com/article/20160408/NEWS/160409558?Title=Building-bridges-Muslim-women-s-group-will-host-community-gathering-at-Islamic-Center-of-Daytona-Beach
---
Islamic Awareness Week at UMD: Hijab Day
8th April 2016
It's not every day you get to try on a hijab, the traditional headcovering for women of the Muslim faith. But that's exactly what folks could do Thursday, as part of Islamic Awareness Week at UMD.
Sophie Varner, a junior at UMD, gave it a shot. "I wasn't expecting the heat! And I'm so used to swishing my hair around. I think it's really cool they're doing this, because there's a lot of misconceptions on campus about Islam."
The Muslim Student Association hosted "Hijab Day," on Thursday. MSA purchased more hijabs for women to try on. The men could try on kufi hats. The MSA had an entire week of events, to bring awareness to their culture.
"People have been coming out and asking questions. We give them the best feedback we can. And we're having a lot of fun spreading our culture and passion," Hatim Qadir told us. He's the vice president of the MSA.
And the UMD community has shown a positive response, although Hatim has seen some people shy away.
"I will say that some people who normally wave to me around campus, are averting their eyes when they see me sitting here. And that's a little upsetting. But you know, it's a process. And we are doing what we can to educate people about Islam," Hatim added.
On Friday, the MSA will be sharing foods they traditionally eat during the holy month of Ramadan.
And there will be an event discussing Islamaphobia on Monday, April 18th, at 6:30pm, in the Garden Room at UMD.
wdio.com/news/muslim-faith-hijab-umd-college-awareness-islam/4098714/
URL: https://newageislam.com/islam-women-feminism/'ignorance,-culture,-misinterpretation-cause-low/d/106932
New Age Islam, Islam Online, Islamic Website, African Muslim News, Arab World News, South Asia News, Indian Muslim News, World Muslim News, Womens in Islam, Islamic Feminism, Arab Women, Womens In Arab, Islamphobia in America, Muslim Women in West, Islam Women and Feminism