New Age Islam News Bureau
17 Jan 2017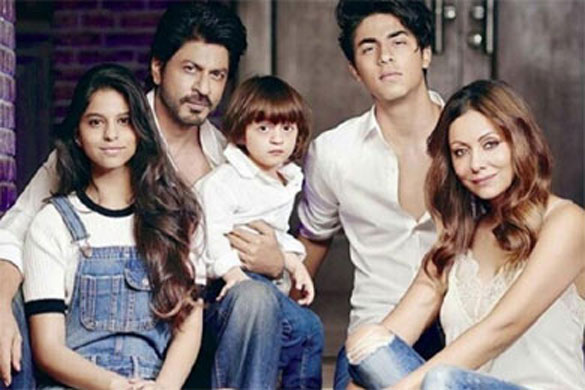 Image: Instagram/ Shah Rukh Khan
------
• Pakistan To Hold First Women International Film Festival
• Nigeria: Bring Back Our Girls Activists Join Tour Of Former Boko Haram HQ
• Meet the Muslim Mother Theresa, Edna Adan Ismail
• Before Organizing The Women's March On Washington, Linda Sarsour Fought For Muslim Holidays In NYC Schools
• Harassing Girls Is 'Anti-Democratic', Says Baloch Activist Over Zaira Wasim's Issue
• Pakistan: Woman Sentenced To Death For Burning Daughter Alive
Compiled by New Age Islam News Bureau
URL: https://www.newageislam.com/islam,-women-and-feminism/new-age-islam-news-bureau/i-will-behead-aryan,-abram-if-they-ever-hurt-a-woman--srk/d/109753
--------
I Will Behead Aryan, AbRam If They Ever Hurt A Woman: SRK
January 17, 2017
MUMBAI: The Bollywood's King of Hearts Shah Rukh Khan has vehemently condemned the mass molestation incident on New Year's eve in Bengaluru that left the entire country in shock.
The actor on many occasions has spoken about his idea about Feminism and when it comes to respecting women, the actor strictly expects his sons Aryan and AbRam to treat them with dignity.
In a recent interview with Femina for the January issue, Shah Rukh Khan said,
"I tell Aryan and even AbRam never hurt a woman. If you do, I'll behead you. And no, times have not changed. A girl is not your chhadi-buddy; show some respect."
He even said his son Aryan not to address a girl using 'tu-tadak'. "Tu pizza le aa, tu idhar aa is not how you address women. Show some respect", he said.
All the Bollywood biggies have expressed their disgust and anger and raised their voice against the shameful mass molestation incident.
http://www.siasat.com/news/will-behead-aryan-abram-ever-hurt-woman-srk-1110968/
--------
Pakistan to hold first Women International Film Festival
January 17, 2017
KARACHI : Just when we thought Islamabad could not offer too many yearly events other than the Music Mela and Oxford Literature Festival, a duo of young, passionate women is bringing us the first ever Women International Film Festival.
Madeeha Raza and Mariyam Nafees are the masterminds behind the venture that is slated to take place on March 11 and March 12 at the Pakistan National Council of Arts, stated a press release. The festival aims to include all things promoting women, be it filmmakers, entrepreneurs or even performing artists and singers. It will allow participants to set up kiosks and stalls, along with an entertainment-loaded all-female musical concert on the closing night.
Feminist theatre group gives voice to the powerless
The event aims to highlight the issues and ideas that are important to women today, focusing on three distinct themes: Gender Equity, Violence against Women and Women of Wonder. It will feature the screening of animated films, documentaries and public service announcements as well.
After having faced their individual struggles as women, both Raza and Nafees are determined to raise awareness on said issues. The festival has put together an international panel which will be judging and finalising the top films for screening, depending on the quality, relevancy and other predefined criteria. The members include New York-based producer/director Marilyn Agrelo, documentary film-maker and journalist Haya Fatima Iqbal, film-maker Yasir Jaswal and UK-based human rights activist Mandy Sanghera.
Celebrities such as Osman Khalid Butt and Adnan Malik will also speak on the occasion. They will shed light on the role women can play in film-making to raise awareness on gender-based issues and alter mindsets.
Have something to add in the story? Share it in the comments below.
http://tribune.com.pk/story/1297710/pakistan-hold-first-women-international-film-festival/
--------
Nigeria: Bring Back Our Girls activists join tour of former Boko Haram HQ
17-Jan-17
Members of the Bring Back Our Girls (BBOG) group, have joined a tour organized by the Nigerian government to the former bastion of Boko Haram terrorists, the Sambisa Forest located in the northeast.
Four members of the group including its convener, Obiageli Ezekwesili, rescinded an earlier decision to have the guided tour postponed. They joined a team including the Army, selected journalists and government officials on Monday morning for the tour.
The government last week invited BBOG to join its tour of Sambisa Forest in order for the group to have first-hand experience relative to efforts being made to rescue the remaining Chibok Girls.
The group had earlier requested a pre-tour meeting with government officials and the retraction of slanderous comments the Army Chief is said to have made about their work. The government said it was unable to meet the conditions before the group belatedly revised its position and agreed to join.
''The trip being planned by the military will see the Ministers of Defence and Information, the Chief of Air Staff and Chief of Army Staff joining the invited BBOG members and a select group of journalists,'' the letter from government read.
As part of the itinerary, the team will visit the Nigerian Air Force (NAF) Command Center in the capital of Adamawa State. They will also join day and night sorties on a tour into the forest. The Army late last year declared the takeover of the place known to be the headquarters of Boko Haram insurgents.
The BBOG group was set up in 2014 following the abduction by Boko Haram of over 200 school girls from Chibok, a town located in Nigeria's Borno State. They have since been pushing government to increase efforts aimed at rescuing the girls.
Under the current government, 21 girls have been released based on negotiation with Boko Haram whiles another three have been rescued by the Nigerian Army. BBOG recently marked a week of activities to commemorate 1000 days in captivity for the remaining 195 girls.
http://www.africanews.com/2017/01/16/nigeria-bring-back-our-girls-activists-join-tour-of-former-boko-haram-hq/
--------
Meet the Muslim Mother Theresa, Edna Adan Ismail
Jan 17, 2017
Some have dubbed her the modern day Muslim Mother Theresa, but who is the woman who has changed the lives of thousands in Africa? Ismail is the former Foreign Minister of Somaliland Republic and since leaving politics, she has founded the Edna Adan Maternity Hospital in Hargeisa, Somaliland. She works hard for the abolition of female genital mutilation (FGM) and is also the President of the Organisation for Victims of Torture.
Early life
Born in British Somaliland in 1937, Ismail's life was a privileged one. She was the daughter of the 'Father of Health Care in Somaliland' and her mother was the daughter of the Postmaster General of British Somaliland Protectorate. Both her parents were educated in Aden, Yemen and so her early years saw her never being short of reading material.
She was sent to Djibouti to attend school there since there were no schools for girls in Somaliland (the first was opened in 1953). Annually, the British would hold exams to select the top students for scholarships. She became the first girl to win the scholarship which then took her to London to study nursing.
The Edna Adan Maternity Hospital
In 2002, Ismail decided to set up a non-profit charity hospital. The aim behind this was to provide better health care to people who had been traumatised by war and above all else, to provide training for nurses, midwives and other health workers, in an attempt to create safer childbirth conditions for women in the region.
Being the previous First Lady of Somaliland, (as she had at one point been married to the President of Somaliland, Mohammed Haji Ibrahim Egal) she donated her UN pension and all other personal assets to build the hospital. Despite this, she needed land on which she could start her project and was then granted 9600 square meters near the city centre from the government.
The abolition of FGM in the region
Female genital mutilation (or circumcision) is oft practiced by tribes in Africa, Asia and some areas in the Middle East; it is the ritual removal of some or all of the external female genitalia, in an attempt to control women's sexuality, under the pretext of purity, modesty and beauty. In an interview, Ismail suggests that she became an advocate for ending it because she is "a woman and I was myself affected by FGM and from that very moment, as a child, I felt that it was unjust."
As a midwife herself, she was exposed to a multitude of cases where women suffered during childbirth and "the difficulties that I saw women facing gave me a revulsion. I saw the problems that were the result of FGM and saw the pain that women faced."
Research conducted by the Norwegian government and headed by Ismail suggested that out of the 4000 women who participated in the research on prenatal health, 97% of them had experienced FGM and with this, she swore to work harder to end this, especially through the passing of legislation and health care in the form of her own hospital. Further to this, she needed to liaise with religious leaders to reaffirm that such a practice was not on par with Islamic teachings, and to move them to make this clear to their own congregations.
Awards
• Honorary Doctoral Degree from Clark University in Massachusetts, USA, (2002)
• Entered to Medical Mission Hall of Fame, University of Ohio, USA (2007)
• Honorary Fellow, Cardiff University School of Nursing (2008)
• Chancellor's Gold Medal for Human Rights, University of Pretoria, South Africa (2010)
• Inaugural recipient of the Renfield Award for Global Health, University of Pennsylvania, USA (2010)
• Knighted by President Sarkozy 'Chevalier dans l'ordre Nationale de la Legion d'Honneur' of France (2010)
• Honorary Doctor of Science Degree from Ahfad University for women in the Sudan (2013)
• Entered to Hall of Fame, Women in Emergency Situation, Florida (2013)
• One 100 most influential people in Africa (2013)
• Honorary Doctor of Science Degree, University of Pennsylvania, USA, May (2014)
https://themuslimvibe.com/muslim-lifestyle-matters/health/meet-the-muslim-mother-theresa-edna-adan-ismail
--------
Before organizing the Women's March on Washington, Linda Sarsour fought for Muslim holidays in NYC schools
Jan 16, 2017
When Brooklynite Linda Sarsour comes to Washington inauguration weekend as the co-chair of the Women's March on Washington, it will be another landmark moment in her fifteen years of public service fighting for Muslim rights.
As head of the Arab American Association of New York, Sarsour helped end the NYPD's practice of spying on Muslim-American citizens and was instrumental in the effort for New York to close schools on two Muslim high holy holidays, a first for any big city in the US.
"Growing up as a New York City public school student, every time there was a Muslim high holy holiday, I had to choose between going to school and celebrating my faith," she says.
Her relentless pursuit brought her up against the most powerful man in New York City. "I was in a meeting with Mayor Michael Bloomberg face-to-face and he said, 'Hell no, not on my watch.'"
In the country's largest school system, changing the academic calendar is not easy. "I have three children that go to New York City public schools, and the last thing I wanted to do was turn around and tell my kids, 'Guess what? We gave up.'"
In our latest installment of the The Secret Life of Muslims video series, Sarsour explains how she was able to say to her children: "I did this for you."
http://www.vox.com/2017/1/16/14274170/linda-sarsour-muslim-holidays-recognized-new-york-city-schools
--------
Harassing girls is 'anti-democratic', says Baloch activist over Zaira Wasim's issue
January 17, 2017
New Delhi[India]: Balochistan activist Naila Baloch on Tuesday slammed the protesters of Dangal star Zania Wasim ,who had to issue a public apology via her Facebook account, after her meeting with Jammu and Kashmir Chief Minister Mehbooba Mufti triggered criticism, saying that harassing girls is 'anti democratic'.
"Harassing girls is anti- democratic and if they have some problem then they should make their own movie instead of stopping somebody to speak. There are democratic ways to give replies as well," she said.
Baloch called the whole incident as unfortunate and blamed Pakistan for the episode.
"This is unfortunate just because she is a girl and a Kashmiri, she is being threatened. This is a criminal act and against the basic human rights. Pakistan and their agencies is the root cause of the fashion of violence in the region. Even they have spread terror factories across the world," Baloch told ANI here.
She asserted that women should be respected and Zaira must be promoted to speak her heart out.
In a surprising move, Zaira, issued a shocking public apology letter for hurting the sentiments of people via her Facebook and Twitter account, however, the reasons of the her actions remain unclear and speculations are rife.
"I know that many people have been offended and displeased by my recent actions or by the people I have recently met. I want to apologise to all those people who I've unintentionally hurt and want them to know that I understand their sentiments, especially considering what has happened (in Kashmir) over the past six months," she wrote in her letter.
Wasim also appealed to the people to understand that sometime certain circumstances evolve which cannot be controlled by anyone and added 'whatever' she did was a not a deliberate decision.
"I am being projected as a role model for Kashmiri youth. I want to make it very clear that I do not want anyone to follow in my footsteps or even consider me a role model. I'm not proud of what I'm doing and I want everyone, especially the youth to know, that there are real role models out there whether they be in this time or in our history," she said.
However, the reason for the apology letter is not very clear, but it is speculated that Wasim, who posted this note after being trolled on social media for meeting the Jammu and Kashmir Chief Minister a couple of days ago and allegedly calling her as a part of her film's success.
Wasim's post resulted in an outburst of reactions and speculations ranging from whether her account had been hacked, or whether she had received threats for meeting the Chief Minister. (ANI)
http://www.siasat.com/news/harassing-girls-anti-democratic-says-baloch-activist-zaira-wasims-issue-1110909/
--------
Pakistan: Woman sentenced to death for burning daughter alive
January 17, 2017
A woman in Pakistan has been sentenced to death for burning her daughter alive in a so-called "honor killing" incident.
Parveen Bibi told a court in Lahore, Punjab that she killed her daughter "for bringing shame to her family," police spokeswoman Nabila Ghazanfar told CNN Tuesday.
Parveen's son Ahmer Rafique was sentenced to life in prison for his role in the crime.
Zeenat Rafique, 18, was strangled and set alight by her mother and brother in June 2016 after she eloped against their wishes.
Rafique had been living with her new husband for a month before she visited her home in Lahore in the hopes of a reconciliation with her family.
But when Rafique arrived, her mother and brother tied her to a bed, poured gasoline and set her on fire, police said.
Parveen then turned herself over to the authorities but expressed no sorrow for actions.
Under new anti-"honor killing" laws that took effect in October, neither Parveen or her son will be eligible for pardon even if another family member forgives them for the crime.
Previously, murderers were able to walk free in many instances, creating what critics characterized as a culture of impunity. Now, a killer will face a minimum sentence of 25 years in jail.
The law's passage came after a series of high-profile incidents, including the murder of social media star Qandeel Baloch by her brother, who later said he was "proud" of his actions.
According to the Human Rights Commission of Pakistan, almost 300 women were victims of such killings in the first half of 2016. In a 2015 report by the World Economic Forum, Pakistan ranked 144 out of 145 countries on gender disparity.
http://edition.cnn.com/2017/01/17/asia/pakistan-honor-killing-death-penalty/
--------
URL: https://www.newageislam.com/islam,-women-and-feminism/new-age-islam-news-bureau/i-will-behead-aryan,-abram-if-they-ever-hurt-a-woman--srk/d/109753
New Age Islam, Islam Online, Islamic Website, African Muslim News, Arab World News, South Asia News, Indian Muslim News, World Muslim News, Womens in Islam, Islamic Feminism, Arab Women, Womens In Arab, Islamphobia in America, Muslim Women in West, Islam Women and Feminism, Moderate Islam, Moderate Muslims, Progressive Islam, Progressive Muslims, Liberal Islam