New Age Islam News Bureau
30 Nov 2017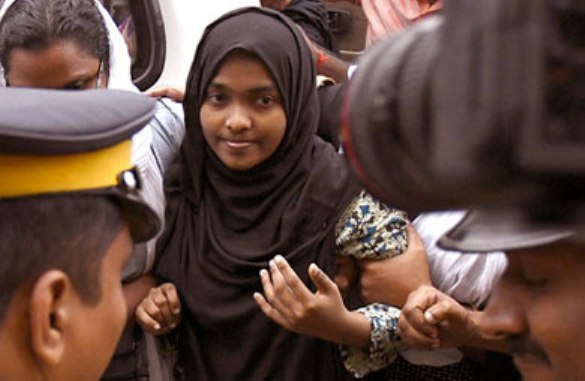 Hadiya, who was Akhila Asokan earlier
-----
• Take a Look inside a New Transitional Shelter for Muslim Women in Windsor
• To Make Instant Triple Talaq A Crime, Govt Looks To Change Shah Bano Law
• Pakistan Ranked Fourth Worst Country for Women: Report
• UN Seeks Report from Myanmar on Rapes, Deaths of Rohingya Women
• S Sudan Violence against Women 'Twice the Global Average'
• Call for Flexible Hours for Working Saudi Women
• Embrace Hinduism before Marriage, Girl Tells Muslim Boyfriend
• MoU Signed For Women, Children Protection during Disasters
• Afghan Girls' Robotics Team Overcomes Setbacks to Win Contest in Europe
Compiled by New Age Islam News Bureau
URL: https://www.newageislam.com/islam-women-feminism/i-want-total-freedom-i/d/113408
--------
I Want Total Freedom, I Want To Meet My Husband: Hadiya
November 30, 2017
SALEM: Hadiya, whose conversion to Islam and marriage to Shafin Jahan in Kerala triggered a national controversy, on Wednesday said she needed total freedom and wanted to meet her husband.
Hadiya, who was Akhila Asokan earlier, arrived in Salem on Tuesday evening escorted by police on the directions of the Supreme Court. The court had permitted her to pursue her Bachelors in Homeopathic Medicine and Surgery course at a private college where she had enrolled some years ago and dropped out in 2015 after her marriage.
Hadiya told journalists at the Sivaraj Homeopathic Medical College and Research Institute, about 10 km away from Salem, that she was asking only for her fundamental rights. She had made a plea to the court for freedom. "Till now I did not get the freedom I wanted," she said.
She was at the college to complete the formalities for submitting an application to the Tamil Nadu Dr. M. G. R. Medical University to which the college is affiliated, for 'condonation of the break of studies period' to enable her to resume the internship. Since the college needed further clarity on the Supreme Court order, she needed to wait for a few more days it took a final decision on her request.
Hadiya said she was not in possession of any phone and had not contacted any person whom she wanted to speak to.
Referring to her separation from her husband and confinement in her parents' house for the past many months, Hadiya said that she was forced to put up with the people whom she hated. She alleged that her parents and relatives were compelling and making attempts to re-convert her.
She said that her parents issued statements saying that she was not mentally stable. There were a lot of restrictions in the house. Her parents did not even provide television in her room, due to which she could not keep abreast of the happenings taking place outside, she said.
Hadiya spent overnight at the women's hostel of the college functioning at Rajaji Street on Suramangalam Main Road in the city. The police had made tight security arrangements near the hostel, where 114 students are staying.
While other hostel inmates took the college bus to reach the premises on Wednesday, Hadiya, accompanied by Kannan, head of the department, and a woman police constable, reached the college in a car. A police escort vehicle provided security en route.
Kalpana Sivaraj, Correspondent of college, said the institution was studying the contents of the Supreme Court order. The management will extend all support to her to complete the internship. The college had forwarded her request letter to the university and was waiting for its nod, Kalpana added.
http://dailykashmirimages.com/Details/i-want-total-freedom-i-want-to-meet-my-husband-hadiya/155530
--------
Take a look inside a new transitional shelter for Muslim women in Windsor
Nov 29, 2017
A new transitional home for Muslim women fleeing domestic abuse, homelessness and poverty has opened in Windsor.
It's run by Nisa Homes, part of a charity called the National Zakat Foundation, which has similar facilities in Surrey, B.C. and Mississauga.
For safety reasons, CBC News has agreed not to disclose the address of the home, other than to say it is located in central Windsor and close to shops and public transit.
Mahwish Ayub spearheaded the drive for the shelter about a year ago. She now serves as the regional manager for Nisa in Windsor.
Ayub said the shelter is meant to complement, not replace or compete with existing supports for vulnerable women.
"Our caseworkers are bilingual or trilingual, so that helps ... remove that barrier," she explained.
All are welcome
Organizations such as Hiatus House and the Welcome Centre refer women to Nisa Homes, which Ayub describes as a "second stage" shelter. Women can then stay at the home for up to three months while they find more permanent accommodations.
Lina Chaker, a spokesperson for the Windsor Islamic Council, welcomed the new facility.
"When you want to go to a shelter you want to be in the safest of environments possible — safe can look different to different people," she said. "I'm really happy to see that this is being done to cater to a pretty large population."
While the home caters to Muslim women, Ayub said that non-Muslims will be welcomed into the shelter as well.
The shelter has four bedrooms, each of which is designed for double occupancy. "We tried to keep it as similar to just any ordinary home," Ayub said, describing the house as "cozy."
"Everything just kind of stays very familiar while they ... work to rebuild their lives."
No one was living in the shelter when CBC News visited Wednesday, but it appears that it won't stay that way for long.
Nisa caseworkers are currently processing referrals.
http://www.cbc.ca/news/canada/windsor/take-a-look-inside-a-new-transitional-shelter-for-muslim-women-in-windsor-1.4425629
--------
To make instant triple talaq a crime, Govt looks to change Shah Bano law
by Rahul Tripathi
November 30, 2017
Moving to make instant triple talaq or talaq-e-biddat a criminal offence, the government is considering, among changes in existing laws, amendments to The Muslim Women (Protection of Rights on Divorce) Act, 1986.
Commonly known as the Shah Bano Act, the 1986 law was enacted by the Rajiv Gandhi government under pressure from the Muslim clergy to overturn the Supreme Court ruling in the Shah Bano case. This law allowed, in line with Muslim personal law, maintenance to a divorced woman only during the period of iddat, or three menstrual cycles/three lunar months after divorce.
Officials said that changes to The Muslim Women (Protection of Rights on Divorce) Act, 1986 was "one of the options discussed" and a final decision would be taken by a Group of Ministers (GoM) constituted to draft a law to make triple talaq a criminal offence.
According to officials, the 'preamble' of the Shah Bano Act will have to be re-drafted since the existing law applies only after the divorce of a Muslim woman. In August this year, the Supreme Court declared talaq-e-biddat as illegal. The draft legislation being enacted by the Law and Home ministries, officials said, will not only criminalise instant triple talaq but will also have provisions for imprisonment and fine or both for the offender.
Other than changes to the Shah Bano Act, the government is considering amendments to provisions of Section 125 Code of Criminal Procedure (order for maintenance of wives, children and parents) to provide further safeguards to Muslim women and their wards if they are abandoned via instant triple talaq, the officials said.
Sources said the proposal to bring amendments to the Shah Bano Act was discussed last week by the GoM headed by Union Home Minister Rajnath Singh. External Affairs Minister Sushma Swaraj, who was part of the deliberations, suggested amendments to the Shah Bano Act while Law Minister Ravi Shankar Prasad mooted suggestions to alter provisions of the CrPC and Indian Penal Code (IPC).
On August 22, the Supreme Court, in a landmark 3-2 verdict, "set aside" the centuries-old practice of instant triple talaq in which Muslim men divorce their wives by uttering talaq three times in quick succession.
Three of the five judges on the Constitution Bench — Justices Rohinton F Nariman, Uday U Lalit and Kurian Joseph — called the practice un-Islamic and "arbitrary" and disagreed with the view that triple talaq was an integral part of religious practice.
But the minority ruling of then Chief Justice J S Khehar and Justice S Abdul Nazeer underlined the primacy of Muslim personal law and said the practice enjoyed constitutional protection and was beyond the scope of judicial scrutiny. They were of the view that Parliament should consider an "appropriate" law to deal with the issue of talaq-e-biddat.
While divorce is a civil matter, government sources pointed out that the legislature was free to declare any unlawful/illegal offence, in this case triple talaq, as criminal. A senior government functionary said 'non-maintenance of wife and children' after triple talaq, declared illegal, can be legislated to invite penal provisions.
The move to consider amendments to the Shah Bano Act offers powerful political optics for the ruling BJP, which has been advocating a Uniform Civil Code.
The Shah Bano Act was enacted by the Rajiv Gandhi-led Congress government to overturn a Supreme Court order that sought to provide parity to Muslim women in maintenance after divorce. The law was brought in after strong protests from the Muslim clergy who said the Supreme Court order amounted to interference in their personal laws.
Once the law outlawing triple talaq is enacted, the Muslim clergy, government sources said, will have no role in cases of talaq-e-biddat and women can directly approach police for redressal. The ministerial committee, after its first meeting, felt that laws related to marriage like the Domestic Violence Act and the Dowry Act were prone to misuse and safeguards would be required in the new legislation.
http://indianexpress.com/article/india/to-make-instant-triple-talaq-a-crime-govt-looks-to-change-shah-bano-law-4961212/
--------
Pakistan ranked fourth worst country for women: report
NOVEMBER 30, 2017
Pakistan is the fourth worst country for women of the 153 countries ranked for women's inclusion, justice and security, according to recently released rankings of the Women, Peace and Security Index.
Published by the Georgetown Institute for Women, Peace and Security in partnership with the Peace Research Institute of Oslo, the report claims that 1.09 males are born for every female born in Pakistan, which is higher than the 1.05 natural demographic rate, meaning that Pakistanis have a son bias.
Women's average years of schooling in the country stands at only five years, while only 33 per cent of Pakistani women have been found to use cellphones. Only 24 per cent of Pakistani women are employed, while their share of seats in parliament stands at only 20pc.
It also identifies around 500,000 "missing girls" in Pakistan between 2010-15, which indicates that half a million more female children should have been born in the country during the period were it not for the son-bias.
It also states that 73pc of Pakistani men do not find it perfectly acceptable for women in their family to work outside their homes.
It only gets worse: about 27pc of Pakistani women have faced violence from their intimate partners, while only 51pc of women feel safe working alone at night in the city or the area that they live in.
According to the index, only Syria, Afghanistan and Yemen are worse for women. Iceland, Norway and Switzerland have been deemed the best countries for women's inclusion, justice and security. Nevertheless, India has been ranked 131st on the index, while the United States 22nd and the United Kingdom 12th.
https://www.pakistantoday.com.pk/2017/11/29/pakistan-ranked-fourth-worst-country-for-women-report/
--------
UN Seeks Report From Myanmar on Rapes, Deaths of Rohingya Women
November 29, 2017
Geneva. A United Nations women's rights panel called on Myanmar on Tuesday (28/11) to report within six months on rapes and sexual violence against Rohingya women and girls by its security forces in northern Rakhine state.
The UN Committee on the Elimination of Discrimination against Women (Cedaw) also asked authorities to provide details on women and girls killed in the violence since the army crackdown began in late August.
The campaign, which followed attacks on police posts by Rohingya insurgents, has driven more than 600,000 Rohingya to flee to Bangladesh and left their villages burned to the ground.
The rare request for an "exceptional report" from a country was only the panel's fourth since 1982.
Pope Francis met leaders of several faiths in majority-Buddhist Myanmar on Tuesday, stressing the importance of "unity in diversity" but making no mention of the minority Muslim Rohingya on his first day of a visit.
He later said in a speech that civil conflict and hostilities there had "lasted all too long and created deep divisions," but again did not refer to the Rohingya.
The UN watchdog panel, composed of 23 independent experts, set a six-month deadline for the government to submit the report to UN Secretary General Antonio Guterres.
"The committee requested information concerning cases of sexual violence, including rape, against Rohingya women and girls by state security forces; and to provide details on the number of women and girls who have been killed or have died due to other non-natural causes during the latest outbreak of violence," it said in a statement.
The experts requested information on "investigations, arrests, prosecutions, convictions and sentences or disciplinary measures imposed on perpetrators, including members of the armed forces, found guilty of such crimes."
Specifically, they sought information on the battalions that have undertaken the "clearance operations" in northern Rakhine state since August 25 "and under whose command."
They asked whether instructions have been given or are being issued to all branches of state security forces that torture, sexual violence and expulsions are banned "and that those responsible will be prosecuted and punished."
The panel said it wanted to know how many Rohingya women and girls are being detained by security forces.
Reuters reported on Monday that the UN Human Rights Council is expected to hold a special session in Geneva on Dec. 5 on killings, rapes and other crimes committed against Rohingya in Myanmar.
The watchdog panel said it had also "requested information on investigations, arrests, prosecutions, convictions and sentences or disciplinary measures imposed on perpetrators, including members of the armed forces, found guilty of such crimes."
http://jakartaglobe.id/international/un-seeks-report-myanmar-rapes-deaths-rohingya-women/
--------
S Sudan Violence against Women 'Twice the Global Average'
Nov 29, 2017
The "shocking scale" of violence against women and girls in South Sudan is double the global average, a new study released Wednesday says.
The first comprehensive report on the "magnitude, frequency and brutality" of such violence in South Sudan's conflict zones was released by the International Rescue Committee and George Washington University's Global Women's Institute.
As the world's youngest nation approaches its fifth year of civil war, rape has often been used as a weapon by both government and opposition forces.
The civil war has killed more than 50,000 people, forced more than 2 million to flee abroad and plunged parts of the country into famine.
Up to 65 percent of women and girls interviewed for the new study said they had experienced sexual or physical violence. Over half of the women reported domestic abuse. Women and girls living in the United Nations-run civilian protection site in the capital, Juba, were most vulnerable to sexual violence.
Chuol Madol said she was gang-raped by government soldiers in October when she left the camp in Juba to look for firewood.
"Women were crying but we were so deep in the bush that no one could help us," the 27-year-old told The Associated Press. "We're not fighting anyone. We're only here, trying to live."
The new report cites a "breakdown in the rule of law" in South Sudan, meaning perpetrators go unpunished.
"As we have seen in South Sudan time and again since this war started, armed forces on all sides engage in sexual violence with impunity. It is used both opportunistically and as a weapon of war to intimidate, punish and abuse civilians," said Jehanne Henry, senior Africa researcher for Human Rights Watch.
Civil society organizations are calling on South Sudan's government and U.N. agencies to create a "concrete strategy" for combating the violence.
The government did not respond to a request for comment on the new study. Earlier this year, acting spokesman Choul Laam condemned reports of rampant sexual assault, telling the AP the government was "moving swiftly to protect civilians from such behavior by educating all armed forces and holding the perpetrators accountable."
"Perpetrators of violence against women and girls in South Sudanese communities are multiplying regularly," said Edmund Yakani, executive director for the Community Empowerment for Progress Organization, a local advocacy group.
In light of the new UK-funded study, the British government has increased support aimed at helping 750,000 survivors in South Sudan and around the world to help "stop the cycles of violence."
http://www.presstv.com/Detail/2017/11/29/543891/Africa-South-Sudan-Violence-Against-Women
--------
Call for Flexible Hours for Working Saudi Women
MOHAMMED RASOOLDEEN
30 November 2017
RIYADH: The private sector should offer working women flexible working hours and a conducive working environment, the 8th Riyadh Economic Forum was told on Wednesday.
Flexible hours should be arranged to empower women and give them a place for employment in private and public sectors, the forum heard.
The three-day forum sponsored by the Riyadh Chamber of Commerce and Industry (RCCI) was inaugurated by Riyadh Gov. Prince Faisal bin Bandar on Monday. RCCI Chairman Ahmed B. Al-Rajhi, on behalf of the board of directors and the business sectors, expressed his appreciation to King Salman for extending his patronage for the forum.
Al-Rajhi also thanked the Riyadh governor, honorary president of the forum, for his support for and interest in the forum's activities. More than 300 delegates from the public and private sectors attended the event.
Reading out the final recommendations of the forum, the vice president of the Board of Trustees of the Forum, Ali Al-Othaim, particularly emphasized the provision of flexible working hours for women, which should empower women and give them the chance of work in both sectors.
Recommendations also included formulating a special legal framework governing and regulating the partnership process between public, private, local and foreign investment, developing a national corporate governance program to revise existing regulations and establishing complexes for integration between intermediate mainstream and manufacturing industries.
The house also recommended the establishment of specialized technical institutes in the field of mining to graduate qualified personnel to fill the shortage in the fields of exploration, extraction, and metal processing.
It was also urged to establish "mineral cities" (where there is an abundance of minerals) to achieve integration between the intermediate metallurgical and manufacturing industries.
It was felt that there was a pressing need to improve the efficiency of local human resources at professional and academic levels to cater to the local labor market.
It was urged to enhance the volume of credit facilities to the private sector by establishing financing funds that will contribute to supporting investments in the manufacturing and ICT sectors, and encourage them to attract talents and skilled labor and develop the capabilities of the current workforce.
Finally, it was said the work culture should be instilled in the minds of young people at school and that they should be made to work in part-time jobs during their school holidays.
http://www.arabnews.com/node/1201131/saudi-arabia
--------
Embrace Hinduism Before Marriage, Girl Tells Muslim Boyfriend
November 30, 2017
Jaipur, Nov 30: Communal tension prevailed in Rajasthan's Jodhpur after a Hindu girl refused to marry her Muslim lover until he embraced Hinduism. 20-year-old Pooja Joshi, who had eloped with her Muslim lover and was brought back by police, is currently living with her cousin instead of parents. She refused to go with her parents and said she would marry her boyfriend Mohsin Khan only after he converts and becomes a Hindu. The incident came to light at a time when right-wing parties allege that Muslim boys do 'love jihad' and trick Hindu girls into marriage.
Pooja had eloped with Moshin on November 26, following which her family filed a missing complaint. The cops found the couple in Bikaner and brought them back to Jodhpur on Tuesday, reports Times of India. Members of Hindu groups along with Pooja's parents gathered at the police station. Terming the incident a case of 'love jihad', they assaulted Mohsin at the police station. Pooja was then taken to the magistrate to record her statements.
Later, Pooja refused to go with her parents and decided to go with her cousin. Although her family members pleaded and scolded her, she was adamant about not going with them. She reportedly maintained that she would marry Mohsin only after he embraced Hinduism. Till then she is ready to wait for him. This is second such incident in Jodhpur in the last one month. Early this month, Payal Singhvi had married Faiz Modi after converting to Islam. She filed an affidavit of Rs 10 before embracing Islam.
http://www.india.com/news/india/embrace-hinduism-before-marriage-girl-tells-muslim-boyfriend-in-jodhpur-2695682/
--------
MoU signed for women, children protection during disasters
November 30, 2017
ISLAMABAD: The Gender and Child Cell (GCC) of the National Disaster Management Authority (NDMA) on Wednesday signed a memorandum of understanding (MoU) with Care International, Pakistan, on "Gender in Emergencies and Building Resilience in Pakistan"
The MoU aims at strengthening efforts towards reducing the vulnerabilities of women and children in times of disasters.
Under the MoU, both the organizations agreed to work in areas of strengthening and institutionalizing gender in emergencies, building resilience with climate adoptive Disaster Risk Reduction (DRR), School Safety Framework Scale Up and urban resilience.
The MoU was signed by Lt General Omar Mehmood Hayat, chairman NDMA and Pakistan Country Director CARE International Ayesha Salma.
Speaking at the occasion, the NDMA chairman said that every policy, program and project affected women and men differently, given their varying roles and responsibilities in society in general. "Understanding gender differences during disasters leads to properly targeted assistance, improved effectiveness of preparedness and mitigation measures," he said.
The Pakistan care international country director stressed that both the organizations needed to collaborate on preparedness and resilience initiatives in the community, with a special focus on empowering women and girls.
https://www.pakistantoday.com.pk/2017/11/29/mou-signed-for-women-children-protection-during-disasters/
--------
Afghan Girls' Robotics Team Overcomes Setbacks to Win Contest in Europe
By CHRISTINE HAUSER
NOV. 29, 2017
It has been a year of travel difficulties, project setbacks and family heartbreak, but a girls' robotics team from Afghanistan has made a comeback.
The group of teenagers, who attracted international attention last summer when they were briefly denied visas to the United States to take part in a robotics competition, won an award at a top festival in Europe.
The teenagers, who hail from the western city of Herat, took the Entrepreneurial Challenge at the Robotex festival, which was held in Tallinn, Estonia, on Nov. 24 through 26, the Afghan embassies in London and Washington announced this week.
"We are extremely proud of the wonderful accomplishments of the Afghan All-Girl Robotics Team," Afghanistan's ambassador to the United Kingdom, Said T. Jawad, said in a statement on Wednesday. "They are an excellent example for people around the world of what can be accomplished by young Afghans if given the right support and the opportunity to excel in their education."
Congratulations to our Afghan Girls Robotics Team for winning the entrepreneur challenge in the biggest Robotics Festival in Europe in Estonia. #ProudAfghans #Robotex17 #AfgDigital pic.twitter.com/nIM6GudIul
— AfghanEmbassyLondon (@Afghan_Emb_LON) Nov. 26, 2017
Another round of congratulations to the girls robotics team for winning the entrepreneur challenge at the Estonian Robotics Festival, the biggest robotics festival in Europe! You make us proud. pic.twitter.com/cCdEge4Ig9
— Afghan Embassy DC (@Embassy_of_AFG) Nov. 27, 2017
Three of the team's 12 members participated in the competition. Their challenge was to showcase a prototype that could solve a real-world problem, and that customers would want to buy. They won with a robot that could use solar energy to support small-scale farmers in their fields, the embassy in London said. The winner was chosen by the thousands of spectators who attended the event.
The girls' appearance at the competition in Estonia, a northern European country thousands of miles from their homeland, was a vindication of sorts after their struggles earlier this year to overcome the bureaucracy of showcasing their work internationally.
Six of the team members, ranging in age from 14 to 17, were thrust into the international spotlight in July when they were denied visas to take part in the First Global Challenge robotics competition in Washington, which was meant to showcase the role technology can play in water purification. Visa applications were initially denied for at least 60 other participating teams as well.
After an international outcry, the United States reversed its decision, allowing the Afghan girls to enter the country through a "parole" process that authorizes otherwise ineligible visitors on humanitarian grounds or because it benefits the public.
The team, which had only two weeks to build its robot for the event because a shipment of parts was delayed, won a silver medal for courageous achievement.
It was never clear exactly why the girls did not get their visas at first. But education for girls in Afghanistan — and the obstacles in getting it — is of great interest as the country has dealt with daunting challenges after more than a dozen years of war.
The girls faced an emotional setback in August, days after they returned home from the United States, when the father of the team's captain was killed in a suicide bombing.
Roya Mahboob, an Afghan technology entrepreneur who interpreted for the teenagers in the United States, is the chief executive of Digital Citizen Fund, a women's empowerment nonprofit that sponsored the Afghan team. She posted a congratulatory message on Twitter after the girls won the contest in Estonia.
I'm so proud to announce that Afghan Girls Robotics Team won the entrepreneur challenge in the biggest Robotics Festival in Europe in Estonia. #Afghanistan Frist place#Poland Second place#Estonia Third place pic.twitter.com/ItHVCUvzta
— Roya Mahboob (@RoyaMahboob) Nov. 26, 2017
Ms. Mahboob said they edged out a team from Poland, which took second place in the entrepreneur award, and the Estonian team, which came in third.
The girls returned to Afghanistan immediately after the competition, Ms. Mahboob said in an email. Some of them had to take exams.
https://www.nytimes.com/2017/11/29/world/afghanistan-girls-robotics.html?mtrref=www.google.co.in&gwh=C044524BA612826654EFAD553EF088DE&gwt=pay
--------
URL: https://www.newageislam.com/islam-women-feminism/i-want-total-freedom-i/d/113408
New Age Islam, Islam Online, Islamic Website, African Muslim News, Arab World News, South Asia News, Indian Muslim News, World Muslim News, Women in Islam, Islamic Feminism, Arab Women, Women In Arab, Islamophobia in America, Muslim Women in West, Islam Women and Feminism