New Age Islam News Bureau
15 May 2013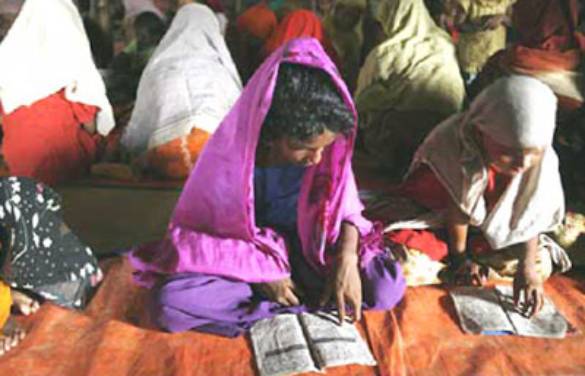 Photo: Once home to Emperor Shah Jahan, is now school to Muslim girls
------
• 150 Girls Poisoned By Toxic Gas in Afghanistan
• Proactive Society Needed For a Safe Environment for Women: Sonia Gandhi
• Balak Mata Centre Of Jamia Millia Islamia Educating Muslim Girls in a Mughal-Era Structure
• In Mohripur, Pakistan, Voting For Women Is a Cardinal Sin
• 14 Women Make It to the Pakistan Assemblies in Election 2013
• Female Cops in Pakistan Face Harassment
• Nine Bangladeshi Girls Brought On Pretext of Good Jobs, Back From India
• Angelina, Mideast's 'Sweetheart,' Admired for Mastectomy Revelation
• Wife Accuses Saudi Hubby of Infecting Her with Aids
• Islamic Academy Girl students going to National History Bee
• Roona gets second life: surgery on baby with swollen head succesful
• Dutch Police Criticised For Allegedly Helping Underage Muslim Girl to Marry
• Indonesian Beef Scandal Money Trail Leads To More Women
Compiled by New Age Islam News Bureau
URL: https://newageislam.com/islam-women-feminism/'i-want-study;-i-want/d/11585
------------
'I Want To Study; I Want To Go To School, Save Me'
15 May, 2013
"I want to study, I want to go to school, save me" — with these words written in a placard, a hapless schoolgirl accompanied by her parents stood in front of Lalmonirhat Deputy Commissioner's (DC) office yesterday demanding action against a stalker.
On behalf of the DC, Additional Deputy Commissioner Zakir Hossain received the written complaint from Bithi Akhter, 13, a class seven student of Paikertari High School at Barokhata village in Hatibandha Upazila, and assured taking necessary step for her safety and legal action against the stalker.
Bithi is the daughter of Bokul Rahman and Nur Nahar Begum of Purbo Sarodubi village of Barokhata union in Hatibandha upazila.
"I could hardly go to school during the last five months as Abdur Rahman alias Pati Rahman, son of late Ansar Ali of Barokhata village, disturbs me in the way to school and home. Now I always remain at home in fear of the stalker. I want safe environment for study and living," said the girl.
Bithi's father Bokul Rahman said he I lodged a case against Abdur Rahman with Hatibandha police station on March 21 when police arrested the stalker but he started disturbing my daughter again after getting out from the jail on bail on April 11.
"A GD was filed on April 20 regarding the matter but still my daughter cannot go to school in fear of the stalker as no further action was taken against him," he said.
"We the family members can't sleep peacefully at night as the stalker and his gang members often move around our homestead," said Bithis' mother Nur Nahar Begum.
Abu Bakkor Siddique, headmaster of Paikertari High School, said, "Bithi Khatun cannot come to school due to disturbance by the stalker. Police should take step regarding the matter."
Tapos Kumar Sarker, officer in charge of Hatibandha police station, said police will prepare the charge sheet of the case against stalker Pati Rahman as soon as possible.
http://www.thedailystar.net/beta2/news/i-want-to-study-i-want-to-go-to-school-save-me/
------------
150 Girls Poisoned By Toxic Gas in Afghanistan
May 14, 2013
The girls were poisoned by a toxic gas sprayed at their high school in Afghanistan's northern state of Balkh
150 girls got poisoned by a toxic gas at their high school in Afghanistan's northern state of Balkh.
The teachers and students of the Kharti Khorasan Girls' High School in Mazar-i-Sharif were hospitalized after they got poisoned by a toxic gas which was sprayed at their classrooms.
Chief Physician of Mazar-i-Sharif Hospital Noor Muhammad Faiz said that the girls were in good condition.
Faiz noted that two teachers were also poisoned by the toxic gas attack about which an investigation has been launched.
No group has claimed the responsibility for the incident so far.
More than 200 girls had also been poisoned last month at the Sultan Raziye Girls' High School in the capital Kabul.
The Taliban also previously poisoned several girls by adding toxic substance into the water tanks in some girls' schools across the country.
http://www.rawa.org/temp/runews/2013/05/14/150-girls-poisoned-by-toxic-gas-in-afghanistan.html#ixzz2TMYhHw2K
-----------
Proactive society needed for a safe environment for women: Sonia Gandhi
May 14, 2013
New Delhi, May 14 (ANI): Congress President Sonia Gandhi today expressed her concern over violence against women, and made a strong pitch for a proactive society to create a safe environment for the feminine gender.
"We have been shocked by the violence that girls and women encounter on the street and even in their homes. Of course, it is not universal, but it is there widespreadIt pains me that as a society, we have failed to counter it and create a safe environment where girls and women can live and flourish without being constantly force to live in the fear of abuse and molestation," said Gandhi.
"While the government, Parliament and institutions like the police have to discharge their role, society at large also needed to change its mindset. We must all become all the more proactive. There can be no better places for this other than our families, schools and universities," she added.
Gandhi said Jamia has a long standing commitment to the education of women and Muslim women in particular.
"Jamia was born in the crucible of the national movement and has kept up its great heritage of nationalism and staunch secularism that makes us all proud. No wonder that Jawaharlal Nehru once described this university as the lusty child of the national movement," she said.
The UPA chairperson, who laid the foundation stone for a girls hostel on the Jamia Milia Islamia University campus here, also expressed her delight over the varsity's decision to name a ground in the university after former cricketer late Mansoor Ali Khan Pataudi . (ANI)
http://www.aninews.in/newsdetail2/story111780/proactive-society-needed-for-a-safe-environment-for-women-sonia-gandhi.html
------------
Balak Mata Centre of Jamia Millia Islamia Educating Muslim girls in a Mughal-era structure
May 14, 2013
New Delhi: Functioning in a Mughal-era structure near Jama Masjid in the capital's old quarters is the Balak Mata Centre of Jamia Millia Islamia, one of India's oldest universities.
The centre, located in Matia Mahal, provides education and vocational training to deprived Muslim girls and women.
The centre runs from a two-storey structure, which, according to a DDA Urban Heritage Certificate Award given in 1993, was used by Emperor Shah Jahan (1592-1666) as a "home" while the Red Fort was being built. At one time, a Mughal prince's mistress used it as her residence. Later, the last Mughal emperor, Bahadur Shah Zafar, gave it to one of his grandsons.
The building, which has undergone many alterations, follows the traditional Indian architectural pattern of a courtyard surrounded by rooms on three sides.
The concept of the Balak Mata Centre emerged in the late 1930s under the aegis of the torchbearers of Jamia — Zakir Hussain, M. Mujeeb, Abid Hussain and Shafiqur Rehman Kidwai — who felt it was necessary to bring women and girls out of homes and provide them with education. It originally started from Karol Bagh, from where Jamia was then functioning out of a few bungalows.
There are three branches of the centre running today — in Matia Mahal, Sadar Bazar and Pul Bangash — providing schooling to girls up to class 5. The centre also provides skill-based programmes in computers, textile designing, cutting and tailoring and beauty therapy to women in the neighbourhood to make them employable.
A dark and narrow lane leads to the nondescript entrance of the centre and but for a small signboard, it's easy to miss it. Inside, the classrooms are airy and have colourful furniture in accordance with modern tastes, a few small slides and a merry-go-round. There is a dedicated lab for the computer course and a sewing unit for the tailoring course.
Centre director, Yasmeen Parveen, says that her team has to make a great effort to convince people to let girls and women come out of their homes. "Even today, the situation is that they don't want to come out of their homes. We have had to do a door-to-door survey to identify the needy children and women," Parveen told IANS.
Parveen and her team also keep a tab of student needs. In fact, she and her colleagues say there are instances when a child does not get her first meal even when she returns home. In such situations, the teachers have often pooled resources to help.
In addition to education and skill-development programmes, the centre conducts health awareness drives, literacy gatherings, adolescent camps for young girls and extension lectures on community needs, drawing experts from within Jamia Millia Islamia and outside.
http://gulfnews.com/news/world/india/educating-muslim-girls-in-a-mughal-era-structure-1.1183245
------------
In Mohripur, Pakistan, Voting For Women Is a Cardinal Sin
By Owais JafriPublished: May 15, 2013
MULTAN:
As many as 1,100 registered women voters in Mohripur, a town in Khanewal district, did not cast their votes.
"Our elders decided long ago that it is a sin for women to vote," said Baba Omar, 80, a resident of Mohripur.
"Women have never voted here…we believe women who vote will go to hell," he said.
The regional election commission had set up three polling stations in Mohripur for the general elections 2013 including separate polling booths for women. Women presiding officers and polling staff were also appointed.
"None of them voted," said Samia Bibi, a resident of the area.
She said most women in Mohri Pur worked as daily wage labourers and it was not Purdah that stopped them from voting.
"We work in the fields and at other places…it is about following our traditions," she said.
Malik Khadim Hussain, the head of a village panchayat in Mohripur, told The Express Tribune "We feel honoured that the women here have never opted to vote." Mohripur is part of the NA-156 constituency. Raza Hayat Hiraaj, an independent candidate, won this seat for the third time this year securing more than 78,000 votes.
Hiraaj told The Express Tribune that he had tried to persuade women to vote but failed.
"They [women] have brought religion into the matter," he said."90 per cent of the women here are illiterate and cannot even speak the national language [Urdu] properly." Hiraaj said.
Ayesha Mai, another native of Mohri Pur, said women were under the impression that if they voted they would go to hell.
"You do not even talk about it… I fear that even hearing about casting votes will attract hell," she added.
Published in The Express Tribune, May 15th, 2013.
http://tribune.com.pk/story/549307/womens-say-where-voting-is-a-cardinal-sin/
------------
14 Women Make It to the Pakistan Assemblies in Election 2013
May 15, 2013
ISLAMABAD - According to the unofficial results announced by the Election Commission of Pakistan (ECP), 14 women were successful in the May 11 general elections by winning five National and nine provincial assembly seats.
The women, who won the National Assembly seats, included Sumaira Malik, a candidate of Pakistan Muslim League-Nawaz who won from NA-69 Khushab-I with 118,108 votes defeating Pakistan Tehreek-e-Insaf candidate Umar Aslam Khan, who secured 78,855.
The second successful candidate was Ghulam Bibi Bharwana, who also contested elections on a PML-N ticket from NA 88 Jhang-cum-Chiniot. She got 87,002 votes taking a lead of 19000 votes from Makhdoomzada Syed Asad Hayat who secured 68,850 votes as an independent candidate.
Full report at:
http://www.pakistantoday.com.pk/2013/05/14/news/national/14-women-make-it-to-the-assemblies-in-election-2013/
------------
Female Cops in Pakistan Face Harassment
May 15, 2013
Ashraf Javed
ISLAMABAD - Female police officials face sexual harassment, absence of facilities and resistance from male counterparts at workplace, and all these factors discourage them to join the field.
There is not only shortage of women police station in the country but they are also prevented from registration of First Information Report (FIR). Women complaint cell in women police station have also ceased to function in many areas revealed a survey conducted by Individual land Pakistan entitled "Women police as a change agent and gender-based police reforms" in different cities of the country. The initiative was an attempt towards recognising the work of women police as well as highlighting the issues and challenges confronted by women police.
The IL-Pakistan study is based on data collected from police department of Islamabad, Gilgit-Baltistan, Azad Jammu Kashmir, Khyber Pakhtunkhwa, Sindh, Balochistan, National Highway and Motorway police, Railway police and some areas of Punjab.
Full report at:
http://www.nation.com.pk/pakistan-news-newspaper-daily-english-online/islamabad/15-May-2013/female-cops-face-harassment
------------
Nine Bangladeshi Girls Brought On Pretext of Good Jobs, Back From India
15 May, 2013
Nine Bangladeshi young girls returned home on Monday from India after languishing in jail for 18 months in Mumbai.
Indian Border Security Force (BSF) handed them over to the Bangladeshi authorities at Benapole check post around noon.
The girls are aged between 17 and 19 and hailed from different areas of Jessore and Faridpur districts.
Full report at:
http://www.thedailystar.net/beta2/news/nine-girls-back-from-india/
------------
Angelina, Mideast's 'Sweetheart,' Admired for Mastectomy Revelation
15 May 2013
In recent years, Hollywood star Angelina Jolie has shown a soft spot for Asia and the Middle East.
After visits to Syrian refugees in Jordan and girls' schools in Afghanistan, she has won over global attention for her humanitarian work in the region.
News of her decision to undergo a double mastectomy, which she decided to reveal on Tuesday in a New York Times column, has been appreciated by women all over the world.
Health activists, doctors and Jolie's fans hailed the actress for the decision to have her breasts removed to lower her risk of developing cancer.
"She's the sweetheart of the Middle East," Ghetal Muhummad, an Emirati health science student told Al Arabiya.
Full report at:
http://english.alarabiya.net/en/News/middle-east/2013/05/15/Angelina-Jolie-admired-in-the-Mideast-for-brave-revelation-.html
------------
Wife Accuses Saudi Hubby of Infecting Her with Aids
May 15, 2013
A woman has filed charges against Saudi husband accusing him of infecting her with Aids by having an affair with many other women.
The wife, an African with five children, was told by her former African housemaid that she had fled work because of her husband's advances and that he has relationships with many women given his job as an official at a major firm.
Full report at:
http://www.emirates247.com/crime/region/wife-accuses-hubby-of-infecting-her-with-aids-2013-05-15-1.506566
------------
Islamic Academy Girl students going to National History Bee
By Yadira Betances
ybetances@eagletribune.com
METHUEN — Moumina Khan, Leena Hamad and Hana Illikkal have plenty of history together.
The girls, all students at the Islamic Academy for Peace in Methuen, are headed to the National History Bee in Atlanta June 1. They will compete as a team in the middle school division.
Moumina of Methuen is a sixth grader. Leena of Manchester, N.H. and Hana of Lowell, are both in eighth grade.
They have been hitting the books and taking special classes after school.
The National History Bee tests the knowledge of historical events in an academic competition for elementary and middle school students.
Participants must take a mandatory online regional qualifying exam at school or home under the supervision of a sponsor.
Full report at:
http://www.eagletribune.com/local/x326080687/Smart-kids-Islamic-Academy-students-going-to-National-History-Bee
------------
Roona gets second life: surgery on baby with swollen head succesful
AFP New Delhi, May 15, 2013
Doctors on Wednesday successfully carried out life-saving surgery on a baby suffering from a rare disorder that caused her head to swell to nearly double its size, her neurosurgeon told AFP.
"The surgery went perfectly, much better than expected," Sandeep Vaishya said after the procedure on 15-month-old Roona Begum, speaking exclusively to an AFP reporter inside the operating theatre at a hospital in Delhi.
"It's definitely a success but it's too early to say what the quality of her future life will be like," said Vaishya.
Full report at:
http://www.hindustantimes.com/India-news/tripura/Roona-gets-second-life-surgery-on-baby-with-swollen-head-succesful/Article1-1060397.aspx
-------------
Dutch Police Criticised For Allegedly Helping Underage Muslim Girl to Marry
May 15, 2013
Police in Amsterdam were under fire last night for allegedly helping two young underage Muslims to marry in the Netherlands – so the bride could avoid being sent back to her family's native Pakistan for a traditional arranged marriage to her cousin.
Although they denied last night that they had acted as "wedding planners" or even as "mediators", a police spokesman confirmed that the girl had been collected by officers "directly from school" and delivered under escort to the secret location where the wedding had taken place.
The ages of the couple have not been revealed, but it's understood the bride did secure the consent of her parents to marry her Pakistani-Hindustani boyfriend, on condition they would renew their wedding vows in the usual Dutch civil ceremony when they turn 18.
Full report at:
http://www.irishtimes.com/news/world/europe/dutch-police-criticised-for-allegedly-helping-two-underage-muslims-to-marry-1.1393404
------------
Indonesian Beef Scandal Money Trail Leads To More Women
May 15 2013
When the Corruption Eradication Commission (KPK) summoned lingerie model Vitalia Sesha last week, many expected she would be the last woman connected to the high profile beef scandal.
However, the money laundering charges against Ahmad Fathanah, an aide to former Prosperous Justice Party (PKS) chairman Luthfi Hasan Ishaaq has implicated a bevy of beauties.
Financial Transaction Reports and Analysis Center (PPATK) head Muhammad Yusuf made the shocking announcement on Tuesday that at least 20 women had suspicious financial transactions with Fathanah between 2003 and 2013.
Full report at:
http://www.thejakartapost.com/news/2013/05/15/beef-scandal-money-trail-leads-more-women.html
------------
URL: https://newageislam.com/islam-women-feminism/'i-want-study;-i-want/d/11585