New Age Islam News Bureau
6 Jan 2013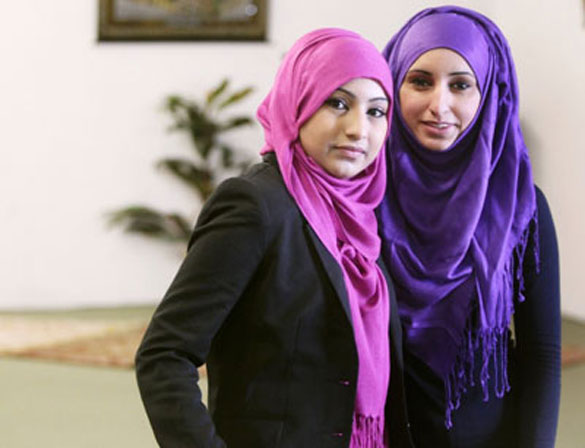 • Canada Recognizes Muslim Woman Efforts
• Gulf businesswomen need to be in the public eye
• Sister Christina's Journey to Islam: I Felt the Power of That Night: I Found Peace
• Saudi Arab: Dar Al-Hekma graduating students exhibit creative graphic designs
• Women in Islam
• Trafficked Bangladeshi girl sent home
• Child sexual abuse - the ultimate taboo
• International Women Summit on Jan 29
• 'My husband would tie my hands and feet and flog me'
• Female education in Sindh
• Lack of birth control in Oman for single women can lead to tragedy
• Two Women, Two Faiths and Lady Mary: Interfaith Dialogues
• Dishonoured cheque lands Kashmir woman in jail
Compiled by New Age Islam News Bureau
Photo: The medal was presented to the Mississauga resident of nearly 40 years by Senator Salma Ataullahjan, the first Canadian senator of Pushtun descent
URL: https://newageislam.com/islam-women-feminism/i-found-ultimate-freedom-being/d/9894
--------------
I Found My Ultimate Freedom Being a Muslim Woman
02 January 2013
I said Shahadah, it will be ten years in December.
I took Shahadah when I was 47 years old. I considered myself to be a good Catholic lady, but I always would go to church and pray to God.
I couldn't pray to Jesus, it just didn't feel right, and I would always talk to God.
I didn't come from a religious family. My grandmother took me to church once in a while, you know in the major holidays, but that was only when I was little.
So at 7 years old I would pick myself up and go to church and just talk to God.
When I was 8 I had my own Bible, and again I just always talked to God, and I was always a big believer of the truth, my whole life is based on the truth.
And then when I was 47, I met someone who was a Muslim, and we started talking. I had never met Muslims till I was about 46 years old. So this was after 9/11, and I started reading the Quran, and I just kept saying but this is what I believed my whole life!
Wait ... What's going on here?
I thought I'm Catholic, and why is everything that I'm reading to be true? I mean to me it was the truth.
And within about 3 to 4 months of reading the Quran I knew that there was no other choice. This is what I was my whole life, I just didn't know it until that time. And then on December 25th. I said my Shahadah with my Christmas tree in the dining room because I was still Catholic at the time. But I just knew it was over, I knew that part of my life, that 47 years of being Catholic was over, that I really was Muslim, and that my parents when they baptized me they just didn't know it.
About Islam to Those Who Are Searching
What is the truth?
What is the Truth? There is only One God, and that's who you ask for help and that's just who you go to. You don't need someone to intercede, you don't need to go and speak to someone else, you just talk to God in your whole relationship and you just lay everything to God.
And it's so freeing, you are just so free. And people can say aren't you hot? Look how you dress, and I've never felt more free. It's truth and it's freedom, the ultimate freedom, to be a Muslim woman, Subhan Allah, it's just wonderful.
Ramadan?
Oh I love Ramadan.
I mean I fasted when I was Catholic on some of the Catholic days of fasting, and I know the first couple of days it's a little rough, but then it's just so amazing what you are doing. You are sacrificing and you are doing this all for God, and it's just amazing.
And when Ramadan is over, I want to cry, and I know I have some sister friends who are like that, we just want to cry. You love it so much, it's just an amazing feeling, and it's just amazing what you can do.
You know, so many people say oh I couldn't fast that many hours, especially it's been in the summer, but it's amazing what you can do when you are doing it for God. It's just absolutely amazing.
http://www.onislam.net/english/reading-islam/my-journey-to-islam/contemporary-stories/460703-i-found-my-ultimate-freedom-being-a-muslim-woman.html
--------------
Canada Recognizes Muslim Woman Efforts
05 January 2013
ONTARIO – Volunteering for community help decades ago, a Canadian Muslim in Ontario's city of Mississauga has received the Queen Elizabeth II Diamond Jubilee Medal to acknowledge her passion to serve her country.
"Forty-five years of my Canadian life I have been serving the community," Malik Syed, who was awarded the medal on Friday, January 4, told Mississauga.com.
"When I came to Canada I didn't know I could do so much more in this community. This is a great country."
Coming to Canada decades ago, Syed, of Indian origin, tried to offer help to her new community.
Trained as a teacher in India, Syed worked for several years as a supply teacher in Ontario.
Later on, she volunteered with the Muslim Seniors Circle, which was present to see the medal presentation, and regularly visits hospitals to do what she can.
Yet, her greatest pleasure has always come from helping children.
She added that she has volunteered to serve not just the Muslim community, but the broader Canadian community.
These efforts were finally recognized after she received on Friday the Queen Elizabeth II Diamond Jubilee Medal at the Islamic Centre of Canada on South Sheridan Way.
The medal was presented to the Mississauga resident of nearly 40 years by Senator Salma Ataullahjan, the first Canadian senator of Pushtun descent.
Receiving an award to recognize her efforts, Syed, 70, said her husband, Amjad Syed, was even happier for her than she was herself.
Created in 2011, the commemorative medal was made to mark the 60th anniversary of the accession to the thrones of Queen Elizabeth II.
The medal also serves to honor significant contributions and achievements by Canadians.
Praised
Awarding Syed her distinguished medal, Mississauga Senator praised her efforts to serve the wider community, regardless of their faith.
"Malik has spent 45 years doing volunteer work in Canada," said Ataullahjan.
"It is so appropriate she should receive the medal here in the Islamic Centre."
Muslims make around 1.9 percent of Canada's 32.8 million population, and Islam is the number one non-Christian faith in the North American country.
A recent survey has showed the overwhelming majority of Muslims are proud to be Canadian.
Yet, a March 2012 survey by the Association for Canadian Studies and the Canadian Race Relations Foundation found that more than half of Canadians distrust Muslims, the lowest level of trustworthiness of religious groups in the country.
Another recent survey by the Canadian Studies (ACS) found that the Muslim minority in Canada is still facing negative perceptions a decade after the 9/11.
http://www.onislam.net/english/news/americas/460735-canada-recognizes-muslim-woman-efforts.html
--------------
Gulf businesswomen need to be in the public eye
By Jumana Al Tamimi, Associate Editor
January 5, 2013
Dubai: The wealth of women in the Gulf region is often compared with "Swiss bank accounts".
Their fortunes are shrouded in secrecy. The actual size of their fortunes is not known. Yet, their wealth is big enough to draw the attention of investors and influential enough to be included in the forecasts of economic analysts.
In the absence of specific figures of the size of wealth owned by women in the Gulf, estimates put their capital at nearly $400 billion (Dh1.47 trillion).
"Approximately, 50 per cent or 60 per cent of it is in Saudi Arabia," said Ammar Shata, chief executive of Alkhabeer Capital, a Saudi investment and asset management firm. He equated the wealth of Gulf women to Swiss bank accounts, meaning they prefer to keep it confidential.
"I expect women's fortune in Saudi Arabia to be in the range of US$200 billion to US$225 billion. I believe this is a reasonable figure if we calculate the number of properties, companies and stocks owned by women," he told Gulf News in an interview during his recent visit to Dubai.
A considerable number of rich women in the Gulf, which is rich in oil and gas, have inherited all or part of their wealth from their fathers and immediate male family members, and the value of the fortune continues to grow from one generation to the next, investors said.
The fortune of Gulf women constitutes the majority of women's assets in the Middle East and North Africa (Mena) region, researchers said.
Quoting Meed, Shata said the size of assets controlled by women in the Middle East stood at about $385 billion in 2011 — about 25 per cent of the region's total assets under management (AUMs).
Labour force participation
Okaz, an Arabic daily newspaper in Saudi Arabia, estimates that women represent 33 per cent ownership of brokerage houses and 40 per cent of equity invested in family businesses. Yet, female participation in the labour force remains low, at around 16 per cent, while the global equivalent stands at about 25 per cent, Shata noted.
Around 75 per cent of the wealth of Middle East residents — both men and women — is concentrated in safe assets, where women's share of safe assets in their portfolio is likely to be much higher than men, mainly in cash, fixed deposits and bonds, according to a study by Boston Consulting Group (BCG).
As an example of the evolving presence of Gulf businesswomen on the investment map, nearly 32 per cent of those who seek the expertise of Alkhabeer Capital are Gulf businesswomen, Shata said. The normal percentage, he told Gulf News, should be around 50 per cent.
However, Gulf businessmen are more visible, especially in the media, than their female counterparts while foreign businesswomen are more seen in public than their Gulf peers.
"This visibility is very important," said Mounira Jamjoom, a senior research specialist at Ideation Center, Booz & Company's thinktank in the Middle East. "Why? Because this [visibility] motivates businesswomen in the small and medium enterprises to come forward and develop their businesses," Jamjoom said in an interview with Gulf News.
Most women look for "boutique investments" where opportunities are niche and especially tailored for them, Shata said. "If you ask this question to somebody in a western country, you could raise eyebrows," said Shata when asked about fields that women prefer to invest in. "The reason is simple — they have reached a certain level of social equality between men and women."
Risk-averse investors
However, in the Gulf region, such equality has not materialised yet. Men seem more experienced in investing their money than women. Many male investors do not mind taking risks when it comes to their investments. On the contrary, many businesswomen prefer to invest in properties because it is perceived as risk-free.
The desire to seek safe investments arises from a lack of adequate experience and knowledge. "But this situation [has] started to change very rapidly recently," Shata said.
Today, the number of educated women are increasing as well as those who travel abroad to pursue higher education. Social development has helped shed light on women's participation in economic development.
There are successful and well-known Gulf businesswomen in the public eye "but in small numbers and from a certain [social] class. So, it is important for their numbers to increase and to hear successful stories," Jamjoom said. "It is important to focus on stories of success."
Meanwhile, boosting women's participation in economic development at different levels requires education, supporting them to reach leadership positions and enhancing their presence in the private sector, analysts said. More efforts are also needed to boost women's participation in the business sector, including supply of credit and diversifying businesses from the current focus on micro finance and services sectors. More projects to train women in soft skills and business skills will lead to greater participation, Jamjoom said.
Building confidence "in communicating with others and … [presenting] her ideas with confidence coupled with critical thinking" will advance women in their careers, Jamjoom said.
Cultural perception
"Allocating capital for investment in women's businesses is fruitless if women do not have the education and training to run a business successfully, or the cultural perception that they can compete economically with men," said Laila Hoteit, a principal with Booz and Company in a report published in October 2012.
Discrepancies in educational programmes for women and men in terms of content hinder the entry of women in the labour market, Jamjoom said.
"Women's regional labour force participation is at just 26 per cent, and they hold ownership positions in only 20 per cent of businesses in the Mena region," according to Booz and Company's October study. "Only about 9 per cent of women in this part of the world actually start businesses."
If the extent of women's participation in the economic sector matches that of men, the gross domestic product (GDP) of most countries is expected to receive a boost, the Booz and Company report said. For instance, in the UAE and Egypt, the GDP could see a 12 per cent and 34 per cent fillip respectively.
"Despite amounting to almost 1 billion worldwide and rivalling the populations of India and China — this fast-growing group of people has not received sufficient attention from key decision makers in many countries," the global management consulting firm said.
http://gulfnews.com/business/economy/gulf-businesswomen-need-to-be-in-the-public-eye-1.1127891
--------------
Sister Christina's Journey to Islam: I Felt the Power of That Night: I Found Peace
05 January 2013
For me, I always felt that connection with God.
Within the trinity, looking back, I think my connection was with the "father", like you know you want to go to the highest authority.
So with the Father, the son and the Holy Spirit you go to the highest figure, so I always had that connection.
And you know, my favorite part of church always was coming back after the communion and you pray, and you say like "bless my Mummy and my doggy and everything". And so I felt I always had that spiritual connection.
When my family left the Catholic church after the scandal with the Catholic priests and the boys, a friend in high school introduced me to Islam. Then as I had just entered my freshman year in college in Virginia, I was actually invited by some friends I had met at the MSA (Muslim Student Association), I was a non-Muslim, but it was Ramadan and everyone was fasting and they took me at night to the masjid (mosque) for laylatul-qadr (the night of power in the last 10 days of Ramadan).
Full report at:
http://www.onislam.net/english/reading-islam/my-journey-to-islam/contemporary-stories/460738-i-felt-the-power-of-that-night-i-found-peace.html
--------------
Saudi Arab: Dar Al-Hekma graduating students exhibit creative graphic designs
6 January 2013
The annual Visual Communications Exhibition kicked off at Dar Al-Hekma (DAR) College on a two-day basis last week, under the theme "Twenty Two: The Manifesto", showcasing the works of 22 graduating students.
The exhibition was held under the patronage of Dr. AbdulAziz Al-Khudairy, the deputy governor of Makkah region.
Full report at:
http://www.arabnews.com/dar-al-hekma-graduating-students-exhibit-creative-graphic-designs
--------------
Women in Islam
6 January 2013
Ladies and gentlemen, ensure that you are well informed as to how our religion (Islam) honors women and maintains their dignity and rights, for issues related to women are often a subject of great debate all around the world.
Islam honors women in the following way:
Both men and women have equal social responsibilities and status. They are both equal before Allah and the difference in the direction given are due to the fact that each has a certain role to pay in life and to the physical and psychological abilities of each.
Full report at:
http://www.arabnews.com/women-islam
--------------
Trafficked Bangladeshi girl sent home
Faizan Haider, Hindustan Times
January 05, 2013
For one 16-year-old girl from Bangladesh, the new year started on a very good note.
Trafficked from her country in July and brought to Delhi, she was reunited with her parents on Wednesday. The Delhi police and Child Welfare Committee (CWC) helped in the cause and finally the girl boarded an Air India flight to home on Wednesday, after staying at a child shelter home in east Delhi for six months. Officials said in July 2012, the girl was seen roaming in Gandhi Nagar area by a PCR van. As she was unable to communicate in Hindi and a translator was hired and the girl was produced before the CWC.
Full report at:
http://www.hindustantimes.com/India-news/NewDelhi/Trafficked-Bangladeshi-girl-sent-home/Article1-985615.aspx
-----------
Child sexual abuse - the ultimate taboo
By Noman Ansar
January 6, 2013
For this well-off Pakistani family, it was a soul shattering nightmare that cast its dark shadow on the household for years to come.
Two vulnerable siblings, Sana (Age 6) and Saqib (Age 8), were left at home in the care of family servant Ghulam, while their parents travelled abroad. Like countless servants employed by families across Pakistan, Ghulam was a domestic helper who had earned the trust of his employers through his long history of service.
Full report at:
http://tribune.com.pk/story/487935/child-sexual-abuse-the-ultimate-taboo/
--------------
International Women Summit on Jan 29
6 January 2013
KARACHI: The Fifth Women in Business Conference (WIBCON) will be organized at a local hotel on January 29. This was announced by the organiser of the event, Yasmin Hyder, Chief Executive of the New World Concepts on Saturday. She said that the moot would be held under the auspices of the Pakistan Society for Training and Development (PSTD).
http://www.dailytimes.com.pk/default.asp?page=2013\01\06\story_6-1-2013_pg7_16
--------------
'My husband would tie my hands and feet and flog me'
"There is no part of my body which is not injured. The nails of my hands have fallen, and my feet don't have the strength to move."
By Wahid Paykan
6 January 2013
Manizha is a 20-year old woman from Moqor area of southern Ghazni province who revealed to BBC how she was constantly tortured by her husband.
She was kept in the basement of her home for weeks with her hands and feet tied up. Her husband would beat her with sticks, chains, and even a whip. Manizha's half-dead body tells her sad tale.
Full report at:
http://www.rawa.org/temp/runews/2013/01/03/my-husband-would-tie-my-hands-and-feet-and-flog-me.html#ixzz2HC4BIHIp
--------------
Female education in Sindh
By Abdul Razaque Channa
January 6, 2013
What if you and I are uneducated, have never been to school, do not know how to send and receive text messages and are repeatedly called jahil (illiterate) and andha (blind)? Being illiterate may not kill a person but the feeling of being a jahil does, if not socially, then emotionally for sure. A girl, a sister, a daughter and a wife who may be a part of our family, neighbourhood, city or country may possess such feelings.
Full report at:
http://tribune.com.pk/story/489483/female-education-in-sindh/
--------------
Lack of birth control in Oman for single women can lead to tragedy
By Saleh And Al-shaibany, Reuters
January 4, 2013
When unmarried 19-year-old Sama got pregnant, she ran away from home to have an abortion rather than face family wrath.
The young man who got her pregnant had refused to marry her, saying he could not afford the financial burden. So she went to share a room with a friend in a university hostel in the Omani capital Muscat, 450 kilometres away from her hometown of Buraimi in the north of the Gulf Arab state.
Full report at:
http://www.canada.com/Lack+birth+control+Oman+single+women+lead+tragedy/7780188/story.html#ixzz2HC5jiNWo
--------------
Two Women, Two Faiths and Lady Mary: Interfaith Dialogues
03 January 2013
By Ben Barker
This dialogue was the first in a series of three dialogues which are being held between Anjum Anwar and Canon Sue Penfold, on the figure of Mary in Christianity and Islam.
The dialogue was held in the South Transept in front of an audience made up of: pupils from Beardwood Humanities College, Muslim scholars from the Muslim Seminary in Blackburn and members of the public.
Full report at:
http://www.onislam.net/english/back-to-religion/customizing-religion/457123-two-women-two-faiths-and-lady-mary.html
--------------
Dishonoured cheque lands Kashmir woman in jail
Ashiq Hussain, Hindustan Times
Srinagar, January 05, 2013
A local court in Kashmir has sentenced a businesswoman to two months of rigorous imprisonment along with a fine of Rs. 7 lakh after a cheque she had issued in 2005 bounced.
The judgment, believed to be the first of its kind in Kashmir, came after seven years of trial before the chief judicial magistrate (CJM) in Srinagar.
Full report at:
http://www.hindustantimes.com/India-news/Srinagar/Dishonoured-cheque-lands-Kashmir-woman-in-jail/Article1-985335.aspx
----------------
URL: https://newageislam.com/islam-women-feminism/i-found-ultimate-freedom-being/d/9894