New Age Islam News Bureau
24 December 2020
• Hasna Abu Bakr, Who Administered Minister of Health Dr. Tawfiq Al-Rabiah Vaccine Shot, Shares Her Delight
• In Turkey, JIN News Fights For Women's and Journalists' Rights
• Seven Held over Child Marriage in Chitral, Pakistan
Compiled by New Age Islam News Bureau
URL: https://www.newageislam.com/islam-women-feminism/i-am-afraid-fight-female/d/123868
--------
'I Am Not Afraid To Fight': The Female Afghan Colonel, Saba Sahar, Who Survived The Taliban's Assassins
Ruchi Kumar
Thu 24 Dec 2020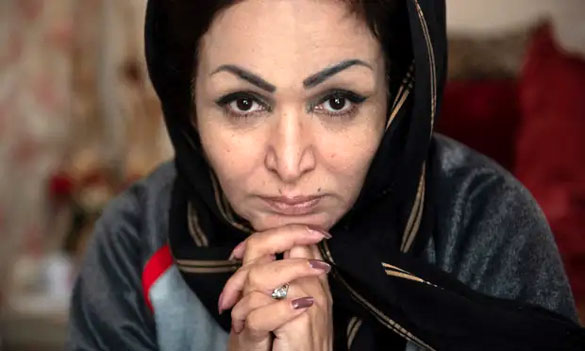 Sahar was shot five times in an attack by insurgents. She believes the attack was an attempt to 'silence' her. Photograph: Farzana Wahidy/The Guardian
-----
It was just after 7am when the car carrying Colonel Saba Sahar, one of Afghanistan's most senior female police officers, came under fire from armed insurgents. In the back seat, Sahar's four-year-old daughter began screaming as bullets shattered the windscreen and ripped into the upholstery. As she pushed her child under the seat in front of her, Sahar saw three men carrying AK-47 assault rifles, firing as they approached the car.
In the front of the car her bodyguard and driver had both been hit and were badly injured and unconscious. Looking down, Sahar saw blood seeping through her clothing. "It took me another moment to realise I'd been shot too," she says. She knew that she only had minutes to try to save her daughter. "They were five or six metres away, and they were moving closer to the car, still firing. They would have killed my child," she says. Bleeding heavily from five shots to her stomach, Sahar reached forward, grabbed the gun from her slumped bodyguard and started returning fire.
Meanwhile, a few blocks away, Sahar's husband, Emal Zaki, was getting their older children ready for school when he heard the gunfire. Wondering whether she could see what was happening on the road ahead, he dialled his wife's number while he helped his children tie their school shoes.
"When she picked up the phone she was still firing at the insurgents," he says. Through the sound of cracking bullets, Sahar screamed that she was injured and told him to call for help. By the time he reached her car a few minutes later, the gunmen had fled. He found his wife clutching the gun in one hand and their daughter in the other. "I have never seen so much blood in my life," he says.
Dragging the bodyguard and driver into the family car, they sped through the streets to the hospital. "My wife stayed conscious until she was sure our daughter was safe and then she passed out," says Zaki.
Sahar knows she is lucky to be alive.
In September, just a few weeks after the attack, the US embassy in Kabul warned that Afghan women in public roles were at increasing risk of being targeted by extremist groups, particularly women working for the government and armed forces.
This year eight policewomen have been targeted in similar attacks. Six have died.
In July, 23-year-old Fatima Faizi, a police officer with the anti-narcotics squad, was kidnapped by armed insurgents. Her mutilated body was found on the streets weeks later. Just weeks before the attack on Sahar, another female police officer was killed in Kunduz province by armed men who dragged her out of her house and murdered her in front of her neighbours.
Speaking from her hospital bed, Sahar says she was not surprised she had become a target. Also famous as an actor and documentary filmmaker, in recent years she has risen to become one of the most high-profile women in Afghanistan's police force, responsible for coordinating special units combating terrorism, drug trafficking and criminal networks.
"I am a very visible woman in public life and I have dedicated my life to working on women's rights and encouraging other women to join the security forces," she says. "Yet even now I am not afraid. Afghanistan has changed, and those attacking and trying to silence us have to accept this."
Since the fall of the Taliban two decades ago, Afghanistan's police forces have become a focus of national and international efforts to create more visible public roles for women. Yet few of the 4,080 women in Afghanistan's security services have risen up through the ranks. Many remain in backroom jobs, and those who are out on the streets face harassment, abuse and discrimination.
Sahar believes the recent attacks on women in the security services are part of a wider campaign to silence progressive voices and undermine the precarious peace talks between the Afghan government and the Taliban under way in Qatar.
In early December, the Afghan government and the Taliban agreed framework rules for peace talks after more than two months of discussions, allowing negotiations on ending a nearly 20-year civil war to finally begin.
Yet in Afghanistan, there has been a wave of bloodshed that has seen targeted killings of journalists, human rights workers and activists.
According to Afghanistan Independent Human Rights Commission, 533 civilians were killed and 412 others wounded in attacks in the first six months of 2020.
Against this backdrop, women in the security forces are an obvious target.
"[The armed groups] want to stop women from going for these jobs," says Sahar. "Every Afghan must be represented in the security services. In a country where men are so dominant over every aspect of our lives, the more women we have in the police, the more other women will be able to seek justice, protection and support. We must resist."
She is aware that staying in Afghanistan might mean further attempts on her life.
"Leaving my country has not even crossed my mind," she says. "Why would I leave when my struggle is here with my people? If I stay I can help work towards a peace with the Taliban or I can fight as a solider of Afghanistan. I do not fear another attack from them but I pray they come to us in peace. I am not afraid to fight them again."
https://www.theguardian.com/global-development/2020/dec/24/i-am-not-afraid-to-fight-the-female-afghan-colonel-who-survived-the-talibans-assassins
--------
Hasna Abu Bakr, Who Administered Minister of Health Dr. Tawfiq Al-Rabiah Vaccine Shot, Shares Her Delight
December 22, 2020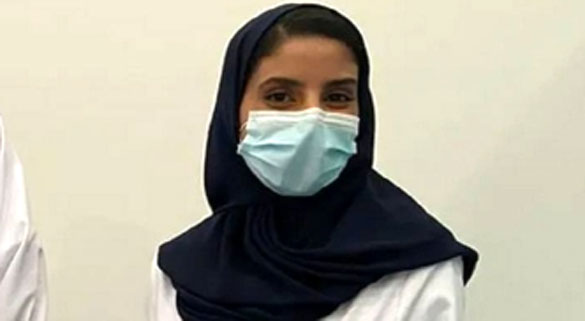 Hasna Abu Bakr'
------
RIYADH — Hasna Abu Bakr's voice choked with emotions as she expressed her joy over getting the unique opportunity to administer the COVID-19 vaccine shot to Minister of Health Dr. Tawfiq Al-Rabiah.
In a ceremony held in the presence of print and visual media persons at the Riyadh International Conference Center, Dr. Al-Rabiah received the first dose of the vaccine on Thursday, thus becoming the first Saudi citizen to get vaccinated against coronavirus.
Hasna is a Saudi graduate of the Medical Care College in Riyadh affiliated with Al-Yamamah University. In an interview with Al-Arabiya.net, Hasna, a laboratory specialist, expressed the unique experience of giving the first shot to none other than the minister of health himself. Hasna said she had no idea about it until an hour before the launch of the vaccine injection process.
When Hasna was informed about it, she felt very happy for the trust reposed in her. "When the minister came, I felt a bit nervous, then I began to inject confidence into myself believing that I am going to do my role and the VIP is simply a normal patient.
Dr. Al-Rabiah thanked and invited me and other members of the team one by one." "When I heard the words of encouragement from the minister, I was choked with emotions and was not in a position as how to respond due to an overwhelming feeling of joy. After administering the injection, I requested his permission to take a picture with him, and he readily agreed to take a memorial snap," she said.
Hasna said she specialized in clinical laboratories. "Laboratory specialists are among the best medical practitioners to administer injections because they specialize in jobs such as taking blood samples or performing blood donation drives and they are involved in the process of determining the vein from which blood is required to be drawn. Therefore the work is easy for any medical practitioner just like an emergency doctor, staff nurse, or general practitioner, and all those with these specialties can give an intramuscular injection," she said.
Hasna thanked Custodian of the Two Holy Mosques King Salman and Crown Prince Muhammad Bin Salman for the great support and care for the Saudi people, and the concern for the health of citizens and expatriates. "The Saudi leadership has given Saudi women ample opportunities to prove themselves and their worth in various fields in which they are excelling and are eventually becoming victorious. I also thank my family, who are very supportive and helpful to me," she said.
Hasna affirmed: "It is enough for me to be proud that I have represented Saudi women and women health practitioners who are capable of scoring remarkable achievements and outstanding performances. Through this, they have conveyed to the world that they are supportive of their society."
According to Hasna, there are thousands of citizens who brought their fathers and mothers to take coronavirus vaccine doses, and these are the most beautiful pictures of righteousness, altruism, and respect for parents, and this is what we have seen during the period of continuous work in the field hospital, where work of giving vaccines continues uninterruptedly.
Hasna said that the non-stop work is underway for the fourth day since the start of the vaccination campaign amid the feelings of happiness being experienced by the medical staff and the practitioners, who are administering vaccine shots to the elderly people as part of the first phase.
https://www.saudigazette.com.sa/article/601735/SAUDI-ARABIA/Hasna-who-administered-minister-vaccine-shot-shares-her-delight
--------
In Turkey, JIN News Fights for Women's and Journalists' Rights
By Dorian Jones
December 22, 2020
ISTANBUL - In Turkey's predominantly Kurdish southeast, a news network staffed entirely by women is taking the lead in reporting on women's rights. But in doing so, JIN News finds itself targeted by the government's "war on terrorism."
Founded in 2017 under the mantra "On the path to truth, with a woman's pen," JIN News says its goal is to expose exploitation and violence faced by women.
"We are wherever women are," Gulsen Kocuk, editor of JIN News Turkish service, told VOA. "We report, in a way, on every aspect of their life, with the aim of making women visible, making women's work visible, and providing a platform to express their views."
Based in Turkey's predominantly Kurdish southeast, JIN News reports both in Turkish and Kurdish, with a staff of about 20. The agency has offices across the region serving its web page, which is funded by personal subscriptions.
The region in which JIN is based is the center of a decades-long battle between the Kurdish separatist group the PKK (Kurdistan Workers Party) and the Turkish state, a conflict the government says has claimed more than 40,000 lives.
The PKK is designated by the United States and the European Union as a terrorist organization.
Much of JIN's reporting focuses on alleged human rights abuses by security forces. In October, two of its journalists broke a story that accused Turkish soldiers of throwing from a helicopter two shepherds, killing one and severely injuring the other.
The story became front-page news across Turkey's main independent media. The interior ministry later confirmed the incident but maintains the injuries were sustained while the two shepherds were trying to escape capture.
However, one of the JIN News reporters—Sehriban Abi, from the city of Van—was arrested on charges of "inciting enmity against the state" and "membership of a terrorist organization," and remains in detention.
The Turkish government and prosecutors regularly accuse JIN News of terrorist propaganda. With the laws' catch-all phrases, rights groups claim it opens the door to prosecution to normal journalist activities, including attending political rallies and funerals of killed militants.
At least 37 journalists were in jail in Turkey on December 1, nearly all accused of such charges, according to annual data released by the Committee to Protect Journalist. The New York-based rights group ranks Turkey second only to China in detaining the media.
"There was big oppression against women's journalists during our time as JIN agency," said Kocuk. "We faced many situations like arrests, detentions, office raids and confiscation of our technical equipment. Probably the majority of JIN reporters have been taken into custody. Almost 20 of our colleagues had been in and out of prison."
Turkey's Communications Ministry did not respond to VOA's request for comment.
The government defends its measures, saying the country is facing powerful and dangerous conspiracies, which have developed networks throughout Turkey's society, including within the media.
Critics, as well as journalists, say the broadness and ambiguousness of the antiterror legislation, though, make it difficult to know what is legal and illegal. This makes reporting on contentious subjects like the war against the PKK and government malpractice risky.
JIN News also has reported allegations of abuse of women at the hands of security forces, including claims of rape. Such stories often result in the reports being banned by court or interior ministry gagging orders, according to Kocuk of JIN News.
Cat-and-mouse game
Turkey, which has a number of laws and regulations to control web pages and social media, also has blocked access to the JIN News web page at least ten times.
In a familiar game of cat-and-mouse that alternative media organizations play with authorities, JIN sidesteps these bans by reissuing the site under a slightly modified name.
But it's not only JIN's reporting on contentious subjects that makes it a target of prosecutors.
"They are not treated as journalists. They are treated as terrorists, and this is the problem," said Emma Sinclair-Webb, a senior Turkish researcher of the New York-based Human Rights Watch.
"The government doesn't understand there is a right to do objective journalism," Sinclair-Webb said. "The other reason, in the last year, we've seen particular intolerance by government officials of women's rights activism around the Istanbul Convention and combating violence against women."
The Istanbul Convention is an international treaty guaranteeing women's rights, from which some government ministers are calling for Turkey to withdraw.
Women's rights movements across Turkey have become a vocal opponent to the government, which they say has failed to enforce laws to protect women against domestic violence and threatens to reverse hard-won gender rights, including access to abortion.
Sinclair-Webb says the targeting of women's activists by the authorities is particularly severe in Turkey's predominantly Kurdish region, where fighting for gender rights is a major policy for Kurdish political parties.
The People's Democratic Party (HDP), Turkey's main legal pro-Kurdish party, has a policy of all elected positions being jointly held by a man and woman. The HDP has been accused by Ankara of having links to the PKK—a link it denies. A key policy demand of the Kurdish rebel group the PKK is the equality of women.
"It's a region of gross gender inequality, very low levels of women in employment, high levels of domestic violence in the region," said Sinclair-Webb.
"You have a Kurdish political movement very focused on gender equality," she added. "So the idea of a having a women's news agency did come out of a kind of political impulse in the region to tackle the problem."
"So it allows the government to say if the Kurdish political movement is very focused on gender equality, so any news agency focused on gender equality must be involved in politics and terrorism, not journalism," said Sinclair-Webb.
Turkish President Recep Tayyip Erdogan is vowing no let-up on the war on terrorism and what he calls "terrorist supporters." It's a thinly veiled reference, analysts say, to the county's legal Kurdish political movement and broader civil society.
Despite the risks they face, the journalists at JIN News have no plans to stop.
"Fear doesn't even enter our mind," said Kocuk of JIN News. "Of course, we wish to be able to write in a safer environment. But if you are advocating for a free press, there shouldn't be a place for fear because fear makes you stand back. We are not afraid, and we keep writing."
https://www.voanews.com/press-freedom/turkey-jin-news-fights-womens-and-journalists-rights
--------
Seven Held over Child Marriage in Chitral, Pakistan
24 Dec 2020
CHITRAL: The Chitral police have arrested seven persons, including the bridegroom, the nikah khwan and five witnesses over the marriage of an 11-year-old girl with a man of 35.
The incident took place in Port village of Laspur valley in Upper Chitral.
Upper Chitral deputy commissioner Shah Saud told Dawn that he had taken cognizance of the underage marriage when the police delayed registration of an FIR on the request of the girl's father. He said the girl's father had alleged that the accused had coerced his daughter into marrying an aged man.
Mr Saud said that a court had given the girl into the custody of her uncle, and sent witnesses Afiat, Ali Bad, Sher Guli, Manzur and Garin to jail.
He said the court remanded the prime accused, Shakoor Ahmad and nikah khwan Ali Ahmed.
https://www.dawn.com/news/1597475/seven-held-over-child-marriage-in-chitral
--------
URL: https://www.newageislam.com/islam-women-feminism/i-am-afraid-fight-female/d/123868
New Age Islam, Islam Online, Islamic Website, African Muslim News, Arab World News, South Asia News, Indian Muslim News, World Muslim News, Women in Islam, Islamic Feminism, Arab Women, Women In Arab, Islamophobia in America, Muslim Women in West, Islam Women and Feminism