New Age Islam News Bureau
17 Apr 2020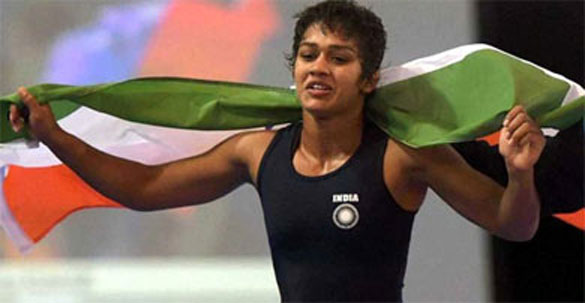 Wrestler Babita Phogat had joined the BJP last year. (File)
-----
• I Am No Zaira Wasim Babita Phogat Defends Remarks Against Islamic Sect
• Saudi Princess Reveals That She Is in Prisonand Demanded That Crown Prince Mohammed Bin Salman, Release Her and Provide Medical Care
• 4 Million Female Breadwinners Under Poverty Line in Iran
• Lawyer Says Coronavirus Fear Reigns Over Women's Prison In Iran
• 29 Years on Death Row, Pakistan Woman Suffers Mental Illness
• Rangoli Chandel's Twitter Account SUSPENDED After Farah Khan Ali Calls Her Out for Spreading Religious Hatred
• First Egyptian Verdict Establishes Egyptian-Israeli Proof Of Marriage
• Bello El-Rufai, Sexual Abuse Tweets and Scapegoating of The Woman
• Compilation of data on impact of coronavirus on women stressed
• Four Suspects Arrested After Torture, Burning of Iraqi Woman
• UN Calls for Law to Protect Iraqis Against Domestic Violence
• Supporting Egyptian Women Against Covid-19
Compiled By New Age Islam News Bureau
URL; https://www.newageislam.com/islam-women-feminism/i-am-no-zaira-wasim/d/121600
-------
I Am No Zaira Wasim Babita Phogat Defends Remarks Against Islamic Sect
April 17, 2020
New Delhi: Champion wrestler and BJP leader Babita Phogat has defended her controversial remarks on social media against the Islamic sect - Tablighi Jamaat - that held a congregation in Delhi last month setting off India's biggest cluster of coronavirus cases. "I stand by my tweets, I wrote nothing wrong," the Commonwealth Gold-medalist told news agency ANI.
The 30-year-old wrestler-turned politician claimed that she was getting threats after she had posted a series of tweets on the Islamic sect. "Over the past few days, I posted a few tweets (on Tablighi Jamaat). After that, I started getting threats on my social media handles. I would like to say that I am no Zaira Wasim. I would not get threatened.... I have always fought for my country. I stand by my tweets.... I wrote nothing wrong," Ms Phogat said.
National Award-winning actor Zaira Wasim had played the role of Babita's sister - Geeta - in "Dangal", the biopic based on the life of Phogat sisters and their father Mahavir Singh Phogat, also a wrestler. Last year, she had announced her exit from Bollywood that triggered a huge debate.
Babita Phogat sparked a controversy after she linked coronavirus pandemic, which has infected over 13,000 in India and killed more than 400, to the Islamic sect with a controversial hashtag on Twitter in a recent post.
#SuspendBabitaPhogat trended on the microblogging site this morning as many users criticised her remarks. Some of her supporters, however, countered the trend with the hashtag- "#ISupportBabitaPhogat".
Ms Phogat, who had joined the BJP last year and contested the national election from Haryana, also backed Kangana Ranaut's sister - Rangoli Chandel - after her Twitter account was blocked over a post on the Islamic sect.
The Tablighi is one of the world's biggest Sunni Muslim proselytising organisations with followers in more than 80 countries. At least 9,000 people participated in the Nizamuddin event in Delhi last month. Later, many of the attendees travelled to various parts of the country.
More than 25,500 Tablighi members and their contacts have been quarantined in the country after the centre and the state governments conducted a massive operation to trace them.
Yesterday, the Enforcement Directorate had charged Maulana Saad Kandhalvi, the chief of the Islamic group in a money laundering case.
https://www.ndtv.com/india-news/coronavirus-india-i-am-no-zaira-wasim-babita-phogat-defends-remarks-against-islamic-sect-2213437
-----
Saudi Princess Reveals That She Is in Prison and Demanded That Crown Prince Mohammed Bin Salman, Release Her and Provide Medical Care
17 Apr 2020
A senior Saudi royal and granddaughter of the country's founding monarch has revealed she is being held in prison and demanded that the current ruler and her cousin, Crown Prince Mohammed bin Salman, release her and provide medical care.
Princess Basmah bint Saud bin Abdulaziz al-Saud, an outspoken human rights advocate, claims she is being detained without charge in Riyadh with one of her daughters. She says neither have received explanations for their arrests, despite repeated pleas to the kingdom's royal court, and to her uncle King Salman.
The princess, the last of King Saud's 108 children, took to Twitter to plead for freedom and claim her health had deteriorated to the point that it was now "very critical". She said she was being held in al-Ha'ir prison, and claimed to have done no wrong.
News of her detention surprised two senior royals who said she had not been heard from for close to a year, and was thought to be convalescing after a bout of illness. Other members of the extended family believed her to be under house arrest.
It is understood that Princess Basmah and her daughter were detained as they tried to leave Saudi Arabia for Switzerland in March last year. She claimed then to be in urgent need of medical treatment. However her private jet was not allowed to depart.
Relatives had since had fleeting conversations with the 52-year-old, with one claiming on Thursday that she had been guarded and appeared to be speaking under duress. Princess Basmah had been a frequent advocate of reform in the kingdom, and had advanced women's rights and humanitarian rights during a brief media career, and several years in London, where she developed a business career.
She had called for Saudi Arabia to become a constitutional monarchy, a change that would have separated the position of monarch from the country's executive branch – a fundamental change to its current status of an absolute monarchy.
She returned to the kingdom in late 2015, assuming a role of supporter of the royal family on one hand, but in-house critic on the other. She urged restraint in the Saudi-led war in Yemen and widespread reforms at home.
Human Rights Watch (HRW) said the arrest fitted a clear pattern of dissenters being ruthlessly silenced by Prince Mohammed, who has methodically consolidated power since ousting his uncle Mohammed bin Nayef nearly three years ago and giving himself a clear run to the throne.
"Under Crown Prince Mohammed bin Salman's rampant repression of all forms of critics, including people he can extort money out of, the space for dissent has shrunk greatly," said Rothna Begum, senior women's rights researcher at HRW. "This is particularly the case for women, many of whom have been silenced, imprisoned, or are in exile right now.
"No one is off limits to the crown prince. He really is after everyone and women have borne the brunt of this. We are seeing things that we never saw before in Saudi. There was a time when women of a powerful background could say things about women's rights and issues that matter. But under the crown prince, this important space has gone."
In early March, Bin Nayef and the last remaining full brother of King Salman, Ahmad bin Abdul Aziz al-Saud were arrested in their homes and accused of plotting against the crown prince. They were the most senior royals yet to be arrested in a series of purges over the past two years that have included business leaders, senior military officers and members of the inner sanctum. Both men remain in detention. The Guardian revealed at the time that both men had been accused of discussing using a newly formed body, the allegiance council, to try to prevent Prince Mohammed from being named as king if his father dies.
The arrests have sparked fear in senior circles and across large parts of Saudi society. Critics say they offset civic reforms that have been introduced in the same time, which give women a broader role in society and more power to shape their destinies, and have rescinded decades of rigid theocratic rule.
Prince Mohammed has demanded total loyalty from family members and has shown himself willing to take on royals who were considered untouchable and tribes that were too influential to tangle with. He has been accused of ordering the killing of prominent critic Jamal Khashoggi in Istanbul in October 2018 – a gruesome assassination that battered his relations with former allies. Prince Mohammed's father, the 84-year-old monarch, has given him unfettered powers to put the kingdom on a new economic and social footing that could wean it off a dependency on oil, attract investors, and bring the country more into line culturally with neighbouring states, such as the United Arab Emirates.
https://www.theguardian.com/world/2020/apr/17/outspoken-saudi-princess-reveals-that-she-is-in-prison
--------
4 Million Female Breadwinners Under Poverty Line in Iran
16 APRIL 2020
By Jubin Katiraie
The four million female breadwinners in Iran, most of whom live under the poverty line, are suffering from double the economic pressure at the moment and the situation is so bad that even the state-run media are reporting on it.
Javan daily wrote on Monday that female heads of household are "one of the worst economically affected sectors by the Coronavirus outbreak", whether they be street peddlers or working in underground workshops.
Why? Well, the official state news agency IRNA wrote on March 24, in an article about the 33,000 women heads of household in Khuzestan, that female heads of household are often "mal-nourished" with "low immunity", which increases their chances of getting sick. If they get sick, they can't work. If they can't work, they can't provide for their families.
They wrote: "82% of female heads of household are unemployed and lack a stable source of income… To avoid social harm, they have to resort to informal and high-risk jobs such as peddling in the humid subways."
The IRNA quoted a study of 140 women, which indicated such high levels of stress and depression that they considered suicide.
To make matters worse, the number of female-headed households is rising dramatically, with the state's welfare statistics showing that 60,300 households more households have become headed by women every year for the past ten years, with parliament deputy Massoumeh Aghapour Alishahi saying on February 24 that this is a 58% increase.
While Massoumeh Ebtekar, Hassan Rouhani's deputy for women and family affairs, told IRNA in 2018 that there were 3.6 million women heads of household registered in the database, which indicates that not all female breadwinners are recorded by the government. Just a couple of months before Ebtekar's comments, then-Minister of Labor Ali Rabii said that over 3 million female heads of household in Iran live in absolute poverty.
So why is the situation so dire for female breadwinners in Iran? Because women there are struggling under the dual pressures of poverty and sexism, both things made worse by the Iranian authorities' utter contempt and downright abuse of women and the poor.
Therefore, they are more likely to be in poverty because of the lack of employment and education opportunities, and possibly early marriage and childbirth. Even in the midst of the coronavirus crisis, no help has been given to them.
https://www.iranfocus.com/en/women-mainmenu-28/34429-4-million-female-breadwinners-under-poverty-line-in-iran
--------
Lawyer Says Coronavirus Fear Reigns Over Women's Prison In Iran
April 17, 2020
Referring to concerns over the novel coronavirus outbreak in the Islamic Republic prisons, a lawyer defending political prisoners says fear is dominating Qarchak detention center and calls for urgent action.
Qarchak Prison, located in a remote desert, 39 kilometers (about 24 miles) east of Tehran, is known as the most dangerous and worst prison in Iran for its inhumane medical and psychological conditions.
The New York-based Center for Human Rights in Iran (CHRI) says common complaints in Qarchak Prison include urine-stained floors, lack of ventilation, insufficient and filthy bathroom facilities, the prevalence of contagious diseases, poor quality food containing small pieces of stone and salty water. In recent days, women prisoners have complained that fumes have escaped from the drainage system, filling their rooms with foul odors.
Exclusively for female inmates, Qarchak Prison includes seven sections holding approximately 2,000 women and some children, while the number varies in different periods.
According to Iran Human Rights (IHR), In each building of Qarchak, 200 to 300 female prisoners are held together, disregarding the rules of segregation of prisoners by age and crime.
Derafshan, who is defending an Iranian Instagram celebrity, Ms. Fatemeh Khishvand, publicly nicknamed as Sahar Tabar, says his client's condition is severe. Sahar Tabar is presently hospitalized and connected to a ventilator.
Derafshan insists that the fearsome outbreak is not limited to Qarchak and a single inmate. "A large number of women prisoners in Qarchak called my colleague and me raising alarm that fear reigns over the prison and the situation is horrible."
The judiciary and prison authorities will be accountable and responsible for whatever happens to Sahar Tabar and other inmates, Derafshan cautions.
Since the novel coronavirus outbreak, the attorney disclosed, most of the judges do not show up in courts, because either themselves or their relatives are ill.
"Therefore, a few judges who show up at work do not feel like working. The lawyers have asked the 'Prison Classification Council' (PCC) to grant leave to the prisoners. Nonetheless, the PCC is not in a position to decide on such cases", Derafshan laments.
https://en.radiofarda.com/a/lawyer-says-coronavirus-fear-reigns-over-women-s-prison-in-iran/30559934.html
--------
29 years on death row, Pakistan woman suffers mental illness
By KATHY GANNON
April 10, 2020
ISLAMABAD (AP) — Kanizan Bibi was 16 when she was charged with murdering her employer's wife and five children. The police said she was having an affair with her employer, who was also arrested and later hanged.
Until his execution in 2003, Khan Mohammad swore he and Bibi had never had an affair and had not killed anyone. He maintained his wife and children were killed as payback in a long-running land dispute with his relatives.
The Cornell Center on the Death Penalty Worldwide is spearheading efforts along with the independent Justice Project Pakistan to get Bibi released. But the coronavirus pandemic that has shut down most of Pakistan seems to have also shut down Bibi's chance at freedom.
She's one of more than 600 mentally ill prisoners in Pakistan's overcrowded prisons. A March 30 hearing to present yet another psychiatric evaluation was postponed when courts closed.
Most days Bibi can barely dress herself. She hasn't spoken in more than a decade and her father, before he died in 2016 pleaded in a letter to Pakistan's president to free his only child.
"My daughter was accused of murder, which was a lie," he wrote telling of how she was tortured in police custody.
"They hung her from a fan with ropes thicker than her tiny wrists, beating her small frame with all their might. They let mice loose in her pants, which they tied from the ankles so that they could not escape. Kanizan had been terrified of mice her whole life," he wrote. "I am a poor man and I beg that the death sentence of my daughter be converted into life in prison."
Justice Project Pakistan this week warned of a steep rise in COVID-19 cases in Pakistan's crowded jails. The Supreme Court of Pakistan this week agreed to release some mentally ill and disabled prisoners to ease conditions, but only those whose sentences are less than three years.
A land dispute between relatives was at the center of her case. Her employer's cousins had been feuding with him over land and had originally been arrested for the murders. They pointed to Bibi and accused her of adultery, a crime of shame in conservative Pakistan, saying that's why she killed her employer's wife and children. In villages adultery can bring summary executions by family members.
Bibi was accused of involvement in the killings and charged with murder. Unsubstantiated adultery claims and a confession elicited after days of torture were enough for the judge to sentence her to death.
Delphine Lourtau, who heads the Cornell Center on Death Penalty Worldwide said the group's research showed that women often aren't just punished for crimes they are being charged with "but also for transgressing gender norms."
"She has lost touch with reality and is oblivious to her surroundings. There are days when she is unable to eat or dress herself. She trembles, hears voices, and is rarely able to recognize family members," the Cornell Center said.
This story has been corrected to show that the employer's name was Khan Mohammad, not Sher Mohammad.
https://apnews.com/a83201c1843619be5900e2a150baa15d
--------
Rangoli Chandel's Twitter account SUSPENDED after Farah Khan Ali calls her out for spreading religious hatred
By Sanjana Jadhav
April 17, 2020
Kangana Ranaut's sister Rangoli Chandel's Twitter followers got a break from her incessant tweeting on Thursday as her account was suspended. Rangoli was called out by Farah Khan Ali and scores of other netizens for spreading hatred. It all began when Rangoli tweeted that all those people who have been attacking doctors should be shot. Rangoli also locked horns with Farah Khan Ali after she called her out for spreading religious hatred and attacking a certain community with her tweets.
Commenting on Rangoli's statement, Farah Khan Ali tweeted, "Arrest this woman immediately for spreading vicious hatred and for calling of killings of a community @MumbaiPolice Do also block this account@Twitter @TwitterIndia @jack for spreading religious hatred and fascism."
Soon after Farah's tweet, Rangoli lashed out at her. She tweeted, "Tu mukjhe arrest karvayegi? Tere husband ko pakda tha Dubai mai drugs ke saath, bloody druggie mulle tu mujhe jail bhijvayegi...sari family drug addicts ki hai..jail toh tumhe hogi agar sahi weekend pe police raid kare..about time don't worry."
https://www.pinkvilla.com/entertainment/news/rangoli-chandels-twitter-account-suspended-after-farah-khan-calls-her-out-spreading-religious-hatred-524821
-----
First Egyptian verdict establishes Egyptian-Israeli proof of marriage
April 17, 2020
CAIRO: A Cairo court has issued a verdict establishing the marriage of an Egyptian man to an Israeli woman.
The ruling was given by the Cairo Court of Appeals at the fifth constituency in Family Affairs. The verdict was issued in a lawsuit registered No. 17141 for the judicial year 136.
The husband filed a lawsuit in the Cairo Family Affairs Court, calling for proof of his marriage to the woman based on a number of documents that included the original marriage contract issued in August 2012 and a copy of his wife's Arab-Israeli passport.
However, the first degree court ruling rejected the lawsuit, saying that the defendant did not report to the registration offices, an essential prerequisite to issue such a verdict.
His lawyer submitted the appeal on Aug. 25, 2019, asking that the appeal be accepted with regards to the first degree ruling that rejected his lawsuit, based, the appeal said, on an error in law enforcement.
In the final court hearing, both parties were represented and the prosecution delegated opinion to the court, which decided to cancel the first degree court ruling and rule on the side of the marriage of the Egyptian national in accordance with the contract signed between them on Aug. 1, 2012.
Since this is the first court ruling of its kind, observers focused on the court ruling, which stated that Egypt is a country with multiple religious laws.
As for the form of the marriage and based on the general law of comparative law, subjecting the marriage to local law was recognized without directly stipulating it.
It is well established that marriage according to Islamic law is a contract that allows both parties to enjoy rights in accordance with the specifications of Islamic law and civil law, with each having certain rights and obligations.
The court received the lawsuit's documents, which prove the establishment of the marital relationship between both parties, with no denial by either side in accordance with the submitted contract which fulfills all the contract's legal conditions — acceptance of a dowry and witnesses.
This is in accordance with the preponderant opinion of the Hanafi School of Islamic jurisprudence in accordance with Article 3 of Law No. 1 of the year 2000.
Tarek Negeda, a lawyer at the Court of Cassation and the Supreme Constitutional Court, confirmed that marrying a foreigner in Egypt is subject to legal conditions and its registration to acknowledge the marriage within the Egyptian legal and social system.
Negeda said that here are detailed legal specifications for all cases in the registration of marriages by foreigners, whether in Egypt through a ma'zun (official authorized to perform marriage ceremonies for Muslims) if the bride and groom are Muslims, or through a priest if Christian, or outside of Egypt where a marriage registration is carried out in Egyptian consuls in the country where the marriage takes place.
Negeda added that the recent court ruling opens the door for many legal challenges in regard to whether the wife has filed a residency application request to stay in Egypt.
He added that most probably the Interior Ministry rejected her residency application request, in which case the affected party would resort to the administrative jurisdiction.
He stressed that the ruling highlights a legal dilemma that clashes with political and national sentiments, adding that there was "no way out in such case," affirming that statutes will not establish such cases based on specific legal procedures.
Tarek Fahmy, a professor of political science and an expert on Israeli affairs, said court rulings should not be commented on.
"However," Fahmy said, "this lawsuit in particular will send waves in still waters with regards to the issue of marriage between Egyptian men and Israeli women, thus opening cases of naturalization."
He said that there was an increase in Egyptian men marrying Arab-Israeli women, although there were no specific figures.
Fahmy underlined that politically, resolutions of the Arab League do not grant Israeli nationality in Arab states to Arab-Israelis in particular and to Palestinians in general "so as not to leave the Palestinian territories without people, which would destabilize the Palestinian issue."
https://www.arabnews.com/node/1660306/middle-east
--------
Bello El-Rufai, Sexual Abuse Tweets And Scapegoating Of The Woman
16 APRIL 2020
Nigeria is a country of anything-goes: the powerful ride roughshod on the hapless every minute; the political class are lords in a crazy manor; and the woman, doubly undone by the Nigerian society and her grossly limited access to power, is sometimes deliberately victimised.
And if you are the governor's son, maybe you are allowed to threaten a woman, who most likely was not aware of your existence; whom you have never seen and who, most importantly, did not deserve your vile threat with sexual abuse.
Whichever way this is spun, Bello El-Rufai's tweet at a Twitter user @thanos_zer(he told The Guardian he will like to remain anonymous) was a clear threat of sexual violence against the latter's mother, is undeniably in bad taste and betrays the condescension with which Nigeria's ruling elites view the people.
It is even more worrisome that @thanos_zer's tweet that elicited such crude language from Bello El-Rufai was in the same fashion as that of El-Rufai's which triggered @thanos_zer's reply.
"There is nothing as radioactive as an incompetent leader during a time of crisis," El-Rufai tweeted on Saturday evening. "The United States of America is a case in point. A few states in Nigeria too."
@thanos_zer replied: "How about the absentee president in Nigeria?" El-Rufai quickly erroneously profiled the 'troublemaker' as a Southeasterner and called his governor incompetent.
Unfazed, @thanos_zer responded, saying: "I don't shield anyone who's inept. I can't say the same about you. You're daddy's boy and of course, nobody attacks the finger that feeds them. Buhari's ineptitude is mind-blowing. Yes, I said it and you're not going to make me disappear!"
What started out as a comment on the leadership style of the President of the United States by Bello El-Rufai quickly erupted into a tirade of insults in the nature of sexual innuendos and ethnic slurs at critics.
Bello El-Rufai, 32, is one of the sons of the governor of Kaduna, Nasir El-Rufai. His mother Hadiza El-Rufai, 59, is a novelist whose debut novel – Abundance of Scorpions – highlights the hard choices a woman has to make in the Nigerian society. One of those women include @thanos_zer's mother.
Perhaps ad hominem is Bello's preferred choice of weapon in the face of fire. He once tweeted that "I was trained to destroy my opponents" while responding to those who taunted him on the arrest of a former senator representing Kaduna Central Senatorial district, Shehu Sani, for alleged extortion by the Economic and Financial Crimes Commission (EFCC).
The Easter Sunday debacle also alluded to a deeply-rooted bad blood between the Northerners and the Southerners as Bello, a Northerner, made it a point to consistently reference leaders and the people from the southern part of Nigeria. In one of such, he said, "all useless leaders in the SE (Southeast) you urchins like to ignore" and in another, he called the family of a Twitter user "Ndi ignorant." Ndi is the Igbo word for "people."
Such expressions are reckless in a nation where religious, ethnic and political sentiments easily devolve into offline violence. One would expect better from someone whose proximity to power should give a sense of responsibility. In fact, such statements are antithetical to his mother's position in an interview with Brittle Paper.
"I think when it comes to religion, it's religious intolerance," Mrs. El-Rufai said in the interview. "Basically, I guess what I'm trying to say is that people should take it easy, religion is personal, and we should be more tolerant."
"Don't @ me. Sow the wind, reap the whirlwind," she wrote on Twitter on April 12. "All is fair in love and war. My belief: Respect everyone, but take no shit from anyone. I didn't see any threats of rape. I would never condone that."
Hadiza and Bello are Muslims. Islam forbids unequivocally the maltreatment of women even in a WAR situation. The first Caliph Abu Bakr famously told Muslims not to hurt the aged, women and children during war.
Abu Bakr said: "Stop, O people, that I may give you ten rules for your guidance in the battlefield. Do not commit treachery or deviate from the right path. You must not mutilate dead bodies. Neither kill a child, nor a woman, nor an aged man. Bring no harm to the trees, nor burn them with fire, especially those which are fruitful. Slay not any of the enemy's flock. Save for your food. You are likely to pass by people who have devoted their lives to monastic services; leave them alone."
In July 2019, Premium Times published a video of Nigerian senator Elisha Abbo assaulting a woman in a sex toy shop in Abuja. The senator confirmed that he was the man in the video but he insisted he was also assaulted, without evidence, by the shop owners.
The Senate set up a committee perfunctorily to investigate the senator. Several months later, Senator Abbo still sits in the Nigerian Senate sans punishment.
It is official complicity such as this and lack of deterrent that allows violence against the woman fester without care. It is why Bello El-Rufai could think to threaten a woman he never knew with sexual violence. If a senator can get away with physical assault, a governor's son, who is also a legislative aide to a serving senator, can get away with a 'lesser' evil.
https://guardian.ng/life/bello-el-rufai-sexual-abuse-tweets-and-scapegoating-of-the-woman/
------
Compilation of data on impact of coronavirus on women stressed
Rasheed Khalid
April 17, 2020
Islamabad : Khawar Mumtaz, Former Chairperson, National Commission on the Status of Women, has said that the data on how the crisis is affecting women, overall state of gender-based violence, domestic violence and other specific impacts on women should be compiled and disseminated on an urgent basis.
Ms Mumtaz was speaking at the 16th episode of the Online Policy Dialogue Series on "Covid-19 crisis: Impact on women's health, domestic violence, and lost livelihoods" organised here by Sustainable Development Policy Institute.
Ms Mumtaz said that we need to check that whether women are being tested for the coronavirus or not. She said in the situation of the lockdown, women are not only stressed by additional burden of household responsibilities but are also prone to the frustration of men that are not able to find work in this crisis.
Wendy Gilmour, High Commissioner of Canada, said that the pandemic hit various countries quite hard including Canada. However, with the help of a number of spaces such as tax relief and other support mechanisms, we have been able to respond to the urgent needs of our population. She said the nature of impacts in developing countries like Pakistan is different and the lack of resources in the situation of lockdown was having the worst impact on vulnerable segments of society including women.
She said that the institutions that are at the forefront while responding to the pandemic are coherently male-dominated and thus, the women's voices are excluded from the key decision-making on the response side. She said that drastic measures are required to ensure the access of women to healthcare and other essential services through inclusive decision-making.
Dr Abid Qaiyum Suleri, Executive Director, SDPI, observed that evaluating the impacts of the global pandemic on already marginalised segments including the women, is a pressing need of the hour. He said that the cash grants to most vulnerable families had been a positive step on the part of the government. However, he urged the authorities, especially the district administrations, to disseminate the grant among the women while respecting their dignity and ensuring safe social distancing.
Dr Eaisha Tareen, Special Education and Training Centre and Director the Palm Practice, Sadia Bokhari, founder-Director Mohsinini Resource Center, Dr Seema Pervez, Psychologist and former Professor at Quaid-i-Azam University and Saman Ahsan, Programme Management Consultant at UN Women, covered the diverse aspects of the women specific impacts of the pandemic.
https://www.thenews.com.pk/print/645369-compilation-of-data-on-impact-of-coronavirus-on-women-stressed
--------
Four suspects arrested after torture, burning of Iraqi woman
16 April, 2020
Iraqi authorities have detained four suspects over the hospitalisation of 20-year-old Malak al-Zubeidi, who alleged her husband burned her in a viral video, a report said.
Zubeidi, who was hospitalised with severe burns reportedly covering up to 50 percent of her body, has claimed she suffered abuse at the hands of her husband and his family.
Her video went viral, prompting further investigations by the police, who had initially dismissed it as a self-harm incident.
Zubeidi's husband, Mohammed al-Mayahli, is a police officer. According to Al-Jazeera, Mayahli wrote on his Facebook page that al-Zubeidi "has a mental illness and had set herself on fire".
In a phone interview which was broadcast on Al-Sharqiya TV, Zubeidi's mother said Mayahli took her daughter's phone away and cut off her communication a few months into marriage.
Against the backdrop of substandard laws protecting women from violence and a nationwide coronavirus lockdown, Iraqi women are left vulnerable in the face of abuse.
A video of a bandaged Malak wailing in her hospital bed drew outcry from Iraqis who demanded a revision of laws to criminalise domestic violence.
Using an Arabic hashtag which translates to Every Day an Angel [Malak], in reference to the country's daily domestic abuse victims, Iraqi women took to Twitter to document their own experiences and call for change.
Iraq's interior ministry posted hotline numbers that women suffering from abuse can call to ask for help from security forces.
However, Iraq-focused Political Scientist and Lawyer Mara Redlich Revkin said many Iraqi women do not feel comfortable contacting the police, a force made up of 98 percent men.
https://english.alaraby.co.uk/english/news/2020/4/16/iraq-arrests-four-suspects-over-malak-al-zubeidi-case
--------
UN calls for law to protect Iraqis against domestic violence
April 17, 2020
ERBIL (Kurdistan 24) – The United Nations Assistance Mission for Iraq (UNAMI) called on the Iraqi parliament to expedite the passage of legislation to combat surging domestic violence across the country amid a total lockdown put in place to stem the spread of the new coronavirus.
A statement said that UN officials in Baghdad "express their concern at the rising number in domestic violence cases during the COVID-19 pandemic."
The report then outlined recent cases of recent gender-based violence that inspired public outrage, including the burning of one female allegedly carried out by her husband and the sexual assault of a disabled woman in disputed Kirkuk province reportedly perpetrated by a militiaman while another male, possibly a policeman, filmed the act.
"Such crimes raise the alarm for the urgency to endorse the Anti-Domestic Violence Law in Iraq," which, UNAMI said, "will help to ensure that perpetrators of gender-based violence in Iraq, such as those who carried out the heinous incidents seen in recent past, are held accountable."
The lockdown measures taken by governments worldwide have raised alarms among rights groups about an apparent dramatic spike in rates of domestic violence in multiple nations. In Iraq, where there is limited accountability for crimes committed as a result of familial disputes, women are especially vulnerable as spouses are cooped up with a myriad of issues plaguing public life in the country, most notably, low living standards and security.
The Kurdistan Region, which makes its own legislation in addition to national laws, already has an anti-domestic violence law. Still, despite social awareness campaigns by international and local organizations and the regional government, human rights organizations say they are often poorly-implemented and violence against women persists at alarming rates.
"The UN in Iraq calls upon authorities to ensure that the judicial systems continue to prosecute abusers, invest more in hotline and online services, support the role of civil society organisations, keep shelter doors open for women fleeing abuse and punish perpetrators of any gender-based violence," the statement concluded.
"Violence against women and girls is a crime and should not go unpunished. The women and girls of Iraq deserve better."
https://www.kurdistan24.net/en/news/b27630a6-018d-4a98-a0db-dd01307fd12d
--------
Supporting Egyptian women against Covid-19
16 Apr 2020
The United Nations Entity for Gender Equality and the Empowerment of Women (UN Women) recently commended the National Council for Women (NCW) for its efforts to ensure that a gender perspective is adopted in Egypt's coronavirus response plan.
The NCW established the women's policy tracker on responsive policies and programmes during the Covid-19 pandemic to monitor policies and procedures responsive to the needs of Egyptian women in light of the efforts made to reduce the spread of the virus.
UN Women issued a press release expressing its appreciation of the Egyptian government as well as the NCW's efforts to ensure that the Covid-19 response was effective for everyone, including women and girls.
Notably, the government's stimulus package provides more incentives for sectors that have high female labour force participation, such as tourism and agriculture; increases payments to women community leaders in rural areas; and increases the number of households in the Takaful and Karama (Solidarity and Dignity) social protection programmes with an additional 100,000 households.
Over 80 per cent of recipients of the Takaful programme are women, and includes clients of the microfinance sector in the Central Bank of Egypt which decided to delay loan instalments. Women constitute over 70 per cent of microfinance clients.
UN Women said it appreciated the gender-sensitive approach taken by the government of Egypt in its response to the coronavirus and will continue to support national efforts to carry out additional measures in line with its responsibilities, which include advancing women's rights during such difficult times.
The government has taken several measures to contain the effects of Covid-19 on the economy. President Abdel-Fattah Al-Sisi, during a meeting held on 22 March marking Egyptian Women's Day, issued a set of economic and social protection decrees to support and protect society, recognising the role and status of Egyptian women and the importance of continuing to support them during this current phase.
In March, a decree was issued by the prime minister to lower office density in the public sector by reducing the number of employees. The decree included protections such as granting pregnant employees and working mothers whose children are under 12 exceptional leave throughout the decree's implementation period. In line with this decision, the NCW said that should there be complaints from female workers in the public sector who face any challenges with respect to the prime minister's decision, they should be reported on the organisation's hotline.  
Maya Morsy, the NCW president, pointed out that the first policy Note issued by the Women Policy Tracker covering 14 March to 6 April aimed at monitoring policies and measures adopted by the government to fulfill women's needs. "The government's efforts are based on President Al-Sisi's directives regarding the importance of mustering efforts by government institutions and bodies to deal decisively and effectively with the crisis," Morsy said.
The government, according to Morsy, was also taking into consideration the importance of mainstreaming and integrating women in decision-making processes and implementing programmes in order to ensure their protection from social, economic and psychological repercussions of the virus. The NCW, she said, will work with government authorities to support the development and implementation of mitigation and response policies to ensure the protection of women.
According to the policy note, the virus has seriously affected women's engagement in economic activities especially in the informal sector. In Egypt, 40.9 per cent of female non-agricultural employment is in informal employment and 33.9 per cent of females work in vulnerable jobs. Egyptian women also represent 70 per cent of the paid care sector workforce, mainly as teachers, health and social workers.
In addition to including an analysis of the status quo, the NCW policy note also presented a number of proposed response measures, whether immediate or mid-term, to concerned ministries and government institutions regarding issues related to health, education and social protection. The policy Note further tackles violence against women, leadership and representation in decision making during crisis management, and the impact on economic opportunities.
Morsy stressed that the NCW will continue tracking and monitoring policies and programmes that respond to the needs of women during this crisis.
http://english.ahram.org.eg/NewsContent/50/1201/367288/AlAhram-Weekly/Egypt/Supporting%C2%A0Egyptian-women-against-Covid.aspx
--------
URL: https://www.newageislam.com/islam-women-feminism/i-am-no-zaira-wasim/d/121600
New Age Islam, Islam Online, Islamic Website, African Muslim News, Arab World News, South Asia News, Indian Muslim News, World Muslim News, Women in Islam, Islamic Feminism, Arab Women, Women In Arab, Islamophobia in America, Muslim Women in West, Islam Women and Feminism