New Age Islam News Bureau
28 May 2017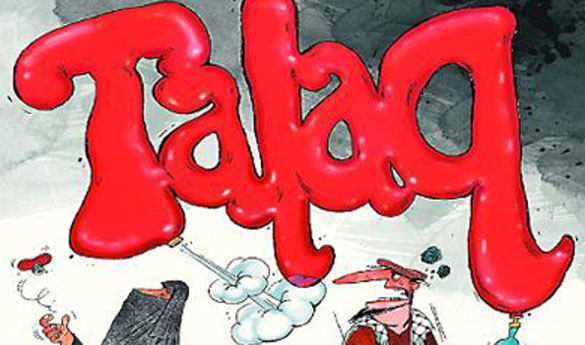 Photo: Representative image
--------
• The Female Muslim Comedian Tackling Extremism By Cracking Jokes
• Melania and Ivanka Trump Showed the World What Feminine Power Looks Like
• Thieves 'Disguised As Muslim Women Are Stealing Charity Collection Boxes' in UK
• Heroes Killed Trying To Stop Racist Abuse against Muslim Women
• Ukip Ban on Burqa and Niqab in Public Would See Legal Action against ANYONE Covering Their Face Says Leader Paul Nuttall
Compiled by New Age Islam News Bureau
URL: https://www.newageislam.com/islam-women-feminism/hyderabad-man-gives-triple-talaq/d/111315
--------
Hyderabad Man Gives Triple Talaq after Selling Wife to Sheikh
Ch Sushil Rao | TNN | Updated: May 28, 2017
HYDERABAD: A 23-year-old woman from Shah Ali Banda in old city has been given triple talaq over phone after she was allegedly sold to a sheikh in Saudi Arabia by her husband. The victim is said to be Saira Banu.
The mother of the victim, Banu Begum, said her son-in-law had divorced her daughter after he got her trafficked to Riyadh and that he had sent her there only with the intention of divorcing her.
Saira Banu was smuggled to Saudi Arabia via Muscat and Dubai. She landed there on May 2.
Her husband reportedly had contacted some agents in the Old City dealing in trafficking people to the Gulf. The agent sent her on a one-month visa to Dubai.
"My son-in-law has sold my daughter and divorced her," Banu Begum said in a video appeal to Union external affairs minister Sushma Swaraj on Saturday. She also filed a complaint with the Shah Ali Banda police station to take action against her son-in-law. timesofindia.indiatimes.com/city/hyderabad/hyderabad-man-gives-triple-talaq-after-selling-wife-to-sheikh/articleshow/58876723.cms
------
The female Muslim comedian tackling extremism by cracking jokes
28 May 2017
"One woman came up to me after a show and said 'are you for real, are you wearing this hijab for real?'."
WEARING A RED hijab and all-encompassing gown, Sakdiyah Maruf cuts an unusual figure in a dark, smokey Jakarta bar as she reels off taboo-breaking jokes to laughter from a rapt audience.
She is a rare character in Indonesia – a female Muslim stand-up using humour to challenge prejudice against women and rising religious intolerance.
Despite resistance from those who believe a woman's place is not on stage cracking jokes, even within her own family, the 34-year-old has forged ahead and is winning fans at home and abroad.
In the country with the world's biggest Muslim population, she does not shy away from sensitive subjects. Her jokes touch on topics ranging from Jakarta's recent religiously-charged election – which saw the Christian incumbent ousted by a Muslim – to sex and alcohol.
"Hijab, niqab, burqa – it saves you from a bad hair day," she said to laughter from the crowd in the Indonesian capital, a typical gag that gently pokes fun at her own religious customs.
Maruf jokes about how women were not allowed to attend public events in the small, conservative community on Java island where she grew up, and that she is seeking to be more progressive by trying "to have sex even though I am married".
For the slight, unassuming lady, comedy is a playful form of resistance to a creeping conservatism she believes is eroding the rights of women in her homeland.
Indonesia has long been praised for its inclusive brand of Islam but this reputation has been tarnished by a rise in attacks on minorities and the growing influence of a vocal hardline fringe.
The comedian sees an alarming trend of "more rigid and conservative practices of religion" which she believes tend to marginalise women, and is particularly concerned about issues including early marriage and domestic violence.
For Maruf, humour is the perfect weapon to tackle such trends.
"The message can be very aggressive but it can be delivered in a very subtle way," she told AFP. "You speak to people's hearts instead of only their minds."
'Are you for real?'
Maruf comes from a traditional family in the provincial Javanese town of Pekalongan, an unlikely background for a witty, word-wise stand-up.
She became interested in comedy at an early age by watching US sitcoms such as Roseanne and Full House, a love that she carried with her to university, where she started performing stand-up in 2009.
Depending on the audience she will either perform in English – which she studied at university – or the main Indonesian language of Bahasa.
Sakdiyah Maruf still has a day job working as an interpreter at conferences, but regularly performs in comedy clubs and nights in Jakarta, where she lives.
In the early days, the comic would lie to her parents when she performed at university or headed into Jakarta for shows, believing they would disapprove, but as she became successful it was far harder to conceal the truth.
She says she has managed to reach a kind of uneasy truce with her family.
"We have disagreements sometimes, but they are cool with it," she explained.
But the greatest resistance has come from conservatives who don't think Muslim women should be comedians at all.
"One woman came up to me after a show and said 'are you for real, are you wearing this hijab for real?'," she recalled.
Still, Maruf has not been put off and her irreverent brand of humour has won her fans outside Indonesia.
In 2015 she was awarded the Vaclav Havel International Prize for Creative Dissent established by the New York-based Human Rights Foundation and last year took part in a BBC-run global stand-up jam.
Her humour seems more relevant than ever as concerns escalate about declining religious freedoms in Indonesia after the jailing this month of Jakarta's Christian governor for blasphemy, a verdict that sparked criticism inside the country and abroad.
But Maruf remains confident that Indonesia will remain a tolerant country — not least because a devout Muslim woman like herself can still get up on stage and crack jokes.
She said: "If you can write 'Indonesian conservative Muslim female stand-up' in one sentence, why be so pessimistic?"
thejournal.ie/muslim-comedian-hijab-3408168-May2017/
------
Melania and Ivanka Trump showed the world what feminine power looks like
KATHLEEN PARKER
PALM BEACH, Fla. — By now you're exhausted by all the head-swiveling news — the terrorist slaughter in Manchester; the president's trip to Everywhere; and investigation upon investigation of the possible collusion with Russia, obstruction of justice and liars by the dozen.
Which is why I'm sitting in Palm Beach, Fla., practicing Lilly Pulitzer's dictum: "Being happy never goes out of style."
Also, President Trump is not here, which seems to please everyone given that his frequent forays to his "southern White House" have meant nothing but roadblocks, impenetrable traffic and lousy retail sales.
The otherworldliness of the nation's most glamorous beach town makes current events seem at times remote. This sense was magnified recently by visions of Trump's sword-dancing, orb-fondling and demonstration of ugly Americanism in its latest iteration of massive wealth, arms deals and blind-eye talking — the president's uncanny ability to see only what he chooses and to speak in terms compatible with that vision. Witness: His condemnation of Iran, which recently re-elected a moderate president, while schmoozing in autocratic Saudi Arabia, whence came 15 of the 19 Sept. 11 terrorists.
President Trump landed in Italy on May 23 with first lady Melania, where an awkward attempt at hand-holding went viral.
Other-awareness has never been Donald Trump's strong suit, especially as concerns his wife, Melania, who forever-famously appeared to flick away the president's hand when he reached toward her, seemingly trying to mimic Israeli Prime Minister Benjamin Netanyahu, who was holding his own wife's hand.
Captured on film, it was the flick (or slap?) seen 'round the world — and in many cases, cheered. In that instant, the first lady became every American woman who donned a pink-kitten hat to protest the then-new president — and cemented her status as star of the show: "Melania of Arabia, High Priestess of the Testosterone-Intoxicated, Tiny-Hands Revue." Or something like that.
All politics aside, Melania and Ivanka Trump stood as beacons of light in a part of the world that remains cloaked in the darkness of religious fundamentalism and oppression. Preternaturally beautiful, they seemed to glide as apparitions above the sea of dark suits and white robes and must have struck fear in the hearts of men whose culture demands that women be publicly invisible.
Yes, they were relegated to traditional role-playing in Saudi Arabia. Some might have wished they'd had more significant roles, though surely Melania and Ivanka were grateful to be excluded from the all-guy Toby Keith concert. Otherwise, the importance of adhering to protocol can't be exaggerated in diplomatic relations.
Many also noted that Melania Trump declined to cover her head, which isn't required of visiting dignitaries. Nor is going bareheaded considered insulting despite citizen Trump's tweet criticizing Michelle Obama when she chose to leave her head uncovered. For the record, Laura Bush didn't cover her head either while in Saudi Arabia 10 years ago, despite breathless headlines to the contrary. Both Greta Van Susteren and I were present and can attest that Bush only briefly donned a black scarf festooned with pink ribbons as a gesture of gratitude for the gift. It came from Saudi women showing their appreciation for the first lady's efforts to raise awareness for breast cancer prevention and treatment in the Middle East, where, at the time, 80 percent of women with breast cancer died of the disease.
It is true that Western women are encouraged to dress modestly, as Melania and Ivanka did. It helps that both are beautiful and have fathomless wardrobe budgets. Despite their apparent ornamentalism, there's little doubt both women made a lasting impression on Saudi women, who would have recognized and identified with their feminine power. Wordlessly, they projected strength, intelligence, grace — and a timeless wisdom.
This was also the impression of a Palm Beach image consultant I interviewed here, Susan Bigsby, who for 30 years has dressed an elite, diverse clientele — from a transgender executive to first ladies to a Syrian Muslim seeking to Westernize her wardrobe with attention to her cultural modesty. Following Bigsby as she shopped for a client was like tracking a hummingbird on a sugar spree.
"Perfect and stunning," she said of Ivanka and Melania. "Muslim women, while respecting their religion, also love glamour. You can be sure they were studying — and appreciating — Melania and Ivanka… . They represented the American woman with appropriateness, elegance and style."
Kathleen Parker is a columnist for the Washington Post.
blufftontoday.com/opinion/2017-05-27/melania-and-ivanka-trump-showed-world-what-feminine-power-looks
------
Thieves 'Disguised As Muslim Women Are Stealing Charity Collection Boxes' in UK
Tanveer Mann for Metro.co.uk Saturday 27 May 2017
Footage shared by Nauman shows one of the women, believed to be Romanian, talking to the staff member about items on the menu while he prepared sauces for the fast food joint.
Dog owner reunited with miniature schnauzers that were stolen by car thieves
It appears that as one woman distracted the staff member the other discretely cut the charity box handle connected to the till with some scissors and then smuggled it under her clothing.
The alleged incident has upset many in the community with some claiming to have seen the women also begging in Leeds.
Nauman's cousin, Hakeel Ahmed, 44, who runs the chicken shop, said: 'I found it very shocking and upsetting. I am disgusted that they would stoop so low with such an act.
'They are bad people and God will punish them. These people need to be removed off of the streets.
Nauman, from Sheffield, South Yorkshire, said: 'They speak very broken English. A lot of people have said they are Romanian – they're dressing up to look Muslim.
Fight-back against moped gangs begins as heroes stop would-be thieves
'How low can they get? It's despicable that people would even think about stealing money off these poor children.
'The people who work at the shop are very upset. A lot of people have been coming in asking about it to see if the women have been found.
'A lot of people are upset and angry about it. I wasn't there myself but my cousin runs the shop and the cameras are always left on in case of things like this. Unfortunately, this has happened before.
Thieves 'disguised as Muslim women are stealing charity collection boxes'
'They had just literally opened the shop. They came in about fifteen minutes after opening.
'He [the staff member] was filling up the sauces and he got distracted. They were asking things like 'what comes on this burger?' and if they deliver.
Two thieves predictably ruined this social experiment involving 15,000 coins
'One of them moved to the side so he couldn't see what the other woman was doing. He was showing her the number for delivery.
'Someone usually empties the charity box every night but unfortunately this time it was full. It had over £50 in it.
'Some people have messaged me saying they have seen them on the train from Manchester to Sheffield. They've also been seen begging around Leeds and Bradford.
'They've also apparently been running into shops asking for people to give them money.
metro.co.uk/2017/05/27/thieves-disguised-as-muslim-women-are-stealing-charity-collection-boxes-6666444/#ixzz4iNCgnUpw
------
Heroes killed trying to stop racist abuse against Muslim women
Ashitha Nagesh for Metro.co.ukSunday 28 May 2017
Taliesin Myrddin Namkai Meche, left, and Ricky John Best, right, tragically died (Picture: Facebook)
The men who were stabbed to death for trying to intervene in a man's racist rant have been remembered as 'heroes'.
Ricky John Best, 53, Taliesin Myrddin Namkai Meche, 23, and Micah David-Cole Fletcher, 21, were on the train in Portland, Oregon on Friday afternoon when they heard another passenger racially abusing two Muslim women.
When they stepped in to stop him, the abuser – 35-year-old Jeremy Joseph Christian – turned on the three and brutally attacked them.
Heroes killed trying to stop racist abuse against Muslim women
Two men were killed and one is in a critical condition (Picture: AP)
Best died at the scene, while Meche passed away in hospital. Fletcher survived, but is currently in a critical condition.
Police are now looking into the extremist ideology of Christian, whose posts on social media indicate an affinity for the Nazis and political violence.
It's believed he is a known white supremacist in the local area.
Heroes killed trying to stop racist abuse against Muslim women
Jeremy Joseph Christian, accused of stabbing two men to death (Picture: Portland Police)
He has been charged with two counts of aggravated murder, attempted murder, two counts of intimidation in the second degree and felon in possession of a restricted weapon
'These two men died heroes as a result of a horrific act of racist violence,' Portland mayor Ted Wheeler said in the wake of the attack.
He added that Best was an army veteran who was working for the City before he died.
Heroes killed trying to stop racist abuse against Muslim women
The attack happened in northeast Portland (Picture: AP)
The attack sent shockwaves through Portland, which is famously liberal. Vigils were held in the city for the victims.
'That people feel emboldened to come out and show their racism and bigotry in that way is horrifying to me,' Christopher Douglas, who attended the memorial, said.
David Cameron spotted buying budget pack of socks in JD Sports
'It's a gut check for everywhere – and absolutely for Portland. Portland floats in a little bit of a bubble of its own liberal comfort, and I think the reality is sinking in.'
After his tragic death, Meche's girlfriend left a heartbreaking tribute to the man she loved.
'I will follow you on your journey through the sun and the moon and the stars,' she wrote. 'I will love you eternally.'
metro.co.uk/2017/05/28/heroes-brutally-killed-trying-to-stop-racist-abuse-against-muslim-women-6667234/#ixzz4iNBHflTQ
------
Ukip ban on burqa and niqab in public would see legal action against ANYONE covering their face says leader Paul Nuttall
27 May 2017
Ukip's plans to ban the burqa and niqab would see legal action brought against anyone wearing anything that covers their face, Paul Nuttall has said.
The Ukip leader said the controversial policy which would ban garments traditionally worn by Muslim women would apply to items of clothing such as balaclavas.
Ukip's manifesto explicitly said the party 'will ban wearing of the niqab and the burqa in public places'.
Speaking while campaigning in Boston, Lincolnshire, Mr Nuttall said the policy would apply to 'face-coverings in general'.
Asked if this would affect people wearing balaclavas, he said: 'How many people have you ever seen wearing a balaclava in public? You don't see it, you don't even see it in winter.
'What's happened is that the Westminster media have tried to mock and deride what we're trying to say, maybe because they feel uncomfortable about it, I don't know.'
The Ukip leader said CCTV needed to see people's faces to be effective, while you have to be prepared to show your face 'to enjoy the full fruits of British society'.
Mr Nuttall added: 'As far as I'm concerned, this policy doesn't just apply to the burqa and the niqab, it would also apply to someone from the far right turning up at an EDL march or EDL rally covering his face.
'This is the same policy as many US states, it's a similar policy in a number of Australian states, the policy of banning face coverings in general applies in France, it applies in Belgium.
'I work in those two countries. You always see people's faces. If it can work there, it can work here as well.'
Ukip's manifesto said the clothing was a barrier to communication, limits employment opportunities, hides evidence of domestic abuse and 'prevents intake of essential vitamin D from sunlight'.
Mr Nuttall also defended Ukip's pledge to move to a 'one in, one out' immigration policy, reducing net migration to zero over a five-year period.
The Office of Budget Responsibility has forecast that a Conservative pledge to reduce net migration to the tens of thousands would cost the economy billions.
Mr Nuttall said he did not think there would be an economic impact because Ukip's policy would reduce unskilled migration while still bringing in skilled workers.
Speaking to the BBC, he added: 'However, if you want to take the counter argument which is put forward by the Office of Budget Responsibility, well do you know what, I think knowing a neighbour, being able to speak the same language, not having your community tipped upside down probably trumps the economy, probably trumps the fact it will cost you a Kit Kat a week.'
Mr Nuttall also predicted that Ukip would be bigger than ever in 18 months, should Theresa May make major concessions on Brexit.
dailymail.co.uk/news/article-4547988/Ukip-ban-burqa-niqab-defended-Paul-Nuttall.html#ixzz4iNE2RRzg
URL: https://www.newageislam.com/islam-women-feminism/hyderabad-man-gives-triple-talaq/d/111315
New Age Islam, Islam Online, Islamic Website, African Muslim News, Arab World News, South Asia News, Indian Muslim News, World Muslim News, Womens in Islam, Islamic Feminism, Arab Women, Womens In Arab, Islamphobia in America, Muslim Women in West, Islam Women and Feminism