New Age Islam News Bureau
9 Jan 2017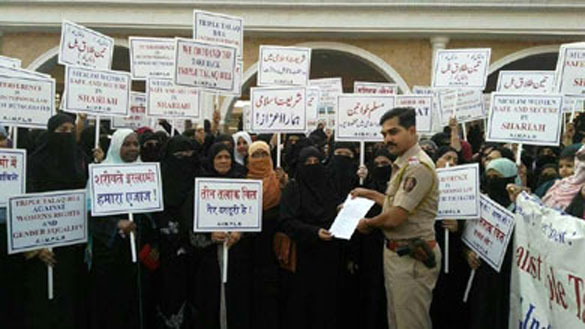 • Haryana: Man Gives 'Triple Talaq' To Wife After She Refuses To Give Him Beedi
• British Woman 'Fled From Syria After Marrying Muslim Convert Who Rose To Top Of ISIS'
• Rise in molestation incidents: MBBS girl student molestated in JK, shutdown observed today
• Nigeria marks 1,000 days since mass kidnap of Chibok girls
• Dubai Business Women Council launches partnership with United Nations
Compiled by New Age Islam News Bureau
URL: https://newageislam.com/islam-women-feminism/hyderabad-madrasa-empowers-girls-with/d/109654
-------
Hyderabad Madrasa Empowers Girls with Course on Fatwa
Mohammed Wajihuddin
Jan 9, 2017
HYDERABAD: Over a dozen students, all clad in Burqas, are in a small classroom. Their teacher, dressed identically, keeps a close watch. Everyone is on the floor while books on Hadith (traditions of the Prophet), commentaries on the Quran and tomes on Fatwas line the walls.
This is the Madrasa Jamiatul Mominath in Moghalpura, which is the city's first and only institute that trains women to become muftias. Instruction is imparted in the Darul Ifta, or fatwa department.
Fatwa is an opinion that Muslims seek on a range of subjects, including marriage, menstruation, divorce, adoption, property issues, and rituals like Namaz and Roza. Countless madrasas in the country--such as UP's Darul Uloom Deoband--run training courses, but most of them are for men.
"There are several questions that women hesitate to ask muftis. We thought women would be more comfortable discussing their issues with muftias. That's why we introduced this one-year course 12 years ago," said Hafiz Mastan Ali, Jamiatul Mominath's founder.
Set up in 1991, the madrasa has 2,500 students today, of whom 400 are hostellers. The Muftia course began with only five girls, but this year, the department is training 15.So far, the madrasa has produced 318 muftias.
The fatwa department's head, Nazima Aziz, said making girl's muftias is empowerment. "Once an Alima (female graduate) completes Fazila (post-graduation), she is eligible for the fatwa course."
Aziz explained that the course is divided into five segments: prayers, women's personal issues, limitations (what women can and can't do), property issues and current issues. " A fatwa is given in the light of Quran commandments and the Prophet's traditions. Muftis try their best to be neutral while giving judgments on disputes. If someone is not satisfied with the decision, he or she can consult another mufti or muftia," she said.
The girls share Aziz's opinion on the importance of their role. A muftia in the making, Suraiya Shakeel Khan wants to help women. "I can guide people on religion." Khadeeja Fatima feels she would get more respect in the community once she becomes a muftia. Most of them, like Aziz, are in favour of setting up more Darul Iftas for women across the country .
Interestingly, Aziz and her students backed the All India Muslim Personal Law Board (AIMPLB)'s stand on triple Talaq. "Talaq in one sitting should be discouraged, but it cannot be banned as that will be tantamount to interference in Sharia laws," said Mohammed Hasnuddin, head of Mominath's fatwa department for men. "We don't agree that Talaq is a sword dangling over the heads of women. It's an option to end an oppressive marriage and should be used as last resort."
http://timesofindia.indiatimes.com/city/hyderabad/hyderabad-madrassa-empowers-girls-with-course-on-fatwa/articleshow/56412116.cms
-------
Haryana: Man Gives 'Triple Talaq' To Wife after She Refuses To Give Him Beedi
January 8, 2017
Man allegedly divorced his wife by uttering 'Talaq' three times after she refused to give him a packet of 'beedis' in Dhakalpur district of Haryana, a police official said on Saturday.
The woman in her complaint alleged that Shahid divorced her on 23 December when she did not give him the packet of beedis and beat her up.
When Shahid asked his children about the packet, they told him that their mother had kept it and when she denied keeping it, he uttered 'talaq' and kicked her out of the house.
After the incident, the woman filed a complaint with the district women police.
In December, the Allahabad High Court had said that the practice of triple talaq as per the Islamic law is "unconstitutional" and it violates the rights of women.
Meanwhile, the government has maintained that triple talaq keeps women 'deprived of their rights' and that justice should be given to Muslim women as per the Constitution of the country.
The influential All India Muslim Personal Law Board has, however, defended the practice, arguing it is better to divorce a woman than kill her.
Source: indiatvnews.com/news/india-haryana-man-gives-talaq-to-wife-after-she-refuses-to-give-him-beedis-364250
-----
British Woman 'Fled From Syria After Marrying Muslim Convert Who Rose To Top Of ISIS'
Jan 8, 2017
Joya Choudhury allegedly married American John Georgelas in Rochdale's town hall after the pair met online but the relationship was to turn sour.
Georgelas, a Muslim convert from America, is now considered on of the most senior members of ISIS from the West.
Georgelas, 33, is the son of a former US air force doctor, Timothy Georgelas, whose grandfather fought in the US Army during the Second World War.
He came to live in the UK whilst his father had been posted to Cambridgeshire in the 1980s and converted to Islam after 9/11.
He met Ms Choudhury when she was 19 years old and the pair married in 2004 when she was pregnant with their first child.
According to The Sunday Times, the family moved to the war-torn Syria in 2013.
Ms Choudhury and three of her children reportedly travelled with Georgelas after he had told friends he was heading to Turkey to help refugees.
It is unclear if Ms Choudhury was aware of what Georgelas was planning.
However, a few weeks later one of Ms Choudhury's older siblings received a phone call from Georgelas's mother saying: "Joya is in Turkey with the kids and they are very sick.
"You have to save them."
Ms Choudhury eventually fled Syria and moved to America to be close to her husband's family whilst she gave birth to their fourth child.
A year after leaving Syria she divorced Mr Georgelas in the US courts.
Ms Choudhury now wears Western clothing and describes herself on social media as a "left-wing libertarian".
After the couple married they moved around the UK before settling in London, reportedly living on benefits.
The family then moved to the US where they were supported by Mr Georgelas' parents but he was jailed in 2006 for 34 months.
The Sunday Times investigation said Georgelas was placed under surveillance by the FBI but the pair fled the US in 2011.
They headed to Egypt as Georgelas "wanted to raise a family in a Muslim country", according to one of his associates.
The children are now understood to live with their in-laws.
Georgelas stayed in Syria and pledged himself to ISIS.
He is said to be one of the highest ranking westerners in the organisation who is tasked with luring new recruits from English-speaking countries.
Georgelas is believed to write articles for ISIS propaganda websites and last year supposedly declared that Communities Minister Sajid Javid and former Tory party chairperson Baroness Warsi were on a "kill-list".
Around 800 British Muslims are thought to have left the country to join various Islamist terror groups.
http://www.express.co.uk/news/uk/751675/Joya-Choudhury-Rochdale-John-Georgelas-Islamic-State-ISIS
-------
Nigeria Marks 1,000 Days since Mass Kidnap Of Chibok Girls
January 9, 2017
ABUJA: Nigerian President Muhammadu Buhari said Sunday he was hopeful the remaining 195 Chibok schoolgirls will be rescued, as he marked 1,000 days since the mass abduction by Boko Haram that drew global attention to the jihadist insurgency.
Buhari said his government was committed to finding the rest of the more than 200 schoolgirls who were abducted almost three years ago from the northeastern town of Chibok.
Only two dozen have been found or rescued since they were seized in April 2014, some of whom had babies in captivity.
"We are hopeful that many more will still return," Buhari said. "The tears never dry, the ache is in our hearts."
"Our hearts will leap for joy, as more and more of our daughters return. It is a goal we remain steadfastly committed to."
In the capital Abuja, Bring Back Our Girls campaigners were preparing to march to the presidential villa later Sunday.
"We just can't forget the 195 of them that are still there," Aisha Yesufu, a representative of the group, told AFP.
"We have to look and bring them back home," Yesufu said.
"They are citizens. If president Buhari's daughter was taken, would he just stand back? They are as Nigerian as his own daughter."
- Intense criticism -
Last week, the Nigerian army said it had rescued another Chibok girl, Rakiya Abubakar, along with her six-month-old baby. Another two schoolgirls have been found in the past year by troops.
In October, 21 Chibok girls were released by Boko Haram after negotiations with the Nigerian government brokered by the International Committee of the Red Cross and the Swiss government.
The release was hailed as a breakthrough that would lead to the recovery of remaining girls in captivity.
At the time, presidential spokesman Garba Shehu said the government was hoping to secure the release of 83 other girls, but there has been no update on those negotiations.
Despite winning back swathes of territory from Boko Haram jihadists, Buhari has faced intense criticism for failing to recover the young captives, who became the defining symbol of Boko Haram's brutal campaign to establish a fundamentalist Islamic state in the country.
Nigeria has recently trumpeted a major victory in its battle against Boko Haram, claiming in late December that its army has routed the jihadists from their Sambisa forest stronghold in Borno state.
But Boko Haram still poses a threat to the war-torn region, launching sporadic raids on remote villages in Nigeria and deadly attacks on soldiers in neighbouring Chad and Niger.
http://nation.com.pk/international/08-Jan-2017/nigeria-marks-1-000-days-since-mass-kidnap-of-chibok-girls
-------
Dubai Business Women Council launches partnership with United Nations
January 8, 2017
Dubai: The Dubai Business Women Council (DBWC), the official representative organisation for professional business women and female entrepreneurs working in Dubai, has partnered with the United Nations (UN), it announced at a press conference on Monday.
The partnership is designed to support the UAE's drive for greater female participation in the workforce, in line with the UN Women Empowerment Principles.
The DBWC has struck an alliance with the UN Global Compact UAE Local Network (UNGC), an initiative started by Kofi Annan in 1999, which today is the world's largest corporate sustainability programme, upholding ten principles in the categories of human rights, labour rights, environmental stewardship and anticorruption.
Female participation in the workforce across the GCC remains some of the lowest in the world, and as a result one of the key themes of the announcement was its commitment to gender balance in the UAE.
"Joining forces with the United Nations Global Compact UAE Local Network represents a historic milestone for Dubai Business Women Council and underlines the instrumental role the Council has played in spearheading the UAE's national agenda to ensure women's rights are at the forefront of national progress," said Dr Raja Eisa Saleh Al Gurg, President of DBWC.
She added that, "this partnership will serve as a key contributor in the UAE Vision 2021 objective of seeing the Emirates rank as one of the world's top 25 countries for gender balance."
There have been some improvements in recent years, spurred on by government initiatives in the UAE, such as the establishment of the UAE Gender Balance Council in 2015. The private sector has followed suit, with free nursery services at offices and flexible working hours, whilst over half of the businesses in the GCC consider gender diversity to be part of their strategic agenda, according to research conducted by consultancy A.T. Kearney in 2016.
Despite this, challenges still persist for working women in the UAE.
According to research conducted in 2016 by Oxford Strategic Consulting, females in the UAE were "significantly more likely than males to mention awareness of jobs (37 per cent vs. 27 per cent), suitability of jobs (37 per cent vs. 25 per cent) and knowing how to approach companies (27 per cent vs. 15 per cent) as difficulties encountered on the job search," whilst 44 per cent of respondents identified "cultural barriers" and a "lack of support" as the top challenges women face, in a separate survey conducted by A.T. Kearney.
In addition to this, the International Monetary Fund (IMF) stated that in 2008-9, the participation of female Emiratis in the UAE's workforce was the second lowest in the GCC (25 per cent, compared to the leader, Kuwait, which saw 45 per cent female participation in the same year). The only country with a lower rate of participation was Saudi Arabia.
Al Gurg questioned the accuracy of these figures when asked about them by Gulf News, stating "I cannot agree with this. It should still not be that low given the initiatives that have taken place here in the UAE."
Responding to a question from Gulf News regarding the private sector's struggle to achieve government targets of gender balance in the workforce, Dr Al Gurg argued that women working for private companies should be afforded the same hours as their counterparts in the public sector, leaving the office at around 1-2pm.
In 2012, a report by the consultancy Booz & Company highlighted how the UAE economy could benefit greatly from more women in the workplace: raising female employment to male levels could have a direct effect on GDP of 12 per cent.
http://gulfnews.com/business/sectors/banking/dubai-business-women-council-launches-partnership-with-united-nations-1.1958589
-------
URL: https://newageislam.com/islam-women-feminism/hyderabad-madrasa-empowers-girls-with/d/109654
New Age Islam, Islam Online, Islamic Website, African Muslim News, Arab World News, South Asia News, Indian Muslim News, World Muslim News, Womens in Islam, Islamic Feminism, Arab Women, Womens In Arab, Islamphobia in America, Muslim Women in West, Islam Women and Feminism, Moderate Islam, Moderate Muslims, Progressive Islam, Progressive Muslims, Liberal Islam