New Age Islam News Bureau
15 Sept 2017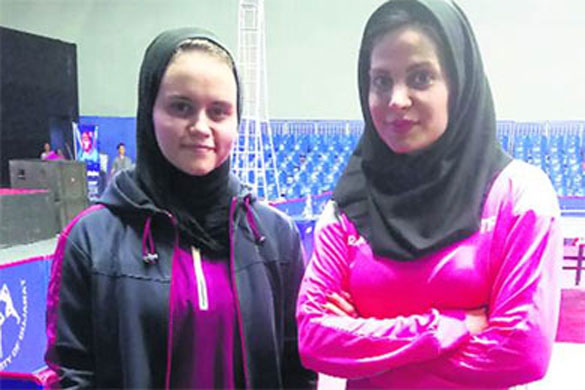 Aia Mohamed (left) and Neda Shahsavari have been regulars on the TT circuit.
------
• Muslim Women in India Combine Yoga with Quranic Verses
• Why Buddhist Women Are Marrying Muslim Men in Ladakh
• Hundreds of Isis Women Are Being Held In an Iraqi Prison
• Abedin's Mom Made Sure Clinton's Saudi Speech Omitted 'Freedom' and 'Driving For Women,' Emails Show
• Neda Shahsavari, Aia Mohamed Want to Be Known More For Their Game, Not Attire
• Singapore Swears In First Female President
• Pakistan Women Entrepreneurship Programme Holds Women Summit 2017
Compiled by New Age Islam News Bureau
URL: https://www.newageislam.com/islam-women-feminism/hyderabad-guest-houses-under-scanner/d/112537
--------
Hyderabad Guest Houses under Scanner over 'Contract Marriages' Between Minors Girls, And Older Men from the Middle East and Eastern Africa
By Sreenivas Janyala
September 15, 2017
Hyderabad police are investigating dozens of unauthorised guesthouses and lodges on the city's outskirts which, officers say, are being used to accommodate "grooms" from the Middle East visiting the city for illegal contract marriages. Police say the brokers arrange the contract marriages between Muslim girls, mostly minors, and older men from the Middle East and eastern Africa. Rather than book authorised hotels that might invite scrutiny or police raids, they are accommodating these men in duplexes, bungalows and apartments that have come up along the road from Chandrayangutta to Shamshabad, South Zone police say.
"A number of houses on the outskirts, especially in Pahadisharif area, have been converted into guesthouses. They were earlier not on our records but now we have identified at least 15 places where a large number of such illegal guesthouses cater to sheiks who come here for contract marriages," said DCP (South Zone) V Satyanarayana. "We have raided and sealed a couple of places."
These duplexes and bungalows are owned mostly by people who are working in the Middle East or have returned from there and bought those but do not live there. "They authorise brokers to rent them out without bothering to find out what purpose their premises are being used for," said a real estate consultant at Shamshabad. "In some cases, the owners know but are content with the rent they get for a few days or weeks or a couple of months. Brokers arrange deals such as Rs 10,000 for a week." For some bungalows, the rent is Rs 30,000 per month.
"We are trying to figure out how to tackle this situation and put a ban on renting out these houses for pleasure stay of sheiks. There are so many brokers and agents that it is difficult to stop by conducting a few raids. We are chalking out some plans," said DCP Satyanaryana.
Amjed Ullah Khan, leader of Majlis Bachao Tehreek, says it is like sex tourism. "It is like an all-inclusive package tour. The sheiks state their demands and brokers arrange everything," he said. "Most of these guesthouses are well furnished, fully air-conditioned, and have swimming pools and food service. There is total privacy, including arranging visit of a qazi to perform the marriage in secret. The grooms enjoy the hospitality for as long as they want and then disappear, often leaving the women in lurch. It has become a thriving industry."
"No need for identify proofs, no questions asked. No one bothers about age proof or legality. The sheikhs marry and stay with the girls for a few days and go away promising to send visas, but usually abandon them after dropping them at their homes, in the same car leaving for the airport," said an activist with an NGO which, he added, tips off police about contract marriages. Police say four brokers arrested in recent cases had told them about the guesthouses.
South Zone police say they have traced six cases to these illegal guesthouses, including one involving a 65-year-old Omani, Sheikh M Ahmad, trying to marry a minor on August 17. "About three months ago we raided a house in Vaddepalli in Falaknuma area after receiving a tip-off that some Arabs had moved in there and women were visiting," Falaknuma division assistant commissioner Abdul Bari said. "That house was rented to two UAE brothers for a month by a local broker for Rs 15,000. That is first time we came to know that flats and bungalows were being used for contract marriages instead of hotels. We had warned all hotels and registered lodges that if any of these fake marriages took place on their premises, they would be held accountable, so brokers have moved to flats and bungalows."
Police say the brokers arrange for the "brides" and use WhatsApp groups to advertise their services; guesthouse agents post vacancy messages in the group. Officials investigating some of these cases say a group of at least 50 main brokers and at least 150 sub-brokers are involved in identifying families in financial need and approaching them with offers of getting their daughters married to wealthy sheiks.
http://indianexpress.com/article/india/hyderabad-guesthouses-under-scanner-over-contract-marriages-4844193/
--------
Muslim Women in India Combine Yoga with Quranic Verses
September 14th, 2017
Muslim women in Vadodara have come up with a special type of yoga by incorporating Quranic verses into it to counter the Islamic critics of the ancient practice.
A non-government organisation (NGO) has started yoga classes for Muslim women and has brought in Quranic verses and names of 'Allah' for chanting purposes to encourage more people to take up the practice and allay any concerns of it being against Islam.
Yoga trainer said the basic aspects of yoga postures were unchanged.
Scores of Hijab-clad women come to attend these classes every day to practice yoga asanas and meditate.
The class focuses on the common health issues faced by women.
Yoga is one of most successful cultural exports. It is a discipline that dates back thousands of years and has gained immense international prominence over the last several decades as a holistic regime for the mind and body.
https://www.albawaba.com/sport/muslim-women-india-combine-yoga-quranic-verses-1021978
--------
Why Buddhist women are marrying Muslim men in Ladakh
September 15, 2017
Leaving the main town square of Leh on the road to Kargil, as the last signs of human habitation is left behind in the roar of dust and diesel, it is hard not to notice the proliferation of migrants, many of whom are foot soldiers for the army's development works. Buddhist Ladakhis are becoming a rarer breed though they still dominate the stunning landscape.
"My wife and I stay for four months in Leh and move to Delhi when winter sets in. The migrants who come from surrounding Kargil and Kashmir stay much longer. Migrants from Bihar & Punjab can't take the weather for long. But Kashmiris can survive here as well as Ladakhis during the winter months. Many have settled here" said Angchuk a hotel owner in the Chungspa locality of Leh town
Angchuk may have never gone through census figures, but his harmless observations are a reflection of simmering tension in this peaceful region that has the potential to become a tinderbox waiting to explode. Buddhist groups like the Ladakh Buddhist Association have reportedly knocked on the doors of the prime minister's office drawing attention to 'love-jihad' in the region. Ladakh Buddhist Association is also reported to have submitted a memorandum to Jammu and Kashmir chief minister Mehbooba Mufti drawing her attention to conversion of Buddhist girls to Islam in Ladakh. The organisation's president PT Kunzang in an interview to a news portal has claimed 97 cases of Buddhist girls being converted to Islam over four decades. Reports suggest that as many as 45 Buddhist girls married Muslim men in Ladakh since 2003.
While Kunzang's claims on so called 'love-jihad' are hotly contested, the concerns of Buddhists over the influx of Muslims in the region are understandable for three reasons. For one, the district of Leh is witnessing a de-population of Buddhist men even as the population of Muslims and Hindu men is growing rapidly. Between 2001 to 2011, the Buddhist male population fell by 5 percent. Meanwhile the population of Muslim men grew 20 percent in Leh during the same period. Secondly, the fall in numbers of Buddhist men has meant that for the first time in decades Leh has more Buddhist women than men. Thirdly, the population of Buddhist women has barely grown over the last decade and a half whereas that of Muslim women has grown almost in proportion to Muslim men. The Hindu population in Leh is pre-dominantly male.
This has deep implications for Buddhists in Leh. Not only are Muslims now placed more favourably in terms of fertility, Buddhist women are less likely to find a man of their own religion to bear children with in the near future. Given the nature of this demographic shift, in every likelihood Hindu and Muslim men in Leh will fill the gap left by the de-population of Buddhist males. While this may sound alarmist, there is still a significant gap between Buddhists, Hindus and Muslims in terms of absolute population.
Census data reveals that in 1981, Buddhists comprised 81 percent of the population in Leh – one of the two districts in addition to Kargil that make up the Ladakh region. By 2011, they were down to 66 percent of the population. The Muslim population in Leh, though much smaller than Buddhists has meanwhile declined marginally during the same period. In 1981, Muslims comprised just 15 percent of Leh's population. By 2011, the proportion of Muslims in Leh's population declined marginally. What is even more striking being the growth of Hindu population in Leh district. In 1981, Hindus comprised just 3 percent of the population. In 2011, Hindus constituted 17 percent of the population. But the difference between the stagnation of Muslims and the increase in Hindus is the gender composition of both communities. 96 percent of the Hindus here are male. Meanwhile among Muslims both males and females have grown in the same proportion.
The growth of Muslims in Leh has less to do with 'love-jihad' as is being claimed by certain activists and more to do with the nature of the economy of the two districts of Ladakh – Kargil and Leh. Both Buddhists and Muslims have fallen as a proportion of the population in Kargil district. There is less work to be found in Kargil even as there is a booming seasonal tourism industry in Leh and state supported industries during the lean seasons. A part of the reason is also the influx of Hindu migrants from other parts of the country into Leh. More than 90 per cent of the Hindus in Kargil are also male; an indication that many came here looking for work leaving their families behind.
In Kargil, there are only seven small industries manufacturing wood, food and electrical products employing about 30 people. There are over 900 Khadi and village industries providing employment to 3360 workers. The mainstay of Kargil's economy still continues to be livestock. The state government has admitted in the past that developing Kargil is a tough task. The administration in its district handbook says, "The difficult terrain and topography of the district is a big damper in the development of the district as such Kargil. The rural department here has a tough job in the development of rural areas in terms of construction of bridges, footpaths and Khjuls for small irrigation and sanitation works."
Leh meanwhile is a more lucrative destination for workers looking to make a living in this hostile terrain. According to estimates by the assistant labour commissioner of Leh there were over 5,000 shops and commercial establishments in addition to over 700 hotels in Leh providing employment to thousands of people from Leh, Kargil and the Kashmir valley. Meanwhile the Indian army has stepped up efforts to boost agriculture production in Leh which has further attracted migrants, many of them Muslims from Kashmir to Leh. More than 45,000 square kilometers of land is under mono-crop agriculture in Leh. The army's efforts in setting up greenhouses has allowed people to farm even in the harsh winters when outside temperatures are well below freezing. Labour intensive crops like wheat and horticulture have been developed significantly in Leh. The Leh district administration in its district handbook notes, "Horticulture is playing a major role in supplementing the income to the farmers and has assumed great importance in Leh district in recent years. The fruit produced are marketed in Leh town, other places and supplied to the defence forces stationed in the region through cooperative marketing societies."
With the army increasingly relying on the local economy of Leh for procuring essentials like food this has boosted the incomes of those who are part of cooperative societies. The district administration has estimated that 68% of the families in Leh are under the cooperative shield and control most of the business of essential commodities, fertiliser and primary agricultural produce.
With such strong economic tailwinds in Leh, Muslim migrants from other parts of Kashmir have trickled in over the years as is evidenced by the changing religious profile. And it's not just Muslims. The Hindu population in Leh has more than doubled over a decade till 2011. Unlike Muslims, the Hindu population is overwhelmingly male. Invariably, this has led to inter-faith marriages. Buddhist activists raising calls of forced conversions and 'love-jihad' could well blame this trend on economic opportunities that has been a magnet for migrants. The lure of a better life knows no religion. And Ladakh is a testament to that.
http://www.business-standard.com/article/politics/why-buddhist-women-are-marrying-muslim-men-in-ladakh-117091500689_1.html
--------
Hundreds Of Isis Women Are Being Held In An Iraqi Prison
BY JACK MOORE
9/14/17
Iraq is holding hundreds of women foreign fighters who battled for the Islamic State militant group (ISIS) in a prison near the northern city of Mosul, according to authorities.
An investigations officer told the Associated Press that 531 women born outside of Iraq had been split into a group separate from a larger contingent of women and children. The officer, who spoke to the news agency on condition of anonymity, said the women "are being investigated" for their close links to the jihadi group.
Iraqi forces have rounded up ISIS fighters, both women and men, in the campaign to liberate Mosul. Authorities said they were holding some 1,400 foreign wives and children of suspected ISIS fighters in a camp, many of them from Russia, Turkey and Central Asia. The dilemma of what to do with the foreign fighters is one that Iraq and other nations around the world will have to grapple with in the coming months, particularly whether they should be allowed to return home.
Keep Up With This Story And More By Subscribing Now
On Tuesday, an Iraqi court announced that it would, for the first time, hang an ISIS foreign fighter—an unidentified jihadi from Russia.
In July, Iraqi forces discovered a 16-year-old German girl in a tunnel amid the ruins of Mosul's Old City alongside other German women fighters for the group. They believe the girl, identified only as Linda W., was operating as a sniper. She ran away from her hometown in Germany to join ISIS the year before.
The Iraqi military transferred her to a military hospital in Baghdad, where she was questioned. She is now expected to face trial in Iraq, rather than be extradited to Germany, even though she is receiving German diplomatic assistance.
The German press obtained an interview with her from Baghdad, during which she appeared to show regret for joining the radical Islamists in Iraq. "I just want to get away from here," she was quoted as saying by German newspaper Sueddeutsche Zeitung, which also said that she had married an ISIS fighter in Mosul. "I want to get away from the war, from the many weapons, from the noise."
She added: "I just want to go home to my family."
In its propaganda output, the militant group is increasingly trying to boost its ranks with women, calling upon them to take up arms. The group has traditionally railed against women taking up arms on the same level as men, despite women taking a leading role in the suicide operations of many other insurgent groups. It has traditionally not referred to women as its "soldiers" after they have committed attacks, and its earlier incarnation, the Islamic State of Iraq, said in 2008 that women should only act in the name of the group "in circumstances where men cannot."
But, having been forced to retreat in Iraq and Syria, the organization is changing tack and exploiting other options.
In its July issue of its online magazine Rumiyah, ISIS published an article titled "Our Journey to Allah," which called on women to join the group, saying they would become more vital to its operations in "times of intense trials and extreme hardships, and times of severe battles."
The group lost Mosul in July to Iraqi forces backed by a U.S.-led coalition, and it is close to losing the eastern Syrian city of Raqqa to a Kurdish-Arab coalition that has been besieging the location that has served as the group's de-facto capital since June.
http://www.newsweek.com/hundreds-foreign-women-isis-are-being-held-iraqi-prison-664815
--------
Abedin's mom made sure Clinton's Saudi speech omitted 'freedom' and 'driving for women,' emails show
By Brooke Singman
September 14, 2017
Huma Abedin's mother helped to water down a speech then-Secretary of State Hillary Clinton gave at a Saudi women's college, warning not to mention "political" terms like "freedom" and "driving for women," new emails show.
Abedin's mother, Saleha Abedin, is a sociology lecturer at Dar Al Hekma, a women's college in Jeddah, Saudi Arabia, where Clinton spoke to students on Feb. 16, 2010.
And according to new emails obtained by conservative watchdog group Judicial Watch as part of their Freedom of Information Act lawsuit, a Clinton speechwriter for the event sought advice and guidance from Abedin's mother in advance.
"Talk to my mom for sure," Abedin, a top Clinton aide, wrote to speechwriter Case Button on Feb. 12, 2010. "She will have good points for you…"
Abedin's mother responded with a list of "IMPORTANT POINTS TO REMEMBER."
"Do not use the political terms such as 'democracy/ elections/ freedom.' Do not use the term 'empowerment of women' instead say 'enabling women' and use other terms such as 'partnership/participation,'" Saleha Abedin wrote. "Do not even mention driving for women! The last visitor received a torrent of rejoinders from the students who said they have more important challenges to contend with."
She added: "Don't sound sympathetic to 'women's plight' or be 'patronizing' as other visitors have done and made the students extremely annoyed. They rightly consider these as in-house issues that they would like to address themselves and not for outsiders, no matter how well intentioned, to come in and tell them."
Clinton's speechwriter seemingly took that advice. The 2010 speech, reviewed by Fox News, omitted the words "freedom" and "democracy," and mentioned "elections" only in reference to those in Iraq.
"We need more partnerships like those that are underway here in Saudi Arabia that strengthen civil society, as well as local indigenous efforts to expand opportunities, so that more girls and women everywhere can participate fully in the spheres of society, if they so choose to do so," Clinton said, using two key buzzwords recommended, during the town hall.
Clinton did not mention "driving for women" in the speech, as requested.
However, Clinton did speak out in 2011, telling reporters at a State Department news conference that she supported "brave" women in Saudi Arabia for protesting the Islamic kingdom's ban on female drivers.
"What these women are doing is brave and what they are seeking is right, but the effort belongs to them," Clinton said that year, while making clear that such calls were not coming from the outside. "I am moved by it and I support them, but I want to underscore the fact that this is not coming from outside of their country. This is the women themselves, seeking to be recognized."
Abedin's mother edits The Muslim Minority Affairs journal. The publication came under scrutiny during the 2016 presidential election, for having alleged connections to the Muslim Brotherhood. The Washington Post Fact Checker, though, rated that as false in August of last year after comments from Republican Rep. Sean Duffy, R-Wis., accusing Abedin of having ties to the radical group.
The vision of the Dar Al Hekma college is to promote "high standards of character and learning in keeping with Islamic teachings" for women, according to the college's website.
http://www.foxnews.com/politics/2017/09/14/abedins-mom-made-sure-clintons-saudi-speech-omitted-freedom-and-driving-for-women-emails-show.html
--------
Neda Shahsavari, Aia Mohamed want to be known more for their game, not attire
by Shahid Judge
September 15, 2017
The Chinese finally left the practice tables, a day before the Asian Cup Table Tennis event, after putting on a show of tireless rallying and menacing smashing. The likes of world no 2 in men's singles Fan Zhendong and numbers three and four in women's singles, Zhu Yuling and Liu Shiwen respectively, make up the ranks for the oriental giants. Taking their place on the practice tables was a pair that belongs to the other end of the spectrum – Iranian Neda Shahsavari (ranked 297) and Qatar's Aia Mohamed (616).
However, both are acclaimed athletes in their respective countries. After all, they have been path-breakers for the sport at home. At the 2012 London Olympic Games, Neda became the first and only Iranian woman to compete in the sport at the marquee event, and featured at Rio 2016 as well. Meanwhile, Aia was a mere 17-year-old and the youngest Qatari to qualify for London.
"In Iran, even people who don't know table tennis much know of Neda because of that achievement," says head coach Jamil Lotfallahnasabi. "It was a big thing in Iran when she qualified for both the Olympics, and if you mention that you are somehow associated with table tennis, people will ask, 'do you know Neda?'" Aia, meanwhile, became a recognisable face after her spell in London. "I was at a supermarket and a man came up to me and told me that I looked familiar and asked if I was at the Olympics," recalls the 23-year-old. "Then he asked to take a photograph with me and left. I wasn't used to it then, but it happens often now."
In India too, the pair gets recognised, yet more for their attire than for their exploits on tour. At the TransStadia Arena in Ahmedabad, the pair starts sparring against each other on table one. A crowd steadily gathers to watch. Yet there isn't much interest for the slicing or chopping, or any other fancy manoeuvres they might throw up. Instead, the attention comes more from them being the only two players wearing hijabs. "That's always what gets us attention when we play abroad, and the questions are always based on it," says 31-year-old Neda, who last year helped Iran win the third division World Table Tennis Team Championship title.
Both began playing the sport while keeping their head and arms covered, and ensuring that their hijab is intact has become a practice incorporated in their pre-match routine. "Honestly, it does get a bit hot, but I've been playing with it all my life. So it really doesn't bother me," says Aia. "What is actually a concern for me is getting my ranking higher." There is a will to achieve more in the sport and be recognisable for it, rather than be the unique faces in the crowd when they travel abroad. But at home, their status is already celebrity. At 23, Aia is the best ranked women's player from her country, and her qualification to London – as the youngest member in the Qatar contingent – made her the most promising talent at home.
Neda meanwhile is the bigger name in Central Asia. She laughs when asked if she is looking towards Tokyo 2020 – her third Olympics. "Right now the target is to play more and get better," she replies. Both Neda and Aia are a part of the qualification group at the Asian Cup, along with India's Manika Batra and Suthasini Sawettabut of Thailand. Reaching the quarterfinals results in a direct spot at next month's World Cup. For now though, the targets are a bit more humble. "Iran's in the second division right now. We need to make sure we don't go down," Neda says.
http://indianexpress.com/article/sports/sport-others/the-girls-from-iran-and-qatar-who-want-to-be-known-more-for-their-game-not-attire-4844163/
--------
Singapore swears in first female president
September 15, 2017
SINGAPORE - Singapore on Thursday inaugurated its first female president amid stinging criticism that she is taking office without a vote.
Halimah Yacob, a former speaker of parliament from the Malay Muslim minority, won the presidency in a walkover after authorities decided her rivals did not meet strict eligibility criteria.
While the role is largely ceremonial, the president has veto powers on key government appointments and safeguards the country's substantial financial reserves.
In her first speech as president, Halimah, 63, addressed the racial tensions that have sprung up as a result of the process and vowed to be president of all Singaporeans "regardless of race, language or religion".
"I look forward to the day when we will no longer need to... have reserved elections, and Singaporeans naturally and regularly elect citizens of all races as presidents," she added.
The president also pledged to be independent in exercising her custodial powers over the reserves, which are rarely tapped by the government.
Halimah was a member of parliament for the ruling People's Action Party for nearly two decades before resigning to contest the presidency.
Authorities decided to allow only candidates from the Malay community to foster harmony in the city-state of 5.5 million people which is dominated by ethnic Chinese, and give more opportunities to minorities.
Halimah is the first Malay president of Singapore for almost five decades. The last was Yusof Ishak, president from 1965 to 1970, the first years of the city-state's independence.
But the absence of an election has angered Singaporeans, with many venting their ire on social media.
Social activist Gilbert Goh has organised a protest on Saturday at the city-state's designated free-speech corner.
"Our first-ever lady Muslim President Halimah will be inaugurated today and amid the pompous fanfare, Singaporeans feel a sense of betrayal that they have lost the chance to vote in the next head of state," he said in a statement ahead of the swearing in ceremonies televised live.
Criticism of the electoral process continued to pour in on social media.
"RIP! Democracy," wrote Mohamed Raizulee on Facebook.
http://nation.com.pk/international/15-Sep-2017/singapore-swears-in-first-female-president
--------
Pakistan Women Entrepreneurship Programme Holds Women Summit 2017
September 15, 2017
Pakistan Women Entrepreneurship Programme (PWEP) wrapped up its activities for the second phase with a Women Summit recently.
The programme is a joint venture of Lahore University of Management Sciences (LUMS) and American University (AU), Washington DC. It is supported by the US Department of State and US Pakistan Women Council. Starting in 2014 under the umbrella of Social Enterprise Development Centre (SEDC) LUMS, Pakistan Women Entrepreneurship Programme has trained 88 business women in different areas of business management including marketing, accounting, supply chain management, finance and leadership.
The Women Summit brought together entrepreneurs from the first and second cohort of the programme. The summit started with a welcome note by the Programme Director, Dr. Misbah Tanveer Chaudhary, followed by a guest speaker session on the importance of company registration for entrepreneurs. The session was delivered by Ms. Shazia Suleiman, President Women Chambers of Commerce and Industry, Lahore.
Ms. Kimberly Cayce, Adjunct Professional Lecturer, and Ms. Stephanie Fischer, Director Experiential Learning, from American University conducted a ninety minute workshop with the participants on Business Improvement Planning. It was followed by a session on debunking myths about commercial bank loans by Mr. Hafiz Muhammad Azeem Malik, Relationship Manager (SME & Commercial Loans) Allied Bank Limited.
http://pakobserver.net/pakistan-women-entrepreneurship-programme-holds-women-summit-2017/
--------
URL: https://www.newageislam.com/islam-women-feminism/hyderabad-guest-houses-under-scanner/d/112537
New Age Islam, Islam Online, Islamic Website, African Muslim News, Arab World News, South Asia News, Indian Muslim News, World Muslim News, Women in Islam, Islamic Feminism, Arab Women, Women In Arab, Islamophobia in America, Muslim Women in West, Islam Women and Feminism