New Age Islam News Bureau
20 Jul 2015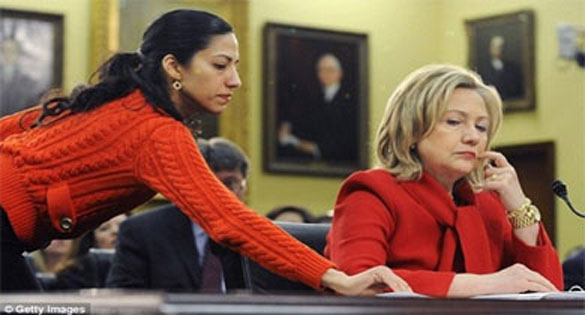 Huma Abedin, an aide to Hillary Rodham Clinton (Photo credit - Getty Images)
------
• Hunting Wolves and Two Girls in Mecca
• Huma Abedin, Daughter of an AMU Alumnus, Is Highest Paid Staffer in US Presidential Campaign
• Buraidah Women's Prison Issues Highlighted by NSHR
• Riyadh Fest Marked With Fervor: Women, Children Flock To King Salman Social Centre
Compiled By New Age Islam News Bureau
URL: https://newageislam.com/islam-women-feminism/hunting-wolves-two-girls-mecca/d/103959
--------
Hunting Wolves and Two Girls in Mecca
Saudi Gazette Saudi Gazette – 20 July, 2015
A clip of two girls being verbally harassed by a group of young boys in the Corniche area has gone viral on Twitter and YouTube Sunday, virtually triggering a debate on social media.
The trending hashtag of the harassment incident also got the authorities to act with Makkah Emir Khaled Al-Faisal ordering the Makkah police to investigate the incident and apprehend the persons in the clip.
The early morning incident, as revealed by the video in the 30-second-long clip circulating on Twitter and the minute-long version on YouTube, took place at the end of Sari Street at the Corniche.
The incident took place during early morning hours when police presence is usually low.
The clip basically shows a large group of boys following the two girls and later shows them surrounding the girls while blocking their efforts to escape.
From the brief audio of the clip, which has overlapping sounds of the area, it seems that the boys were asking the girls to go out with them, while some were seeking their phone numbers.
The two girls, though terrified at being hemmed in by the group, stayed calm and refrained from egging on the mob with some caustic replies. Though one of them did scream for help.
The clip, once it went viral, sparked a huge public outrage and debate on Twitter on the behaviour of the group of youth.
One woman asked: "What are the factors that turn a group of youth into hunting wolves?" While another said there were no real men present at the scene and they had no honour.
There were strong comments from some other people asking for more powers and involvement of the Haia (Commission for Promotion of Virtue and Prevention of Vice) because if they had been present there, none of this would have happened.
There were some people who blamed the girls for the way they had dressed, while some others questioned their presence at the Corniche without a male guardian and at that hour.
Shaikha Zahran said in her tweet that "women who overdress deserve what she gets."
The tweets also called for a law against harassment and that it should be created and activated soon, while another tweet, from a woman, said women should be allowed to carry pepper spray and electric shock guns.
Ali Al-Rasha wrote on his Twitter account that putting firm regulations that would apply to such cases will prevent any similar incidents from taking place in the future.
Hashim Al-Fawaz agreed with him and believed that framing such a law is a must.
But Fatima Al-Jarid noted that there was no need for an anti-harassment law if women stick to hijab. "If an anti-harassment law is put into action, then we need another law that intertwines with it, which is an anti-overdress law for women."
But the most incisive tweet was: "The reputation of Saudi youth is going down, on one hand they are joining terrorist groups and on the other they are committing such acts." This comment was tweeted repeatedly.
https://en-maktoob.news.yahoo.com/hunting-wolves-two-girls-corniche-053641635.html
-------
Huma Abedin, Daughter of an AMU Alumnus, Is Highest Paid Staffer in US Presidential Campaign
19 Jul 2015
By Mumtaz Alam
New Delhi, 19 July 2015: Her boss is leading in the race for next US president, so is she, but on another front. Daughter of alumnus and former lecturer of Aligarh Muslim University, Huma Abedin is the highest paid staffer in US presidential campaign as she takes home an annual salary of more than USD 277,000 from Hillary Clinton Campaign.
According to the latest quarterly financial figures submitted by the Clinton Campaign to Federal Election Commission this week, Huma Abedin was paid USD 69,263.09 in the first quarter. At this rate, her annual pay check is pegged at USD 2, 77,052. John Podesta, the chairman of the Clinton campaign received only USD 3,586, while Robby Mook, the campaign manager, got USD 27,625; Jennifer Palmieri, the communications director, received USD 31,710 during the first quarter of the campaign.
Married to former New York Congressman Anthony Weiner, Huma is currently the vice chair of the campaign -- Hillary for America.
Her late father, Syed Zainul Abedin, was a graduate of Aligarh Muslim University and a university lecturer and her mother, a Pakistani national, was a sociology professor. Both received their PhD's from the University of Pennsylvania.
Huma was born in Kalamazoo, Michigan but grown up in Jeddah, Saudi Arabia. She speaks fluent Arabic.
Graduated from George Washington University, Huma, 39, had longed to be a journalist, and that's why when she first joined the Clinton White House in the 1990s, she hoped to be assigned to the press office.
"Bill and Hillary Clinton have been the sun of Abedin's solar system ever since she joined the White House as an intern at age 21," says Fortune.
http://www.indiatomorrow.net/eng/huma-abedin-daughter-of-an-amu-alumnus-is-highest-paid-staffer-in-us-presidential-campaign
-------
Buraidah Women's Prison Issues Highlighted by NSHR
Saudi Gazette Saudi Gazette – 20 July, 2015
The National Society for Human Rights (NSHR) detected four negative aspects in the women's prison in Buraidah.
They include mingling of women who have been taken into custody with female prisoners before checking them up and ensuring that they are free from diseases, unavailability of a section for isolating cases that are suffering from psychiatric or health problems, the insufficient number of female employees and non-availability of a permanent female doctor, Makkah daily said.
In its annual report for 2014, NSHR said it detected four positive aspects during its visit to the prison. These included the good treatment of the inmates by the prison's female staff, the prison director being aware of the condition of each female inmate, the female prison staff's positive response to the visiting delegation to enable it to communicate directly and obtain all information and the female prison staff taking the initiative and exerting personal efforts to deal with the situation of the female inmates with their families.
The prison administration is aware of the regulatory procedures and is monitoring the situation of the inmates so as to prevent any delay.
NSHR recommended to the prison administration to set up a ward for women under arrest in order to guarantee that the women taken into custody do not mingle with female prisoners.
It also recommended setting up a special section for isolating psychiatric and sick cases that require isolation.
The society recommended relocating the prison to a more suitable building that has emergency exits. NSHR called for corresponding with the authorities concerned on the cases that are suffering due to the delay in looking into their situation. It recommended supporting the prison with more female employees, psychologists, sociologists and lawyers.
© Copyright 2015 The Saudi Gazette. All Rights Reserved. Provided by SyndiGate Media Inc.
https://en-maktoob.news.yahoo.com/buraidah-women-prison-issues-highlighted-nshr-073903492.html
------
Riyadh Fest Marked With Fervour: Women, Children Flock To King Salman Social Centre
July 20, 2015 11:35 AM
RIYADH — Women and children have flocked to King Salman Social Centre to enjoy the folkloric shows presented by women's groups. They also attended the fashion show organized by Saudi fashion designer Modi Al-Sehli.
Numerous Saudi female poets presented poem on Eid and patriotism as well as unity and solidarity against all attempts to disunite or disable the country. There were stand-up comedy shows for women as well as segments targeting children such as dexterity games and clowns.
At Prince Faisal Bin Fahd Olympic Complex, a large number of young men flocked to watch the stand-up comedy shows. Most visitors enjoyed the activities.
Also, the Heritage Village at Al-Jazirah District east Riyadh continues to see an influx of families who have come to participate in Eid Al-Fitr festivals organized by the Riyadh Municipality.
The visitors expressed their admiration at the activities that focused on shedding light on the old traditional ways of celebrating Eid. The activities introduced today's generation to the way their forefathers used to express joy at the Eid festival.
There were panoramic and folkloric shows presenting traditional music genres such as Mizmar, Samri, Ardah, and Khebaiti. Productive families were given spaces to display their hand-made products, which included women's accessories and textiles.
The municipality selected seven sites in Riyadh to present firework shows which start at 11:15 p.m. Families can enjoys the shows at King Abdullah International Parks, King Fahad Stadium, the Suspension Bridge, Al-Nakheel Mall, King Abdulaziz Park, Al-Hayer District, and Al-Dariyadh District.
http://www.saudigazette.com.sa/index.cfm?method=home.regcon&contentid=20150720250886
------
URL: https://newageislam.com/islam-women-feminism/hunting-wolves-two-girls-mecca/d/103959