New Age Islam News Bureau
04 November 2020
• Pakistan Minority Women Forum Urges Govt To Uphold Rights Of Girl Child
• Maria Khan From Goalkeeper In US Looks To Midfielder In UAE Wishes To Make Her Mark With Pakistan
• Saudi Arabia Driving Forward With Transport Benefits For Women
• Women's Golf Events Royalty To Swing For Victory In Saudi Arabia's 'New Frontier'
• Saudi Arabian Working Women to get SR1,100 Wusool Support For Two Years
Compiled by New Age Islam News Bureau
URL: https://newageislam.com/islam-women-feminism/hundreds-women-jamaat-e-islami/d/123367
--------
Hundreds Of Women From Jamaat-e-Islami Marched In Port City Of Karachi to Protest Blasphemous Cartoons
Aamir Latif
03.11.2020
KARACHI, Pakistan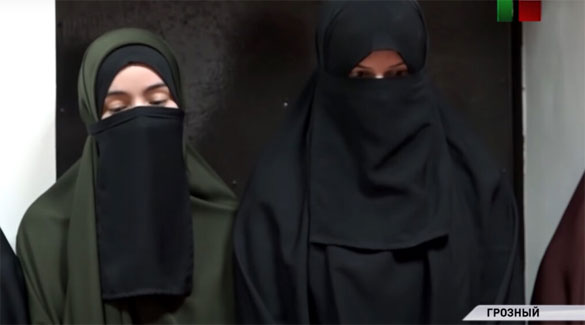 The Women protesters, carrying banners, and placards plastered with word "Muhammad" in Arabic marched on the city's main Mohammad Ali Jinnah road.
----
Hundreds of women marched in the southern port city of Karachi on Tuesday against French President Emmanuel Macron's anti-Islam remarks, and publication of cartoons insulting the Prophet Muhammad.
The protesters, carrying banners, and placards plastered with word "Muhammad" in Arabic marched on the city's main Mohammad Ali Jinnah road.
The rally was organized by the country's mainstream religious party, Jamaat-e-Islami, which has launched a nationwide campaign against projection of the blasphemous caricatures on government buildings in France.
Addressing the rally via video link, JI chief Senator Siraj-ul-Haq said the recent events involving French authorities have hurt the feelings of millions of Muslims across thee world, who can bear "everything, except for the blasphemy of Prophet Muhammad."
Demanding the expulsion of French ambassador from Pakistan, Haq urged the Organization of Islamic Cooperation (OIC) to call an urgent meeting to delineate joint strategy on the matter.
He also called for boycotting the French products.
Boycott French products campaign
The rally coincides with a rising trend of boycotting the French products in the South Asian nuclear states as dozens of store chains joined the nationwide campaign.
In Karachi, the country's commercial capital, nearly two dozen major store chains have either removed the French products, mainly fashion and food products, from the shelves or marked them with "not for sale" tag.
"Trade is our bread and butter but the honor of Prophet Muhammad is above everything," Ahmed Hashim Noorani, the owner of Bin Hashim store chain, which pioneered the boycott campaign in Pakistan, told reporters.
"Consumer response is positive as well. They themselves are not buying the French products," he said, adding that shelves containing French products at all the branches have been sealed with "not for sale" tag.
Last month, Macron described Islam as "a religion in crisis" and announced plans for tougher laws to tackle "Islamist separatism" in France.
French Muslims have accused him of trying to repress their religion, and legitimizing Islamophobia.
Turkey has also condemned Macron's attitude toward Muslims and Islam, with Turkish President Recep Tayyip Erdogan saying the French leader needed "mental health check".
Macron's attitude against Islam, the publication of cartoons insulting the Muslim Prophet Muhammad and their projection on the walls of buildings have triggered boycotts of French products in several countries, including Qatar, Kuwait, Algeria, Sudan, Palestine, and Morocco.
https://www.aa.com.tr/en/asia-pacific/pakistan-women-protest-blasphemous-cartoons/2030633
--------
Pakistan Minority Women Forum Urges Govt To Uphold Rights Of Girl Child
November 2, 2020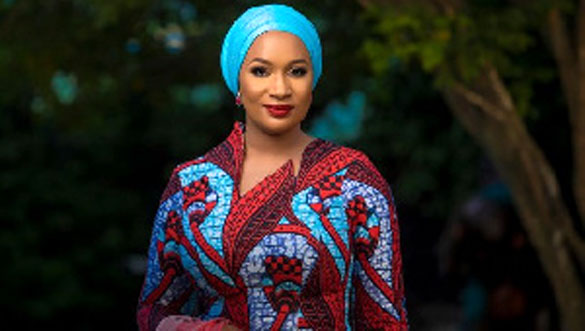 The Forum stated that while it respects the independent right to conversion to any faith, it appeals to the concerned authorities to look into the pattern of religious conversions followed by underage marriages.
-----
LAHORE: The Minority Women Forum has strongly condemned the practice of marrying underage girls belonging to the religious minorities on the pretext of converting their faith and contracting marriage of choice, saying this amounts to statutory rape under the Child Marriage Restraint Act.
"The case of Aarzoo Raja, once again, seeks the State's attention to the multiple vulnerabilities of minor girls of religious minorities emanating from the social divisions based on class, caste, religion and gender. Various research studies explain the disastrous consequences of underage marriages on the health of mother and child and deprive the girls from seeking their educational pursuits," it said in a press statement.
The Forum stated that while it respects the independent right to conversion to any faith, it appeals to the concerned authorities to look into the pattern of religious conversions followed by underage marriages.
It demanded strict and unbiased implementation of the Child Marriage Restraint Act particularly with regard to minor girls belonging to the religious minorities.
Moreover, it demanded enactment of comprehensive legal and policy measures at the national and provincial levels to stop forced conversions and subsequent marriages of minority minor girls and to ensure that any religious conversion is done without any pressure and with free will.
The Forum also demanded wide-ranging anti-discrimination measures, legislative, policy and administrative initiatives to protect and promote the human rights of religious minorities, particularly of minority women and girls who often become victims of abduction, rape, forced religious conversion and underage marriage.
"If no action is taken against such rampant practices, then such incidents will strongly contribute towards the spread of social divisions, distances and disharmony among communities of different faiths. Adhering to the Child Marriage Restraint Act 1929, such marriages of minor girls need to be invalidated," the statement by the rights group concluded.
https://www.pakistantoday.com.pk/2020/11/02/minority-women-forum-urges-govt-to-uphold-rights-of-girl-child/
--------
Maria Khan From Goalkeeper In US Looks To Midfielder In UAE Wishes To Make Her Mark With Pakistan
Umaid Wasim
02 Nov 2020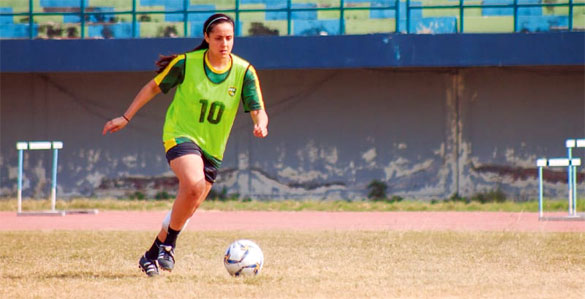 Maria Khan in action - PFP
----
Karachi: Maria Khan went from goalkeeper in the United States to midfielder in the United Arab Emirates and now wants to help women's football in Pakistan in any capacity she can.
Her journey to the national women's team camp currently underway in Lahore has seen her dispel the notion that most of the diaspora players gain an easy entry into the team.
Maria, though, has tested herself at the National Championships and proven she's worthy of a spot at the national team's training camp; the first in seven years after infighting in the Pakistan Football Federation (PFF) saw women's football largely ignored.
Despite her stellar performances for Wapda in the National Championships in 2018 and 2019, her inclusion in the training camp saw many questions why a player of US-origin was called up.
"My both parents are Pakistani and although I haven't been raised in the country, I feel a very deep connection with the country," she said an interview with Dawn on Friday. "At no stage did I want to play for US despite so many opportunities. I wanted to wait for the opportunity to represent Pakistan."
Maria played as goalkeeper in the University of Denver's women's team with her transition to a midfielder coming when she moved to the UAE for her Masters degree in 2013.
Once in the UAE, she began playing amateur football there. It was there that the close proximity to Pakistan saw her learn about women's football in the country.
Five years later, Maria took part in the National Women's Championship for the first time.
"I'm a huge advocate for development of sports," she said. "I was very fortunate to take part in the National Championships in 2018 and I got to know firsthand about the potential and talent that is there in Pakistan."
Maria is one of the senior players, age-wise, at the training camp. The gulf in women's football that has come with the crisis in the PFF has meant there are now several up-and-coming youngsters vying for a spot in the roster.
"There are a lot of young girls who have good potential," she noted. "There is a healthy competition in the team. For me, I'm trying to feed into the experience that the team is having at the camp."
Maria will have to wait at least until next year to make her debut for the national team with the Covid-19 pandemic having put the game on hold internationally.
"I'll keep playing until my legs keep going," she said, when asked if she would be looking to head into management in the future. "The camp has been hard on the body but I'll keep going on until I feel I can contribute to the team in any capacity on the field."
Maria said the holding of the training camp was a good step taken by the PFF Normalisation Committee, which was appointed by global football body FIFA last year to sort out matters in the country's football governing body.
"They're trying to put a system in place which helps in organisation and development," said Maria. "The entire staff including [PFF technical director] Dani Limones is working on several aspects including the neglected areas of players' mental health and nutrition."
She however hopes that there are changes made to the format of the National Women's Championship to ensure more competition. Since its inception, the Women's Championship has been played as a knockout tournament and Maria believes that a league system will tremendously benefit the women's game.
"Consistency is essential," she said. "A league will give the players a chance to play regularly. I really benefitted from that during my career and I hope girls and Pakistan get a similar chance."
https://www.dawn.com/news/1588086
--------
Saudi Arabia driving forward with transport benefits for women
November 04, 2020
JEDDAH: Wusool, a program to help Saudi women in the private sector with transport costs, has been updated to benefit more working women in the Kingdom.
Backed by the Saudi Human Resources Development Fund (HADAF), the program aims to cut the cost of transportation for working women on their trips to and from their workplaces. It supports and empowers women in the workforce throughout the Kingdom.
A new mechanism will help women by providing an 80 percent subsidy for the cost of each trip. For those whose monthly salaries are below SR6,000 ($1,600), a maximum of SR1,100 can be deducted from transportation costs each month. Meanwhile, SR800 per month can be deducted for those whose wages range from SR6,001 to SR8,000, as long as the trip does not exceed 60 km.
The program previously covered a 12-month period for working women, but new changes have expanded it to 24 months. To ensure security and inspire trust in working women, Wusool has partnered with companies that are licensed by the Ministry of Transport.
Reem Aqad, a 24-year-old general manager at a trading company in Jeddah, tried Wusool during the last year.
"It is very helpful. If your trip costs SR50, you can end up paying only SR10," she told Arab News. "When I tried it, it was a one-year offer that could be arranged the moment you're registered with the General Organization for Social Insurance (GOSI)."
According to Wusool's website, all women who have not been registered with GOSI for over three years with the same job can apply.
Aqad said that the service was perfect, and when asked to suggest changes, she said she only wished it lasted longer than a year.
The general manager said she used Wusool daily to get to work and back, and described it as easy to use and subscribe to.
"Some would assume because it's a service that caters to customers during busy work hours that cars would be unavailable, but they're not. It's as smooth as ordering an Uber," she added.
Waad Abdullah, 26, has not tried the service, but has seen it benefit her colleagues at the insurance company where she worked.
"I think it's very helpful for mothers especially, because of how their schedule would often go against their children's in the morning," she told Arab News. " It also saves up their money to be put into other things like tuition, house supplies and the like."
Abdullah said her friends at work found it easy to register with the service. "The companies they're using are also trusted and well known, which helps us feel secure."
She added: "It's something that I haven't heard exists anywhere else in the world. The country is enabling women, giving them the chance to work (for women who can apply at companies to drive other women) and also giving them privileges with such a program, which is really nice."
Nora Al-Rifai, a 29-year-old who works in human resources, came across Wusool through her job. She made an internal announcement within her workplace to educate women about the program.
"We noticed not many female employees knew about it," she said. "I think it's a wonderful initiative because due to the nature of our lands, we don't have many public transportation options. Female employees have to pay unreasonable amounts of money for it and the quality of services and cars sometimes doesn't match the price."
An added bonus the program offers women is helping them spend their money on things that are more important, she said.
"I believe it helps in comforting these employees, which reflects positively on their enthusiasm for work and productivity, knowing that they won't bear the costs from their own salaries and that their government is supporting them," said Al-Rifai.
Account manager Rania Al-Ghamdi said that the program began a year before the ban was lifted on women driving in the Kingdom. "In a way, it's been used to support women until they get their licenses, or those who still don't wish to drive yet."
She told Arab News: "There's still a lot of demand on driving schools and many women are still waiting for schools to open up in their regions, or they're learning and waiting until the demand lessens to apply. This program is for those women who still can't drive, to support women in the workforce, especially when women's salaries are considerably lower than men's."
Wusool covers 13 regions in the Kingdom, including Riyadh, Makkah, the Eastern Province, Madinah, Tabuk, Asir, Qassim, Hail, Jazan, the Northern Borders, Najran, Al-Jawf and Al-Baha.
The program aims to reduce the burden of transport costs for Saudi women by providing safe, high-quality transportation services in partnership with private taxi companies through licensed applications.
Women can register in the Wusool program on the website wusool.sa.
https://www.arabnews.com/node/1758241/saudi-arabia
--------
Women's Golf Events Royalty To Swing For Victory In Saudi Arabia's 'New Frontier'
November 04, 2020
JEDDAH: Trailblazing English golfer Dame Laura Davies has confirmed her place in next week's landmark women's golf events in Saudi Arabia.
A host of other golf stars also cemented their spot in what promises to be a historic occasion on the Jeddah coast.
Four-time major winner Davies will travel to King Abdullah Economic City (KAEC) in pursuit of an 86th professional title in a career that has seen her win the Ladies European Tour Order of Merit seven times and represent Team Europe in 12 different Solheim Cups.
The World Golf Hall Of Famer will have two chances to break her own Tour victory record, with November's women's week playing host to two debut events in the space of seven days: The $1 million (SR3.75 million) Aramco Saudi Ladies International presented by Public Investment Fund, and the $500,000 Saudi Ladies Team International.
Davies said: "The Aramco Saudi Ladies International presented by PIF will be quite the watershed moment that allows us to bring the sport we love to a whole new audience in a way that I think blazes a trail for women and sportswomen in and out of Saudi Arabia. The two events we'll be playing in Saudi Arabia will be of great support to the women's game and a morale boost to all the players after a stop-start 2020.
"We're taking women's golf to a new frontier, both in terms of inspiring new women to give the sport a try and in helping grow the Ladies European Tour event calendar, so it's a tournament I'm really excited to play in – at what looks like a fabulous golf course."
Tournament organizers Golf Saudi Tuesday revealed details of the other superstar golfers to feature in both tournaments.
Some of the headline names include Swedish two-time major winner Anna Nordqvist and her 19-year-old compatriot Julia Engstrom. The latter was named 2018 LET Rookie of the Year and was winner of two events already this year, the Women's NSW Open in March and the Lacoste Ladies Open de France, which saw her bag a hole-in-one en route to a round of 64.
Anne van Dam of the Netherlands and Wales' Amy Boulden also feature in the field of more than 100 players, alongside previously announced English pair Georgia Hall and Charley Hull. The field is available to view in full on the Ladies European Tour website.
The events get underway next week, starting with the Aramco Saudi Ladies International presented by PIF, which runs from Nov. 12 to 15. The unique format of the Saudi Ladies Team International will follow on Nov. 17 to 19, where teams of four players will battle for a share of $500,000.
To celebrate the historic nature of both tournaments, Golf Saudi will launch the Ladies First Club next week, which will offer free golf to 1,000 women living in the Kingdom.
https://www.arabnews.com/node/1758136/sport
--------
Saudi Arabian Working Women to get SR1,100 Wusool Support For Two Years
November 3, 2020
RIYADH — Saudi Arabia's Human Resources Development Fund (HADAF) has raised the ceiling for financial support to female beneficiaries of the Working Women Transportation Support Program (Wusool) to SR1,100 from SR800 per month. The period for benefiting from the program has also been extended to 24 months instead of 12 months.
The Wusool program, one of the key features of the National Transformation Program, aims to empower Saudi female workers in the private sector by increasing their participation in the employment market by providing them with subsidies in transportation costs between their homes and workplaces.
Of late, a number of major improvements have been made in the program with the objective of covering a much larger number of applicants for the program and facilitating registration procedures.
According to the new mechanism, women employees who have registered in the program can benefit from the subsidy by deducting 80 percent of the cost of each trip after the maximum limit has been raised to SR1,100 per month for beneficiaries with a monthly wage of less than SR6000, and with a maximum of SR800 per month for beneficiaries whose monthly wages range between SR6,000 to SR8,000.
The period of benefiting from the program has been extended from 12 months to 24 months and this is out of the keenness on the safety of the beneficiaries of the Wusool program and ensuring the quality and safety of transportation service, which is to be provided through companies licensed by the Ministry of Transport.
Female citizens who wish to participate as vehicle drivers can join the licensed companies that are part of the program. The Wusool program covers all the Kingdom's 13 regions, namely Riyadh, Makkah, the Eastern Province, Madinah, Tabuk, Asir, Qassim, Hail, Jazan, the Northern Border, Najran, Al-Jouf, and Al-Baha.
In an earlier statement, HADAF revealed that a total of 64,577 Saudi female employees have benefited from Wusool, since the program was launched in November 2017 until the end of June 2020. Riyadh region has the highest number of beneficiaries with 28,308 followed by the Makkah region with 19,463 and the Eastern Region with 9,186 beneficiaries.
https://saudigazette.com.sa/article/599913
--------
URL: https://newageislam.com/islam-women-feminism/hundreds-women-jamaat-e-islami/d/123367
New Age Islam, Islam Online, Islamic Website, African Muslim News, Arab World News, South Asia News, Indian Muslim News, World Muslim News, Women in Islam, Islamic Feminism, Arab Women, Women In Arab, Islamophobia in America, Muslim Women in West, Islam Women and Feminism