New Age Islam News Bureau
12 Aug 2015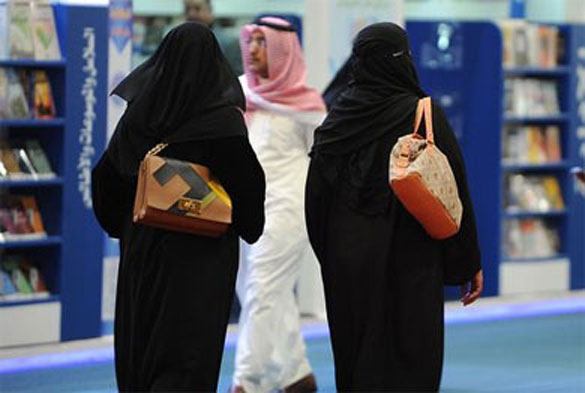 More than 600 Saudi women have filed court cases since October, demanding to change their male guardians (Getty Images)
----------
• ISIS Executes Female Student for 'Working with U.S.-Led Coalition'
• Nigerian Women Reject Hijab Ban Calls
• Saudi Women Get More of A Voice As Economy Needs Boost
• Unmarried Saudi Women Eye Moroccan Husbands
• Princess Reem Named UN Goodwill Ambassador
• 89% Indian Muslim Women Want Government Hand in Codification Of Law: Study
• Tehmina Durrani: A 'Rebel' With a Cause
• Girl Falls Victim to 'Honour', Another to Matrimonial Issue
• Mother of Slain Palestinian Toddler May Have Gone Brain Dead: Report
Compiled by New Age Islam News Bureau
URL: https://newageislam.com/islam-women-feminism/hundreds-saudi-women-seek-court/d/104247
-----------
Hundreds of Saudi women seek court orders to change male guardian
11 August 2015
More than 600 Saudi women have filed court cases since October, demanding to change their male guardians after they refused to approve their choice of husband, Saudi Gazette reported.
The 637 women have requested other male relatives be made their guardian.
Under Saudi Arabia's ultra-conservative laws, women are under the guardianship of a male relative, usually their father or husband, but sometimes their brother or uncle.
Guardians have the power to prevent women from travelling, working or socialising with certain people. They also approve who they marry.
However, it is illegal to prevent a woman under their guardianship from marrying in general.
As women increasingly gain more rights and seek greater freedoms, they are challenging their guardians' decisions.
http://www.arabianbusiness.com/hundreds-of-saudi-women-seek-court-orders-change-male-guardian-602289.html
-----------
ISIS executes female student for 'working with U.S.-led coalition'
12 August 2015
The Islamic State of Iraq and Syria (ISIS) has allegedly executed a female university student in the militant-held Iraqi province of Mosul for providing the U.S.-led coalition information on whereabouts of the Islamist group, a local news website reported Tuesday.
A source, who spoke under condition of anonymity, told the independent Al-Sumaria News said ISIS executed the student in front of residents of Josak neighborhood in Mosul.
In June last year ISIS captured Mosul - Iraq's second largest city.
The source said ISIS described the student as more "dangerous than the coalition's strikes" because she assisted the shelling of 50 sites belonging to the militant group.
It is reported that the student vowed to take vengeance against ISIS after the militant group executed her brother, who was a military officer.
http://english.alarabiya.net/en/News/middle-east/2015/08/12/Report-ISIS-executes-female-student-for-working-with-U-S-led-coalition-.html
-----------
Nigerian Women Reject Hijab Ban Calls
08 August 2015
ABUJA – A leading Nigerian civil rights group has condemned calls to ban hijab in northern Nigeria, warning that any such ban would offer no solution to the problem of Boko Haram extremism.
The association implored the Nigerian government "to remain focused in its fight to end the insurgency and not be distracted by those calling for the ban on the use of hijab," Hajia Amina B. Omoti, the National President of the Federation of Muslim Women's Associations in Nigeria (FOMWAN), was quoted by Today.ng on Friday, August 7.
"It is diversionary and any attempt to implement it will be resisted by all well meaning Muslims in the country."
Problems surrounding Nigerian Muslims' hijab started after the latest attacks carried out by veiled Muslim women.
The calls to ban the religious outfit have angered Nigerian Muslim leaders who rejected the call to stop and search Hijab women under any circumstances, urging for more respect for women.
Muslims all over Nigeria have frown on the latest security lapses in Nigeria and its neighboring countries, demanding more respect for the rights of Muslim who are sometimes stopped and searched indiscriminately.
They have also called on the President Muhammadu Buhari's government to track down the Boko Haram insurgency which has been terrorizing the northern part of the country since 2009.
Omoti, who criticized the wrongful use of the Hijab by the insurgents to perpetrate terrorism, encouraged Muslim ummah to keep calm and continue to be orderly, peaceful citizens of the country.
"The attention of the Federation of Muslim Women's Associations in Nigeria (FOMWAN) has been drawn to the ongoing debate and unsolicited advice to government in different print and electronic media on the need to ban the use of Hijab," a statement from the FOMWAN reads.
"FOMWAN as a Muslim Women organization is concerned at the unfortunate use of young and innocent girls wearing Hijab to create havoc in the North Eastern part of Nigeria; this is sad and worrisome."
Islam sees hijab as an obligatory code of dress, not a religious symbol displaying one's affiliations.
Nigeria, one of the world's most religiously committed nations, is divided between a Muslim north and a Christian south.
Muslims and Christians, who constitute 55 and 40 percent of Nigeria's 140 million population respectively, have lived in peace for the most part.
But ethnic and religious tensions have bubbled for years, fuelled by decades of resentment between indigenous groups, mostly Christian or animist, who are vying for control of fertile farmlands with migrants and settlers from the Hausa-speaking Muslim north.
http://www.onislam.net/english/news/africa/491233-nigerian-women-reject-hijab-ban-calls.html
-----------
Saudi Women Get More of a Voice as Economy Needs Boost
August 12, 2015
At a workshop on an ordinary summer's day in Riyadh, prospective candidates in local elections are limbering up: one wants to help kids, one improve living conditions in the Saudi capital, another become a political role model.
Even in a kingdom with few occasions for voting, the scene would be unremarkable save for one aspect that would have made it unthinkable just five years ago.
In the room are 21 female candidates, all dressed in the black cloaks that are compulsory under the strict Wahhabi version of Sunni Islam, learning how to woo voters and manage campaigns and budgets in the first election that's open to women in the kingdom.
"My message during my campaign is simple: change," said Haifa Al-Hababi, 36, who is preparing to stand and has four months to hone her pitch before the December election. "Change the system. Change is life. The government has given us this tool and I intend to use it."
While giving women more of a voice is a watershed alone, it also underlines the growing importance of having them play a bigger role in society and, crucially, the economy.
With living and housing costs rising and the oil price back below $50, there's just less wealth to spread around given the tripling of the population since the 1970s oil boom. The bottom line is a woman's place can no longer be at home if the menfolk want to maintain the living standards they're accustomed to.
"It's getting to the point where they need two incomes if they want to live in a certain way," said Stefanie Hausheer Ali, associate director at Atlantic Council's Rafik Hariri Center for the Middle East in Washington. "In 15 years, we're going to see more of this shift."
Facing Resistance
King Abdullah, who ruled from 2005 until his death in January, slowly expanded women's rights in the face of resistance from some parts of the religious establishment.
He permitted women to stay at hotels without a letter from a male guardian, making it easier for women to travel on business. He appointed the first female deputy minister, opened the kingdom's first coeducational university and phased out male employees at lingerie and make-up stores.
Though more of them are working, women still only make up 16 percent of Saudis with jobs and account for 60 percent of the unemployed
He also appointed women to the country's 150-member advisory body and allowed female athletes to compete at the Olympics in London in 2012 for the first time, their covered bodies contrasting with competitors. His successor, King Salman, hasn't rolled back the changes, focusing his new royal court on asserting Saudi Arabia's foreign policy.
As a result, female workers are entering the labor force in record numbers, a surge of 48 percent since 2010, last year's official labor report showed.
Economic Boost
"It's job creation within the national population and there's a great multiplier effect in the economy," said Monica Malik, chief economist at Abu Dhabi Commercial Bank in the neighboring United Arab Emirates. "To have around 50 percent of your possible workforce not being utilized is a burden."
Though more of them are working, women still only make up 16 percent of Saudis with jobs and account for 60 percent of the unemployed, according to the labor report.
Even as their status has improved from a decade ago, their lives remain restricted. They cannot drive, and they need a guardian's permission to travel or have some surgeries.
Foziah Abu Khalid, a political sociology professor who helped organize the training, said she hoped women's participation in the vote will mean the voice of all Saudi citizens, not just half of the population, will be heard.
"Entering municipal councils is not our ultimate goal," said Abu Khalid. "We are aspiring that it would be the first step toward a political partnership between society and the state."
The government is holding workshops to introduce women to the basics of voting and running in elections, including one on Wednesday in the southern city of Baha, according to the official Saudi Press Agency. Others, like the event in Riyadh, are organized by activists, charities and NGOs.
Al-Hababi, a candidate at the Riyadh workshop, said constraints have made women less confident. After returning from the U.K., where she lived and studied architecture for 10 years, women would respond with "What's the point?" when she asked why they weren't living the way they wanted.
The Social Media Stars of Saudi Arabia
Read this next:
Saudi Women Are Joining the Workforce in Record Numbers
Ex-Merrill Lynch Banker Takes On Male-Dominated Islamic Industry
Another woman running for local office, Areej Almuallem, 32, said her candidacy will allow her to show that women are trying to make a difference. And that's "enough for me to feel proud and honored," she said.
http://www.bloomberg.com/news/articles/2015-08-11/saudi-women-get-more-of-a-voice-as-economy-needs-boost
-----------
Unmarried Saudi Women Eye Moroccan Husbands
11 August 2015
In a bid to fight the growing rate of spinsterhood in the ultra-conservative kingdom, Saudi women are searching for husbands from foreign lands, especially Moroccans and Egyptians.
For Saudi women, it is much less complicated to marry a Moroccan or an Egyptian than a Saudi husband dictated by tribal traditions.
According to a 2014 study, Saudi women married to foreign men reported a 90 percent success rate in their marriages.
In contrast, Saudi men married to Syrian, Moroccan or Palestinian brides reported a 25 percent failure rate.
According to figures released by the Saudi planning ministry, around 2 million Saudi women were late in getting married.
The lack of financial resources was among the major reasons for the late marriages in Saudi Arabia.
Saudi men also prefer to take a foreign wife because of the high costs of marriage. The high cost of ceremonies and dowries push Saudi men to seek foreign wives as it is less costly.
http://www.moroccoworldnews.com/2015/08/165292/unmarried-saudi-women-eye-moroccan-husbands/
-----------
Princess Reem named UN goodwill ambassador
August 11, 2015
JEDDAH — Princess Reem Bint Mansour Al-Saud was named a UN goodwill ambassador, the first Saudi princess to receive the honour, for her humanitarian work.
Princess Reem holds an M.Sc. in social policy and a Ph.D. in Middle Eastern studies from Oxford University. She is a postdoctoral research fellow at Harvard's Kennedy School of Government working on enhancing Saudi labour policies, especially those pertaining to women.
The official Saudi representative to the Friends of the World Federation of United Nations Associations (WFUNA), Afaf Abdullah Yamani, was present at an award ceremony held at Conrad Hotel in Cairo recently.
In the acceptance speech, which was delivered by Yamani on her behalf, Princess Reem said she had always had a strong interest in the role of Saudi women in the Islamic world and that the UN title would enable her to contribute more to the world's social and humanitarian issues.
She thanked UN Secretary-General Ban Ki-moon and Friends of WFUNA for the honor. She also thanked Custodian of the Two Holy Mosques King Salman for the efforts he has put into humanitarian and women's issues in Saudi Arabia.
Yamani said the princess always looked up to her parents, who taught her to care about social issues and encouraged her to pursue philanthropic work.
In the speech, the princess said her priority would always be her country and that her newly earned title would aid her in breaking new ground in Saudi society.
"Friends of WFUNA has been a vital organization in the growth and development of several societies worldwide," Yamani said. "The princess is a true role model for all Saudi women. You rarely see national and international persona active in youth and women's issues in society."
She added the princess believes in philanthropy and culture as a means to achieve the same goal: world peace and development.
"Although she earned the title of UN goodwill ambassador now, she was always known as the ambassador of Arab culture," Yamani said. "She has a passion in both Western and Arab cultures and believes cooperation between the two worlds will develop our society."
http://www.saudigazette.com.sa/index.cfm?method=home.regcon&contentid=20150812253138
-----------
89% Indian Muslim women want government hand in codification of law: Study
12 August 2015
Around 89% Muslim women feel that the government should intervene and help in codification of law and 86% want religious leaders to take responsibility of justice for them. This and many other findings have come out in a study conducted by Bharatiya Muslim Mahila Andolan (BMMA), an organisation that looks to take up rights of Muslim women in particular and women in general.
The study was conducted across 10 states with a sample size of 4,719 Muslim women. Published as a book named 'Seeking Justice Within Family - A national story on Muslim Women's Views on Reforms in Muslim Personal Law' by Dr Noorjehan Safia Niaz and Zakia Soman, the study was released in a press conference at Marathi Patrakar Sangh on Tuesday. The book, which will be given to the prime minister's office, various commissions, eminent jurists among others, is available on bmmaindia.blogspot.com.
Among the other major findings is that an overwhelming percentage of women (95.5%) from the sample study have not heard about the All India Muslim Personal Law Board (AIMPLB). Formed in 1985, AIMPLB is often considered to be the de facto body head on religious matters of the Muslim community.
Apart from that polygamy is the second highest concern. Around 91.7% did not want their husbands to have another wife in the subsistence of their first marriage. At least 85.7% felt the Mehr (Dower) amount, which is almost always skipped, be given at the time of nikaah.
Age of marriage, said 75% respondents, be more than 18 years for girls and 88% felt that 21 years for boys. The study says oral divorce, which has been a cause of heartburn, needs to be done away with and 88.3% respondents wanted the divorce to be done through the talaq-e-ahsan method, which means that the process be spread over a period of 90 days involving negotiation and avoiding arbitrariness and with a given of reconciliation.
"Not much has changed after the Shah Bano case. Most religious leaders are very resistant to any change," said Zakia Soman. The group said that neither they nor the religious clerics have tried to talk to them over the issue of codification of Muslim law. For a law to be made and taking into consideration the orthodox people who are opposing reform managing to draw large crowds, the women's group said that they also had the numbers.
"When Hindu Marriate Act came, where were the numbers then? We may not be having women (to show), but we can see that a large number of them are suffering. Because of no codification, there is an attitude among Muslim men that they have the right to marry more than once which is not in the case in Hindus. Hindu and Christian laws are codified and there is no reason why Muslim law cannot be codified when most countries have codified them," said Noorjehan, emphasisng about the sufferings of the women in the lower middle class strata where the study mostly focused.
The findings
1. Status of Muslim women
Annual income of families below Rs50,000 - 73.1%
Married before age 18 years - 53.3%
Women with one or two children - 46.5%
Women who faced domestive violence - 53.2%
Women who are home makers - 78.7%
Women who've not heard about AIMPLB - 95.5%
2. Marriage age
Women who want girls' age to be over 18 years - 75.5%
Women who want boys' age to be over 21 years - 88.3%
3. Mehr
Women who want Mehr to be given at marriage – 85.7%
Annual income to be Mehr amount - 83.9%
Do not want to forego Mehr when women want divorce - 75.1%
Received Mehr less than Rs1,000 - 40 %
Did not receive Mehr at all – 44%
4. Polygamy
Do not want husband marrying in subsistence of first marriage - 91.7%
5. Divorce – women who want:
Total ban on oral/unilateral divorce - 92.1%
Talaak-e-Ahsan to be method of divorce - 88.3%
Arbitration mandatory before divorce - 93%
Arbitration process between three to six months - 72.3%
Qazi to be punished who sends notice of oral divorce - 88.5%
Women in sample study divorced orally - 65.9%
Women divorced unilaterally - 78%
6. Maintenance
Women not receiving maintenance at all in marriage - 27%
7. Custody and adoption of children
Women retaining custody of children - 88.9%
Ex-husband paying for children's maintenance - 95.6%
Want consent and well being of child to be deciding factor - 92.7%
Adopted child to be the treated as natural heir - 79.8 %
8. Codification and Darul Qazas
Women who believe codification law will help get justice - 83.3%
Activities of Darul Qaza be monitored by state - 87.9%
Government to intervene in codification - 89%
Muslim women body provide legal aid – 95.4%
http://www.dnaindia.com/mumbai/report-89-muslim-women-want-government-hand-in-codification-of-law-study-2113388
-----------
Tehmina Durrani: A 'rebel' with a cause
August 12th, 2015
LAHORE: Ms Tehmina Durrani, wife of Chief Minister Shahbaz Sharif, is apparently taking a line different from the government's on Kasur children sexual abuse scam by demanding that the case be referred to a military court.
In a rare political tweet from her Twitter account on Tuesday, she said: "Hand this entire mess to military courts for investigation coz the system is NOT to be trusted unless it is reformed."
Her tweet echoes similar demands made by the Pakistan Tehreek-i-Insaf, PML-Q, Pakistan Awami Tehreek and others.
In an earlier tweet, Ms Durrani said "the civil government needs military help," and that "this should not become an ego problem (as) it concerns the entire nation."
She also does not seem satisfied with what Punjab law and parliamentary affairs minister Rana Sanaullah said on the issue in some TV talk shows as she tweeted: "Rana saheb should please stop embarrassing me."
Expressing her utter disgust with the heinous act in yet another tweet, she supported a strict action against the suspects if found guilty by saying: "If I were PM or Punjab CM, in this case I would have become a dictator of the kind never imagined before."
Ms Durrani – the author of three books -- My Feudal Lord, A Mirror to the Blind and Blasphemy – is followed by over 5,000 people on Twitter.
Published in Dawn,
http://www.dawn.com/news/1199997/tehmina-durrani-a-rebel-with-a-cause
-----------
Girl falls victim to 'honour', another to matrimonial issue
August 12, 2015
KASUR
A man shot dead his sister on suspicion of having relations with someone in Head Balloki area on Truesday.
According to police, Nazar Hussain suspected that his sister Sakina Bibi had developed illicit relation with local and they often talked to each other on phone.
He tried to stop her many times but to no avail. Both exchanged hot words the other day.
In a fit of anger, he opened fire on her, leaving her dead on the spot. The suspect tried to flee after committing the crime, but the Sarai Mughal Police arrested him.
A murder case was registered against the suspect.
In Najabaat village of Khuddia, a man shot dead his sister-in-law after she refused to marry the man of his choice. The Police have registered a murder case.
Meanwhile, a dead body was recovered from Sufianwal Kot in the precincts of Phoolnager Police. However, due uncertainty about demarcation between limits of the two police stations, the body kept lying there for three days. People have expressed their displeasure over the rude attitude of the police.
http://nation.com.pk/national/12-Aug-2015/girl-falls-victim-to-honour-another-to-matrimonial-issue
-----------
Mother Of Slain Palestinian Toddler May Have Gone Brain Dead: Report
Aug 12, 2015
The mother of the 18-month-old Palestinian baby boy killed in a recent arson attack on his home by Israeli settlers in the West Bank may have gone brain dead, a report says.
Riham Dawabsheh, Ali's mother, who was herself injured and who also lost her husband in the arson attack, was put on a respirator at the Chaim Sheba Medical Center, also known as Tel HaShomer Hospital, in the occupied Palestinian territories on Monday, Arabic-language Akhbaar 24 news website reported on Tuesday.
The decision to put her on a respirator came after her general health condition deteriorated, and some of her organs stopped functioning, according to the report.
Some doctors and medical officials have also suggested that she might be brain dead.
Her 32-year-old husband, Sa'ad Dawabsheh, died at a medical center early on Saturday.
The picture, taken on July 31, 2015, shows Palestinians looking at the house set on fire by Israeli settlers and where 18-month-old Palestinian toddler Ali Sa'ad Dawabsheh died in the occupied West Bank town of Duma. (© AFP)
He had been left with second-degree burns over more than 80 percent of his body following the late July firebombing, which killed his son.
On July 31, a large fire broke out after extremist Israeli settlers threw firebombs and Molotov cocktails into two Palestinian houses – including that of the Dawabshehs – in the town of Duma, located 25 kilometres (15 miles) southeast of Nablus.
The incident sparked angry reactions from Palestinians, including political and resistance groups.
United-Nations Secretary General Ban Ki-moon censured the arson attack as a "terrorist act," calling for the perpetrators to be promptly brought to justice.
Relatives carry the body of 18-month-old Palestinian toddler Ali Sa'ad Dawabsheh, who died on July 31, 2015. (© AFP)
"Continued failures to effectively address impunity for repeated acts of [Israeli] settler violence have led to another horrific incident involving the death of an innocent life. This must end," Ban's spokesman Stephane Dujarric said in a statement.
Israeli settlers have in recent years carried out various attacks, including arson attacks, on Palestinian property in the West Bank and al-Quds (Jerusalem).
http://www.presstv.ir/Detail/2015/08/12/424381/Palestinian-toddler-Riham-Dawabsheh-brain-dead-Israel-settlers-Duma
-----------
URL: https://newageislam.com/islam-women-feminism/hundreds-saudi-women-seek-court/d/104247