New Age Islam News Bureau
12 Sept 2017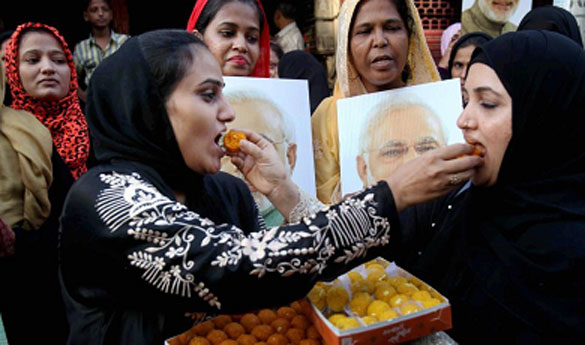 Photo: A file photograph of Muslim women celebrating the Supreme Court's decision on triple talaq on August 22. The All India Muslim Personal Law Board says it would be a mistake to assume that a majority of Muslim women support the ban on triple talaq.(PTI Photo)
--------
• Woman seeks protection from family after conversion, freewill marriage
• Iraq holds 1,300 IS women, children
• ASI filmed beating helpless woman on court premises
• Woman abducted by husband's rivals
• Woman is beaten with a cane as she and ten other men and women are whipped for crimes ranging from adultery to gambling under Indonesia's sharia law
• Malay Woman to Be Singapore President, Puts Minority Representation on Agenda
• Muslim woman seeks divorce at press conference but clerics play hard to get
• Jordan's women plumbers fix pipes as men leave puddles
• Saudi Shoura Council calls to hire specialized women to issue fatwas
• Toronto festival documentary offers glimpse into sharia, women's rights
• Empowering women: Hunza Valley makes it to the top
• How cycling is keeping the fight for women's rights moving in Saudi Arabia
• On the memoir of Shahla Habibi, the first Iranian female presidential advisor
Compiled by New Age Islam News Bureau
URL: https://www.newageislam.com/islam-women-feminism/hundreds-muslim-women-rally-support/d/112503
--------
Hundreds of Muslim women rally in support of triple talaq, decry 'bid' to dilute Sharia
Sep 11, 2017
Hundreds of women gathered under the aegis of the All India Muslim Personal Law Board (AIMPLB) to protest against any move aimed at diluting the Sharia law, which provides for the banned triple-talaq practice, at Iqbal Maidan in Bhopal on Monday.
This move came a day after the Islamic organisation decided on constituting a panel to look into the Supreme Court verdict against the controversial practice. Several AIMPLB office-bearers, including general secretary Syed Mohd Wali Rahmani and women's wing leaders Asma Zehra and Sufia Hasnaini, addressed the gathering.
The speakers announced that they would seek the signatures of about three crore Muslim women on a memorandum against the Supreme Court judgment, which would then be sent to the Chief Justice of India. They termed triple talaq as a "right" that should not be taken away from them simply because some "uneducated women" had moved the apex court against it.
The AIMPLB, established in 1973, is one of the leading Islamic organisations in the country. It is opposed to any interference either from the court or the government as far as the Sharia is concerned. The board is a party to the petition on triple talaq, which was declared unconstitutional by the Supreme Court on August 22.
Though the board's working committee proclaimed its respect for the Supreme Court at a meeting in Bhopal on Sunday, it decried any attempt at interfering with the Sharia law. It then decided to form a committee to check if the judgment was in contravention with the same. The Muslim leaders maintained a similar tone on Monday.
Attacking the NDA government at the Centre, AIMPLB executive committee member Asma Zehra wondered why the central government was trying to interfere only with the law governing Muslims when "women face atrocities and domestic violence in all religions".
"We feel empowered due to Sharia, and triple talaq is the best way to get rid of a husband if he harasses his wife," said Dr Sufiya Hasnaini, convenor of the AIMPLB state women's wing. "We can ourselves bring about any required change by educating people on triple talaq, but we will not allow anybody to change our law."
Board member KR Sajjad Naumani agreed, stating that it would be wrong to perceive that a majority of Muslim women are against triple talaq.
While AIMPLB general secretary Syed Mohammad Wali Rahmani conceded that triple talaq can be misused, he insisted that it is also effective under certain circumstances. "Any dilution in the Sharia will lead to women being abandoned," Rahmani said.
However, Bharatiya Muslim Mahila Andolan activist Shaista Ali said the Supreme Court judgment would go a long way in resolving the problems faced by Muslim women. "It's in favour of Muslim women who have long been suffering due to the malpractice of pronouncing the triple talaq in one sitting. The AIMPB's opposition to the judgment is not surprising, but they have no option but to accept it."
Though hundreds of women participated in the convention, they were not allowed to share their views with the press. The organisers even announced over the public address system that they should not interact with the media.
hindustantimes.com/india-news/hundreds-of-muslim-women-rally-in-support-of-triple-talaq-decry-bid-to-dilute-sharia/story-mB9eBeAJBleUzMY8YewpvI.html
--------
Woman seeks protection from family after conversion, freewill marriage
September 12, 2017
SUKKUR: A woman, Mahwish, along with her husband, Ameer Bukhsh Wassan, filed a petition in the Sindh High Court here on Monday to seek protection for the couple's life from her parents and close relatives after she embraced Islam and contracted a freewill marriage. The court has fixed the matter for Tuesday (Sept 12).
Ms Mahwish, whose original name is Aarti Kumari, appeared before local journalists outside the court and stated that she served as a teacher at a private school in Gambat town of Khairpur district and contracted a freewill marriage with her colleague, Mr Wassan, after embracing Islam at the hands of Maulvi Asadullah Memon at Gole Majid in Barrage Colony, Sukkur, on Sunday evening. She said she adopted Mahwish as her new name and Maulvi Rehmatullah Soomro performed the Nikah.
In her petition for protection, the woman has named her father, Raj Kumar, brother Heera Lal, uncle Mahesh Kumar and an influential figure of Gambat, Beebu Mal, stating that they were threatening the couple with dire consequences. The petition was filed through advocate Ashiq Ali Shaikh and advocate Hubdar.
Meanwhile, the woman's father and other close relatives have claimed that Aarti Kumari was kidnapped and subjected to forced conversion. They have lodged a kidnap report at the Ranipur police station of Gambat.
KHAIRPUR: The Shah Latif Foundation held a protest demonstration outside the Khairpur Press Club on Monday against the alleged kidnapping of Aarti Kumari.
Leading the protest, Faqeer Sahib Latifi, Dr Gulshan Iqbal and Rafique Ahmed observed that it was the latest of a series of such incidents of suspicious conversion and freewill marriage involving a Hindu woman and a Muslim man taking place in Sindh over the past few years.
They said the Hindu community in the province was feeling increasingly insecure due to such incidents. They said protection to all citizens' life, property and honour without any discrimination of faith was a responsibility of the state.
They said fears of the minority community must be allayed.
HYDERABAD: Awami Tehreek leader Rasool Bux Palijo on Monday observed that murder, kidnapping and forced conversion of young women in Sindh indicated primitive mindset.
In a statement issued here, he alleged that the fundamental rights guaranteed under the Constitution and law were being violated to kill, kidnap and forcibly convert women for marriage.
He urged media personnel, intellectuals, lawyers, students, teachers and others to raise their voice and play their role in putting an end to such acts, which were dangerous to society. He also observed that tribal system under which women were killed was thrust upon Sindh.
dawn.com/news/1357027/woman-seeks-protection-from-family-after-conversion-freewill-marriage
--------
Iraq holds 1,300 IS women, children
September 12, 2017
BAGHDAD - Iraq has in its custody more than 1,300 women and children from Islamic State group families who surrendered to Kurdish peshmerga forces, an official said Monday.
"The peshmerga handed over 1,333 women and children from jihadist families from the Islamic State group," said the senior official in the Iraqi Joint Operations Command (JOC).
Iraqi forces in late August ousted IS from the jihadists' one-time stronghold of Tal Afar, near Iraqi Kurdistan, after facing fierce resistance in the town of Al-Ayadieh.
The women and children "surrendered to Kurdish forces" deployed north of Al-Ayadieh, said the official, who spoke to AFP on condition of anonymity. "We settled them in a camp for the displaced near Mosul," 70 kilometres (43 miles) east of Tal Afar, he said, adding the women and children were of "14 different nationalities".
During the battle for Tal Afar, images circulated on social media showing armed men in peshmerga uniforms among jihadists who were standing in line or sitting on the ground.
Witnesses said dozens of jihadists surrendered to the peshmerga after helping their families flee east and to Mosul. They had sought to blend in with other displaced people fleeing Tal Afar.
Peshmerga commanders have declined to comment on the reports.
However, in a statement published on the website of the Kurdistan Democratic Party (PDK) party of Iraqi Kurdish leader Massud Barzani, one said "many jihadists are trying to sneak out among the displaced".
nation.com.pk/international/12-Sep-2017/iraq-holds-1-300-is-women-children
--------
ASI filmed beating helpless woman on court premises
September 12, 2017
SIALKOT: A police official was filmed beating a woman on Monday on the Daska judicial complex premises.
The footage, which went viral on social media sites and was broadcast by TV channels, shows Satrah police station's Assistant Sub-Inspector (ASI) Sarwar Dogar repeatedly slapping the woman, identified as Zakia Bibi, in the presence of several onlookers.
Dawn learned the ASI had brought Saania Akhtar, the daughter-in-law of Zakia, to produce her before Civil Judge Waqas Hashmi. Saania was reportedly rescued by police from her captors after three months of abduction.
Zakia told Dawn the police official was teasing Saania and when she confronted him, the official humiliated her in front of the public. She alleged the police were keeping Saania at the all-male police station. She said her daughter-in-law had been kidnapped three months ago, and now instead of arresting the kidnappers, the police were harassing them in the case.
Police, however, said Zakia along with some other women, tried to get Saania free and beat the officials. District Police Officer Dr Abid Khan ordered a probe into the matter.
PROCESSION: A large number of people, including lawyers, participated in a procession in Sialkot in protest at the ethnic cleansing of Rohingya Muslims by the Myanmar regime on Monday.
Bar President Tahir Rauf Ahmed led the procession which began from the new judicial complex and ended at Fawara Chowk. Later, the bar also unanimously passed a resolution against the Myanmar regime.
ONIONS: The prices of onions have soared by 300 per cent in the markets of Sialkot in the last four days.
According to vendors, the price surge was caused due to the shortage of onion supplies.
Vendors are selling onion at Rs160 per kilogramme, which was available at Rs40 about four days ago. People have demanded that Chief Minister Shahbaz Sharif look into the matter.
dawn.com/news/1357078/asi-filmed-beating-helpless-woman-on-court-premises
--------
Woman abducted by husband's rivals
September 12, 2017
HEIKHUPURA - A woman, said to be mother of two minor children, was allegedly abducted by the rivals of her husband in Chicho ki Malian locality here on Monday. The victim Manzooran Bibi along with her children was in her house while her husband had gone for duty. Meanwhile the accused identified as Tariq, Amir and their two unidentified accomplices stormed the house and took the woman away at gunpoint, leaving the children behind. The Housing Colony Police have started investigation into the incident.
nation.com.pk/national/12-Sep-2017/woman-abducted-by-husband-s-rivals
--------
Woman is beaten with a cane as she and ten other men and women are whipped for crimes ranging from adultery to gambling under Indonesia's sharia law
11 September 2017
Eleven men and women have been whipped for crimes ranging from gambling to adultery in Indonesia under brutal sharia law.
The barbaric public lashings, which occurred today in Banda Aceh, are the latest to emerge from the only province in the country to implement the Islamic punishment.
Those forced to take a cane across the back were hit more between 10 and 29 times by a masked enforcer for their respective so-called crimes.
The province began implementing Sharia law after being granted autonomy in 2001 – an attempt by the government in Jakarta to quell a long-running separatist insurgency.
Islamic laws have been strengthened since Aceh struck a peace deal with Jakarta in 2005.
People are flogged for a range of offences including gambling, drinking alcohol, gay sex or any sexual relationship outside marriage.
More than 90 per cent of the 255million people who live in Indonesia describe themselves as Muslim, but the vast majority practice a moderate form of the faith.
The brutal and public beatings have become more prevalent this year with a number of reported incidents of those being punished collapsing in pain on stage.
Back in September 2014, Aceh approved an anti-homosexuality law that can punish anyone caught having gay sex with 100 lashes.
After a three-decade-old separatist movement, a peace agreement signed in 2005 granted special autonomy to Aceh, at the northern tip of Sumatra, on condition that it remained part of the sprawling archipelago.
As part of that deal, Aceh won the right to be the only Indonesian province to use Islamic sharia law as its legal code.
Anybody caught engaging in consensual gay sex is punished with 100 lashes, 100 months in jail or a fine of 1,000 grams of gold.
The law also set out punishment for sex crimes, unmarried people engaging in displays of affection, people caught found guilty of adultery and underage sex.
Religious police in Aceh have been known to target Muslim women without head scarves or those wearing tight clothes, and people drinking alcohol or gambling.
Over the past decade, the central government has devolved more power to regional authorities to increase autonomy and speed up development.
Engaging in homosexual acts is not a crime under Indonesia's national criminal code but remains taboo in many conservative parts of the country with the world's largest Muslim population.
The trend appeared to be slowing down after a string of worrying incidents at the turn of the new year, but the new pictures reveal the practice still looms large in Indonesia.
Men and women have collapsed in pain due to the severity of their injuries and people can be caned for something as innocent as standing too close to a partner in public or being seen alone with someone they are not married to.
dailymail.co.uk/news/article-4872860/Woman-beaten-cane-Indonesia-s-sharia-law.html
--------
Malay Woman to Be Singapore President, Puts Minority Representation on Agenda
September 12, 2017
Singapore. There are no Muslim Malays in the top echelons of Singapore's army, and few among the senior ranks of its judiciary, but a member of its poorest ethnic minority is set to become the first woman president of the Southeast Asian city state this week.
Halimah Yacob, a former speaker of Parliament, will be formally named to the mostly ceremonial post on Wednesday (13/09), media reported, after other candidates fell short of the criteria set for contesting the election.
Aiming to strengthen a sense of inclusivity in the multicultural country, Singapore had decreed the presidency would be reserved for candidates from the Malay community this time.
Halimah's experience as House speaker automatically qualified her under the nomination rules.
Of the four other applicants, two were not Malays and two were not given certificates of eligibility, the elections department said.
The last Malay to hold the presidency was Yusof Ishak, whose image adorns the country's banknotes.
Yusof was president between 1965 and 1970, the first years of Singapore's independence following a short-lived union with neighboring Malaysia, but executive power lay with Lee Kuan Yew, the country's first prime minister.
The separation of Singapore from Malaysia gave ethnic Malays a clear majority in Malaysia, while ethnic Chinese formed the majority in independent Singapore.
Preserving Harmony
Leaders of both countries, however, recognized that peace and prosperity depended on preserving harmony between the two groups.
But living in a Muslim-dominated neighborhood, with Malaysia and Indonesia next door, Singapore's leaders have long worried about the risk of conflicted loyalties among Malays.
"You put in a Malay officer who's very religious and who has family ties in Malaysia in charge of a machine-gun unit, that's a very tricky business," the late Lee Kuan Yew was widely quoted as saying in 1999.
For Lee, whose son, Lee Hsien Loong, is now prime minister, the answer to social cohesion lay in creating a culture of meritocracy, rather than adopting policies of positive discrimination to boost the chances of advancement for Singapore's Malay and Indian minorities.
Still, a government report published in 2013 found Malays felt they were sometimes discriminated against and had limited prospects in some institutions, such as the armed forces.
Singapore's economic success and education policies have helped swell the ranks of middle-class Malays, but the last census in 2010 showed they lagged other ethnic groups on socio-economic measures such as household incomes and home ownership.
Malays, who form just over 13 percent of Singapore's 3.9 million citizens and permanent residents, also underperform on measures such as university and secondary school education.
Despite being the establishment candidate, Halimah wears a hijab, which is banned in state schools and public sector jobs that require uniforms. But she has seldom spoken publicly on the issue and there is little sign of change in official attitudes.
Farid Khan, one of the unsuccessful candidates and the chairman of marine services firm Bourbon Offshore Asia, told Reuters more Malays now hold political office, and some are making their way in the corporate world, but "there is still room for improvement."
The prospect of a Malay president is by itself unlikely to resolve concerns over under-representation, but analysts and advocates say it could help foster trust among communities.
Yet the reserved election has also injured some pride.
"It cheapens the credibility of a Malay person that it requires a token election for us to be president," said Malay comedian and television personality Hirzi Zulkiflie. "Some people intending to run are very capable."
jakartaglobe.id/international/malay-woman-singapore-president-puts-minority-representation-agenda/
--------
Muslim woman seeks divorce at press conference but clerics play hard to get
11th September 2017
LUCKNOW: A Lucknow woman has run up against opposition from clerics in her attempt to divorce her husband as per the Islamic practice of 'khula'. While women activists advise her that the marriage would be automatically stand annulled if she correctly followed the 'Khula' method, clerics say a formal annulment by them is still necessary.
After being married for 12 years, Sajida Khatoon, 35, a school teacher, sent a 'khula' (divorce initiated by a married Muslim woman) notice to her husband from whom she has been separated for 18 months.
In fact, Sajida is believed to have signed a Khula notice on Saturday in the presence of media persons at a press conference and sent it to her husband. According to an activist, Sajida informed her husband that she had already entered 'iddat'— the waiting period of three menstrual cycles to allow for any possibility of reconciliation — and that at the end of the period, she would be free from the marriage ties.
"Her marriage gets dissolved after iddat and she doesn't need a cleric," stressed the women activist.
However, clerics have refused to accept her contention, saying seeking khula in such a manner was not tantamount to divorce.
Sajida claimed that her husband and in-laws were not ready to give her a divorce. "I contacted several clerics after separating from my husband but they insisted on his consent," she stated.
Meanwhile, according to senior Sunni cleric Maulana Khalid Rasheed Farangi Mahli, who is also an executive committee member of the All India Muslim Personal Law Board, a minimum of three notices must reach the husband from the woman seeking a divorce after which a cleric would pronounce the marriage annulled. But that can happen only after three attempts of reconciliation between the woman and her husband.
"In this case, Sajida Khatoon submitted her complaint to our office on August 21 and we sent a notice to her husband. She did not wait for his reply," the cleric said, questioning her move of calling a press conference and making a public announcement of her decision to divorce her husband.
Shia cleric Maulana Saif Abbas said, "Only a mujtahid (accepted authority on Islamic law) or his advocate can dissolve a marriage after three notices in three months."
However, Sajida felt that if her husband and in-laws were not ready to accept her notice of Khula they were free to move the court.
newindianexpress.com/nation/2017/sep/11/muslim-woman-seeks-divorce-at-press-conference-but-clerics-play-hard-to-get-1655470.html
--------
Jordan's women plumbers fix pipes as men leave puddles
12 September 2017
LONDON: Israa Ababneh was skeptical when her uncle signed her up for a plumbing course at a vocational center in North Jordan.
"At first I thought what am I doing here? It's just for men and it's hard."
But she stuck it out for three days and mastered the basics before moving onto practical skills.
"That's when we started to have fun, learning how to cut iron pipes, connect them and fix leakages behind a wall."
The 27-year-old is one of a growing number of women taking up plumbing in Jordan, raising eyebrows in local communities where social norms prevent many women from working, particularly in roles traditionally occupied by men.
Some 81 percent of women in Jordan are unemployed, according to a report by UNHCR.
The country ranks 134th out of 142 in terms of women's economic contribution, according to a 2016 study by the Jordan Strategy Forum.
At first, Ababneh and the other female plumbers she works with found these patriarchal attitudes prohibitive — particularly when people refused them work because they were women.
"They used to laugh and say we couldn't do it. It was like a challenge."
Now, she said, clients call specifically seeking female plumbers.
"A man just mends the faucet and leaves a mess but when a woman does it she fixes the problem and leaves it clean."
Women plumbers can also gain access that is off limits to men, carrying out work in households where male family members are not present.
This means leaks can be fixed faster with less water lost – a big benefit for a country where water availability is among the lowest in the world.
Jordan has an annual water supply of just 150 cubic meters per person, well below the official UN threshold for "absolute scarcity" set at 500 cubic meters.
"Water is a highly sensitive issue in Jordan," said Bjorn Zimprich, project manager at German Development Agency GIZ, which initiated the Water Wise Women's Initiative to train female plumbers in the country.
"There have been a lot of awareness campaigns and people know that water is scarce but with regards to behavioral impact there is limited impact."
Most Jordanian households subsist on just one water tank a week so fixing a burst pipe quickly can make all the difference for families dependent on limited supplies.
With between 40 and 50 percent of Jordan's water lost through its aging distribution network, due in large part to leakages and theft, there is an urgent need for more efficient maintenance.
Conservation is a key concern on the training program, which aims to raise awareness surrounding water scarcity among local and refugee communities across Jordan.
"People from Syria, Iraq and Palestine are all living in this country and sharing the water," said Ababneh, pointing to the additional pressure on Jordan's limited resources created by a refugee crisis.
"We go into schools and tell them how to stop leakages and advise households on using water-saving devices," says Ababneh, who is now part of a professional female plumbing cooperative.
The women work in pairs, with different teams responding to calls around the country.
Plumber Ala Abu Heja, 32, hopes that this could help pave the way for more diversity in Jordan's labor force.
"Before, a female plumber is not something people here would accept.
Now we're seeing some females working in electricity, plumbing and mechanics so these initiatives will influence the entrance of women into other occupations traditionally dominated by men."
More than 160 women have now graduated from the program, which runs separate sessions for male trainees.
Nargis Al-Mahmoud, 23, arrived in Jordan in 2013 after bombs destroyed her home in Dar'aa, Syria. With little means of generating an income in Jordan, her husband signed up for the course.
"He was really struggling to understand the theoretical part but reading his notebook one time I said, are you kidding? This is something I can do."
The daughter of a handyman, Al-Mahmoud already knew her way around a toolbox and she enrolled in the program, eager to pursue a career in plumbing. "The first time I went to a house they started to make fun of me and I ran out crying. It was really bad. I told my husband and he said just stay at home, we don't need this.
But Al-Mahmoud was determined to put her new skills to use. "I didn't do all this training just to sit at home," she said. After fixing a few things for free to showcase her skills, Al-Mahmoud's client base began to grow and she is now working alongside her husband to expand their budding family business.
For Abu Heja, the opportunity to earn and contribute to the household budget has had a personal as well as a financial impact. "I now have a source of income and a greater sense of self-respect," she said, a feeling shared by many graduates of the program. "In the past, we felt shy and restricted, but now we're working, we feel we can go wherever we like and do what we want. It's really built our confidence in a way that we never thought it would."
arabnews.com/node/1159596/middle-east
--------
Saudi Shoura Council calls to hire specialized women to issue fatwas
12 September 2017
RIYADH: During its 49th ordinary session, the Shoura Council called on the General Presidency of Scholarly Research and Ifta to open independent sections for women.
This ordinary session was held on Monday under the chairmanship of the president of the council, Abdullah Al-Asheikh.
It also called for hiring specialized women to issue fatwas, while providing the necessary human and material requirements to do so.
The council called on the presidency to take the necessary measures to complete the appointment of the muftis in the rest of the Kingdom and to adopt the necessary funds for the development of the library of the presidency.
During the session, the council called on the General Authority for Ports to transfer the advisory councils of the ports to boards of directors at each port and with all given administrative powers.
In its resolution, the council called on the General Authority for Ports, in coordination with the relevant authorities, to include in next reports its efforts to reduce the negative impacts on the marine coastal environment.
In another resolution, the Shoura Council called on the Agricultural Development Fund (ADF) to direct its support to make use of the ADF's initiatives in developing the agricultural sector in the Kingdom and to develop an advanced performance strategy.
The council discussed the report of the Hajj, Housing and Services Committee on the annual report of the Real Estate Development Fund for the fiscal year 1436/1437 AH.
In its recommendations, the committee called on the Real Estate Development Fund to accelerate the implementation of the royal order, which includes the development of the fund's system to become a financing institution capable of providing financial instruments and innovative solutions.
The committee called for providing support and assistance to the Real Estate Development Fund to collect on its overdue loans.
One of the council's members called on the fund to apply the decision of the Council of Ministers, which exempted applicants before 23/7/1432 AH of the provisions of the regulation of housing subsidy.
She also demanded that soldiers stationed in the southern borders be exempted from repaying loans to the Real Estate Development Fund.
arabnews.com/node/1159561/saudi-arabia
--------
Toronto festival documentary offers glimpse into sharia, women's rights
Sep 12, 2017
Nearly a decade after shattering the glass ceiling of Islamic jurisprudence, the first woman judge to be appointed to a sharia court in the Middle East says women's rights still have a way to go.
Kholoud al-Faqih was at the Toronto film festival on Monday for the premiere of Erika Cohn's documentary The Judge, which looks at sharia law through the eyes of the first woman judge to be appointed to the Middle East's religious courts.
"I'm personally satisfied with the speed of progress in Palestine," Faqih told AFP. "But I wish the rest of the Middle East would hasten their recognition of Arab women's rights.
Eight years ago, Faqih pressed Palestinian chief justice Sheikh Tayseer al-Tamimi for the judgeship and beat out dozens of male applicants.
Tamimi initially laughed off the idea of a woman judge but eventually was persuaded by her arguments to appoint her and another woman, Asmahan Wuheidi.
Many in the West associate sharia courts with religious extremism, but they are used throughout Muslim countries.
In the Palestinian territories, civil courts handle the criminal, administrative and civil law, while sharia courts adjudicate family issues.
Only two other women have been named to the Palestinian sharia court since Faqih and Wuheidi's appointments in 2009.
There are also female religious judges in Egypt, Indonesia, Jordan, and Malaysia. Israel appointed its first female judge to a sharia court in April.
Faqih and her peers, however, continue to face pushback.
"If she gives birth, if she is pregnant or bleeding, she is bound by these things, which affect her work," sharia scholar Husam al-Deen Afanah was quoted as saying in the film.
A young woman at a cafe tells Cohn she would prefer a male judge.
"For me, it's painful to hear that a young woman would reject a female judge," Faqih said.
"But if that lady or anybody else comes to my court, they'll have to accept my ruling, because that's the way it is."
Tamimi was forced to resign one year after appointing Faqih and Wuheidi to the bench.
"Women are not treated equally by the law," he says in the film, holding out hope for change.
Justice for women
The film showcases Faqih's tireless fight for justice for women while illuminating universal domestic conflicts including child custody, divorce, and spousal abuse.
Cohn obtained unparalleled court access for the documentary, offering a candid look at life in the Palestinian territories.
Getting access, however, was challenging.
"People saw me as an American woman with broken Arabic and a tiny camera," Cohn said. "But we just wouldn't take no for an answer."
The film opens with the judge discussing women's rights with groups of Palestinian women. It was at one of these meetings that Cohn met Faqih.
In response to a question about Palestinian women needing "equality to men," Faqih comments in the film: "We do indeed need a social revolution."
She calls current religious education "shocking," noting: "They have a picture of a woman on the Quran verse about the devil."
She points to a lack of understanding of women's rights and the need for more education.
There are moments of levity, such as when a man drags a stranger from a nearby hallway into the court and asks him to testify to his character.
Cohn recounts a tragic moment when a man stabbed his wife to death in Faqih's court.After a moment of reflection during this interview, the director expressed hope that audiences will be inspired by Faqih."She's an incredibly strong woman and I think a lot of people around the world will identify with her," Cohn said. Then Faqih steps in, offering a piece of legal and personal advice to women."You must believe in your abilities and your rights in order to reach your full potential," she said."If you only see yourself in a broken marriage, you will only see pieces of yourself."
pakistantoday.com.pk/2017/09/12/toronto-festival-documentary-offers-glimpse-into-sharia-womens-rights/
--------
Empowering women: Hunza Valley makes it to the top
12 September,2017
Hunza Valley is matchless not just for its breathtaking landscape, but also for how it values the need for empowering the women.
The streets of the centuries old Altit Fort's village may be narrow, but the minds of the people who reside here are not. While carpentry is stereotypically considered a job suited for men, it is the women here who are taking up the job.
A café located in the ancient garden of the fort is also being run by local women. From tabulating the finances and running the affairs to taking orders and cooking, the café has an all-women administration.
And not just this, but a 'dhaba' – a roadside food stall on the Karakoram Highway that connects Hunza to Gulmit, is also being managed by women of Gilgit Baltistan.
The village of Passu is famous for its beauty – having the most magnificent landscapes, but what makes it more beautiful are the cricket matches played by its women, surrounded by Passu's gigantic mountains.
Women, if given the opportunity, can undoubtedly do wonders and carry out social reforms. For more on this watch the complete report of Dunya News below.
dunyanews.tv/en/Pakistan/404965-
--------
How cycling is keeping the fight for women's rights moving in Saudi Arabia
11 September 2017
Saudi Arabia remains one of the world's most repressive countries for women, where a man's consent is obligatory for women to access human rights, and feminist activists risk arrest. Some changes are creeping in: King Salman has loosened the grip of male guardianship, and is encouraging women to work. But they are still not allowed to drive.
There are, however, women who refuse to be still. Twenty-five-year-old Baraah Luhaid has always loved cycling. But although women's cycling was legalised in 2013, it is only allowed in parks or on beaches, and only with a male guardian present. Luhaid is striving to get women – and the fight for women's rights – moving. She founded Saudi Arabia's first gender-inclusive cycling community and business, Spokes Hub, last year, and now runs the kingdom's only cycling shop, with a cafe and workshops, for women.
As a Saudi woman peddling counterculture, Luhaid has long known that she would have to embrace the spirit of "I'll do it myself". After graduation, she longed to work in a bike shop – but no one would hire a woman. So last year, she went on a cycling trip to China with her brother. She returned to Riyadh determined to ride freely, but met with roadblocks. For one, her abaya – a traditional long, black robe – kept getting caught in the chains of her bike.
"But that wasn't the most challenging part," she says. "It's the cultural barriers." People regularly roll down their windows and shout insults and she is routinely stopped by the police. "Last week I was stopped because someone complained I was causing offence," she laughs.
"When I started cycling, my best friends said: 'Baraah, if we see you, we're gonna Snapchat you, and we're gonna laugh – you're a girl, you're not supposed to do this'," she says. And, apart from her sister and brother – "one of very few male Saudi feminists" –, her family have been cautious. "My parents have a different mentality, and were worried about how the more conservative family would react," she says. Her dream is for all Saudi women to cycle freely, but she has had to tread carefully. "Originally, I was confronted with aggression and negativity," she says. Some women feared she would lead their daughters astray. Lacking allies, she decided to lead by example, and soon found that people came to her.
Since opening a women's cycling centre was untenable, both legally and socially, Spokes Hub originally catered exclusively for men and remains located at the university her brother attends. As such, Luhaid is barred from her own business. She has found workarounds to include women and girls – such as offering Spokes Hub services from the back of a van. She has even designed a cycling abaya with legs, which is about to be patented.
In order to attract support, Spokes Hub can not be described as being "for women", and her brother often has to represent the business. "Investors chuckle when they hear 'female CEO of a sports business'," says Luhaid. But while having to dilute her feminism can be disheartening, Luhaid finds comfort and inspiration in those who came before her. She devours books like Sue Macy's Wheels of Change, which charts the role that cycling has played in the women's rights movement.
Spokes Hub has recently won a kingdom-wide prize for start-ups, and Princess Reema – deputy president of Saudi Arabia's Women's Sports Authority – has publicly endorsed the project.
"I'm standing against something bigger than I originally thought," says Luhaid. "When I advocate for women's cycling, I'm advocating for women's independence. Changing core beliefs requires slow, consistent work," she says. "It's challenging, but someone has to start."
theguardian.com/lifeandstyle/2017/sep/11/cycling-womens-rights-saudi-arabia-spokes-hub-gender-inclusive-community
--------
On the memoir of Shahla Habibi, the first Iranian female presidential advisor
September 11, 2017
Shahla Habibi, born in 1958, was the first Iranian presidential advisor on women's affairs in the government of President Akbar Hashemi Rafsanjani.
She made great efforts to improve women's situation with her great braveness. She made attempts to correct wrong views about women's social activities and tried hard to implement gender equality.
A steady involvement of women in international affairs was formed for the first time by Habibi. It was due to her endeavors that Iranian women attended the 4th International Women's Conference at Beijing in 1995. It was the first experience of Iranian women's presence at international events after the victory of the Islamic Revolution.
Other important tasks conducted by Habibi was formation of different women's NGOs.
Habibi established the Islamic Republic of Iran Women's News Agency (IWNA) in the 1990s to meet the information needs of Iranian women. She also became the IWNA director.
Despite physical pains at the last days of her life, she insisted on supporting women and tried to abolish discriminations against women.
She left for the heavenly abode on September 6, 2017.
Tehran Times condoles Iranian women on her loss. May her soul rest in peace!
tehrantimes.com/news/416683/On-the-memoir-of-Shahla-Habibi-the-first-Iranian-female-presidential
--------
URL: https://www.newageislam.com/islam-women-feminism/hundreds-muslim-women-rally-support/d/112503
New Age Islam, Islam Online, Islamic Website, African Muslim News, Arab World News, South Asia News, Indian Muslim News, World Muslim News, Women in Islam, Islamic Feminism, Arab Women, Women In Arab, Islamophobia in America, Muslim Women in West, Islam Women and Feminism