New Age Islam News Bureau
6 Sept 2012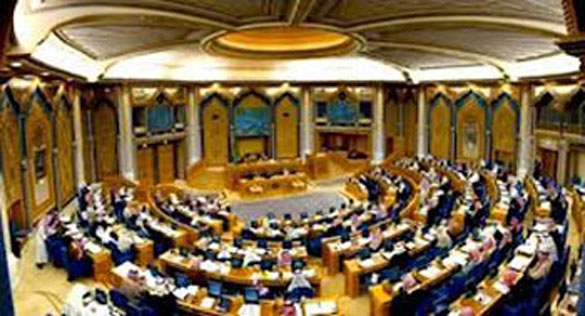 • Hundreds of "Imprisoned Muslim and Christian Women" In Amsterdam
• Saudi- Shoura Council to Have 30 Women
• Utah Muslim Making Her Mark in Charlotte
• Hijab-Wearing Newscaster Causes Stir in Egypt
• Baroness Warsi's Departure from the Cabinet Comes As No Surprise
• First Practising Female Muslim Crown Attorney Wants To Carve Her Own Niche
Compiled by New Age Islam News Bureau
Photo: Saudi- Shoura Council to Have 30 Women
URL: https://newageislam.com/islam,-women-and-feminism/new-age-islam-news-bureau/hundreds-of-"imprisoned-muslim-and-christian-women"-in-amsterdam/d/8589
----------
Hundreds Of "Imprisoned Muslim And Christian Women" In Amsterdam
6 September 2012
There are believed to be 200 – 300 'hidden' women living in Amsterdam. A new report called Living in forced isolation describes this number as a cautious estimate and says the actual figure could be much higher.
Researchers from the Verwey Jonker Institute carried out the study commissioned by the Amsterdam city council. They sketch a picture of women shut in at home against their will by husbands or family. These women have virtually no contact with society and rarely go outdoors.
The report identifies two separate groups. The 'oppressed hidden woman' group is mainly women from a strict Islamic or Christian culture. They are carefully monitored by their families and community and often resigned to their situation, meaning violence or the threat of violence is less often involved. These women also tend to accept their isolation more because they speak no Dutch and are unaware of their rights in the Netherlands.
The second group of "imprisoned women" are the victims of physical abuse and often literally locked into their homes. Typically these are marriages where the woman has chosen her partner rather than arranged marriages. It includes both women who came to the Netherlands to marry and women who were already living in the country.
The researchers spoke to women who had previously been 'hidden' but had broken free of their situation and to people working for various support organisations in Amsterdam. According to the report, by far the biggest group affected are women who have come to the Netherlands to marry. There is a small group of women from immigrant backgrounds born in the Netherlands and a tiny number of native Dutch women.
The Verwey Jonker Institute hopes the report will mean the problems of hidden women are given more priority and that the taboo around the issue in some Dutch Muslim communities will be broken.
http://www.rnw.nl/english/article/hundreds-%E2%80%98hidden%E2%80%99-women-amsterdam
-------
Saudi- Shoura Council To Have 30 Women
By Arab News
(MENAFN – Arab News) September 6, 2012, Saudi Arabia is expected to appoint 30 women on the Shoura Council before the consultative body begins its next annual session. "The expectations are that up to 30 women will be appointed to the Shoura," sources close to the council told Al-Sharq Arabic daily.
The newspaper said that talks have already begun with several institutions to propose the names of qualified women in order to be appointed on the Shoura. A high-level panel, headed by the king, will look into the nominees and select the final list, it added.
The move comes after Custodian of the Two Holy Mosques King Abdullah announced the government's decision to appoint women members on the Shoura in September.
"We made this decision because we refuse to marginalize women in Saudi society in their roles that comply with the Islamic Shariah and following consultations with many of our scholars who supported it," King Abdullah said. "Muslim women in our history have had stances that cannot be sidelined since the time of Prophet Muhammad (peace be upon him)," the king said. Female members must be holders of Saudi citizenship, be a minimum of 30 years of age with an impeccable personal record, a high level of competency and practical experience.
Sadia, a humanitarian activist, applauded the latest move. She said: "This is a solid step to involve women in the public sphere. We welcome King Abdullah's decision that will enable women to serve as full members of the Shoura Council and will have the right to participate in the elections. These reforms recognize the significant contributions Saudi women have been making in society and will offer them new ways to participate in taking decisions for the welfare of the community."
The Shoura Council's bylaws do not oppose the membership of women and do not specify the gender of the appointed members, the daily reported yesterday. However, since it was founded in 1993, the Council has only had male members.
King Abdullah in the same speech, while addressing the Shoura, also announced that women would have the right to run and vote in the 2015 municipal elections. Reacting to the development, dentist Sonia Ali said: "This is excellent start for Saudi women to come out of their shell and take part in governmental activities. This decision of King Abdullah will strengthen the confidence of Saudi women in their abilities."
Hanouf Al-Jouiad, a postgraduate student, said: "We are thankful to Custodian of the Two Holy Mosque King Abdullah and his government for showing his trust in Saudi women and giving them a chance to be a member of the Shoura Council. Women's voices will finally be heard and they will be allowed to take part in the decision-making process on serious matters. We look forward to Saudis voting for suitable persons who will be bold enough to take right decisions rather than just looking to work for their interests."
Fatema Al-Refai, a teacher, said: "We appreciate King Abdullah 's efforts to introduce progressive political reforms by opening an opportunity for Saudi women to be a part of the Shoura Council. We hope that the decision taken by the king will benefit women who have been looking forward to making effective contributions to the country's onward progress.
The Shoura Council will give Saudi women an open platform for showcasing their talent and their love for the country. We expect appropriate candidates will be elected to the Shoura Council."
http://muslimvillage.com/2012/09/06/27961/saudi-shoura-council-to-have-30-women/
-------
Utah Muslim Making Her Mark in Charlotte
By RaeAnn Christensen
CHARLOTTE, N.C. — September 5th, 2012, History is being made at the Democratic National Convention this week as record number of American Muslim delegates are in attendance, representing 20 states. One of those delegates calls Utah home.
Noor Ul-Hasan is a Muslim woman who lives in Cottonwood Heights. But this week she is thrilled to be in Charlotte, N.C., participating in the Democratic process.
"It's kind of like going to a concert," Ul-Hasan said Wednesday. "You know, you're like so thrilled that you're so close. I want to be so close that sweat comes on me."
She wasn't hoping a rock star's sweat fell on her, but that of Michelle Obama's.
"I have so much respect for her, because she is able to support President Obama," Ul-Hasan said, "and I like the fact she said, you know, he was a great man before she married him, and after four years, the struggles that he has had to go through, she admires him even more."
Ul-Hasan lives in Cottonwood Heights. She's a mom, a wife, a Democratic delegate and a Muslim. "I guess (I'm) a minority in Utah, really," she said.
According to a national Muslim advocacy group, there are more than 100 Muslim delegates at the Democratic Convention — more than double the number from four years ago, quadruple the number from 2004, and many more than attended the Republican National Convention last week.
"I feel really excited to show that Muslims are involved in politics, that we are involved in our communities, we are involved in getting people to vote," Ul-Hasan said.
She caught the political bug from her father, a blue-collar worker born in India.
"My father always told us we were born-Democrats, and that's what I always say. So, there's no choice for me," she said with a chuckle.
It's no secret both Democrats and Republicans are looking to women for votes. Obama has a slight lead in national polls, which some attribute it to his support from that key demographic group.
"I definitely think this is a big moment for Muslims and women," Ul-Hasan said.
Being a first-time delegate, attending the convention with her fellow Utah Democrats is a big moment for Ul-Hasan.
"This is a melting pot of a bunch of different people, and a bunch of different faiths, and it's time that every one of us are important," she said.
There are about 25,000 Muslims in Utah, and more than 3 million in America. It's evident they represent a small, but growing, voting bloc.
http://www.ksl.com/?nid=148&sid=22024031
-------
Hijab-Wearing Newscaster Causes Stir in Egypt
By: Monalisa FreihaSep 5, 2012
The hijab of Egyptian anchorwoman Fatima Nabil is not the main problem facing the media in the new Egypt, and it is certainly not a solution to the issue of personal freedoms. The uproar caused [by the appearance of the first ever veiled anchorwoman on Egyptian state TV] reflected concerns over the measure taken by President Mohammed Morsi from the ranks of the Muslim Brotherhood. Some even accused Morsi of seeking to "Islamize" the media and silence opposing opinions by using the same repressive methods as his predecessor Hosni Mubarak.
Morsi is taking steady steps to reinforce the rule of the Brothers and restore the role of Egypt in the region. He has dismissed Mubarak's generals, replacing them with persons he is close to. He visited Iran but did not give the leaders of the Islamic Republic what they wanted. From Tehran, a close ally of Damascus, he launched a fierce attack on Bashar al-Assad and his regime. Despite these significant steps, he did not forget to give the green light to veiled women to appear on state television, an unprecedented step since the establishment of the official station in the sixties under the late president, Gamal Abdel Nasser.
Even though Egypt is not France, and despite the fact that almost 70% of Egyptian women wear veils, concerns over the appearance of a veiled Fatima Nabil may be justified. Apart from the issue of anchors' freedom of dress, the growing influence of the Brotherhood over Egyptian state media is raising considerable doubts. Perhaps the most significant step taken was the appointment of a Muslim Brotherhood member in the Ministry of Information, which supervises state television. Egyptian state TV had launched a wide campaign against Morsi during the presidential election. Since taking office, Morsi has been giving mixed messages about freedom of the media. He authorized a committee in the Shura Council — which is controlled by Islamists — to choose the editors-in-chief of national newspapers. The former ruling National Democratic Party (NDP) and its president previously had the final say in this regard. Despite the ostensibly democratic character of this mechanism, it has been shown that the majority of selected chief editors follow the Muslim Brotherhood ideology.
The most telling case that illustrates the clash between Islamists and the media is the prosecution of Islam Afif, the editor-in-chief of the independent Al-Dustour newspaper, on libel and defamation charges. Afif insulted Essam al-Erian, the president of the Freedom and Justice Party, as well as the head of state. Also in this case, Morsi's position was ambiguous. Although he cancelled Afif's remand and every journalist pursued by court, he did not completely repeal the article that permits the imprisonment of a journalist who "insults the head of state."
There have been many complaints regarding the blocking of articles critical of the Brothers. Independent newspapers issued in August carried blank opinion segments "in protest against attempts by the Muslim Brotherhood to control national newspapers and the media, as was the case with the dissolved NDP." Abla al-Ruwaini, columnist in the Egyptian Al-Akhbar newspaper, said that the paper did not run an article she wrote criticizing the Brotherhood. In response, the paper's new editor-in-chief, Mohammad Hassan al-Banna, said that the issue was not about criticizing the Muslim Brotherhood, but rather the writer's refusal to "change a sentence in the article of which I cannot approve."
The sentence was, "The press has worn a veil."
http://www.al-monitor.com/pulse/politics/2012/09/hijab-egypt-state-television.html
-------
Baroness Warsi's Departure from the Cabinet Comes As No Surprise
By Ratna Lachman
5 September 2012
The news that the first and only Muslim Asian woman in politics from the north of England has been moved out of the Coalition cabinet in the mid-term reshuffle comes as no surprise to those of us in Bradford and West Yorkshire more widely who have been following Sayeeda Warsi's career.
From the beginning we felt that Warsi's appointment was tokenistic because the Tory DNA is in essence white, male, Anglo Saxon and Protestant to its core.
The signs that she was recruited as part of a 'tick box' form of politics were there from the start. She was a politician who had never won an election, yet she was promoted to the House of Lords and given a Cabinet appointment without humbler Government experience. Mind you, the fact that she was co-chair, rather than completely in charge, should have given her an early indication that her party only half-trusted her to execute the role she had been tasked with.
Notwithstanding the crude nature of such gesture politics, her appointment was nonetheless a political master-stroke. Recognising the Conservatives' persistent image as the' nasty party', David Cameron saw her real value as someone who could prop up the image of a modern reformist party comfortable in its multi-cultural skin.
The chimaera of an Asian woman influencing the levers of Tory power did prop up this illusion for most of the two-and-a-half years that Warsi was in the Cabinet. She offered the Tory party a plethora of photo opportunities that would have been a PR company's dream: the iconic image of Warsi smiling to camera dressed in a traditional Pakistani salwaar khameez against the backdrop of a predominantly male grey-suited Cabinet. She was the patriotic poster girl for British integration in a Union Jack-inspired traditional shawl celebrating the wedding of Prince William and Kate Middleton.
For Full Report:
http://www.guardian.co.uk/uk/the-northerner/2012/sep/05/bradford-response-cabinet-reshuffle?newsfeed=true
---------
First practising female Muslim Crown attorney wants to carve her own niche
By Craig Pearson, The Windsor Star September 6, 2012
Perhaps it's no surprise that Amal Chaudry has become Windsor's first practising female Muslim Crown attorney.
Even as a Holy Names high school student, she decided she would not follow a cookiecutter path through life.
"A lot of it was when I was in high school - I guess you could call it a rebel with a cause - but I just wanted to carve my own niche," Chaudry said this week. "The initial spark wasn't so much, 'Oh, world justice!' I wanted to do my own thing in my own way on my own terms."
The 26-year-old assistant Crown attorney, who may be the first Windsor-based lawyer to regularly wear a hijab - and who describes herself as a "huge" football and hockey fan - has already made strides toward her goal.
"I'm very proud to be a Muslim. It's a big part of who I am," said Chaudry, fashionably dressed in an intense-blue jacket over black head scarf and pants. "Now in the world, Muslims and Islam have become something where people think you're Muslim, and that's all you are. You can't be anything else.
"That's really weird to me, because the Muslim part of it is just how you go about life. But you can pretty much be whatever you want."
Full Report at:
http://www.windsorstar.com/life/Muslim+lawyer+wants+carve+niche/7197673/story.html
-------
URL: https://newageislam.com/islam,-women-and-feminism/new-age-islam-news-bureau/hundreds-of-"imprisoned-muslim-and-christian-women"-in-amsterdam/d/8589