New Age Islam News Bureau
22 Apr 2019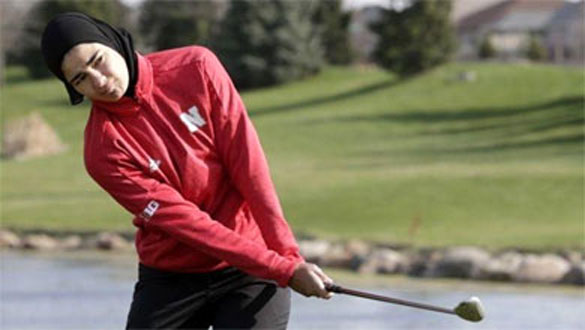 Noor Ahmed Hijab-Wearing Golfer
-----
• Saudi Women Working Hard To Change Country They Call Home
• About 86% of Kerala Women Going On Hajj without a Mehram
• Qatar Chamber Joins Conference on Women Empowerment in Lebanon
• Did Female Iranian Boxer Fight For Championship Or Asylum In France?
• Iranian Women's Volleyball Team Cancelled Plan for Asian Cup
• Taliban Meets With Women's Rights Activists, Others after Talks with Afghan Officials Collapse
Compiled by New Age Islam News Bureau
URL: https://www.newageislam.com/islam-women-feminism/how-this-hijab-wearing-golfer/d/118391
--------
How This Hijab-Wearing Golfer Is Fighting Hate and Inspiring Other Muslim Girls in US
Apr 21, 2019
Noor Ahmed outwardly lives her Muslim faith and even growing up in a state as diverse as California she says she encountered hostility on the street, in school and on the golf course. One of the top junior golfers in Northern California coming out of high school, Ahmed was a starter in her first year at Nebraska and the No 2 player most of this spring.
She is believed to be the only golfer at the college level or higher who competes in a hijab, the headscarf worn in adherence to the Muslim faith. Arriving in Lincoln two years ago, Ahmed sensed hesitancy from teammates mostly from small Midwestern towns and unaccustomed to seeing a woman in a hijab.
She didn't feel embraced until an unfortunate yet unifying event roiled the campus midway through her freshman year. A video surfaced of a student claiming to be the "most active white nationalist in the Nebraska area," disparaging minorities and advocating violence. The student, it turned out, was in the same biology lecture class as Ahmed.
Teammates offered to walk with her across campus, and one who would become her best friend, Kate Smith, invited Ahmed to stay with her. She didn't accept but was heartened by the gesture.
https://www.indiatimes.com/sports/how-this-hijab-wearing-golfer-is-fighting-hate-and-inspiring-other-muslim-girls-in-us-365848.html
--------
Saudi Women Working Hard To Change Country They Call Home
By Alainna Liloia
21 Apr 2019
Despite strict rules imposed on them, women in Saudi Arabia are going to college, and running for office, to change the conservative country where they live, University of Arizona Alainna Liloia points out.
TUCSON, Arizona: Saudi Arabia is a notoriously difficult place to be a woman.
The kingdom enforces a strict interpretation of Islamic law that sees the separation of men and women as a defining aspect of an Islamic society. It also puts men in charge of their female relatives.
Under this "guardianship system," as it's known, Saudi women must get permission from male chaperones to travel, study and marry. Domestic abuse is difficult to report and rarely punished.
In recent months, international news outlets have featured the harrowing tales of teenage Saudi girls who flee their families to seek asylum abroad. They've told stories of women's rights activists arrested and jailed for "undermining the security" of Saudi Arabia.
Such stories highlight the repression that restricts life for women in this conservative country of 33 million.
Advertisement
What is often lost in news coverage of Saudi Arabia, I find, is that Saudi women are much more than mere victims.
Saudi women – like any large population – are a diverse group with different opinions and experiences. They attend school, work as journalists and teachers, scuba dive, meet friends for coffee – and, increasingly, defy the law to expand women's rights.
THE FIGHT FOR GENDER EQUALITY
For decades before Saudi Arabia ended its ban on female drivers in 2018, the country's women fought for the right to drive cars. Several activists were arrested just weeks before the ban was lifted after very publicly getting behind the wheel.
Saudi women also campaigned to abolish the guardianship system, circulating online petitions with the hashtag #IAmMyOwnGuardian and holding workshops to educate women on guardianship laws. A woman-created app called "Know Your Rights" gives women information on their legal rights.
Saudi women even make the most of laws forbidding men and women from mixing in public places, I've found.
In the private, women-only areas of malls, parks, restaurants, schools and coffee shops, women feel free to express their independence. They remove their abayas – the long black robes all Saudi women must wear – and talk openly, without men regulating their behaviour.
Some women have even called for more gender-segregated places to give women more breathing room in this patriarchal society.
WOMEN'S EDUCATION
Saudi women have been attending university since the 1970s, but their educational opportunities have grown markedly over the past 15 years.
A government-funded study-abroad programme launched in 2005 sends tens of thousands of young Saudi women to the United States, United Kingdom, Canada and many other countries each year.
Saudi Arabia's first women's college, the Princess Noura bint Abdulrahman University, was founded in 2010. With room for about 60,000 undergraduate students – the world's largest all-women's campus – the school aims to give female students better access to male-dominated fields like medicine, computer science, management and pharmacology.
In 2015, Saudi women's undergraduate enrollment rates actually surpassed those of men, with women comprising 52 percent of all university students in the kingdom, according to the Saudi Ministry of Education.
WORKING WOMEN
Employment rates have not followed these educational trends.
Only 22 per cent of Saudi women worked outside the home in 2016, compared to 78 per cent of the male population, according to the World Bank.
Still, women can – and do – work in nearly all of the same fields as men, with the exception of "dangerous" fields like construction or garbage collection. Since Islamic law permits women to own and manage their own property, ever more Saudi women see employment as the path to financial independence.
There are female Saudi journalists, like Weam Al Dakheel, who in 2016 became the first female TV presenter to host morning news in Saudi Arabia.
There are female Saudi lawyers, like Nasreen Alissa, one of only a few women to run a law firm in Saudi Arabia and the inventor of the "Know Your Rights" app.
And there are lots of Saudi women teachers. Just over half of all teachers in Saudi Arabia are female, according to the Organisation for Economic Cooperation and Development. Saudi women also make up almost half of the kingdom's retail workers.
The Saudi government is working to get more women in the workforce and has set a goal of a 30 per cent female labour participation rate by 2030. Though gender-mixing is often prohibited in the workplace, women are a key component of the kingdom's ongoing "Saudisation" efforts to replace non-Saudi workers with a local workforce.
POLITICAL ENGAGEMENT
Saudi Arabia began slowly expanding the rights of women after the 9/11 World Trade Center attacks, part of a rebranding effort to counter negative views of the country as a breeding ground for terrorism and religious fundamentalism.
Women have made particular progress in politics in recent years.
In a series of firsts, women was appointed to the positions of the deputy education minister in 2009, advisers to the king in 2010 and ambassador to the United States in 2019.
In 2015, Saudi women were given the right to vote and to run in municipal elections. Nearly 1,000 women campaigned for seats on local councils, comprising 14 per cent of the total candidate pool.
Saudi Arabia's first crop of female candidates struggled to convince voters, just 9 per cent of whom are women, to elect them. Today they hold just 20 of Saudi Arabia's 2,000 local council seats.
Two prominent women's rights activists, Loujain Hathloul and Nassima Al-Sadah, were disqualified from running in 2015 for unspecified reasons.
In patriarchal Saudi Arabia, the women elected face significant barriers to performing even the limited duties of their office, which include overseeing garbage collection and issuing building permits. Some must even attend council meetings via video conference to avoid being in the same room as men.
These challenges have not stopped Saudi women from working – both within and outside of the political system – to change the country they call home.
"I was never but a good citizen that loved her country, a loving daughter and a hardworking student and a devoted worker," wrote the Saudi activist Nouf Abdulaziz in a letter posted online after her arrest in June 2018.
https://www.channelnewsasia.com/news/commentary/challenges-have-not-stopped-saudi-women-from-working-11446784
--------
About 86% of Kerala Women Going On Hajj without a Mehram
APRIL 22, 2019
Hajj is considered to be one of the five pillars of Islam. Every Muslim is expected to perform Hajj at least once in their lifetime, if they can afford so. There are certain rules and regulations to be followed while on Hajj. Due to a rule modification about 86% Kerala women have applied to go on Hajj. The Key highlights of Hajj this year, now are:
Following a rule modified for the Hajj period 2018-22, more women have enrolled themselves to go for Hajj without a Meharam. A Meharam in Islam is a person in front of whom, a woman can take of her hijaab. A womam's Meharam can be the person related to her through close blood relations, or the one related to her by marriage or through breastfeeding.
Of 2340 women who are going on Hajj without a male companion (Meharam), 2011 are from Kerala. This constitutes 86% of women going without a Meharam.
According to the Hajj Policy 2013-17 by the Ministry Of External Affairs, every women had to be accompanied by their Mehrams. This requirement is imposed by the Islamic Shariah and applies to all women from all over the world. However, in the Hajj Policy 2018-22, the condition of women being accompanied by their Mehrams was slightly modified. According to the new rules, the conditions applies only to women below 45 years of age, and for women above 45 years, might travel in a group of 4 or more women.
Following this, a number of applications came in for women who would travel without Mehrams. In 2018, 1340 women had applied to visit Saudi without a Mehram. This year, 2340 of them have applied. However, one thing comes in common for them, i.e., largest number of women who are travelling to Saudi for Hajj without Meharam come from Kerala. Last year 1124 and this year, 86% of women travelling to Saudi without Meharam are from Kerala.
Interestingly, more women than men have applied for Hajj from Kerala. There are about 6959 women (with or without Meharam) and 4513 men. Collectively there are around 11,000 pilgrims from the state.
Role Of Literacy And Gender Parity
A Kerala Hajj Committee Officer attributed the high number of women travelling to Saudi without Mehram to the high literacy rate and gender parity prevalent in Kerala. According to the Census 2011, Kerala and Puducherry are the only two states with sex ratio more than 0.99. The sex ratio in Kerala is 1.084 that is, 1084 females per 1000 males. However, the national sex ratio stands at 0.940, i.e., 940 females per 1000 males.
Also, Kerala has the highest literacy rate in India. According to the 2011 Census, the literacy rate in Kerala stands at 93.91. However, the national Literacy rate stands at 74.04%. Literacy rate is the percentage of literates to the total population of age 7 years or above.
https://www.shethepeople.tv/news/kerala-women-going-hajj
--------
Qatar Chamber Joins Conference on Women Empowerment in Lebanon
April 21 2019
Qatar Chamber has participated in the conference on 'Women Leaders and Health: Empowering Women Leaders in Innovation, Medical Education and Healthcare Delivery' held in Beirut.
Qatar Chamber board member Ibtihaj al-Ahmadani participated as honoured guest in the conference, which was organised by the Arab International Women's Forum (AIWF), the American University of Beirut (AUB), and the University of Massachusetts Medical School (UMMS).
The conference was also attended by a number of representatives of the Arab public and private sectors, international development organisations and institutes, civil society, and business entrepreneurs from women and youth.
The forum highlighted opportunities and barriers to entry for women leaders in medicine and the healthcare sciences, and promoted an inclusive and empowering environment for women-led innovation, research, and discovery through regional and international best practices. It was also intended to advance capacity building through technology, training, entrepreneurship, executive leadership, and social enterprise.
The conference delivered actionable recommendations for empowering women in these critical sectors towards fulfilment of the sustainable development goals (SDGs) on gender diversity and maternal and children's health.
Al-Ahmadani lauded the event, saying that she was thankful for being able to participate in the event, which highlighted the leading role played by women in all aspects, especially in health and academic spheres.
She underscored the Qatari woman's success in occupying many leading positions in the society, noting that there are a number of Qatari businesswomen who managed to achieve accomplishments in the business world.
Al-Ahmadani stressed that the leadership of His Highness the Amir Sheikh Tamim bin Hamad al-Thani places a special interest to empower women in society in all fields.
https://www.gulf-times.com/story/629377/Qatar-Chamber-joins-conference-on-Women-Empowermen
--------
Did Female Iranian Boxer Fight For Championship Or Asylum In France?
Saeid Jafari
April 21, 2019
Sadaf Khadem had been interested in sports as a child in Iran in the 2000s. She began by playing basketball and then in her teenage years, added a punching bag to the makeshift gym in her family's garage and finally convinced her parents to let her join a boxing club.
Earlier this month, the 24-year-old Khadem won the first ever victory by an Iranian female boxer at the international level. In the coastal French town of Royan April 13, she beat boxer Anne Chauvin in an amateur — but highly publicized — match.
Women boxers are rare in Iran, though the country's supreme leader has published imagery that suggests approval of women practicing other martial arts at local and international levels. Iranian female athletes compete at global tournaments in taekwondo, karate and wushu. Kimia Alizadeh, a 18-year-old taekwondo athlete, competed in an hijab and grabbed the bronze medal for the Iranian delegation in the 2016 Rio Olympics. She receiving the red-carpet treatment from both the state and the public upon landing back home.
Boxing, however, has remained out of reach for women. Although the Iranian Boxing Federation ultimately agreed to begin coaching and referee training courses for women in November 2018, the female enthusiasts are still grappling with numerous challenges, particularly a dress code for the sport that is normally practiced in a t-shirt and shorts. The Iranian authorities have yet to come up with apparel that complies with the Islamic clothing codes. On the international front, it was only earlier this year that the Amateur Boxing Federation allowed women wearing hijab to step onto the boxing ring in international amateur matches.
The Islamic dress issue in the ring now risks souring Khadem's victory and even developing into an asylum question between Iran and France. During the strenuous battle in France, Khadem did not wear a hijab, opting for shorts and a t-shirt in the colors of the Iranian flag. "From Iran, not Mars, nor anywhere else," read the back of her T-shirt, announcing her pride in being Iranian.
The athlete also thanked her fans in her post-victory statements. In an interview with Khabar Varzeshi newspaper, Khadem attributed her victory to "the positive vibes from 80 million Iranians" as well as her parents' support, which she said had served as her key motivations.
"My aim is to inspire my clubmates so that they also [feel empowered] to continue on the same path and enter formal competitions," she said.
The result was widespread jubilation among Iranian social media users and advocates of female sporting activities. Elevating Khadem as a legendary athlete in their reporting, foreign-based Persian-language TV channels dedicated special coverage to the event with a live broadcast and face-to-face interviews. It seemed to all — including Khadem and Mahyar Monshipour, her Iranian-French coach who is a former World Boxing Association champion and an adviser to the French sports minister — that the first female boxer to win an international trophy would find a hero's welcome back at home. "She glorified Iran's name and the whole world witnessed the impacts of what she did," Monshipour told the press after Khadem's win.
An Iranian Boxing Federation statement two days after the victory indicated otherwise. The federation distanced itself from her. "Since this federation has no formal female boxing programs, it is the athletes' responsibility, and not the federation's, if they train or participate in contests somewhere."
The reaction seemed to have been a preemptive measure by the federation, which was bracing for attacks from religious hard-liners known for their intolerance of women's presence at international events.
The statement has fed concerns she could face persecution upon return for defying the country's hijab laws. On April 16, Khadem canceled her flight back home. She told French sports daily L'Equipe that she was on her way to the airport when Monshipour heard that an arrest warrant had been issued for him. A representative of Khadem told Reuters that the authorities had issued arrest warrants for both her and Monshipour. Monshipour confirmed that he had received a text message warning of arrest threats for the pair back in Iran. The claim was immediately and vehemently denied by the head of Iran's Boxing Federation.
The boxer and her coach are currently in the west-central France city of Poitier. The French press reported that Monshipour called on French President Emmanuel Macron April 18 to "find a solution that would enable Khadem to return to her country safely."
The contradicting statements triggered speculation on social media that Khadem was already planning to ask for asylum when she left for France, that her aim was not competition but asylum in France. Several tweets claimed that was precisely why Monshipour had worked to generate such high media interest in an amateur match.
Some social media users pointed to several similar cases in the past few years of Iranian women athletes managing to obtain asylum in Canada and some European countries on political and civil rights grounds by simply removing their headscarves in public as a symbolic gesture in defiance of Iran's compulsory hijab laws.
In February 2017, female chess player Dorsa Derakhshani participated in the Gibraltar Chess Festival without a hijab while her 15-year-old brother Borna faced off against Israeli grand master Alexander Huzman in the same tournament. In doing so, both crossed red lines and paved their way to demand asylum in the United States. Their actions spurred the same debate in Iran — whether or not they had intentionally built up their international profiles to seek asylum.
Iran has in recent years witnessed an exodus of athletes in search of asylum, including those who have abandoned their teams on the spot after participating in formal international competitions aboard. Such moves have met with mixed reactions in Iran — critics call it opportunism while others argue that it is the only path open to athletes who object to their country's irrational and restrictive rules and resist stereotypes.
https://www.al-monitor.com/pulse/originals/2019/04/iranian-female-boxer-long-way-from-home.html
--------
Iranian Women's Volleyball Team Cancelled Plan for Asian Cup
Apr 20, 2019
Iranian women's volleyball team cancelled its plans to participate in the Asian Cup tournaments due to financial problems.
Only six volleyball teams participated in the women's Super League in the Iranian year 1397 (March 21, 2018 – March 21, 2019), with the Steel Mill team winning the championship. But as the team had no financial support to participate in the Asian Cup, it had to cancel its plan to participate in the women's volleyball tournaments of Asia.
In an interview with the state-run IRNA news agency, Matin Zebardast, the deputy head of the Women's Volleyball Federation, said the cancellation by the women's volleyball team was due to financial problems. She said, "We are going to have a hard time. Lack of sponsors and clubs to fund the teams reduced their numbers in the Super League. With this cancellation and Iranian women volleyball players' not participating in international competitions, it would be difficult to conceive that this sport would have any Iranian women champions in the Asia Cup or the Olympics." (The state-run IRNA news agency- April 14, 2019)
In another report, a women's football coach also spoke of the faltering situation of women's football teams in Iran.
Maryam Irandoost, the head coach of Malavan football team from Bandar Anzali, said, "The country's economic situation and its consequent financial problems are the reason this team has lost four players. After eight months of round-the-clock practices and having a contract, the players have not received even a penny. This was a psychological pressure for them. Six other players are not participating in the drills because they don't have the money to pay for their commute."
Irandoost revealed that although the clubs afford to sponsor the teams, they do not do so because the state television does not broadcast women's competitions. Irandoost added, "The officials intended to have a show in the media of reviving women's teams. They were supposed to give a 600-million-toman support to the team, however, when we asked for 100 million tomans to pay for 30% of the players' contracts, they kept promising and postponing the payment of money from August 23, 2018, to March 20, 2019, saying they will pay it on such and such date… Currently, the sponsors do not support women's teams because their matches are not broadcast by the media…. For a club that spends 7 billion tomans a year, it is completely possible to undertake a 600-million-toman budget for women." (The state-run ISNA news agency- April 17, 2019)
https://women.ncr-iran.org/2019/04/20/iranian-womens-volleyball-team-cancelled-plan-for-asian-cup/
--------
Taliban Meets With Women's Rights Activists, Others after Talks with Afghan Officials Collapse
By Pamela Constable
Apr 21, 2019
ISTANBUL — The sudden cancellation of eagerly awaited talks between Taliban officials and Afghan leaders, planned to begin last Friday in Qatar, seemed a stunning reversal in slow-going efforts to bring a peaceful negotiated end to the 17-year Afghan war. As it turned out, the moment did not go entirely to waste.
On Saturday, about 20 Afghan emigres from Europe and the United States, including three women, privately met Taliban representatives in Doha, the Qatari capital. They said they spoke for more than six hours with the group's chief negotiator, Sher Mohammad Abbas Stanikzai, and a dozen other insurgent representatives.
The result, or at least the vibe, was unexpectedly positive. Several participants said there was not much detailed discussion, but they described a willingness by Taliban representatives to explore issues of importance to Afghans and to keep open a dialogue that could lead to the end of the conflict.
"This was the cracking open of the door," said Masuda Sultan, 46, an Afghan American activist and board member of the nonprofit organization Women for Afghan Women, which has offices in Washington and Kabul. She said her organization had been excluded from the Afghan delegation to the formal talks, but she flew to Doha anyway.
"The Taliban were warm and cordial," Sultan said Sunday by phone from Doha. "They said they wanted peace and that they were disappointed the talks had fallen apart."
The formal meeting was canceled after Afghan, Taliban and Qatari organizers could not agree on the size and membership of the Kabul delegation.
Sultan said the Islamist militia leaders did not lay out their specific views on women's rights, other than to say they would be "respected within Islam" — a vague position the extremist group has previously stated. Many Afghan women have expressed concern the Taliban would restrict women's rights if they returned to power.
"I know some people will say we were naive" to meet with the insurgents after formal talks were called off, Sultan said. "But they asked for our advice, they said they had made some mistakes and they said they were serious about wanting peace. They spoke with us for more than six hours. If we don't engage with them in dialogue, we will just be continuing the same war that has gone on for 17 years."
Another female participant was Khatol Momand, an Afghan-born teacher who lives in Norway. "Our presence here says a lot," she said before the Saturday meeting. "We are told the Taliban have changed, that they don't just want women to be a symbolic presence, they want them to play a role in society. But it is still too early to judge."
Several of the men who came from Western countries for the canceled meeting and met the Taliban are members of an international movement for Afghan peace. They blamed the Afghan government for derailing the talks, saying it had given too large a role to former militia leaders who had fought the Taliban.
"For peace to take root in Afghanistan, the traditional reliance on warlords to form governing coalitions and ensure stability must end," said Daud Azimi, 37, a technology consultant in Germany. "Afghanistan's silent majority — refugees, those who live abroad, those with no money, no weapons, no government officials in their back pockets — must be given a voice."
In Kabul on Sunday, a spokesman for President Ashraf Ghani said the government had no comment on the private talks, noting only that the participants "went in their own capacity, and they are entitled to do their own thing."
The spokesman, Samimullah Arif, said the government hopes to revive the canceled talks but wants to move them to Uzbekistan because the Doha organizers did not respect the "sovereignty" of the Afghan delegate list. The Taliban maintains a political office in Doha, and peace talks have been held there between Taliban representatives and U.S. officials.
Friday's talks were called off after Taliban officials objected to the unwieldy size of the 250-member Kabul delegation, which they ridiculed as an Afghan wedding party, and to the dominant role the Afghan government played in organizing it. The Taliban does not recognize the Ghani government, and its leaders insisted that any officials in the group speak only for themselves.
"They had asked people to come as individuals, and they felt that was not respected," said Sultan Barakat, a scholar at the Doha Institute who organized the aborted talks. "The Taliban were receptive, but they had red lines and psychological limitations. They are in a war, and there is a lot at risk for them, too."
His institute invited the Western-based Afghans to come to Doha.
It was not clear when talks between Taliban and U.S. officials would resume. The last round ended in February with no concrete progress. The Taliban later agreed to a preliminary meeting with a cross-section of Afghan leaders, but it also launched its annual spring offensive, with a rash of attacks across the country.
One problem hindering the peace process — the interference of electoral politics — was partially resolved Sunday when Afghanistan's Supreme Court legally extended Ghani's presidency until September. Presidential elections are scheduled to be held then, after being postponed twice. The ruling is likely to ease the competition among potential candidates that roiled efforts to choose delegates to come to Doha.
https://www.washingtonpost.com/world/taliban-meets-with-womens-rights-activists-others-after-talks-with-afghan-officials-collapse/2019/04/21/6720f3a0-63d6-11e9-bf24-db4b9fb62aa2_story.html?utm_term=.83b723a44f65
--------
URL: https://www.newageislam.com/islam-women-feminism/how-this-hijab-wearing-golfer/d/118391
New Age Islam, Islam Online, Islamic Website, African Muslim News, Arab World News, South Asia News, Indian Muslim News, World Muslim News, Women in Islam, Islamic Feminism, Arab Women, Women In Arab, Islamophobia in America, Muslim Women in West, Islam Women and Feminism