New Age Islam News Bureau
13 Feb 2015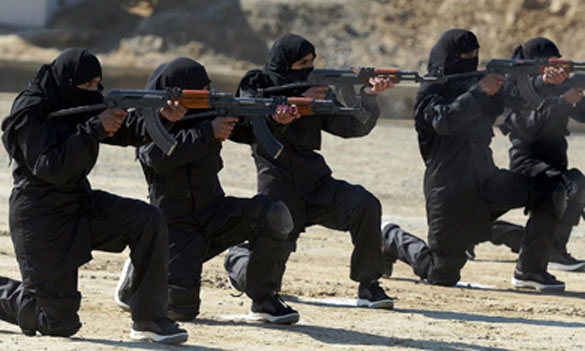 Pakistani policewomen demonstrate their skills during a special elite police training course at a police training centre in Nowshera, Khyber Pakhtunkhwa on February 11, 2015. - AFP
---------
• No Virginity Test for School Leavers in Indonesia: Human Rights Campaigners
• Purple Hijab Day to Celebrate Annual Call for End to Domestic Violence
• Pak Women Commandos, Trigger-Ready to Combat Terror
• Afghan Youngsters Find New Allure in Valentine's Day
• Pakistan Women's Day – A Struggle for Rights
• Philadelphia Councilwoman Distances from Palestinian Authority Terror
• Women Freedoms' Violations Tackled In Exhibition by Palestinian Artist in Egypt
• Roma Children in Turkish Province to Be Trained As Preachers, Ottoman Army Band Members
• The Mass Rape in Darfur of 221 Women and Girls Is the Biggest Atrocity: Report
Compiled by New Age Islam News Bureau
URL: https://newageislam.com/islam-women-feminism/how-poor-hyderabad,-india,-women/d/101507
----------
How Poor Hyderabad, India, Women Promised Wealth, Marriage Are Sold To Pimps
13 Feb, 2015
Hyderabad: Trapping young Muslim girls into prostitution under the guise of contract marriages is attaining menacing proportions in Hyderabad. Many girls in abject penury are being 'sold' by pimps to foreign nationals for pecuniary gains. Masquerading as 'marriage', the practice is effectively pushing them into prostitution.
Contract marriages of poor Indian Muslim girls in the Old City of Hyderabad became a subject of debate once again with the failed bid of a Somali national to marry a 22-year-old girl in exchange of 'Mehr' a couple of days ago. Mehr is given by the groom to the bride's family in exchange of the girl.
It has come to light that some self-styled Quazis organise the Nikahnama for the marriage. Nikahnama is a formal binding contract, a customary part of an Islamic marriage. This defines the responsibilities as also the rights of the groom and also the bride and all concerned in such marriage.
They also have the 'groom', the foreign national who pays 'Mehr' to the family of the bride, and the 'bride' herself appending their signatures on the Nikahnama and also Talaqnama, a divorce deed that nullifies the marriage, at the same time. The gullible girls are compelled to sign the Talaqnama and are given the impression that those papers are property documents. It would be invoked at an appropriate time.
A big network of middlemen which spreads to several countries, especially those in the Middle-East and Africa, is believed to be active in the racket of fake weddings. Marriage to rich Arab Sheikhs was considered dignified until the late '70s and not much foul play was involved then.
However, fraudulent practices crept into this kind of arrangement towards the late '80s. The case of a sexagenarian Arab Sheik, Yahya Muhammed Al Sajeesh, 'marrying' a 10-year-old Ameena of Old City of Hyderabad became a sensation, when the girl was rescued by Air India airhostess Amrita Ahluwalia and brought back to the city.
Jameela Nishat, a social worker whose NGO, Shaheen Women Resource and Welfare, works for the uplift of Muslim women, tells Firstpost that over the years several restrictions have brought trafficking under the scrutiny of the law. The brokers began finding different methods to continue their businesses. They are making a quick buck in the garb of "short-term, legalised prostitution," she says.
The "groom", who walks out of the "so-called marriage", has the Talaqnama served on the girl just before or after returning to his homeland. Shaheen Women Resource and Welfare organisation found that there were 33 out of 100 girls in Hafeezbaba Nagar in the Old City who were entrapped in this racket.
Of late, on the initiative of the girls, the police are registering complaints and are arresting those who accepted 'Mehr'. In most cases, it is the family members of the girls who are getting arrested. Nishat insists that the police should actually bring the brokers to book and not the poverty-stricken parents of the girls. The NGO conducted sting operations and rescued seven girls since 2005.
Only a handful of cases see the light of the day as the networks are very strong and the local 'Pahalwans' (local rowdies) and in some cases even the police are complicit. In most cases, the Quazis, Nikahnamas and Talaqnamas are all fake and fabricated for the express purpose of falsification.
Omer Jaleel, Special Secretary of Minorities Welfare to the Government of Telangana, told Firstpost that if a person's intent was to "marry for a short-term" it was nothing but perpetrating prostitution. One has to marry for a lifetime. The intention of divorce after a certain period of time is illegal.
There were cases booked against some for accepting 'Mehr' in Moghulpura police station. There were instances where one victim was subjected to "contract marriages" more than once.
"I have cancelled the license of a Quazi within two hours of his appointment on learning his dubious activities," said the IAS officer. Now that the police are cracking down, the "self-styled" unauthorised Quazis and Naib Quazis would surely get caught. Of course, that's no deserving punishment for the fraudsters.
The state government would take serious measures to prevent the unlawful act and save the gullible girls, he said.
In the latest case that surfaced last week, a 29-year-old Somali, Syed Ibrahim, took the help of three brokers in the Old city to marry a 22-year-old girl from a poor family for "a short period." Ibrahim came to Hyderabad a month ago for treatment of his mother at Apollo Hospitals. He came in contact with one Mohammed Wahab of Falaknuma area who "organised" the marriage.
The Deputy Commissioner of Police V Satyanarayana disclosed that the girl's mother and the brokers agreed to share the Rs 80,000 of 'mehr' for getting the girl married for a short term. In this case, it was the quazi, who foiled the bid by alerting the police. The trigger for the girl's mother to 'sell out' her daughter was penury. The girl's father died a few years ago, and her two brothers aged 11 and 13 lost their 'jobs' after the police launched a crackdown on child labourers. The income earned by the mother, who works as a maid, was barely sufficient to run the family.
http://www.firstpost.com/india/foreign-racket-how-poor-hyderabad-women-promised-wealth-marriage-are-sold-to-pimps-2094467.html
-----------
No Virginity Test for School Leavers in Indonesia: Human Rights Campaigners
13 Feb, 2015
Indonesian officials have dropped a plan to require female students to pass virginity tests in order to graduate from high school and apologised after sparking a public outcry, human rights campaigners said.
Habib Isa Mahdi, a lawmaker from Jember in East Java province, said last week that the district council was drafting a "good conduct" regulation that would include a virginity test as many high-school students were having pre-marital sex.
Indonesia, home to the world's largest Muslim population, last year admitted conducting virginity tests on women seeking to join the police or military even though the practice has no scientific validity, according to the World Health Authority.
The Jember proposal sparked widespread condemnation, although local lawmakers in East Java's third largest urban area with a population of 330,000 defended the move and hoped it could be expanded across the Jember area of 2.3m people.
"If they're not virgins any more, don't let them pass," local lawmaker Mufti Ali was quoted as telling news site Berita.Jatim.com.
"We can't test the boys ... but at least with the regulation, girls will be afraid. The boys will be prevented from the act because girls will become unwilling."
Indonesia's top Muslim clerics opposed the proposal, saying it discriminated against female students and was contrary to Islamic teachings.
Previous attempts to introduce virginity tests for female students, in South Sumatra in 2013 and in West Java in 2007, also backfired.
Many Indonesians place a high value on virginity, but pre-marital sex is not uncommon among the younger generation. The age of consent for heterosexual sexual activity is 19 for males and 16 for females.
Amid public outrage, Jember's council deputy speaker Ayub Junaidi backed away from the proposal and apologised.
"On behalf of the Jember Consultative Council we'd like to apologise to the public, especially to all women and girls across Indonesia," he told news site Kompas.com.
Campaign group Human Rights Watch welcomed the Jember lawmakers' U-turn but spokesman Andreas Harsono said it was alarming that the test was still used by the police and military.
Indonesia's police force came under fire three months ago for admitting it administered virginity tests for female police applicants to see if their hymen was intact. A police spokesman said the tests were part of a routine health check but there was no requirement for women to be virgins and no discrimination.
HRW has called for an end to the Indonesian government's tolerance of female virginity tests.
© Irish Examiner Ltd. All rights reserved
http://www.irishexaminer.com/world/no-virginity-test-for-school-leavers-312309.html
-----------
Purple Hijab day to celebrate annual call for end to domestic violence
13 Feb, 2015
On February 12, 2009, Aasiya Zubair, a Muslim American co-founder of Bridges TV (a network dedicated to promoting cultural awareness about Muslims), was murdered by beheading by her husband.
Prior to her death, she had faced countless incidents of domestic abuse. Her husband excused himself in court, stating (according to his erroneous interpretation) that in Islam, it was permissible for him to kill her as she did "not "obey him
Zubair's death had sparked a grassroots movement among Muslim communities around the world to end domestic violence. Many initiatives were created including International Wear a Purple Hijab Day.
Ever since the February 2011 Libya Revolution, Libyan NGO, The Voice of Libyan Women (VLW), has spearheaded the celebration of Purple Hijab Day in Libya.
''International Purple Hijab Day on February 13th is a day on which all Muslims, men and women, unite against domestic abuse. The Voice of Libyan Women is calling on everyone to wear a Purple hijab, scarf, even necktie to show their support for this cause. We want to make it known that domestic abuse in any form is not in any way tolerated'', said VLW founder Alaa Murabit.
''It has been argued many times that domestic violence is allowed in Islam however this is a grave falsehood. Islam does not teach, condone, or allow for the abuse of any living thing. It teaches Muslims not to harm others and Muslims are taught to believe there is a grave punishment for Muslims who do harm to others or abuse the land, sea or plant life'', explained Murabit.
''Prophet Mohamed (SAW), the example of how excellent a human being can be, was known to have never harmed anyone in his family. He only used violence when on the battlefield against a clearly identified enemy. He taught self-restraint and peace during his time here on earth'' Murabit added.
''Muslim domestic violence advocates want to make it clear without any doubt that these heinous crimes that have been committed in some of the homes in the Islamic community are not supported by the Holy Quran or the valid Ahadith (life sayings and teachings of Prophet Mohamed) and are not the norm".
"These are learned behaviours that have nothing to do with religious teachings or practices.", said the VLW founder.
''On February 13, we are asking people – men and women – to participate with women around the world in speaking out against domestic abuse. As a Muslim community, let us support this cause and protect what is sacred to our religion and human rights".
"Wear your purple hijab, scarf, tie, etc proudly as you take on this mission of continuing the education of domestic violence to your own communities'', added Murabit.
http://www.libyaherald.com/2015/02/10/purple-hijab-day-to-celebrate-annual-call-for-end-to-domestic-violence/#ixzz3RaJd5U9V
----------
Pak Women Commandos, Trigger-Ready to Combat Terror
13 Feb, 2015
Dozens of male and female police took part in a commando training course in Nowshera, introduced by the local police as an additional skill for the police to be deployed to confront terrorism and extremism which is routinely on the rise in this South Asian nuclear-armed country.
http://www.dawn.com/news/1162944/women-commandos-trigger-ready-to-combat-terror
----------
Afghan Youngsters Find New Allure in Valentine's Day
13 Feb, 2015
Kabul: Most people across Afghanistan may be unaware of Valentine's Day, but many youths in urban areas plan to celebrate it despite restrictions.
Some plan to send flowers or cards to their loved ones, while others plan to spend their money on their mobile phone.
"Yes, I am very much excited to celebrate Valentine's Day with someone I love here [in Kabul'," said Aisha, a law student in the capital.
"I would love to receive some special gifts from him, or a basket of flowers, which is more common here, or at least a rose," she said.
Militants in Muslim Afghanistan may be at war with the West, but many in the new generation seem keen to embrace foreign lifestyle choices. Valentine's Day is the latest addition to the list.
Afghan boys and girls said it is a good opportunity to express their feelings for their sweethearts.
Shopkeepers on Kabul's popular Flower Street are preparing for an influx of youth business this year.
One vendor said he would cover the footpaths in front of his shop with rose petals to welcome couples.
Another shopkeeper said he would decorate his establishment with red roses and other decorative gifts, "as a sign of love."
"For this day we bring balloons with the words "I love you" inscribed on them," said Shamsullah Amiri, who has been in the business for the past nine years.
"We also get more greetings cards, and several different types of roses, which come from the Netherlands, Iran and elsewhere for our customers."
Teenage boys and girls go to his shop and buy fresh bouquets of flowers and other presents for their loved ones.
"Every year our customers who are celebrating this day, mostly teenagers, have been increasing," Amiri said.
"Last year, I sold all the fresh roses I bought. I wasn't expecting this, but it happened," he said.
But Hamid, a 25-year-old flower seller, predicted that he would sell less this year because of the withdrawal of the foreign troops.
"I don't expect a big boom on this Valentine's Day. Because most of our customers were foreigners and now they have gone back to their countries," he said.
"However, it has spread among young Afghans as well."
Going out on an actual date is tricky in Afghanistan, where unmarried couples are seldom seen together in public.
Rahimullah, a youth volunteer, said he would not be able to meet with the girl he likes in public, even though the feeling is mutual.
Risk
"I cannot go out on a date like in the movies," he said.
At times, such romances have ended in tragedy in Afghanistan.
"I know the risk of being involved with the opposite sex. But when you are young, your heart does not listen to your head," he said.
Many young Afghans have gravitated toward universities, cultural centres, shops and restaurants far out of sight from their relatives.
Rahimullah said he plans to go with a group to a restaurant on Valentine's Day, so it is not obvious.
"I fell in love with a girl. But she got married to someone else. It was tragic," said Hamid Tanha, a 31-year-old shopkeeper in Kabul.
"Since then, I promised to never fall in love again. And I am still single," he said, exhaling heavy smoke from his cigarette.
He said the ethnic and language differences between the two families cost him his love.
Baryalai Fitrat, a professor of sociology at Kabul University, said celebrating Valentine's Day in a peaceful and friendly environment would help the community repair the social fabric.
"If our love is bound according to our community's ethical and cultural framework, then celebrating this day would help establish relationships with one another," he said.
Many youngsters are taking refuge in the mobile phone, one of the success stories of the last 13 years of development aid.
Most Afghan youths in the cities have access to phones, and many appear to have found love.
Nasir Yousifzai, 27, said many relationships nowadays in Kabul were due to mobile phones and social networks.
"Boys and girls cannot talk to each other in a public place. So they use social media and phones."
Yousifzai is engaged to a girl from another province. He hopes to Skype with her on Valentine's Day.
"Technology has made our life easier," he said.
http://gulfnews.com/news/world/afghanistan/afghan-youngsters-find-new-allure-in-valentine-s-day-1.1455684
----------
Pakistan Women's Day – a struggle for rights
13 Feb, 2015
February 12, 1983 marks the events when some 100 women activists took out a rally in defiance and against Gen Ziaul Haq's religio-military dictatorship in Lahore. The women were beaten by the authorities and mass arrests took place but these women resolved to continue their struggle. Joined by future generations of rights activists women have continued their collective resistance against injustices and for equality. Pakistan Women's Day symbolises Pakistani women's struggle for their rights as equal citizens, and for a society upholds, in theory and practice, its obligations to all citizens. It also epitomizes the determination of Pakistani women to shape a better future. 12 Feb represents women's resolve to condemn all atrocities of religious extremism, of traditional discriminations against women and minorities, and of all hegemonic forces of women's oppression. 12 Feb is also a call to celebrate women's power and achievements and abilities to resist. Women Action Forum, Karachi, invites all women and men of Pakistan to celebrate Pakistan Women's Day.
http://www.dailytimes.com.pk/national/12-Feb-2015/pakistan-women-s-day-a-struggle-for-rights
------------
Philadelphia Councilwoman Distances from Palestinian Authority Terror
13 Feb, 2015
Palestinian Media Watch (PMW) exposed to Philadelphia Councilwoman Maria Sanchez that Palestinian Authority (PA) Governor Laila Ghannam, who Sanchez awarded with the Liberty Bell and "Citation of Honor" last month, has a long history of glorifying murderous terrorists and vowing to continue their "path."
In response to the abundant information gathered by PMW of her blatant statements supporting the murder of Jews over the years, Sanchez issued a statement saying "I fully and unequivocally denounce the sentiments attributed to Governor Ghannam in this video."
Clarifying, her office said "the use of the word 'attributed' was simply because the Councilwoman can only read these statements in PalWatch's (PMW's) translation, as she doesn't speak Arabic. Her condemnation of the content, as translated, is unequivocal."
"We will look into whether it is possible to withdraw a citation," added Sanchez's office. The councilwoman has been in her post for the 7th District on the Philadelphia City Council since 2008.
Sanchez explained in her response to PMW that she met Ghannam at an event, and that Ghannam's "work was described to me as humanitarian in nature and centered on furthering the rights of women and girls. My office honored her for these reasons."
"As an elected official who represents a significant Muslim-American population, including many Palestinian refugee families, I know my Muslim constituents to be good citizens and contributors to their communities," stated Sanchez. "I am committed to open, honest and productive dialogue with all who share the goal of peace."
Ghannam left no doubt that the goal of peace was not shared by her in the numerous statements revealed by PMW, in which she honored a near countless number of terrorists.
Just one example is seen in the following video translated by PMW.
In the video she says "we promise and swear to these mighty ones: we are still (following) your path," going on to rattle off a list of senior terrorists from Fatah, Hamas, Islamic Jihad, the Popular Front for the Liberation of Palestine (PFLP) and Palestinian Popular Struggle Front (PSF).
Her list included "the president and icon, Martyr Yasser Arafat, Dr. George Habash (PFLP founder), comrade Abu Ali Mustafa (head of PFLP), Sheikh Ahmed Yassin (Hamas founder), Fathi Shaqaqi (Islamic Jihad founder), Samir Ghosheh (Sec.-Gen. of PSF), Abu Jihad (a founder of Fatah) and all the great leaders."
Yassin alone was responsible for the murder of hundreds of Israelis in suicide bombings targeting buses and cafes.
In another video last February, Ghannam honored the terrorist Ayyat Al-Akhras who murdered two Israelis in a suicide bombing near a Jerusalem supermarket in 2002.
At a ceremony with other PA officials marking the return of Al-Akhras's and other terrorists' bodies, she called them "brave heroes," and "martyrs who sacrificed their pure blood so we will live in freedom...Allah willing, we will remain committed to their promise and make tombs that will befit their stature." Other statements made by her over the years praised numerous other terrorists.
http://www.israelnationalnews.com/News/News.aspx/191276#.VN54RvnF9nM
-----------
Women freedoms' violations tackled in exhibition by Palestinian artist in Egypt
13 Feb, 2015
Palestinian artist Rima El-Mozayyen takes the role of both artist and activist with her artwork bringing to the surface a wide range of women's issues.
Titled 'I'm Not a Doll,' the latest exhibition of her paintings, which opened on 7 February in Art Lounge, tackles issues of rape, domestic violence, harassment, FGM (female genital mutilation) and child marriage.
Placed next to the artwork, the Arabic title of each piece is important — pointing very directly to the issues El-Mozayyen evokes in each painting, some of them reminiscent of signs in demonstrations for women's rights.
The exhibition is meant to spur discussion around these issues and empower women against different types of oppression wielded against them in certain patriarchal Arab societies.
In parallel to issues of violence against women, El-Mozayyen tackles an overlooked yet equally serious imposition on women's freedoms, expressed through standards of beauty.
She finds women's slavery to modern beauty standards a type of self-entrapment women impose on themselves.
"All women have started looking alike. Everyone is trying to reach an ideal appearance we see on television. We miss natural beauty and natural faces that are beautiful in their own right," El-Mozayyen says.
One of her series is about love, exploring the different states of love a woman might experience, with a piece titled 'Love in the Time of War.'
In some pieces, El-Mozayyen adds Arabic calligraphy in her own hand, with repeated words of delicate lines that resemble an ornate pattern.
In her piece 'Al-Thaluth Al-Moharam' (The Three Sins), the words sex, religion and politics are written in small hand, patiently, over and over again.
Their redundancy adds an element of insistence, acting as reminders, keywords, to fuel discussion of core issues, as if trusting that by repeating them taboos will be broken.
El-Mozayyen reveals that viewers have told her that her paintings look happy on the surface, but start to reveal their seriousness and sadness upon closer inspection, and upon reading their titles.
This, the artist says, is something she learned and adopted from her father, prominent Palestinian artist Abdulrahman El-Mozayyen, known for his iconic political posters in the 1980s.
"People see enough distress on the news. As an artist, I must offer an alternative, beautiful way of portraying serious or depressing issues so people might better deal with them," she recounts — her father's words that she now lives by.
Her paintings are layered, adding depth and visual complexity by merging symbols, layering transparent paint, and collage. Her palette has lots of pink, a colour the artist chose for femininity, and holds cultural significance for her as a much used color in Palestine for women's dresses.
While most of the paintings are produced on stretched canvas, El-Mozayyen displays a collection that escapes the canvas frame, echoing the subject of freedoms that she is tackling.
These paintings hang like vertical banners, with just the upper and lower bars of the canvas in place, letting the sides relax loosely.
"I've been using this technique for a while now. I always like to experiment, but not just for the sake of it; it has to serve the subject," El-Mozayyen says
There are many recurrent symbols in the pieces — the most dominant being the women's eyes that peer out of the paintings.
"The eyes I portray are neither happy nor hopeless, but rather have a look of reproach."
Other symbols are clothes hangers and clothes pins; these the artist has used liberally over previous projects, with their meanings changing according to different topics she deals with.
"For 'I'm not a Doll' the clothes hangers resemble puppet string holders, representing shackles that might bind a woman and limit her movement," El-Mozayyen says pointing to the word "El-Arousa" in the Arabic version of the exhibition title, and which can be translated as both "doll" or "puppet."
Some viewers might directly link these objects with housework, as they relate to laundry and housekeeping, which in some societies is a woman's limited role.
"I've used the clothes hangers before to resemble warplanes attacking people, to express loss, as objects we might use to hang the clothes of people we mourn," she adds.
El-Mozayyen works with different media, such as installations. She has also produced a number of video art projects, including 'Freedom on Paper,' which screened in Art Lounge on 9 February.
The short video deals with how we have the freedom to express everything we want on paper, through writing or drawing, but have less freedom on the ground.
The Palestinian artist has been in Egypt before, living in Cairo for seven years when she studied at Helwan University.
"Egypt is a centre for all types of artists, but the topics I see now might be more about freedoms, with the revolution being a rich subject to draw from," she says.
http://english.ahram.org.eg/NewsContent/5/25/122725/Arts--Culture/Visual-Art/Women-freedoms-violations-tackled-in-exhibition-by.aspx
----------
Roma Children in Turkish Province to Be Trained As Preachers, Ottoman Army Band Members
13 Feb, 2015
The governor of the western Turkish province of Edirne, where many members of Turkey's Roma community live, has announced plans to train Roma children as preachers and as members of the Ottoman army band.
Announcing the "two nice projects" scheduled to begin next week, Gov. Dursun Ali Sahin said Feb. 11 that an Ottoman army band, or mehter, would be formed with members of the Roma community in the city. "The band will begin training with two teachers. The Edirne Governor's Office's Roma Mehter Band will consist of 41 members of the Roma community, with their drums, darbukas and zurnas," Sahin was quoted as saying by Dogan News Agency.
Establishing special centers to train Roma children as Islamic preachers (hafiz) is another upcoming project, according to Sahin.
"These centers will only serve Roma children. We will gather the Roma children from middle schools and imam hatip schools. We will give each of them 100 Turkish Liras as a scholarship grant and provide them with accommodation and food," he said, adding that the graduates "will be appointed as Islamic clerics in mosques."
"It will make the Roma community even stronger," Sahin claimed.
Sahin made headlines in November 2014 when he angrily said Jews would not be permitted to use a restored synagogue in the province because Israeli soldiers were killing Muslims at the al-Aqsa Mosque in Jerusalem.
"As those people causing the winds of war to blow while wearing the garb of highwaymen are murdering Muslims inside the al-Aqsa Mosque, we're making their synagogues," Sahin said, adding that the synagogue would only be used as a museum, not as a place of worship.
Sahin subsequently said media reports on his comments "did not reflect the truth."
http://www.hurriyetdailynews.com/roma-children-in-turkish-province-to-be-trained-as-preachers-ottoman-army-band-members.aspx?pageID=238&nID=78204&NewsCatID=341
----------
The Mass Rape in Darfur of 221 Women and Girls Is The Biggest Atrocity: Report
13 Feb, 2015
Sadly, the bloody war in Darfur has been going on for so long that many people have stopped talking about it altogether. Since rebel groups began fighting the Sudanese government in 2003, hundreds of thousands of Sudanese civilians have been killed, and over two million have been displaced from their homes. But brutal murder isn't the only tool that the rebel forces, together with the Sudanese government, are using to incite terror — this genocide also uses rape as an act of war. According to a report from the Human Rights Watch released Wednesday, Sudanese government troops raped 221 women and girls in Darfur in a 36-hour period in 2014.
The report, entitled"Mass Rape in Darfur: Sudanese Army Attacks against Civilians in Tabit," details information from over 130 interviews conducted with victims of the mass rape. The attacks took place in the village of Tabit in North Darfur from October 30 through November 1, 2014. In its report, HRW says the mass rape and concurrent abuses are "serious violations of international law." Over the 36-hour period, government soldiers reportedly went house-to-house, searching homes and looting property. They beat residents, detained men, and raped the women and girls they found. According to HRW, residents recognized the attackers as members of the Sudanese Armed Forces stationed nearby.
The HRW has labelled these acts "war crimes" and demands that those responsible be held accountable:
Rape and other serious abuses against civilians in Tabit are serious violations of international humanitarian law (the laws of war) and international human rights law. Military personnel who participated in, aided or abetted, or ordered rape are responsible for war crimes. Commanding officers who knew or should have known of the mass rape – and took no action to prevent it or punish those responsible – are criminally liable as a matter of command responsibility.
According to the report, the attacks were "systematic," carried out in three separate raids over the 36-hour period, and "may amount to crimes against humanity."
Crimes against humanity are serious offenses, including murder, torture and rape, committed as part of a widespread or systematic attack on a civilian population. As Human Rights Watch research has found, the rape was on a large scale and thus could be considered widespread. It was carried out in multiple locations at the same time during the course of three successive attacks on the civilians in the town, indicating it was systematic.
Since the attacks, HRW reports that the Sudanese government has taken "drastic measures" to cover up the crimes and prevent information from becoming public. They claim that no rape has occurred in Darfur. According to the report, government officials "threatened, intimidated, beaten, detained, and tortured" residents in order to keep them from speaking about about the attacks. In an interview with TIME, Foreign Minister Ali Ahmed Karti denied that there had been any mass military rape in Tabit.
Why haven't you heard about the continuing violence in Darfur? Why hasn't a majority of the popular U.S. news media released anything about this report, which clearly details human rights violations en masse? So far, NBC News has published one article, as has CBS News. Reuters has also reported on the atrocities.
But we have yet to hear from The New York Times, The Washington Post, FOX News, or ABC News. What could be more of a pressing issue than the systematic rape of hundreds of women and girls — some very young children — in the midst of a twelve-year attack on Sudanese civilians?
It's true that tragedy comes in spades. On Wednesday, President Obama sent a war draft to Congress asking to send troops in to combat ISIS after the death of Kayla Mueller. News also broke today of the murder of three Muslim students in North Carolina. And there are 300 people dead in the Mediterranean Sea right now, ostensibly after botched immigration attempts. It seems like all news is bad news right now.
Though we may be facing domestic issues, we cannot be blind to adversity abroad. It is our responsibility to consider those facing violence overseas. Even if the victims may be socially marginalized — as they are, no doubt, as poor African women — their suffering matters.
http://www.bustle.com/articles/63814-the-mass-rape-in-darfur-of-221-women-girls-is-the-biggest-atrocity-you-havent
----------
URL: https://newageislam.com/islam-women-feminism/how-poor-hyderabad,-india,-women/d/101507