New Age Islam News Bureau
19 Jun 2017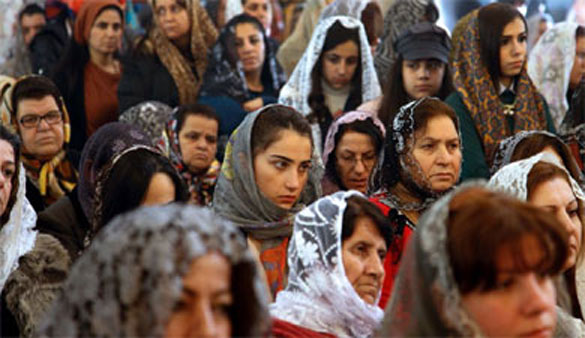 Muslims 'protecting Christians' against ISIS by lending them hijabs in Marawi
----
• Muslim Girl Assaulted Outside Mosque, Found Murdered In U.S.
• Hindu Underage Girl 'Forcibly Converted and Married Off' In Tharparkar, Pakistan
• UK: Pakistan-Origin Muslim Man Faces Racial Slurs by Woman
• Parents of Converted Hindu Girl Change Home Due To Fear in Pakistan
• Pakistan Govt Proposes Rs2.7b for Women Empowerment in 5-Year Plan
• Arab Women Feared Dead in Grenfell Blaze Had Campaigned For Fire Safety
Compiled by New Age Islam News Bureau
URL: https://www.newageislam.com/islam-women-feminism/how-muslim-women-lending-christians/d/111596
--------
How Muslim Women Lending Christians Hijabs to Escape ISIS in the Philippines
June 18, 2017
Muslims are lending terrified Christians Hijab veils to help them disguise themselves from ISIS terrorists as they try to escape their clutches.
The tale is one of the stories to emerge from the besieged city of Marawi in the Philippines – where there are around 1,500 people trapped by the militants.
About 100 people have managed to escape on foot or by risking swimming via a treacherous river.
Those who survived the journey have told medics of the resourcefulness of those who fled.
The head of the psychosocial therapy team, Dr Gioia Ancheta, said: "Some of the stories that stuck were Muslims helping protect Christian workers by letting them borrow a hijab."
Marawi was stormed by militants around three weeks ago – in an operation which left 290 people dad including 26 innocent civilians.
According to report by Mirror, those who remain trapped in the city face starvation as they are held as human shields by President Duterte's military who are trying to oust the jiahdists.
There are reports that some of the 'hostages' are so hungry they have "started to eat their blankets" according to one local politician, Zia Alonto Adiong, who is managing the relief effort.
The Independent reports he added: "Some residents are eating (cardboard) boxes. They just dip it in water to soften the material and eat it," he said.
Survivors who escaped say they have witnessed appalling scenes of carnage.
The Philippines military is continuing its assault but efforts are being hampered by an estimated 200 Islamic State fighters holed up in 'sniper' positions.
President Duterte has placed the entire region under martial law in his fightback against Islamic extremism.
http://www.thetrentonline.com/muslims-women-hijabs-escape-isis/
--------
Muslim girl assaulted outside mosque, found murdered in U.S.
JUNE 19, 2017
Body was found dumped in a pond, man arrested on suspicion; hate intent not ruled out
A 17-year-old American Muslim girl was beaten and abducted after leaving a mosque in Virginia on Sunday by a man who police later arrested on suspicion of murder after her body was found dumped in a pond, authorities said.
The attack spurred an outpouring of grief and horror in a Muslim community that has been gathering to pray at the All Dulles Area Muslim Society mosque about 30 miles outside Washington in observance of the last 10 days of Ramadan.
The attack happened early on Sunday after the victim and several friends walking outside the mosque got into a dispute with a motorist in the community of Sterling, the Fairfax County Police Department said in a statement.
At one point, the motorist got out of his car and assaulted the girl, police said.
Reported missing
The teen was reported missing by her friends who scattered during the attack and could not find her afterwards, touching off an hours-long search by authorities in Fairfax and Loudoun counties.
At around 3 p.m., the remains of a female believed to be the teen victim were found in a pond in Sterling, police said.
During the search for the missing teen, authorities stopped a motorist "driving suspiciously in the area" and arrested the driver, later identified as identified as Darwin Martinez Torres (22).
Police obtained a murder warrant that charges Torres for her death, the Fairfax County Police Department said.
Hate not ruled out
A police spokeswoman told reporters the attack followed some sort of dispute between the man and the girls, and authorities had not ruled out hate as a motivation for the attack.
The number of anti-Muslim bias incidents in the United States jumped 57 per cent in 2016 to 2,213, up from 1,409 in 2015, the Council on American-Islamic Relations advocacy group said in a report last month.
While the group had been seeing a rise in anti-Muslim incidents prior to Donald Trump's stunning rise in last year's presidential primaries and November election victory, it said the acceleration in bias incidents was due in part to Mr. Trump's focus on militant Islamist groups and anti-immigrant rhetoric.
In an incident in London on Monday, a van ploughed into worshippers leaving a mosque, killing at least one person and injuring several in what Britain's largest Muslim organization said was a deliberate act of Islamophobia.
He swung a baseball bat at them
Isra Chaker, a person who said in a Facebook post that she was close to a family friend of the victim in the Virginia incident, said the driver came out with a baseball bat and began swinging it at the girls.
"She then went missing (presumably kidnapped/moved by the suspect) and was found dead this afternoon," Ms. Chaker said.
An online fundraiser for the girl's family had raised $61,606 by Sunday evening.
Police said a medical examiner will conduct an autopsy to confirm the victim's identity and cause of death, though detectives believe the body found in the pond was the missing girl.
http://www.thehindu.com/news/international/muslim-girl-assaulted-outside-mosque-found-murdered-in-us/article19102633.ece
--------
Hindu Underage Girl 'Forcibly Converted and Married Off' In Tharparkar, Pakistan
June 16, 2017
HYDERABAD: The family of an underage Hindu girl from Tharparkar has claimed that she was kidnapped, forcibly converted to Islam and married off to a Muslim man. The girl and her husband, however, have filed a petition in Sindh High Court seeking protection and declaring the conversion and marriage consensual.
Ravita Meghwadh, a teenager, reportedly converted to Islam on June 6 and changed her name to Gulnaz. On the same day, she married Syed Nawaz Ali Shah at the marriage registrar's office in union council Samaro in Umerkot, according to Shah and his family.
However, Ravita's family denies this and has accused Shah of kidnapping her.
"She was abducted from her house and forcibly married to a man twice her age," said her father Satram alias Satio Meghwadh who lodged the FIR of the kidnapping at Nano Dandal police station in Nangarparkar, Tharparkar four days ago.
The FIR lodged under Section 365-B of Pakistan Penal Code, which deals with kidnapping to compel a woman to marry against her will, names four people: Shah (the husband), Madad Ali Shah, Umar Junejo and Sheru Junejo.
Five months on, bill against forced conversion gathers dust
The family claims Ravita is underage based on a primary school certificate, which mentions her date of birth as July 14, 2001, making her about 16 years old.
Ravita's brother-in-law, Lajpat Meghwadh, who married her elder sister on April 29 this year said:"My wife is barely 18 years old. How can her younger sister be an adult?"
Interestingly, the marriage registrar has mentioned Shah's year of birth as 1980, and national identity card number on the marriage certificate, but Ravita's age has been written as "approximately 18" and her NIC number not mentioned. Similarly, the certificate of conversion to Islam also does not mention her date of birth and NIC number, listing her age as "approximately 18."
Lajpat alleged that Ravita was kidnapped to force the Meghwadh family to leave the village.
"Our family has just four houses in the village. Some men from Syed and Junejo communities, who dominate the village population, kidnapped her and asked us to leave the village through some intermediaries," he claimed.
Lajpat further said that Ravita didn't use a cell phone and that she had remained restricted to the house after completing her primary education. "Unlike other women, she never left home to fetch water from the well or worked as a maid in anyone's home," he said.
Forced conversion is a crime, says PM Nawaz
Shah could not be reached for his version. However, he and his wife told the local media in Kunri, Umerkot that they married of their free will and accused the Meghwadh family of issuing threats to Shah and his family.
Advocate Bhagwandas told The Express Tribune that the Meghwadh family is also filing a petition in Sindh High Court against the marriage. He said the marriage was solemnised in violation of Sindh Child Marriages Restraint Act, 2013, which was passed by Sindh Assembly in April 2014.
The law restricts the registration of marriages of people below 18 years of age. An offence under this act is cognisable, non-bailable and non-compoundable with a punishment of up to three years in jail for the groom, person solemnising such marriage and even the family of the man and woman tying the knot.
According to the local police station's SHO Qurban Rajpar, the police are not arresting people nominated in the FIR because of the SHC's notice.
https://tribune.com.pk/story/1437300/hindu-underage-girl-forcibly-converted-married-off-tharparkar/
--------
UK: Pakistan-origin Muslim man faces racial slurs by woman
June 18, 2017
A 21-year-old Pakistan-origin Muslim man in the UK was allegedly hurled with racial slurs by a woman while walking down a road after breaking his Ramazan fast, according to media reports. The woman was sitting in a doorway in Huddersfield, a large market town in West Yorkshire, England, when she began swearing at the man on Friday. "Do you wanna know why I'm being racist? In my own country? Because it's your race that's blowing up our f***ing nation," the woman yelled.
She then screamed: "What are you going to do? I'll s*** in your face…" Her outrageous outburst was targeted at the man walking down Kirkgate after breaking fast for Ramazan when the woman began her unprovoked tirade of abuse, The Sun reported. The victim, who did not want to be named, took out his phone to record her slurs. The woman's face has not been blurred so people can help identify her. The man said he did not provoke the woman in any way.
"I was minding my own business. She just started having a go at me. I asked her what her problem was and she just carried on. I could tell she had a bit to drink but there is no excuse for it," he said. "I am a 21-year-old British-Pakistani born and raised in Huddersfield and I have never been in this situation before. After this I seriously don't feel safe in my own country!," he added. The victim has reported the incident to the police. A representative for West Yorkshire Police said that a hate crime has been recorded and enquiries are ongoing.
http://indianexpress.com/article/world/uk-pakistan-origin-muslim-man-faces-racial-slurs-by-woman-4709802/
--------
Parents of converted Hindu girl change home due to fear in Pakistan
June 18, 2017
The parents of a 16-year-old Hindu girl who was allegedly abducted and converted before being married to a Muslim man in Pakistan have changed their location due to fear, a media report has said. Ravita Meghwar was abducted by some men from the influential Syed community in Tharparkar's Nagarparkar area in the southeast Sindh province on June 6, creating an uproar among the minority community. Her parents said that they have changed their location fearing they might be attacked by the family of their daughter's so-called husband, Geo TV reported. Meghwar's parents said they moved from Wanharo village to Mithhi after they raised their voice against a man, nearly double the girl's age, kidnapped their daughter, forcefully converted her to Islam and married her, the report said.
A court has summoned both the parties on June 30. The girl's mother wanted the police to take Meghwar in their protective custody until the hearing day, but the police said they cannot take action against the "couple".The Hindu community, along with the girl's family, has insisted that she was kidnapped and forcefully converted. Her father Satram Das Meghwar alleged that influential members of the Syed community had kidnapped his daughter after giving sleeping pills to the family. He alleged that despite frequent appeals, Thar police did not take any action to trace the girl till she was forced to convert.
However, the girl said that she had not been kidnapped but eloped with Ali Nawaz Shah. She and her husband have requested the Hyderabad bench of Sindh High Court to provide them protection.The PML-N member of national assembly from Thar and chief of the Pakistan Hindu Council, Dr Ramesh Kumar Vankwani, has expressed his concern over the alleged abduction and the subsequent conversion of Ravita. Scores of people have questioned the validity of the marriage certificate issued by the cleric and condemned the incident on social media, demanding a probe into the incident.
http://www.financialexpress.com/world-news/parents-of-converted-hindu-girl-change-home-due-to-fear-in-pakistan/724309/
--------
Pakistan Govt Proposes Rs2.7b for Women Empowerment in 5-Year Plan
June 19, 2017
Islamabad - The government has proposed an amount of Rs 2.7 billion proposed for women empowerment, and their socio-economic development during the Five Year Plan period from 2013-18.
Education, employment and access to information are key parameters, which reflect an overall status of women in the social context. The empowerment of a woman is dependent on her participation in household decision-making, mobility, ownership of property and freedom to spend and her role as a decision-maker in the society, 11th Five Year Plan data revealed. The female labour participation rate is about 22.7 per cent against 83.3 per cent male participation in country production.
The prevalence of gender inequality in labour force participation leads to economic disempowerment of women in their families and at the national level. In the public sphere, majority of women work as unpaid family labour in agriculture and hold low paid, low skill jobs, at the lowest tier of the industrial labour force in the urban areas.
Occupational segregation characterises that women are concentrated in certain sectors (agriculture, services) and within the sector hold lower positions. Women, who are counted as employed include employees, self-employed, unpaid family helpers and generally engaged in low-skilled and low-wage economic activities. More than half of women earn less than 60 per cent income as compared to men. Bulk of female labour force is engaged in informal sector and still requires legal protection and effective implementation of the labour welfare policies.
In the urban informal sector, 67.5 per cent women work in diverse manufacturing sector mostly as home-based or casual workers on exploitative wages or employed as domestic workers on extremely low remuneration. The major challenges faced to improve standard of women empowerment in the country were weak law enforcement impeding realisation of equal rights for women. While non-recognition of women's work in the rural setup and informal sector in the Gross Development Production, lack of access to resources, facilities and entitlements - economic, social and political are also major hindrances.
Ineffective representation of the women issues and concerns in the policy-formulation and implementation processes, besides exclusion of the gender consciousness in hard sectors also decreases pace of women progress.
Dimensions of gender gap in education, health and restriction on mobility and inadequate health and reproductive outcomes besides lack of awareness among women regarding the Disaster Risk Reduction also reduce the productivity of women in national progress.
http://nation.com.pk/islamabad/19-Jun-2017/govt-proposes-rs27b-for-women-empowerment-in-5-year-plan
--------
Arab women feared dead in Grenfell blaze had campaigned for fire safety
18 June 2017
Two Arab women who were victims of the Grenfell Tower fire, Mariem Elgwahry, 27, and Nadia Choucair, 33, reportedly received letters urging them to stop campaigning against safety issues in the building.
Elgwahry was not seen since the morning of the fire blaze on June 14.
According to British newspaper, Daily Mail, the two women were fighting for improved security measures from the Kensington and Chelsea Tenant Management Organization (KCTMO), which managed Grenfell Tower.
Elgwahry and Choucair received helped in their campaign from the Radical Housing Network in the UK. The London-based network is comprised of a number of groups fighting for housing justice.
Radical Housing Network representative, Pilgrim Tucker, said that the KCTMO's response was to threaten tenants with legal action.
He added that both women wanted to do what seemed best for their neighbors and wanted to keep the residents of the building safe.
"Things had got so bad they knew a disaster like this was inevitable, but if there was a chance of stopping it they were up for the fight," he added.
Tucker said that Elgwahry and Choucair held protests outside management offices, but they were still not listened to.
The KCTMO is currently investigating the matter.
https://english.alarabiya.net/en/News/world/2017/06/18/Arab-women-feared-dead-after-campaigning-against-fire-safety-issues-at-Grenfell-Tower.html
--------
URL: https://www.newageislam.com/islam-women-feminism/how-muslim-women-lending-christians/d/111596
New Age Islam, Islam Online, Islamic Website, African Muslim News, Arab World News, South Asia News, Indian Muslim News, World Muslim News, Women in Islam, Islamic Feminism, Arab Women, Women In Arab, Islamophobia in America, Muslim Women in West, Islam Women and Feminism