New Age Islam News Bureau
12 Dec 2019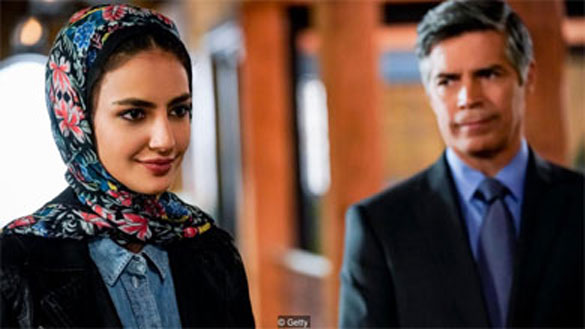 NCIS: Los Angeles introduced a hijab-wearing character, Special Agent Fatima Namazi, but took care not to make religion the focal point of her role (Credit: Getty)
-----
• How Hollywood Has Failed Muslim Women
• 'People Think Muslim Ladies Can't Drive a Taxi'
• Women's Propensity towards Extremism Increasing
• India: Woman Given 'Triple Talaq', Raped By Tantrik
• Saudi Ministry Launches Awareness Expo on Women's Legal Rights
Compiled By New Age Islam News Bureau
URL: https://www.newageislam.com/islam-women-feminism/how-hollywood-failed-muslim-women/d/120506
------
How Hollywood has failed Muslim Women
December 11, 2019
So what is all the obsession with films depicting oppressed Muslim women finding salvation in relationships with white western boys?
Recent controversy with numerous tv shows and movies portraying the 'real' representation of Muslim women.
Netflix teen drama Elite tells the story of working class siblings Omar and Nadia who are suddenly sent to an exclusive private school. In order to catch the attention of an attractive white student; Nadia removes her hijab and drinks alcohol. The director portrays her walking in slow motion confidently into the club as her admirar watches in lust. It's her moment, she's confident, she's woke, she's Queen.
What causes concern is the concept that in order for Muslim women to be empowered she must make the final rite of initiation and remove the veil. And of course what is an islamaphobic show without having a white knight to save her from her barbaric heritage.
In one of the highest-grossing superhero movies of all time, Iron Man 3; depicts the main character's best friend Don Cheadle as a US military combatant wearing a suit that is camouflaged in US colours. He kicks open the door and 'liberates' the enslaved Niqabi women from their oppression working in a Middle-Eastern sweatshop. Nice propaganda by the way; that way Americans can justify bombing Muslim countries to liberate the oppressed Muslim women.
Hala, an Apple Original (meaning probably no one is going to see) lazily portrayed every single stereotype Muslim women face today. She's depressed, not heard, covered. But this liberal rebellion gets rescued by yet another western boy. Wonder if that's a job you can take up? Rescue Muslim Women Services. RMW services how can I save you?
So to save you from watching hours of cheeseball, I'll lay out the narrative for you; attractive poor Persian, Arab or Desi girl falls in love with a progressive tender hearted white boy but her intolerant of love parents force her into a lifetime of cooking falafel in the kitchen but this hijabi hostage is a real liberal rebel at heart and runs away throwing her deen, family and hijab away. Written, produced, directed by Al Masih Ad Dajjal. Ah romantic!
The constantly recurring theme of the white knight saving the exotic oppressed Muslimah, is just one way of colonising the mind and heart of Muslim women. Also insidiously demonising the Muslim male as a villain.
This is just one avenue to socially engineer Muslims away from their faith and into a godless liberal dystopia painted to us as liberation and freedom.
While our Muslim sisters from abroad are suffering physical wars, Muslimahs in the west are fighting an ideoligical war and in order for us to win we must take ownership of our own stories and tell it our way.
https://onepathnetwork.com/how-hollywood-has-failed-muslim-women/
------
'People Think Muslim Ladies Can't Drive A Taxi'
A mum-of-five who says she is a town's only female Muslim taxi driver wants to encourage more women into the profession.
There are more than 362,000 licensed taxi and private hire drivers in England but women make up just 2% of that figure, according to the Department for Transport.
Shelly Ullah works in Corby, Northamptonshire, and fits the job around picking up her children from school and going shopping.
She says she has received many remarks from passengers who are surprised to see her in the driver's seat, in a town that has a small Muslim population.
"Men will come in and be like, 'All right mate?' and then they'll be like, 'I'm so sorry, I didn't realise you were a woman'. I say, 'Don't worry, it's all right!'.
"Some people have actually said, 'But I thought Muslim ladies couldn't drive a car?'. They think we're at home, cooking. So I want to show them that no we're not, we can do what we want."
https://www.bbc.com/news/av/uk-england-northamptonshire-50745555/people-think-muslim-ladies-can-t-drive-a-car
------
Women's propensity towards extremism increasing
Dec 11, 2019
The propensity towards extremism is increasing among women in Bangladesh, though the militant groups in the past did not directly use women in their operations. Also, religious identity that is gaining importance over nationality or citizenship in Bangladesh. No matter of what social standing, age, gender or faith as person is from, urban or rural, their religious identity is at the forefront.
This was revealed on Monday in the findings presented at the first national conference against extremism held at the Basundhara International Convention Centre in the capital city.
Speaking at the conference, head of the police's Counter Terrorism and Transnational Crime (CTTC) unit Monirul Islam said that women's propensity towards extremism was increasing. Speaking to Prothom Alo, he said that in the past the militant groups would not directly use women in their operations. It was the international militant group Islamic State (IS) that included women. They would be used for policing and at check posts in the occupied areas. This widened the scope for women to directly be involved in militancy worldwide. In Bangladesh at present, more and more women were getting involved in militancy.
CTTC deputy commissioner Abdul Mannan, in his presentation at the conference, said traditionally, women in Bangladesh followed their husbands of the head of the household. After the 2016 Holey Artisan Bakery militant attack, 85 women were arrested. All of them were dangerously involved in militancy. Over the last three years, 11 were in suicidal attacks or killed in police operations. Many of these women were frustrated, not being given proper importance within their families despite being highly qualified or educated.
Professor political science at Dhaka University, Shantanu Majumdar, presented his paper on 'Identity, Identity Politics and Election in Bangladesh' at the conference. He interviewed 208 persons during his research. Of the, 145 maintained that their religious identity came first. After that, 92 gave priority to nationality, that is, their Bangali identity, and 79 as Bangladeshis. The two latter groups said they were not opposed to religious identity and had no problem with being identified as Bangali and Bangladeshi Muslim, and Bangali and Bangladeshi Hindu. Others identified themselves as human beings, some based on gender, some on profession, family or on their home district.
Shantanu Majumder said that the study revealed that Bangalis were gradually losing their liberal and secular character.
Local and international studies over the past few years have revealed that religious identity s gradually coming to the forefront in Bangladesh.
In his research paper, Shantanu Majumdar mentioned two reasons behind Muslims putting their religious identity first. Firstly, Muslims feel they are victims of injustice worldwide. They establish several reasons behind this belief. And 48 per cent of them believe that they are victimised because there is a lack of unity among themselves. Another 48 per cent feel that persons of other communities are conspiring against them. And 35 per cent do not quite understand why there are victims of injustice. Meanwhile, 33 per cent feel this animosity is the result of influence by the majority. Other reasons were also put forward.
Speaking to Prothom Ali, Shantanu Majumdar said Muslims feel they are being conspired against due to the political analysis of Islam and the spread of Hindutva in India. He said, the majority and minority communities had different choices when it came to topics of discussion. For example, the Hindu community does not want to discuss the politics generated over 'beef', but are eager to talk about human rights violations. And the Muslims invariably spoke of conspiracies against them. They were not interested in constructive discussions. Many gave importance to religious identity for fear of being overlooked or taken to be weak. No one wanted to talk about anyone of their own religion who had committed crimes or of their own districts who had a negative image.
Expatriates at risk
Political science professor of Dhaka University Tasneem Siddiqui, in her paper described how migrant workers fell into the risk of militancy. She carried out a survey on 250 migrant workers who have returned to the country between February and April 2019. She also took detailed interview of 30 persons who had tackled the risk of militancy.
Tasneem Siddiqui said that the migrant workers' risk was mostly internet-based. But 97 per cent of the workers in the survey did not realise that militants could use social media to draw them into their groups. It is important to inform the migrant workers of this internet-based risk before they go overseas she said.
Government wants to unite all
Speaking as chief guest at the national conference against extremism, speaker Shireen Sharmin Chaudhury said that the cause behind people turning towards terrorism and militancy must be identified. It can them be devised how to prevent militancy.
The prime minister's international affairs advisor Gowher Rizvi said that it would not be possible to tackle extremism without international assistance.
UN resident representative Mia Seppo said that discrimination, the absence of justice and lack of opportunities frustrated people. This frustration motivated people towards militancy.
US ambassador Earl R Miller said that the US would continue its cooperation with Bangladesh to bring militancy under control. He said since 2016 the US had provided Bangladesh with 35 million dollars in assistance against extremism. If necessary they were ready provide more funds to this end.
The to-day conference ended on Tuesday. It was organised by the CTTC, the UN and USAID.
https://en.prothomalo.com/bangladesh/news/206288/Women%E2%80%99s-propensity-towards-extremism-increasing
------
India: Woman given 'triple talaq', raped by tantrik
December 12, 2019
Bhopal: A woman was allegedly given 'triple-talaq' by her husband and then raped by a tantrik on the pretext of 'halala' in Bhopal. Both the accused have been arrested, said police.
Aleem Khan, City Superintendent of Police (CSP) said, "Both the accused were arrested and produced before a court, they have been sent to jail."
"On November 23, a man gave triple talaq to his wife after a dispute broke out between them.
Later, the man tried to resolve the matter with his wife. One tantric told the man that the woman needs to do halala, for which the man agreed," he added.
The tantrik took the woman to a flat and raped her in the name of 'halala', the police official said.
"After that, even the husband refused to let his wife stay with him. Later the woman filed a complaint and action has been taken against her husband under the Muslim Women Protection Act. A case has also been registered against the tantrik," said Khan.
https://gulfnews.com/world/asia/india/india-woman-given-triple-talaq-raped-by-tantrik-1.1576133212786
------
Saudi ministry launches awareness expo on women's legal rights
11 December 2019
RIYADH: An expo aimed at raising awareness among Saudi women of their legal and judicial rights has been launched in the Kingdom.
The Ministry of Justice's three-day Judicial Culture Forum titled, "Knowledge and Enrichment," will run until Saturday from 4 p.m. until 10 p.m. in Jouri Mall, Taif.
As well as highlighting legal rights, the event is also designed to advise women on how to easily and efficiently access the country's judicial services.
Part of the ministry's National Transformation Program of initiatives, the forum will include a knowledge corner offering specialized counselling on personal status, and a systems corner showing how procedures are operated for women.
A sign-language interpreter will be present to help answer queries from people with hearing difficulties, and there will also be a judicial section to advise visitors on matters such as alimony, family reunification and reconciliation.
The Najiz electronic justice services platform will have a display at the forum and a children's corner will look after kids while also making them aware of their legal rights.
https://www.arabnews.com/node/1597526/saudi-arabia
------
URL: https://www.newageislam.com/islam-women-feminism/how-hollywood-failed-muslim-women/d/120506
New Age Islam, Islam Online, Islamic Website, African Muslim News, Arab World News, South Asia News, Indian Muslim News, World Muslim News, Women in Islam, Islamic Feminism, Arab Women, Women In Arab, Islamophobia in America, Muslim Women in West, Islam Women and Feminism