New Age Islam News Bureau
3 Nov 2017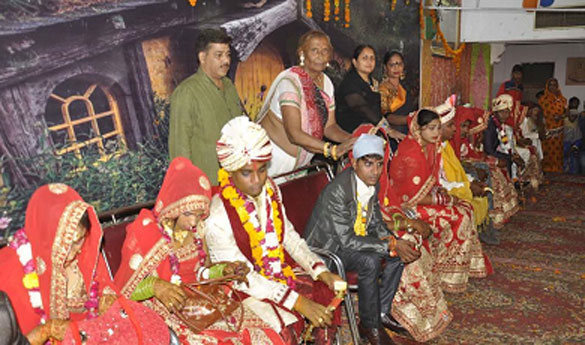 Photo: Photo: Neetu Kinnar, head of a transgender group blessing couple at a mass wedding ceremony in Bharatpur on Thursday.(HT Photo.)
---------
• Transgender group organizes wedding for poor Hindu, Muslim women in Rajasthan's Bharatpur
• Women must wait 217 years to earn the same as men, index says
• 'Reforms designed by six men ignore women's issues'
• Disabled woman burnt alive in Hafizabad
• A marriage leaves Hindu girl's family stunned, Muslim boy's family silent in Jodhpur
• Damaged road closes education door on girls
• Kingston woman chooses to wear niqab
• Converted woman sent to women's home
• Outrage at video of Afghan colonel sexually exploiting woman
• Afghan girls' education: islands of progress in a sea of adversity
• Iran: Active participation of women in the fourth day of protest
Compiled by New Age Islam News Bureau
URL: https://www.newageislam.com/islam-women-feminism/how-know-isis-losing-now/d/113115
--------
How do we know ISIS is losing? Now it's asking women to fight.
November 3, 2017
As the Islamic State's sphere of control — the territory it controls militarily — continues to dwindle, the world anticipates that the self-declared caliphate will resort to ever more desperate and brutal measures to survive. More brutal, perhaps, than the well-documented atrocities already committed in its name: violent repression including enslavement, murder and rape. With its territory shrinking, to continue waging its war, the Islamic State increasingly relies on deadly attacks like Tuesday's in New York City, alleged to have been committed by an Uzbek national living in the United States pledging fealty to the Islamic State.
The organization also recently declared it permissible for women to become warriors, an unprecedented declaration that makes the idea of "desperate" measures seem like an understatement. The outlaw regime, known for its ideological justification of extreme violence directed toward women, now appears willing to rely on women to help save it.
In an Oct. 5 article titled "The Duty of Women in Waging Jihad against the Enemy," in issue 100 of the Islamic State's weekly newspaper, Naba, women were called on to prepare themselves as "mujahidat," female holy warriors, "to fulfill their duty from all aspects in supporting the mujahideen in this battle":
"Today, in the context of this war against the Islamic state, and with all that is experienced of hardship and pain, it is mandatory for the Muslim women to fulfill their duty from all aspects in supporting the mujahideen in this battle, by preparing themselves as mujahidat in the cause of Allah, and readying to sacrifice themselves to defend the religion of Allah the Most High and Mighty…"
This wasn't a musing in a casual forum. Naba is an official organ of the Islamic State, with articles often written by its top officials to broadly communicate policy. Even the Islamic State's notorious publication, Rumiyah (published in numerous languages, including English) is heavily composed of translations of articles already published in Naba. The call for women to become, in effect, combat reservists can be read then as an official Islamic State directive — one that runs afoul of well-known, established Islamic State protocols. That is the only way to interpret this new language.
From Abu Musab al-Zarqawi's formation in 2003 of what would eventually become the Islamic State, to the declaration and establishment of its "caliphate," to until very recently, the group has made a strict and consistent pitch to women. Specifically, Islamic State propaganda and the messaging of a community of unofficial online recruiters have characterized the role of Islamic State women as submissive but essential to its caliphate: obeying one's husband, taking care of the household and mothering the next generation of Islamic State soldiers.
Indeed, on Oct. 4, just one day before the release of Naba's 100th issue, the Islamic State published a video typical of this characterization, showing the male children of a slain Uzbek fighter. Briefly leaving the focus on the boys following in their father's footsteps, the video's narrator described women's "crucial role" in the Islamic State's war:
"The Muslim woman has a crucial role in the ongoing war between truth and falsehood, and this is based in protecting and raising the generations on the Book of Allah and the traditions of His Messenger, Allah's peace and blessings be upon him."
Other guidance sets out a similar vision. Issue 12 of Rumiyah, from August, specifies that a woman's "default" role is to "remain in her home." Issue 9 included an article titled, "The Woman is a Shepherd in her Husband's Home and Responsible for her Flock."
Female Islamic State recruiters like Aqsa Mahmood, once a prominent Islamic State immigrant from the United Kingdom, have talked up the benefits for women of Islamic State life — mentioning everything from job opportunities to the right to drive a car — but have remained clear when describing the limits for women in advancing the Islamic State's military aims. In 2014, Mahmood, also known as "Umm Layth," posted on her recruitment-purposed Tumblr:
"I will be straight up and blunt with you all, there is absolutely nothing for sisters to participate in Qitaal [battle] … we have plenty brothers who don't even get selected on going on operations … For the sisters its completely impossible for the now." That same year, Welsh Islamic State fighter Aseel Muthana (a.k.a. "Abu Farriss") was asked on his Ask.fm why women weren't allowed to fight. He stated:
"Apparently, head military of Sham said women are not allowed. They can do lots of other works. Today I spoke to one of Dawlahs main men in sham. He said even if uu wanna start a buisness here COME. Like if u wanna be a dr here or anything just come, u can do it all inshallah."
"I dont recommend sisters come here to fight. We were told women can not fight, however the women can help the men in other ways if they have professions or not."
The Islamic State has also been wary of claiming responsibility for attacks performed by women in its name. When the group claims an attack — whether coordinated or inspired by it — the group frequently refers to male attackers as "soldiers of the Caliphate," "mujahideen" or other honorifics.
However, when claiming responsibility for the San Bernardino massacre via its 'Amaq News Agency, the Islamic State described attackers Syed Rizwan Farook and Tashfeen Malik as "supporters of the Islamic State" — avoiding referring to Malik, a woman, as a "soldier of the Caliphate" or "mujahid."
Similarly, when claiming responsibility for an attack by three purportedly Islamic State-pledged women in Mombasa, Kenya, on Sept. 11, 2016, the Islamic State likewise referred to them as "supporters of the Islamic State."
Now, though, the Islamic State is at least rhetorically starting to set forth a new permissible role for women, stating in Naba 100, in a historical context:
"To further clarify, my Muslim sister, about your duty in the intense struggle taking place today between the disbelieving faiths and Islam, we have to remind you of the mujahid women of the golden era of Islam. Among the examples that we are going to cite for you of the Muslim women, is one of the shining aspects in the life of the Muslim woman, the mother of heroes, the sister of heroes, and the wife of heroes. It is not strange to the Muslim women today to have the sense of honesty and sacrifice and love for the faith just like their predecessors of the mujahid women who supported Islam."
The article cites the example of Nusaybah bit Ka'ab, a historic figure in Islam recognized for her participation in the Battle of Uhud. First only tending to soldiers, she saw the prophet Muhammad and others being encircled by enemy forces, and decided to take up a sword to aid them in the battle.
The meaning, for Muslim women living under the Islamic State's jurisdiction, is clear: time to fight.
It also suggests that Islamic State-sympathetic women living in the West should carry out lone wolf attacks, given the Islamic State's recent charge to adherents, issued in Rumiyah and elsewhere, to "escalate" attacks against enemies "to a greater level." But what "context" justifies this new call to arms, aimed at women, when the Islamic State has been in a state of war since its inception? Have its leaders genuinely developed a cohesive doctrinal rationale, or has this struggling group concocted new policy rationale, now that it finds itself short on troops?
As the Islamic State's fighting strength wanes and with its ranks likely low in morale, its leaders could have opted not to waver from what they profess as their core ideology. Instead, the group, that projects itself as beholden only to a nonnegotiable, divinely-inspired dogma appears to have allowed itself an ideological lapse. This, as much as any battlefield setback, may be one of its most devastating wounds.
https://www.washingtonpost.com/news/posteverything/wp/2017/11/02/how-do-we-know-isis-is-losing-now-its-asking-women-to-fight-for-it/?utm_term=.4932ac5b50f2
--------
Transgender group organizes wedding for poor Hindu, Muslim women in Rajasthan's Bharatpur
Nov 02, 2017
In a unique initiative taken up by a transgender group in which Hindu and Muslim daughters from impoverished families were married off at ceremony in Bharatpur on Thursday.
Ten couples, including five Hindus and five Muslims, tied the knot at the ceremony according their religious rituals.
The ten women belonged to poor families whose parents were not in a financial position to get them married, says Nettu Bai, head of the transgender community who has been organizing joint wedding programme every year since 2012.
Besides bearing the wedding expenses, the group also offers ornaments, clothes, feasts for the guests, she says.
"We save money every year to organize the weddings of daughters of poor families but never accepted donation from people for the ceremonies."
Popularly known as "mausi", Nettu Bai was elected as the corporator of the ward no 29 of the Bharatpur Municipal Corporation in November 2014.
A social worker, who has dedicated her life to work for betterment of girls from impoverished families, Nettu Bai has over the years organsied marriage ceremonies for more than 60 poor Hindu and Muslims women in her ward.
Nettu Bai deposits Rs 4,000 every day to organize the mass weddings every year.
She says she visits poor families and indentifies girls from impoverished families that do not have the means to marry off their daughters and then selects 10 of them for the mass weddings every year.
"I have been giving massages to the society to save the girl child and requests people to give their daughters to the group if they are unable to feed them," says Nettu Bai, who also takes care of the daughters after their marriage.
http://www.hindustantimes.com/jaipur/transgender-group-organizes-wedding-for-poor-hindu-muslim-women-in-rajasthan-s-bharatpur/story-qaCV2Lq6yXwcbxTOAk1JVN.html
--------
Women must wait 217 years to earn the same as men, index says
November 03, 2017
LONDON: Women will have to wait 217 years before they earn as much as men and have equal representation in the workplace, research said, revealing the widest gap in almost a decade.
Women are paid and achieve just over half as much as men in the workplace, the World Economic Forum (WEF) said, reporting an economic gap of 58 per cent between the sexes.
"In 2017 we should not be seeing progress towards gender parity shift into reverse," said Saadia Zahidi, WEF's head of education, gender and work.
"Gender equality is both a moral and economic imperative. Some countries understand this and they are now seeing dividends from the proactive measures they have taken to address their gender gaps," she added.
It is the second year in a row that the Swiss non-profit has recorded worsening economic inequality, which is calculated by measuring how many men and women participate in the labour force, their earned incomes and their job advancement.
Last year, WEF said women would achieve economic equality in 170 years, down from 118 years in 2015.
No country has closed the pay gap, WEF said, using data from institutions such as the International Labour Organisation, United Nations Development Programme and World Health Organisation.
Overall, Iceland, Norway, Finland, Rwanda and Sweden ranked highest among 144 nations measured on progress in equality in four areas: education, health and survival, economic opportunity and political empowerment.
Yemen, then Pakistan, Syria, Chad and Iran, ranked lowest.
Women fared much better in education, where equality could be reached within 13 years, WEF said, while closing the gap in political empowerment could take a further 99 years.
"Even though qualified women are coming out of the education system, many industries are failing to hire, retain and promote them, losing out on a wealth of capacity," it said.
The report estimated that closing the pay gap could add an extra $250 billion to the GDP of Britain, $1,750bn to that of the US and $2.5 trillion to China's GDP.
https://www.dawn.com/news/1368023/women-must-wait-217-years-to-earn-the-same-as-men-index-says
--------
'Reforms designed by six men ignore women's issues'
Ailia Zehra
NOVEMBER 3, 2017
Lahore: A reforms package has been prepared for the Federally Administered Tribal Areas (FATA) by a committee comprising six men. And this all-male committee did not even consult women activists from the region before drafting proposals that will have a far-reaching impact in years to come, complain women members of the FATA Youth Jirga.
Speaking to Daily Times, FATA Youth Jirga executive committee member Samreena Wazir asks when women comprised around 50 percent of the region's population, what was the justification for ignoring them in the consultation process?
The absence of women's input has meant that pressing issues have been overlooked and others that don't have a huge impact on women in the region have been added to the proposals drafted by the committee.
"The law on protection from sexual harassment is included in the reforms package but it is not needed in FATA simply because there aren't many public spaces women can access on their own to begin with," she says.
"The reforms package does not address the issue of women's lack of involvement in mainstream politics which is a major problem," she says.
Wazir, who runs a non-government organisation in the region, says political agents routinely cover up news related to violence against women to protect the status quo. "Such issues should have been addressed by the lawmakers in the package," she adds.
She says that women played an important role in the struggle to get due rights for the region. "Many women activists continued their struggle even after they lost male members of their families to terrorist attacks. We did not give up and we will continue to agitate to draw the authorities' attention towards the draconian Frontier Crimes Regulation (FCR)," she vows.
The jirga had been formed in October to a united front to strive for the region's merger with Khyber Pakhtunkhwa (KP). It comprises student leaders and youth activists from 26 organisations including all major political parties like the Pakistan Muslim League – N (PML-N), Pakistan Tehreek-e-Insaf (PTI), Awami National Party (ANP) and Jamaat-e-Islami (JI).
The jirga members are holding meetings with political leaders and government officials in Islamabad to push for their demands.
Another executive member of the jirga, Nizamuddin Khan says that the alliance was formed in the wake of protest held by FATA parliamentarians in Islamabad. "We have realised that a united front of FATA representatives is needed to achieve our objective. We have formed the collation by putting aside their political differences because groups working separately are unable to make any difference," he says.
The group has already held meetings with KP Governor Iqbal Zafar Jhagra, National Assembly Speaker Ayaz Sadiq, Minister for States and Frontier Regions Abdul Qadir Baloch, Law and Justice Minister Zahid Hamid, PTI Chairman Imran Khan, JI chief Siraj ul Haq and is now trying to set up meetings with the leaders of the two parties who oppose the merger – Jamiat Ulema Islam – F (JUI-F) chief Maulana Fazlur Rehman and Pakhtunkhwa Milli Awami Party (PKMAP) chief Mehmood Khan Achakzai.
"The ruling party members told us that the process has been delayed because of the objections raised by the government's allies. The government does not seem to be in a position to offend its allies," says Khan, who is also a member of the PML-N youth wing.
He says the ministers and KP governor have told one of their delegations that the reservations have largely been removed and the merger process will begin shortly.
Another member of the youth jirga Arshad Afridi says that the JUI-F chief Fazlur Rehman is opposing the merger because his party stands to benefit from the panchayat and jirga system in place in the region. "It allows them to exercise excessive powers," he says.
He says the youth jirga will press for completion of the merger process in the next two months since general elections are around the corner.
Speaking about a recent meeting with PTI chief Imran Khan, Afridi says the delegates of the youth jirga had registered their protest over his complete lack of attention towards the region. "We told him [Imran Khan] that his focus has always been on four national assembly seats from the Punjab and that he has never staged a dharna to get justice for the hapless people of FATA. He responded to our criticism with the promise that his party will stage a sit-in against the government if the merger process is not started in two weeks," he says.
Afridi further suggests that the ongoing process of delimitation of National Assembly seats should include FATA seats, because otherwise political leaders will use this as an excuse to further delay the merger.
Regarding group's future strategy, Nizamuddin Khan tells Daily Times that delegations meeting ministers and government officials will keep pressing them to provide a time frame for implementation of the proposed reforms. "If the delay persists even after all these assurances, we will have no other option but to take to the streets. We will hold sit-ins in all major cities," he says.
"It has been decided that no individual will bring their political party's flags to these gatherings. No party will be allowed to hijack the demonstrations for political point scoring," he adds.
https://dailytimes.com.pk/133981/reforms-designed-six-men-ignore-womens-issues/
--------
Disabled woman burnt alive in Hafizabad
November 03, 2017
HAFIZABAD :- A 60-year-old disabled woman burnt alive in her house in village Jahad Amirewala the other night. According to police source, deceased Naziran Bibi was alone in the house and due to cold weather, she had burnt charcoal in her room and slept all alone. But after sometime, the fire engulfed the whole room as a result she burnt alive . The police have shifted the dead body to the morgue for legal formalities and started investigating.–Staff Reporter
Meanwhile, a 10-year-old girl was killed on the spot when she was hit by a recklessly driven tractor-trolley in Sukheke Mandi. Mubeen Fatima, daughter of Noor Muhammad was attempting to cross road when the accident took place. The police have arrested the driver Mazhar Ali and registered a case against him accordingly.
Rulers flayed for destroying economy
OKARA - Despite the lapse of 70 years, the country has so far failed to establish a stable economy due to decades-long corruption by those who have been in power during the period.
It was stated by Awam Dost Group (ADG) Chairman Jaboka Muhammad Akbar Chaudhry during a public meeting here the other day. He flayed the present and past rulers of Pakistan for making properties abroad by looting the national exchequer. "Only stern punishment to the corrupt persons will help uproot the menace of corruption from the country," he maintained. He said unnecessary loans from the IMF and the World Bank have collapsed the national economy.
FIVE HELD WITH DRUGS
The district police, in a campaign against narcotics, arrested five drug-peddlers during raids conducted in different areas of the district.
According to police, Rafiq was held with 3.2kg of Charas, Usman of Attock with 2.6kg of Charas, Zafar Iqbal of 5/4L village with 300g of Charas, Rao Kamran of Govt Colony with 20 litres of liquor and Adnan Nagori with 20 litres of liquor. Police registered separate cases and launched investigation.
http://nation.com.pk/03-Nov-2017/disabled-woman-burnt-alive-in-hafizabad
--------
A marriage leaves Hindu girl's family stunned, Muslim boy's family silent in Jodhpur
by Mohammad Hamza Khan
November 3, 2017
At the centre of a row over "forced religious conversion" and marriage in Jodhpur, the woman's family says it is in shock. Payal Singhvi, 22, who now calls herself Aarifa, was a "bhajan-kirtan singing girl" with civil services ambitions, they say; they had never imagined that she could walk out on them one day and "refuse to recognise her family".
The man's family, on the other hand, has locked itself up at home. Under the glare of Jodhpur's right-wing organisations, the family of Faiz Modi refuses to speak.
"When she was presented in the high court Wednesday, she refused to recognise us. How can a girl with doting parents, and who used to sit in temple and sing kirtan to Sai Baba daily with her father, do that? She has been brainwashed," Payal's brother Chirag, 26, told The Indian Express.
A friend of his, Somendra Sharma, 31, showed a video of Payal in a temple —on the ground floor of the family's home in Jodhpur — accompanying her father in devotional songs, as dozens move their heads in devotion. They recount how easily Payal used to recite Sunderkand Path daily. But on Wednesday, it was as Aarifa that she arrived in court, covered in an abaya and a hijab, and she reportedly refused to acknowledge her parents.
"She could never bear to see her parents crying. How is it that she didn't flinch when they were weeping, literally at her feet in the court?" her brother said.
In his complaint to police, he has alleged that his sister had told their mother that Faiz Modi had clicked her photographs and had been blackmailing her.
"It is a case of love jihad, and the modus operandi has similarities with the Blue Whale game and Islamic State recruitment," said Chirag's friend Somendra. "In the online game, one carries out acts against their will as they are threatened that something bad will happen to their family. And how does a person go on to join IS and is ready to blow himself up? Because they are brainwashed. That is the case here, too."
They are convinced that Payal could not have fallen for Faiz Modi, with whom she had allegedly eloped on October 25. That was six months after Aarifa had converted and married him, as per the documents submitted in court. "There is not a single attribute about the boy that anyone can find attractive; he does not even have a job," Chirag said. Their father is a pujari, he said, and they also run a mobile-phone shop. Payal had got a BCom degree this year and was preparing for the Rajasthan Administrative Services when she went "missing" on October 25.
Chirag recalls that the only interaction with Faiz Modi was about five or six years ago, when Payal and Faiz studied in the same school. "He was a year junior to her, and she complained that she was being harassed and stalked by him, so we spoke to his father Aijaz Modi, who apologised to us," Chirag said.
He said that their parents, especially their mother, are "too disturbed" to speak to anyone. "She barely eats and just keeps repeating all day that she wants her daughter back in home, anyhow, anyhow," Chirag said.
It was on his petition that Rajasthan High Court had pulled up Jodhpur's Pratap Nagar police station, asking them to lodge an FIR and investigate the case. An FIR was lodged against Faiz Modi Monday, under IPC sections for inducing a woman to compel her into marriage, wrongful confinement, stalking and extortion.
The court had also sent Payal/Aarifa to Nari Niketan for a week, and prohibited "either party" to meet her.
Chirag said the police had initially refused to register an FIR after his sister had submitted an affidavit with the police claiming she had converted to Islam. "It is a false affidavit," he said.
The court had observed that, as per claims, the nikah was solemnised on April 14, yet the girl was living with her family until October 25. "Then how conversion of religion from one community to another community was made in the month of April 2017," it had asked.
Meanwhile, at Faiz Modi's home in Jodhpur, a woman identifying herself as Aijaz Modi's daughter claimed that neither Aijaz nor Faiz was home, and refused to open the door or speak further. A couple of men claiming to be tenants, too, refused to speak.
On Wednesday, a few Vishwa Hindu Parishad and Bajrang Dal members protested at the high court in connection with the case.
Quoting VHP Jodhpur prant sanrakshak Bhawani Lal Mathur, VHP leader Mukesh said, "There is a large-scale racket in Jodhpur with international connections. The Muslim youth here get funds for luring Hindu women, converting them, exploiting them, and then pushing them in illegal activities."
He said that the VHP had brought this to the administration's notice several times through memorandums, but said that the police has failed to act on its statements. The matter has been listed before the high court on November 7, when the government has been asked to file its reply on conversion laws in Rajasthan.
http://indianexpress.com/article/india/rajasthan-high-court-love-jihad-marriage-leaves-hindu-girls-family-stunned-muslim-boys-family-silent-4920186/
--------
Damaged road closes education door on girls
November 03, 2017
Sheikh Pervaiz Ahmed
CHINIOT - The damaged Bhowna-Aminpur Road has been causing problems for the villagers especially the female students who are forced to discontinue their education due to absence of public transportation.
It is a major road linking farms to the market. It also connects two major towns of Chiniot and Bhowana Town to Faisalabad via Aminpur Town. The road was last time repaired in 2000 but it started getting damaged soon after the repair. Till year 2002, its major parts were damaged and turned into heaps of stones.
It not only connects hundreds of villages with their tehsil headquarters Bhowana but also a way for thousands of students going to the schools situated on the road . The Govt Girls High School Chak 184 and Boys High School Chak 237-JB and a number of primary and elementary schools are situated on the road .
The people of these villages have been facing odds for the last 15 years as three successive political regimes could not redress their problem. The area comes under NA-86 and PP-74 but neither the MNA nor the MPA bothered to visit the area after their elections, said Ghulam Ali, an elder farmer of Chak 237-JB. Vehicles' tyres burst, accidents occur and dust is seen flying everywhere on the road .
The transporters added insult to the injury as they have discontinued the public transport service between the two cities as they prefer the other route of Bhowana-Jamia Abad-Aminpur whose condition is better.
The high schools are situated at a distance of 10-15 kilometre from smaller villages and public transport is only way for the poor students getting education in these schools. Thus, the students have been facing great ordeal to continue education . As a result, the male students were seen standing on roadside begging for lift from motorcyclists, trucks, cars or other vehicles while the female students have been forced to discontinue their education due to lack of transportation.
An area education official requesting anonymity confirmed that the female enrolment is facing challenges as dropout is feared due to lack of transport. However, the department is trying to convince the parents to send their children to school anyway, he added.
Manzoor Ahmad Noon sub divisional officer (maintenance and repairs) at Punjab Highways Department, said that the department was focusing on maintenance and repair of main highways which connect Chiniot to big cities. He confirmed that the 24 kilometre long road was in a shambles and its 4 km long piece was impassable due to worst condition. But, he said, they had submitted an estimate of Rs30 million to Punjab government for its repair.
http://nation.com.pk/03-Nov-2017/damaged-road-closes-education-door-on-girls
--------
Kingston woman chooses to wear niqab
By Alia Hogben
November 2, 2017
The Canadian Council of Muslim Women (CCMW) has been flooded with media calls to respond to how this will affect the daily lives of those Canadian Muslim women who wear the niqab.
Generally niqabi women do not like public attention though they are often the subjects of interest. As none of us in CCMW wear the niqab, I was pleased that I found one young woman willing to share her thoughts on life under the niqab.
Ann, a pseudonym, is about 19 years old, married for one year, a student at a local college. She was impressed by her Muslim friends who relied on Islam "as a rock" and she wanted to gain the same peace that she felt they had. She learnt about Islam through a student group and converted about three years ago. She has taken courses in Islam from a teacher at the i3 Institute in Toronto.
Her parents are against her conversion and her new way of life, but she is happy with her Muslim husband whose family is accepting of her niqab even though they don't wear it themselves.
Before her conversion, she thought of the hijab (head covering) and the niqab (face covering) as oppressive, but soon found it "beautiful" and sees it as part of Islam.
Ann explained that she believes that the hijab is mandatory but the niqab is not. She decided to wear the niqab as she fully believes that the wives of the Prophet Mohamad covered their faces and that the various schools of jurisprudence all teach that the niqab is a good practice. She feels that the niqab has "enhanced my religion" and she wants people to accept her as she is, including her niqab.
In response to the question of how people treat her, she said that in classes most of her fellow students accept her as she is, but outside the classroom she has been harassed. People make rude remarks and once she was told to leave a store because the storekeeper did not want to serve her.
She has volunteered with the Students Commission of Canada, in the area of Youth Justice. She works mostly on the internet and has not physically met other students.
About physical activities: Since she donned the niqab, she exercises at a women-only class at Good Life Fitness Centre.
She strongly believes that the niqab is part of the practice of her faith and she just asks that others accept her as she is and not demand of her what she is not demanding of them. She asks why the insistence of others that they want to see her face? She is uncomfortable showing her face so why do people insist on making her uncomfortable?
She knows that other Muslims may not agree with her about the niqab.
I asked her why she believes that Islam demands the face covering. She thinks it is related to "protection of the woman" and it is part of her identity as a Muslim.
She added that it is her own responsibility to practise Islam and that includes how she dresses and how she behaves. She believes that the Canadian Charter gives her rights including how she wants to dress.
She understands that she is projecting a specific interpretation of Islam. She strongly denies that she is covering so that men are not "tempted" nor is she taking on the responsibility of protecting men's sexuality.
In response to a question about the importance of integration, she says, "I challenge anyone to tell me a definition of what a Canadian society is outside of diversity, freedom and acceptance. Canada is not a melting pot where we all become one and forget where we come from. Canada is a mosaic where we all flourish and are unique.
No immigrant should be required to give up anything of their identity, culture or religion to fit what others deem appropriate. The first immigrants to Canadian land did not integrate with the Indigenous; rather they butchered and committed cultural genocide against the Indigenous people."
When I told her that a recent survey indicates that over 60 per cent of Canadians agree with the banning of the niqab, she responded that means almost 40 per cent would agree with her.
She said that if she lived in Quebec, where her way of dressing was banned, she would have to seriously consider moving from there because she is not willing to change her religious beliefs to suit the state.
I think it is important that I not comment here on her beliefs and practices because this is our opportunity to learn about how she views the world. For someone so young, Ann has chosen a lifestyle which is not easy and which isolates her in many ways. She has thought through her own questions and is committed to her perspective of Islam. A strong woman!
http://www.thewhig.com/2017/11/02/kingston-woman-chooses-to-wear-niqab
--------
Converted woman sent to women's home
Mohammed Iqbal
NOVEMBER 03, 2017
She was forcibly converted, say kin
A 22-year-old woman was on Thursday shifted to the government-run Nari Niketan women's home in Jodhpur on the direction of the Rajasthan High Court, which has ordered the police to register a criminal case on her family's complaint alleging that she was forcibly converted and married to a Muslim youth.
The woman, Payal Singhvi alias Arifa, appeared in a veil in the High Court on Wednesday during the hearing of a habeas corpus writ petition filed by her brother. The petitioner alleged that a youth, Faiz Modi, had blackmailed and kidnapped his sister when she was going to college, after harassing her for several months.
The woman's family has charged that her 'nikahnama' (marriage contract) was fake and was prepared after her forcible conversion to Islam. The court directed the district administration to make arrangements for her stay in the Nari Niketan until the case against her marriage is taken up next week, and ensure that no one from her own family and from Mr. Faiz'sfamily meets her.
The police have registered an FIR against Mr. Faiz on the court's direction, under Section 366 (kidnapping, abducting or inducing a woman to compel her marriage), Section 342 (wrongful confinement) and Section 384 (extortion) of the Indian Penal Code.
A Division Bench of the High Court, comprising Justices Gopal Krishna Vyas and Manoj Kumar Garg asked the police to investigatethe woman's conversion and the authenticity of 'nikahnama', said to be solemnised on April 14 this year.
The woman told the Bench that she had appeared in the court on her own volition. The Bench recorded in its order that the woman had denied that she was under threat or inducement by anyone. However, when the police produced 'nikahnama' in the court, the Bench asked how the police could assume that her conversion was valid on the basis of "just an affidavit over a stamp paper of ₹10".
The court posted the matter to November 7.
http://www.thehindu.com/news/national/other-states/converted-woman-sent-to-womens-home/article19970620.ece
--------
Outrage at video of Afghan colonel sexually exploiting woman
2 November 2017
A video of an Afghan government official appearing to sexually exploit a female employee has sent shockwaves through Afghanistan where sexual harassment is rampant but rarely discussed in public.
The video, which went viral, is a daring accusation in a conservative society where victims of abuse are often stigmatised.
Even government institutions, which have received vast sums of foreign aid intended to be used in the empowerment of women, seemingly do little to fight harassment and abuse in their own offices.
In the graphic video, an air force colonel is seen apparently having intercourse with a young, unidentifiable woman who surreptitiously recorded the encounter and gave the footage to a colleague.
Several of the colonel's co-workers confirmed that he had pressured the woman for sex when she approached him for a promotion.
"I know he has done this many times [with other women]" said one pilot, requesting anonymity. Another pilot told the Guardian that the colonel, who has been named in local media, is known to line up girls in his office and taunt them with derogatory jokes. Both said they had not spoken out before, out of fear of reprisal.
The ministry of defence has said it is investigating the allegations. The woman did not respond to requests for comment.
The video immediately prompted outrage. Yet, to most Afghan women, the experience of harassment is depressingly familiar: studies suggest that up to 90% of Afghan women have endured mistreatment everywhere from school and workplace to prisons and – rampantly – on the streets.
Harassment is likely one of the main obstacles to boosting a female workforce. Since 2001, women's participation in the Afghan labour force has increased only slightly, from 14.5% to 17.6%.
Harassment deters women from seeking work, but also diminishes their autonomy by discouraging men from letting wives, daughters and sisters work, due to risks to the women and, by extension, the family honour.
"For Afghan women, it's a double-edged sword," said Noorjahan Akbar, a US-based activist. "If you speak out, people say, 'see I told you we shouldn't let women work'. And if you don't, people say, 'of course it will continue if you don't speak out to support other women'."
In some ministries, being asked for sexual favours in return for job or promotion "is like a prerequisite", said one woman who has worked in various government institutions for years. "It is very hard to get appointed unless you have backing," she said. "If you don't have powerful relatives, you will have to sleep with someone powerful."
Sexual advances also come from younger peers. "If you turn them down, they badmouth you," she said, recounting a male colleague interrupting a suggestive conversation between women at the office by exclaiming: "Why don't you talk to me about it? Or better yet, come show me."
After the female official refused, the man went to their boss and claimed she drank in public – an offence in Afghanistan. "They don't even give girls the chance to explain themselves," Akbar said.
Anti-harassment activism is almost non-existing in Afghanistan, partly because it is dangerous. In 2015, Kubra Khademi, a young artist, walked for eight minutes outside wearing steel armour in protest against the groping and leering she endured every day. Afterwards, Khademi received so many death threats she fled the country.
It will remain dangerous for women to report harassment as long as there is impunity for perpetrators, said activist Selay Ghaffar.
"If a member of parliament, who is abusing a woman, is prosecuted in public, others wouldn't dare," she said.
Impunity has also been aided by the international community. US military commanders have been known to tell soldiers to ignore sexual abuse of boys in the Afghan security forces. Service members who reported abuse have been disciplined and had their careers ruined.
Some argue that misogyny in Afghanistan is a result of cultural, sexual repression. But Akbar said that is a "bogus" argument.
"A lot of people argue that sexual harassment is widespread in Afghanistan because men don't have a way to release themselves sexually, but sexual harassment is a global problem," she said. "You cannot argue that in the US, men don't have a way to release themselves sexually."
"It's about ownership of women's bodies. If a woman goes into a public space, her body is automatically seen as public property," said Akbar, who also founded Free Women Writers, a blog for young Afghan writers where harassment is a consistent theme.
The Afghan government has taken steps to empower women, including a bill for the elimination of violence against women, decreed into law in 2009 but not passed by parliament.
Yet, the government does little to implement its policies, said Ghaffar. Platitudes about women's rights were primarily meant for western donors, she said.
"We have some very misogynist people in power," she said. "For them, women's rights is a business."
https://www.theguardian.com/world/2017/nov/02/outrage-at-video-of-afghan-colonel-sexually-exploiting-woman
--------
Afghan girls' education: islands of progress in a sea of adversity
NOVEMBER 2, 2017
KABUL, AFGHANISTAN—As the girls pile through the metal front door of the Sufi Mohamed Islam Secondary School in Kabul, older fellow students standing in a row give them a pat-down search and check backpacks.
The daily ritual is a nod to chronic insecurity in Afghanistan, and to the continued challenge of educating girls in a deeply conservative society.
Unlike female students in some Afghan provinces, girls in the capital don't have to cope with harassment, acid attacks, or poisoning of food and water supplies.
"Fortunately, we are not faced with these problems," says Safa, a 17-year-old student who dreams of owning a computer or mobile phone business. "Unfortunately, we are faced with security problems like explosions and suicide bombs. This is a fact of life." Sixteen years after US-backed forces toppled the arch-conservative Taliban and overturned their ban on girls' education, students here cram into classrooms to study calculus, conduct chemistry and physics experiments, and hone their English and computer skills.
Girls' education is frequently put forward as a success by donors. And these young women are models of what can be achieved: Among this crop of future teachers, doctors, and businesswomen, aspirations could not be higher.
"I have this power and I believe in myself.… It's my goal to serve my country, it's my target," says Safa, echoing other high-achievers within these walls, where 4,000 students attend class in three shifts each day.
But in many ways the shining example of Kabul is a rare urban island for girls' education.
As the Taliban insurgency has steadily gained ground in recent years – seizing control of more than one-third of Afghanistan so far, by the most conservative estimates – concerns are mounting that education trends for girls have begun to reverse.
While the demand for basic education for girls has risen even in rural areas, and individual families are making serious sacrifices to educate their daughters, the situation for girls is more typically grim beyond urban centers, educators and students here say.
Zubeidah's family came from Wardak Province years ago, for example, where the Taliban closed the girls' school in 2010. The girls who have been forced to study at home "are brave," says the 17-year-old, who loves her math and English classes and aims to be a doctor "to serve my country, and my people."
Her girlfriends in Wardak "are hopeless for their lives," says Zubeidah. "They can't learn. They want to be doctors and teachers, and can't do it."
Two-thirds still not in school
No one disputes the huge progress made by girls and women since the days of Taliban rule in the late 1990s, when education for girls was forbidden – except for the study of the Quran – and there were strict limitations on women working. In one memorable Taliban ruling, the windows of houses were ordered blacked out so that women could not be seen from the outside.
But even today, some two-thirds of Afghan girls don't go to school, according to statistics compiled in a mid-October report by Human Rights Watch (HRW), which charts the decline of girls' education.
Robust Afghan government and Western donor efforts have "significantly faltered" in recent years, HRW found, as Western forces began to draw down, and donors packed their bags or shrunk their aid.
Based on nearly 250 interviews, the report found that "insecurity, poverty, and displacement are now driving many girls out of school," said Liesl Gerntholtz, the women's rights director at HRW, in a statement.
"The government needs a renewed focus to ensure all girls have a school to attend or risk these gains being lost," said Ms. Gerntholtz. Government figures indicate that of 3.5 million Afghan children not enrolled in school, 85 percent are girls. Adolescent boys are nearly twice as likely to be literate – still just 66 percent – compared with Afghan girls.
Shift in Taliban policy
Despite indications that progress has stalled in girls' education, critical changes have taken place during the decade and a half since Taliban rule – even among the Taliban, whose official policy now condones a degree of education for girls.
"I think the needle has moved," says a Western official in Kabul, who could not be named because he is not authorized to speak to the media.
Research indicates that "ordinary villagers are demanding at least basic education for their girls," says the official. That alone is a turnaround from a decade ago, when the Ministry of Education set up a roving commission to prevent parents – let alone the Taliban – from burning down schools.
"Until what age they allow girls' education is definitely unclear, and will vary according to the mores of the area, and the mores of whoever commands that area, whether it is a local militia or a Taliban commander," says the official.
The more inclusive Taliban education policy penned in 2012 was approved by Hibatullah Akhundzada, who is today the Taliban leader and "has been a great promoter of consistent doctrine within the Taliban," says the Western official. Mr. Akhundzada rose to fame in the 1990s, going from being a judge in a small court in Kandahar to doing internal discipline of Taliban forces as head of military courts in Kabul.
Akhundzada's "efforts to regularize the policy have not really been successful," adds the official. "We keep seeing places where it's just impossible for a girl to go to school at all, because some local Taliban commander says no, despite the policy."
But the official Taliban adjustment is nevertheless part of a broader progression in Afghanistan, says Abdul Qahar Jawad, spokesman for the Ministry of Higher Education in Kabul.
"Their strictness in 1996 was because they came off the mujahideen era, when the country was under war, and there was so much [lawlessness] ... and conservativeness was at a high peak," says Mr. Jawad.
Taliban exposed to pressures
The Taliban's hard-line rules were a bid to control the situation and exercise power, he says, but the militants have also experienced 16 years of increased social freedom, education, and a freer press.
"These tendencies might have affected the Taliban, too," says Jawad. "Most of the younger generation are attracted to a new model for their lives, and that is not as strict a model as their fathers' or grandfathers'."
Indeed, the transformation could not be more dramatic, say educators at this Kabul secondary school whose careers spanned the Taliban era of the 1990s.
"It was a big difference, like between the ground and the sky," says Ghulam Nabi, a 40-year-veteran math teacher with a slight build, who recalls how the Taliban devoted half of the curriculum – for boys only – to Islamic studies. Today he works on differential equations with his top girl students.
Things have improved significantly since 2001, he says, "but we are still dealing with problems."
Those include fear of losing the gains of the past 16 years, even if a complete return to strict Taliban ideology is out of the question.
Families sacrifice
"Now people are educated, they won't turn back to the past," says Mina Durzad, the director of the school, who in the 1990s quietly ran a school for more than 2,000 girls. When Taliban enforcers arrived, she told them the girls were only learning the Quran – one copy of the Quran per student was kept in the makeshift classrooms – or she said she was not allowed to speak to any men, and they would have to return to speak to her husband.
The Taliban "will never return back because people don't want them back," says Mrs. Durzad. "I am not satisfied with [what I see in] the future, but if all people work together, work for their country, then education will become a base for progress…. If we were educated in the past, we would not face this problem."
Parents have recognized the need for education, too, even if living in areas where prospects are limited, by militants or by custom.
"Many families are also fighting desperately to educate their daughters in the face of enormous obstacles and deserve support," states HRW.
It found families who "moved across cities and even across the country to find a school for their daughters, who separated to allow girls to study, and who had older brothers make the dangerous trip to work illegally in Iran to pay school costs for their younger sisters back home."
Such efforts have paid off for Safa and her younger sister Sana, who like all the students here wears the uniform white headscarf at school. Their mother stopped being a doctor and switched careers, in order to teach at their girls' school.
"The important point is Afghanistan is back and dealing with many problems, because so many women are illiterate," says Sana, 16, who hopes to be a computer scientist. "If you want to build your country, you should have educated women."
https://www.csmonitor.com/World/Middle-East/2017/1102/Afghan-girls-education-islands-of-progress-in-a-sea-of-adversity
--------
Iran: Active participation of women in the fourth day of protest
03 November 2017
The retired government employees who had started their protest on October 30, in front of the Budget and Planning Organization in Tehran, completed the fourth day of their sit-in gathering on November 2, 2017.
Most of the protesters were retired teachers. Women had a significant presence and were active.
In protest to their living conditions, they unrolled a long tablecloth in the middle of the street to show that they have nothing to eat.
In their slogans, they complained about injustice and embezzlement, and vowed to continue their protest until they meet their demands.
http://www.women.ncr-iran.org/iran-women-news/4459-iran-active-participation-of-women-in-the-fourth-day-of-protest
--------
URL: https://www.newageislam.com/islam-women-feminism/how-know-isis-losing-now/d/113115
New Age Islam, Islam Online, Islamic Website, African Muslim News, Arab World News, South Asia News, Indian Muslim News, World Muslim News, Women in Islam, Islamic Feminism, Arab Women, Women In Arab, Islamophobia in America, Muslim Women in West, Islam Women and Feminism