New Age Islam News Bureau
31 Oct 2016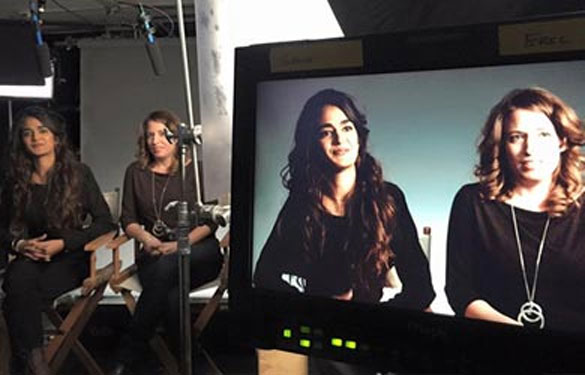 Photo: Director Elite Zexer and lead actress Lamis Ammar talk about "Sand Storm," which won six Ophir Awards, Jan. 29, 2016. (photo by Facebook/@sandstormthemovie)
---------
• No One Is Lifting a Finger to Protect Arab Women
• Domestic Relations Court Rules for 'Economic Violence' Against Woman In Turkey
• Women's Role in Islam Discussed in Azerbaijan
• Ad Calling on Women to Dress Modestly Roils Israeli Arab Community
• UAE- Successful Day at first 3x3 Arab Women Basketball Tournament
Compiled by New Age Islam News Bureau
URL: https://newageislam.com/islam,-women-and-feminism/new-age-islam-news-bureau/how-arab-women-are-reshaping-israel-s-film-industry/d/108968
-------
How Arab women are reshaping Israel's film industry
The rift between the Jewish and Arab communities in Israel has deepened recently, with Prime Minister Benjamin Netanyahu warning his constituents on the last day of the elections in March 2015 that Arabs were "voting in droves," thus making more than a million Arabs feel like second-class citizens. But despite this deepening rift, three films have taken the Israeli film world by storm, providing a fascinating glimpse into Arab society in the Jewish state.
Summary⎙ Print Several films directed by and starring Israeli-Palestinian women have recently won big awards at film festivals, reshaping the local film industry.
The first film to win big was "Sand Storm" by Elite Zexer that won six Ophir Awards (Israel's equivalent to the Oscars), including one for best film. Then came "Personal Affairs" by director Maha Haj that took the top prize at the 2016 Haifa Film Festival, followed by "In Between" from director Maysaloun Hamoud, which has also received various prizes, including best debut feature film at the Haifa Film Festival. These three films deal with the cultural, social, religious and traditional world of the Arab community in Israel, as well as with the identity crisis and intergenerational changes it is undergoing. This wave of Arab cinema is particularly fascinating given the fact that its creators are women — directors and actresses — and their scripts deal with the lives of Arab women in Israel's Arab and Jewish communities. In many respects, the wave of films by Arab creators shatters stereotypes not only through the narratives it tells but also through its Arab directors and actresses who hail from traditional homes and a traditional society, displaying courage in making liberated, free-spirited, promiscuous films.
One of Israel's top film critics, Gidi Orsher, told Al-Monitor that these films are a reaction to changes sweeping Arab society, whose residents are experiencing an identity crisis due to being a minority among a Jewish majority. Yet, he said that these films are also a reaction to Palestinian male cinema that has dealt in the past mostly with the Israeli occupation.
"The statement of the Arab female filmmakers now is to say, 'Yes, we have a position of our own on politico-diplomatic issues, but let's see what's happening to us as human beings too,'" Orsher said. He predicts that these films will have an impact on Israeli cinema in the future. "It can't stop now, it will keep going. It's reminiscent of the development of the Israeli film scene in its early days," he added. "Until the 1960s, Israeli films were national, Zionist, but in the 1970s people started talking about the individual in society."
Hamoud's film "In Between" tells the story of three Arab women living in Tel Aviv. On the one hand, traditional Arab society supervises their comings and goings, and on the other, the liberated and permissive society of Tel Aviv regards them as second-class citizens. The main characters are played by three Palestinian actresses — Mouna Hawa, Sana Jammelieh and Shaden Kanboura. In explaining their decision to award the film a prize at the Haifa Film Festival, the jury described it as "a powerful creation about women fighting to shape their fate by coping with challenges, through friendship, courage, victory, and by breaking free of shackles, and the price they pay."
"This generation are my age, people who grew up during the October 2000 events [Arab riots in Israel] and then through the Arab Spring," Hamoud told Al-Monitor. "There's no doubt that the influence of these events shaped a different awareness than the one that shaped previous generations. From the grandfather who lowered his eyes and stared at the ground, to the half-frightened, half-curious gaze of our parents, compared to my generation that looks reality in the eye. This is a new generation that is also very active. The elements that shaped that awareness are now coming to the fore."
Hamoud's story is indeed the tale of the third generation of Arab Israelis, born in Israel and living between Jewish society and a changing Arab one, with its unique cultural-moral-religious character. She was born in Hungary to a family from the Galilee Arab village of Deir Hanna. Her father studied medicine there. She grew up in the southern city of Beersheba, where her father specialized in surgery at the Soroka Medical Center. Hamoud then went on to study political science and Middle Eastern Studies at the Hebrew University in Jerusalem, and worked as a teacher until she experienced a traumatic event.
"I went to the hospital with an intestinal inflammation and underwent surgery that ran into complications," she said. "I was clinically dead and woke up two days later. The surgeon who stood in front of me when I woke up said something I will never forget: 'Remember, one doesn't simply come back from the dead to this world. There's someone who loves you, but do something with this, because things like this don't just happen.'"
When she got out of the hospital she applied to study at the Sam Spiegel Film and Television School in Jerusalem, and this week was awarded the prize for best debut feature for her first film.
"Cinema reflects reality more than anything else, and in the best way," Orsher said. "One can examine trends and fashions according to films made during various periods. When one sees Arab films bursting onto the screen one can learn a lot about the process that Arab society in Israel is undergoing. This is courageous cinema that also reflects the courage of the actresses playing these roles."
Hamoud agrees with Orsher and said that it is very hard for Palestinian society to differentiate between a role and an actor. She described the casting for her film as an arduous journey — "a film within a film." She said that finding actresses to play lesbians or for the role of Muna — who does whatever she feels like and doesn't give a damn — "was not easy at all."
One has to wonder, of course, whether these films will succeed in bringing Jews and Arabs closer. Hamoud believes that one film or even several will not create a sea change on their own, "but this perhaps moves Israeli cinema a few steps forward toward getting to know the Arab society in Israel, which it usually sees according to stereotypes that fit the Jewish narrative."
al-monitor.com/pulse/originals/2016/10/israel-movies-by-palestinian-women-sweep-israelis.html#ixzz4OffhwNBI
-------
No one is lifting a finger to protect Arab women
Before she was murdered by her ex-husband, Huda Abu Sarir was betrayed by the rest us. She was murdered because we raise men unstable men alongside strong, steadfast women.
Arab women protest the murder of two women in the city in the span of one week, October 28, 2016. (Haim Schwarczenberg)
I drove into the tiny, empty Jaffa alleyway on my way to the home of Huda Abu Sarari, an Arab woman who was murdered by her ex-husband a week earlier. I had a long list of questions and dilemmas following a discussion I held earlier that day with activists from Jaffa: should we demonstrate against our society or against the establishment, which oppresses us? Is this the pure struggle of Palestinian women, or does our common fate tie us to others? Should we invite political parties? Should we speak about violence generally, or only gender violence?
'Like a monster'
Huda Abu Sarari was forced into an engagement at 14 years old — only her mother managed, after much difficulty and pain — to delay the wedding until she was 14. At 19 she was already a mother. Tell me: was this not a murder? The death of a dream? The end of her future? The killing of a blossoming, strong woman?
These walls and the small courtyard have witnessed many screaming matches, they have been struck many times. Here and there they have seen blood. "This is how we were raised, sit aside and shut up," Eness, Huda's only sister, said as tears streamed down her face. Men are born with power and total control, as if it were an inseparable part of their being.
Huda divorced after much suffering, returned to her family's home and dreamt of turning over a new leaf — one that would allow her to study, work, and simply live. But a divorced woman is treated like a monster, a ticking bomb. She is erased. "As if she weren't a human being," says her aunt. She cannot dress up, go out, put on perfume. "I told him before: it isn't perfume, it's only body cream," she added. "It didn't help, and he hit her. He was possessive of her." Was he possessive or jealous, I asked. Everyone remained silent.
Huda, who so loved human beings, was murdered. She loved humans, yet no one helped her. She was murdered dozens of times before her soul left her body. We betrayed her, time after time. She was murdered because we raise men unstable men alongside strong, steadfast women. They tie their pride to our fate. An empty masculinity that takes our love and grows to eradicate us.
How many women like Huda Abu Sarari do you know?
"This sick society won't change until we bring justice for our women," said an elderly woman who came to the mourning tent from Acre. "How is Jaffa different from Acre, Lod, or Ramle? The situation is the same. Men are failures, yet it's all our fault."
My women, we cannot despair. We cannot raise a white flag. Do not wait for the messiah, do not expect redemption. This is our time. We are with the women, alongside us are the few good men. We are many. We will win, undoubtedly. One day a different sun will rise here — one of freedom and liberty. Be sure that we will pay a heavy price, we will shed tears and blood. We have no alternative — we must try, we must struggle, we must hug one another.
Do not fear revolution, my women. Your voice is your sword. If we do not live to see victory and salvation in our generation, we will bear the next one — a generation that fights for women's rights.
972mag.com/no-one-is-lifting-a-finger-to-protect-arab-women/122912/
-------
Domestic Relations Court rules for 'economic violence' against woman in Turkey
October/31/2016
The Istanbul Domestic Relations Court has dissolved the marriage of a couple, saying the union could not continue in part due to the husband's negligence that resulted in "economic violence."
"The marriage was so distressed that it couldn't go on as a result of the husband's gross negligence that involved economic violence," the court ruled in a case that could provide a precedent for other divorce cases, daily Habertürk reported on Oct. 31.
The woman, E.A., applied to the court, saying she married her husband, M.A., in 2003 and that they have two children. E.A. stated that M.A. had never worked since that day and never fulfilled his responsibilities. She added that they had been evicted from their houses "countless times" and that the state cut their electric, natural gas and water because the rent could not be paid. E.A. also said she was forced to live with relatives due to the aforementioned reasons and consequently filed for divorce.
The court ruled that the cutting of electric, water and natural gas and the evictions due to unpaid rent occurred due to the irresponsible behavior of the husband and ruled that M.A. had neglected his duties.
Violence against women is a major issue in Turkey, and 35 women were killed in September alone while 44 others were subjected to sexual violence, according to a report released by the Kadın Cinayetlerini Durduracağız Platformu, a women's rights activist organization that keeps track of violence against women.
hurriyetdailynews.com/domestic-relations-court-rules-for-economic-violence-against-woman-in-turkey.aspx?pageID=238&nID=105561&NewsCatID=509
-------
Women's role in Islam discussed in Azerbaijan
October 31, 2016
A forum titled "Women's Role in Islam" was organized by the Iranian Cultural Center in Baku, the Republic of Azerbaijan.
(AhlulBayt News Agency) - According to the website of the Islamic Culture and Relations Organization (ICRO), the Caucasus Media Association cooperated in holding the program on October 27.
Seyyed Ebrahim Ebrahimi, Iranian's cultural attaché in Baku, addressed the forum which was attended by a group of female scholars and intellectuals.
He talked about the status of women in Islam and discussed the view of Islam on the influential role that women can play in the development of societies.
Ebrahimi also referred to Surah An-Nisa of the Holy Quran which includes numerous references to women and noted that Hazrat Khadijeh (SA), Hazrat Zahra (SA) and Hazrat Zeynab (SA) are the best role models for women.
The responsibilities of women in family and society, the important role of Hazrat Zeynab (SA) as the messenger of the Ashura uprising, and the role of Hazrat Khadijeh (SA) in the dissemination of Islam were the other themes highlighted by the Iranian representative in the forum.
Also speaking at the program was Azadeh Taleh Ava, head of the association, who elaborated on some aspects of a woman's character according to Islamic teachings.
The forum was further addressed by a number of Azerbaijan's eminent female activists and continued with recitation of traditional elegies performed on the occasion of the month of Muharram.
en.abna24.com/service/middle-east-west-asia/archive/2016/10/31/788894/story.html?
-------
Ad Calling on Women to Dress Modestly Roils Israeli Arab Community
October 31, 2016
The ad, for which no one has yet claimed responsibility, called on female attendees at the Kafr Qasem memorial events to 'keep the honor and holiness of the event.'
The advertisement that appeared ahead of the Kafr Qasem memorial events.Facebook
60 years after massacre, Kafr Qasem doesn't want an apology from the Israeli government
A controversy has erupted in the Israeli Arab community over an online advertisement calling on women to dress modestly for the 60th anniversary of the Kafr Qasem massacre, in which 48 Arab civilians were murdered by Israeli Border Policemen.
Thousands of people participated in the traditional parade in the village on Saturday morning, followed by a memorial ceremony in honor of the victims in the evening.
An online ad published ahead of the events called on women to arrive in "appropriate dress," to avoid wearing revealing clothing, not to wear jewelry and makeup and to "keep the honor and holiness of the event."
The ad, which was attributed to the "Organizing Committee," featured a child wearing a hijab and carried a quote from the Koran to the effect that women should only expose their beauty to their husbands.
Both the public committee that organized the memorial events and the Islamic Movement in the village denied having been responsible for the ad. They identified those responsible as a group of women who posted it on their own volition.
The Islamic Movement did not condemn the ad and many of the online comments were in support of it.
Mohammed Barakeh, chairman of the High Monitoring Committee of the Israeli Arab community, criticized the ad, saying that women who participated in nationalist events in the Arab community were heroes.
Sheikh Ibrahim Sarsur, who headed the committee that organized the memorial events, said: "I regret that it was posted, because it destroyed what we are trying to teach our children – to respect other opinions."
Knesset member Aida Touma-Suliman (Joint List), who heads the Knesset Committee on the Status of Women, said that she refuses "to accept any talk that excludes women or makes someone else the guardian of their lives and their choices."
She added that the ad should not be used for a campaign of delegitimization of people with different opinions. "In my opinion, the most appropriate response is the huge number of women of all ages who participated [in the memorial events]," she said.
The committee that organized the memorial events stressed that it was not responsible for the ad and called on the Arab public to refrain from making the issue more central that the memorial events themselves.
haaretz.com/israel-news/.premium-1.749949
-------
UAE- Successful Day at first 3x3 Arab Women Basketball Tournament Join our daily free Newsletter
MENAFN - Emirates News Agency (WAM) - 31/10/2016
SHARJAH (WAM)--The first day of the 3x3 Arab Women Basketball Tournament has concluded, seeing 16 teams competing on the courts.
This first year of the tournament, taking place at the Women Sport Department's headquarters in Sharjah from October 30 – 31, 2016, features 16 of the best teams in the region competing for the title.
Playing under the theme 'Above the Rim, We Score', teams representing the UAE, Jordan, Egypt, Algeria, Iraq, Palestine and Lebanon are taking part in the event, organised by the Women's Sports Department, in collaboration with the Arab Basketball Federation and the UAE Basketball Association, in partnership with the Sharjah Sports Council.
The opening ceremony was attended by Nada Al Naqbi, Director of the Women's Sports Department in Sharjah, Chairperson of the Women's Committee at the Arab Basketball Federation and Head of the Higher Organising Committee of the Tournament, Hamana Nyan, Vice President of FIBA, Major General Ismail Gergawi, Chairman of both Arab and UAE Basketball Unions, Khalid Al Hinai, Vice President of the UAE Basketball Federation, Consul General of the International Federation of Basketball 3x3, Dr. Ibtisam Al Suwaidi, Head of the Sports Women in the Public Authority for Youth Welfare and Sports, and the heads of unions of prticipating Arab countries, along with a legion of local fans, Arab officials and media.
The winning teams today were Bahrain Typmis, defeating Emirati Alsharqiya 17 to 16,Jordanian Orthodox (2) beat Iraqi Halbaga 10 to 4,Algerian Olympic defeated Lebanese LIU 13 to 12,Jordanian Fuhes defeated Emirati Alwusta 17 to 6, Algerian GSP (2) beat Palestine University 21 to 1,Egyptian Sporting (2) defeated Jordanian Orthodox 1 10 to 5,Algerian GSP (1) beat Jordanian Fuhes (2) 21 to 5, andEgyptian Sporting (1) defeated Emirati Sharjah Women 13 to 10.
The 3x3 matches are played with three participants on each side and a fourth player as a reserve. The teams use half of a traditional basketball court, with both teams scoring at the same basket.
This first of its kind women's tournament in the Middle East has generated great interest among the 3x3 competitions commission at the International Basketball Federation (FIBA).
Nada Al Naqbi, Director of the Women's Sports Department in Sharjah, described Day One as a great success. "The running of the competition was extremely smooth and is the result of extremely detailed preparations and organisation. The players and spectators have all had an excellent start to the tournament, and we all look forward to the final day, which is going to be highly competitive."
menafn.com/1095035631/UAE--Successful-Day-at-first-3x3-Arab-Women-Basketball-Tournament
URL: https://newageislam.com/islam,-women-and-feminism/new-age-islam-news-bureau/how-arab-women-are-reshaping-israel-s-film-industry/d/108968
New Age Islam, Islam Online, Islamic Website, African Muslim News, Arab World News, South Asia News, Indian Muslim News, World Muslim News, Womens in Islam, Islamic Feminism, Arab Women, Womens In Arab, Islamphobia in America, Muslim Women in West, Islam Women and Feminism