New Age Islam News Bureau
6 Apr 2016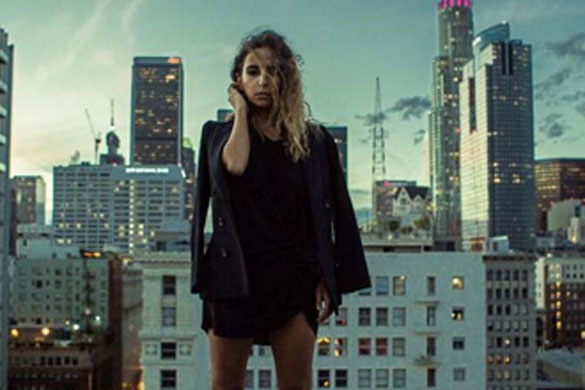 Photo: Rotana Tarabzouni, A 27-year-old woman, based in Los Angeles is getting continuous death threats on social media, and her only offense is her voice.
-----------
• World's Most Powerful Women to Gather in New York
• 'Saudi Women Can Work In Baqalas': Shoura Council Member
• Pak Council of Islamic Ideology Rejects KP's Women Protection Bill, Calling it 'Un-Islamic'
• Israeli Hospitals Segregating Pregnant Arab Women: MPs
• Why Are You Dressed Like That?' Veiled UK Muslim Woman Films Verbal Assault
• Meet Top 6 Muslim Women Who Dominated 2015/16
• Four Muslim women arrested for rioting in Gujarat town
• Muslim Chic Goes Viral on Instagram as Turkish Women Balance Fashion, Faith
• Kurdish Women on Front Lines of North Syria's Transformation
• Why the Arab world must embrace placing art online
Compiled by New Age Islam News Bureau
URL: https://newageislam.com/islam,-women-and-feminism/new-age-islam-news-bureau/how-a-saudi-arabian-singer-defied-tradition-to-follow-her-dream/d/106891
----------
How a Saudi Arabian singer defied tradition to follow her dream
April 6, 2016
A 27-year-old woman based in Los Angeles is getting continuous death threats on social media, and her only offense is her voice.
Rotana Tarabzouni grew up in Dhahran, a city on the eastern shores of Saudi Arabia. Growing up there, she wasn't allowed to pursue her dream of becoming a singer. But since she moved to the U.S. three years ago, she has quit her job, gotten a Master's degree, and launched her musical career.
"My relationship with music was internal for the longest time," Tarabzouni, 27, told Fusion. "Music was never as something that was even allowed to be a dream."
In L.A., Tarabzouni took off her traditional headscarf, stopped wearing the black old-fashioned abaya (dress), and started to sing at clubs. Meanwhile, females in Saudi Arabia are still not allowed to drive, study, or travel alone without a male guardian's permission.
Her new path challenges many traditions and cultural expectations in Saudi Arabian society. "A lot of people are saying 'Oh my God! Who does she think she is?'" Tarabzouni told Fusion. People back home sent her several death threats on Instagram. Others wrote "Blasphemy!" on her YouTube video clips. (In Saudi Arabia, depending on the judge, punishments for blasphemy range from public flogging to the death sentence.)
Tarabzouni is well aware that she publicly defied traditions, and she's happy to have started a conversation.By following her dream, she has created a channel for virtual dialogue between two polar opposite groups in Saudi Arabia.
"Some people can't handle for their beliefs to be challenged, and that makes them angry," she said. "And it makes other people happy. When those angry and happy people argue, I say that is fantastic!"
Commenters on Tarabzouni's social media accounts seem to be split into two camps: the supporters and the haters. "They should take away your passport, and marry you off to a man who will make you forget the stupid singing thing," one commenter wrote on her Instagram account in Arabic. Another comment reads, "I'm really proud of u because u r a girl from my country and u break the stupid traditions. KEEP GOING."
"At the end, everyone just wants to be heard," Tarabzouni said.
Tarabzouni has used her music to help advance political and cultural causes in Saudi Arabia. One of the causes she advocated for was women's right to drive. A few years ago, she made her own version of the song "Team" by Lorde. In it, she sings the rewritten lyrics: "We live in cities you won't see onscreen. Not very pretty, but we sure know how to drive free." The clip has gotten more than 350,000 views on YouTube since its release.
She writes her own music, too. "Never Going Back" is a song she wrote and hopes to sing on a stage in Saudi Arabia one day."Hey, can you imagine answering to no one, only to your heart?" she sings.
Back home, Tarabzouni was a public relations specialist at Aramco, a well-known oil company in Saudi Arabia. After she decided to stay in the U.S., she went back to formally quit her job there. "I was the poster child of that company. Everyone loved me. Here I am two years later, going back not covered. It was tough," she recalled.
"I stopped being a slave to societal and religious expectations," she added.
Even though she managed her first trip into Saudi Arabia safely the risks still exist. It only takes a "snitch or one bored person," to report her to authorities in Saudi Arabia, said Tarabzouni. Regardless of all her fears and worries, she is determined to go back. "I see no use in everything that I'm trying to build, if I can't go back and have a dialogue about it."
Tarabzouni recently raised $45,000 in 30 days online to fund her very first song collection.
fusion.net/story/287767/rotana-tarabzouni-saudi-singer/
-------
World's Most Powerful Women to Gather in New York
Rıza Canikligil - NEW YORK: April 6 2016
The world's most influential women will gather at the Women in the World Summit in New York on April 6 for the seventh time along with many participants from Turkey.
Hürriyet chair Vuslat Doğan Sabancı is scheduled deliver her speech at the opening session of the summit, which is also sponsored by the Aydın Doğan Foundation.
Doğan Sabancı will share the opening session, titled "The Woman I'm Here For," with Population Health Executive Vice President Merck Dr. Julie Gerberding, Toyota Motor Sales Media Strategy and Digital Engagement Corporate Manager Lisa Materazzo, director Barkha Dutt, filmmaker Nanfu Wang and model Alek Wek.
In addition, other women participants from Turkey include the main opposition Republican People's Party (CHP) deputy leader and spokeswoman Selin Sayek Böke, lawyer İpek Bozkurt and journalist Amberin Zaman.
The summit, which is organized in association with The New York Times, will continue until April 8 at Lincoln Center.
The other participants from the political and business scene include Meryl Streep, Laura Bush, Christiane Lagarde as well as Tom Friedman, Indra Noovi and Ajay Banga with an agenda that will focus on peace and security.
hurriyetdailynews.com/worlds-most-powerful-women-to-gather-in-new-york.
---
'Saudi Women Can Work In Baqalas': Shoura Council Member
6 April 2016
RIYADH: A Shoura Council member has demanded that Saudi women be allowed to work in Baqalas or small groceries while following the Shariah rules, even as another member earlier proposed closure of these shops to boost nationalization.
"Efforts are under way to employ women in all sectors, and a recent decision stipulated that the mobile phone workforce should comprise only Saudi men and women," Fahad bin Jumaa was quoted by a local newspaper.
"There are many small shops that could employ women, especially since there is a barrier between them and the customers," he said, while calling for the closure of small shops and groceries at 9 p.m., just like other markets.
He said the retail sector needs more regulations to eliminate cheating and to contribute to employing more Saudis in light of the current labor malpractices by small shops.
The Shoura member said that shops can be closely monitored by introducing an accounts system in all small shops and implementing network for accounting, in addition to depositing the money directly into the establishment's account. Simultaneously, he said, a legal accountant should be assigned for each shop, even if it has only one employee, like it is in foreign countries, and the payment of Zakat should be implemented.
He said computerization of small shops by entering all goods into the system will also contribute to employing more Saudis and decrease the unemployment rate. "Smaller projects should also be launched and productive families employed."
Another Shoura member had earlier called for the closure of small groceries, saying that it will be help in Saudization efforts because large supermarkets will absorb more nationals as their business will increase.
Saudi experts, too, have welcomed the proposal, saying that closure of baqalas will indeed boost nationalization and help the economy.
Most of the small groceries are run by expatriates in neighborhoods and appear to be convenient places for the middle and lower-middle class who do not have vehicles.
arabnews.com/saudi-arabia/news/906321
-------
Pak Council of Islamic Ideology rejects KP women protection bill
April 05, 2016
ISLAMABAD: : The Council of Islamic Ideology (CII) has rejected Women Protection bill of Khyber Pakhtunkhwa, declaring most of the clauses un-Islamic.
Geo News on Tuesday reported, CII, the constitutional body that advises the legislature on whether or not a certain law is repugnant to Islam, has sent its recommendation to the provincial government, declaring the bill contrary to Islamic Sharia.
The CII said the bill grants more powers to Women Protection Commission than those of the judiciary, police, state and the parliament.
The sources further said the CCI declared 33 clauses of the bill un-Islamic and ruled that the bill reflects meddling of Non Governmental Organizations (NGOs). The Council of Islamic Ideology remarked that the bill seems an attempt at destroying the family system.
The council said definitions of domestic and mental torture are vague while definition of a child is un-Islamic. It said a person who has reached the age of 18 should not be called as puberty could begin before the age of 18.
thenews.com.pk/latest/110486-Council-of-Islamic-Ideology-rejects-KP-women-protection-bill
-------
Israeli hospitals segregating pregnant Arab women: MPs
April 05, 2016
Israeli Radio reported Tuesday that delivery wards at four Israeli hospitals were segregating pregnant Arab women from their Jewish counterparts in a move described as "discriminatory" by two Arab-Israeli lawmakers.
According to Israeli Radio, the policy of segregation has been adopted at the delivery wards of the Hadasa and Shaari Tsidk hospitals in West Jerusalem; Eikhlof Hospital in Tel Aviv; and Maair Hospital in Kafr Saba.
Arab-Israeli members of the Knesset (Israel's parliament) Ahmad Tibi and Aida Touma Suleiman told Anadolu Agency that they had called on Israeli Health Minister Yaakov Litzman to inspect all Israeli hospitals to determine whether the policy had been adopted.
The two lawmakers went on to describe the policy as "discriminatory and unacceptable".
According to official Israeli figures, roughly 1.4 million Arabs in Israel account for some 20 percent of the country's overall population.
dailysabah.com/mideast/2016/04/05/israeli-hospitals-segregating-pregnant-arab-women-mps
-------
Why Are You Dressed Like That?' Veiled UK Muslim Woman Films Verbal Assault
4 Apr, 2016
A London father has been filmed hurling abuse at a young Muslim woman wearing a full-face veil while out shopping.
The man, who remains unnamed, called Ahlam Saed "Batman" in front of his two children. He then repeatedly asked her: "Why are you dressed like that?"
Saed, 25, filmed the altercation and uploaded the video on Facebook along with a post denouncing the "ignorant" man.
According to Saed, the man even sang the Batman theme tune at her.
At one point, the unnamed man says to Saed: "My kids can't even see your face. How do I know if you're a man or a woman?"
"You're ignorant," Saed responds. "You need to grow up and stop teaching your kids that."
The man then says his Batman comment was a one-off remark and apologizes.
However, he soon launches into a second wave of abuse, prompting concerned shoppers to step in to protect the young woman.
The man relates a story about a "white girl who married a Muslim dude" who he alleges has "photos of [an] ISIS flag on their back wall."
At one point the man asks Saed angrily who she is, saying: "I've lived here all my life."
In a Facebook post written after the incident, Saed said his daughters were "scared and crying" during the altercation.
Since posting the video online, Saed has received hundreds of comments offering praise and support for her defiance.
The Metropolitan Police said it is looking into the incident as a potential hate crime.
https://rt.com/uk/338396-muslim-woman-abused-veil/?utm_source=rss&utm_medium=rss&utm_campaign=RSS
---
Meet Top 6 Muslim Women Who Dominated 2015/16 | Muslims Making History
April 4, 2016
It has certainly been one of the most difficult decisions to elect the top 6 Muslim Women of 2015/16: with success not far from revolutionary, Muslim women have not failed to prove themselves successful. But I guess 2015 has been the biggest run around for Muslim women. From the depths of the West across the deserts of the Middle East, Muslim women have begun to express what it means to be a real Muslim woman, standing up for what they believe in and being the first for many to follow. It's these women who've set 2016 up for us to take the lead and make a change. Let's take a look at our top 6 Muslim women.
1. Nadiya Hussain
Nadiya sets up the highlight of TV entertainment of 2015, conquering cakes and tough competition at "The Great British Bake Off". Her bright and exciting personality as well as her colorful cakes and chocolate sculptures inspired by her exciting sense of culture has won over the hearts of millions. What puts Nadiya as one of the top 10 is her flying success throughout this year and her ambition to continue to do so in 2016. Having signed a publishing deal with Michael Joseph and hoping to start a cooking show with Bake Off Finalist Tamil Ray, the Bake Off would certainly not be the last thing we hear from Nadiya.
2. Malala Yousafzai
It's young women like her who deserve the highest rank, even those who aren't as recogniéed for their activism as Malaila. As an activist at the age of 16, she was the youngest holder of the Nobel Peace Prize at the age of 17, standing up for the right of education and freedom.
3. Carolyn Walker
side from Donald Trump's comments on stopping Muslims from entering the US, the US judiciary system seems to welcome more acceptance thanks to Judge Carolyn Walker: the first judge to swear upon the Quran rather than the Bible whilst wearing a hijab! Congratulations, your honor!
4. Dalia Mogahed
The US' first Muslim woman in the White House back in 2009, Dalia Mogahed is one of Barack Obama's 'closest advisors' advocating the views and opinions of Muslims across the US in the most simplistic, recognizable and agreeable way. The Egyptian born advisor holds her title as a renowned speaker and writer, objective and credible in her speech and actions. What puts her in the top 10 of 2015 is her competitive passion even until this day. With the current events regarding western involvement in the Middle Eastern conflicts, governmental influence on our lives is now bigger than it has ever been and to have a Muslim woman influence a part of this is an achievement.
5. Noor Tagouri
All eyes on Noor! Meet Noor Tagouri, an aspiring anchor on US Commercial Television. Having gained masses of support and coverage, Noor continues to strive towards achieving her goal to be showcased on US Commercial Television. Yet what seems to restrict her from this large media landscape is her hijab. "It empowers me," Noor remarks, "It helps me do what I do". But for her it's either her and her hijab, or nothing. What adds her to this list is her perseverance, her motivation, and drive to achieve her ultimate goal.
6. Ibtihaj Muhammad
Who thought Muslim women would take their turn in fencing? Meet Ibtihaj Muhammad, the first female Muslim American fencer in the world. Her achievement seems to extend beyond her muslim identity: she is also ranked as one of the best female fencers in the world, reserving her place as an Olympian in the upcoming Olympics; "It's always been my dream," Muhammad remarks. Just this year she has gathered several awards for her performance and skill, and also an award as one of the top 10 Muslim women of 2015. En garde!
Stephanie Kurlow
'I can bring people together through dance'
Meet the schoolgirl who dreams of becoming the world's first professional Muslim ballerina to dance in a hijab
Fourteen-year-old Stephanie Kurlow she had been dancing since she was a toddler.
The Sydney schoolgirl thought that she would never be able to dance professionally after becoming a Muslim, because no company would want a ballerina who wore a hijab.
Stephanie, who lives with her Australian father, Russian mother and two brothers in Campsie, in Sydney's south-west, struggled to find a school where she could both dance and practice her religion. She had all but given up on her goal to dance as a career.
But in the end, her dreams won out after being inspired by women of colour who were succeeding in their fields all over the world, like Noor Tagouri, the first American news anchor to wear a hijab, or Michaela De Prince and Misty Copeland, the first African-American ballerinas.
Now Stephanie has started a fundraising campaign on LaunchGood so she can train full time at a professional ballet school.
jacktheladhub.com/2016/04/04/meet-top-6-muslim-women-who-dominated-201516-muslims-making-history/
--
Four Muslim women arrested for rioting in Gujarat town
5 April 2016
Ahmedabad: Many people, including four Muslim women, have been arrested in connection with rioting that took place between two communities in Vansda town of Navsari district in Gujarat following India's defeat to West Indies in the World T20 semi-final last week.
Police have arrested twenty four people so far for rioting and all have been sent to judicial custody.
The four women arrested are identified as Sameena Banu, Shamim Bibi Shaikh, Zulekha Shaikh and Naseem Bibi Shaikh. They were arrested from their homes on Monday in Champawadi.
On Friday night, a youth was beaten up by five youths of another community. Following this, a mob ransacked shops, mosques, and broke vehicles in Vansda town. Navsari District Superintendent of Police M S Bharada had reached the spot with an SRP battalion and police had to lob two teargas shells on the public to disperse them.
Soon the news spread on WhatsApp creating tension in the area. Indian Express reported that a mob gathered in Champawadi Friday night and went on a rampage pelting stones on the dargah and a mosque in Champawadi.
The VHP and Bajrang Dal declared a bandh on Saturday, following which all shops and business establishments remained shut. During bandh police arrested six people, who were booked for rioting and damaging public property.
Police is further investigating the case after recording complaints of both sides and booked over 100 people from each side.
twocircles.net/2016apr05/1459865035.html#.VwTx1Zx97IU
---
Muslim Chic Goes Viral on Instagram as Turkish Women Balance Fashion, Faith
05.04.2016
A new generation of young millennial women is gaining popularity in Turkey. These are the women who grew up in secular, neo-liberal conditions, but are religious.
Syrian and Lebanese girls huddle round in a group discussion about early marriage at a community centre in southern Lebanon.
They study, work and are also faithful to their religion but at the same time they enjoy wearing beautiful clothes and makeup.
This phenomenon is becoming a trend called 'Muslim Chic'. There is a similar hashtag #muslimchic which is gaining popularity on Instagram. These women are representatives of this social group and they are becoming the subject of media interest and researchers.
"It's not that the girls who love traditional but first-class things did not exist before. It is just that they are gradually increasing in number and as their opinion spreads they are starting to talk about it more," The Financial Times reported 29-year-old Hyulya Aslan as saying.
Hyulya is a former employee of a local women's magazine, Alâ Dergi, and now is a marketing consultant developing strategies for new brands for 'Muslim chic'.
It is obvious that if a woman stays at home and is engaged only in household chores, she doesn't have any particular requirements regarding her clothes, accessories and cosmetics.
"But if she works, goes to university, she needs very different things," Farkan Ortakayya, founder of one of the country's first fashion brands specializing in traditional clothing 'Kayra', said.
In the last few years there was a boom in the conservative clothing industry, which not only brought the Turks what they wanted, beautiful but modest things, but also made them an important economic force in the country, especially as dozens of brands were working for them.
Some brands are well known to western 'fashionistas', whereas, others are unknown outside the Islamic world.
Hashtags like #muslimchic, #hijabchic, #modesty, #modestfashion are popular not only in Turkey but also in other secular Muslim countries.
Hyulya Arslan, who has more than 400 thousand subscribers on Instagram, says that there is a lot of online criticism towards her. Opponents of the 'Islamic chic' say that glamor and religion are not compatible. They believe that it encourages empty vanity and consumerism in girls and pushes them to sin.
"Prophet Muhammad encouraged the desire of women to adorn themselves, but that does not mean you have to wear bright make-up and spend thousands on a scarf," said Turkish author Sam Marasli, who writes about the role of women in Islam.
But according to Aslan, such traditional critics want Muslim women to simply remain at home and not attempt to study or work.
sputniknews.com/society/20160405/1037510821/muslim-women-fashion.html
---
Kurdish women on front lines of North Syria's transformation
April 6, 2016
One of the most fascinating aspects of my recent trip to Rojava, the Kurdish region of Syria, was its leaders' focus on empowering women.
The failure of many Mideast nations to let women play a major role in politics and society has severely impeded their development. At the farthest extremes, Saudi Arabia treats women like mentally impaired children while the Islamic State enslaves them.
But in Rojava and North Syria – a self-proclaimed federal state that is recognized by no other country – things are very different. There, the non-Arab but Sunni Muslim Kurds have taken the opposite tack.
Women hold many of the highest posts in Rojava and women's rights are taught in school. Moreover, the Syrian Kurds have a female force, the YPJ, that fights fiercely alongside male soldiers against Islamic State jihadis in Syria and even inside neighboring Iraq.
Would that this approach could be copied throughout the region, although that is hard to imagine. One can only hope that Rojava's philosophy of female liberation can survive in this Kurdish enclave that is threatened from all sides.
FACES OF THE FALLEN
Drive through Kurdish towns in Rojava, and you will see banners on the main streets that display the faces of fallen Kurdish soldiers, including many women. Sometimes the female portraits are clustered around the mustached visage of Abdullah Ocalan, the ideological guru of the Turkish PKK rebel group. Ocalan's thinking has also shaped the outlook of the dominant political party in Rojava, the Democratic Union, or PYD.
Whatever one thinks of Ocalan, now imprisoned in Turkey, his philosophy insists that freedom for women is the essential component of political freedom. "We call this the 'revolution of women,'" says Hediye Yusuf, co-president of the Kurdish federal state.
I interviewed her in an ornate, former state-owned oil company headquarters in the northern Syrian town of Rumaylan. A petite women with uncovered hair, and wearing a black pantsuit, white sweater, and no makeup, Yusuf exuded authority. "If you want to see the revolution of Rojava, women are the majority of the structure," she said.
Yusuf became politicized in the 1990s when Ocalan was living in exile in Syria. "It was his ideas on women that attracted me the most," she says. "I believe in the freedom of women. We were interested in how PKK women were fighting in the mountains. We began thinking, 'Why couldn't we do things like this?'"
Yusuf spent more than two years in prison under the Assad regime. Released after the Arab spring revolt started, she helped draft a new law on women's rights that abolishes polygamy, which is facing resistance from Arabs in Rojava. She also helped establish the YPJ.
At a YPJ office in Qamishli, Rojava's largest city, I got a glimpse of the impact that the force has had on many young Kurdish women.
ANCESTRAL HOME
Deniz Sipan, an attractive 21-year-old, dressed in fatigues, was an architecture student in Damascus when the Arab Spring began in 2011. Her nervous family decided to relocate (temporarily, they thought) to their ancestral home in the Kurdish region of Syria.
Sipan soon realized that in this more conservative area her options were limited to teaching - and getting married.
"Kurdish women when they get married, they give up life," she said, making a face, and speaking in the excellent English she learned from watching old American movies. "I didn't like this idea."
So, despite her parents' misgivings, she joined the YPJ and became a front-line sniper.
"Female fighters have their own personality," she said proudly. "No one can control them and they are highly respected. It gives you the confidence to trust yourself more."
In the fierce battle to liberate the Yazidi areas of Sinjar, Iraq, which were seized by the Islamic State in 2014, she was initially assigned to the rear guard.
"I couldn't believe it at first that I could do it," she says. Eventually, she was on the front lines in 2015.
"I am fighting for society to understand that they have to let women do what they want," she says. "I fight for my country and for women. I saw many women fight better than any man."
"The men like to fight alongside women," she added, "because the women smile and laugh when they are fighting. It keeps morale up."
BACK TO THE FRONT
Sipan says she intends to stay in the military, and is eager to go back to the front. If women just return home, she says, the situation will revert to male control "over everything."
It is hard not to wonder what will happen to her and her colleagues. On her cellphone are pictures of military mates who look like U.S. college students on spring break, the women with long flowing hair, the men with happy smiles. But Kemal, a 24-year old commander who trained her as a sniper, was blown up by a suicide bomber, and her best friend, Penaber, 19, fellow female sniper, was shot dead at the front.
Can the example of Kurdish women fighters inspire Arab women elsewhere in the Middle East? Unlikely, but one would like to think so.
"If women are free, society is free," says Sipan's older colleague Nujin Roj, who returned from Turkish exile to join in the struggle.
The Rojavan Kurds are trying to promote this message in a resistant Middle East.
Trudy Rubin is a columnist and editorial-board member for the Philadelphia Inquirer. Distributed by Tribune Content Agency, LLC.
vindy.com/news/2016/apr/06/kurdish-women-on-front-lines-of-north-sy/
-------
Why the Arab world must embrace placing art online
April 6, 2016
In February 2014, I received an email from the then curator of London's Whitechapel Gallery, Cairo-born Omar Kholeif. Mr. Kholeif inquired about the possibility of organizing an exhibition in London from the Barjeel Art Foundation collection of Arab art. Eighteen months later, Imperfect Chronology, the name chosen for the landmark exhibition that with over 100 artworks is the most comprehensive displays of art from the Arab world ever in the West, was inaugurated in London. When I asked Mr. Kholeif why he specifically picked Barjeel from among all other collections he replied, "It was the only one I could view and study online." It was only then that I realized how essential it was to have an online presence for Arab art.
At the outset, it is important to first acknowledge what is perhaps the very first Arab art collection online belonging to respected Saudi businessman Adel al-Mandil whose Kinda Foundation held a historically important exhibition at the Institut du Monde Arabe in Paris in 2002. The very next year a website was launched that despite its closure is a major milestone in the modern history of the online presence of Arab art. Today, Mr. Mandil's son Fahad has created a the most extensive online portal of Arab art on Pinterest titled the Arab Modern & Contemporary Art Project (The AMCA Project for short) with over 2,200 "pins" including images of artworks and of the artists themselves.
Shying away
Unfortunately, many collectors in the Arab world shy away from placing their art collection online. The reasons for this vary and may include an aversion to a public display of wealth, a fear of potential taxation even in the Gulf states and a lack of awareness of the importance of such a move. Additionally, the vast majorities of art museums in the Arab world have little to no online presence or have not updated their websites in many years. For instance, the Musée National des Beaux-Arts in Algiers which is probably Africa's largest updates its website intermittently, while Egypt's National Art Museum's website, launched in 2007, is often down and doesn't appear easily on Google search results.
Screenshot of Kinda Foundation website which was launched in 2003.
Amman's National Art Gallery, although created many years ago, still remains accessible, user friendly and is continuously updated. In the case of Egypt an online presence is essential since many of the museums remained closed for many years following the uprising of 2011. Furthermore, a notable number of artists in the North Africa and West Asia still lack an online presence. Although financial reasons might play a part artists can easily make use of social media networks to establish online galleries for their works. Kuwait's National Art Museum, the Sharjah Art Museum and Morocco's new Mohamed VI Museum of Modern and Contemporary Art in Rabat also need to spruce up their online presence. Moreover, despite the welcome news of the reopening of the Iraq's National Museum of Modern Art in November 2014 no online portal has been established as of yet.
One of the most important displays of Arab art online belongs to Qatar's Mathaf: Arab Museum of Modern Art, whose collection exceeds 9,000 artworks. Although Mathaf's own website lacks an extensive gallery of works they were the first in the region to partner with Google Cultural Institute on the Google Art Project where visitors can view 90 works dating back to the early 20th century in ultra-high resolution from the brushstrokes of Iraqi artist Dia Azzawi's Memories No.1 (1968) to the chisel marks of Egyptian sculptor Mahmoud Mokhtar's On the Banks of the Nile (1931).
Today Barjeel's website includes close to 1,000 images of Arab artworks as well as a Google Art Museum virtual tour of aide-mémoire: footnotes (PDF) one of our recent exhibitions. We have also expanded our presence on Instagram, Pinterest, Wikipedia, Twitter, Flickr, Google Plus, Vimeo and YouTube. The bottom line is: If the masses won't go to the art, take the art to the masses. Barjeel Art Foundation has become the second regional institution after Mathaf to partner with Google Cultural Institute where we now have over 800 images of Arab art many, including Hamed Ewais' 1967 masterpiece Le Gardien de La Vie with ultra-high resolution viewing options.
Other major Arab and Iranian art patrons such as the Dubai based Samawi Collection that holds Louay Kayyali's 1965 masterpiece "Then What?" as well as the Farjam Collection have also made their collections available online via PDF. Other notable collections online include Saudi based Basma al-Sulaiman and Al-Mansouria as well as the Jalanbo Collection from the New York based Syrian art patrons. Beirut's Mokbel Art Collection and the Instagram only Abraham Karabajakian collection from Lebanon can also be easily viewed. Western art collections and initiatives have also launched dedicated portals for Arab art including Germany's Nadour which also includes Iranian art and Nafas Art Magazine whose remit extends beyond the Arab world.
Art institutions and collectors in the Arab world need to make a giant leap into the present day and invest in creating online portals for the region's art. We can all play a part in countering the negative narrative of extremists in the region by virtually displaying our arts and culture. As someone once told me, "the best way to preserve one's culture is to share it with the rest of the world."
Sultan Al Qassemi is a columnist on Arab affairs and an MIT Media Labs Director's Fellow. Sultan is also the founder of the Barjeel Art Foundation, an independent initiative established to contribute to the intellectual development of the art scene in the Arab region. He tweets @SultanAlQassemi
english.alarabiya.net/en/blog/2016/04/05/Why-the-Arab-world-must-embrace-placing-art-online.html
URL: https://newageislam.com/islam,-women-and-feminism/new-age-islam-news-bureau/how-a-saudi-arabian-singer-defied-tradition-to-follow-her-dream/d/106891
New Age Islam, Islam Online, Islamic Website, African Muslim News, Arab World News, South Asia News, Indian Muslim News, World Muslim News, Womens in Islam, Islamic Feminism, Arab Women, Womens In Arab, Islamphobia in America, Muslim Women in West, Islam Women and Feminism