New Age Islam News Bureau
7 Jul 2020
• How a Brooklyn Artist Is Making Black Women Her Focus
• Muslim Woman Outraged After Barista Writes 'ISIS' On Her Coffee Cup in St. Paul. Target Calls It A Mistake
• Arab Institute for Women:Want to Help the Arab Region? Put It in The Hands of Women
• 'Yazidi Women Are Strong': Kurdistan's Female Landmine Clearance Teams
• Igbo Women Seek Biafra, Voice Nigeria's Bleak Future
• Islamic Women's Council: 'The New Zealand Government Had Failed the Muslim Community
• Hindu Family in Haryana's JindGives Land for Burial Of 13-Year-Old Muslim Girl
• The Coronavirus Lockdown Prevented 1.85 Million Indian Women from Getting An Abortion
• Over 39,000 Complaints Received by Women Helpline in UP Sent for Action to District Police
• UN Human Rights Council 44: Statement on Discrimination Against Women
• Equipping East African Women Digital Entrepreneurs with Skills to Thrive
Compiled ByNew Age Islam News Bureau
URL; https://www.newageislam.com/islam-women-feminism/how-brooklyn-artist-making-black/d/122310
-------
How a Brooklyn Artist Is Making Black Women Her Focus
By Sandra E. Garcia
July 6, 2020
Aya Brown, left, an artist in Brooklyn, with Brittany Robles, one of the subjects of her Essential Workers series.Credit...Naima Green for The New York Times
------
The faces of the women in her portraits are often partly covered by a mask tied behind their heads, tugging at braids, low buns or tufts of curls. They are dressed in uniforms that show their essential jobs, but their style and charisma shine through their everyday armor.
They are Black women who work in jobs that the coronavirus pandemic quickly revealed as essential to the functioning of New York City. And they were all drawn by Aya Brown, 24, a Brooklyn artist. They are women who took care of Ms. Brown during a hospital or a supermarket visit. They include janitors, M.T.A. workers, mail carriers and security guards.
The drawings — made with color pencils on brown paper — comprise Ms. Brown's Essential Worker series, a collection drawn with an intimacy that makes the viewers feel as if they too know the subject. It's not just their jobs that are depicted through the lines and colors, but their panache.
"My goal is to uplift Black women who look like me and inspire me — to give them a space to be seen and to bring awareness to them," Ms. Brown said.
Women have been the heroes of the pandemic. They are in the emergency rooms, on the streets delivering packages, in nursing homes, on construction sites, and many are still teaching their students who have been attending school from home.
One in three of the jobs held by women is essential, according to a New York Times analysis of census data crossed with the federal government's essential worker guidelines. Most of the women who have essential jobs are women of color.
"I guess when you think about essential workers, you don't really think of yourself," said Aja Brown, 26, Ms. Brown's sister and a subject of one of her portraits.
Aja is a paraprofessional educator, a role similar to a teacher's aide, and works with fifth graders in Brooklyn. She has been working from home since the city closed schools in March. She never considered herself an essential worker until she saw her sister's portrait of her on Instagram. The portrait made her cry, she said.
"I don't know if I needed that space," Aja said. "I just want my kids to get where they need to be emotionally and academically. I kind of don't really think about myself."
Ms. Brown aims to change that thinking, to help Black women see themselves as essential by putting them at the center of her artwork and bringing the viewer into her universe.
"It's very clear how close she is to her mainstream, how unfiltered her perspective is and how much she loves her people and her village," said Tamara P. Carter, a writer and director of the upcoming TV show "Freshwater."
After being furloughed by her employer, Gavin Brown Enterprises, where she organized events, Ms. Brown has used her free time to delve into her art, which focuses on showing Black queer women fully: their sexuality, strength, style, bodies, joy and edge. Even the materials she uses are intentional: She draws on brown paper, she said, because "Black bodies do not need to start from white."
Occasionally, she hosts parties that are meant to provide a safe space for Black lesbians, like herself. It is the kind of support Ms. Brown was entrenched in growing up in Brooklyn, and a foundation that was notably missing when she attended Cooper Union, a private college in Manhattan. She said her experience there was traumatic, that she did not feel as if her blackness was accepted. After three years, she dropped out in 2017.
She began her Essential Worker series in April, after a trip to the emergency room. There she noticed that her nurse, a Black, West Indian woman, took care of her while her doctor stopped by intermittently.
"I noticed that nurses in the E.R. are usually Black women," Ms. Brown said. "I am thinking about these Black women on the front lines. It just bothered me because no one is noticing this."
"You never knew you were essential until Covid hit," Ms. Tabor said, "and it's like, I have to stand up for the community now. I didn't realize all that we do."
Like countless Black women around the country, Ms. Tabor had to be a counselor for her staff during the pandemic. When someone lost a family member or a neighbor, she tried to put them at ease.
"I needed them to know, 'I am in it with you, and let's get through this together,' " Ms. Tabor said. "But I was freaking out, too. I was human with everyone else. I was just able to put on a different hat."
Black women are also underrepresented in the worlds of art and media, and Black queer women are nearly nonexistent in museums, according to ChaédriaLaBouvier, the curator of "Basquiat's "Defacement": The Untold Story," at the Guggenheim Museum.
Ms. LaBouvier said Ms. Brown's work is not about being left out of the white, heterosexual, patriarchal art world, but about the Black working class saying, "I am already the center, and there is a lot of beauty here."
Ms. Brown's work "looks at what liberation actually could be," Ms. LaBouvier said. "You're in a moment where queer women are saying, 'It is so much bigger than fitting into the system; let's abolish the system.'"
According to Ms. Carter, when we look back on this moment in history and wonder who saved New York City from the coronavirus pandemic, Ms. Brown's portraits will provide the answer.
"Who she's making the art for seems to be just as important as the art itself," Ms. Carter said. "Art made with that kind of love and rigor is self-evident and can't be co-opted."
https://www.nytimes.com/2020/07/06/nyregion/black-women-essential-workers.html
-------
Muslim Woman Outraged After Barista Writes 'ISIS' On Her Coffee Cup In St. Paul. Target Calls It A Mistake.
July 6, 2020
By MARA H. GOTTFRIED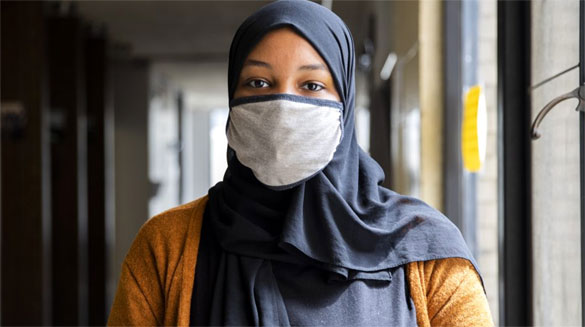 Aishah, a 19-year-old college student studying to be a teacher, found "Isis" written on her frozen Starbucks beverage. Credit: Jaida Grey Eagle | Sahan Journal
-----
While ordering a drink Wednesday in St. Paul, a 19-year-old Muslim woman gave the barista her name — Aishah — and repeated it for clarity.
Aishah says a barista asked for her name and wrote "ISIS" on her coffee cup. Civil rights attorney Alec Shaw, right, said he is filing a complaint with the Minnesota Department of Human Rights. (Mara H. Gottfried / Pioneer Press)
The word that was written on the drink is a word that shatters the Muslim reputation all around the world," said Aishah, whom the Council on American-Islamic Relations' Minnesota chapter identified only by her first name for safety reasons.
Target, which runs and operates the Starbucks in St. Paul's Midway store, says it has apologized and "believe that it was not a deliberate act but an unfortunate mistake," according to a statement Monday.
Aishah and CAIR-MN on Monday called on the University Avenue Target to fire the employees who were involved, and an attorney submitted a charge of discrimination to the Minnesota Department of Human Rights.
"Unfortunately, with Islamophobia, the No. 1 thing Muslims are … discriminatorily identified (as) is terrorists," said Jaylani Hussein, CAIR-MN executive director. "… Using this word for us would be the same as a Black man today being … (called) the N-word."
When Aishah asked the employee why "ISIS" was written on her cup, the worker "claimed that she had not heard her name correctly," according to a statement from CAIR-MN.
The Council on American-Islamic Relations' Minnesota chapter says a worker at a Starbucks, run by a St. Paul Target, wrote "ISIS" on her cup. (Courtesy of CAIR-MN)
When Aishah asked to speak with a manager, Hussein said the manager responded with: "What is the issue? People get their names wrong all the time."
Aishah filed a formal complaint with Target. A corporate representative reached out to her the next day to apologize, according to a Target spokesman, but Aishah said Monday morning she still had not received an apology.
Target said in a statement they are "taking appropriate actions with the team member, including additional training, to ensure this does not occur again."
The Minneapolis-based retailer added: "At Target, we want everyone who shops with us to feel welcomed, valued and respected and we strictly prohibit discrimination and harassment in any form. We are very sorry for this guest's experience at our store and immediately apologized to her when she made our store leaders aware of the situation. We have investigated the matter and believe that it was not a deliberate act but an unfortunate mistake that could have been avoided with a simple clarification."
Target CEO Brian Cornell announced a month ago that the corporation was committed to standing against racism, and pledged $10 million to advance social justice and support rebuilding and recovery efforts in local communities.
"This unfortunate incident is particularly appalling in light of the local and national appeals for racial justice and the ongoing calls for meaningful steps towards lasting equity in the United States of America," said Alec Shaw, a civil rights attorney for CAIR-MN, who called on Cornell to "make the same commitment to stand against Islamophobia and all forms of discrimination and hate."
https://www.twincities.com/2020/07/06/cair-mn-st-paul-target-starbucks-worker-put-isis-on-muslim-womans-cup/
------
Arab Institute for Women: Want to Help the Arab Region? Put It in The Hands of Women
July 07, 2020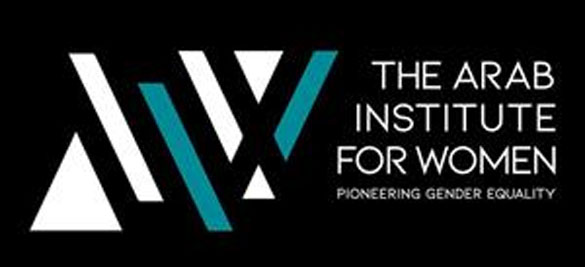 NEW YORK, NY – In preparation for the upcoming 50th anniversary of the Arab Institute for Women (AiW) in 2023, the Institute welcomes partners, supporters, and sponsors who desire to scale a strong regional voice for Arab women. The Institute is a legend, a pioneer, and the force for our feminist future.
The AiW at the Lebanese American University is the first of its kind in the region – and a center of power for Arab women. Founded in 1973, the AiW operates at the intersection of academia and activism to amplify women's voices in the region and around the world. The Institute is a bridge connecting women in the region to global platforms - because representation matters.
"No country in the world has achieved full gender equality, but the Arab region ranks lowest in the world. Empowering women is not just a human rights principle. It is a precondition to sustainable development and the strongest vehicle for peace, prosperity, and progress," said Lina AbiRafeh, Executive Director of the AiW in New York.
Lack of funding due to the coronavirus pandemic has compromised the survival of women's rights organizations. If women are once again left out of leadership and activism, the patriarchal consolidation of power will have devastating effects on women's rights, equality, and autonomy. This requires a robust feminist response, ensuring that women's organizations and feminist activists have the tools and resources they need to advocate and act on behalf of women and girls.
"The AiW is a fueling station and a hub for support, resources, and inspiration for women changemakers with a history of support for women's rights activists. Throughout decades of insecurity and now during the COVID-19 pandemic, AiW continues to provide opportunities to enhance their leadership and give them the skills they need to strengthen their force on the frontlines," said AbiRafeh. "The pandemic has resulted in massive job losses for women and has pushed them even further into the informal economy and toward riskier sources of income – such as trafficking and transactional sex - for survival."
Women in Arab countries are an underutilized economic force, with only 24% working outside the home – the lowest female employment rate in the world. When employed, women are more often relegated to traditionally feminized work, in addition to their disproportionate share of unpaid care.
Academic institutes like the AiW have a huge role to play in galvanizing and supporting women's movements. Across the Arab region, women, particularly young women, are leading calls for change. The AiW brings 47 years of data, community engagement, and lived experience at the frontlines of Arab feminist movements.
The AiW seeks a visionary champion interested in offering an endowment and leaving a lasting legacy for Arab women for generations to come.
"We seek prime movers who believe in the impact of their gifts and who are committed to building a philanthropic legacy for themselves, their families, and for ALL women and girls in the region," said AbiRafeh.
An endowment gift of $7 million will entitle the donor to naming rights for the Institute – a legacy in your own name, or to honor a loved one who believed in this cause. This endowment will, over time, generate sufficient interest to enable the Arab Institute for Women to establish a stronger regional presence in order to continue its critical work for Arab women's rights through scholarship, training, and advocacy.
Most Arab countries have signed and ratified universal conventions supporting human rights (with reservations), but these have not brought meaningful change for women, and gender inequality remains the greatest impediment to regional progress. This must change.
Arab women are significantly behind in terms of women's participation and representation in politics. Even when women are present in politics, they are still kept from exerting power to influence change. This lack of political participation is largely due to cultural barriers, little access to economic and financial resources, and the absence of female role models in political and public life.
Rights, freedoms, and opportunities cannot be named and claimed as long as women are unsafe in public and private space. Globally, one in three women worldwide has experienced some form of gender-based violence in their lifetime. The Arab region is no different. Intimate partner violence is the most common and the least reported. Sexual violence and harmful practices – like honor killing, female genital mutilation, and child marriage - also continue to be prevalent and show no signs of abating. As the region continues to face insecurities, these forms of violence will only increase. The AiW seeks to create a future where all women are free from violence and have access to meaningful opportunities.
For many Arab countries, instability and insecurity are the norm. The region's multiple protracted humanitarian crises - Yemen, Syria, Palestine, Iraq - have destroyed systems of social protection, reduced access to safe services and support, displaced communities, and increased vulnerabilities.
In these settings, women's rights are the first to be stripped and the hardest to revive. Conflicts and insecurities magnify pre-existing vulnerabilities, and women are the first to suffer, the last to recover, and the hardest hit by these insecurities. From the revolution in Beirut to more violent conflicts in Gaza, Sanaa, and Baghdad, women continue to demand rights, equality, and justice.
"Women are the face – and the force – of revolutions across the Arab world. They deserve our support," said AbiRafeh. "The Arab region's diverse collection of 22 countries have one thing in common: women continue to experience a backlash against their own long-overdue rights and fundamental freedoms."
These challenges are overlapping, meaning progress – or regress – in any of these areas has an impact on all aspects of women's lives. Insecurities don't stay neatly confined within their borders.
"Fostering gender equality in the Arab region is a non-negotiable imperative. And this is a historic moment to provide full support for Arab women to organize, train, inspire and ignite to bring equality, rights, and justice to the region. Centering women will enable the region to better withstand future shocks. In short, when women lead, we all benefit," said AbiRafeh.
https://www.globenewswire.com/news-release/2020/07/07/2058325/0/en/want-to-help-the-arab-region-put-it-in-the-hands-of-women.html
------
'Yazidi women are strong': Kurdistan's female landmine clearance teams
7 Jul 2020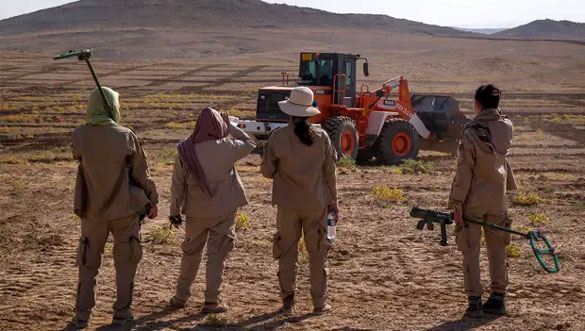 Hana Khider: 'People are killed or injured on a daily basis south of the mountain.' Photograph: Sean Sutton/MAG
------
Behind Hana Khider is a large grey wall map, with the minefields her team have been clearing marked in green. "This is the place where Yazidis lived together," she says. "It's where I lived in my childhood; I have so many memories here, it's very important to me."
The place is Sinjar, or Shingal as Yazidis know it, on Iraq's north-western border with Syria. Khider, 28, is speaking via video call from her office in the region.
"This job is so important to me because I feel like I'm doing something good for my family, my community and the people who were displaced from Sinjar. By removing the mines, I'm helping them to maybe one day come back."
In August 2014, Isis invaded and occupied this region. The group murdered about 5,000 Yazidis, kidnapped and enslaved 6,000 women and children and displaced a community that had been living in towns and villages nestled around Sinjar mountain, sacred to Yazidis, for centuries.
"Before we had a normal life. Everything was good, people were living their life happily. But after the genocide in 2014, everything changed. We're no longer secure," Khider says.
By the time Isis was pushed out of Sinjar in 2017, it had planted hundreds of thousands of landmines and other explosive devices in homes, buildings and fields. The group manufactured them on an industrial scale, but also used household items including pots, pans and even video game controllers – whatever it could get its hands on – to build improvised devices.
"People are killed or injured on a daily basis south of the mountain," Khider explains. An important part of her work is educating the community and children in particular, who are at greatest risk. In one area, a man told her an explosion had killed his 15-year-old nephew as he was out in the fields looking after a herd. His other nephew sustained life-altering injuries.
A new film, Into the Fire, follows Khider and her team of Yazidi women at Mines Advisory Group (MAG), an international charity which removes unexploded bombs in former war zones across the world, as they clear Sinjar.
The high level of mine contamination is one reason why, three years on from Sinjar's liberation from Isis, only about a quarter of the population have returned.
Almost 300,000 Yazidi people still live in tented camps and makeshift shelters in the nearby Kurdistan Region of Iraq. Conditions are poor and the community has inadequate access to services, including treatment for high rates of mental illness. Over 2,000 women and children are still missing.
Those who have gone back are living mainly north of the mountain that divides Sinjar, according to Portia Stratton, Iraq country director for MAG.
"The north of the mountain, although badly affected, was less contaminated than the south, as Isis held it for a much shorter period. Also with populations moving back more to the north, we have historically had more information about the contamination in those areas.
The charity cleared Khider's village in 2016, enabling her and her family to move back, although not to their old house. It had sustained too much damage for that.
A high proportion of homes across the district have been similarly affected, with many completely destroyed. Shrines, schools and public buildings lie in ruins.
"There's also a lack of services, like medical care and education, especially in the villages," Khider says. Two of her children are in school, but they have to walk miles everyday through war damage to attend. "What I want more than anything is for them to be safe and free."
Part of the problem is that Sinjar falls within Iraq's "disputed territories", areas claimed by both the Iraqi central government and the Kurdistan regional government.
Political tussling has fuelled conflict, fragmented authority and left Yazidis and other minorities, including Assyrians, Turkmen and Shabaks, in Sinjar and the nearby Nineveh Plains, particularly vulnerable.
A high proportion of homes across the Sinjar district have been affected, with many completely destroyed. Photograph: Sean Sutton/MAG
There is "a lack of functioning government", according to Abid Shamdeen, the executive director of Nadia's Iniative, a charity working in Sinjar set up by Nobel peace prize laureate Nadia Murad.
https://www.theguardian.com/global-development/2020/jul/07/yazidi-women-are-strong-kurdistans-female-landmine-clearance-teams
------
Igbo Women Seek Biafra, Voice Nigeria's Bleak Future
July 5, 2020
By Kester Kenn Klomegah
Nigeria is one of the largest by territory with population (estimated currently at 206 million) and huge economy in Africa. Situated on the southern coast on the Gulf of Guinea in the Atlantic Ocean, this country most often referred to as the "Giant of Africa" has never-ending multiple and complicated internal problems ranging from politics (system of federal governance) to widening economic disparity to cultural differences. The country has 36 states and it is officially called the Federal Republic of Nigeria.
Early July, Kester Kenn Klomegah had the chance and interviewed Chief (Mrs) Marie Okwo, President of the Igbo Women Assembly (IWA), about the impact of the civil war, the current politics and the role of the church in Nigeria. She is one of the remaining few Nigerians who have seen Nigeria from the struggle for independence through the development of its democracy. MrsOkwor, who is an associate of the late Dr Nnamdi Azikiwe, is now the leader of the Igbo Women Assembly and one-time member of Advisory Council of the Peoples Democratic Party (PDP).
Established as an NGO in 2006, the Igbo Women Assembly focuses on women empowerment and the youth, it consistently encourages moral values particularly among young graduates. Headquarters in Enugu, Enugu State of Nigeria.
The Nigerian civil war (1967-70) was a bitter experience, and has also affected expected development in the Biafra State. What are your views about this, especially from women's perspectives?
The war of 1967-1070 war was a pogrom; a war of attrition meant to wipe out a whole race for no just cause. It reminded me of the Holocaust against the Jews. Those who died of hunger starvation, bombings were numerous in number. Malnutrition killed many children who developed a disease called "kwashiokor" – medical experts explain as lack of protein in the body and the belly fills up with fluid. I feel very emotional as I speak about this.
Suffice it to say, that the war could have been avoided, had Nigeria kept her end of the agreement at Aburi, in the Republic of Ghana, which came to be called "the Aburi Accord" that was reached in 1967. This venue offered the delegates security guarantee and that meeting was billed to be the last chance of preventing all-out war. The accord finally broke down because of differences of interpretation on both sides. This led to the outbreak of the war. Markets and places of worship were not spared from bombings and strafing. As a matter of facts, one of my domestic staffs lost her mother in one of the market bombings had been hurt by a shrapnel; she bled to death since medical facilities were scarce.
The effect of the war on the State of Biafra was deplorable: So much destabilization as the seat of government had to move from place to place and so could not settle down to the business of governing the people effectively. There were so many things to worry about, such how to get arms and ammunition. There was also the issues food insufficiency. Lack of concentration on the part of the Administrators and the Biafran military officers and soldiers had adverse effects on the Biafrans. As each area fell to the Nigerian military and their superior military weapons, civilians also had to relocate to safer areas. It was really rough and tough especially for nursing mothers most of who lost their babies. So so sad an experience.
Assessing the effects of the civil war today, especially from gender perspectives, what else can you say in this regard, will women play a more critical role in the administration of a Biafran state?
Before I comment on the role women can play in the administration of a Biafran state, let me mention the important roles they played during the war. It will be recalled that most men were in war fronts fighting to defend Biafraland. Others had lost their jobs and were forced to stay idle at home. The duties of catering for the needs of the rest of the families, therefore, fell on the women/ wives. In short, they became the bread winners.
On the roles women can play in a Biafran state, let me say, without fear of equivocation that without the contributions of women in governance, success will be difficult to achieve. Women have great potentials that should be harnessed in order to move the state forward.
The government of Nigeria is vehemently aversed to the name Biafra. Mere mention of that name makes them chilly.This government would rather have Biafrans remain under servitude of the Caliphate North. The slogan after the was "No victor, no vanquished." That was the greatest deceit of the century. Biafrans have never been re-integrated.
The basis for unity no longer exists. Biafrans struggle for their survival without depending on any one. Since Nigerian government has refused absolutely to accept Biafrans as a component part of Nigeria, it stands to reason that they should be allowed to go and develop on their own at their own pace. It is pertinent to mention that the North contributes little or nothing to the development of the country. Rather resources from Southern Nigeria are controlled and squandered by Northern Elements.
On security in Nigeria, I wish to make it categorically clear that in Nigeria, security is at its lowest ebb. The Fulani Herdsmen are the cause of the unprecedented insecurity in Biafraland. They move about freely with their cattle carrying sophisticated AK 47. They destroy farmlands and crops, kill farmers, gang-rape and kill female farmers in their farmlands. The resultant effect of the destruction of farms and crops will be devastating as there will be monumental scarcity of food soon, this will spell doom for the masses.
Government and the security operatives are fully aware of the perilous situations but prefer to look the other way. Sometimes the police offer to pay competitions. A few days ago, a middle-aged woman was gang-raped by Fulani Herdsmen in a farm till she went into a coma she was taken to a hospital and later pronounced dead. The insult by these Fulani Herdsmen is a great insult to Biafrans. Why will these Fulanis not allow us peace in our space? Enough is enough! When people are pushed to the wall, they have no alternative than to fight back.
Igbo Women Assembly call for a Referendum to settle the issue, once and for all. Our children have no future in Nigeria. We feel like the Israelites while in bondage under the Pharaohs of Egypt. We desire freedom to follow our own designs and practice our Christian Religion without let or hindrance.
Nigeria has never been so polarized or rancorous as it is now. There's so much unrest which stems from oppression, corruption wrong choices of appointees to important governing bodies. Square pegs are placed in round holes indeed. The bitterness existing in Nigeria, at the present time, is unequalled. Security is non- existent. The reality is that there is unchecked anarchy. As things stand now, Nigeria may just disintegrate without gunshots.
Almost all of Nigeria's intractable problems emanate from imposition of candidates during elections; no free, fair or credible elections are conducted. The situation gets worse with every election.
In the first place, the Constitution under which elections are held is a fraud. Far from being the "People's Constitution." We have faced these mistakes since the inception of presidential system of governance in Nigeria. The system under reference is wasteful, encourages corruption and dictatorial tendencies.
In spite of the flaws in the Constitution, the ruling party has ignored most of the clauses which might enhance the peaceful co- existence of the citizens. Impunity is rife with this current Administration. There is therefore an urgent need for intervention by concerned people of the entire world. Any adversity that befalls a Nation will have adverse effects on other Nations if not nipped in the bud.
This is a clarion call by the Igbo Women Assembly for assistance by all who abhor oppression and bad governance. No justice, no peace! No peace, no progress!
As a highly devout Catholic, how would you argue that the church could be a tool to fight against all injustices and state maladministration, most probably corruption in the Federal Republic of Nigeria?
The church in Nigeria, irrespective of denominations, has a vital role to play in addressing the ills of Nigeria. It is the duty of the church to do all in her power to restore the dignity and moral values of our societies.
All of a sudden, acquisition of wealth has taken precedence over ìntegrity, justice and fair play. The church has a duty to inculcate the congregations with a sense of responsibility moral values and discipline. Most criminals and corrupt members of the society are not pagans but Christians driven into such negative behavioral tendencies by the system. It is interesting to say that wrong leaderships beget wrong followers.
Unfortunately, some pastors preach the gospel of prosperity instead of salvation, thereby driving people into acquiring filthy lucre through any means whatsoever. People quickly forget that greed and avarice lead to destruction. They do not remember that whatever one has on earth cannot accompany him/her to the great beyond. Others will enjoy the ill- gotten goods. Corruption has eaten deep into the fabrics of the nation and the church must make concerted efforts to bring the menace to the barest minimum.
And the Biafra diaspora outside Nigeria, especially in the United States and Europe…are they optimistic about break away of the Biafran State?
Biafrans in the Diaspora are even more enthusiastic about an independent nation than some Biafrans at home. Any sign that a Referendum is on hand will see a deluge of Diaspora Biafrans flying back home. They will contribute in no small measure to bring rapid development to the new nation-state. Surely, this new nation will overtake Nigeria, which regards herself as the so- called largest country, in Africa. Yes! Largest in all types of vices like kidnappings, rape, sleeze oppression, abuse of human rights and so forth.
My perspective on the future or the way forward for Nigeria, the country has expired and cannot be revived, neither can it be reactivated.It is my well-considered opinion that any group or ethnic nationality, which wants to leave this contraption, should be granted their peace and freedom. Nigeria is too large to be one country since there are too many differences in religion, cultures and traditions, food and languages and other factors. Nigeria has never and can never be one. Unity has eluded the country.
If, however, Biafra becomes unattainable then we should go back to the parliamentary system of governance. A weak center with regional autonomy. As things are now, the country is rudderless and groping in the dark. If no positive action is taken soonest, Nigeria will take a nosedive into a deep precipice, in this case, the name will become irreversibly extinct.
https://moderndiplomacy.eu/2020/07/05/igbo-women-seek-biafra-voice-nigerias-bleak-future/
------
Islamic Women's Council: 'The New Zealand Government Had Failed the Muslim Community
July 7, 2020
The Islamic Women's Council says the Christchurch mosque shootings might not have happened, if it weren't for the failures of multiple government agencies - particularly the security intelligence service and police.
Islamic Women's Council of NZ releases its submission to the Royal Commission of Inquiry into the Christchurch Mosque Attacks The Islamic Women's Council releasing its submission to the Royal Commission of Inquiry into the Christchurch mosque attacks. Photo: RNZ / Simon Rogers
The council has taken the unusual step of releasing its submission to the Royal Commission of Inquiry into the Christchurch mosque attacks - ahead of the commission's final report-back date.
In the aftermath of the shootings at the Al Noor and Linwood mosques on March 15 last year, the Royal Commission was ordered to investigate what government agencies knew about the attacker before the shootings.
The commission will also look into what, if anything, they did with that information; what measures agencies could have taken to prevent the attack; and what measures agencies should take to prevent such attacks in the future.
Brenton Tarrant has pleaded guilty to 51 charges of murder, 40 charges of attempted murder and one charge under the Terrorism Suppression Act.
The commissioners' final report is due at the end of this month, but the Islamic Women's Council has decided to make its submission public ahead of that.
The submission outlines the council's interactions with a host of government agencies in recent years, including the Security Intelligence Service, the Human Rights Commission and the Race Relations Commissioner, the Department of Prime Minister and Cabinet, the Department of Internal Affairs and the Office of Ethnic Communities.
"In the years prior to 15 March 2019 there were repeated major public service delivery failures in relation to government dealings with and responsibilities towards the Muslim community in Aotearoa New Zealand," the submission said.
"It is likely that, but for the failures (particularly of the security services and police), the horrific events of 15 March, 2019, might not have occurred.
"It is certain that but for the failures of the other public sector agencies there would have been greater support and protection of the Muslim community before 2019 as the pressure on them grew and after, when the trauma and shock had to be dealt with."
The submission details a number of meetings council members had with various representatives from the Security Intelligence Service, including its head Rebecca Kitteridge.
The council said at those meetings, its message was clear: "It was that the government had failed and was failing the Muslim community. There was a lack of support on the preventative side. There was a rise in hate and hate groups in New Zealand".
The council went on to say that from their interactions, there was no indication that the alt-right was under any, let alone serious or similar scrutiny and surveillance as the Muslim community before 15 March, despite the increasing Islamophobia and hate speech directed as Muslims in New Zealand and the rise of the alt-right in Europe and the United States and the many terrorist attacks by the alt-right".
The council said the Security Intelligence Service could not have been surprised by what happened on 15 March, because the council had warned them about growing anti-Muslim sentiment.
"If [the council] had been taken seriously the SIS would have kept an eye out for activity by white supremacists. They managed to catch young Muslim men sharing ISIS videos in New Zealand and have had them prosecuted. To discover this, they were spying on the young men online. Why was there no equivalent spying on young white supremacist men?"
Among the council's recommendations, it wants an apology for the failings of the SIS and government agencies in relation to the attack.
It also wants reparations paid to those who have suffered economic loss, that is not covered by ACC or any other workplace scheme.
https://www.rnz.co.nz/news/national/420666/islamic-women-s-council-the-government-had-failed-the-muslim-community
-----
Hindu family in Haryana's Jind gives land for burial of 13-year-old Muslim girl
Jul 7, 2020
JIND: A Hindu family in a Jind village came to the rescue of its Muslim neighbours on Monday by providing a plot of land for the burial of their daughter who died on Monday morning.The family of the 13-year-old girl couldn't bury her in the graveyard as it was filled with water.
Several Muslim families of Gulkani village alleged that they had been facing problems in burying their kin for the past 10 years but all sarpanchs and the district administration had done nothing to solve the problem.
After the girl died, the hapless family was unable to find space to carry out her last rites until noon despite approaching various quarters.
Finally, a person from the Hindu community provided a answer to their prayers by giving them a piece of land near the crematorium to carry out their daughter's last rites.
Talking to TOI, the girl's father Joginder said, "the district administration has failed to meet our demands. We have been trying to get a clean ground but no one is ready to address the issue. Today, a Hindu family came forward and provided some land near the crematorium. The farmer has to irrigate his field following his turn of getting canal water, nonetheless he offered his land. While the authorities have failed to resolve this long standing issue, a neighbour helped us this time. We want a permanent solution to the problem."
Village sarpanch Jaideep Singh said, "There are 16 castes staying in the village and all live in harmony and fraternal spirit. The continuous rain has led to waterlogging of the graveyard. I have deputed two persons to drain the water into a nearby field through pipes and will make an arrangement soon so that our Muslim families don't face any trouble in the village in future."
https://timesofindia.indiatimes.com/city/gurgaon/hindu-family-gives-land-for-13-yr-old-muslim-girls-burial/articleshowprint/76822973.cms
-----
The coronavirus lockdown prevented 1.85 million Indian women from getting an abortion
July 6, 2020
Sadhika Tiwari
In the first three months of the Covid-19 lockdown, March 25 to June 24, 47% of the estimated 3.9 million abortions that would have likely taken place in India in this span under normal circumstances were possibly compromised. This means that 1.85 million Indian women could not terminate an unwanted pregnancy, concluded a May 2020 modelling study conducted by the Ipas Development Foundation, India, a non-profit dedicated to preventing and managing unwanted pregnancies. Of these 1.85 million women, 80% or 1.5 million compromised abortions were due to the lack of availability of medical abortion drugs at pharmacy stores, the study found.
The estimation builds on data from telephone surveys of 509 public-sector facilities across eight states, 52 private-sector providers, expert opinion of members of the Federation of Obstetric and Gynaecological Societies of India, sales data on medical abortion drugs, and trend estimation by pharmaceutical industry experts.
Another 20%, or nearly 370,000 abortions, were compromised due to reduced access to facilities – 16% due to reduced access to private health facilities and 4% to public health facilities. Of the estimated 15.6 million abortions that happen in India annually, 73% are through drugs accessed outside facilities, 16% in private health facilities, 6% in public health facilities and 5% through traditional unsafe methods, according to a 2015 study published in The Lancet.
Lack of access to contraception is likely to result in millions of unintended pregnancies, unsafe abortions and maternal deaths and the government's family planning programme is also likely to take an up-to-20% hit, IndiaSpend had reported in May 2020.
Millions of women would have thereby been forced to either continue with an unwanted pregnancy or undergo a late-term or unsafe abortion. It is hence crucial to plan and ensure that sexual and reproductive health is embedded into the country's disaster management plan, Vinoj Manning, the chief executive officer of Ipas Development Foundation of India, tells IndiaSpend in this interview.
Manning is a member of numerous national task forces on contraception and abortion and part of a World Health Organisation expert group tasked with sharing guidelines for safe abortion. He has a post-graduate diploma in rural management and an MBA-plus leadership certificate from the School of Business, Portland State University, US.
Public health facilities were converted to Covid-19 care centres, limiting the availability of sexual and reproductive health [or SRH] services
Clinical staff occupied with the Covid-19 response may not have had time to provide services or may have lacked personal protective equipment to provide services safely
Private health facilities were either closed or limited their service provision due to provider unavailability, inadequate protective gear, or lack of mandatory Covid-19 testing arrangements
Temporary suspension of the provision of sterilisations and IUCDs in line with the Ministry of Health and Family Welfare's advisory till about mid-May, when revised guidelines were released. This meant that women were unable to use their preferred method of contraception especially if they needed long-term contraception.
attempting an abortion during the lockdown through safe or unsafe methods [there are chances she may attempt medical abortion pills from a chemist outlet or visit a backstreet provider]; or
waiting until the lockdown restrictions are relaxed and then undergo most probably a second-trimester abortion in a health facility [since it is likely that due to the lockdown she may have crossed the 12-week gestation limit of medical abortion].
Women who are unable to access contraceptives are likely to make decisions that may not be as per their preference – whether it be the continuation of their unintended pregnancy or second trimester or unsafe abortion. All of these are likely to have profound consequences for their overall health and well-being, including physical health since the unintended pregnancy may not ensure adequate spacing with the previous childbirth, as well as mental health [beyond the lockdown's own impact]. Unsafe abortion may lead to morbidities with long-term consequences on health and in the worst case, result in mortality among women.
There would be financial implications as she [or] her family may have to spend significantly more in seeking an abortion or in continuing with the pregnancy. In an environment of job loss and economic instability due to Covid-19, this could be detrimental to the well-being of the entire family, including young children, as nutrition, family dynamics etc are likely to be impacted.
Safe when they are done with a method recommended by WHO and if the person providing or supporting the abortion is trained. Such abortions can be done using tablets [medical abortion] or a simple outpatient procedure at a facility with required infrastructure.
Unsafe when a pregnancy is terminated either by persons lacking the necessary skills or in an environment that does not conform to minimal medical standards or both. This includes abortions provided by untrained persons [backstreet providers/ quacks/ dai] and that involve ingestion of traditional concoctions, caustic substances or use of dangerous methods such as insertion of foreign bodies etc.
Less safe when done through medical abortion drugs outside a health facility bought from a chemist with/without supervision. In India, it is estimated that about 73% of all abortions take place this way. It is important to note that the majority of these abortions result in successful outcomes and therefore WHO classifies these as "less safe".
There is no evidence of an increase in unsafe abortions during the lockdown though some media reports share anecdotal stories. Women who undergo an unsafe abortion may face complications such as incomplete abortion [failure to remove or expel all of the pregnancy tissue from the uterus], haemorrhage [heavy bleeding], infection, uterine perforation [caused when the uterus is pierced by a sharp object) or damage to the genital tract and internal organs by inserting dangerous objects such as sticks, knitting needles, or broken glass into the vagina or anus. These could lead to morbidities or result in mortality. Psychological impacts range from anger, anxiety or depression – further compounded by economic burden.
Logistical challenges: limited transport facilities; disrupted the supply chain and cross-border restrictions leading to stock-outs in chemist shops and/or health facilities
Health-system related issues: reliance on community-level distribution by field health workers [mainly ASHA workers] that got impacted due to Covid-19.
With Covid-19 screenings made mandatory for procedures and an increase in demand for abortions, will costs go up? If yes, what can be done to prevent unfair practices from further keeping women away from accessing abortion services?
Given that in usual times, 73% of abortions happen outside the facility using medical abortion drugs, the increased need for facility-based abortions will significantly increase the cost of abortions for women, particularly for second-trimester abortions. This includes facility-level costs for additional lab tests, admission in the hospital [second-trimester abortion typically requires admission in contrast to first trimester ones that are day-care or OPD procedures] in addition to Covid-19-related hospital costs. There will be higher out-of-pocket expenditure including travel cost as well as opportunity cost as women may be required to travel longer distances than they did earlier to access abortion services.
To improve women's access, it is important to conduct a rapid mapping of facilities [both public and private] to identify geographic distribution of those offering first or second-trimester abortion, followed by assessing facility preparedness and strengthening them to offer abortion services, especially second-trimester abortions. Capping of costs in private facilities as well as offering transport subsidies to women/families belonging to the poor socio-economic background are additional measures.
What should the government have done to ensure contraception/abortion access for women during the lockdown? What can be done if situations like these arise again?
We need to understand that the adverse outcomes from medical complications that resulted from lack of contraceptives and inadequate SRH services, including abortion, are very significant. It is hence crucial to plan and ensure that sexual and reproductive health should be embedded into the country's disaster management plan. This includes ensuring sustained availability of essential SRH services during a crisis situation, as well as being an integral part of the relief measures.
Comprehensive SRH services should continue during the crisis. For relevant consultations and follow-up, mobile clinics and telemedicine should be considered where feasible
Clear, consistent, and updated public health information should reach the community. We should reaffirm that medical complications outweigh the potential risk of transmission at health facilities and that women should continue to seek and receive care for all other essential SRH needs.
https://scroll.in/article/966566/the-coronavirus-lockdown-prevented-1-85-million-indian-women-from-getting-an-abortion
-------
Over 39,000 Complaints Received By Women Helpline In UP Sent For Action To District Police
06 July, 2020
Lucknow (Uttar Pradesh) [India], July 6 (ANI): Over 39,000 complaints received on Women power line (1090) in Uttar Pradesh since the beginning of this year have been sent to district police for action.
Information and Public Relations Department said in a release on Monday that 39,344 complaints received till May 31, which were linked to crimes, have been sent for action to police in various districts.
According to the release, ADG, Women Power Line, Neera Rawat said that 15,000 power agents have been appointed in the state under Power Agent Programme to create awareness against eve-teasing of students in schools and colleges and to take empower women.
http://www.businessworld.in/article/Over-39-000-complaints-received-by-women-helpline-in-UP-sent-for-action-to-district-police-/06-07-2020-294734/
------
UN Human Rights Council 44: statement on discrimination against women
6 July 2020
The United Kingdom commends the work of the Working Group on Discrimination Against Women and Girls on protecting women's human rights in the changing world of work. Addressing this issue is critical as societies respond to, and recover from, COVID-19.
When women have access to opportunities for economic participation, the benefits extend far beyond individual girls and women to societies and economies as a whole. Therefore, we must make women's economic empowerment and women's rights, including comprehensive sexual and reproductive health and rights, central to the global COVID-19 recovery.
Education is the key to unlocking economic growth and sustainable development. That is why we reaffirm our commitment to 12 years of quality education for every girl everywhere.
We welcome the Working Group's report which identifies barriers to the right of everyone to the enjoyment of just and favourable conditions of work such as the persistent gender pay gap – the UK upholds our commitment to equal pay for equal work. As we mark the 25th anniversary of the Beijing Declaration and Platform for Action, we must accelerate action to tackle these obstacles.
We would welcome advice from the Working Group on how Member States can best support their work to counter a global roll-back on women's rights.
https://www.gov.uk/government/speeches/un-human-rights-council-44-statement-for-interactive-dialogue-with-un-working-group-on-discrimination-against-women
-----
Equipping East African women digital entrepreneurs with skills to thrive
06 July 2020
A new UNCTAD eTrade for Women masterclass seeks to empower and build the skills of women digital entrepreneurs in the region as well as explore opportunities amid the COVID-19 crisis.
Advocates from UNCTAD's eTrade for Women initiative are working hard to ensure women digital entrepreneurs in the developing world are building both the network and resilience they need to thrive in the digital economy now and in a post-coronavirus context.
The first virtual masterclass for East African women digital entrepreneurs, to be held from 8 to 10 July, is well timed to advance this cause.
It brings together women founders of digital businesses from Kenya, Rwanda, Tanzania and Uganda, reflecting the dynamism and variety of the digital landscape in the region.
The women share the drive to acquire new skills, make a positive impact in their communities and help them recover better from the economic blow of COVID-19.
"We need to use this moment to ensure women, especially those in the developing world, have a seat at the table and are able to harness the digital gains," said Shamika N. Sirimanne, UNCTAD's technology and logistics director.
Following the first two in-person masterclass sessions in North Macedonia and Côte d'Ivoire, the masterclass for East Africa seeks to tap into and build on the digital momentum in the region.
Like much of Africa, the region has low internet penetration. According to the International Telecommunication Union, in 2019 only 28% of Africans used the internet.
Online shoppers are also relatively few. In sub-Saharan Africa, for example, Kenya, Mauritius, Namibia and South Africa are the only countries where the share of online shoppers exceeds 8%. In most other countries, it is below 5%.
Internet subscriptions and smartphones are relatively costly, contributing to the low rates of e-commerce in the region. Other factors include weak and unsupportive policy and regulatory frameworks.
However, with the coronavirus pandemic accelerating digital transformation globally, the window of opportunity offered by e-commerce is widening.
The three-day event targets established women digital entrepreneurs from selected East African countries and includes networking, learning and policy engagement sessions.
It will be hosted by eTrade for Women advocate for anglophone Africa, Clarisse Iribagiza from Rwanda, CEO and co-founder of HeHe Limited, in conjunction with eTrade for all partners, thanks to support from the Netherlands.
Emphasizing the role of the digital economy in promoting development, Ms. Iribagiza said small businesses need technology to level up.
"Small businesses create lots of jobs and help solve local problems," she said. "But they face many challenges such as high cost of production, lack of access to energy and poor infrastructure. Technology can help reduce their costs and enable them to operate more efficiently."
Ms. Iribagiza said the masterclass would help women digital entrepreneurs better harness the benefits of the digital transformation of their economies and societies.
The masterclass will tackle the entrepreneurs' most urgent business needs, from designing a value proposition canvas to rebooting business post-COVID-19 and going from local to regional markets, offering them practical solutions for their businesses.
Experienced trainers will lead sessions tailored to help the entrepreneurs thrive in the digital economy while operating more resilient businesses in times of crisis.
It includes a high-level policy dialogue on creating a vibrant digital economy in times of COVID-19, which will feature case studies and best practices from some East African countries.
The masterclass is one of the ways that UNCTAD is helping build communities of female digital entrepreneurs in developing countries, while advocating for an environment conducive to more inclusive digital policymaking.
The eTrade for Women initiative is supported by the Netherlands and Sweden in cooperation with eTrade for all partners.
https://unctad.org/en/pages/newsdetails.aspx?OriginalVersionID=2418
------
URL: https://www.newageislam.com/islam-women-feminism/how-brooklyn-artist-making-black/d/122310
New Age Islam, Islam Online, Islamic Website, African Muslim News, Arab World News, South Asia News, Indian Muslim News, World Muslim News, Women in Islam, Islamic Feminism, Arab Women, Women In Arab, Islamophobia in America, Muslim Women in West, Islam Women and Feminism