New Age Islam News Bureau
20 Dec 2017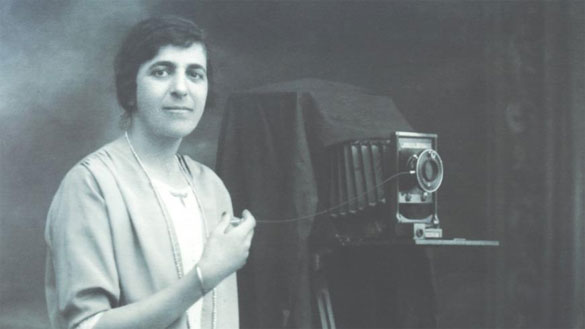 Karimeh Abbud was the first Palestinian and Arab female photographer to set up a commercial studio of her own. Posted Sept. 10, 2017. - Twitter/@7iber
---------
• Sindh Govt Increases Female Police Quota from 2pc to 5pc
• Arab Fashion Council opens Saudi office
• Jordan Pays Homage to Palestinian 'Lady Photographer' With Exhibit
• Women's March Leader Linda Sarsour Embroiled in Sex Abuse Cover up Scandal
• Find Out Why Designer Nasiba Hafiz Is Taking Saudi Fashion to New Heights
Compiled by New Age Islam News Bureau
URL: https://www.newageislam.com/islam-women-feminism/horrific-violence-child-bride-sends/d/113635
---------
Horrific Violence against Child Bride Sends Shock Waves across Afghanistan
By Khaama Press - Wed Dec 20 2017
New distressing reports have emerged regarding the violence against a child bride in Afghanistan sending shocking across the country as violence against women remain a critical issue in various remote parts of Afghanistan.
The child bride, Gul Hazar, who is now believed to be only 12-years-old now has disclosed the miseries she has faced since she got married.
Gul Hazar says she has faced various types of tortures from her in-laws family members who have on certain occasions attempted to murder her.
According to Gul Hazar, she was sent to the mountains by her father-in-law to collect fire wood and in return she was receiving the remaining foods of the dog of the family.
She disclosed the miseries she faced after she was brought to FerozKoh city, the provincial capital of Ghor province.
The signs of brutal torture can clearly be seen on the body parts of Gul Hazar including her hands with her close relatives saying up to 150 torture signs can be seen on her body.
A relative of the child Sakhidad says the in-laws of Gul Hazar have even tortured the girl sexually and on some occassions the father-in-law and mother-in-law of the girl have inserted sticks in her vagina.
The doctors in FerozKoh city have confirmed the girl has suffered tremendously from tortures which cannot be described in words.
In the meantime, the security officials in Ghor province are saying that the husband, father-in-law, and mtoher-in-law of the girl have been arrested.
The acting police chief of Dolina district BismiallahSediqi confirmed that the in-laws of the child have been arrested an investigation is underway from the detainees who have been shifted to FerozKoh city.
khaama.com/horrific-violence-against-child-bride-sends-shock-waves-across-afghanistan-04085
-------
Sindh Govt Increases Female Police Quota From 2pc To 5pc
December 20, 2017
The Government of Sindh has announced an increase in the quota of female personnel in the police force from 2 per cent to 5pc, a notification issued by the provincial Home Department said.
The move came in pursuance of a 2015 decision by the Sindh Service Tribunal which deals with matters relating to the terms and conditions of service of civil servants.
According to the decision, a 5pc quota is to be reserved for female personnel in each rank, which means the strength of female deputy superintendents in the police force would increase to 19, inspectors to 80 and sub-inspectors to 187.
The Sindh Police will also have 347 women assistant sub-inspectors, 579 head constables and 4,131 constables, the notification said.
The increase in female police officers in the province will considerably boost the dismal overall figures for policewomen in Pakistan, put at 5,731 by National Police Bureau (NPB) earlier this year.
dawn.com/news/1377769/sindh-govt-increases-female-police-quota-from-2pc-to-5pc
----------
Arab Fashion Council opens Saudi office
The non-profit Arab Fashion Council - which represents the 22 countries of the Arab League - has opened a regional office in Riyadh and appointed Princess Noura Bint Faisal Al Saud as honorary president.
It also selected businesswoman and financial investor Layla Issa Abuzaid as country director for Saudi Arabia.
According to the council, the opening of the office is in line with the kingdom's 2030 vision, which includes establishing a sustainable fashion infrastructure in the Arab World, and positioning the region as an important market in the international fashion scene.
"The kingdom of Saudi Arabia has always been recognised as one of the world's powerhouses of investment in talent. With a wealth in resources far beyond oil; the kingdom is rich in its people and their ambitions for the future," said founder and chief executive of the council, Jacob Abrian.
"The appointment of HH Princess Noura Bint Faisal Al Saud as its Honorary President and Ms. Layla Issa Abuzaid as Country Director for Saudi Arabia recognises the leadership of Arab Women in the region and marks the beginning of an exciting journey for fashion in Saudi Arabia," he added.
The Riyadh office will support both local design talent as well as international designers entering the region.
Princess Noura Bint Faisal Al Saud said the council's aim is to position the kingdom and the region on the international fashion map, and "to incubate the wealth of regional fashion talents in design, retail and business, and promote these talents internationally through building a sustainable, responsible and future-fit infrastructure for the Arab world," she said.
arabianbusiness.com/386092-arab-fashion-council-opens-saudi-office
----------
Jordan pays homage to Palestinian 'Lady Photographer' with exhibit
Marta Bellingreri December 19, 2017
In a neighborhood in Amman, a photography exhibition honors Karimeh Abbud, also known as the "Lady Photographer," who stood apart from her male contemporaries with her unique access to Palestinian women in their homes.
Twitter/@7iberKarimeh Abbud was the first Palestinian and Arab female photographer to set up a commercial studio of her own. Posted Sept. 10, 2017.
One legacy of photographer Karimeh Abbud lies in the unique way she captured daily life in the 1920s and 1930s. Known as the "Lady Photographer," she was the first known Palestinian or Arab women to have set up a photography studio catering to the public. Images depicting the lives and the era she saw through her lens are currently on view at Darat al Funun (House of the Arts) in the Jabal al-Webde neighborhood, in Amman. Self-titled, the show is the first comprehensive exhibition of photographs from the collection of Ahmad Mrowat that only came to light in 2006.
Abbud's photos are testimony to a slice of the 20th century, bearing witness to life in British Mandate Palestine and Lebanon. Unlike her contemporary male photographers, Abbud had access to the private lives of women. With such entree, she photographed Palestinian women from different classes inside their homes, some preferring traditional dress and others sporting more modern styles and occasionally professional attire, like a nurse's uniform. Along with capturing the character of the women photographed, Abbud's lens also recorded interior lifestyles of the time, secondarily documenting furniture and interior design.
"I was impressed by the details she brings to her pictures and her portrayal of various professions, leisure activities and family unity," Susan Ibrawesh, a visitor to the exhibition, told Al-Monitor. "We — as Jordanians of Palestinian origin — can imagine our grandparents' everyday life only through photos," she added, looking at the young athletes and the families Abbud photographed.
A regional and international center, Darat al Funun presents traveling and permanent exhibitions and organizes lectures and gallery talks, publications, conferences and film screenings. The center has a print and video library and offers fellowships, art residencies and exchanges.
Darat al Funun dedicated its 2017 program, Falastin al Hadara (Palestinian Civilization), to marking the centenary of the 1917 Balfour Declaration, 70 years since the 1947 United Nations resolution for the partition of Palestine, and 50 years since the 1967 Arab-Israeli war and occupation of the West Bank, Golan Heights and Gaza Strip.
"We organized 10 exhibitions on the art and culture of Palestine: early music, architecture, cinema, design and photography," Luma Hamdan, Darat al Funun's managing director, told Al-Monitor. "We also wanted to shed light on the modernism of pre-Nakba Palestine." The pioneering Abbud, indeed, symbolizes the modernity of the time.
Born in Bethlehem in 1893, Abbud came from a family that valued education for girls. She studied Arabic literature at the American University of Beirut, while her cousin, Shafika, studied medicine. According to Mrowat, Abbud came into possession of her first camera as a gift on her 17th birthday. She began working as a photographer in the 1920s, in her home, taking pictures of women and children and to commemorate special events, such as weddings and other ceremonies.
In 1932 in Al-Karmel, a local newspaper, she advertised herself as the "only national female photographer." She printed her photographs in postcard format, with "Lady Photographer" stamped on the back in Arabic and English, a branding strategy that would make a modern marketer smile. During her career, she would open studios in Nazareth, Bethlehem and Jerusalem.
Although Abbud was primarily known for her portraits, as Mrowat's collection attests, she also had an eye for social and geographical landscapes that she documented while traveling around pre-1948 Palestine. As the widely respected street photographer Josef Koudelka said at a public event during the Festival of Photography in Amman last April, "The pictures are not made with the hands, but also with the feet."
Abbud channeled modern documentary and freelance photographers, traveling around pre-1948 Palestine portraying life along the way, such as women working in the fields. In many of her social landscapes, it is possible to recognize her approach to photography as craft and art and the professional's quest for the best image through the use of composition and light.
Several female pioneers stand firmly behind the scenes of Abbud's first exhibition in Jordan. The space hosting Abbud's work, Darat al Funun, was founded by Soha Shoman, a patron of the arts in the region and an artist in her own right. Shoman began renovating the historical building housing Darat al Funun in the 1990s and opened it in 2013. Near the complex stands Darat al Tasweer, a center for the research and practice of photography in Amman, founded by Linda Khoury, another pioneer of the arts in the Arab world.
"Thanks to this exhibition, I learned that a Palestinian woman of that era got married at 35!" Ibrawesh told Al-Monitor, laughing about herself still being single and 32. "This is encouraging to me to continue my work, while still hoping to get married! I now consider the 'Lady Photographer' an inspirational figure for her time and for our generation as well."
The exhibition 'Karimeh Abbud' runs through Jan. 11, 2018.
al-monitor.com/pulse/originals/2017/12/lady-photographer-hightlights-pre-1948-life-in-palestine.html#ixzz51oW8seZY
----------
Women's March Leader Linda Sarsour Embroiled in Sex Abuse Cover up Scandal
December 19, 2017
Linda Sarsour, self-professed women's rights, and anti-Israel activist, is in the midst of yet another scandal. For our extensive coverage on Sarsour, see here.
According to an exclusive report in The Daily Caller, Sarsour was allegedly made aware of "groping and unwanted touching" perpetrated by male employees while serving as the executive director of the Arab American Association in 2009. Rather than act, Sarsour allegedly verbally attacked and threatened the victims.
Allegations of groping and unwanted touching were allegedly brought to Sarsour during her time as executive director of the Arab American Association. In response, Sarsour, a self-proclaimed champion of women, attacked the woman bringing the allegations, often threatening and body-shaming her, these sources alleged. The most serious allegations were dismissed, Asmi Fathelbab, the alleged victim told The Daily Caller, because the accused was a "good Muslim" who was "always at the Mosque."
"She oversaw an environment unsafe and abusive to women," said Fethelbab, a former employee at the Arab American Association. "Women who put [Sarsour] on a pedestal for women's rights and empowerment deserve to know how she really treats us."
Fathelbab is a 37-year-old New York native and was raised in a Muslim household. She was excited in 2009 to begin working at the Arab American Association of New York as a contractor. At the time, Sarsour was the executive director of the organization. Fathelbab worked for Sarsour for almost a year, according to employment documents reviewed and authenticated by TheDC.
Fathelbab claims the Arab American Association was an unsafe workplace where she was allegedly sexually assaulted, body-shamed and intimidated.
Oftentimes, Sarsour was directly involved, according to the ex-staffer's account.
The details are unsavory and uncomfortable. I'll leave them in the link in the event you'd like to read further, but Fathelbab claims Sarsour "threatened legal and professional damage if she went public with the sexual assault claims."
Sarsour has a history of maligning individuals who question her actions.
Following the accusations, Buzzfeed contacted Sarsour, in what appears to be an attempt to whitewash the allegations further. Instead, Buzzfeed's report raised more questions than it answered.
Sarsour didn't respond to DC's request for comment but told Buzzfeed "this is character assassination." Sarsour denied allegations she ignored claims of sexual harassment. Sarsour produced affidavits and office emails of proof, and Buzzfeed chatted with Fathelbab's coworkers, some of whom claim Fathelbab was the instigator.
But is that enough to exonerate Sarsour? Hardly.
Siraj Hashmi explains at the WaEX:
Majid Seif did live in the building that housed the Arab American Association, and often helped Fathelbab and AAA with Arabic translation or event planning. He denies any type of sexual misconduct with Fathelbab.
In an affidavit produced on Aug. 13, 2009, Sarsour defended Seif against the accusations Fathelbab was making and said it was she who was creating a hostile work environment. And, to Sarsour, the accusations that Fathelbab brought forward weren't as bad as what she told the Daily Caller.
"The exact words were, 'He makes me feel uncomfortable,'" Sarsour recalled, who also denied that she ever body-shamed Fathelbab by asserting she as too fat to be the object of harassment. "There was nothing about touching or groping. There's no evidence, no email she can pull out where she ever gave those claims to us."
…The problem with Sarsour's defense is that one BuzzFeed article doesn't absolve her of any wrongdoing. It's certainly possible that Fathelbab exaggerated her version of events or even didn't tell the entire truth, but that doesn't discredit the idea that she could've been sexually harassed or assaulted. An affidavit saying that Sarsour defended Seif actually proves Fathelbab right, in that she took his side over his accuser's.
And email correspondence proves nothing unless it is made public for everyone to decide. Witness statements are also only so good as to whether you believe their version of events. We believed everyone in Hollywood that people like Harvey Weinstein or Kevin Spacey weren't total dirtbags until all of their accusers started coming forward telling their stories.
Time and again, Sarsour has been accused of manipulating tragedy and misfortune for personal gain and profit. She's been called a 'fraud' publicly and never rebuts actual allegations, instead lashing out with personal attacks. Sadly, it looks like that's role she'll continue to play.
legalinsurrection.com/2017/12/womens-march-leader-linda-sarsour-embroiled-in-sex-abuse-cover-up-scandal/
----------
Find out why designer Nasiba Hafiz is taking Saudi fashion to new heights
Rawan Radwan | Published — Wednesday 20 December 2017
JEDDAH: Jeddah-based fashion designer Nasiba Hafiz is a rare gem in Saudi Arabia. Her bold prints, asymmetric designs, colorful motifs and minimalist approach have all combined to form the foundation of a fresh take on fashion in the country.
Gone are the days of excess colors, florals and sequins, fashion in the country has taken a more modern, simple and sophisticated turn — and some fashion insiders believe Hafiz is at the helm of the ship.
Arab News sat down with Hafiz in her wonderfully-eccentric living room, the walls of which were covered in an unconventional array of beautiful pictures and posters garnered from her travels abroad. Her avant-garde home is a reflection of her style, as well as her art-and-fashion-savvy family's influence.
"I design what I feel. It's a process that isn't easy, especially with the growing market, but I take into consideration what is missing here. You'll always find pieces suitable for the growing teen, the 20-something, the 30-something and even the 40-something that are looking to find comfortable, chic pieces for their wardrobe. I'm in tune with my designs and they reflect what I sense around me. I experiment with everything, I'll never restrict myself," Hafiz told Arab News.
Her take on fashion is a reminder that a designer's main purpose is to reflect their personal style in their creations.
"You lose your sense if you follow what clients want. Abayas and kaftans sell fast here but that's not what I want. I can play a small role in adding to this category in my own way with my Moroccan line and the 'Love' abayas, but that's about it. That's not what I can do. A good designer will not succumb to the pressure, you simply accommodate with the standards you've set for yourself. You have to find a balance and the best part of being a designer is having a good support base who look for your designs, who want to purchase them because they're different, because they're unique.
"If you're a slave to the industry then you're going to have to do what everyone wants you to do," she added.
She is a firm believer in making the best of what you have. Instead of relocating abroad to a country where the fashion design base is more established, she decided to stay, not only for family reasons, but also because she believes that local support is what will make designers strive. This has not stopped her from creating her own pop-up fashion displays in Tokyo, Los Angeles, Dubai and London, showcasing some of her lines, however. She has also had a number of collaborations with various designers throughout the years — a fun way to spice things up and create even more interesting garments.
One aspect of Hafiz's designs that is particularly interesting is the fact that she enlists the help of women tailors from non-profit center, Nesma Embroidery. The entity employs and trains Saudi Arabia-based women, many of whom have special needs requirements or are speech and hearing impaired. Their mission is to create a local industry that employs women in sewing and embroidery, something that Hafiz feels strongly about.
What makes Hafiz's collection fun is how exceptional each piece is — you can always find a garment to suit your current mood and spirit. The fabrics are light and versatile and have a feminine feel to them, making them wearable and easy to pair with other items of clothing.
Given that the interview took place in Hafiz's home, you can see how she became intrigued and interested in the world of home décor as well as fashion. She has a keen eye for detail and her home features some rare items. Her furniture is a representation of her eccentric style and love for vivid colors. From the black-and-white tiles to the iconic Martinique wallpaper depicting banana leaves, famously seen at the Beverly Hills Hotel, her Greek-Mediterranean style outdoor pool area and classic china coffee cups, everything is perfectly curated. There is a strong love and appreciation for vintage pieces apparent in both her fashion label as well as her home, but she has a special place in her heart for one particular type of home accessory.
"Home décor has been a hobby of mine for a long time and candles are significant to every home. They add a sense of calmness and spice to any home. A person's scent is one of their own and while perfumes are special, candles are, and have always been, a staple of any home. I want to continue creating home items and adding something of my own creation in people's homes, as well as their closets," she said of her homeware line.
Hafiz's taste in fashion and styling is a fresh, more laid back and easy style than what is typically found in Saudi Arabia. It takes a creative and innovative designer to go bold and break the rules, as well as bravery and lots of love to achieve and accomplish what this creative powerhouse has done with her fashion house.
arabnews.com/node/1211906/fashion
URL: https://www.newageislam.com/islam-women-feminism/horrific-violence-child-bride-sends/d/113635