New Age Islam News Bureau
22 Nov 2019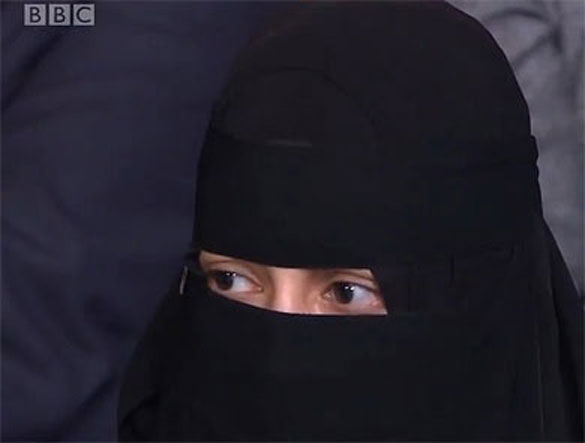 A veiled Muslin teacher tore into Boris Johnson on Question Time last night for his historic comments comparing burqa-wearers to letterboxes
------
• Horrific New Footage Emerges Of 38 Weeks Pregnant Woman Allegedly Assaulted At a Sydney Café
•'How can I put my faith in a leader who likens me to a letterbox?' Veiled Muslim woman blasts Boris Johnson on Question Time
• Jewish Family Hail 'Totally Amazing' Muslim Nanny as She Shares Story of Overcoming Prejudice
• Police Cite Andover Woman after Confrontation With Muslim Woman Wearing Hijab At Manchester Mall
• 'Hala': A Skateboarding American Muslim Teen Coming of Age, Female-Style
• The Painful Tragedy of A 13-Year-Old Muslim Girl Who Killed Herself Last Friday In Bangkok
Compiled By New Age Islam News Bureau
URL: https://www.newageislam.com/islam-women-feminism/horrific-new-footage-emerges-38/d/120336
------
Horrific New Footage Emerges Of 38 Weeks Pregnant Woman Allegedly Assaulted At a Sydney Cafe
21 November 2019
Horrifying new footage has emerged showing a heavily pregnant woman being repeatedly punched and then stomped on at a Sydney cafe.
The 31-year-old woman, who is 38 weeks pregnant, was with friends at Bay Vista cafe on Church Street, Parramatta, at 10.30pm on Wednesday when she was set upon by a man.
Police allege that man is Stipe Lozina, 43, who has been refused bail after being charged with affray and assault occasioning actual bodily harm.
Shocking CCTV footage beamed around Australia on Thursday allegedly showed Lozina lean over the table of women before unleashing a flurry of punches.
Daily Mail Australia can now reveal a different angle shows the alleged attack in even more frightening detail from the other side of the cafe.
He then allegedly stomped on the head of the woman as she cowered next to the table.
Police allege CCTV footage shows one of the woman's friends using a chair to hit the man, causing him to stumble, before other patrons restrained him and walked him out of the cafe.
The woman did not know her alleged attacker, but he was known to police.
The woman spoke to The Daily Telegraph through a Muslim community leader, saying she was 'very fragile' and still in shock.
'He just screamed at me saying "Muslims raped my mum",' she said.
The alleged victim's husband told the paper his wife 'hardly ever goes out'.
'But when her friends invited her for a coffee, I told her to go and that I would look after the kids,' he said.
Lozina appeared without legal representation at Parramatta Local Court on Thursday as he applied unsuccessfully for bail. He will remain behind bars until at least next month.
Magistrate Tim Keady told Lozina in court: 'After making a comment about Muslims, you approached her and punched her to the head 14 times. For bail purposes I will treat that as a very strong case against you.'
The man was known to police and had an 'extensive criminal record', the magistrate said.
The accused asked for the case to be adjourned to a date when he had another matter due to be heard in court.
Lozina was refused bail to next appear on December 5.
'Our police investigation at this stage is still in its infancy but the assault would appear to be completely random and unprovoked.'
Insp Sywenkyj said he wanted to personally commend members of the community for coming to the woman's defence.
'If it was not for the brave actions of all these members of the community in stopping the assault the victim may very well have sustained much more serious injuries.'
https://www.dailymail.co.uk/news/article-7710689/New-footage-emerges-moment-heavily-pregnant-woman-brutally-bashed-Sydney-cafe.html
------
'How can I put my faith in a leader who likens me to a letterbox?' Veiled Muslim woman blasts Boris Johnson on Question Time
22 November 2019
A veiled Muslin teacher tore into Boris Johnson on Question Time last night for his historic comments comparing burqa-wearers to letterboxes.
It came after Housing Secretary Robert Jenrick took aim at Jeremy Corbyn for denying Labour had a crisis of anti-Semitism in Tuesday's ITV debate.
The female audience member accused the senior Tory of hypocrisy before launching into a stinging attack against the Prime Minister, who made the controversial remarks in a newspaper column last year.
Addressing the Bolton audience, she said: 'When you look at me what do you think? You think of a letterbox, because that's exactly what he said in an article.
A veiled Muslin teacher tore into Boris Johnson on Question Time last night for his historic comments comparing burqa-wearers to letterboxes
'He mentioned women like me who wear the burqa alongside people who wear balaclavas. I'm an English teacher. You see me as oppressed, you see me as someone who probably doesn't speak English because she's got a veil on her face.
'I've got a degree in English. I teach my pupils about politics, about mutual respect, tolerance, all the brilliant fundamental British values.
'But how can I put my faith in a leader when that same leader likens me to a letterbox?
Pockets of the audience burst into applause in response to her comments, with one even shouting 'you're a human being!'.
She also referenced the calls from former Conservative chair Baroness Warsi for the party to have an internal review on Islamophobia, accused Mr Johnson of failing to act.
Mr Jenrick staunchly defended his party for stamping out any form of racism, and said Conservatives respect her right to where what she likes.
Mr Johnson sparked fury last year after making the 'letterbox' comparison in his then weekly newspaper column.
Also likening veiled woman to 'bank robbers', he said that the burqa was a symbol of oppression.
And he hit out at male oppressive regimes around the world who force their female populations to adopt them.
Mr Johnson wrote: 'If you tell me that the burka is oppressive, then I am with you.
'If you say that it is weird and bullying to expect women to cover their faces, then I totally agree – and I would add that I can find no scriptural authority for the practice in the Koran.'
He added: 'If a female student turned up at school or at a university lecture looking like a bank robber then ditto: those in authority should be allowed to converse openly with those that they are being asked to instruct.'
https://www.dailymail.co.uk/news/article-7713849/Veiled-Muslim-woman-blasts-Boris-Johnson-letterbox-comments-Question-Time.html
------
Jewish Family Hail 'Totally Amazing' Muslim Nanny as She Shares Story of Overcoming Prejudice
NAOMI ACKERMAN
A Muslim student who overcame prejudice working as a nanny for a London-based Jewish family is sharing her story to inspire others "at a time when there is a lot of bad stuff in the news".
Student Leyla Ridha, 23, moved to London from the Middle East aged 16, having been taught as a child to be suspicious of Jewish people.
Her family settled in Barnet, and last September the Birkbeck University journalism student took a part-time nannying job for a family in the area.
The Grossman family and their three young children, who live in Cricklewood, are Jewish and ended up changing the student's perspective "overnight" as they forged a special relationship.
Today, Ms Ridha is a familiar face picking up Marley, five, and Bela, three, from after-school Judaism classes (Cheder) and Friday is "even more special as I pray at noon in the mosque, and pray Shabbat in the evening with the children at dinner".
Ms Ridha has even inspired Marley to want to learn about Islam and try on her nanny's headscarf.
She told the Standard: "I realised I was literally brainwashed to fear them [Jewish people], and literally misunderstood who they are.
"I thought my experiences need to be out there, someone needs to hear this stuff.
"In my culture it is a taboo to go and be a nanny in another man's home, and also they were Jewish, it was a big thing.
"I love the family. They don't treat me like 'hey you work for us', sometimes I'm just sitting downstairs with the baby watching Spongebob. We have a great time together."
City lawyer Tara Grossman, 35, said she thinks the student is "totally amazing".
She said: "Just reading it [the blog post] I feel really proud, really proud of her. She's just totally amazing, she really is. It was just lucky that we found each other. It wasn't until I read it though that I thought how unusual the whole relationship really is.
"When we met Leyla, as a person she came across as so capable and so friendly, and we just offered her the job straight away.
"My daughter Marley and Leyla talk about religion, and they learn so much. We have Friday night dinner and do the bread and the candles, and she'll come and sit with us, and I just find it so touching because there's so much hatred out there.
"Last Chanukah, Leyla got presents for each day of Chanukah for the kids, even though we do Christmas presents for them. I was pregnant at the time and it just blew me away.
"It's just so nice that we can have a relationship and be friends and family, and I think it's really special. I would love her message to get out."
This week Ms Ridha wrote a blog post for London-based platform The Muslim Vibe, stating: "If someone had told me just a few years ago that I, a Muslim student from Kuwait, would end up working for a Jewish family as their nanny, I'd never have believed them.
"Working with a Jewish family has allowed me to grow as a person, and I also believe I've helped the family grow too by looking at Islam from a new perspective. My understanding of the Jewish faith is something I now see as a privilege – a privilege many in the Middle East don't have. It's funny to think that it is accepting that job as a nanny that gave me all of this."
A spokesperson for site said: "We hoped that by sharing one woman's beautiful journey of multi-culturalism, we could help foster a commitment from the wider community to tackle racism, Islamophobia, and anti-Semitism."
Ms Ridha found the nanny role through Koru Kids, a platform matching working parents with flexible, part-time nannies for after-school hours, whose staff encouraged the student to share her story.
Founder and CEO Rachel Carrell, said: "I loved this story because it's just such a great example of the way two cultures can be bridged... People are so desperate for good news at the moment and so that's why I think it's struck a chord."
https://www.standard.co.uk/news/london/jewish-family-hail-totally-amazing-muslim-nanny-as-she-shares-story-of-overcoming-prejudice-a4292231.html
------
Police cite Andover woman after confrontation with Muslim woman wearing hijab at Manchester mall
By JESSE LEAVENWORTH
NOV 20, 2019
An Andover woman who allegedly berated a Muslim woman for wearing a traditional head scarf was cited for causing a public disturbance, police said Wednesday.
Kristen Hitchcock, 49, was issued a ticket for the infraction, police spokesman Lt. Ryan Shea said. Hitchcock could not be reached.
The incident happened on Monday night in the Macy's department store at the Shoppes at Buckland Hills. Video circulating on social media shows a woman police identified as Hitchcock telling a woman and her daughters that Muslim women's husbands "are making you wear a head wrap." One of the women complained to police.
Shea said the complaint and witness accounts matched the video, but the confrontation did not rise to the level of a hate crime.
"Certainly it was disturbing to the victim in terms of the interaction with this woman and the basis of her statements," he said. "However, it wasn't threatening in nature. It wasn't violent in nature."
Inaam Khan, who said he is the son and brother of the targeted victims, wrote in a Facebook post accompanying the video, "This is clear, blatant racism right here in Manchester, CT, a town that I've called home for over 20 years." Khan said one of his sisters recorded the confrontation; he was not present.
The Council on American-Islamic Relations Connecticut (CAIR-CT) applauded the police action, but Executive Director Tark Richard Aouadi also urged "consideration of further charges based on the alleged bias motive for this individual's bigoted actions."
Jesse Leavenworth can be reached at jleavenworth@courant.com
https://www.courant.com/community/manchester/hc-news-manchester-cited-for-alleged-bigotry-20191120-z5kvubmnrzhxrm2oexhgpco5lm-story.html
------
'Hala': A Skateboarding American Muslim Teen Coming of Age, Female-Style
Geraldine Viswanathan in 'Hala.'
A coming-of-age tale, a compelling directorial debut, and a slight corrective regarding both teen movies and the American Muslim experience, writer-director Minhal Baig's Hala opens with the sound of du'a voiced over a shot of an empty room. Then it introduces its title character (played by Blockers' standout Geraldine Viswanathan) taking a bath and in the middle of a very intimate physical moment. A knock on the door interrupts her endeavor — her mother wants to know why she missed morning prayers — and boom, the thrill is gone.
The juxtaposition isn't meant to be shocking, or titillating, or even particularly in-your-face subversive. Rather, the movie wants to quickly give you a sense of the internal tug-of-war its heroine is dealing with as she navigates the already fraught terrain of teendom. Hala is devout, bonds with her lawyer dad over crossword puzzles (Mom is a different, far more contentious story), wears a hijab to gym class, and knows that her Pakistani parents expect her to marry "a good Muslim man." She also loves skateboarding, wants to be a writer, and is seriously lusting after the lean blond boy (Jack Kilmer) in her English lit class. It's her first-generation family's traditionalism versus follow-your-bliss freedom, the spiritual versus the carnal. It's a typical portrait of that transitional moment between childhood and adulthood, and when the burden of expectations butts up against a future that could be yours to shape as you wish.
And while male coming-of-age movies still far outweigh their female counterparts — a gap that Hala helps move one inch closer to being bridged — it's also a tale we've heard several times before, and one that you can't help anticipating which curves to lean into and when. There's the ecstasy of young love and the agony of bad, though, thankfully, not horrifically traumatic first sex. Innocence is lost in various ways, from the revelation of a moral hero as a hypocrite to a domino effect of poor decisions that results in a catastrophic consequence. The background sound of a radio news report on American immigrants works as a subtle indication of the less-than-ideal world Hala lives in while dealing with hormones and growing pains. A character name-checking Nabokov and then later having that reference take on a certain irony, however, is a reminder that just because something is clever, it doesn't mean it necessarily works.
What makes Hala feel like a cut above other I Guess This Is Growing Up 101 movies, however, are the two women at the center of it. The Chicago-born Baig has already distinguished herself via her shorts (including the 2016 one that served as a trial run for this story); she was part of the original writing team behind Hulu's groundbreaking Ramy and penned one of its best episodes, about a drug experiment gone awry. She's gone on record as saying her feature debut is drawn from her own teen years, and there's a sense that you're watching someone translate their specific personal experience into something universal in the best possible way. Baig knows how to use a camera to make small moments feel significant or earthshaking; watch how she slowly reframes Hala and her dad during a shift in their conversation (and later gingerly follows her lead during a seriously bad move). It's an understanding of how to use the medium expressively without being bells-and-whistles showy. It's the mark of someone who knows how form connects with content.
And then there's Viswanathan, the young Australian actor who's already proven to be a clutch ensemble player (Blockers, the upcoming Bad Education), and someone with killer deadpan-comic timing (the TBS series Miracle Workers). The way she deftly moves through Hala's emotional register and mood swings — a hodgepodge of longing, anger, excitement, frustration, disappointment, and run-of-the-mill adolescent mortification — sells this young woman as more than a vessel for a filmmaker's former inner monologues. She can deploy a wide-eyed reaction shot for any number of occasions. No one has ever chomped down on a non-Halal cheeseburger and communicated rebellious, reckless abandon so wonderfully. Baig could not have asked for a finer avatar to smooth out the narrative bumps, and their dual portrait of a young lady on the verge of independence feels like more than just a journal entry made manifest. It's a quietly radical take on the art of finding one's voice, playing out both in front of and behind the lens.
https://www.rollingstone.com/movies/movie-reviews/hala-movie-review-913931/
------
The painful tragedy of a 13-year-old Muslim girl who killed herself last Friday in Bangkok
November 20, 2019
Thai police on Monday sought the arrest of two twenty-something hoodlums who incarcerated a 13-year old girl and sexually assaulted her last week at a shelter in the centre of Bangkok. Late on Friday night, the Muslim girl became distressed in front of her mother over the traumatic events and ran out of the family apartment in Suang Luang to the top of the building where she later committed suicide by throwing herself off a 12th-floor balcony.
Last Friday, a 13-year-old Muslim girl took her life in Bangkok's Ramkhamhaeng area after a scene developed with her mother where the girl sank into an emotional state. The young girl jumped from the 12th floor of the apartment building where she lived.
Her street name was 'Pinkie' and sometime in the week prior, she had been illegally held at the house in the centre of Bangkok at a riverside property Klong Than by between 5 and 6 men.
Sexually assaulted by a gang of young men
The young girl had been sexually assaulted by the gang of young men. Press reports suggest that she may have been raped on the night of Loi Krathong. There are also reports that she may have been pregnant. This was based on information given to Police Lieutenant Paiboon Kaewmane of Huan Mak police station by friends. Police have stressed that this was not confirmed by medical tests.
Mother had tried to calm the girl down before she ran off to take her own life
The mother of the girl, a beautician, had been trying to comfort her daughter in the aftermath of her nightmarish experience after having being held for an extended period by the young men.
Her mother said she was crying uncontrollably and hugging her body. She would not specify the reason for her distress.
Her mother could only try to coax her into taking medication prescribed by the hospital she was taken to by police following her rescue 2 or 3 days earlier for a physical examination.
After the girl's death, her grieving mother revealed her story to investigating police
In the aftermath of the tragedy, which occurred sometime after midnight on Friday, the girl's mother revealed the full extent of her daughter's ordeal to police.
A local neighbour named as 48-year-old Benjanee Lertsangangarm said early on Saturday morning that the girl has suffered a mental breakdown in front of her mother which prompted her to run from her 6th floor home to the top of the building.
Heart piercing final message to a friend
There the young girl took some time to say goodbye to her friend named as 'Nat' with a text message and a photo of her sitting on the edge of the balcony from where she would later jump. The message was sent at 11.55 pm and said: 'I have gone, I love you.'
Mother realised the danger later and ran after the girl, she was too late to save her daughter
Her mother told police that she had belatedly realised how upset and depressed her daughter was and ran upstairs in pursuit of her sometime after. She later recalled that as he came onto to the top floor, she saw her daughter about to jump and tried to stop her but she was too late. This is believed to have occurred at 12.30 am.
Two suspects arrested the day the young girl was rescued from a canal house in Bangkok
Police of Klong Than station had come to the young girl's rescue last week and in the process arrested two suspects at the central Bangkok riverside location. The girl was taken by the police and sent for physical forensic examination following her ordeal.
Cries of anguish last Saturday
On Saturday, at the Police General Hospital, there were anguished scenes which touched both reporters and police when the distraught mother saw her daughter's body being rolled out.
She grasped her daughter's body and hugged her while crying. The woman was in a disconsolate state.
Afterwards, she told reporters that she was taking the girl's body to the Khlong Than Mosque to follow Islamic funeral rites.
Mother and daughter had lived alone in the Suan Luang area of central Bangkok
The woman and her 13-year-old had lived alone in the Suan Luang area in central Bangkok. The young girl had been involved in a number of incidents in the months before being held by the gang of young men
Initially, police had received reports that the young 13-year-old herself was involved in drugs but set about over last weekend investigating the story told by the young girl's mother using CCTV and intelligence at their disposal.
Arrest warrants for two men, one in custody
On Monday morning, the police had enough information to seek arrest warrants for two men thought to have been involved in the false imprisonment of young Pinkie at the house last week from where she was earlier released by local police.
A criminal court in Bangkok issued arrest warrants for 24-year-old Kittiyapong Boonthanad and 25-year-old Anont Doroseh. Both men were sought on charges of illegally detaining another person and the sexual assault of a minor.
Police already had Mr Kittiyapong at Klong Than police station on a charge of legal possession of a firearm. A police alert is out for his partner in crime 25-year-old Anont Doroseh.
Scourge of criminality in central Bangkok driven by drugs and alcohol abuse
The story highlights the scourge of drug and alcohol abuse in Bangkok and its links with criminality which knows no boundaries of decency.
Depraved child prostitution gang smashed in September, men who used children and girlfriends
In September, armed police in the Hua Lamphong area smashed a gang of criminals running a child prostitution racket from a hotel in the area.
The gang were also prostituting their girlfriends and spending the proceeds if their sordid criminal activities feeding their drug habits.
It also throws light on traditional macho culture in Thai society which is very prevalent among younger Thai men but most especially when corrupted by drug-driven criminality.
Thai police force needs more female officers
The story also highlights the need in Thailand for female police officers.
This year, Thai police authorities suspended the training of women as police officers through its main police academy after first enrolling women into force at the facility in 2009 and recruiting over 700 officers some of whom have been promoted to responsible positions.
Overall, just over 8% of Thai police officers are women accounting for over 18,000 officers from a police force of over 210,000.
Women can join the force with a bachelors degree
Under Thai law, a female police officer is required to investigate allegations of sexual abuse and assault.
Rights activists have argued that this year's decision will limit the numbers of female officers entering the force.
Women in Thailand can still join the ranks of the Royal Thai Police Force by first of all obtaining a bachelor's degree and then, once accepted, entering a special 6-month training course.
Further reading:
Child prostitution gang that ran a sex racket that terrorised children smashed by armed police
Thai teens are luring their peers into prostitution through social networks in a new internet trend
Thai police raid a sex for sale hotel in Loei province staffed by Laotian women working as prostitutes
https://www.thaiexaminer.com/thai-news-foreigners/2019/11/20/muslim-thai-girl-tragedy-bangkok-mother-daughter-suan-luang-police-arrests/
------
URL: https://www.newageislam.com/islam-women-feminism/horrific-new-footage-emerges-38/d/120336
New Age Islam, Islam Online, Islamic Website, African Muslim News, Arab World News, South Asia News, Indian Muslim News, World Muslim News, Women in Islam, Islamic Feminism, Arab Women, Women In Arab, Islamophobia in America, Muslim Women in West, Islam Women and Feminism