New Age Islam News Bureau
18 Oct 2016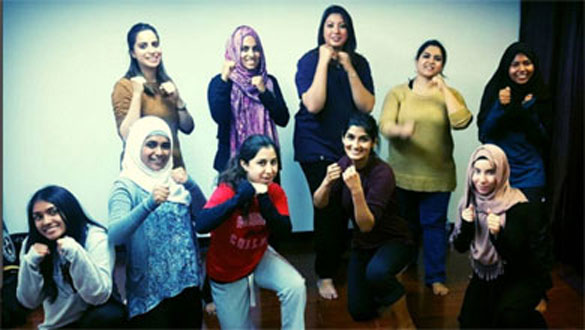 Nafiza Aziz says she and Ryhana Dawood have opened the self-defence classes to girls as young as eight. (Martial Smarts/Instagram)
--------
• Indonesia Publicly Canes Young Woman for Breaking Islamic Law
• Women's Entry to Haji Ali Inner Sanctum to Begin Soon: Report
• Toronto Muslim Women Take a Stand against Hate with Martial Arts Training
• Muslim actresses in Hindu India are a hit
• A Refugee Becomes Somalia's First Female Presidential Candidate
• Muslim Girl Who Was Once sentenced to 40 lashes For Wearing a Miniskirt Is Now a Bikini Designer
• Aligarh Muslim University's female students stand against discriminatory hostel rules
Compiled by New Age Islam News Bureau
URL: https://newageislam.com/islam-women-feminism/'honour'-killing-pakistani-accused-walks/d/108892
----
'Honour' Killing Pakistani Accused Walks Free After Pardoning Self and His Accomplices
October 18, 2016
Lahore: A Pakistani man charged with 'honour' killing his daughter was acquitted by a court recently after he pardoned himself and his accomplices.
This comes even as the Pakistani Parliament recently passed the Anti-Honour Killing Laws (Criminal Amendment Bill) 2015, which calls for strict punishment for an honour crime convict even if a family member pardons him, reports the Express Tribune.
According to the new law, the judges are supposed to sentence an honour crime convict to life imprisonment whether the victim's immediate family pardons him or not.
However, critics say the law still considers honour crime as a compoundable offence, where the complainant enters into a compromise and agrees to have the charges dropped against the accused.
While recording his statement in the court, the accused, Faqeer Muhammad, not only pardoned himself but also his son Muhammad Illyas and nephew Muhammad Tahir, who were his accomplices in the crime.
Muhammad said in his statement, "I have forgiven the accused persons in the name of Almighty Allah, and have no objection to their acquittal. I also waive my right of Qisas (retribution) and Diyat (blood money)."
Muhammad shot dead his daughter and her alleged lover, Ghulam Abbas, in 2014.
Abbas' mother Azmat Bibi named the three accused in the FIR which she registered under Section 173. Later, the complainant moved an application, requesting that the court make the offence (the murder of her son) compoundable under Section 345 of the CrPC.
The court allowed the application after which Azmat Bibi and her second son Waqas Ali pardoned the accused, pleading that they had no objection to their acquittal.
http://www.siasat.com/news/lahore-honour-killing-accused-walks-free-pardoning-self-1044170/
--
Indonesia Publicly Canes Young Woman for Breaking Islamic Law
October 18, 2016
BANDA ACEH, INDONESIA, Oct18: A young woman screamed in pain as she was caned Monday in front of a jeering crowd in Indonesia's Aceh, the latest person to be punished for breaking the province's strict Islamic laws.
Aceh is the only province in the world's most populous Muslim-majority country that imposes sharia law. People can face floggings for a range of offences — from gambling, to drinking alcohol, to gay sex.
The woman was among 13 people — seven men and six women aged between 21 and 30 — who were caned Monday at a mosque in the provincial capital Banda Aceh, as a baying crowd cheered the spectacle.
Six couples were found guilty of breaking Islamic laws that ban intimacy, such as touching, hugging and kissing, between unmarried people.
A man was caned for a less serious offence described as spending time with a member of the opposite sex in a hidden location in a fashion that could lead to adultery.
One 22-year-old woman due to be flogged was given a temporary reprieve as she was pregnant — but Aceh Deputy Mayor Zainal Arifin pledged: "The punishment will be handed down after she gives birth."
The official added that he hoped the canings would serve as a deterrent: "We hope there are no more people in Banda Aceh who break the law in future."
More and more people are being caned in Aceh, with a particular increase in recent times in the number of women being flogged.
Aceh, on Sumatra island, began implementing sharia law after being granted special autonomy in 2001, an attempt by the central government in Jakarta to quell a long-running separatist insurgency.
Islamic laws have been strengthened since the province struck a peace deal with the central government in 2005.
More than 90 percent of Indonesians describe themselves as Muslim, but the vast majority practise a moderate form of the faith.
http://www.indialivetoday.com/indonesia-publicly-canes-young-woman-breaking-islamic-law/47444.html
--
Women's Entry to Haji Ali Inner Sanctum to Begin Soon: Report
18/10/2016
NEW DELHI -- The Haji Ali Dargah committee will devise a plan for allowing women into the sanctum sanctorum of the mosque, which houses Muslim Saint Pir Haji Ali Shah Bukhari's tomb, reported The Times of India.
"The Dargah management will devise the mode and method for allowing women into the inner sanctum," senior advocate Gopal Subramanium, who is appearing for the dargah committee, told TOI. The details are yet to be worked out.
According to the report, Subramanium informed the Supreme Court bench, headed by Chief Justice T S Thakur, that he had been able to convince the management of the apex court's "earnest desire" for a progressive and secular stance.
Earlier this year, Bombay high court had ruled that women can enter the inner sanctum of the mosque, following which the Haji Ali Dargah Trust filed an appeal in the Supreme Court, challenging the high court judgement. The apex court on 17 October stayed women's entry into the mosque after the dargah management promised to come up with a progressive stand in two weeks.
http://www.huffingtonpost.in/2016/10/18/womens-entry-to-haji-ali-inner-sanctum-to-begin-soon-report/
--
Toronto Muslim Women Take A Stand Against Hate With Martial Arts Training
Oct 18, 2016
​Nafiza Aziz is nervous again.
It's been almost a year since her friend Sundus Ali, also a Muslim woman, was told she "should be raped" and go back to her "own country" on a Toronto transit bus.
Now, a wave of anti-Muslim rhetoric south of the border and a string of incidents in Canada have her once again feeling anxious about her safety as a Muslim woman, once again wondering if she might be the target of an assault.
This time, though, she's taking matters into her own hands, transforming her Mississauga "Islamic lifestyle" boutique, Modah, into a hub for Muslim women's empowerment, with the help of a hijab-wearing martial artist with black belts in karate and taekwondo.
"I haven't been attacked, but I feel that it might be something that could happen any moment now," Aziz told CBC News. She's worried that the language of Donald Trump's campaign will make anti-Muslim sentiment acceptable here at home.
It's not far-fetched, Aziz says.
Just two weeks ago, a series of hate posters targeting Muslims was plastered around the campus of the University of Calgary. A few days later, Islamophobic flyers were anonymously distributed in a southeast Edmonton neighbourhood, prompting a police investigation. This past Friday, a northwest Calgary mosque was vandalized overnight.
And south of the border, three Kansas men were charged last week with conspiring to bomb an apartment complex that is home to many Somali immigrants.
Anti-Muslim bigotry is no surprise to Ali.
"This happens in our community on a daily basis. It happens to a lot of people who are afraid to come forward," Ali told CBC News. She worries the heated rhetoric, specifically Trump's earlier call to ban Muslims from the U.S., could have repercussions in Canada.
"This is a man who has an incredible amount of power standing on probably one of the biggest stages in the world making heinous comments about Muslim women and women in general."
That's in part why she says the need for self-defence classes like those at Modah is very real.
"I feel like we almost wait for things to get really bad and then we respond to it. And we just can't let it get to that point."
'Get big and get loud'
Instructor Ryhana Dawood agrees. The 28-year-old has been teaching self-defence to Muslim women at mosques across the Greater Toronto Area over the past eight years, but says demand has increased considerably over the past year.
'At the end of the day your voice is your strongest weapon, no matter what situation you're in.'
- Martial artist Ryhana Dawood
"A lot of women feel unsafe.… I think a majority of women face issues of sexual assault and sexual harassment," she says.
"But this added pressure and this added fear that's heaped onto them with how Muslims are being treated lately has been making a lot of women want to come out to these sessions."
Aziz says she knows of two other instructors in the Greater Toronto Area also offering martial arts training to Muslim women, including one at Umma Martial Arts based largely in Etobicoke and Scarborough and at Wen-Do Women's Self Defence in Toronto.
Ryhana Dawood
Ryhana Dawood has been teaching self-defence to Muslim women at mosques across the Greater Toronto Area over the past eight years, but says demand has increased considerably over the past year. (CBC)
One of Dawood's biggest messages to women she teaches is: "Get big and get loud."
"You don't need to be the strongest person, you don't need to be the tallest person, you just use the strength that you have individually."
Dawood says she often begins her classes by asking her students what they think their strongest weapon is.
"It's interesting because none of them ever say, 'Your voice.' But at the end of the day your voice is your strongest weapon, no matter what situation you're in."
'I don't think you can sugar-coat it'
That's a message Aziz feels not only Muslim women her age need to know, but one she wants her own daughter to learn as well.
Nafiza Aziz
Aziz, owner of Modah, an 'Islamic lifestyle' shop in Mississauga, Ont., says she decided to offer self-defence classes at her store because she felt growing anti-Muslim rhetoric in the U.S. could have consequences here at home. (CBC)
"You wouldn't want your child to think that somebody can come up to them and just attack them out of the blue." But knowing what happened to her friend, Aziz says, the possibility is very real. "I don't think you can sugar-coat it."
That's why she and Dawood have opened the classes to girls as young as eight.
The value of that preparation is perhaps clearer to no one more than Ali herself.
When she was sworn at on the bus back in December, what surprised Ali most was that no one seemed willing to speak up for her.
"No one felt the need to say anything or step in and take a stand.… So if no one is going to be there and support you, you need to handle the situation somewhat on your own."
http://www.cbc.ca/news/canada/toronto/muslim-women-self-defence-1.3807270
--
Muslim Actresses in Hindu India Are a Hit
18 October 2016
The Indian film industry rivals Hollywood and produces the most films in the world. It commands a global presence among the Indian diaspora which is spread around the globe.
A peculiarity of Indian cinema is the preponderance of Muslims in all walks of filmmaking. From direction to music and acting Muslims dominate the industry though they form only 15% of the Indian population. Right from its inception Muslim heroines have dominated Bollywood.
Muslim actresses
The yesterday stars like Madhubala, Nargis, Nimmi and Suraiya have been the heartthrobs of Hindu men. Madhubala almost made it to Hollywood but was stopped by her father. Another aspect is the shedding of conservative Muslim values like the Burkha and covering the body. One can recollect the Muslim heroine Saira Banu setting the screen ablaze in a tight swimwear in the film "April Fool".
The top stars were not confined to women but Dilip Kumar (Yusuf Khan) was the top Bollywood male hero. He was also an actor with a different dimension. This trend has continued and today the top female superstar is Katrina Kaif. She dons the bikini with aplomb and none of the Muslim conservatism is for her. The top heroes among the males are the famous 3 Khan's, Shahrukh, Salman Khan and Aamir Khan who are the ruling superstars.
Many people have wondered how the Muslim girls in India have shed the rigidity of Islamic dress to become symbols of a woman's sex appeal. Another top actress Shaban Azmi was not averse to doing unconventional roles. Zeenat Aman donned a bikini in "Qurbani".
Muslims dominate Bollywood
One wonders where all the Muslim clerics have gone when Katrina wears a bikini and kisses her hero on screen. This is a good sign and augers well for Islam. The Muslim actresses are also popular in the Middle East where Hindi films outscore Hollywood.
In other fields, Muslim producers and directors have also carved a niche for themselves and the legendary Mehboob Khan remains one of the top producer-directors ever of Bollywood. In the meantime let's drink a toast to Muslim women who as film stars have enlivened the lives of millions all over the world and are the heartthrob of Hindu India #Movies
http://us.blastingnews.com/showbiz-tv/2016/10/muslim-actresses-in-hindu-india-are-a-hit-001190309.html
--
A Refugee Becomes Somalia's First Female Presidential Candidate
October 12, 2016
Leyla Hussein, a Somali psychotherapist and social activist, interviewed for the Guardian Somalia's first female presidential candidate, Fadumo Dayib. Elections are expected in November 2016.
Dayib, 43, is the daughter of uneducated Somali parents. Her father, a truck driver, and her mother, a "nomad," fled the violence in Somalia to neighboring Kenya, where Dayib was born. Dayib, her mother and siblings were subsequently arrested and deported back to Somalia. As Somalia descended into further chaos, Dayib's mother, who had already lost 11 children, arranged for Dayib and her two siblings to leave the country. Dayib was reunited with her mother in Finland through a family reunification program, and her mother spent the last years of her life in Helsinki, learning to read and write at the age of 68 before her death in 1995.
Dayib worked in Somalia for six months setting up maternal health clinics before the UN evacuated her over security concerns. She also worked for the UN in Fiji and Liberia, where she helped set up HIV prevention offices and trained health care providers. Dayib currently works in Helsinki helping refugees arriving in Finland to find work.
Living in Finland, she says, gives her many privileges she wouldn't have had in her own country, and she wants to extend these to women and girls back home. Dayib wasn't fully literate until the age of 14 but now has several degrees in international public health, including one from Harvard, and is currently a doctoral candidate at the University of Helsinki.
Dayib plans to return to her homeland, a country engulfed in a civil war that continues to displace, kill, and wound its civilians. Restrictions on humanitarian access persist and exacerbate the human rights and humanitarian crises. The Islamist armed group Al-Shabaab maintains control of large areas of south-central Somalia, where it administers public executions and beatings and restricts basic rights, and periodically carries out deadly attacks in government-controlled areas targeting civilians, including lawmakers and other officials. Somali's own government security forces, African Union troops, and allied militias are reportedly responsible as well for indiscriminate attacks, sexual violence, and arbitrary arrests and detention.
Meanwhile, it was just revealed that the U.S. is using Special Operations troops, airstrikes, private contractors, and African allies to intensify its clandestine war in Somalia. "Hundreds of US troops now rotate through makeshift bases in Somalia, the largest military presence since the United States pulled out of the country after the 'Black Hawk Down' battle in 1993."
Dayib admits that it is nearly impossible for her to be elected president under these circumstances. Her secondary plan is to establish "an independent panel to deal with corruption. She says it's her duty to help rebuild the country, and is adamant that more Somali women should invest back in Somalia whether economically or through their skills as doctors, teachers or social workers."
Dayib's very public presidential campaign, including announcing her candidacy on Somali TV and visiting universities, is already making a brave contribution to future generations of Somali women. During the Guardian interview, Dayib expressed sadness at "Islamophobia and the portrayal of Muslim women as voiceless and weak." Dayib wants to promote what she deems to be true Islam, "the religion of peace."
The 2016 Global Peace Index ranks Somalia as the fifth-most dangerous country in the world. Will Dayib, a mother of four children, survive the many death threats she already receives?
"I have a calling and purpose in this world," she says. "We must stand and speak up against injustices, my family gets that, it's not easy but this is who I am. If loving my land means I will die, so be it."
For American voters increasingly feeling detached from the institutions underpinning civil society, consider the chaos and violence in Somalia. For those yearning for authenticity and courage from their leaders, for those longing for something more inspiring than X-rated presidential debates, this video of Dayib speaking to a large university audience about her journey and her aspiration to lead her country offers the inspiration and dignity that would make any country proud.
https://nonprofitquarterly.org/2016/10/17/refugee-becomes-somalias-first-female-presidential-candidate/
--
Muslim Girl Who Was Once Sentenced to 40 lashes For Wearing A Miniskirt Is Now A Bikini Designer
October 18, 2016
This is a story about Tala Raassi who left her life in Iran to start afresh in the USA as a designer. While this may not sound something out of the ordinary, wait till you read the rest of her story.
Definitely a rebel, Tala never conformed to the strict rules that her country imposed on her. In an Islamic nation like Iran, women are expected to stay covered at all times.
Tala was 16 when it happened. The forces caught her and her friends at a mixed party and sent Tala to prison along with sentencing her to 40 lashes for wearing a miniskirt.
But you know how sometimes you try to suppress a woman but she emerges out even stronger? Tala, with her family, fled to the USA and carved out a fashion career for herself where she now designs swimwear for women.
She is a proud owner of a fashion line and a book that she authored. All this at the age of 35.
The designer was also named as one of Newsweek's 'Most Fearless Women in the World' in 2012 and shared that space with Hillary Clinton and Oprah Winfrey, reports Daily Mail.
Fearless as she is, Tala is supporting women's choice to wear anything without the constant fear of persecution.
http://www.indiatimes.com/news/world/muslim-girl-who-was-once-sentenced-to-40-lashes-for-wearing-a-miniskirt-is-now-a-bikini-designer-263736.html
--
Aligarh Muslim University's female students stand against discriminatory hostel rules
Oct 18, 2016
Sometime October last year, a graffiti scrawled at the sidewalk of the faculty of arts in the north campus, caught the attention of the most oblivious passerby. A silhouette of girl; painted red, rested on the floor, with a message accompanying it – loud and clear: "I am out tonight!"
This was part of the campaign called 'Pinjra Tod' started by the female students of different colleges and universities in the Delhi, against the discriminatory hostel rules; the most significant being the 'curfew timing' in girls hostels which disallowed female students from staying out late.
It was a protest against the 'discriminatory rules' that applied only to female students; rules that automatically made male students the privileged lot.
A year on to the campaign, the discrimination remains in various universities across the country and now the protest has reached to Aligarh Muslim University (AMU).
The women hostel dwellers of AMU are now posing resistance to what a student remarked as " against the demeaning moral policing at the hands of the hostel administration".
Women protesting at Aligarh Muslim University. Firstpost/Shishir TripathiWomen protesting at Aligarh Muslim University. Firstpost/Shishir Tripathi
The Indira Gandhi Hall (one of the girl's hostel of AMU ) is witnessing a clash between the students and the Provost starting from the eve of the big event organised at AMU on the birth anniversary of Sir Syed Day, which is celebrated every year on 17 October. This is the first major stand that the female students of the university have taken since the Students Union was formed on 13 October 2016 in which girls had actively participated.
Large numbers of AMU female students have been protesting since Sunday morning demanding the resignation of Farrukh Arjumand, the Provost of Indira Gandhi Hall. Over 500 girls have signed the petition and the demand list and about 400 girls have been sitting on 'dharna' for the last two days and two nights. A few girls also slept out in the open through the night. The second night saw hungry protesters as most of the Indira Gandhi Hall girls boycotted the dinner on the much-celebrated occasion of Sir Syed Day. The reasons behind the protest have been a series of alleged untoward remarks and behaviour of the hostel administration. There has been seething anger among the students towards the inconvenient rules-regulations and public shaming of the hostel girls at the hands of the authority.
Women protesting at Aligarh Muslim University. Firstpost/Shishir TripathiWomen protesting at Aligarh Muslim University. Firstpost/Shishir Tripathi
The recent protest was triggered by an incident in which the provost stopped hostelers from attending the cultural evening held on Saturday, October, 15 and threatened the girls of expulsion in case they sought help from the newly elected Students' Union.
The hostelers have prepared a long petition, against the hostel management, including a strong demand for Provost's resignation along with other demands for the improvement in hostel management. Students from Delhi also joined hands in solidarity. Members of Pinjra Tod group boosted the morale of the protesters with their presence.
"Students are disappointed in the vice chancellor as he did not listen to them and kept insisting on calling it off. Vice Chancellor did not come to meet the girls despite knowing the fact that some of them will be spending the night in the open. He came in the early hours of Monday morning only to reprimand the girl students for their alleged misconduct", said one of the protesting students.
"Moral policing and inconvenient rules of girls' hostel is reportedly a widespread phenomenon in AMU", remarked another protesting student. AMU has been catching attention in matters regarding the female students. In the past there has been a major issue of stopping the female students from accessing the university's library and also the issue of the choice of female students in taking admission either in Abdullah College for women or in the departments on main university campus.
Women's issues have been a major bone of contention in AMU, which keeps erupting in one way or the other. The recent ongoing hostelers' protest is not just a demand for the resignation of the provost but a bigger agitation in the direction of changing the rules for women on campus.
A protesting student who did not want to be identified said, "On most trivial issue the hostel authorities resort to character assassination. Like if we go out of the hostel, it is assumed that we are indulging in some wrongdoings. If we go to Delhi for some educational purpose or to give an entrance and we if we get late while returning, which usually happens given the distance we are not allowed to enter the hostel. Our character and intention is questioned".
She adds, "This harassment is not limited to the hostel timings. If we try to reach out to hostel authorities with any other complaint or demands like for better food, or a cooked breakfast, we are threatened of being thrown of out of the hostel. We are threatened that if we hold any protest or in any manner become part of any such gathering we will be thrown out of hostel."
Some of the very reasonable demands made by the girls are 24 hours hostel entry, ambulance facility, permission to be part of all events of the university, abolishing of late entry fine in the hostels, inspection of hygiene condition, providing of newspapers and magazines etc.
The letter written by the residents of the IG Hall to the Dean Student's Welfare (DSW ) of the AMU clearly reflects the angst and pain of the female students. "In response to the past one year and the recent chaos created by the misuse of the administrative powers of the Provost , Indira Gandhi hall appeal and demand the immediate change of our Provost , Farukh Arjmanad, on democratic ground as she being the dictator tries to suppress every genuine issue of the hall raised by the resident students by threatening us with expulsion , remarking us on our character " using rude language and our parents and family on every petty issue", states the letter.
The demand note further reads, "Every voice raised against the mismanagement of the provost has been every time met with brutal threats and immoral allegation".
http://www.firstpost.com/india/aligarh-muslim-universitys-female-students-stand-against-discriminatory-hostels-rules-mismanagement-3058128.html
--
URL: https://newageislam.com/islam-women-feminism/'honour'-killing-pakistani-accused-walks/d/108892
New Age Islam, Islam Online, Islamic Website, African Muslim News, Arab World News, South Asia News, Indian Muslim News, World Muslim News, Women in Islam, Islamic Feminism, Arab Women, Women In Arab, Islamophobia in America, Muslim Women in West, Islam Women and Feminism