New Age Islam News Bureau
6 May 2015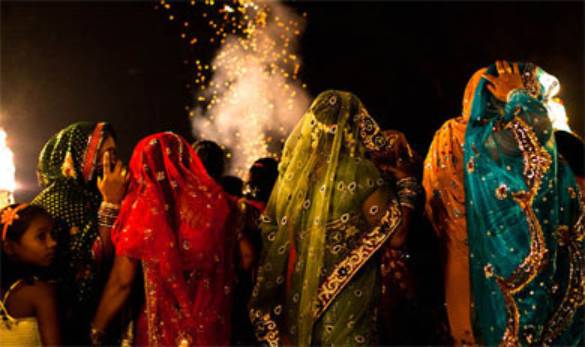 Hindu, Muslim Girls Marry Earliest; Jains, Christians Later in India
----------
• Yazidi Female Candidate Hopes for Historic First in Turkish Election
• Aceh Women, Activists Slam Latest Sharia-Based Regulations
• Thoraya Obaid First Woman to Head Saudi Shoura Rights Panel
• Grassy Park Girl Tries to Join IS
• Feminists Obsessed With Legislating Domestic Life, Says Wanita Isma Rep
• 214 Rescued Nigerian Girls Pregnant - UNFPA
• Victoria's Monash Hospital Agrees To Female-Only Doctor Requests after Complaint
• Girls Barred From Joining Co-Ed Schools in Hisar, India
• Afghan Women's Football Gains Membership in AFC Committee
• Ayaan Hirsi's Controversial Call for an Islamic Reformation
• US Consulate Conducts Entrepreneurship Workshop Delivered By Zeena Altalib
Compiled by New Age Islam News Bureau
URL: https://www.newageislam.com/islam,-women-and-feminism/new-age-islam-news-bureau/hindu,-muslim-girls-marry-earliest;-jains,-christians-later-in-india/d/102834
-----------
Hindu, Muslim Girls Marry Earliest; Jains, Christians Later in India
06 May, 2015
Delhi/Mumbai: If you are a girl—educated and from an economically stable family—from an urban area, either Jain, Christian or upper-caste Hindu, the chances are you will not be married before adulthood (18 years), according to a new report.
Some other highlights:
Teen pregnancy is nine times higher among illiterate women than among those who have finished school.
Women from cities marry two years later than rural counterparts; the richest women marry four years later than the poorest.
Tribal Assam, which allows younger women to have sex outside of marriage, has a high age of marriage.
The age at marriage is mostly rising within the lower castes, but at a slower pace than within the upper-castes, indicates a seven-state report from Nirantar, a Delhi-based advocacy.
Jain women marry the latest (at a median age of 20.8 years), followed by Christian women (20.6 years) and Sikh women (19.9 years). Hindu and Muslim women have the lowest median age at first marriage (16.7 years).
Hindus and Muslims together account for 973 million, or 80% of India's 1.2 billion people, according to the 2011 census.
Teenage pregnancies and motherhood are higher for Hindus and Muslims (16 percent) than for any other religion, making clear the relationship between early marriage and teenage pregnancies.
What determines child marriage?
Family income, location (urban and rural), community, caste and education are directly correlated with an Indian girl's age of marriage, according to the Nirantar report Early and Child Marriage in India: A Landscape Analysis.
Nirantar works especially with women from disadvantaged communities, and its report stresses the need to change attitudes, and the need to recognise and remove adolescents from the broad category of 'child'.
Although the data reveal the widespread nature of child marriage, they also show the incidence of child marriage is dropping. Only 12 percent of Indian women who married before the age of 20 were younger than 15 at the time of marriage, according to the study.
Women have always had it worst
Nearly 17 million girls between the ages of 10 and 19—6% of the age group—are married, as IndiaSpend has reported, many to older men. This is an increase of 0.9 million from the 2001 census.
The legal age for marriage is 18, so some involved may have been adults, but it is unlikely both partners were. Of these married children, 76%, or 12.7 million, are girls, according to census data. Only four million boys in this age group are married, reinforcing the fact that girls are significantly more disadvantaged.
Uttar Pradesh, India's most populous state, leads the list of states reporting child marriage:
Globally, 720 million women were married before the age of 18, compared to 156 million men, a recent United Nations Children's Fund (UNICEF) report said. A third of these women are in India: about 240 million.
Education, income play lead roles in late marriage
Women in the highest family income bracket (this includes families that can afford all the 33 assets mentioned under a government wealth index) marry more than four years later than women in the lowest wealth quintile, according to data from the Nirantar report.
For women between 45-49 and 25-29 years, the gap in age at marriage between the highest and lowest wealth quintile widened from three and a half years, two decades ago, to five and a half years by 2007.
Among men, the age at marriage in the lowest wealth quintile is between 19.6 and 20.1 years of age, whereas among men in the wealthiest quintile, the age at marriage is between 25.3 and 26.6.
The percentage of women—between 18 and 29—married by the legal age of 18 is 45.6% and the percentage of men—between 21 and 29—married by the legal age of 21 is 26.6%.
If you live in a city, you marry later
Women from urban areas, on average, marry more than two years later than their rural counterparts, according to the Nirantar report.
The median age at marriage among urban women was 18.8 years, compared with 16.4 years among rural women. A quarter of all women aged 15-49 in urban areas have never been married, compared with 17 percent of rural women.
Among men aged 15-49, 42 percent in urban areas and 32 percent in rural areas have never been married.
Teen pregnancy 9 times higher among illiterate women
Among educated women (with at least 12 years of education) in the age groups of 25-49, it was found that there is a seven-year difference in the median age at marriage compared to those women with no education.
The level of teenage pregnancy and motherhood is nine times higher among women with no education than among women with 12 or more years of education. About 258 million Indian women are illiterate, according to the 2011 census, down from 272 million from 2001.
Marriage was the main reason for 6% of girls in rural areas and 2% of girls in urban areas dropping out of school.
How tribal Assam delays marriage: allow sex
Another important facet of the report was its look at states with low child marriage rates such as Kerala and Assam and its attempt to draw learnings from them.
In both states, education for women and a matriarchal society were identified as two factors that have helped ensure a low percentage of girls getting married between the ages of 10 and 19, 11.7% in Kerala and 7% in Assam.
The practices of Assam's tribal communities (which make up 12.4% of Assam's population; Hindus are 64% and Muslims 30.9%) delink sex and marriage and allow young adults to have sex outside marriage without any social stigma.
"This has led to a higher age at marriage within these communities," the report said. "In addition, many communities in Assam are matrilineal and hold the empowerment of their girls as a high priority."
Similarly in Kerala, education was the prime mover for the state's development, and its efforts to reduce poverty, and the social importance of literacy and education led to initiatives like the library movement of the mid-1930s, creating spaces for women and child-care centres as well as for political meetings.
http://www.indiaspend.com/cover-story/hindu-muslim-girls-marry-earliest-jains-christians-later-13237
-----------
Yazidi Female candidate hopes for historic first in Turkish election
06 May, 2015
"A political action movie" is how Feleknas Uca, 38, describes politics in Turkish parliament, referring to macho behavior and physical fights that sometimes break out. She thinks it will be difficult for her to adjust to it, after having served two terms, from 1999 to 2009, in the European Parliament in Brussels. "In Europe," Uca said, "you are respected for your opinion. In Turkey, politics are carried out undemocratically."
Still, she is eager to start working in the Turkish parliament after the June 7 general elections. If her party, the People's Democracy Party (HDP), a leftist party with roots in the Kurdish political movement, manages to exceed the 10% threshold, she will for sure occupy one of the orange seats in the "meclis." She is the fourth HDP candidate for the HDP in Diyarbakir, an HDP stronghold that is expected to send at least eight or nine representatives to Ankara.
"People are being tortured in this country," Uca said in an interview with Al-Monitor, "and mothers lose their children. Working in the Turkish parliament will not be easy, but compared with what others live through, that is only a small thing."
Uca was born and raised in Celle, a town in the north of Germany. She is not Muslim like most Kurds, but Yazidi; Yazidis are followers of an ancient religion originating in Mesopotamia. The family is part of an 8,000-strong local Yazidi community. The contrast is huge: in the whole of Turkey, less than 1,000 Yazidis remain, after 80,000 to 100,000 of them, also from Iraq and Syria, left for Europe in the second half of the 20th century.
Uca, asked why her parents left the town of Beseri in Batman province more than 40 years ago, said, "For economic reasons, but because of oppression as well. Yazidis had no rights in Turkey, and they still don't. On our identity cards, it says 'no religion,' or just an 'X' is put in the religion section. Yazidi children have to attend the Sunni religious classes in school, just as other children in Turkey who are not Sunni Muslims, like Alevis. Only a new Turkish constitution can solve these problems."
She became politically active at a young age and became a member of the European Parliament for a leftist group at the age of 22 in 1999. "I engaged in politics because of the war in Yugoslavia," she recalls. "I was against war. After examining all party programs in detail, I decided to join the leftist PDS [Party of Democratic Socialism]. I proposed myself as a candidate for the European Parliament a year later, and was elected."
"It felt like a great success," Uca said, "to be in the European Parliament as a 22-year-old woman with black hair and brown eyes. I wanted to be the voice of migrants." In the 10 years that followed, she focused on fighting racism and stood up for women's and migrants' rights in parliament itself, but especially also outside it. She traveled in Europe and beyond to set up and support projects to battle violence against women, female genital mutilation and child marriages.
Turkey, the land of her parents, was never far away. Since she was around 15 years old, she has been traveling there regularly as part of the Kurdish movement. She put her knowledge and contacts to use in Brussels for example by co-organizing the first conferences in the European Parliament about the Kurdish issue in Turkey, set up to monitor the issue during Turkey's EU accession talks, which started in 2005. "For years, I have functioned as a bridge between the EU and Turkey."
Now, she crossed the bridge and landed on the other side. Since July 2014, she has been living in Diyarbakir, the political capital of the Kurds in Turkey. The situation of her own people, the Yazidis, has her special attention. There are some 32,000 of them in Turkey no; 31,000 of them are refugees from Iraq.
Their problems are huge, Uca explained that "5,000 to 7,000 Yazidi women are in the hands of [the Islamic State, or IS], and the fate of many men who were taken by [IS] remains unknown. A group of some 15,000 Yazidis didn't flee from Shengal, insisting on staying on their historical lands. But it's dangerous, because [IS] is still not driven away from there. Fierce battles continue."
Some of the refugees who came to Turkey have returned to Mosul and Zakho in Iraq, but many in Turkey are afraid to follow them, even if Shengal is fully liberated. "They have experienced such horrible things," Uca said, adding: "Yazidis who want to stay in Turkey should be allowed to. They should get a status, like refugees from Syria. They should not be subject to state assimilation policies."
The latter is a sensitive subject. In the refugee camps for Yazidis run by the Kurdish movement, efforts are made to offer education in Kurdish, the Yazidis' mother tongue. "But we don't get any help from the state. Municipalities are paying, the DBP [the HDP's sister party, active in the Southeast of Turkey] is contributing and civilians help out. But it's not enough."
Similar problems exist in health care: since the Yazidis lack any official status, they are only entitled to health care if their life is directly in danger. "We have set up a system with doctors who work voluntarily. They visit people in the refugee camps. But problems arise when somebody needs treatment in a hospital."
What it boils down to is that Uca has come to Turkey for the same reason as she once started in politics: to work for peace. "I want to contribute to the peace process in Turkey. Change something in this country. More democracy, the strengthening of the youth and development of the regional economy, women's rights." She said the HDP is aiming at 15% of the vote, but anything above the crucial 10% is fine. She already announced she wants to take the parliamentary oath in both Kurdish and Turkish. "Kurdish is my mother tongue," she tells Al-Monitor, "and I am trying to quickly improve my Turkish now. I think every language you learn is an enrichment."
When confronted with the severe problems that women in the Southeast still face, such as child marriages and honor killings, she said, "These problems have significantly decreased since the Kurdish movement has been active. In the Kurdish movement, the women explicitly step forward, come out of their houses. Women's problems haven't been solved yet, true, and that's why we keep working on it. You can't change a patriarchal society overnight."
When asked whether she misses Germany or not, Uca said, "My family is there; of course I miss them. But you know, I have a family, and they support me. I can call them and talk to them any time I want. Do you know how many people are not that lucky?"
http://www.al-monitor.com/pulse/originals/2015/05/turkey-kurds-yezidi-mp-candidate-wants-to-strive-for-peace.html#ixzz3ZKgyn2nq
-----------
Aceh Women, Activists Slam Latest Sharia-Based Regulations
May 06 2015
Women activists in Aceh consider the latest Sharia regulations banning unmarried men and women from riding together on motorcycles and separating female and male students in high schools in North Aceh to be unnecessary.
Acehnese activist Samsidar said the separation of female students from male students was an idea that was based only on the thoughts of men.
"This is a policy that is not important for the development of education in Aceh," said Samsidar, who is also a former member of the National Commission on Violence Against Women (Komnas Perempuan).
She said such a separation was not a guarantee that education in Aceh would move in a better direction compared to other regions in Indonesia.
"It would've been better for the administration to issue a regulation siding with economically poor people having no access to education to be able to enjoy education," Samsidar said.
North Aceh is one of the regencies in Aceh with a high concentration of poor families. Many families in the regency cannot afford school fees for their children.
Samsidar also said that although Aceh had long been known as a populous Muslim region, never in its history had male students been separated from female students when they were studying in class.
"Such separation only applies in Islamic boarding schools, which implement such a regulation,"
she said.
She expressed hope that the North Aceh administration would think twice before issuing the regulation as it would have a bad influence on the education of young Acehnese.
She argued that student competitiveness would lessen because of the separation. This would influence existing teaching procedures.
The North Aceh regency administration also banned unmarried couples from riding together on motorcycles, banned women from dancing in public and from straddling motorcycles.
"There are some clauses banning women from dancing in front of men because doing so could incite negative perceptions and sometimes trigger sexual arousal," said the head of the North Aceh Legislative Council legislation agency, Tgk Fauzan Hamzah.
North Aceh Ulema Consultative Council head Abu Mustafa Ahmad Paloh Gadeng said the regulation banning unmarried couples from riding motorcycles together was urgent because relationships between young people in the regions had reached an alert level.
"We see it as important because many of the activities and relationships among our young people are deviating from Islamic teachings," he said.
Based on Islamic teachings, he said, it was clear that unmarried couples could not sit together on motorcycles. "It is clear that sitting together on a motorbike for them is violating Islamic teaching," he added.
Others, however, saw the qanun (bylaw) banning unmarried couples from riding on motorcycles together as a hindrance.
"There will be limitations and difficulties that women in Aceh have to deal with because of the regulation," Acehnese university student Nurul Aminah said.
She argued that not every woman could ride a motorcycle, so sometimes needed get on a bike with a man driving.
"The regulation will restrict women's movements and their means of expression," Nurul said.
Other subjects regulated include raising animals such as dogs (unclean according to Islamic teaching), managing entertainment centers and controlling the movements of teenagers in the evenings.
http://www.thejakartapost.com/news/2015/05/06/aceh-women-activists-slam-latest-sharia-based-regulations.html#sthash.ge8CGbXN.dpuf
-----------
Thoraya Obaid First Woman to Head Saudi Shoura Rights Panel
06 May, 2015
Thoraya Obaid has become the first woman to be appointed as the head of the human rights committee at the Shoura Council. She was unanimously elected by the committee members.
Shoura member Saud Al-Shammari was quoted by local media as saying that the appointment of a woman as president of one of the Shoura Council committees is an excellent precedent in the history of the parliamentary body.
Nasser Al-Shahrani was appointed deputy president with 93 committee members voting in his favor.
The swift move comes after Shoura Council President Abdullah Al-Asheik, demanded that the rights panel and its associated regulatory bodies speed up the process of electing a new president and deputy president.
Al-Shammari said: "We agreed as members of the committee to recommend our colleague Thoraya Obaid as president for the upcoming period."
http://www.arabnews.com/saudi-arabia/news/742936
---------
Grassy Park girl tries to join IS
06 May, 2015
Cape Town - State security services last month stopped a second Cape Town teenager from absconding to join the Islamic State group, South African State Security Minister David Mahlobo confirmed on Tuesday.
"Yes, we know about that one," Mahlobo told ANA when asked about the high school girl from Grassy Park.
He said she was apprehended at Cape Town International Airport following a tip-off.
"The nice thing is that we are acting before these things happen," he added.
"There are certain communities that are being targeted."
It is understood that security services and the Hawks were in part acting on information given by a 15-year-old girl from Kenwyn who admitted that she was planning to join the Islamic State of Iraq and Syria (IS) after she was taken off a flight from Cape Town to OR Tambo on Easter Sunday. The girls are believed to be friends, and tried to leave the country within 10 days of each other.
Evidence found at the home of the first teenager, who comes from a well-off family, suggested that she had transferred R7000 to a local bank account whose holder is not known to her family and had been in contact with IS recruiters on social media.
The quiet, studious Kenwyn girl, whose mother owns a medical practice in Grassy Park, is said by sources close to her family to be reluctantly co-operating with investigators.
The incident has seen Mahlobo warn repeatedly that parents should monitor their children's internet usage, as he did again at a media briefing ahead of his ministry's budget debate in Parliament on Tuesday.
Sonto Kudjoe, the director-general for state security, told the briefing: "We know for sure that at ISIS level they are targeting them young and they use cyberspace to do so,"
However, intelligence sources said they are also investigating the physical presence of recruiters for the jihadist group in the country.
Mahlobo said security agencies were being highly vigilant on the issue of recruitment by fundamentalist groups and staying in close contact with communities who are considered targets.
He said following the news of the teenager from Kenwyn's attempt to make her way to the Middle East to join ISIS, several community groups had contacted his department to say they believed their children were being incited to do the same.
"When it was the question of Cape Town, we met with the Muslim Judicial Council (MJC), we met with various people. We meet with a lot of people who are telling us, to say, 'you know what, we have been dying in silence.
"'Our children are recruited every day.'"
Several European teenagers are reported to have died in Isis's brutal campaign to establish a caliphate. In March, the FBI, the domestic intelligence service of the United States, and that country's Homeland Security Department issued a joint warning that Isis had been successfully recruiting American teenagers via social media networks.
In the same month, two Australian teenage brothers were stopped by airport security in Sydney as they attempted to join the group. Another 18-year-old Australian was successfully recruited by Isis and subsequently died in a suicide attack in Iraq.
http://www.iol.co.za/news/world/grassy-park-girl-tries-to-join-is-1.1854227#.VUmblNLF9Fs
-----------
Feminists obsessed with legislating domestic life, says Wanita Isma rep
06 May, 2015
KUALA LUMPUR, May 6 — A representative of Ikatan Muslimin Malaysia's (Isma) women's wing has rapped feminists for trying to introduce laws in domestic life, claiming that there is already laws to cover marital rape.
According to Dr Rafidah Hanim Mokhtar, Section 375 of Penal Code already states that a husband can be charged with causing hurt or fear of death, to his wife or any other person in order to have sexual intercourse with her.
"Feminism's obsession to insert law enactment into the sphere of domestic life raises many concerns," the Wanita Isma information chief said in a statement.
"It's mind boggling that we need to have more laws that are to deal with non-inflicting injury practices as if the home, is the centre of all crimes, and law is the only method to deal with it."
Despite Dr Rafidah's assertion, Section 375 expressly states that it does not recognise a rape perpetrated by a husband towards his wife.
"Sexual intercourse by a man with his own wife by a marriage which is valid under any written law for the time being in force, or is recognised in Malaysia as valid, is not rape," said the exception that follows Section 375.
In her statement, Dr Rafidah claimed that feminists should focus on education, the prevention of rape and adultery, and should not assume that religious or cultural practices are the root cause of issues without convincing data.
She also claimed that domestic violence is prevalent in other parts of the world, such as Europe, where women are said to possess "better equal rights".
"There is no statistic to prove that the practice of marital rape first, is highly prevalent among the Malay Muslim, and secondly, the Muslims who resorted to domestic violence did so because of the teachings of the Quran and Sunnah.
"It might well be because they did not follow the tenets of Islam in the first place, that require husbands to be kind and protective to women, said the deputy dean at Universiti Sains Islam Malaysia's Faculty of Medicine and Health Science.
Following the launch of DAP lawmaker Yeo Bee Yin's joint rape awareness campaign with the All Women's Action Society (AWAM) last month, some Muslims have disagreed with a poster that said "Without her consent, it is rape. No excuse" and claimed that rape does not exist in the context of Islamic marriage.
Following that, Perak Mufti Tan Sri Harussani Zakaria told Malay Mail Online that men can always have sexual intercourse with their spouses even if the latter did not agree, saying that a Muslim woman has "no right" to reject her husband's demand.
http://www.themalaymailonline.com/malaysia/article/feminists-obsessed-with-legislating-domestic-life-says-wanita-isma-rep#sthash.4SaD7wqR.dpuf
-----------
214 Rescued Nigerian Girls Pregnant - UNFPA
06 May, 2015
FOLLOWING the latest rescue of additional 234 women and children by the Nigerian Army from the Sambisa Forest in Borno State, indicated, yesterday, that a sizeable number of the rescued girls were visibly pregnant, even as unofficial reports put the latest number of pregnant girls in one of the camps in Borno as at last Saturday at 214.
Giving this indication in Lagos, Executive Director, UNFPA, Prof. Babatunde Osotimehin, also disclosed that in the last one year, the organization had taken deliveries of over 16,000 pregnancies in the troubled North East part of the country.
Osotimehin, while giving update of the response to the rehabilitation of the rescued women and children, said the organization, in anticipation of the magnitude of the problem on hand, had put in place a formidable team in collaboration with the Federal and state governments, to first restore the dignity of the girls, who, he said, are facing severe psychosocial trauma.
On the state of the girls, he explained that most of them, due to the long period spent in captivity, required a special set of services that would facilitate their integration into society.
"What we found is that some of the women and girls that have come back actually have much more in terms of the stress they have faced, so the counselling has to be more intense and working with them one-on-one.
"I'm glad the communities are not excommunicating them and are taking them back. That is an important therapy too. We anticipate this is going to escalate because the military intervention is continuing, we find that more people are now needing our services and we will continue," he stated.
Further, he explained that the UNFPA had earlier collaborated with the Federal and state governments to train 60 counsellors to offer psychosocial services to the affected women and children. He noted that those trained were people from the communities, who understand the context and sociology of the people.
"UNFPA is providing dignity for women. In conflict and disasters, most people would only think of water and sanitation, provision of tents and housing, and food, which are all important. But women and girls have specific needs that nobody else looks after; it is only UNFPA that is doing this. We are giving psychosocial counselling.
"Beyond that, in the growing young people, we will always have pregnant women, but nobody segregates the needs of the pregnant women which are very important and different from the needs of the average community. We look after them, and ensure they get antenatal care and that they deliver properly and that they even get Caesarean Section when necessary.
http://allafrica.com/stories/201505040226.html
-----------
Victoria's Monash Hospital Agrees To Female-Only Doctor Requests after Complaint
06 May, 2015
One of Victoria's largest hospitals will change its policy on female-only care after a Muslim patient wearing a full-length Niqab complained of discrimination during an antenatal visit at one of its clinics.
For Ziarata Zia, the Niqab she wears – which reveals only her eyes, hands and feet – is central to her Muslim faith.
Ms Zia, who moved from Afghanistan to Melbourne in 2010, believes it is a sin to be seen without it or be touched by a man other than her husband or immediate family, except in an emergency.
Two years ago, a significant conflict arose during Ms Zia's antenatal consultation at a Monash clinic because she requested a female doctor. Afterwards she lodged a discrimination complaint at the Victorian Civil and Administrative Tribunal.
With advice from Victoria Legal Aid, Ms Zia resolved the matter before the hearing and was involved in a review of the hospital's policies by the Victorian Equal Opportunity and Human Rights Commission.
The commission found that the hospital's policy told pregnant patients who wanted to see a female midwife or doctor "for cultural or personal reasons" that this was not possible at Monash Health, and they should consider "other options of care".
This created an expectation that requests for female-only care would not be accommodated for any patient, regardless of their circumstances, the review found.
Monash Health will changes its policies to give priority to requests from women for a female doctor because of religious beliefs, cultural concerns or past trauma.
Same-gender care could also be relevant to men, the commission noted.
Providing healthcare professionals of the same gender to patients when requested can mean vulnerable people get the medical help they need, Victoria Legal Aid lawyer Melanie Schleiger said.
"The commission's report sets a clear benchmark for health services in terms of a patient's right to be treated fairly – it's incredibly significant."
The new policy will benefit people who have experienced torture, family violence and sexual abuse, she said.
In a statement, Ms Zia, who does not speak English, said she was no longer scared to ask for a female doctor.
"I'm relieved other women won't have to have the same experience I had," she said.
"Healthcare is really important to me and my family but so are my religious beliefs. I don't want to be forced to choose between them."
Some Muslim and Orthodox Jewish people require same-gender care because of their religious beliefs, while Aboriginal people and others may need it for cultural reasons.
Patients who have experienced trauma such as torture, family violence or sexual assault could request it because of their particular experiences of violence.
Ms Schleiger said it would be "prudent" for other hospitals to take note of the commission's findings, and be flexible with patient in particular circumstances.
Monash Women's director Professor Euan Wallace said Monash Health was "privileged" to provide health care to a culturally diverse population that had changed significantly in recent years.
Staff tried to accommodate requests for same gender care whenever possible, but it could not guarantee a carer of a particular gender for every appointment, examination or procedure, he said.
For example, if it is an emergency and a patient needs urgent medical attention, they will be treated by the available doctors who could be male or female.
Patients could choose to have another person, such as a relative or friend, attend with them, he said.
http://www.theage.com.au/victoria/monash-hospital-agrees-to-femaleonly-doctor-requests-after-complaint-20150505-ggukq9.html
-----------
Girls barred from joining co-ed schools in Hisar
06 May, 2015
A block-level education department in Haryana's Hisar village has issued directions to school principals to ensure that girls were not admitted to co-educational schools when separate schools were available for them.
The letter, issued a week ago, says that as per the norms of the Education Department when separate schools were available for girls and boys in a village then admissions should also be made accordingly. The letter was issued to two schools -- Government Girls Middle School (Class 1-8) and Government High School Co-Educational (Class 1-10) -- of Bhagana village on April 29. It also refers to a resolution adopted by the village panchayat in this regard and directed the principals concerned to take action as per the departmental norms and inform the office.
When contacted, District Elementary Education Officer Baljit Sahrawat told The Hindu that the directions were issued due to some "misunderstanding" and the official concerned was directed to withdraw them. "As per the Right to Education Act, the boys and girls are free to study in the school of their choice. It seems some misunderstanding led to issuance of directions. The official has been directed to withdraw them," said Mr. Sahrawat.
Village sarpanch Rakesh Panghal denied that any such resolution was ever adopted by the panchayat. "I got to know about it through media reports. Our panchayat never adopted any such resolution. We have sought a meeting with the teachers of the two schools today [on Monday] to resolve the matter as it brings bad name to the whole village," said Mr. Panghal.
Sources, however, said that the teachers of the girls' school were worried over dwindling number of students in the school and got the directions issued from the block-level office to stop the influx to the co-educational school. "Since the number of admissions to the girls' school were fast dwindling, the teachers of this school got an applicaton signed by a few locals pleading that girls should not be allowed admission in the co-educational school in the same village. The letter was then submitted to the BEEO who issued the directions," said a source in the village.
http://www.thehindu.com/news/national/girls-barred-from-joining-coeducational-schools-in-hisar/article7170368.ece
-----------
Afghan women's football gains membership in AFC committee
06 May, 2015
The Afghan women's football eyes progress by gaining member of the women's football committee at the Asian Football Confederation (AFC).
The head of the Afghan women's football federation Zahra Mehri was appointed as a member of the women's football committee after the directors of the Asian Football Confederation unanimously voted for her membership.
The women's football federation was formed within the framework of Afghanistan football federation in 2006.
With Mehri's membership of the Asian football confederation women's committee, the Afghanistan football federation officials are optimistic that the women's football in Afghanistan will have remarkable achievements in the years ahead.
The officials are saying that fundamental steps have been taken by Ms Mehri since she assumed charge of the women's football federation in Afghanistan.
The Afghanistan football federation has also conducted special coaching classes for C and D grades in the past in various provinces of the country to train coaches for the women's football.
The federation also has plans to start special leagues for the women and support women's football in other provinces of the country.
The women's football federation is actively operating in Kabul, Balkh, Herat, Bamyan, Sar-e-Pul, Ghor and Jawzjan provinces.
https://www.khaama.com/afghan-womens-football-gains-membership-in-afc-committee-1069
-----------
Ayaan Hirsi's controversial call for an Islamic Reformation
06 May, 2015
Somali born Ayaan Hirsi Ali must be a very brave woman indeed. Ever since she run away on her way to meet the man who had been arranged for her to marry and discarded her veil and left her Islamic faith, she has been telling her story of oppression within Islam to the rest of the world. Muslims have not been amused. She has long been a marked woman!
But she continues to tell her story. In her latest book: HERETIC – WHY ISLAM NEEDS REFORMATION NOW (Harper Collins, 2015) she states categorically that the root cause of violence in Islam is to be found in the faith's Holy Scriptures – the Qur'an and the Hadith. Violence is among the very foundational stones of the faith, sanctioned by the scriptures and actively encouraged!
Her way out is for Islam to reform. Instead of the five pillars of Islam, Ayaan proposes five areas that must be critically examined and changed:
One: Muhammad's semi-divine and infallible status along with the literalist reading of the Qur'an, particularly those parts that were revealed in Medina. Muslims need to understand Muhammad as a real man, in the context of his times, and the Qur'an as a historically constructed text, not as a divine instruction manual for life today. Muslim clerics need to acknowledge that the Qur'an is not the ultimate repository of revealed truth and that it must be open to interpretation and criticism.
Two: The investment in life after death instead of life before death. Muslims must stop fixating on the afterlife and actively choose life on earth and stop valuing death. This is the only way they can get on with the business of living in this world.
Three: Sharia, the body of legislation derived from the Qur'an, the hadith, and the rest of Islamic jurisprudence. The supremacy of sharia over secular law must be ended.
Four: The practice of empowering certain individuals to enforce Islamic law by commanding what is right to be done and forbidding wrong must be ended.
Five: Jihad should be declared "haram" by Muslim clerics around the world and all call to a holy war abandoned.
Ayaan devotes a chapter to each of these. The most controversial of her reforms is the very first one - questioning Muhammad's semi-divine status and the infallibility of the Qur'an. This means that the very basis of Islam (what really makes a person a Muslim), the Shehada, must be questioned. The Shehada is the oath every Muslim must take to be a true Muslim: "I bear witness that there is no God but Allah; and Muhammad is His messenger" or in the better known version "There is no god but God, and Muhammad is his Messenger". Much of the flak Ayaan gets in reviews and online discussions of her suggestions is on this first reform. What will Islam be if it is not predicated on the belief that there is only one god and Muhammad is the Messenger of that god?
Her exposition of her other points is interesting too, sometimes bordering on the tragicomic. For instance she says many Muslims believe in paradise as "an actual place with water and date trees heavy with fruit". She says the list of things that Islam allows is "very small, while the list of what cannot be done overwhelms everything else – except for the list of punishments, which is even longer". And she describes Saudi men who would leave the Mosque on Fridays and head straight to the town square to witness grisly beheadings and the cutting off of limbs of people who go against Islam's edicts. And this happens in modern day Arabia!
She takes a strong stand for women's rights within Islam. She states categorically that no matter which way you look at Islam, and no matter what Muslims say about the Qur'an talking of the benign handling of women, Islam does NOT accept that women are equal to men! The inequality of the sexes, Ayaan argues, is central to sharia.
Ayaan divides Muslims into three groups. The first group she calls the Medina Muslims – those who follow Muhammed's teachings as revealed in the messages he received in Medina. They are the fundamentalists of today who see the forcible imposition of sharia as their religious duty. The second group, the Mecca Muslims, consists of those who are loyal to the core creed, worship devoutly but are not inclined to practise violence since they give priority to the revelations made in Mecca. They outnumber the Medina Muslims. The third group she calls Muslim dissidents or Modifying Muslims. These are the people born into Islam who have sought to think critically of the faith they were raised in. She regards herself as belonging to this group. (She has a long appendix on prominent members of this group).
Ayaan has given up on the Medina Muslims but appeals to the Mecca Muslims to accept change and reject the call of the Medina Muslims to intolerance and war. According to her, all attempts in the past at Islamic reformation failed because a certain subgroup of the faith with a different theology has consistently defeated all reformist attempts. The victorious subgroup has always been the one driving a harder line of Islam. An interesting example she gives of one such failed attempt is that of the Mu'tazilite School of Islamic thought which flourished in Basra and Baghdad during the 8th–10th centuries. They argued that since Allah cannot be conceived of as having a human larynx, the Qur'an can, therefore, not be Allah's "speech."
Ayaan makes a pertinent observation. She says that many of her Muslim critics argue that she is not qualified to talk on such issues because she is not an Imam or a cleric. We often hear this argument in Ghana also, especially from Muslims with little education who say non Muslim critics of Islam are ignorant of the true nature of Islam – "they just don't get it". But I think Ayaan has read all the books that matter including the sacred ones. She seems to know as much as the imams and clerics and more than some of them. Her being brought up as a Muslim also enables her to know the daily practices of the faith. Ayaan, the Desert Nomad, is not, today, a fellow of Harvard's John F. Kennedy School of Government for nothing. It is a poor argument that says she is ignorant because she did not attend a school for clerics. Besides, why should criticism of Islam be the sole preserve of the so called "learned" of a faith brought to the world by a medieval desert merchant who could hardly read or write?
She doesn't see change coming from within. To the question: "[w]hy is it so hard to question anything about Islam?", she says that there is now an internationally organized "honor brigade" that exists to prevent such questioning and there is also the deeper historical answer of the fear of many Muslim clerics that allowing critical thought might lead many to leave Islam.
For all her dislike of Islam, Ayaan is not arguing that the religion is going to disappear from the earth. She knows better than that. She is only calling for reform, some of it along the lines that Christianity took in the West especially during the Enlightenment. Voltaire supported the rights of people to utter dissenting views, even those that he (Voltaire) did not agree with. John Locke not only gave us the notion of a natural right to life, liberty and property but also made a strong case for religious toleration. It was Locke who said that no one person should "desire to impose" his or her view of salvation on others. Ayaan's argument is that Islam needs a few Voltaires and Lockes.
Her message to the West is that it should concentrate on fighting jihadist violence at the level of ideas, not of military might, just us it did during the Cold War against leftist totalitarian regimes. She states that a war of ideas cannot be fought by military means. She says the world must respond to Islam the way it did to apartheid insisting that today's radical Islam is more violent than apartheid ever was because in Islam "people are targeted not for their skin colour but for their gender, their sexual orientation, their religion, or, among Muslims, the form of their personal faith."
She rails against Western liberals and cultural relativists who argue that we should not judge the religious practices of others. The West, Ayaan argues, must insist that Muslims living in their societies abide by their (the West's) rules. She says there is far greater hatred of Christians in Muslim-majority countries than there is of Islam in Christian majority countries. She cites Saudi Arabia and Pakistan as examples of countries with strong doses of what she calls "Christianophobia".
Ayaan, who now includes herself as part of the West, insists that it is "not we in the West who must accommodate ourselves to Muslim sensitivities; it is Muslims who must accommodate themselves to Western liberal ideals".
Ayaan concludes her book on an optimistic note. She believes a Muslim Reformation is coming and thinks it may already be here:
"I think it is plausible that the Internet will be for the Islamic world in the twenty-first century what the printing press was for Christendom in the sixteenth. Three factors are combining today to enable real religious reform:
The impact of new information technology in creating an unprecedented communication network across the Muslim world.
The fundamental inability of Islamists to deliver when they come to power and the impact of Western norms on Muslim immigrants are creating a new and growing constituency for a Muslim Reformation.
The emergence of a political constituency for religious reform emerging in key Middle Eastern states."
Whether Ayaan's optimism will be borne out is yet to be seen.
One thing I found useful after reading the book are the discussion on the more serious websites. The argument (from both sides) about reformation in Islam and the current state of the faith is much more nuanced than Ayaan's account even if I must say she does give it a good try. Those who read the book can google those sites for further analyses.
On a personal basis, Ayaan's call which appeals to me most is the one that asks Muslims to give precedence to life on earth rather than the one in the hereafter. I think this injunction can coexist with all that is positive in Islam. One can believe in a paradise and still enjoy life on earth. But no matter how much Ayaan wishes it, she will never get her wish that Muslims discard the Shehada or even question it. Most commentators are agreed on this. I fully share that view.
http://www.ghanaweb.com/GhanaHomePage/religion/artikel.php?ID=357075
-----------
US consulate conducts entrepreneurship workshop delivered by Zeena Altalib
06 May, 2015
JEDDAH — The US Consulate General in Jeddah hosted a two-day entrepreneurship workshop delivered by Zeena Altalib, founder and owner of PrimoModa, an online company that specializes in modest Islamic clothing for women.
More than 20 local entrepreneurs attended the event, which was conducted entirely in Arabic. "I think there are a lot of opportunities here.
As we all know, the young Saudi population is very enthusiastic and they are really looking forward with lots of passion to start new businesses with innovative ideas," said Altalib.
"New opportunities for them are perfect in Saudi Arabia, so it's nice to be able to undertake that using a US business startup model … I started my online business in the USA as a Muslim woman a decade ago and I am successful, even though we are trying to spread the idea of modesty in a market where it's contrary to the norm," she added.
Participants said the event was useful. "This was an opportunity for Saudi youth to know about the international business market, and how they can establish, develop and expand their businesses.
I think if these kinds of workshop could be organized more, then Saudi youth would receive huge benefits," said participant Zain Alabdin Fallatah.
Asked about the capabilities of Saudi youth in starting businesses, Altalib said, "I am amazed by the amount of enthusiasm that they have and especially the ideas that women are bringing to the table.
They have a lot of energy and abilities, but the system has to work in tandem in order to bring their dreams to reality. Here you have in the youth the future of Saudi Arabia, and they can advance the nation's economy."
She also said that funding is not an issue in the Kingdom. "But going to the next step in formalizing a business is where they are encountering difficulties … There are a lot of roadblocks for them.
My workshop was very applicable to any business that any entrepreneur might embark on, and because it went into each business need it gave them a basic understanding of starting a business and also a roadmap to improve a future business," she added.
"I introduced ways for young entrepreneurs to start their own business and how to go about entrepreneurship the best way … our step-by-step workshop is on how to start a business, how to create a vision, mission and goals.
We covered writing a complete business plan in order to create a functional working document for them to go on to the next level of their businesses," she said.
http://www.saudigazette.com.sa/index.cfm?method=home.regcon&contentid=20150506242814
---------
URL: https://www.newageislam.com/islam,-women-and-feminism/new-age-islam-news-bureau/hindu,-muslim-girls-marry-earliest;-jains,-christians-later-in-india/d/102834