New Age Islam News Bureau
16 Jul 2015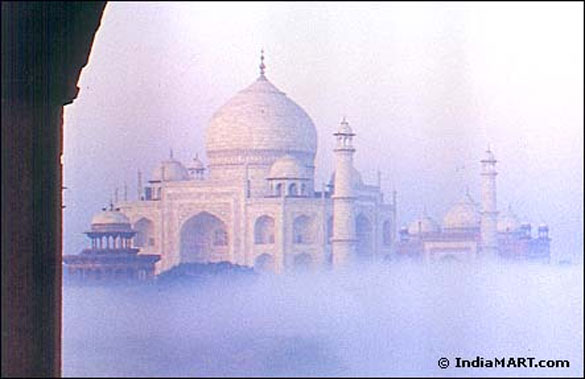 • Hindu-Muslim Couple Slit Each Other's Throats in Taj Mahal 'Suicide Pact'
• From TV Dramas to Fashion: India Takes Inspiration from Pakistan
• 'Do Not Take 'No' For an Answer', Say GCC Women Energy Professionals
• Children of Christian Couple Lynched and Burnt To Death, To Get Free Education
• Gender Balance and Women Empowerment: The Islamic Perspective
Compiled by New Age Islam News Bureau
URL: https://newageislam.com/islam-women-feminism/hindu-muslim-couple-slit-each/d/103925
-------
Hindu-Muslim Couple Slit Each Other's Throats in Taj Mahal 'Suicide Pact'
AFP —July 16, 2015
AGRA: An Indian couple forbidden to marry because of their different backgrounds are in hospital after slitting their own throats in an apparent suicide pact at India's famed monument to love, the Taj Mahal.
Police said the pair - named in the Times of India as Rajveer Singh and Shabnam Ali - were stable after they were discovered in a pool of blood in the grounds of the Taj Mahal on Wednesday afternoon.
"This couple, one of whom is a Hindu and the other a Muslim, tried to commit suicide at the Taj," said police deputy superintendent Aseem Chaudhary. "The girl cut her throat first followed by the boy."
Marriage outside caste or religion still attracts strong censure in parts of India and can even lead to so-called honour killings, carried out to protect what is seen as family pride.
"Both Shabnam and I tried hard to convince our parents that they should allow us to get married, but the boundaries of religion remained the biggest hurdle," the Times of India quoted Singh as saying. "We did this after failing at all possible ways to be together."
The Taj - India's top tourist attraction - was built by Mughal emperor Shah Jahan as a tomb for his beloved wife Mumtaz Mahal, who died giving birth in 1631.
It has drawn a string of world leaders and royalty including former US president Bill Clinton, while Diana, the late British princess, was famously photographed alone on a marble seat there in 1992.
http://www.dawn.com/news/1194858/thwarted-indian-couple-in-taj-mahal-suicide-pact
---------
From TV Dramas to Fashion: India Takes Inspiration from Pakistan
By Entertainment Desk: July 16, 2015
India has fallen in love with Pakistani dramas and celebs, no wonder they've grown a likeness for our fashion as well. Times of India reported that Muslims in India are taking inspiration from designs donned by celebs in our TV serials.
Pakistani serials have triggered a rush for palazzos, long Kurtas and silken pants. Tehseem Junaid, businesswomen in Nagpur who follows the latest fashion trends, feels that Karachi Kurtas and Dupattas drape differently.
"For Muslim women, the thrust has always been on comfort as we have to offer namaz. Tight fitting clothes and Churidars are not much of an option for us," she said, which explains why the young and old are preferring loose-fit clothes we wear in Pakistan.
Another fashion follower finds our clothing elegant. "It's very motivating watching women look so elegant in traditional attire," said Gulnaaz Ali, a teacher who too attributes this trend to the Pakistani tele-serials.
But who can better explain the dress than one who understands fabric and the art of stitching. "Karachi cotton kurtas are long shirts which reach a little above the ankles. They have long sleeves and have patterns on both sides. The design adheres to what one can describe as Islami dressing and so they have become extremely popular," explains Nazmin Ali.
Geetu Khanna of Threads and Motifs which has a large Muslim clientele says, "Pakistani fabrics and suits are a complete package and start from as low as INR1,000." Highlighting one of the reasons owing to the Pakistani fashion craze.
"The shades and designs are refreshingly different, there is embroidery on the sleeves, lace on the hemline and muted dupattas to go with. The cigarette pants and palazzos are very trendy too," she added.
While churidaars and shalwars have long dominated the Indian fashion industry, Pakistan adds a refreshing and different touch to eastern clothes.
"We don't wear western outfits during Eid," says Heena Fuszail, a student of Islamic studies. "The new styles are a fusion of Pakistani fashion and a bit of western wear. Loose pants or gagris combined with long shirts are elegant and comfortable so they are being preferred."
Heena Yasmeen, another resident states that television has become the main source of fashion for people, their deciding factor comes from their favourite TV serials and what the celebs in those dramas are wearing.
"Pakistani style long kurtas and pants adhere to Muslim style of dressing, are comfortable as they come in light materials like cotton and georgettes, have light dupattas and are very traditional in looks. So this trend has caught on in a big way," she said.
However, it's not only India taking inspiration from Pakistani or Muslim fashion, people across the globe have caught on this trend and are taking fashion to the next level by incorporating it in runways and fashion shows.
http://tribune.com.pk/story/921865/from-tv-dramas-to-fashion-india-takes-inspiration-from-pakistan/
--------
'Do Not Take 'No' For an Answer', Say GCC Women Energy Professionals
Amna Al Maqtari 16 July 2015
JEDDAH – Women who exude confidence both in the office and on the field are more likely to shatter the glass ceiling and accelerate their career progression, say the region's women oil and gas professionals.
Persistence is key to making it in the oil and gas industry, said Amna Al Maqtari, Process Engineer at the Takreer Research Centre, which is part of the Petroleum Institute campus, an Abu Dhabi National Oil Company (ADNOC) educational center.
"Don't take no for an answer," Al Maqtari said. "If someone tells you that you cannot do something on the basis that you are a woman, don't just walk away. Insist that you are capable of doing it yourself, and you will find that most times, people will listen."
The oil and gas industry, traditionally a male-dominated domain, has witnessed great strides in attracting and retaining more women into engineering positions. Women comprise a larger proportion of the global energy workforce today than at any point in history.
Figures from Shell Global show that 29 percent of its employees in supervisory/professional positions are women, and the proportion of women in its senior leadership positions have nearly doubled over the last decade – from 9.9 percent in 2005, to 18 percent in 2014. Similarly, about 28 percent of ExxonMobil's global workforce is women, and in 2014, 40 percent of management and professional new hires were women, significantly higher than the percentage of women in its overall employee population.
However, there are still challenges to be met. According to a 2015 report by PricewaterhouseCoopers, only 5 percent of executive board seats in the top UK-headquartered energy firms are currently held by women, while 61 percent of leadership boards have no women present at all.
Continuous efforts will have to be made to support the industry's female workforce, and distinguishing women achievers as role models is an important component of that process, according to women in the industry.
Although corporate tools and policies play a critical role in supporting women through their career development, Al Maqtari said before looking outside for external support, it is important that women look inside first.
"Managing your internal expectations is key, and this holds true for any employee whether male or female. We are here to prove that women are just as capable and competent as men, and so expecting that you will receive special treatment because you are a woman does not work in our favour," said Al Maqtari.
The best resource in the workplace for women looking for guidance on their journey to success is their senior colleagues, Al Maqtari added.
"My superiors are my greatest mentors and have always lent their support and advice when I needed it most. So finding someone that you can trust – a person who will not push you aside, but push you forward – can be of great help, especially in times of difficulty," she said.
The Adipec 2015 Oil & Gas Woman of the Year Award will recognize a female whose career has progressed at a rapid pace, demonstrating the empowerment process in her company that encouraged her to reach her aspirations.
The Adipec Awards, which span eight categories and are currently open for nominations until 30 July, are part of the Abu Dhabi International Petroleum Exhibition & Conference (Adipec) 2015, one of the world's top three energy events and a global meeting place for oil and gas professionals.
Hosnia Hashim, Vice President – Operations at the Kuwait Foreign Petroleum Exploration Company, one of Forbes Most Powerful Arab Women in 2014, and a speaker at this year's Adipec 'Women in Industry' Conference, said: "Recognizing women achievers in energy is more important than ever to challenge the perception that the oil and gas industry is a male domain.
The journey to success is not an easy one, but can be achieved with commitment, determination, and the support of corporate policy. The Adipec 2015 Oil & Gas Woman of the Year Award helps to transform what may seem as only a dream for young women to pursue a career in energy into a tangible reality."
Maria A. Capello, Consultant – South and East Kuwait Directorate at the Kuwait Oil Company, said: "The Adipec Awards are without a doubt one of the most prestigious global recognitions in the oil and gas industry. The 'Oil & Gas Woman of the Year' category is an outstanding opportunity to recognize the many achievements of the extraordinary women who work in our industry."
"Particularly for the Middle East, this Award will also be a motivational channel through which the industry can spotlight the amazing women from the region who have grounded their success on incredible accomplishments, making them natural role models for tomorrow's generation of women professionals," Capello added.
In addition to recognizing female achievers and bringing to light role models within the industry, the Oil & Gas Woman of the Year Award is a powerful message to society that women are equally capable and can play significant roles, said Reem Al Anbari, Chief Financial Officer at Borouge, an Adnoc Group company, and a speaker at the Adipec 2015 'Women in Industry' Conference.
"Many organizations are now focusing on diversity as a way of increasing their effectiveness and competitiveness by attracting the best talent regardless of gender. In many countries, women comprise more than half of the population, and leaving this resource untapped is a detrimental mistake. The oil and gas industry is an engine for the economy, and we need to get women involved across all corporate levels to change the dynamics and make sure their voices are heard, not overlooked or ignored," Al Anbari said.
"Thanks to the UAE government's unwavering support for women, many companies offer effective career development tools and policies – it is now up to women to take advantage of these opportunities by asking questions, taking risks, and being involved in major projects to try and deliver results," added Al Anbari.
Mariam Al Badr, Director of Corporate Communications at Dolphin Energy, said: "When it comes to oil and gas, there tends to be negative connotations about women as engineers, working offshore and developing a career in the sector. As someone who works in communications I can see that there is a strong need to dispel these misperceptions by engaging more effectively with females and profiling the different opportunities and roles they can assume within the energy sector."
"The notion of equal opportunity, training and education is very important," added Al Badr, who is also a speaker at this year's Adipec 'Women in Industry' Conference. "For example, at Dolphin Energy it is made very clear what is needed to progress to the next level. This is of great help because not only are you given clear targets to aim for but also as a woman you feel part of the company's future plans for success. It is very motivating."
Awards entries will close on July 30, 2015, with the shortlist announced on October 12, 2015. Winners and runners-up will be announced at the Adipec Gala Awards Dinner on Adipec's opening night, Nov. 9, 2015. Adipec will be held on Nov. 9-12, 2015. — SG
http://www.saudigazette.com.sa/index.cfm?method=home.regcon&contentid=20150716250560
-----
Children Of Christian Couple Lynched And Burnt To Death, To Get Free Education
By Web Desk Published: July 16, 2015
Children of a Christian couple lynched and burnt to death over alleged blasphemy have been receiving free education from a Pakistan-based Catholic charity in Lahore.
Sajjad Masih and his pregnant wife Shama Bibi were brutally killed on November 4 for allegedly desecrating the Holy Quran in November last year by a mob over alleged blasphemy. They left behind four children, who were 8, 5, 4 and 18 months old at the time of the attack, have been living with their relatives in Lahore since then.
William Stark of International Christian Concern (ICC) in a statement said "Really often, we here in the West or as observers of persecution, we focus on the direct victims: the people accused of blasphemy and then killed."
Read: Christian couple lynching: Six-year-old narrates details of his parents' murder
"Something we don't talk about enough, I think, are secondary victims. Those are the children of victims," he added.
It was after this brutal attack that a Pakistan-based Catholic charity in Lahore, Cecil and Iris Chaudhry Foundation (CICF) decided to take responsibility of providing the children with an education.
Out of the four siblings, the oldest ones, Suleiman and Sonia have already started taking classes as the CICF pays for the school fees, books, uniforms and transportation.
Hoping to see the children do better in life, CICF President Michelle Chaudhry is convinced that "education is one of the best defenses against exploitation and oppression."
Chaudhry, whose father, Cecil Chaudhry was a Catholic Pakistani and decorated Air Force captain added, "We are overjoyed to see these children not only enjoying school but also doing so well."
"Academic empowerment is certainly the way forward for any oppressed community in an intolerant society," she said.
While noting that the government of Pakistan has promised to set up a trust for the children, Stark believed that the education being provided to these four orphans will change their lives for the better, hence breaking the cycle of working in brick kilns.
For Stark, this is a never-ending series of events for children in Pakistan, however, giving them this level of care and provision is atypical.
Further, knowing that a parent's death or severe injury from an act of religiously motivated violence can completely alter a child's future, ICC has been working to help educate children victimised by a church bombing in Peshawar in 2013.
A 15-year-old boy claimed he became "the man of the house" after the church attack left him injured and his father with an amputated leg.
"His future was completely changed by the attack," Stark said. "That story is repeated over and over and over again" in Pakistan and around the world.
http://tribune.com.pk/story/921871/children-of-pakistani-christians-burnt-to-death-get-free-education/
-------
Gender Balance and Women Empowerment: The Islamic Perspective
By Hajia Hanatu Abubakar
Thursday, 16 July 2015 07:28
Gender equality is first and foremost an inalienable human right making both men and women entitled to live in dignity and freedom from want or fear.
Islam recognises that while men and women have some physical differences, spiritually, they enjoy absolute equality before God such that both the Holy Quran and the Hadith (the traditions of the Holy Prophet Muhammad, peace be upon him), are unequivocal in stating that one's gender will have no bearing on their reward or punishment in the next life.
Meaning, both men and women will each be responsible for their own actions, good or bad. They will be judged individually as stated in the Holy Quran chapter 3 vrs 195 that, "I shall not lose sight of the labour of any of you who labours in my way, be it a man or woman; each of you is equal to the other".
The concept of gender equality is, therefore, best exemplified in the Quranic rendition of Adam and Eve.
They were both punished for defying Allah's orders to avoid a specific tree and for this single act of disobedience, they were both banished and thrown out of the Garden of Eden.
The Quran, therefore, does not allude to Eve being responsible for their downfall but holds them both accountable as they both had to pay a price proving that equality is an intrinsic part of Islamic belief.
Equality in practice
Additionally, in the Quran, reference to men and women is through attributes and deeds. When God issues a command, He addresses both men and women, using ethical and practical qualities.
And this is in many verses such as Qur'an chapter 33:35, which was revealed after Umm Salamah, one of the Prophet's wives, complained to him that the Quran was only addressed to men.
Allah then revealed a long passage addressed clearly to men and women in every line, stating vividly the equal responsibilities and rewards for Muslim men and women.
The passage runs like this: "For men and women who have surrendered, believing men and believing women, obedient men and obedient women, truthful men and truthful women, enduring men and enduring women, humble men and humble women, men and women who give in charity, men who fast and women who fast, men and women who guard their chastity, men and women who remember God in abundance, for them God has prepared forgiveness and a great reward".
Man and woman in physical terms
Men and women are not equal in physical terms, even though in some exceptional cases, some women are stronger than men.
The Quran states categorically that Men are the protectors and the maintainers of women because Allah has given men one more strength than women.
The rights of Muslim women, which were granted to them by Allah after the advent of Islam, include the right to equal educational opportunities.
However, the most basic right of a woman in Islam is the knowledge and recognition that she never has to ask or demand or fight for her rights which are guaranteed to her by God Himself in His own wisdom.
Aside from that, Muslim women at all times and places must understand the importance of seeking beneficial knowledge and the positive effects this has on their own characters and on their children, families and societies.
This will make them seek knowledge, hoping to learn whatever will benefit them in this world and the next.
Empowering Muslim women
The Muslim woman can, therefore, be empowered if the gates of knowledge were widely opened to her without any restrictions whatsoever.
She must be allowed to seek both Islamic and secular or Anglo-Saxon education for the two are complementary.
If for some reason she could not complete her tertiary education because she had to get married or for any reason, that should not be the end of the road for her.
It is the responsibility of her husband to ensure that she continues since empowering her through education will inure to his benefit, as well as those of their offspring.
There is the need to emphasise that the mother is the first school for her child and she needs to acquire as much knowledge as possible to enable her to impart or pass the knowledge to her children and generations yet unborn.
And when she is educated, empowered and gainfully employed, she can at least escape hunger and the scourge of poverty.
She could also have the skills and capacity to access many government interventions designed to eradicate poverty, ignorance and disease.
For it is only when one is educated that one can rise high in government or the modern administrative system, especially now that there is a clarion call on women to take leadership positions and be actively involved in politics.
http://graphic.com.gh/news/general-news/46288-gender-balance-and-women-empowerment-the-islamic-perspective.html#sthash.FpeJdz4g.dpuf
--------
URL: https://newageislam.com/islam-women-feminism/hindu-muslim-couple-slit-each/d/103925