New Age Islam News Bureau
26 Jul 2017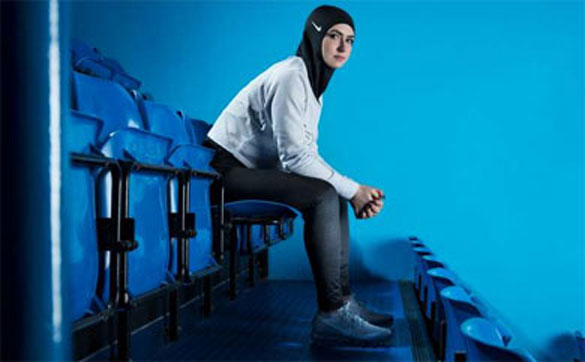 Sportswear brand Nike will launch a breathable mesh hijab (above) in spring next year, becoming the first major sports apparel maker to offer a traditional Islamic headscarf designed for competition. PHOTO: REUTERS
-----
• Indian-Origin Woman Raped, Murdered In Suspected Honour Killing In UK
• Saudi Women Outperform Men in Finding Employment During The First Half Of 2017
• Indonesia, World's Biggest Muslim Country, Puts More Women into Senior Roles
• Yazidi Girl, 14, Speaks Of Six-Month Ordeal At The Hands Of ISIS Captor
• 51,040 Saudi Women Get Pvt. Sector Jobs In '16
• Gender Diversity On Boards Doubled In Organizations With Female Leadership
Compiled by New Age Islam News Bureau
URL: https://www.newageislam.com/islam-women-feminism/hijabs-turning-heads-advertisers-realise/d/111972
--------
Hijabs turning heads as advertisers realise potential in Muslim market
July 26, 2017
BEIRUT • The hijab – one of the most visible signs of Islamic culture – is going mainstream, with advertisers, media giants and fashion firms promoting images of the traditional headscarf in ever more ways.
Last week, Apple previewed 12 new emoji characters to be launched later this year, one of a woman wearing a hijab.
Major fashion brands from American Eagle to Nike are creating hijabs, while hijab-wearing models have started gracing Western catwalks and the covers of top fashion magazines.
Many Muslim women cover their heads with the hijab in public as a sign of modesty, although some critics see it as a sign of female oppression.
But there is one thing most can agree on: When it comes to the hijab, there is money to be made.
"In terms of the bottom line, absolutely they're good for business... it's a huge market and they are incredibly brand-savvy, so they want to spend their money," said Ms Shelina Janmohamed, vice-president of Ogilvy Noor, a consultancy offering advice on how to build brands that appeal to Muslim audiences.
Nike announced that it is using its prowess in the sports and leisure market to launch a breathable mesh hijab in spring next year, becoming the first major sports apparel maker to offer a traditional Islamic headscarf designed for competition.
Last month, Vogue Arabia featured on its cover the first hijabi model to walk the international runway, Somali-American Halima Aden, who gained international attention last year when she wore a hijab and burkini during the Miss Minnesota USA pageant.
"Every little girl deserves to see a role model that's dressed like her, resembles her, or even has the same characteristics as her," she said in a video on her Instagram account.
Hijabs have also become more visible in Western advertising campaigns for popular retailers such as H&M and Gap.
Ms Amani al-Khatahtbeh, founder of online publication Muslim- Girl.com, said from New York: "Brands, especially, are in a very strategic and potent position to propel that social good, to change the attitudes of society and really push us forward and take us to that next step."
In Nigeria, a medical student has become an Instagram sensation for posting images of a hijab-wearing Barbie, describing hers as a "modest doll" – unlike the traditional version. And mothers in Pittsburgh have started making and selling hijabs for Barbies in a bid to make play more inclusive.
However, Ms al-Khatahtbeh warned of the potential for the young Muslim market to be exploited just for profit without any effort to promote acceptance and integration. "It can easily become exploitative by profiting off of communities that are being targeted right now, or it could be a moment that we turn into a very, very empowering one," she said.
Frustrated when she could not find an image to represent her and her friends on her iPhone keypad, Saudi teenager Rayouf Alhumedhi started an online campaign, the Hijab Emoji Project.
She proposed the idea of the emoji last year to coding consortium Unicode that manages the development of new emojis, she said on her campaign's website, helping to prompt Apple to create its hijab-wearing emoji.
Ms Janmohamed of Ogilvy Noor said: "It's only really in the last 18 to 24 months – perhaps three years – that bigger, mainstream brands have started to realise that young Muslim consumers are really an exciting opportunity."
A global Islamic economy report conducted by Thomson Reuters showed that in 2015, revenues from "modest fashion" bought by Muslim women were estimated at US$44 billion, with designers Dolce & Gabbana, Uniqlo and Burberry entering the industry.
Ms Janmohamed, author of the memoir Love In A Headscarf, sees young hijabi representation in the digital communications and fashion space a step forward for tolerance.
"It feels particularly empowering for young people to see themselves represented. So today, I think it is the least that consumers expect and anyone who doesn't do it is actually falling behind."
http://www.straitstimes.com/lifestyle/entertainment/hijabs-turning-heads-as-advertisers-realise-potential-in-muslim-market
--------
Indian-origin woman raped, murdered in suspected honour killing in UK
July 25, 2017
A 19-year-old Indian-origin Muslim woman was kidnapped, raped and murdered in the UK in a suspected honour killing for dating an Arab Muslim, a media report said today. The deceased was allegedly kidnapped with another woman, bound and gagged and taken to an address in Kingston-upon-Thames in south west London where they were raped and she was killed on Wednesday, a UK court has heard.
The body was found inside a 1.5 million pound home after the other woman in her 20s who had her throat slit alerted police from a hospital, The Mirror reported. A post-mortem examination carried out on Friday gave the cause of death as an incised wound to the neck. The deceased was an aspiring make-up artist and a blog from a school media project described her as having worked in the make-up department of a thriller film.
Mujahid Arshid, 33, appeared in Wimbledon Magistrates' Court charged with the murder, rape and kidnap of the woman. He is further charged with the rape, attempted murder and kidnap of the second woman. He appeared alongside his co-defendant, Vincent Tappu, 28, who is charged with the kidnap of both women. "The deceased was involved in a relationship with an Arab Muslim and the family members didn't approve of this relationship because they are Indian Muslims," said prosecutor Binita Roscoe.
Two men in balaclavas entered the property on July 19, the prosecutor said. "Her face and mouth were covered in duct tape. Her hands were tied with cable tie. She believes a sock was placed in her mouth. She had heard the deceased who was in the shower screaming," she told the court. "The deceased was brought down tied up. They were bound in dust sheets and placed in a vehicle."
District Judge James Henderson remanded Tappu and Arshid in custody. Arshid will appear at the Old Bailey on July 28. Both men are due to appear at the same court on August 21.
http://indianexpress.com/article/world/indian-muslim-woman-rapedmurdered-in-suspected-honour-killing/
--------
Saudi women outperform men in finding employment during the first half of 2017
July 26, 2017
JEDDAH — Bab Rizq Jameel Recruitment, part of Community Jameel, has helped more than 18,400 people in Saudi Arabia find employment during the first half of 2017.
In line with Saudi Vision 2030's objective of increasing the number of Saudi men and women working in the private sector, this significant employment boost is spread across a variety of business sectors in all regions of Saudi Arabia, amounting to 10,027 jobs for women and 8,436 for men.
Geographically, the distribution of the new positions was strongest in the Western Region with a total of 8,085 new jobs, followed by the Central Region (3,760) and the Eastern Region (3,072). The Southern and Northern regions achieved 1,833 and 1,713 respectively.
Bab Rizq Jameel Recruitment helped create 10,170 jobs for men and women – mainly in the sales sector, customer service, and similar roles. The additional focus on helping Saudi women enter the workforce highlights the commitment of both Bab Rizq Jameel Recruitment and Community Jameel to deliver on the Saudi Vision 2030.
Rola Basamad, senior general manager of Bab Rizq Jameel Recruitment, said: "Helping people find meaningful employment is our primary function and the very reason for our existence.
"There is a great interaction between private companies, the decisions of the Ministry of Labor and Social Development, and Bab Rizq Jameel's database of potential applicants. The database includes large numbers of graduates from universities and colleges of technology, with registrations increasing by about 50 percent since last year.
"Our streamlined registration system enables applicants to register online without having to visit the branch in person, resulting in even larger catchment of male and female job-seekers across Saudi Arabia, helping more people join the workforce and contribute to local economies across the Kingdom."
Through initiatives such as Bab Rizq Jameel Recruitment, among many other programs that address education, poverty, arts and culture, and food and water security, Community Jameel continues to work towards building a better world by giving people the power to improve their lives and the lives of those around them. — SG
http://saudigazette.com.sa/article/513775/BUSINESS/Saudi-women
--------
Indonesia, world's biggest Muslim country, puts more women into senior roles
JUL 25, 2017
JAKARTA/SINGAPORE (Bloomberg) - In the late 1980s, Pakistani clerics beseeched Indonesia to pray for them after Benazir Bhutto became prime minister and the first woman to govern a Muslim majority nation.
Ms Khofifah Indar Parawansa, now a Cabinet minister in Indonesia, recalls the incident with some irony. The clerics told Abdurrahman Wahid, who would later become Indonesia's president, that Pakistan would be "unlucky for being ruled by a woman", she said.
Ms Parawansa, 52, is one of nine female ministers in the world's most populous Muslim nation, exemplifying the country's success in breaking gender and religious stereotypes.
At 26 per cent, Indonesia has the largest ratio of female ministers among the 10 biggest countries based on population size, according to the Inter-Parliamentary Union or IPU, a global organisation of parliaments based in Geneva.
Women have made grounds in Indonesia from politics to central banking. High-profile officials include Finance Minister Sri Mulyani Indrawati, Foreign Minister Retno Marsudi - a first in the country's history - and Maritime and Fisheries Minister Susi Pudjiastuti.
Rosmaya Hadi became Bank Indonesia's only female deputy governor this year.
Part of Indonesia's success has been setting gender quotas for candidates that political parties put forward for public office. Females now hold almost a fifth of the seats in Indonesia's national parliament, up from 8 per cent in 2003 when a non-compulsory quota was first introduced, according to IPU.
In 1995, only four countries used gender quotas, according to research published by the Asia & The Pacific Policy Studies in January. Twenty years later, more than 120 countries had adopted some form of gender quota to increase women's representation, according to IPU.
In countries such as Rwanda, Cuba and Iceland, women lawmakers make up more than 40 per cent of parliament. Among the most populous nations, China leads the way with about a quarter.
But there is still a long way to go for Indonesia to boost gender diversity in its economy. The South-east Asian nation has one of the lowest female participation rates in the labour market in Asia at 38 per cent, compared with 44 per cent in China and 43 per cent in Japan, according to the World Bank.
Indonesia also has one of the largest gender gaps - the difference between labour-force participation of men and women - along with India, Bangladesh, Turkey and Mexico, according to a report by Standard Chartered PLC.
"In spite of much progress, gender equality is an unfinished agenda," Imrana Jalal, senior gender specialist at the Asian Development Bank in Manila, said in an interview.
"Removing gender disparities against women not only upholds their basic rights and promotes social justice, but is also good for development. Making job discrimination unlawful can help economies by deploying talent to occupations that can make the most of it."
Women's participation in the labour force, particularly in developing nations, has remained low despite significant progress in boosting economic growth, lowering fertility rates, and improving education.
In places like Indonesia and the Philippines, social norms still dictate the kind of jobs women can do, with many restricted to handling mainly housework and childcare responsibilities.
This social structure has economic costs. The removal of gender bias in education, the labour market, and the household would increase per capita income by 70 per cent over a generation in a typical Asian economy, according to the ADB.
RELIGIOUS TENSION
Ms Parawansa, who is now Social Affairs Minister, said her advance up the political ranks has had its challenges. She was a young member of the parliament in 1998 at 32 when she stood up to speak out against then-dictator Suharto, calling for "political reformation".
The speech was controversial enough that her husband worried for her safety, she recalled.
"The seniors were trying to block me: This little kid, a woman, what is she up to?" Ms Parawansa said in an interview from her office in Jakarta, dressed in a long-sleeve batik shirt and pumpkin-coloured headscarf.
"Many people were surprised with my speech. I could see that not all people liked it."
Women in public office in Indonesia also need to contend with growing religious conservatism in the country. The election of Jakarta's governor this year was marred by religious and ethnic tensions, and President Joko Widodo last week banned a hardline Islamist organisation in the country, adding to political risks in the country.
For Ms Parawansa, who once aspired to be a motorbike racer, opportunity is key to getting more women into high-profile roles.
"Today, I see both men and women are equally tenacious," she said. "It shouldn't be waited, opportunity must be pursued."
http://www.straitstimes.com/asia/se-asia/indonesia-worlds-biggest-muslim-country-puts-more-women-into-senior-roles
--------
Yazidi girl, 14, speaks of six-month ordeal at the hands of ISIS captor
25 July 2017
In the year 2014, Ekhlas, a 14-year-old was captured by ISIS when they targeted the Yazidis, an ethnic Kurdish group in northern Iraq, killing men and capturing women and children.
According to a report in the BBC, Ekhlas was one of the girls they captured when she was trying to escape to Mount Sinjar.
The report says that she was one of the 150 girls that were picked up and held as a sex slave and that she was raped every day for six months.
"He was so ugly, like a beast, with his long hair. He smelt so bad, I was so frightened I couldn't look at him", she told the BBC. She said wanted to kill herself but couldnt.
Fortunately, Ekhlas managed to escape while her abuser was fighting and was then sent to a refugee camp. She is now at a psychiatric hospital in Germany where she receives education and therapy. According to the report, she wants to be a lawyer when she grows up.
https://english.alarabiya.net/en/News/middle-east/2017/07/25/A-14-year-old-yazidi-girl-survived-being-raped-every-day-for-six-months-by-ISIS.html
--------
51,040 Saudi women get pvt. sector jobs in '16
By Abdul Rahman Al-Misbahi
July 26, 2017
JEDDAH — The employment of Saudi women in the private sector has increased by about 10 percent last year over the previous year to reach 51,040, the Ministry of Labor and Social Development (MLSD) has said.
According to the ministry, the sector of the building and construction has alone employed 14,702 Saudi women in 2016 raising the number of the women in this sector to 165,281.
It said this was followed by the sector of wholesale and retail in which the working women increased by about eight percent.
The ministry has, on the other hand, started the ground work to gradually localize a number of sectors including tourism, supermarkets, health, shopping malls, groceries, car rentals offices and mobile vans selling foods and soft drinks.
The ministry is expected to nationalize jobs in these sectors in the coming few years by 100 percent to employ a large number of Saudi men and women.
The ministry said it had created job opportunities for more than 8,000 Saudi men and women when it nationalized jobs in the mobile selling and maintenance shops.
It said more than 33,000 Saudis would be employed in the tourism sector when it is entirely Saudized in 2018. The Saudization ratio in the sector is presently about 60 percent.
The ministry said the localization of jobs in the supermarkets in Qasim region would generate more than 6,000 employment opportunities.
It revealed that the health sector was nationalized by about 50 percent until the end of 2016 and said more than 93,000 Saudi men and women doctors, nurses and technicians would be employed in government hospitals and health centers by 2020.
The ministry also said it was planning to nationalize the labor market in Madinah which was completed by about 28 percent by the end of 2016.
It said the groceries and confectionary shops, which are now Saudized by about 20 percent, would be entirely Saudized by the year 2020 to provide jobs for more than 20,000 Saudis.
The ministry had earlier announced that the car rental shops, which are now Saudized by about 40 percent, would be completely Saudized to absorb more than 5,000 Saudis.
http://saudigazette.com.sa/article/513751/SAUDI-ARABIA/Saudi-women
--------
Gender diversity on boards doubled in organizations with female leadership
July 26, 2017
JEDDAH – Women are still largely underrepresented on corporate boards, despite continued efforts to improve boardroom gender diversity, the fifth edition of Deloitte "Global's Women in the Boardroom: A Global Perspective" report revealed.
It explores the efforts of more than 60 countries to promote boardroom gender diversity reveals that women hold just 15 percent of board seats worldwide. These numbers show only modest progress from the 2015 edition of Women in the Boardroom.
For the first time, the publication includes a region-by-region analysis of the relationship between corporate leadership and diversity. A direct correlation was found between female leadership (CEOs and board chairs) to board seats held by women.
The report noted that generally, there are no gender quotas in the Middle East countries for women on boards, however, some strategies to increase women's representation on boards are making their way in a few countries, including setting voluntary targets, disclosing and increasing transparency in director appointments, implementing quotas, and addressing unconscious bias. Yet, representation of women on boards remains very low across the region with women holding no more than 2 percent of board seats in the GCC region.
"Organizations with women in the top leadership positions have almost double the number of board seats held by women. The inverse is true as well, with gender diverse boards more likely to appoint a female CEO and board chair," said Rana Ghandour Salhab, partner and Talent and Communications leader at Deloitte, Middle East. "This illustrates an important trend—as the number of female CEOs and board chairs climbs, it is likely to spur greater board diversity. Yet, the percentage of women securing top leadership roles remains very low, with women holding only 4 percent of CEO and board chair positions globally."
Bridging the gender divide in the workforce is not only a matter of fairness, but also of effective governance and inclusive economic growth.
As organizations navigate technological and societal shifts which are transforming the future of work, boards will have a critical role to play. Diversity of thought—and people—will be critical to ensure that board members are exploring challenges from every angle and consistently bringing a fresh point of view.
"Enhancing the diversity of the workforce and fostering inclusive growth is top of mind for Deloitte," continued Salhab. "To support these goals, we are actively involved with initiatives ranging from our engagement with the B20 to increase female workforce participation, to our collaboration with the OECD in support of the United Nations 2030 Agenda for Sustainable Development which includes bringing gender equality to the center of economic development."
Salhab added "Deloitte also continues to advocate for diversity in boardrooms through our 'Board Ready' programs which are delivered across the globe to help prepare women for board service."
In the US, only 14 percent of board seats are held by women, a 2 percentage point increase from the 2015 edition. The percent of female board chairs has not progressed, remaining at just under four percent.
The percent of board seats held by women in Canada grew to 18 percent, a 5 percentage point increase since 2015. The percentage of boards led by women dropped from 6 percent in 2015 to 5 percent in 2017.
In Latin and South America overall, only 7 percent of board seats are held by women and 2 percent of board chairs are women.
Norway, the first country to ever introduce a gender quota, has the highest percentage of board seats held by women (42 percent). 7 percent of board chair positions are held by women.
In the UK, there are no quotas in place for women on boards, but 20 percent of board seats and 3 percent of board chair positions are held by women. — SG
http://saudigazette.com.sa/article/513776/BUSINESS/Globals-Women-in-the-Boardroom-A-Global-Perspective
--------
URL: https://www.newageislam.com/islam-women-feminism/hijabs-turning-heads-advertisers-realise/d/111972
New Age Islam, Islam Online, Islamic Website, African Muslim News, Arab World News, South Asia News, Indian Muslim News, World Muslim News, Women in Islam, Islamic Feminism, Arab Women, Women In Arab, Islamophobia in America, Muslim Women in West, Islam Women and Feminism