New Age Islam News Bureau
10 Apr 2018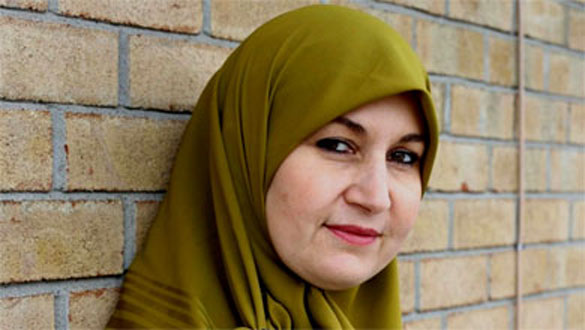 Candidate Eve Torres poses in this undated handout photo. THE CANADIAN PRESS/HO
-----
• German Headscarf Ban for Children Met With Mixed Response
• Ex-Female Bureaucrat in Kurram Agency to Contest Election
• Iranian Woman MP Legitimizes Protest against Compulsory Hijab
• Former Afghan Women's Captain Popal Packs a Punch in Fight for Equality
• Driving Simulators Attract Women at AAC Pavilion
• Italy Gives $8.5mn for Afghan Women's Clinic
• Woman Happy To Give Empty Room in Her House to Syrian Refugee
Compiled by New Age Islam News Bureau
URL: https://www.newageislam.com/islam-women-feminism/hijabs-back-spotlight-veiled-muslim/d/114883
--------
Hijabs Back in Spotlight As Veiled Muslim Woman Prepares To Seek Election in Quebec
April 10, 2018
MONTREAL - The divisive debate in Quebec about the clothes Muslim women choose to wear is back in the spotlight, less than six months before the fall provincial election.
Montreal Mayor Valerie Plante suggested last week she is open to city police officers wearing a Sikh turban or an Islamic headscarf, known as the hijab, as part of the official uniform - a practice not uncommon in Canada outside Quebec.
Around the same time, Eve Torres, a 44-year-old Muslim mother of three who proudly wears a hijab, announced she was seeking the nomination in a Montreal-area riding for Quebec solidaire, the legislature's most left-leaning party.
Torres is so far unopposed and is being billed as the first veiled woman to run in a Quebec provincial election.
Heated criticism on TV and in newspapers ensued.
"The veil is a symbol used by Islamists to make their presence known in the public sphere and to occupy that space by the principle of maximum visibility," wrote Mathieu Bock-Cote, a columnist in the popular Le Journal de Montreal.
A column by Denise Bombardier in the same newspaper was published with a photo of a veiled Torres under the headline, Our dark future.
Bock-Cote, Bombardier and another populist writer for Le Journal, Lise Ravary, suggested Torres was an "Islamist," a word that carries a strong connotation of fundamentalism and militancy.
Torres, who describes herself as a feminist who is running to fight for "social justice," told The Canadian Press in an interview Monday she was expecting the reaction.
"For the past 10 years in Quebec, Muslim women have been a big part of the political discussion - somewhat against their will," she said.
"I am not an Islamist, I have never been one and I don't plan on becoming one."
Last week's news took another twist Monday when Parti Quebecois Leader Jean-Francois Lisee mentioned Torres directly.
If the PQ wins the Oct. 1 election, Lisee said, he will introduce a bill forbidding state employees such as judges, Crown prosecutors, police officers, prison guards as well as primary and secondary school teachers from wearing religious symbols on the job.
"We will act on this issue from the first day we are elected," Lisee told a news anchor on LCN, a network owned by Quebecor, which counts Le Journal de Montreal among its holdings and whose owner, Pierre Karl Peladeau, was head of the PQ before Lisee.
Lisee said Torres should be questioned on her party's position with regard to religious symbols among state employees.
Torres admitted she had to reflect deeply about deciding whether to join Quebec solidaire, because, like most mainstream parties in the province, it favours restricting judges, police officers and prison guards from wearing religious clothing such as the hijab.
Before joining politics, Torres was a spokesperson for the National Council of Canadian Muslims, an advocacy group that is currently suing the Quebec government over Bill 62, which forces people to uncover their face when giving or receiving a public service.
"I chose to wear the colours of Quebec solidaire," she said. "From the moment I jumped into politics it was no longer about my personal considerations. It's clear I will defend the party's position."
Her decision reflects a political reality in Quebec: a large majority of the electorate - according to polls - agree with some sort of restriction on religious symbols worn by public employees.
She recognizes these are strange times: a hijab-wearing woman attempting to carry the banner for a political party that wants to ban hijabs from much of the civil service - and the party considered the most progressive in Quebec's legislature.
https://www.ctvnews.ca/canada/hijabs-back-in-spotlight-as-veiled-muslim-woman-prepares-to-seek-election-in-quebec-1.3878448
--------
German Headscarf Ban for Children Met With Mixed Response
09.04.2018
Germany's Teachers' Association on Monday welcomed a proposal from the government of the country's most-populous state North Rhine-Westphalia (NRW) to prohibit girls under the age of 14 from wearing headscarves to school.
"A headscarf ban would help, at least generally speaking, to undermine discrimination on religious grounds and anti-religious bullying," the association's president, Heinz-Peter Meidinger, told the mass-circulation daily Bild newspaper.
He acknowledged that the reality may be different for older girls, but called for an end to the "deliberate display of religious symbols among children with religious backgrounds."
NRW Integration Minister Joachim Stamp announced the initiative over the weekend, saying young children should not be made to cover their hair for religious reasons.
Susanne Lin-Klitzing, the head of the German Philological Association, told Bild that in a democracy no sex should be subordinate to another. "A headscarf can be seen as a symbol of that, and so there's no place for it in the classroom."
Liberal Muslim Seyran Ates, co-founder of the Ibn Rushd-Goethe Mosque in Berlin, said a ban was "long overdue."
Muslim girls usually only start wearing the hijab from puberty. But women's rights organization Terre des Femmes expressed concern over what it described as a growing number of veiled girls at elementary schools.
http://www.dw.com/en/german-headscarf-ban-for-children-met-with-mixed-response/a-43307138
--------
Ex-Female Bureaucrat in Kurram Agency to Contest Election
April 10, 2018
PARACHINAR - A tribal woman from Parac­hinar established her election office on Saturday with the plans to stand as a candidate in the upcoming elections for a National Assembly's general seat from the Kurram Agency .
Ali Begum, 63, is a retired bureaucrat from the Federally Administered Tribal Areas (FATA) and has also served on influential positions both in Fata and Khyber Pakhtun­khwa.
While addressing the attendees at her inauguration ceremony, Begum highlighted the importance of women playing their key role in the society. She said that only the locals can successfully resolve their internal issues and that her candidacy would have a lasting impact and will prove as a step forward in restoring peace in the region.
A large number of people attended the ceremony and praised her decision and bravery for contesting in the elections. Shahid Kazmi, a political activist in Kurram Agency , said that Begum was a symbol of unity in the region and an inspiration for many tribal women.
Begum further stressed about the need for harmony and unity in tribal areas as only then can the development and prosperity of Kurram Agency will reach new highs. She added that one of the pressing issues in the region are the difficulties encountered by the local women and she aims to do her best to eradicate this problem. She expressed hope that people in the tribal belt, especially women, would encourage and support her.
Tribal elders paid their tribute to Begum commending her for playing a vital role in solving issues of the region even during her tenure as a bureaucrat and expressed their approval in supporting her in the upcoming elections. They further said that Begum enjoyed the support of women in Parachinar.
https://nation.com.pk/10-Apr-2018/ex-female-bureaucrat-in-kurram-agency-to-contest-election
--------
Iranian Woman MP Legitimizes Protest against Compulsory Hijab
April 7, 2018
Head of Iranian Parliament's Women's Faction reports that their faction has been investigat-ing the protests against compulsory hijab in Iran that started as of December 2017. She added that sessions to review these protests, where a number of sociologists as well as representatives of the judiciary and the executive branch will be in attending are underway.
Parvaneh Salahshouri (MP)
In an interview with Jamaran News, Parvaneh Salahshouri (MP) said on Monday April 2 that compulsory hijab has become law in Iran and as such it has to be heeded even by protesters.
She criticized the judiciary branch that has been brutally suppressing the protesters, saying that the judiciary and its agents should not accuse protesters of national security crimes and they should stick to the law of compulsory hijab for any further prosecution. The judiciary has been charging protesters against compulsory hijab law with crimes like "disruptors of national security and linkages to foreign powers."
In a speech on March 8, International Women's Day, the Islamic Republic Supreme Leader Ali Khamenei reacted to the protests against compulsory hijab saying: "They spent so much money and spread such propaganda and only managed to deceive a few young women here and there to take of their hijab off and all their efforts amounted to this insignificant out-come."
Parvaneh Salahshouri was quoted as saying however that the protest against compulsory hijab is nothing new. "The movement against compulsory hijab has been going on in different forms; however we should not attribute the new manifestation of it to elements from abroad and think that its direction comes from beyond our borders. The critics of compulsory hijab do not belong to any particular age group or gender."
Women of Enghelab Street protest compulsory hijab in Iran.
Salahshouri emphasized that the protesters against compulsory hijab are not just women but also men.
In December Vida Movahedi a young Iranian woman climbed a platform on Enghelab Street, one of Tehran's major arteries, and waved her white headscarf attached to a stick in the air. Her act was interpreted as protest against compulsory hijab and replicated by several other women in the country who came to be dubbed as Women of Enghelab Street.
In March Nargess Hosseini, one of the Women of Enghelab Street was sentenced to one year in jail by Iranian judiciary for "corruption and committing a haram act by removing her hijab in public". Later another Woman of Enghelab Street, Maryam Shariatmadari was also sentenced to one year imprisonment.
Salahshouri told Jamaran that the Ministry of Interior should issue permits to those who wish to stage protests against compulsory hijab and urged female protesters not to remove their hijab during these protests and comply with the current law.
"Our women can protest to the very hijab they don. These protesters are not against the re-gime. They are neither corrupt, nor spies. They are simply protesting against an issue," Salah-shouri said.
She went on to say that women in Iran face more pressing problems such as "education rights and age of matrimony".
Hardliner Ahmad Jannati, head of Iran's Assembly of Experts has accused the protesters against compulsory hijab of "debauchery". Jannati's adverse sentiments toward the Women of Enghelab Street is echoed by many senior members of the clergy in Iran such as Ayatollah Mesbah Yazdi and Ayatollah Makarem Shirazi. While Salahshour stated that the late founder of the Islamic Republic Ayatollah Khomeini was not keen on compulsory hijab, Ali Khamenei claimed in his recent speech that despite statements from critics, Ayatollah Khomeini "stood as strong as a mountain saying we must have the hijab."
https://en.radiozamaneh.com/articles/iranian-woman-mp-legitimizes-protest-against-compulsory-hijab/
--------
Former Afghan Women's Captain Popal Packs a Punch in Fight for Equality
April 10, 2018
LONDON: Former Afghanistan women's football captain Khalida Popal fled her country after receiving death threats but it has far from cowed her in fighting the prejudice which confronts women daily, she has told AFP.
The 30-year-old — who has been based in Denmark since 2011 — takes her message round the world and spoke after giving an inspirational talk to the girls of Team England who will compete in the Street Child World Cup in Moscow later this year.
Popal said women could achieve anything, a belief she formed when as a child a group of men refused to give back the football she was playing with, saying girls had no right to take part in sport.
"I say to every woman to stay strong. Together women are capable of so many things," said Popal, who along with her friends was called a "prostitute" by men in Afghanistan for participating in physical activity.
"Men believe us playing football is against their honor and women should stay in the kitchen and do dishwashing.
"They (women) have to understand their abilties in order to change the situation round the world."
Popal, who is now program director of the Afghan national team which is made up of refugees and Afghanistan-based women, uses her hand to illustrate how women can fight back.
"(Women) are like a hand. If we are standing up as an individual, as in one finger, it is not strong enough. If it is two fingers, it is not strong enough," she said.
"We have to be together like a punch, she said, balling her hand into a fist. "And if anyone stands in our way, to be like a punch in their face."
Popal said what she encountered in Afghanistan when she was finance officer of the country's national football association illustrated the fear men had of women.
"I remember one day one of my colleagues didn't even want to talk to me as he heard gossip I would take his position," said Popal.
"I said to him 'don't be afraid, if I want any position I want the president's, not yours, which is not important enough'."
She said that because of her gender, she often found male employees refusing to accept their pay cheques from her even though their families relied on them as a bread winner.
US President Donald Trump does not escape Popal's ire given his crude remarks on women — "locker room talk" as he termed it — and his stance on immigrants.
"We used to train in the United States and our first training camp was in California in 2015," said Popal.
"After the election the new guy came who is really really against women, who is a person who insults women openly in public and people are clapping for him and supporting him.
"He becomes president and makes trouble for not only women but also minority groups who live in the United States.
"We come from outside so we can train elsewhere (they have recently been training in Jordan) but for those minorities and women who live there with different social and cultural backgrounds it is against humanity."
Popal says she sees herself as a role model for oppressed women, so she has started up her own organization, Girl Power.
"My goal is to help women through sports, especially refugee women to be part of European society.
"My speech to these amazing women who will play in the Street Child World Cup is telling them my journey and the struggles I faced and to encourage them to stay united and fight for your dreams."
Her message struck a chord with the girls — who are not living on the streets but are in precarious positions — like Samantha, who trains three times a week with boys at Premier League giants Arsenal.
"I loved her talk all about unity as females," Samantha told AFP. "It is especially timely as it is 100 years since women became able to vote here (in Britain)."
Popal would be suitably impressed by the ambition of Samantha — who has her Level One coaching badge.
"I want to be goalkeeper coach for England," Samantha said.
"That might be a bit too far but I am going to keep at it. It's a challenge but I thrive on challenges.
http://www.arabnews.com/node/1281946/offbeat
--------
Driving Simulators Attract Women at AAC Pavilion
April 10, 2018
THE pavilion of Aljomaih Automotive Co. (AAC) at Parking Event, which was recently concluded in the Eastern Province at the waterfront of Al-Khobar Corniche, was distinguished by the attendance of a large number of visitors throughout the days of the exhibition, especially from the women's, who interacted with the contents of the event, particularly the driving simulation experiment that attracted the participation of hundreds of women in deriving Cadillac ATS and the Chevrolet Impala vehicles, which were equipped with state-of-the-art simulators, that give the driver a sense of true driving.
Waleed Al-Jomaih, Chief Operating Officer, expressed his happiness over the successful participation of the company, and the wonderful feedbacks received about the company's pavilion. He confirmed that AAC was keen to contribute to the achievement of the event for its objectives. However, the idea of Parking event was born based on the Royal Order to empower women to drive cars to enhance their value and role in serving the community; whereas the exhibition was targeting the families in general and women in particular and lasted for six days last March 26-31.
It included many guiding activities and witnessed the presence of many governmental bodies and automotive companies in addition to holding of several workshops, launching constructive initiatives and allowed women to express their feelings about this historic decision.
Waleed also said the decision to allow women to drive is one of the historical decisions that have great local and international impact and gives a strong indication that the Kingdom is a country that is living its most beautiful ages of its history and its strong start to achieve its Vision 2030. — SG
http://www.saudigazette.com.sa/article/532358/BUSINESS/Driving-simulators-attract-women-at-AAC-pavilion
--------
Italy Gives $8.5mn for Afghan Women's Clinic
April 9, 2018
Rome/Kabul, April 9 (IANS/AKI) The Italian government has donated $8.5 million dollars to build a new Paediatrics and Obstetrics Clinic at the Kabul National Military Hospital as part of Italy's efforts to help Afghan women, the Foreign Ministry said on Monday.
"Italy has chosen to stand by women, who play a crucial role in the country's peace and reconciliation process," said Italian Ambassador to Afghanistan, Roberto Cantone.
"To act in favour of women in Afghan society is one of Italy's priority goals in Afghanistan and is an essential condition for an optimistic outlook for the country," he said at a ribbon-cutting ceremony at the Afghan Defence Ministry in Kabul that was also attended by the country's Defence Minister, the Italian Foreign Ministry stated.
The new clinic will offer women in the Afghan army healthcare facilities to assist them in their professional careers and family lives, the ministry said.
The clinic will give high-quality services to Afghan army women and their children, providing them with a safe and protected environment to assist the women in their professional careers and family lives, it added.
http://www.business-standard.com/article/news-ians/italy-gives-8-5mn-for-afghan-women-s-clinic-118040901333_1.html
--------
Woman Happy To Give Empty Room in Her House to Syrian Refugee
April 10, 2018
Mary O'Reilly does not consider opening her home to a stranger a big deal. She grew up in a household of lodgers and knew the empty bedroom could be put to good use.
The decision to pledge a room to a refugee was a no-brainer, she says.
"I have a lovely house, the bedroom was here and I felt bad I wasn't doing something. This, for me, was the easy way to help. As a child I grew up with lodgers; people who worked in the local hospital, teachers and engineers. My mother had a mortgage to pay and was a widow, she needed the money. I was used to always having people around," she said.
"It wasn't seeing the child on the beach that pushed me to do something, it happened before that. I think it was when I saw all the people on the television, the hoards of them fleeing across Europe until they were caught at fences and not allowed cross the borders. Something pulled at me, a realisation that it could have been me. You really are just a circumstance of your birth."
In September 2015, Mary joined more than 800 Irish people in pledging a room in her home to a refugee arriving in Ireland.
The Government had committed to welcome up to 4,000 men, women and children into the country from camps in Greece, Italy and Lebanon and Irish people were eager to offer a helping hand to the new arrivals. However, nearly two years passed before Mary finally received a call from the Irish Red Cross asking her whether she'd like to house a Syrian man.
"The wait was frustrating because there were all these students coming to Dublin looking for rooms. But I knew they would come eventually so I held on."
Mary had taken early redundancy from work to look after her mother who died a few years later. She was eager to put the empty bedroom to good use and immediately agreed to welcome Wassim Kharita.
Arrived in Ireland from Greece
Wassim (26) arrived in Ireland from Greece in May 2016 with his teenage cousin. They had crossed the Aegean Sea by boat from Turkey in January leaving behind their families in Lebanon.
Wassim grew up in the city of Al-Zabadani in a mountainous region in southwestern Syria close to the Lebanese border. His father worked as a carpenter and the family ran a farm where they grew apple and peach trees. "It used to be a visitor spot for tourists," says Wassim.
"Syria is not green like here but my city had many trees. We had lots of farming but there are no farms left now. All the green is gone and all our homes are gone. But I don't cry about our homes because there were humans who died. You can always build another home when the war ends but humans cannot come back."
In 2013 his family fled to Lebanon and in 2016, Wassim and his cousin embarked on the journey to Europe.
After arriving in Ireland, Wassim spent more than a year living in the Hatch Hall direct provision centre in Dublin city centre until he received a call offering him a home in Baldoyle. "I had told [the Department of] Justice that I felt very bad in Hatch Hall and needed to move. They said they would find me a house but that took a long time so they talked to the Irish Red Cross."
Mary and Wassim met briefly in July 2017 and the following week he moved into her home. She knew very little about him, only that he was 26 and had arrived from Greece the previous year.
"What else did I need to know?" asks Mary. "I knew he'd been vetted and was already in Ireland more than a year when he moved into this house.
"I wasn't nervous at all," she adds.
Meanwhile, Wassim was trying to remember the advice he was given by a woman named Helen from the Department of Justice who helped him settle in during his initial weeks in Ireland. "She told me to look at people's eyes because Irish people speak with their eyes. And it's true."
English lessons
Wassim now wakes each morning to a view of Ireland's Eye with the Irish Sea stretching out towards the horizon. He takes English lessons during the day and works in an Arabic restaurant in Temple Bar at night.
Wassim admits the initial weeks in Baldoyle were challenging but now he feels very settled. "It was hard at the start because my English was weak but now that I can talk it's easier. I can feel it getting better and living in this house and working helps."
In November, Wassim's parents and younger siblings arrived in Ireland after a Dutch artist living in Dublin offered to pay for their airfare. "When I saw my mum in Dublin Airport I hugged her for five minutes. She means so much to me, especially because I am the eldest son."
The family now live in Tullamore and Wassim visits them each weekend.
"It's opened my world. I've learned so much about Syria from Wassim. Originally my friends thought I was a bit mad to take him in but now they admire me. What I'm doing is no big deal. I've just given him a bed."
Wassim says he is hugely grateful, not only to Mary, but to all the people who have supported and helped him since he arrived in Dublin.
"Before I came to Ireland I didn't know anything about Irish people. The weather is very different, everything is different here. But people here have been very friendly."
https://www.irishtimes.com/news/social-affairs/woman-happy-to-give-empty-room-in-her-house-to-syrian-refugee-1.3456131
--------
URL: https://www.newageislam.com/islam-women-feminism/hijabs-back-spotlight-veiled-muslim/d/114883
New Age Islam, Islam Online, Islamic Website, African Muslim News, Arab World News, South Asia News, Indian Muslim News, World Muslim News, Women in Islam, Islamic Feminism, Arab Women, Women In Arab, Islamophobia in America, Muslim Women in West, Islam Women and Feminism