New Age Islam News Bureau
8 Jan 2019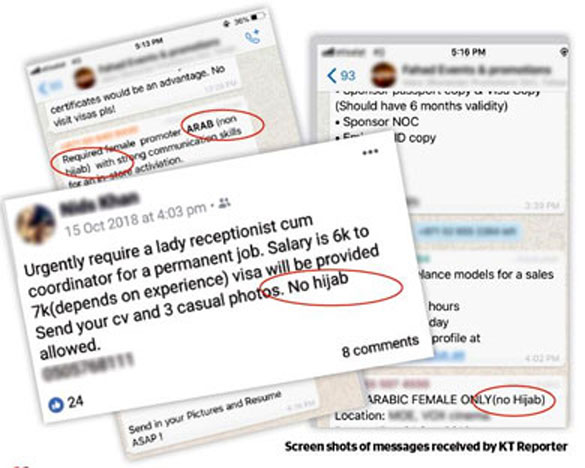 • Thai Police Say They Won't Deport Saudi Woman Stopped In Bangkok Airport
• Gaza TV Channel Hopes To Empower Marginalised Women
• Meet The First Woman to Coach a Men's Football Team in Syria
• Deputy Speaker of Iran Parliament Calls for Referendum on Compulsory Hijab
• Women In Iraq Reclaiming Roles In Society
• Is Bangladesh Poised For Advancement Of Women's Rights?
• Muslim Women Kick Against Street Begging In Nigeria
• Activists Call On Australia to Accept Fleeing Saudi Woman
• Road to Peace in Afghanistan Is Missing Critical Path for Women
• Israeli Forces Shoot, Injure Palestinian Girl Over Alleged Stabbing Attempt
Compiled by New Age Islam News Bureau
URL: https://www.newageislam.com/islam-women-feminism/hijabi-students-uae-lament-discrimination/d/117400
--------
Hijabi Students in UAE Lament Discrimination in Job Market
Sarwat Nasir
January 8, 2019
The comments from students follow several adverts posted by agents who list 'no hijab allowed' as one of the requirements.
As the Year of Tolerance kicks off, UAE students are urging employers in the promotions industry to be more accepting of females who wear hijab (headscarf).
The comments from students follow several adverts posted by agents who list "no hijab allowed" as one of the requirements, even though most of the jobs advertised are culturally acceptable for the applicant.
Students often do promotion jobs to earn quick cash and pay their university fees or other expenses. Many of these jobs usually require employees to promote a product, be a hostess at an event, sell products, welcome guests to an office, or just hand out pamphlets and product samples.
One such promotion job advert, which was posted on a WhatsApp group on January 7, said: "Required female promoter - Arab (non-hijab), with strong communication skills for an in-store activation." Several positions were available for this job across malls such as Mirdif City Centre, Deira City Centre, Dubai Festival City, Burjuman Centre, and Mall of the Emirates.
Ayesha Isa-Zailani, a fresh graduate in Dubai, wears a hijab and feels these adverts are "discriminatory".
"These ads are really negative and there are so many of them. We are living in the UAE and they have this kind of attitude towards girls wearing hijab - it's not right," Isa-Zailani said. She added that agents for the promotion jobs she had applied for never responded to her.
"Most of the jobs are appropriate for hijabis to do, so I don't understand why they don't want us to apply."
One Dubai expat, Anika Habib, worked in promotions for a few years. She said: "A lot of hijabis are turned down from promotion jobs in the UAE. I guess clients want to attract people using non-hijabis. It's unfortunate, especially in this region and, for some job roles, it may be considered discriminatory. I think we should not encourage this sort of selection."
Another expat, Alina Yassar, said employers in promotion jobs often want "good-looking people with blonde or brown hair".
"I wear a hijab and I'm OK with working at the trade centre or at a mall, promoting products. I speak great English and I have communication skills, so I'm not sure why it matters if I wear a hijab or not. There are promoters who don't respond to my questions or my application and I'm always left feeling hurt, especially because we are in a Muslim country," she said.
Nada Ihtesham has worked in the UAE's promotions and events industry for 10 years and part of her role is interviewing and hiring employees.
She is one of the advertisers who posted a job offer on Facebook, which had the requirement of "no hijabis".
Ihtesham told Khaleej Times that her clients demand such requirements and she has "no option" but to post exactly what they are searching for.
"Every job has a different criteria, every person has different requirements. For example, if you are working for a British firm or any firm where you have to go out and meet men as part of the regular work you have to do on a daily basis, it can be disrespectful for ones who wear hijab - it's not my own thinking, but this is the requirement from the client's side," she said.
"If you are offering a job to someone, he or she has to get the criteria right. When some people commented on my Facebook status, asking why a girl with hijab cannot apply, I went back to the client and they replied with the same answer I gave you . I was hiring the people and I was part of the promoter coordinator, when the client gave us a target, I interviewed everyone. [In the case of] the majority of hijabi girls - considering the UAE market - they are not that confident. They are a bit hesitant," Ihtesham said.
Khaleej Times has reported previously that the UAE does have an anti-discriminatory law in place, and up to Dh2 million worth of fines and 10-year jail time can be imposed on employers who discriminate during the hiring process.
In 2017, Khaleej Times also shed light on another dark side of the promotions industry in the UAE, where certain nationalities and race were being given priority and higher pay than others.
https://www.khaleejtimes.com/nation/dubai/hijabi-students-in-uae-lament-discrimination-in-the-job-market
--------
Thai Police Say They Won't Deport Saudi Woman Stopped In Bangkok Airport
7 January 2019
The head of Thailand's immigration police said Monday that a young Saudi woman who was stopped in Bangkok as she was trying to travel to Australia to escape alleged abuse by her family will not be sent anywhere against her wishes.
Rahaf Mohammed Alqunun remained barricaded in an airport hotel room while sending out desperate pleas for help over social media.
The 18-year-old began posting on Twitter late Saturday after her passport was taken away when she arrived in the Thai capital on a flight from Kuwait. She has been appealing for aid from the United Nations refugee agency and anyone else who can help.
Earlier Thai immigration authorities denied Qunun's allegations that they were acting at the behest of the Saudi government, saying she was refused entry to Thailand on Saturday night because she did not have the proper documents for a visa on arrival.
Thai immigration chief Surachate Hakparn said he had had no contact with Saudi officials or Thailand's foreign minister before Qunun's arrival. He said she was denied entry because she did not have a paid return ticket or a hotel reservation.
"She was over-exaggerating ... She fled her family from Saudi Arabia and arrived in Thailand but she didn't have necessary documents to enter. Thai immigration had to deny her entry," he said, describing such cases as standard procedure. (More).
The refugee agency announced Monday evening that Thai authorities had allowed its officials to meet with Alqunun, but declined to give any details of their meeting, citing confidentiality.
Earlier in the day,
Thailand's immigration police chief, Maj. Gen. Surachate Hakparn, said Alqunun's father would arrive Monday night, and that officials would see if the young woman was willing to depart with him.
"As of now, she does not wish to go back and we will not force her. She won't be sent anywhere tonight," Surachate said at a news conference at the airport where Alqunun is stuck.
On Twitter, Alqunun wrote of being in "real danger" if forced to return to her family in Saudi Arabia, and has claimed in media interviews that she could be killed. She told the BBC that she had renounced Islam and is fearful of her father's retaliation.
Alqunun's planned forced departure Monday morning was averted as she stayed in her hotel room, with furniture piled up against the door, photos she posted online showed.
While the Saudi Embassy in Thailand denies Saudi authorities are involved in attempts to stop Alqunun from traveling to Australia, the kingdom has in the past forcibly returned citizens home.
Saudi Arabia's Charge d'Affaires in Bangkok, Abdullah al- Shuaibi has confirmed that a Saudi girl who was with her father in Kuwait has managed to flee to Bangkok.
Her father lives between Hail and Kuwait and he is the one who filed a report related to her escape.
He told Okaz that the embassy in touch with the Thai authorities to ensure her return to the country. He added that they have been told that if she reached the legal age and her documents were legal and complete they will not be able to do so.
However, it has become clear that her documents are incomplete, including a hotel booking and a return ticket. Shuaibi denied that the embassy had withdrawn her passport. "No one from the embassy has met with her," he said.
He said that the Thai authorities were the ones who confiscated her passport for violating the entry regulations and they are taking the appropriate action accordingly.
https://english.alarabiya.net/en/News/world/2019/01/07/Thai-police-say-they-won-t-deport-Saudi-woman-stopped-in-Bangkok-airport.html
--------
Gaza TV Channel Hopes To Empower Marginalised Women
January 07, 2019
Gaza: Rawan Majdalawi is a news personality for a women's television channel called Taif in Gaza.
Which is why it was weird when, for her first episode of her show, she decided to visit a carpentry site and interview the workers there.
They showed her how to cut wood and how to construct closets, but would women be interested in that?
Mona Awkal, founder of Taif, thinks so.
"The idea for establishing the channel emerged from the need for change in society. Policies here don't provide many opportunities for youth and women in particular," she tells Gulf News.
"We started the channel after a successful youth initiative emerged and spread on social media," the journalism graduate said.
Taif, in Arabic, means spectrum.
"We chose this name for our channel because we hope to give voice to the spectrum of Palestinian women in all of their beautiful colours that radiate life, love and strength," Awkal says.
For Majdalawi, she chose to focus her show around carpentry as it is one of the more lucrative fields of work in Gaza.
"If men can do it, surely women can do," she says with a simple shrug.
Taif, which uploads its episodes on Facebook is the first only-women channel in Gaza.
The show's page has attracted around 30,000 followers.
It is also believed to be the only institution in Gaza that hires only women.
Even non-profit organisations catered towards women have men in most senior positions.
The Taif team starts every morning by scanning the news, looking for angles of particular interest to women.
Based on this, they then brainstorm ideas for programmes and hunt down subjects to interview.
For now, the employees of the channel are working for free, since it has yet to receive funding, but the women running the channel hope one day to have dedicated sponsors.
The important thing is they channel wishes to maintain its independence from political organisations, so they want to be very selective about where they receive their money from.
"If we get sponsors in the fure we want to only work with independent organisations. We do not want to have a political agenda," Awkal says.
Currently the channel has 15 employees who work as programmers, broadcasters, field correspondents, sound engineers and producers.
The women pride themselves on pushing sensitive and controversial topics to light.
Besides the episode on careers of men, the show has also tackled hot-button issues like gender inequality, wage gap between men and women.
By addressing these topics they hope to shed light on the plight of marginalised women and work on ways to empower them.
Its staffers even braved the very dangerous coverage of the Gaza border protests where dozens were shot dead and thousands injured by Israeli snipers.
For Majdlawi, working in Taif has been a privilege.
"I hope I can pave the way for radical change by raising important issues women face in a creative way," she tells Gulf News.
https://gulfnews.com/world/mena/gaza-tv-channel-hopes-to-empower-marginalised-women-1.60835360
--------
Meet The First Woman to Coach a Men's Football Team in Syria
January 08, 2019
Damascus - On the soccer pitch, Maha Jannoud barks out instructions to the players just like any other coach, but with one difference: she is a woman in what has been very much a man's world.
Jannoud, 32, who previously played for the Syrian national women's team, believes she is the first woman in the Middle East to coach a professional men's side.
Dressed in a tracksuit, with her hair tied back in a ponytail, she takes the job as assistant coach at her Damascus club in her stride.
"When the person carrying this message of coaching is confident of (their) information and has special charisma and leadership on the pitch, it makes no difference between a man and a woman," she said during a break in training.
Winning the players' acceptance may have been helped by the fact that Jannoud used to play for the same club, Muhafaza, albeit in the women's team, where she began coaching after injury ended her playing career.
"At first it was a little bit hard," player Amjad Katkout said of being coached by a woman. "But then we got used to this, she became like a sister or a friend. It is normal."
Good results may also help cement Jannoud's position, as Muhafaza tries to earn promotion out of the second division and back into Syria's top tier. So far this season, they have won eight out of 10 league matches and drawn the other two.
In a country still dealing with civil war -- a conflict that prevented the Syrian women's team playing for several years this decade -- the club hopes Jannoud's appointment represents progress for soccer and for women.
"I appointed her as technical supervisor of the team that will play this year," said the club's technical manager, Anas Sebaei. "We created a big noise with this decision. Maha deserves that because she is a good player and good coach."
https://gulfnews.com/world/mena/meet-the-first-woman-to-coach-a-mens-football-team-in-syria-1.1546938973355
--------
Deputy Speaker of Iran Parliament Calls for Referendum on Compulsory Hijab
8 January 2019
Ali Motahari, the deputy speaker of Iran's parliament, called for a nationwide referendum about the compulsory wearing of the hijab (headscarf) on Monday, adding that he was positive the results would be for the hijab.
Mathari's open support for the hijab coincides with the yearly anniversary of the creation of the campaign to remove compulsory hijab in Iran, which was started by women who started taking off their hijabs in public squares across the country, and were faced by violence and arrests.
Motahari, who has a hardline stance about the hijab in Iran, claimed that it is not really being forced upon women inside Iran.
"If a referendum is held in Iran, the Iranian society will vote for the hijab themselves", a member of the Iranian Parliament Committee on Culture had said in a speech.
Motahari's statements about hijab come while most of Iranian women are starting to wear clothes that differ from what the regime officially promotes as "proper dress" for the past four decades.
Since last year, Iranian women started a campaign against obligatory hijab. They had published videos and photos showing them taking off their hijab in public squares, which was widely circulated on social media.
Iran's clerics panic
Iran's traditional Marja, like Naser Makarem Shirazi, Noori Hamedani and Ja'far Sobhani had previously complained of what they called (the bad Hijab) in Iran.
Iran's Research Center of Islamic legislative Assembly had issued a report based on opinion polls, stating that commitment to legitimate hijab has become less among young people and university graduates.
Ahmad Alamolhoda, the ultraconservative Friday Prayer leader of Mashahd in northeatern Iran, pointed out in his last Friday prayer that the prevalence of not committing to hijab leads to "changing the religious identity of the society".
"Lately, prominent figures on social media have been calling for tolerance with woman who don't wear hijab just to appease young people," he said.
"A conspiracy has started in Turkey to portray women with hijab as the causes of indecency, corruption and prostitution," he added claiming that "women with hijab can go to discos in Turkey."
https://english.alarabiya.net/en/News/world/2019/01/08/Deputy-speaker-of-Iran-parliament-calls-for-referendum-on-compulsory-hijab-.html
--------
Women In Iraq Reclaiming Roles In Society
by Imran Khan
Jan 8, 2019
The role of women in Iraqi society has come under the spotlight as more women assert themselves in all areas of society.
Rights activists have felt those in charge are resisting the change, but 25 percent of Iraq's parliament are women and activists feel that is crucial as there is still a long way to go before women are treated equally to men.
https://www.aljazeera.com/news/2019/01/women-iraq-reclaiming-roles-society-190107095637669.html
--------
Is Bangladesh Poised For Advancement Of Women's Rights?
January 7, 2019
Bangladesh's parliamentary election on Dec. 30 saw the highest number of women directly elected to the Lower House, sparking optimism and skepticism over how far this will advance women's rights and gender equality in a country known for its dysfunctional politics.
There are now 22 women MPs in parliament — compared to 18 previously — all from the ruling Grand Alliance, led by Prime Minister Sheikh Hasina of the Awami League (AL). Some 69 women stood in the poll.
Women's rights activists have welcomed the news but questioned how successful they will be in curbing discrimination, subjugation and violence against women in this male-dominated South Asian nation.
"There are 300 seats but we only have 22 women MPs — not enough to get too excited about," Rita Roselin Costa, convener of the Women's Desk at the Catholic Bishops Conference of Bangladesh, told ucanews.com.
"Half of the population is female, so women deserve at least one-third of the seats in a direct election," she said.
The Grand Alliance led by Prime Minister Sheikh Hasina of the AL won the 11th general election of the National Assembly (Jatiya Sangsad) by a landslide at the end of last month.
The party bagged 288 out of 298 constituencies, marking a record third straight win for Hasina and the AL.
The Jatiya Okiya Front (National Unity Front), another alliance led by the Bangladesh Nationalist Party (BNP) that represents the main opposition, claimed just seven.
The AL has 19 women MPs, including Hasina, while the Jatiya Party (National Party) and Jatiya Samajtantrik Dal (National Socialist Party) can boast of just two and one, respectively.
The new members of the House from the ruling alliance took their oaths on Jan. 3.
However opposition MPs refrained from doing so in a symbolic gesture showing their rejection of what they called a "farcical" election allegedly undermined by vote rigging.
Bangladesh's 300-seat parliament holds an election every five years. Fifty seats are reserved for women but critics see this as a ceremonial provision and say women's rights issues get scant attention.
"Most women MPs here have been able to enter politics and rise to power due to the country's dynastic political culture. Without such a background it can be very difficult for them to climb the ladder of power," Costa said.
"Few men in this country see women as their equals, and most never want to be ruled by women, even if they are qualified to do so," she added.
"I don't expect much from our new women parliamentarians in terms of raising the status of women," the activist continued.
"History shows us they are more inclined to toe the party line than take the initiative in trying to change women's fortunes."
Nonetheless, the gradual increase in their parliamentary ranks should be viewed as a positive trend, according to Rasheda Rawnak Khan, a Dhaka-based political commentator.
"In a patriarchal country like this, four additional women MPs is a good sign. It shows change is taking place, albeit slowly," she said.
"Sadly, from a political perspective, women are making good progress. But ideologically, they are still considered inferior to men, or are treated like commodities. This scenario is unlikely to change much, as far as we can predict."
Those who have amassed a degree of power may struggle to sympathize with their fellow countrywomen who live lower down the social ladder, for example the workers in Bangladesh's thriving garment industry, Khan said.
This is because the more privileged do not face anywhere near the same level of subjugation or abuse and so often fail to internalize the problems and challenges working-class women face, she added.
"Women with power have a life of dignity, security and privilege, which is elusive for most women in the country," she said.
"They need to realize they must play a stronger role to promote the rule of law that protects and supports women adequately for a better society and country," she added.
Gloria Jharna Sarker, a Supreme Court lawyer and Catholic, sought nominated from the BAL prior to the election but failed. Yet she is still hopeful of winning one of parliament's 50 seats reserved for her sex.
"Many women like me sought nomination but they were denied despite their qualifications," Sarker told ucanews.com.
"We need to see more women in positions of power but that can only happen if men renounce their dominance and authoritarianism and make room for us," she said.
Bangladesh gained independence from Pakistan after a nine-month war in 1971. The new nation was plagued by political upheaval in 1975 following the assassination of country's first president, Sheikh Mujibur Rahman — Hasina's father — during a botched military coup.
The killing of Rahman and most of his family members was followed by the assassination of four of his close associates in a Dhaka jail that same year, which paved the way for a series of coups and counter coups.
Consequently, the country fell under military rule from 1975-1990.
Parliamentary democracy was restored in the late 1990s. Since then, the AL and the BNP led by two-time former prime minister Khaleda Zia have traded power.
https://www.ucanews.com/news/is-bangladesh-poised-for-advancement-of-womens-rights/84204
--------
Muslim Women Kick Against Street Begging In Nigeria
January 7, 2019
Leadership of the Federation of Muslim Women Associations in Nigeria has called on Almajiri in the country to shun begging and think positively on how to contribute to the economic development of the nation.
The FCT FOMWAN Amira, Hajia Maryam Abdullahi made the call during a humanitarian visit to the National Mosque Abuja on Friday before the commencement of the Khutbah Jummah.
She said it is against the Sunnah of Prophet Muhammad SAW to live permanently on begging from other, she urged the less privileged in the society to take education serious and ready to feed from their own sweat.
Hajia Asmau Usman who is the FOMWAN Coordinator for humanitarian services said the organization is moving round the city to educate the vulnerable ones in the society so as not to be used for violence or crisis.
The highlight of the programme was the distribution of domestic items for hundreds of Almajiri who came in multitude to collect the alms.
https://www.blueprint.ng/muslim-women-kick-against-street-begging/
--------
Activists Call On Australia to Accept Fleeing Saudi Woman
Jan 8, 2019
Thailand's immigration police chief met Tuesday with officials of the Saudi Embassy in Bangkok, and said the officials told him they are satisfied with how the case of a young Saudi woman who claims to be fleeing her abusive family has been handled.
Maj. Gen. Surachate Hakparn explained the Saudi reaction to reporters after a meeting with its diplomats. The embassy issued a statement Tuesday denying accusations that it had requested the extradition of Rahaf Mohammed Alqunun or seized her passport, as the 18-year-old woman had charged several times. The statement said the case is a "family affair but yet, it is under the care and attention of the Embassy."
"The position of two countries on this matter is the same — that the priority is to provide her safety. We are both concerned for Miss Rahaf's safety and well-being," said Surachate. "The Saudi charge d'affaires said he is satisfied and expressed confidence on the work of Thai immigration, of the Thai government, and of the Foreign Ministry yesterday."
Alqunun grabbed global attention when she sent out pleas for help via social media, saying she feared for her life if she were put on a plane back to Kuwait, where she had slipped away from her family, or her homeland.
Instead, she was given back her passport and allowed to enter Thailand temporarily under the protection of the U.N. refugee agency, which was expected to take about five to seven days to study her case and her claim for asylum. The office of the U.N. High Commissioner for Refugees said in a Tuesday statement that it would look into Alqunun's case "to assess her need for international protection." She has said she wants to go to Australia to seek refuge there.
Surachate said Alqunun's father and brother were due to arrive soon in Bangkok, but that it was her decision whether to meet with them. On Twitter, she has expressed fear of such a meeting. The father had previously been expected Monday night.
Meanwhile, Human Rights Watch called on the Australian government to allow Alqunun's entry into that country.
Alqunun said she had a visa to continue her journey to Australia, but media reports say the Australian government has now canceled it. Australian officials have not responded to multiple requests for comment.
While Surachate claimed Alqunun never had a visa to enter Australia, Human Rights Watch's Australian director, Elaine Pearson, said she had seen electronic confirmation of the visa, shown by Alqunun to HRW's Asia deputy director, Phil Robertson.
But, Pearson said, Alqunun could no longer access her visa page on Australia's immigration website on Tuesday, sparking concern that the document had been canceled. An Australian visa is usually processed electronically and not stamped in one's passport, but confirmed by a document that the visitor can print out.
Though refugee status would mean a different form of visa would be needed, Pearson said Australia's apparent cancellation of Alqunun's tourist visa was a worrying sign.
"It's extremely concerning if it is the case that the visa has been canceled," she told The Associated Press, adding that Australia should allow Alqunun entry in any case.
Since Australia has expressed concern in the past about women's rights in Saudi Arabia, it should "come forward and offer protection for this young woman," Pearson said.
For runaway Saudi women, fleeing can be a matter of life and death, and they are almost always trying to escape male relatives.
In 2017, Dina Ali Lasloom triggered a firestorm online when she was stopped en route to Australia, where she planned to seek asylum. She was forced to return to Saudi Arabia and was not publicly heard from again, according to activists tracking her whereabouts.
Despite efforts by the Saudi government to curtail the scope of male guardianship laws, women who try to flee their families in Saudi Arabia have few good options inside the kingdom. They often are pressured to reconcile with their families, sent to shelters where their movement is restricted, or face arrest for disobeying their legal guardian.
https://abcnews.go.com/International/wireStory/activists-call-australia-accept-fleeing-saudi-woman-60225036
--------
Road to Peace in Afghanistan Is Missing Critical Path for Women
01/07/19
Afghanistan is making headlines again. While peace talks and shuttle diplomacy by the United States government renewed optimism last fall, recent attacks and questions about American troop numbers complicate the current landscape. The new year marks the 40th anniversary of the Soviet invasion, which began four decades of war and violent conflict in Afghanistan, so overtures of peace are welcome now more than ever.
But it seems that every time the possibility of peace is discussed, there arises the questions of what rights will be guaranteed and who will guarantee them. At times, the American government has conceded that the "roadmap" to the future of Afghanistan, including the freedoms and rights of women, will be a decision for Afghans themselves to make.
Yes, Afghans must decide what type of society they are striving for. Still, the position of the United States as a partner remains important. The United States must maintain its commitment to advancing the rights of Afghan women and girls. If the United States fails to do so, there is a chance for that commitment to be relinquished in an effort to reach an agreement as soon as possible. This is especially true given reports that the United States Special Representative for Afghanistan Reconciliation, Zalmay Khalilzad, has recently been given six months to achieve peace.
At a conference last fall in Geneva, President Ashraf Ghani indicated the Afghan government is seeking to include the Taliban in a "democratic and inclusive society" in which the constitutional rights of all Afghan citizens, including women, are ensured. He also stated that women will be part of the Afghan negotiating team for talks with the Taliban. This is essential to any agreement. However, there is a risk that even this may be surrendered in the hope of ensuring that the Taliban comes to the negotiating table.
It is imperative that the voices, the interests, and the progress of Afghan women be represented. The tremendous gains made by Afghan women over the years, as well as their future and that of their children, should not be sacrificed for the sake of expediency. While it may lead to a peace agreement in the short term, it will jeopardize stability in the long term.
Since September, Khalilzad has traveled across the region to gather support for peace talks. In November, he participated in three days of direct dialogue with the Taliban in Qatar. Last month, he completed a trip that ended with another round of direct talks in the United Arab Emirates. This is a departure from past American policy that had emphasized the need for negotiations between the Afghan government and the Taliban.
The discussions led by Khalilzad, the Afghan peace march last spring, the proposal by Ghani for a negotiating process with the Taliban without preconditions or ultimatums, and the three day ceasefire between the Afghan government and the Taliban are all rare events. Time will tell if they herald the chance of an Afghanistan free of conflict. The Taliban actively participating in the talks at least signals open lines of communication.
There is some reason to be optimistic at the willingness of these three key players of the United States, the Afghan government, and the Taliban to take considerable steps forward. However, it is essential that all parties, including the Taliban, remember that for sustainable peace, an agreement must include certain commitments for all citizens. From protection of social freedoms and economic rights, to upholding the rule of law, to inclusive governance, these elements will ensure that all Afghans buy in.
Afghan women must be at the table and be a part of the peace process in a meaningful way. A study of 40 peace processes in 35 countries over the last three decades found that inclusion of women resulted in the greater odds of an agreement, implementation of the accord, and sustainability over the long term. The United States and international community must do a better job of championing policies and programs that include the empowerment of women into global affairs and defense strategies.
It is incumbent upon the United States and the Afghan government to underscore the indispensable message that Afghan women are and must remain key participants in the fabric of Afghan society. What kind of future does the world want for Afghanistan? What kind of future are Afghans themselves working toward? Certainly no one wants another 40 years of war and certainly not a future where women are again marginalized.
The United States, Afghanistan, and international community must start the uncertain road to stability with a staunch commitment to the rights of all Afghans, including women. Anything less would not be worthy of the millions of Afghans who have lost so much and who yearn for a stable, peaceful, and prosperous country more than the world can imagine.
https://thehill.com/opinion/international/424176-road-to-peace-in-afghanistan-is-missing-critical-path-for-women
--------
Israeli Forces Shoot, Injure Palestinian Girl Over Alleged Stabbing Attempt
Jan 7, 2019
Israeli forces have shot and injured a Palestinian girl, whom they alleged to have attempted a stabbing attack against Israeli police officers at a checkpoint in the northern part of the occupied West Bank.
Local sources, requesting not to be named, said Israeli forces shot and injured the unnamed Palestinian girl at Za'tara checkpoint south of Nablus, located approximately 49 kilometers (30 miles) north of Jerusalem al-Quds, on Monday afternoon, and did not allow paramedics to attend to her.
The Israeli military later claimed in a statement that the Palestinian girl was shot when she did not stop upon orders by soldiers.
The development came a day after a Palestinian teenage boy sustained serious injuries after Israeli military forces stormed a city in central West Bank.
Tensions continue to simmer in the occupied Palestinian territories more than a year following US President Donald Trump's recognition of Jerusalem al-Quds as Israel's capital and relocation of the US embassy to the occupied city.
The Palestinian Ministry of Health said in a statement that Israeli forces raided al-Bireh, located 15 kilometers (9.3 miles) north of Jerusalem al-Quds, early on Sunday, and violently ransacked a number of houses and shops, triggering clashes with local residents.
Witnesses, requesting not to be named, said Israeli forces used live ammunition, teargas and rubber-coated steel bullets to disperse stone-throwing Palestinians, who responded by setting tires on fire.
The ministry said a bullet struck a teenager, whose identity was not immediately known, in the head, causing a skull fracture and internal bleeding. The injured Palestinian was taken to hospital for treatment.
The soldiers also raided a Peugeot car showroom in the city, and seized the recording of its surveillance cameras before withdrawing from the area.
On December 21, 2017, the United Nations General Assembly overwhelmingly voted in favor of a resolution that calls on the US to withdraw its controversial policy shift.
Despite the vote, the United States went ahead with the embassy transfer on May 14 last year, triggering demonstrations in the occupied Palestinian territories, Iran, Turkey, Egypt, Jordan, Tunisia, Algeria, Iraq, Morocco and other Muslim countries.
Israel's crackdown in Gaza left over 60 protesters dead in the impoverished coastal enclave on that day alone.
Angered by Trump's move, Palestinian President Mahmoud Abbas boycotted his administration, saying Washington is no longer qualified to serve as the sole mediator in the decades-long conflict with Israel, and that an international mechanism should be devised to replace the US in the so-called peace process.
https://www.presstv.com/Detail/2019/01/07/585125/Israeli-forces-shoot-injure-Palestinian-girl-for-alleged-stabbing-attempt
--------
URL: https://www.newageislam.com/islam-women-feminism/hijabi-students-uae-lament-discrimination/d/117400
New Age Islam, Islam Online, Islamic Website, African Muslim News, Arab World News, South Asia News, Indian Muslim News, World Muslim News, Women in Islam, Islamic Feminism, Arab Women, Women In Arab, Islamophobia in America, Muslim Women in West, Islam Women and Feminism