New Age Islam News Bureau
2 Aug 2019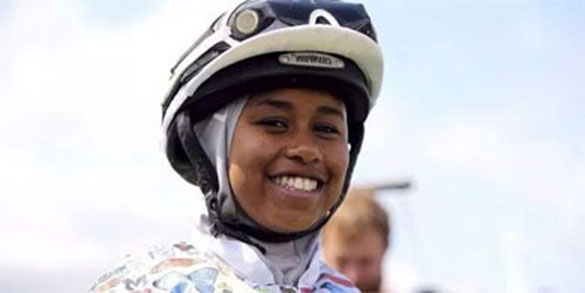 British Jockey Khadijah Mellah poses for a photograph, previous to the all-female Magnolia Cup – an novice jockey's charity race, all over day 3 of the Qatar Goodwood Pageant at Goodwood Racecourse, in Chichester, England, Thursday, Aug. 1, 2019.
(PA by way of AP)
------
• Iranian Women Defy Threat of Decade-Long Jail Sentence By Taking Photos Of Themselves Without Headscarves
• UAE's First Female F3 Driver Shatters Gender Stereotypes
• Saudi Arabia Allows Women to Travel Abroad Without Male 'Guardian' Approval
• Saudi Arabia Decrees Sweeping Changes To Women's Rights
• BJP Leader in Odisha Assembly Says Muslim Women Dominate Red Light Areas, Quotes 'Survey Reports'
• Dutch Ban On Burqas and Niqabs Takes Effect
Compiled by New Age Islam News Bureau
URL: https://www.newageislam.com/islam-women-feminism/hijab-wearing-jockey-becomes-first/d/119371
--------
Hijab-Wearing Jockey Becomes First Female British Muslim to Win A Competitive Race In UK
August 2, 2019
An 18-year-old teenager made history Thursday when she became the first female British Muslim jockey to ride – and win - a competitive horse race in the United Kingdom.
Khadijah Mellah, an amateur rider from Peckham, in south London, won the five-and-a-half furlong all-female charity race at Glorious Goodwood. She is believed to be the first person in the U.K. to appear in a competitive horse race while wearing a hijab.
Racing TV
?
@RacingTV
What a story! Peckham teenager Khadijah Mellah, from @EbonyHorseClub and the first Briton to race in a hijab, lands a memorable #MagnoliaCup at @Goodwood_Races ?? @WellbeingofWmen
Embedded video
477
5:50 PM - Aug 1, 2019
Twitter Ads info and privacy
252 people are talking about this
"There are no words to describe this – I'm lost for words," she told the BBC after winning the Magnolia Cup aboard Haverland. "When I passed the post I couldn't believe it, and then I saw all my family and friends and started crying. I am quite competitive, so I wanted to win this race, but I never expected to."
She beat out the likes of Olympics cycling champion turned jockey Victoria Pendleton.
Jockey Frankie Dettori told BBC Sport that it was an "incredible" and "unbelievable" race to watch.
"I met her yesterday and she is such a sweet person," Dettori added.
Mellah learned to ride at the Ebony Horse Club charity in Brixton and sat on a racehorse for the first time in April this year.
"Horses bring me immeasurable amounts of happiness," she said. "I've always loved them and always will and I hope to carry on and keep riding."
The Muslim Women's Sports Foundation told the BBC that the number of British Muslim jockeys – past and present – is in "single digits."
https://www.foxnews.com/sports/hijab-wearing-jockey-first-female-british-muslim-goodwood
--------
Iranian Women Defy Threat of Decade-Long Jail Sentence By Taking Photos Of Themselves Without Headscarves
August 2, 2019
Iranian women are sharing videos of themselves removing their headscarves in public, despite a recent ruling they could face 10 years in jail for doing so.
Masih Alinejad, an Iranian journalist and prominent activist based in the US, started a social media campaign in 2014 encouraging women in Iran to share self-portraits without the Islamic veil, which she then goes on to share on her Facebook page called "My Stealthy Freedom".
Ms Alinejad said campaigners had carried on sending her pictures and videos even after Tehran's Revolutionary Court ruled they could face up to 10 years in prison on Monday.
"Today I have received lots of videos from inside Iran. And women in these videos are braver and angrier than before," she said.
Ms Alinejad said Iran's government was "scared of women practising civil disobedience and engaging in peaceful protest".
Wearing the Islamic headscarf is compulsory in public for all women in Iran – with those who do not wear a hijab, or are seen to be wearing a "bad hijab" by allowing some of their hair to show, facing punishments spanning from fines to imprisonment.
Female athletes have to wear the hijab during competitions.
Amnesty International says women and girls are regularly stopped in the street by morality police and vigilantes.
The head of Tehran's Revolutionary Court said those sharing protest videos with Ms Alinejad – who Tehran considers to be acting on behalf of the US – could be jailed for up to a decade under laws relating to cooperation with an enemy state.
"All those women who send the video footage of removing their hijab to her will be sentenced to between one to 10 years of jail," Musa Ghazanfarabadi told the semi-official Fars news agency.
According to Amnesty International, at least 39 women were arrested last year in connection with anti-hijab protests.
Raha Bahreini, a researcher at the human rights organisation who specialises in Iran, said the country's laws are written in a "very broad and vague manner" and this can be used by courts to increase penalties for women's rights protesters.
She said: "This is a distressing pattern which shows that they want to increase their crackdown on this peaceful movement and they want to punish those who dare to defy compulsory veiling laws with very severe penalties".
Last year, an Iranian woman was sentenced to two years in prison and 18 years of probation for removing her headscarf in a protest.
Shaparak Shajarizadeh said she had been sentenced for "opposing the compulsory hijab" and "waving a white flag of peace in the street".
There has been mounting resistance to the enforced hijab over recent years in Iran – with some women shaving their hair and dressing as men. Many women are opposed to being forced to cover their heads and protesters have removed their hijabs and twirled them on sticks in defiance.
Women's rights are severely restricted in Iran. Iranian women have been barred from watching stadium football matches for most of the 40 years since the Islamic Revolution. The clerical regime has been reported to have hired security forces since August last year to deal with women who attempt to sneak into the stadium with men's make-up.
Some 60 per cent of Iranian women have experienced domestic violence at least once in their life, according to official data.
Last year, Iranian state TV was forced to apologise for a segment which featured a relationship expert tell domestic violence victims to kiss their husband's feet.
"Even if your husband is a drug addict, if he beats you, just do it and you will see a miracle in your life," the expert was said to have told viewers.
The woman, whose advice was roundly mocked on social media, told spouses to "slowly give him a foot massage" and then "kiss his feet".
She said this would relieve a husband's stress and help prevent strokes and heart attacks.
https://www.independent.co.uk/news/world/middle-east/iran-women-headscarves-photos-jail-sentence-masih-alinejad-a9032901.html
--------
UAE's First Female F3 Driver Shatters Gender Stereotypes
August 02, 2019
DUBAI: Gender stereotypes were common for Arabs growing up in the late 20th century. Defying the rules was a challenge.
For Nahla Al-Rostamani, the UAE's first female F3 driver, defying the rules started at the age of 12, when her uncle taught her to drive. Passionate about motorsports, she got behind the wheel at every opportunity.
"I've always had a curiosity about driving. Even at theme parks, I'd choose bumper cars," Al-Rostamani said.
The now 35-year-old racer remembers karting almost every day at the Dubai Autodrome before getting her racing license in Bahrain.
"I'd accepted to travel to Bahrain all alone to undergo a three-day training program and get the Formula Ford license," she said. "After successfully passing the challenging race track, the team told me that I was the first Emirati girl to take this course and pass it.
"I was over the moon. It made me want to push further and achieve more."
After studying media with the dream of becoming a world-renowned journalist, the motorsports professional suddenly realized she was following the wrong goal.
"I sacrificed a lot in order to pursue my passion for motorsports. I gave up other ambitions and goals in life, even spending time with my family, to develop my driving skills. I wanted to challenge myself and prove that women can do the impossible," she said.
"I was surrounded by men who didn't believe in my passion and talent. I was constantly put down by people who refused to teach me or even befriend me. I had the obstacles of tradition and culture around me from birth, but that didn't stop me from doing what I love."
In 2007, Al-Rostamani returned to the Autodrome, where she worked fulltime as a marketing coordinator. No job was too small for the ambitious racer. She volunteered and learnt how to keep the timing for races, getting to greet world-famous F1 drivers at special events.
As the first Emirati female certified race timekeeper, Al-Rostamani soon emerged as a key figure on the tracks.
"I always wanted to do more than just marketing. I made sure to include myself in every race, walk through the paddock to learn everything, and talk to drivers whenever I could," she said. "That's when I volunteered to learn how to do the timings for the races. After working on over 40 races, I got my license."
Working her way up the career ladder, Al-Rostamani assumed greater responsibilities at the Yas Marina Circuit (YMC) in Abu Dhabi, serving as chief timekeeper and deputy circuit manager.
"After a couple of years at the Autodrome, I accepted a new challenge with the YMC, and that meant being involved with F1," she recalled. "I started marshalling, doing race control and track prep. I quickly became deputy circuit manager. Through my role, I was honored to meet great racers and people in motorsports and became friends with well-known drivers. I viewed my job as a passion and my baby. I took care of the track, whether it meant cleaning debris or painting it, getting it ready to welcome F1. I spent more time on the track than with my family."
Al-Rostamani expects her efforts to advocate for women in motorsports in the UAE to continue through her daughter. With a remarkable 15-year career behind her, this pioneer sees no finishing line for the race against gender stereotypes.
http://www.arabnews.com/node/1534321/middle-east
--------
Saudi Arabia Allows Women to Travel Abroad Without Male 'Guardian' Approval
Aug 2, 2019
RIYADH: Saudi Arabia will allow women to travel abroad without approval from a male "guardian", the government said Thursday, ending a restriction that drew international censure and prompted extreme attempts to flee the kingdom.
The landmark reform erodes the longstanding guardianship system that renders women permanently as legal minors and allows their "guardians" — husband, father and other male relatives — to exercise arbitrary authority over them.
The decision, following years of campaigning by activists, comes after high-profile attempts by women to escape their guardians despite a string of reforms including a historic decree last year that overturned the world's only ban on female motorists.
"A passport will be granted to any Saudi national who submits an application," said a government ruling published in the official gazette Umm Al Qura.
The regulation effectively allows women over the age of 21 to obtain passports and leave the country without their guardian's permission, the pro-government Okaz newspaper and other local media reported, citing senior authorities.
Women in the kingdom have long required permission from their male "guardians" to marry, renew their passports or exit the country.
The decision grants women "greater autonomy and mobility", said Kristin Diwan of the Arab Gulf States Institute in Washington.
"If fully implemented (this is) a big step in letting adult Saudi women take control of their own lives," Diwan added.
The pro-government Saudi Gazette newspaper hailed the decision as "one giant leap for Saudi women".
The ruling comes as Saudi Arabia faces heightened scrutiny over its human rights record, including an ongoing trial of women activists who have long demanded that the guardianship system be dismantled.
That includes Loujain al-Hathloul, a prominent rights activist who marked her 30th birthday this week in a Saudi prison, campaigners said.
Alongside a sweeping crackdown on dissent, Crown Prince Mohammed bin Salman — the kingdom's de facto ruler — spearheads a wide-ranging liberalisation drive that is aimed at transforming the conservative petro-state, long criticised for its treatment of women.
His reforms include the much-celebrated decision allowing women to drive in June last year, allowing women to attend soccer games alongside men and take on jobs that once fell outside the narrow confines of traditional gender roles.
But while transforming the lives of many women, critics said the reforms will be cosmetic for many others until the kingdom abolishes the "guardianship" system that gives men arbitrary authority over their female relatives.
Some have undertaken perilous attempts to escape overseas despite the reforms.
They include 18-year-old Rahaf al-Qunun, whose live-tweeted asylum plea from a Bangkok hotel in January after she fled her Saudi family drew global attention.
Later, two Saudi sisters who sought sanctuary in Hong Kong from what they called family abuse were allowed passage to a third country that was not named for their safety.
And subsequently, two other Saudi sisters fled to Georgia.
Saudi officials have expressed commitment to fighting guardianship abuse, but have warned the system can only be dismantled piecemeal to prevent a backlash from arch-conservatives.
In a one-off case last year, a Saudi court ruled in favour of a 24-year-old woman who challenged her father's decision to not let her have a passport.
But until Thursday's ruling, she would have still required his permission to travel.
https://timesofindia.indiatimes.com/middle-east/saudi-arabia-allows-women-to-travel-abroad-without-male-guardian-approval/articleshow/70491316.cms
--------
Saudi Arabia Decrees Sweeping Changes To Women's Rights
Aug 2, 2019
Women in Saudi Arabia will no longer need the permission of male guardians to travel or obtain a passport after decrees were signed by King Salman.
Cabinet decrees published by the official Saudi gazette on Friday stipulate the right of every Saudi citizen over the age of 21 to obtain a passport and limits the need for a guardian's approval to minors only.
The former system required women to seek permission of their guardian – usually their father or husband, but sometimes a brother or son – to marry, apply for a passport and leave the country.
The amendments also grant women the right to register child birth, marriage or divorce, and to be issued official family documents and be eligible as a guardian to children who are minors.
Princess Reema bint Bandar, Saudi Arabia's ambassador to the United States, said she was "elated" by the moves from Riyadh.
"I am elated to confirm that KSA will be enacting amendments to its labour and civil laws that are designed to elevate the status of Saudi women within our society, including granting them the right to apply for passports and travel independently," she said in a series of tweets.
"These developments have been a long time coming," she added. "From the inclusion of women in the consultative council to issuing driving licenses to women, our leadership has proved its unequivocal commitment to gender equality.
"These new regulations are history in the making."
Reema Bandar Al-Saud
✔
@rbalsaud
I am elated to confirm that KSA will be enacting amendments to its labor and civil laws that are designed to elevate the status of Saudi women within our society, including granting them the right to apply for passports and travel independently. 1/4
1,382
7:37 AM - Aug 2, 2019
Twitter Ads info and privacy
1,218 people are talking about this
Dr Anwar Gargash, the UAE's Minister of State for Foreign Affairs, congratulated Saudi Arabia on its "confident steps towards development and modernisation".
د. أنور قرقاش
✔
@AnwarGargash
نسعد بخطوات السعودية الواثقة نحو التجديد والتطوير والتحديث والذي يقوده خادم الحرمين الشريفين الملك سلمان بن عبدالعزيز وسمو الامير محمد بن سلمان حفظهم الله، نفرح لان السعودية هي الاخ الشقيق والجار الصدوق ونستبشر لان كل ما فيه خير للسعودية هو خير لنا وللمنطقة.
1,449
3:38 AM - Aug 2, 2019
Twitter Ads info and privacy
902 people are talking about this
Last year, the kingdom lifted the ban on driving for women, who also no longer need permission from a male guardian to study at university, undergo surgery or get a job.
The royal decrees issued on Friday also cover employment regulations, with the intention of expanding work opportunities for women, who represent a significant amount of unemployed Saudis.
About 20 per cent of Saudi female workforce were unemployed in 2018, according to the latest figures from the World Bank.
The documents say that all citizens in the country have the right to work without facing discrimination based on gender, disability or age.
Crown Prince Mohammed bin Salman has lifted restrictions, many of which apply solely to women, to transform the country's economy.
In 2016, he unveiled a plan to diversify the economy by 2030 and try to increase women's participation in the workforce to 30 per cent from 22 per cent.
This year there were reports that the decision to remove all travel restrictions on women was being considered at government level.
https://www.thenational.ae/world/gcc/saudi-arabia-decrees-sweeping-changes-to-women-s-rights-1.893666
--------
BJP Leader in Odisha Assembly Says Muslim Women Dominate Red Light Areas, Quotes 'Survey Reports'
August 1, 2019
Bhubaneswar A BJP leader stoked a controversy in the Odisha Assembly on Thursday when he said "Muslim women dominated the red-light areas of Mumbai and Kolkata" while speaking in support of the "triple talaq" bill.
BC Sethi, the deputy leader of the Bharatiya Janata Party (BJP) in the House, quoted "survey reports" from magazines and newspapers during Zero Hour to justify his claim even as members of the Congress and the ruling Biju Janata Dal (BJD) demanded that the statement be immediately expunged from the records.
"What is wrong in quoting survey reports in the House? I have not made any adverse remark against any community, but quoted survey reports that say Muslim women dominate the red-light areas in Mumbai and Kolkata," Sethi said.
He was replying to Congress members, who had criticised the BJP-led central government for pushing through the Muslim Women (Protection of Rights on Marriage) Bill in Parliament.
The Congress members had on Wednesday said the bill should have been amended before it was passed by Parliament.
President Ram Nath Kovind gave his assent to the "triple talaq" bill on Thursday, making the practice of instant divorce among Muslims a punishable offence.
Sethi claimed that some political parties, with an eye on minority votes, were opposing the legislation.
"The opponents of the 'triple talaq' bill should keep it in mind that the legislation was passed in Parliament on humanitarian grounds to protect the interest of the women at large," he said.
The practice of "triple talaq" was abolished in 38 countries including Pakistan and Bangladesh, the BJP leader maintained.
"The 'triple talaq' bill has nothing to do with religion and is aimed at eradicating a social evil. Now, one cannot divorce his wife just by uttering 'talaq-talaq-talaq' in an inebriated state or via a mobile phone message," he added.
Speaker S N Patro said he would examine the remarks of the BJP member and requested the Congress lawmakers, who were agitating in the well of the House, to return to their seats.
When the agitating MLAs refused to budge and attempted to climb up to the speaker's podium, Patro adjourned the proceedings till lunch. ?
https://www.news18.com/news/india/odisha-bjp-leader-says-muslim-women-dominate-red-light-areas-quotes-survey-reports-2254529.html
--------
Dutch Ban On Burqas and Niqabs Takes Effect
The Netherlands has banned face-covering clothing, such as a burqa or niqab, in public buildings and on transport, as a contentious law on the garment worn by some Muslim women came into force.
Between 100 and 400 women are estimated to wear a burqa or niqab in the European country of 17 million people.
"From now on the wearing of clothing which covers the face is banned in educational facilities, public institutions and buildings, as well as hospitals and public transport," the Dutch interior ministry said in a statement on Thursday.
The legislation - which was passed in June last year after more than a decade of political debate on the subject - also applies to other face coverings such as full-face helmets or balaclavas.
Security officials are now required to tell people with face-covering clothing to show their faces. If they refuse, they can be denied access to public buildings and fined 150 euros ($165).
However, it is unclear how strenuously the law can be enforced, with the public transport sector saying it would not stop to make a woman in a burqa get off as it would cause delays. Hospitals also said they would still treat people regardless of what they were wearing.
Both groups said enforcement of the law was up to the police.
Muslim and rights groups have voiced opposition to the law - formally called the "partial ban on face-covering clothing".
The Nida party, an Islamic political party in Rotterdam, has said it will pay the fine for anybody caught breaking the ban and has opened an account where people can deposit money.
'Next step - the headscarf'
Nourdin el-Ouali, leader of the Nida party, said the prohibition has far-reaching consequences as it poses a "serious violation" for freedom of religion and freedom of movement.
"They will not be allowed to go on a metro, bus or tram when the law is observed. They can't go to a hospital, they can't go to the schoolyard, they can't report to a police station," he was quoted as saying by the Hart van Nederland news website.
"For the 17 million Dutch people, the question is - what kind of problem are we actually solving here?" el-Ouali asked, noting only a few hundred women wore the niqab or burqa in the Netherlands.
"It is a minimal part. It is often women who, when you speak to them, indicate that they [wear the niqab, burqa] from their religious belief."
El-Ouali said he feared people would feel like they could take the law into their own hands when they saw someone wearing a niqab or burqa.
"That they'll think, 'I'm well within my rights when I put someone like that straight to the ground and call the police'," he said.
On Wednesday, an editorial in the conservative newspaper Algemeen Dagblad sparked outrage after it published an explainer on what to do if someone was spotted wearing the prohibited clothing. The tips included making citizen arrests.
Flavia Dzodan
?
@redlightvoices
Dutch newspaper @ADnl published an explainer on what to do if someone spots a Burqa wearer from tomorrow when the ban begins. They suggest asking the person to leave, call the police or, alternative, exercise the right to a citizen's arrest. Wilders, of course, likes that option
View image on Twitter
116
4:22 PM - Jul 31, 2019
Twitter Ads info and privacy
157 people are talking about this
There were no immediate reports on Thursday morning of anybody being fined under the new law.
Anti-Islam politician Geert Wilders, who proposed the face-covering veil ban in 2005, welcomed the introduction of the limited ban as an "historic day" and called for it to be expanded to include Islamic headscarves.
"I believe we should now try to take it to the next step," Wilders told The Associated Press news agency in a telephone interview.
"The next step to make it sure that the headscarf could be banned in the Netherlands as well."
The Dutch government has insisted that its partial ban doesn't target any religion and that people are free to dress how they want.
The Dutch law does not ban the wearing of a burqa on the street, unlike France's ban which took effect in 2010. Belgium, Denmark and Austria have similar laws.
https://www.aljazeera.com/news/europe/2019/08/dutch-ban-burqas-niqabs-takes-effect-190801131509037.html
--------
URL: https://www.newageislam.com/islam-women-feminism/hijab-wearing-jockey-becomes-first/d/119371
New Age Islam, Islam Online, Islamic Website, African Muslim News, Arab World News, South Asia News, Indian Muslim News, World Muslim News, Women in Islam, Islamic Feminism, Arab Women, Women In Arab, Islamophobia in America, Muslim Women in West, Islam Women and Feminism