New Age Islam News Bureau
27 Sept 2018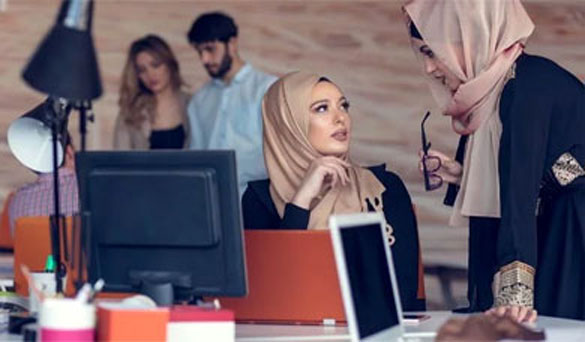 The Facebook group "Surviving Hijab" is set to receive a Facebook Fellowship Award. The group supports women who wear a hijab. (Shutterstock)
------
• Saudi Shoura Votes Down Proposal to Appoint Women in Judiciary
• Pakistan Government Making All Out Efforts to Ensure Women's Right To Inheritance
• Denmark Investigating Viral Photo of Policewoman Hugging Niqab-Wearing Protester
• Queen Rania Highlights Arab Women's Unique Challenges at HeforShe IMPACT Summit
• Indonesia Blasphemy Woman Endures Cramped Cell, Bad Food
• Malaysia's Former First Lady Grilled for Eight Hours
• Saudi Women Learning How to Drive In Bahrain Do Not Need Residence Proof
• Saudi Women Make Presence Felt In Asian Congress
• Large Number Of Women Actively Participated In 10 Protests In Tehran
• Iraqi Women's Rights Activist Shot Dead In Basra
Compiled by New Age Islam News Bureau
URL: https://www.newageislam.com/islam-women-feminism/hijab-support-group-nabs-facebook/d/116503
--------
Hijab Support Group Nabs Facebook Award
September 26, 2018
DUBAI: The Facebook group "Surviving Hijab," which aims to support women who wear the covering, is set to receive Facebook Fellowship Award, it was announced this week.
Out of more than 6000 applicants, @survivinghijabinitiative was chosen due to its ever-expanding community and positive aim. They will be receiving monetary support to grow and help more hijab-wearing woman around the world.
The social media platform was created by Manal Rostom, the first-ever athlete to compete in a major competition sporting a Nike Pro Hijab.
Manal took to Instagram and wrote: "This is a *HUGE* moment for us as a community that strives to smash stereotypes and break glass ceilings. To every hijabi girl who has been humiliated, denied access to restaurants, pools, hotels and denied jobs — today, this award is for you...To speak up LOUDER, STRONGER and have NO FEAR to stand up for your right…Thank you @Facebook for giving us a voice and for giving us a platform to express ourselves with a mere objective to change the world (sic)."
The Facebook community leadership program was created to inspire and give a platform to community global leaders and support them through monetary means.
http://www.arabnews.com/node/1378166/offbeat
--------
Saudi Shoura Votes Down Proposal to Appoint Women in Judiciary
By Faris Al-Qahtani
Sept. 27, 2018
RIYADH — The lack of majority votes has obstructed the Shoura Council from approving three proposals to appoint women in the judiciary, secure their financial rights after divorce, and to stop accusing them of parental disobedience.
The proposals were tabled by members Faisal Al-Fadil, Atta Al-Sibaiti and Latifa Al-Shaalan.
The council on Tuesday listened to the viewpoints of its committee on Islamic affairs and judiciary on the annual report of the Justice Ministry.
The three members proposed that women who are qualified in general law and Shariah law should be appointed in judicial positions but their proposals were only backed by 53 members and failed to secure the required majority of 76 votes.
Commenting on the lack of sufficient support to their proposals, Al-Shaalan has said, "The enlightenment moves in the council for empowering women will not stop regardless of the inability to secure the required votes. The votes we obtained were much more than I expected and they represented more than a third of the number of votes."
She believed that a decision to empower women might be sooner than expected in view of the reforms being made by Custodian of the Two Holy Mosques King Salman and Crown Prince Muhammad Bin Salman.
Al-Fadil, on his part, said the 53 votes they had obtained were more than they had expected though they failed short of securing the majority needed to approve the proposals.
"This is enough number of votes to convey a clear message to the Justice Ministry and the Supreme Judicial Council to appoint qualified women in the judiciary," he said recalling that the Kingdom's judicial system does not differentiate between men and women. The three members said there are enough qualified Saudi women to hold judicial positions and work as judges especially in view of the acute shortage in the number of judges.
They said preventing women from taking up judicial positions was not in harmony with the Kingdom's 2030 Vision.
The enlightenment moves in the council for empowering women will not stop regardless of the inability to secure the required votes. The votes we obtained were much more than I expected and they represented more than a third of the number of votes.
http://saudigazette.com.sa/article/544259/SAUDI-ARABIA/Shoura-votes-down-proposal-to-appoint-women-in-judiciary
--------
Pakistan Government Making All Out Efforts to Ensure Women's Right To Inheritance
September 26, 2018
ISLAMABAD: Keeping in view the cross cutting nature of inheritance related issues, coordinated efforts of various social sector federal ministries and provincial departments are imperative to ensure women's right to inheritance in the country.
These views were expressed by the Federal Secretary, Ministry of Human Rights, Ms. Rabiya Javeri Agha, while chairing the meeting of federal and provincial stakeholders on women's right to inheritance to review held at Islamabad on Wednesday.
She highlighted social, cultural issues restricting women to get their due share in inherited property and stressed to take short term and long term measures, including registration of births, deaths and marriages, awareness raising to change the mindset, amendment in laws.
Besides, the representatives of relevant provincial and federal Governments, Director General (International Cooperation), and Director General (Human Rights), also attended the meeting.
After the welcome remarks by Secretary Ministry of Human Rights Rabiya Javeri Agha, the Director General (International Cooperation) briefed the participants about the issue of women's right to inheritance.
He also shared key points of the proposed actions including review of laws to identify gaps, establishment of Federal and Provincial Task Forces/ Committees, and awareness raising mechanism. Besides, a set of questions was also shared with the participants for seeking their input to come up with possible solutions.
The meeting discussed various issues and mechanisms with regard to transfer of inheritance to women. In this regard, the participants of the meeting gave their input to address the bottlenecks and hurdles with possible solutions keeping in view the ground realities. The participants were asked to furnish their response in writing to the Ministry of Human Rights.
After thorough deliberations, various proposals and suggestions were given by the participants to remove the hurdles being faced while transferring the due share of inheritance to women.
The main recommendations include, launching a large scale awareness campaign to change the mindset at societal level both in urban and rural areas, besides motivation to ensure documentation through registration of births and deaths as well as nikah nama/ Form B, recruitment of female staff at Union Council level, involvement of Women Parliamentary Caucus, and Village Councils at grassroots level.
In this regard, the representative of Council of Islamic Ideology also mentioned their two key recommendations, made in the past i.e. division of inherited property among the legal heirs as per Islamic law, in case of Hiba; and addition of two columns in death certificate indicating detail of movable and immovable property of the deceased and the names of legal heirs.
Caption: Federal secretary for Human Rights Rights, Ms. Rabiya Javeri Agha chairing the meeting of federal and provincial stakeholders on women's right to inheritance here in Islamabad on September 26, 2018.
https://www.thenews.com.pk/latest/373467-government-making-all-out-efforts-to-ensure-womens-right-to-inheritance-in-the-country
--------
Denmark Investigating Viral Photo of Policewoman Hugging Niqab-Wearing Protester
26 September 2018
Danish police said on Wednesday that they had opened an investigation into a policewoman who embraced a veiled protester wearing a niqab during a demonstration in Copenhagen last month.
A Reuters photographer took pictures of the incident on Aug. 1 in what appeared to be the protestor crying when the ban on the face veil came into effect in public places across Denmark.
"The picture forced the police to be involuntarily involved in a very sensitive political debate," said Marcus Knuth of the Venstre party, the ruling liberal party in the country.
He and other critics drew the attention of complaints made regarding the viral incident, saying that "the task of the police is to enforce the law and not embrace those who oppose it".
https://english.alarabiya.net/en/News/world/2018/09/26/Denmark-investigating-viral-photo-of-policewoman-hugging-niqab-wearing-protester.html
--------
Queen Rania Highlights Arab Women's Unique Challenges at HeforShe IMPACT Summit
Sep 26,2018
AMMAN — Her Majesty Queen Rania Al Abdullah called for increased attention to the challenges faced by Arab women, hailing their "spirit of steel" despite their difficult circumstances.
Speaking at the HeForShe IMPACT Summit in New York on Wednesday, on the sidelines of the 73rd session of the UN General Assembly, Her Majesty explained that women are not only disproportionately affected by crises, but that during times of turmoil "women slip off national agendas, increasing the gap between hardship and hope".
An initiative of UN Women, HeForShe recognises men and boys as partners for women's rights, and highlights the ways in which all people benefit from gender equality, a statement from Her Majesty's Office said.
Commending HeForShe for "awakening women and men to the promise of new horizons", the Queen asserted that gender inequality remains a global problem.
"As someone who travels between East and West, hearing women's stories, I can tell you: when it comes to the issue of women's empowerment, distances shrink and differences fade," Her Majesty said.
Queen Rania noted that women everywhere are on the same page when it comes to the universal frustrations they face, including balancing motherhood with a career, seeing male colleagues paid more for the same job, and needing to "work twice as hard to get half the recognition".
"On top of these universal challenges, women in my region face another heartbreaking set of hurdles," she stated. "Through civil war and armed conflict, unemployment and forced displacement, Arab women are digging deep to hold their families together in the most testing conditions."
Paying tribute to Arab women's determination, Her Majesty shared the positive example of Jordanian digital platform, SitatByoot, which helps women working from home find jobs and market their skills.
"Empowerment is contagious — I see it lighting up the faces of our youngest girls," Queen Rania said. "It's what I call 'the reverse domino effect': lift up one woman, and she'll lift up others, who lift up more."
Notwithstanding recent strides in women's health and education, "there's a reason our region came last in the World Economic Forum's recent Gender Gap Report", Her Majesty added.
The Queen concluded her remarks by urging her audience to reach over borders and boundaries and "pull up women weighed down by hurdles".
The HeForShe IMPACT Summit convened world leaders, global CEOs, university presidents, and public sector leaders to share groundbreaking practices and concrete solutions towards the achievement of gender equality.
Other speakers at the event included the presidents of Finland, Rwanda, Iceland and Malawi, as well as actress and UN Women Global Goodwill Ambassador Anne Hathaway, and actor and activist, Winston Duke.
Since its launch in 2014, the HeForShe solidarity movement has mobilised 1.7 million men as advocates for gender equality, and generated more than 1.3 billion conversations on social media.
http://www.jordantimes.com/news/local/queen-rania-highlights-arab-womens-unique-challenges-heforshe-impact-summit
--------
Indonesia Blasphemy Woman Endures Cramped Cell, Bad Food
Sept. 27, 2018
JAKARTA, Indonesia – A rights group says the Indonesian woman imprisoned for blasphemy after complaining about noise from a mosque is sharing a cramped cell with 16 other women and given "terrible" food.
Human Rights Watch researcher Andreas Harsono said the ethnic Chinese woman, Meliana, was emotional but tough when he and other supporters visited her in prison in Medan this week.
"She was sobbing when talking to us," Harsono said Thursday in a statement about the visit. "The cell is about 30 square meters. The food is terrible," he said.
The case has highlighted how Indonesia's blasphemy law has become a tool for Islamic hardliners to persecute followers of minority religions.
Meliana, who uses one name, was sentenced to 18 months in prison last month. She was charged in May, nearly two years after her comments sparked riots in Tanjung Balai, a Sumatran port town.
Her husband and two sons feared for their safety and moved to Medan, said Gomar Gultom, secretary general of the Communion of Churches in Indonesia.
He wrote on Facebook after visiting Meliana that she was a "great person who dared to voice something that has been buried in the hearts of many people, maybe even in the hearts of some rational-minded Muslim friends."
Indonesia's largest Muslim organization, Nahdlatul Ulama, has criticized the conviction and said the complaint wasn't blasphemous. A civil society group is raising funds for an appeal.
Meliana's ordeal began in July 2016 when she asked if the volume of the loudspeakers at her neighborhood mosque in the Sumatran port town of Tanjung Balai could be lowered.
Rumors spread in Tanjung Balai that she wanted to stop the five-times-a-day call to prayer. Days later mobs attacked her home and burned and ransacked at least 14 Buddhist temples.
"The police were busy dealing with the riots. But they also questioned Meliana. She was not charged but needed to report to the police once a week for two years," said Harsono. "But the case did not go away. Pressure from Islamists made the police hand over the case to the blasphemy law office."
Since 147 people have been imprisoned under blasphemy or related laws since 2004, according to monitoring by Human Rights Watch. The number of cases has slowed since 2014 under President Joko "Jokowi" Widodo's administration.
Last year, former Jakarta governor Basuki "Ahok" Tjahaja Purnama, a Christian, was imprisoned for two years after being found guilty of blasphemy for comments made during his re-election campaign.
http://www.foxnews.com/world/2018/09/27/indonesia-blasphemy-woman-endures-cramped-cell-bad-food.html
--------
Malaysia's Former First Lady Grilled for Eight Hours
September 27, 2018
KUALA LUMPUR: Rosmah Mansor, wife of former Malaysian Prime Minister Najib Razak, was brought in for questioning by the Malaysian Anti-Corruption Commission (MACC) in connection to the 1MDB state fund probe on Wednesday.
The former first lady faced an eight-hour long interrogation at the agency's headquarters in Putrajaya. It was her second summons in connection with the money transfers into her husband's bank account that aroused suspicion. Her first interrogation session in June lasted for three hours.
Clad in green headscarf and traditional Malay ensemble, Mansor arrived at the MACC building at 9.50 a.m. in a black car. She was quickly ushered into the building with her lawyers for questioning.
Local and international journalists had been crowding the MACC building as early as 6.30 a.m.
This was the second time she was called in for questioning by the Malaysia anti-graft investigators. Mansor was probed in June at the MACC headquarters on the case related to the scandal-plagued 1MDB-linked company, SRC International.
"The public continues to demand thorough, transparent and fair investigations into 1MDB. It is imperative that all parties continue to render assistance to the investigative authorities," said Dr. Oh Ei Sun, a Malaysian political analyst at the Pacific Research Center.
Malaysia anti-graft deputy chief commissioner Azam Baki said on Thursday that the commission "did not dismiss the possibility of Rosmah being prosecuted soon," according to Malaysia's Bernama portal. Mansor could soon face more than 20 criminal charges, mostly related to money laundering, according to local media reports.
Better known for her love of Birkin bags and expensive jewelry, Mansor has had an extravagant lifestyle which has been linked to the former Philippines President Ferdinand Marcos's wife, Emelda Marcos. Marcos was known for her extensive collection of shoes.
In May, the Pakatan Harapan political coalition won a surprise landslide election and took office. The elections upset triggered a domino effect over the 1MDB scandal when the new Prime Minister, Mahathir Mohamad, vowed to reopen the case.
In May, Najib Razak and his wife were barred from the country and rumors swirled that the couple would head out to Indonesia.
In June, the Malaysian police had its biggest seizure of $275 million worth of luxury goods. These include 567 designer handbags, 12,000 pieces of jewelry, 423 watches and cash at Razak and Mansor's homes. These items were suspected to be bought from money linked to the 1MDB state funds.
Razak is facing 30 court charges over his alleged involvement in the 1MDB-linked corruption scandal, which includes money laundering, abuse of power, and criminal breach of trust.
http://www.arabnews.com/node/1378526/world
--------
Saudi Women Learning How to Drive In Bahrain Do Not Need Residence Proof
27 Sep 2018
SAUDI women no longer need a residential address in Bahrain to learn how to drive.
The General Directorate of Traffic has scrapped the condition, driving instructors told the GDN.
They now only need a valid passport, an ID card containing a data chip, a photo and their Saudi address.
It opens the door for more Saudi women to learn how to drive in Bahrain.
Meanwhile, it closes a loophole that was reportedly allowing Bahrain-based middlemen to accept money in return for providing an address.
Some women were reportedly paying as much as BD150 in exchange for being registered at an address, which in turn allowed them to obtain a licence.
"I heard some people were taking advantage of the previously required residential address in Bahrain by offering Saudi women an address in exchange for money," said veteran driving instructor Mohammed Jawad.
"This new decision will eliminate this behaviour and allow them to come to Bahrain to learn."
Mr Jawad, who has been an instructor since 1989, said Saudi women had been learning to drive on Bahrain's roads for years.
However, he added the number had increased significantly following Saudi Arabia's decision to lift a ban on female drivers in June.
A female driving instructor, Khulood Ahmed, said thousands of driving licence applications had been submitted.
"There's massive demand from Saudi women and the only obstacle was the issue of residential address," she told the GDN.
"In the summer they came in huge numbers, but since September started women with jobs normally take classes on weekends or in the afternoons.
"I believe that after the decision to scrap the need for a Bahraini residential address, demand will skyrocket."
Meanwhile, she revealed some Saudi women were so keen to get their licence that they requested tuition for up to five hours a day.
"They were under the impression they could get four or five hours of training a day to complete their hours in a shorter period of time," she stated.
"But legally we can't give a student more than two hours a day – and they must finish 22 hours to enter an exam."
The Makkah newspaper, in Saudi Arabia, claims a record number of Saudi women reported to the General Directorate of Traffic, in Isa Town, on Sunday and Monday to submit licence applications – taking advantage of their country's National Day holiday.
However, that could not be verified yesterday.
But Fatima Abdullah, who has been an instructor since 2012, predicted the decision to scrap the address requirement would have a major impact.
"Thousands were applying even when there was the obstacle of the residential address," she said.
"They were prepared to pay rent and come to train.
"Now, without the need for a residential address, the demand will be enormous."
http://www.gdnonline.com/Details/413044/Saudi-women-learning-how-to-drive-in-Bahrain-do-not-need-residence-proof
--------
Saudi Women Make Presence Felt In Asian Congress
By Amal Al-Said
Sept. 27, 2018
JEDDAH — Saudi women made their presence felt in the AIPS Asian Congress here, as several female volunteers from Saudi universities participated in organizing the event.
The Director of Women Students' Affairs at the Business and Technology University Sahar Al-Husseini told Okaz/Saudi Gazette that the Ministry of Education decision obliging female university students to do 100 hours of voluntary community service creates harmony between the women graduates and the society. She said the universities are training women students to occupy leading roles.
In this connection, the university is training its female students and developing their skills so that they take up leading roles. She said that some 2000 women university students are participating in voluntary work in the university. This is a decision by the university and the Ministry of Education that prior to graduation from the university, every woman student must do 100 hours of voluntary community service. The female students are keen to take part in voluntary work so as to complete the required hours.
Then they fall in love with community service and request for an additional 100 hours. The university then trains the women students and she becomes a female commander and the university develops her skills further. Al-Husseini said the university has some 2000 women students and all of them are doing voluntary work.
She added that many of the women students go for volunteer work outside the university, like in charitable societies, ministries, institutions and others. Al-Husseini added that she has been a volunteer since 30 years.
She advises women students to differentiate between training and volunteering. Training in companies is that the female student will sit behind a desk. However, volunteeriing is in serving the community and it polishes the female student's personality and makes her capable of dealing with others, she said.
The university has activated a volunteerism e-portal via which any authority can request for female volunteers.
She said that women volunteers from the university participated in organizing the Asian Congress, whose main organizer is the Saudi Sports Media Federation in Jeddah.
http://www.saudigazette.com.sa/article/544048/Sports/Saudi-women-make-presence-felt-in-Asian-Congress
--------
Large Number Of Women Actively Participated In 10 Protests In Tehran
26 September 2018
A large number of women participated in at least 10 protests in Tehran in the past few days.
Defrauded clients of the Caspian Credit Institute held protests on Monday and Tuesday, September 24 and 25, 2018, in front of the Monetary and Banking Crimes Court on Fatemi Street in Tehran. A large number of women participated in these protests and loudly shouted chants against the corrupt Caspian institute.
Employees of the Edalat Stocks Cooperative, including a large number of women, held three days of protests September 23-25, 2018. The protests were held across from the Privatization Organization building in Tehran.
Also on Tuesday, September 25, 2018, a group of members of the Retiree Union, teachers and civil rights activists as well as a group of members of the Syndicate of Workers of Tehran and Suburbs Bus Company gathered at the residence of political prisoner and teacher, Mohammad Habibi. The visit had been planned simultaneous with the beginning of the school year as a show of solidarity with the imprisoned teacher. A number of female teachers and retired educators participated in this gathering.
Mohammad Habibi, a member of the board of directors of Tehran's Teachers Association, was arrested on March 3, 2018, by IRGC forces. He was brutalized in front of his students at school and taken to prison after his house was ransacked.
On Monday, September 24, 2018, women educators of the Literary Movement held a protest in front of the Ministry of Education against the regime's hollow promises and failure to implement parliamentary.
At the same time, a group of SMA patients and their families gathered in front of the Ministry of Health. Coming from different provinces, they protested the ministry's failure to follow up on the treatment of SMA patients and procurement of their medications.
Also on Monday, September 24, 2018, some 90 families residing in the lands belonging to Vanak Factory No. 5 gathered in protest outside the City Council. The families have been residing in these lands for 70 years. Now, the housings of some of these families have been razed to be turned over to a university.
A large number of women participated in all of the above protests.
https://women.ncr-iran.org/iran-women-news/5491-large-number-of-women-actively-participated-in-10-protests-in-tehran
--------
Iraqi Women's Rights Activist Shot Dead In Basra
26 September 2018
The Iraqi women's rights activist has been shot dead in the middle of Basra, in the south of the country. The killing took place on Tuesday.
Campaigners have condemned the killing of the human rights campaigner, Suad al-Ali , who was an organiser of recent protests against power cuts and water shortages in the southern Iraqi city.
A video posted online on Tuesday showed Suad al-Ali, head of Al-Weed al-Alaiami For Human Rights, being shot dead on a street in the city's Abbasiya district while waiting by a car with another man who was reportedly injured in the incident. Some outlets, including the BBC, have identified the man as her husband.
No group has so far claimed responsibility for the attack.
Basra has recently been rocked by mass demonstrations against shortages of clean water, corruption and power cuts, which have seen government buildings and embassies torched and at least 12 people killed earlier this month by security services and armed groups.
Ali had been a major female presence in Basra's demonstrations, which are usually dominated by men.
The website of the Al-Weed al-Alaiami For Human Rights, which she led, says it aims to "establish cultural and economic conferences, seminars and educational workshops for our society which we have the duty to develop and advance".
The Gulf Campaign for Human Rights condemned Ali's killing on Wednesday and called for an investigation.
"GCHR condemns in the strongest terms the assassination of Dr Suad Al-Ali and expresses its deep concern over the violation of the right to freedom of assembly of peaceful demonstrators, along with other human rights defenders in Iraq, including lawyers, journalists and bloggers who continue their work bravely despite the risks of arrest or violence," it said in a statement.
Despite threats by armed groups, Ali's death would mark the first public assassination in Basra since protests began in July.
The powerful militias and political parties - many backed by Iran - that control Basra have faced the ire of protesters and have seen their buildings attacked and destroyed.
Protesters have repeatedly reported of threats being issued by militias and parties, who have accused Saudi Arabia, Israel and the US of being behind the demonstrations.
https://www.middleeasteye.net/news/campaign-groups-condemn-murder-basra-womens-rights-activist-1322723401
--------
URL: https://www.newageislam.com/islam-women-feminism/hijab-support-group-nabs-facebook/d/116503
New Age Islam, Islam Online, Islamic Website, African Muslim News, Arab World News, South Asia News, Indian Muslim News, World Muslim News, Women in Islam, Islamic Feminism, Arab Women, Women In Arab, Islamophobia in America, Muslim Women in West, Islam Women and Feminism