New Age Islam News Bureau
05 February 2022
• Afghan women face increasing violence and repression under the Taliban after international spotlight fades
• Taliban release 14 women prisoners in Kabul
• Hijab crisis: Kwara Muslim, Christian groups disagree over peace move
• Another Indian college bars Muslim girls wearing hijab
• UN approaches Taliban as two women activists go missing
• 'All-American' female Daesh recruit denied bail from US jail
Compiled by New Age Islam News Bureau
URL: https://www.newageislam.com/islam-women-feminism/hijab-row-government-taliban-bjp-leader/d/126308
--------
Hijab row: 'Government will not allow creation of another Taliban,' says BJP leader Nalin Kumar Kateel
05th February 2022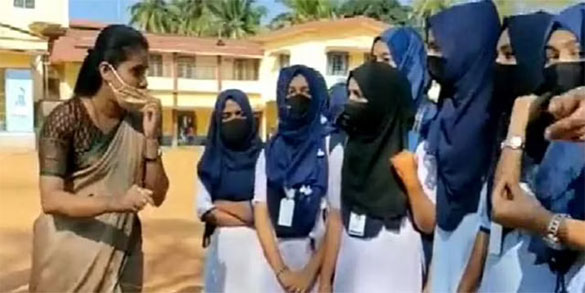 Muslim girl students, who tried to enter a government pre-university college at Kundapur in Karnataka's Udupi district wearing hijabs, were again denied entry to the premises. (Photo | ANI)
----------
MANGALURU: Dakshina Kannada MP and state BJP president Nalin Kumar Kateel on Saturday, February 5, 2022, said that the BJP government will not allow the creation of another Taliban commenting on the Hijab controversy.
"School is a Sarawati Mandira. They (students) should pursue studies following the rules laid down by the school. Let them find other ways if they do not want to pursue studies in the school by following guidelines. Our government will take strict action and we will not allow it to become another Taliban. Siddaramaiah who disrupted peace by celebrating Tipu Jayanti and coming up with Shadi Bhagya to help a few communities is talking about hijab," he said.
On increasing cattle theft, he said the government has brought the anti-cow slaughter act which is in court now, adding that the CM has given clear instructions to officials to stop cattle theft. He also said the cabinet reshuffle will be decided by the high command.
District in-charge minister Sunil Kumar said the hijab controversy is a planned conspiracy. "Hijab, burkha is allowed till the school compound not inside the classrooms. They should sit along with other students in school uniforms. Many schools are following it. Siddaramaiah and a few organizations are saying wearing the hijab is a fundamental right. Those who talk about fundamental rights should allow Muslim women inside the mosques. We will not tolerate a few people making guidelines in government schools as to what to wear. It was the Modi government that gave protection to Muslim women by criminalising triple talaq," he said.
Source: New Indian Express
https://www.newindianexpress.com/states/karnataka/2022/feb/05/hijab-row-government-will-not-allow-creation-of-another-taliban-says-bjp-leader-nalin-kumar-kate-2415695.html
--------
Afghan women face increasing violence and repression under the Taliban after international spotlight fades
February 4, 2022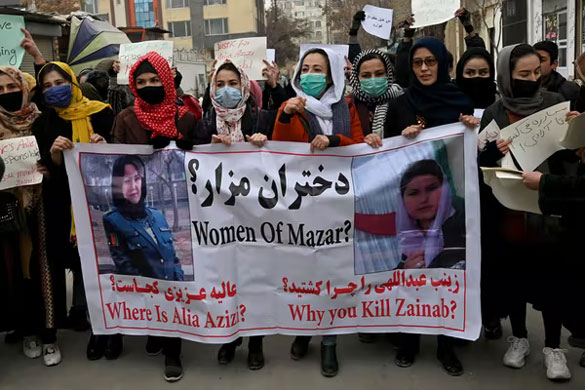 Afghan women march during a women's rights protest in Kabul on Jan. 16, 2022. Wakil Kohsar/AFP via Getty Images
-------------
The Taliban reportedly captured 40 people in Mazar-e-Sharif, a medium-sized city in Afghanistan, at the end of January 2022. Taliban members then allegedly gang-raped eight of the women.
The women who survived the gang rape were subsequently killed by their families. The fact that the women had been raped violated a societal honor code called Pashtunwalli, which prohibits women from engaging in sex outside of marriage.
Taliban spokesperson Zabihullah Mujahid tweeted that some of the women they arrested "remain detained because their male relatives have not yet come to escort them."
News of the attack is circulating among various Afghan communities and some local media, according to several Afghan women's rights activists who are part of my academic network. These colleagues cannot be named because of security concerns.
Women's rights activists marched in Kabul on Jan. 16, 2022, asking where the women of the Mazar-e-Sharif attack have gone.
But a careful online news search in English will not reveal details about these recent kidnappings and gang rapes – a common form of aggression by the Taliban in the 1990s. No Western media has covered the attacks.
Afghanistan made Western headlines in July and August 2021, as the U.S. withdrew the last troops from the country.
Under the Taliban's latest rule, lesbian, gay, bisexual and transgender people in Afghanistan are facing "grave threats" of violence and death, according to new findings by the research and advocacy nonprofit organization Human Rights Watch.
Violence against women in Afghanistan also appears to again be worsening, according to local Afghan colleagues I know. But these reports are not eliciting international political concern.
During a major peace and conflict conference I attended with Alexia Cervello San Vicente, a masters student at Columbia University, in January 2022, participants shelved questions about Afghan women's gender-based violence in favor of discussing trade agreements and foreign aid. Alexia assisted in the research and writing of this story.
As an expert on terrorism and violence against women, I find that the current situation for women and girls in Afghanistan is reminiscent of the Taliban's last restrictive regime in the 1990s.
Women's rights in Afghanistan then and today
When the Taliban first rose to power in 1996, it famously banned Afghan women from holding jobs, or even leaving home without a male guardian or chaperone.
Womens' rights violations in Afghanistan were a major topic of public concern in the 1990s.
The general tenor of the public rhetoric at the time amplified the idea that Afghan women needed to be helped by Western countries.
Women's rights did improve significantly after the Taliban's fall in 2001, as women and girls were again allowed to attend school, participate in the workforce and hold positions of authority in government.
Violating a code of conduct
My previous research on women's human rights and gender-based violence in places like Nigeria and Iraq shows that violence against women can follow a common trajectory.
Women are doubly victimized, first by gender-based violence and then by their communities, which fault women for violating patriarchal codes of conduct. These codes blame women for being sexually harassed or assaulted.
The fact that these codes target women discourages them from reporting gender-based violence and creates an atmosphere of impunity for men who brutalize women. This permissive environment has led to increased violence against women in Afghanistan over the last six months.
A similar incident to the gang rapes happened in 2014, before the Taliban returned to power – but the situation played out very differently: Former Afghan president Hamid Karzai signed death warrants for the men who gang-raped four women.
Legal retribution for the recent alleged gang rapes is unlikely, given that the Taliban have eliminated the women's affairs office, which worked to secure women's legal rights. They replaced it with the previously disbanded ministry of vice and virtue. This notorious government office imposed stringent restrictions on women and girls.
Afghanistan falling through the cracks
International media coverage of Afghanistan in August 2021, and shortly thereafter, focused on whether the country would lose two decades of human rights progress.
Global interest in Afghanistan and women's rights appears to have since dissipated. One likely contributing factor is that most Western and Afghan journalists alike left Afghanistan as the Taliban gained control of the country.
But the reality for women in Afghanistan today remains unchanged. Some experts have described Afghanistan being set back 20 years.
The Taliban's recent decree on women's rights omitted previous promises it made to allow girls to attend school, for example.
Most secondary schools in Afghanistan remain shut, despite the Taliban's early pledges to allow girls to attend.
A new law forbids women from undertaking solo, long-distance road trips.
Meanwhile, there are reports from the human rights nonprofit Amnesty International that the Taliban has closed women's shelters and other social services for women experiencing abuse.
These new restrictions are making women virtual "prisoners in their own homes," according to Human Rights Watch.
A new template for improving Afghan women's rights
Some Afghan civil society groups have tried to encourage Muslim and traditional religious authorities to advocate on behalf of women and to give sermons about preventing gender-based violence.
The likelihood of any moderation is slim under the Haqqani network, a Sunni Islamist militant organization that is part of the Taliban.
But religious authorities in other Muslim countries could provide a template for improving women's situation in Afghanistan.
[Get the best of The Conversation's politics, science or religion articles each week.Sign up today.]
As part of Western countries' push to normalize relations with the Taliban, they could also establish connections between receiving foreign funding and protecting women's peace and security.
Financial incentives could help prevent women from being stigmatized or killed. There is a historical precedent for this strategy in Muslim countries.
Women were specifically targeted when Pakistan invaded Bangladesh in 1971. An estimated 200,000 to 400,000 women were raped by the Pakistani military and Razakar, a Pakistani military group, in a systematic fashion.
The newly formed Bangladeshi government then offered financial incentives for men to marry the victimized women, reducing the stigma around their assaults.
Source: The Conversation
https://theconversation.com/afghan-women-face-increasing-violence-and-repression-under-the-taliban-after-international-spotlight-fades-176008
--------
Taliban release 14 women prisoners in Kabul
04 Feb 2022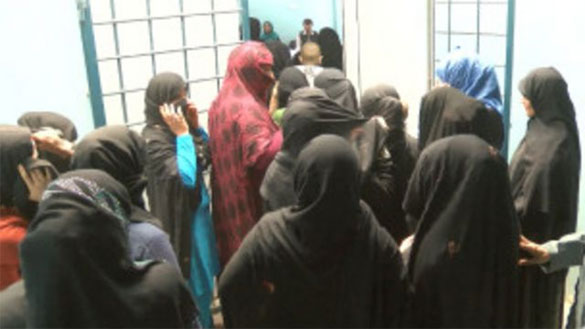 Office of Prisons Administration of the Islamic Emirate of Afghanistan announced that they have freed 14 women from female prison in the Afghan capital Kabul.
The body said that the inmates were let out as a result of an assessment conducted by a government delegation.
A statement sent to media by OPA reads that "14 women prisoners were released on Thursday, February 3 as a result of an assessment conducted by a five-member delegation."
Deputy of the counternarcotic body in the ministry of interior affairs of the IEA Moulayee Abdulhaq who was part of the delegation said that all prisons in Afghanistan have been commanded to prioritize the files of women prisoners.
Abdulhaq also said that the prisoners released promised not to do carry out activities that harm societal order and that are illegal and/or in opposition with Sharia law.
It is worth mentioning that earlier, the IEA had released tens of male prisoners who were kept in prisons for having done nothing harmful and /or were sentenced for small-scale crimes.
Source: Khaama Press
https://www.khaama.com/taliban-release-14-women-prisoners-in-kabul-457457/
--------
Hijab crisis: Kwara Muslim, Christian groups disagree over peace move
5 February 2022
THE Kwara Muslim Stakeholders' Forum and the Christian Association of Nigeria in the state have disagreed over an acceptable way to resolve the unending controversy over the use of the Hijab by Muslim female pupils in state missionary schools.
The two groups, at separate press conferences in Ilorin, the state capital; and Ijagbo, the epicenter of the recent crisis, blamed the government for its failure to implement the agreement reached in April 2021 on the resolution of the crisis.
Recall that one person died during a protest over the use of the Hijab at Oyun Baptist High School, Ijagbo, on Thursday while about 11 others sustained gunshot injuries.
The Kwara State Government shut down the college indefinitely as a result of the crisis.
But the two religious bodies called on the government to institute a high-powered commission of inquiry to unravel the masterminds behind the violence in Ijagbo.
Speaking on behalf of the Muslim Stakeholders' Forum, its Chairman, Alhaji Isiaq Abdulkareem, alleged that some Muslim parents who were staging a protest to enforce the fundamental rights of their children were attacked by the Christians outside the gate of the school.
"About three weeks ago, Muslim female pupils were sent back by some members of the Christian Association of Nigeria and yesterday, some Muslim parents followed their children to the school to enforce their fundamental rights and while the peaceful protest was going on, some Christians attacked them and one of the parents of the Muslim pupils of the school, Habeeb Idris, was killed during the fracas that also left 11 parents injured."
He suggested that the government should fully take over all grant-aided mission schools and enforce its policy on the wearing of the hijab by female Muslim students in all government grant-aided secondary schools.
But in his address, Reverend Samuel Ajayi who spoke on behalf of CAN at Ijagbo alleged that some Muslim fundamentalists were going around the local government areas to instigate other Muslims on the use of the hijab in missionary schools in the state.
Ajayi, who said that CAN had an MoU with the state government since June 2021 on the resolution of the hijab crisis which had not been implemented by the government, however, said, "It has been said times without number that we cannot and will not allow the use of the hijab in our missionary schools.
"The schools were not taken over by the state government in 1974. There was an agreement between the government and the school proprietors. Each has their own part to play in the running of the schools."
Source: Punchng
https://punchng.com/hijab-crisis-kwara-muslim-christian-groups-disagree-over-peace-move/
--------
Another Indian college bars Muslim girls wearing hijab
Shuriah Niazi
04.02.2022
NEW DELHI
Another hijab row broke out in the southern Indian state of Karnataka after Muslim students were not allowed to enter a government college for wearing a headscarf.
This is the second college in the state banning the hijab.
After the latest incident, people have taken to social media platforms to support the students. "Hijab is our Right" is trending on Twitter, showing support for young girls.
On Thursday, some two dozen Muslim girls in kundapura area of the Udupi district were stopped from attending classes after some students belonging to right-wing groups wore saffron scarves – the color favored by the ruling Bharatiya Janata Party – and opposed Muslim girls wearing hijabs.
"Let us all stand for the rights of our sisters. What is the reason for this discrimination? Why are they not allowed to enter colleges.. just because they wear hijab," said Tousif Nandehalli, a Twitter user.
A video has also gone viral where Muslim students were seen pleading for entry into classrooms after they were stopped by the college principal. They also said that denying entry just before exams will jeopardize their future.
MP takes flak for supporting girls
Meanwhile, opposition Congress Member of Parliament (MP) Shashi Tharoor has also come under attack for questioning whether Sikh turban, Christian crucifix, Hindu forehead mark are also not allowed in educational institutes.
"It's been a strength of India that everyone is free to wear what they want. If the hijab is disallowed, what about the Sikh turban? The Hindu's forehead mark? The Christian's crucifix? This college is going down a slippery slope. Let the girls in. Let them study. Let them decide," tweeted Tharoor.
Former Chief Minister of Jammu and Kashmir Omar Abdullah also supported these girls.
"Individuals are free to choose what to wear. You may or may not like their choice but that's a right we all have. If these public representatives can wear saffron robes, then these girls can use hijab. Muslims are not second-class citizens," Abdullah wrote on Twitter.
Muslims have been demanding that barring students from wearing hijab is an attack on the "symbols of faith."
What does constitution say?
According to the Indian constitution, every citizen has the right to practice, profess and propagate religion. This right can be curtailed only on grounds of public order, morality, and health.
Last month, tensions erupted in another government college in Karnataka's Balagadi village after a group of students turned up wearing saffron scarves and asked their female classmates from the Muslim community not to wear a hijab during classes.
Subsequently, the authorities banned hijabs and saffron scarves on the campus.
A student of the Women's Government Pre-University College in Udupi, who was denied entry into the classroom for wearing a hijab, has approached the Karnataka High Court seeking interim relief to attend classes wearing the hijab before the entire matter was settled.
In Karnataka, the state government has said it will constitute a committee to formulate guidelines on uniforms at colleges.
Indian Muslims have witnessed a deterioration of the right to practice faith under the rule of Prime Minister Narendra Modi and his right-wing BJP.
Source: Anadolu Agency
https://www.aa.com.tr/en/asia-pacific/another-indian-college-bars-muslim-girls-wearing-hijab/2494257
--------
UN approaches Taliban as two women activists go missing
February 5, 2022
KABUL: The United Nations has demanded the Taliban provide information on two more women activists allegedly detained by the group this week — bringing to four the number missing in Afghanistan this year.
Since their August return to power, the Taliban have cracked down on dissent by forcefully dispersing women's rallies, detaining critics and beating local journalists covering protests.
The United Nations Assistance Mission in Afghanistan (UNAMA) said late Thursday it had sought "urgent information" on the reported detention of two more women activists by the Taliban in the capital Kabul this week.
"UN repeats its call for all 'disappeared' women activists & relatives to be released," it said on Twitter.
US special envoy to Afghanistan Rina Amiri also called on the Taliban to respect women's rights.
"If the Taliban seek legitimacy from the Afghan people & the world, they must respect Afghans' human rights — especially for women," she said on Twitter.
UNAMA did not reveal the names of the two women activists gone missing this week, but another rights advocate said that Zahra Mohammadi and Mursal Ayar had been arrested by the Taliban.
"Zahra, a dentist, used to work in a clinic. She has been arrested," the activist said, on condition of anonymity.
Ayar was arrested on Wednesday after a male colleague asked for her address so he could come to hand over her salary, the activist said.
"That's how she was trapped. The Taliban found her and arrested her," she said.
She said Ayar's father had also been arrested, after mistakenly identifying Mohammadi's father as the man detained in an earlier interview.
The latest detentions come less than a month after activists Tamana Zaryabi Paryani and Parwana Ibrahimkhel went missing after participating in a Kabul protest.
The UN High Commissioner for Human Rights has expressed concern for the two women and four of their relatives, who all remain missing.
The Taliban have denied any knowledge of their whereabouts and say they are investigating the matter.
The Islamists have promised a softer version of the harsh rule that characterised their first stint in power from 1996 to 2001.
But the new regime has been swift to bar women from most government jobs and close most girls' secondary schools.
Afghan evacuation
Meanwhile, a lack of flights and the search for a new US reception centre are among the hurdles facing the White House as it races to speed up the evacuation of at-risk Afghans from their homeland, a senior US official and others familiar with the new plan in Washington said.
According to Reuters, other obstacles include difficulties in obtaining passports and an affordable housing shortage in the United States, they said.
The plan's goal "is just to make this more enduring and less of an emergency operation," the senior US official said in describing the revamp, requesting anonymity to discuss internal operations.
Source: Dawn
https://www.dawn.com/news/1673382/un-approaches-taliban-as-two-women-activists-go-missing
--------
'All-American' female Daesh recruit denied bail from US jail
February 04, 2022
LONDON: A Kansas woman once described as a doe-eyed "all-American girl" has been denied bail from a jail in the US, where she faces terrorism charges for allegedly leading a female Daesh battalion in Syria.
Allison Fluke-Ekren, 42, is accused of training children as young as 6 to use machine guns and planning to commit "violent jihad."
She was denied bail after appearing in court in Virginia on Thursday, and could face decades behind bars.
Fluke-Ekren, a former school teacher, rose through the ranks of Daesh to ultimately command her own battalion of fighters.
Her former science teacher Larry Miller told the BBC that he was utterly stunned at the news of her ties to the terror group.
"She was a very, very good student. She was intelligent and had a sense of humor," he said. "Her parents were very, very supportive."
About 15 years ago, he received an email from her saying how much she admired him as a teacher.
"It was this really nice letter, saying how she had this love for science and nature, and that she was getting a degree to teach," he said. "She never did anything that indicated to me that she wanted to harm another living thing."
Witnesses later told US prosecutors that her views were "a '11 or a 12' on a scale of 1 to 10, with 10 being extremely radicalized."
It is not clear how she became radicalized, but prosecutors believe it was around the time that her and her husband lived in the Middle East with their children in the late 2000s.
She was smuggled to Syria in 2021, where she began her life as a Daesh acolyte. Fluke-Ekren is believed to have become deeply involved with Daesh activities, marrying several fighters after her husband died, and training women and girls to use guns, detonate bombs and use suicide belts.
One witness said they had observed one of her children, then aged 5 or 6, holding a machine gun at her residence while living in Syria.
Fluke-Ekren did not contest the judge's ruling that she should remain in jail without bail, a decision made on the basis of the threat she poses to the local community.
Miller asked: "How does someone like Allison, an all-American girl, become a person that wants to go out and kill?" She must have been "brainwashed," he concluded.
Source: Arab News
https://www.arabnews.com/node/2018211/world
--------
URL: https://www.newageislam.com/islam-women-feminism/hijab-row-government-taliban-bjp-leader/d/126308
New Age Islam, Islam Online, Islamic Website, African Muslim News, Arab World News, South Asia News, Indian Muslim News, World Muslim News, Women in Islam, Islamic Feminism, Arab Women, Women In Arab, Islamophobia in America, Muslim Women in West, Islam Women and Feminism