New Age Islam News Bureau
2 Feb 2019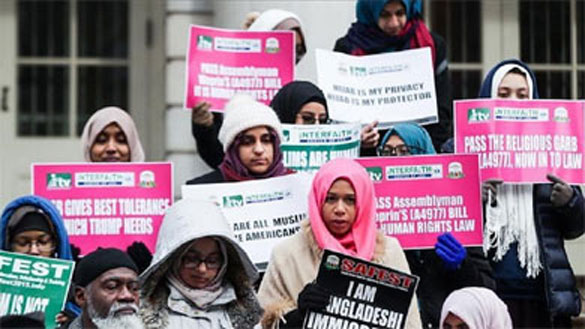 A group of Muslim women took to the steps of New York's City Hall on Friday to mark World Hijab Day, a worldwide advocacy campaign to help spread awareness about the hijab and Islam.
----
• 'For Arab Women, It's War inside and outside': Activist and Writer
• World Hijab Day in New York Aims To Raise Awareness about Women Who Frequently Face Discrimination for Wearing Headscarf
• After Joining Islamic State Aged 15, German Woman Asks To Go Home
• Lebanon Appoints First Female Arab Interior Minister
• 'We Never Want To Go Back': Afghan Women Fear Cost Of Peace Under Taliban
• Muslim Women in Ireland Urge Non-Muslims to 'Look Beyond the Veil'
• Malaysian Women Mark World Hijab Day
• London Celebrates World Hijab Day
• Saudi Woman Activist Israa Al-Ghomgham Spared Death Penalty: Rights Groups
• Shaikh Mohammad Pays Tribute to Women Everywhere
• Record Number of Women in Lebanon Cabinet
• Suicide Of Young Women In Iran Indicates Pressure On Women, Girls
Compiled by New Age Islam News Bureau
URL: https://www.newageislam.com/islam-women-feminism/hijab-doesnt-hinder-womens-progress/d/117630
--------
Hijab Doesn't Hinder Women's Progress: Minhaj ul Quran Women League
February 1, 2019
LAHORE: Hijab is not a hindrance in women's progress but a symbol of their security and glory, Minhaj ul Quran Women League (MWL) President Farah Naz has said.
Speaking at a special meeting held as part of the World Hijab Day on Friday, the MWL president said Islamic teachings are a source of guidance for mankind, and the moral values set by Islam are for the ultimate welfare of mankind.
Naz said the first charter of feminism was introduced by Islam, adding that the religion does not impose restrictions on women rights.
Islam allows women to wear makeup, but not to show-off in public, Naz said.
"Hijab is for security and well-being of women… and in no way a hindrance in their progress or discriminatory," she said.
She argued that the west will soon recognise the importance of hijab.
"In this age of civil liberties and rights, no one can force women to wear a hijab or not. It's not mandatory or binding but her choice," the MWL president said.
According to Wikipedia, World Hijab Day takes place on February 1 each year in 140 countries worldwide. Its stated purpose is to encourage women of all religions and backgrounds to wear and experience the hijab.
https://tribune.com.pk/story/1901743/1-hijab-doesnt-hinder-womens-progress-minhajul-quran/
--------
'For Arab Women, It's War inside and outside': Activist and Writer
Feb 1, 2019
Thiruvananthapuram: Lebanese author and activist Joumana Haddad and Iraqi writer Shahad Al Rawi called for gender quality and right to education while speaking at the session 'Women and War: The life and times of Arab women caught up in regional conflicts' held as part of Mathrubhumi International Festival of Letters MBIFL'19 here on Friday.
Haddad said women in Arab countries deal with wars happening outside as well as inside while Shahad recounted that she came under attack for writing a novel (The Baghdad Clock) as majority believed that women could not write.
"When war broke out in my country, men are bullied and asked to be strong and take up all financial responsibilities while women are silenced. But women rised above the rest during testing times. The moment we realise each other's strength and weakness, there will no patriarchy," said Haddad. Author and critic Meena T Pillai moderated the session.
'Vivekanandan: Sanyasiyum Manushyanum' by M P Veerendra Kumar was released by former chief secretary K Jayakumar on the second day of the fest. BJP state president PS Sreedharan Pillai, DYFI state secretary AA Rahim and MLA VT Balram took part in a talk. Adoor Gopalakrishnan's film 'Sukhanthyam' was screened and Oorali Express performed on day two. tnn
https://timesofindia.indiatimes.com/city/thiruvananthapuram/for-arab-women-its-war-inside-outside/articleshow/67800326.cms
--------
World Hijab Day in New York Aims To Raise Awareness about Women Who Frequently Face Discrimination for Wearing Headscarf
02.02.2019
By Umar Farooq
WASHINGTON
A group of Muslim women took to the steps of New York's City Hall on Friday to mark World Hijab Day, a worldwide advocacy campaign to help spread awareness about the hijab and Islam.
The campaign began in 2013, and in 2017, World Hijab Day became a nonprofit organization with a mission to fight discrimination against Muslim women through awareness and education, according to its official webpage.
The organization sets out every Feb. 1 to raise awareness about Muslim women who wear the headscarf, who frequently face discrimination for doing so.
"I went through a lot of discrimination growing up," said Nazma Khan, the founder of World Hijab Day.
"The abuse was for many, many years. I don't want any other sister to go through actually what I went through," she added.
Khan, who came to the U.S. from Bangladesh at the age of 11, said she had a very difficult time in school being the only girl wearing a hijab, and that is why she wanted to help others understand why she wears it.
Khan marked the day on the steps of City Hall with other Muslim women who held signs saying "Hijab is Our Modesty and Dignity" and "Hijab is my privacy".
"It will bring awareness to people. People will be educated about the hijab, and hopefully, Inshallah, we will be able to reduce the discrimination against Muslim women who choose to wear the hijab," she said.
According to the organization's website, women in 190 countries take part in the annual World Hijab Day. In 2017, the state of New York recognized the celebration of the day and the UK House of Commons hosted an event commemorating the day.
But even though the campaign has been successful, Khan noted that hate is increasing as well.
"It's insane. The amount of hate you are getting is incredible. We did not have this five years ago, this much hate. Now, especially for the last two years, the hate has taken a different height."
According to a study by the New America Foundation last year, the amount of "anti-Muslim activities" in the U.S. has been increasing over the last four years.
https://www.aa.com.tr/en/americas/muslim-women-in-new-york-mark-world-hijab-day/1381473
--------
After Joining Islamic State Aged 15, German Woman Asks To Go Home
02 Feb 2019
BAGHOUZ, Syria: Four years after leaving Germany to live under the Islamic State group, 19-year-old Leonora has fled the extremists' last bastion in eastern Syria and says it's time to go home.
"I was a little bit naive," she says in English, wearing a long billowing black robe, and a beige headscarf with white spots.
US-backed forces are fighting the last Islamic State militants in a final shred of territory in eastern Syria near the Iraqi border, causing thousands of people to flee.
Just beyond the frontline village of Baghouz, Leonora and her two small children are among the thousands of men, women and children to have scrambled out this week.
The young German woman says she first came to Syria aged 15, just two months after converting to Islam.
"After three days, I married my German husband," she tells AFP, at a screening centre for the displaced run by the US-backed Syrian Democratic Forces.
Leonora says she became the third wife of German extremist Martin Lemke, after he travelled to Syria with his first two wives.
Islamic State had the year before swept across large swathes of Syria and neighbouring Iraq, declaring a "caliphate" in areas it controlled.
Leonora first lived in the extremist group's de-facto Syrian capital of Raqa, but says she was just a housewife.
"I was just at home, in (the) house cooking, cleaning - stuff like this," says the pale-faced German, clutching the youngest of her two children, an infant aged just two weeks.
"CHANGE HOUSE EVERY WEEK"
Syria's Kurdish authorities hold hundreds of foreign alleged Islamic State fighters in detention, as well as thousands of their wives and children in camps for the displaced.
The Kurds have repeatedly urged Western governments to take back their nationals, but these powers have been reluctant.
At first life in Raqa was easy, Leonora says, but that changed when the SDF started advancing against the extremists, with support from US-led coalition air strikes.
The Kurdish-led SDF overran Raqa in 2017, after years of what residents described as IS's brutal rule, which included public beheading and crucifixions.
"Then they lose Raqa, and we started to change our house every week because they lost every week a city," she says.
When they came under attack by the Kurdish-led SDF, Leonora says the Islamic State fighters left their families to fend for themselves.
"They left the women alone, no food, they don't care about you," she says. The enemy was advancing "and you were sitting alone in an empty city with your kids".
They ended up in a tiny patch on the eastern banks of the Euphrates in Deir Ezzor province.
The SDF have cornered Islamic State into a patch of less than four square kilometres (around 1.5 square miles) in recent days.
"BIG, BIG MISTAKE"
Eventually, she says, she picked up her children, and fled with her husband, and his second wife into SDF-held territory.
US-backed forces detained Lemke on Thursday.
Leonora claims Lemke worked mostly as a technician for Islamic State.
"He makes technical stuff, computer stuff, repairs computer, mobiles," she says.
But investigations published in German newspapers portray Lemke, who is now believed to be 28, as an influential figure among foreign extremists in Syria.
More than 36,000 people have fled the SDF assault on the so-called "Hajin pocket" since early December, according to the Syrian Observatory for Human Rights, a Britain-based war monitor that relies on a network of sources inside the country.
Among them, 3,200 have been detained as alleged jihadists.
On arid farmland near Baghouz, a group of men sit on the ground as SDF and coalition personnel stroll nearby.
Not far off, a group of women and their children - most from neighbouring Iraq - wait to be driven north to a Kurdish-held camp for the displaced.
After four years under a now near-extinct Islamic State caliphate, Leonora says she wants to go home.
"I want to go back to Germany to my family, because I want my old life back," she says.
"Now I know that it was a big, big mistake."
https://www.channelnewsasia.com/news/world/after-joining-islamic-state-aged-15-german-woman-asks-to-go-home-11198068
--------
Lebanon Appoints First Female Arab Interior Minister
Sunniva Rose
February 1, 2019
Lebanese politician Raya Hassan made history on Thursday when she became the first woman interior minister in the Arab world.
Mrs Hassan, 51, becomes the most senior of four women in the 30-strong government formed by Prime Minister Saad Hariri after nine months of political wrangling.
"Proud of Lebanese women, proud of the four (female) ministers in the government, proud of the first woman ointerior minister in the Arab world, proud of the future, proud of Lebanon", tweeted Mr Hariri on Friday.
Mrs Hassan also made headlines in 2009 when she became the first woman in the region to be appointed finance minister.
"To be honest, it was a surprise, but I am proud too, of course," she said of her newest appointment. "Mr Hariri has trusted me twice [by giving me] two difficult ministries. It demonstrates his trust in women's capabilities."
Women were also appointed to run the energy, administrative development and women's affairs portfolio. Mr Hariri's previous Cabinet only included one woman in a junior ministerial position.
A member of Mr Hariri's Future Movement, Mrs Hassan, a banker, has never been elected.
The mother-of-three worked as an adviser to the prime minister before being appointed minister of finance in 2009.
Most recently, she has worked attracting business to Lebanon's second-biggest city Tripoli.
"She is an incorruptible woman," Antoine Amatoury, head of Gulftainer, a UAE based company that operates the Port of Tripoli, told The National.
"There were many (illegal) ways to accelerate procedures for the Special Economic Zone and she wouldn't hear of it. She preferred working slowly but honestly."
"We look forward to see her succeed," said Ahmad Kamareddine, head of the Tripoli municipality. "She's an experienced and hard-working woman".
https://www.thenational.ae/world/mena/lebanon-appoints-first-female-arab-interior-minister-1.820688
--------
'We Never Want To Go Back': Afghan Women Fear Cost Of Peace Under Taliban
February 01, 2019
It is naive to think the Taliban have changed their stance on women's rights, says Kabul restaurateur Laila Haidari, who like many educated Afghan women fears any peace deal between the militants and the US could erode hard-won freedoms.
Draconian rules that once forced half the population behind closed doors ─ barred from education and work ─ have been chipped away in the nearly two decades since the US-led invasion that swept the Taliban from power.
"If they return, women will have to leave the public space," Haidari tells AFP from the restaurant she runs in Kabul, one of the few places in the capital where men and women dine together.
Haidari launched the #MeTooAfghanistan movement which she and others hope will be a vanguard of Afghan women who can hold the line against Taliban power.
"We never want to go back. We never want to lose our freedom," says Mina Rezaee, the owner of another cafe in Kabul, where music ─ banned under the Taliban ─ plays in the background.
After six days of negotiations in Qatar, the US and Taliban have agreed a draft framework for a deal which could pave the way for the insurgents to hold peace talks with Kabul.
With the US desperate to withdraw from Afghanistan, and the Taliban in control of vast parts of the country, it is unclear what a post-conflict government would look like.
Any participation by the Taliban, however, frightens many women.
Before being toppled by the US invasion of 2001, the Taliban governed Afghanistan for nearly five years with a strict interpretation of Shariah law.
"We still remember how hard it was to be a woman under Taliban rule," says Naweeda Bayat, a 25-year-old from central Jaghori district.
"I was a kid, but I remember they burned our school right in front of our eyes."
The government in Kabul controls less than two-thirds of the country, according to a US estimate ─ and in Taliban-controlled areas nothing has changed.
"They have either burned girls' schools or don't allow women to work," Bayat says. "This tells us how they might be if they come back."
'Shut out'
Afghan women have even more reason to worry if they are "shut out of the negotiation process, as they mostly have been," says Heather Barr, a senior women's rights researcher.
"The Taliban's attitude toward women has moderated slightly since 2001, but it is still a million miles away from the equal rights women are granted under Afghanistan's constitution," she observes.
The position of women in Afghanistan has undeniably improved since 2001.
More than 2.5 million of the 8m schoolchildren are girls, according to the United Nations. More than a quarter of the seats in parliament are reserved for women and in 2016 they made up nearly a fifth of the workforce.
But despite the progress ─ and millions spent by Western aid programmes since 2001 ─ Afghanistan ranks last in the Georgetown Institute for Women, Peace and Security index which measures well-being and self-reliance.
The fears of educated women in the capital are shared by those in rural areas, where the literacy rate can be less than two percent and rights are often even more constrained by conservative tradition.
Hasina, a 32-year-old mother of one in the disputed southern province of Helmand, says she dreads going backwards. "We are worried and afraid for our lives," she says.
"If the Taliban come back and ban schools for my children, or don't allow me to go out without my husband, this is not acceptable for me," says Nazia Rezaee, a 35-year-old in the central city of Ghazni.
Afghan women 'have changed'
Several feminist activists told AFP they believe the country has changed and Afghan women will not allow their rights to be taken away without a fight.
"Afghan women are stronger, more informed, more educated than ever, and no one, including men, will agree to return to what Afghanistan was in 1998," says Fawzia Koofi,who heads the parliamentary Committee on Women and Human Rights.
Activist Attia Mehraban feels the same. "I dream of peace, like millions of other Afghans, but I dream more vividly of my freedom and rights as a 21st Century human being," she told AFP.
"The price of peace cannot be limitless."
Her message to the Taliban, she said, is "Afghan women have changed... If you think you can come back with the same ideology ... you are wrong, you will be facing a formidable force of well-educated Afghan women who are conscious of their rights and who will not give in to oppression."
Hosai Andar, a businesswoman in her 40s, said she could "not imagine the world would abandon us once again".
"I am an optimist," she told AFP. "They will stay with us."
https://www.dawn.com/news/1461197/we-never-want-to-go-back-afghan-women-fear-cost-of-peace-under-taliban-will-be-their-freedom
--------
Muslim Women in Ireland Urge Non-Muslims to 'Look Beyond the Veil'
Feb. 2, 2019
Muslim women in Ireland have urged non-Muslims in their communities to "look beyond the veil" and to see beyond negative stereotypes of the hijab.
Irish Muslim women and men gathered for a breakfast event on Friday to celebrate World Hijab Day, which is marked around the world on February 1st.
The event was hosted by Muslim Sisters of Éire, a voluntary organisation which provides support to women (in particular Muslim women), and to encourage integration.
Chair of the organisation Lorraine O'Connor from Dublin converted to Islam in 2005 from a predominantly Catholic background.
"I noticed when I became Muslim and I started wearing the hijab that there was quite a lot of hostility so I decided to wear my hijab and to be Irish I needed to kind of be proactive," she said.
She and others established Muslim Sisters of Éire in 2010 with a mission to "break stereotypes" and to combat negative public discourse, she says.
One of its visions was to bring Muslims together on World Hijab Day to celebrate the wearing of the veil.
"It's about women coming together and celebrating that they wear their hijab and they are doing talks and educating people, helping them understand because there is a lot of public discourse out there and there are a lot of people who don't like hijab," Ms O'Connor says.
"It's the most controversial piece of cloth in the whole of Europe at the moment. It's helping them to understand, to look beyond the veil at who we are. We are women underneath this veil, so don't judge me for the veil I'm wearing, judge me for the woman I am."
Also speaking at the event was Amilah Ali, a second generation Muslim woman from Dublin. She works in the women's community welfare department of the Islamic Cultural Centre of Ireland.
"Many people focus disproportionately on the head covering...forgetting the person who is underneath the veil," she said.
She told guests it was important to "look underneath the surface" and to find out more about Muslim women within their community.
"It's not just about the dress, it's also about how we conduct ourselves as Muslim women. I feel that it's important for us to leave a legacy behind us for our daughters, for those young women within our communities, so that they feel that there is no fear in wearing the hijab and also that they are not just defined by the hijab."
Sarah Babiker from Naas, a student of history and political science in Trinity College Dublin, said she and her friends got empowerment and freedom from their religion.
"We believe that our religion gives balance between all aspects of ourselves, our body, our soul, our mind, between men and women."
The first annual World Hijab Day was marked on February 1st 2013 in recognition of millions of Muslim women who choose to wear the hijab and live a life of modesty.
It was established by New York resident, Nazma Khan, who came up with the idea as a means to foster religious tolerance and understanding by inviting non-Muslim women to experience the hijab for one day.
https://www.irishtimes.com/news/ireland/irish-news/muslim-women-in-ireland-urge-non-muslims-to-look-beyond-the-veil-1.3779120
--------
Malaysian Women Mark World Hijab Day
01.02.2019
Malaysian women from various religious and ethnic backgrounds celebrated World Hijab Day (WHD) with a special event in the capital Kuala Lumpur on Friday.
World Hijab Day became a non-profit organization in 2017 aiming to fight discrimination against Muslim women through awareness and education, according to the NGO's website.
In a press release read out at the event, the NGO stressed the importance of "breaking stereotypes, shattering boundaries" -- which is the motto for 2019 -- and reducing barriers that hijabi women face in social life.
Marking the occasion, women shared their experiences and stories about reactions they got from their families and community when they start wearing hijabs.
At the end of the event, three Muslim and non-Muslim women were recognized with awards.
"I believe women should support each other whatever their circumstances. Hijabi women need to be heard. As a non-Muslim woman, I want to be part of it," Bkay Nair, one of the honorees, told Anadolu Agency.
Nair also said wearing a hijab for even a day to support the campaign made her friends act differently, adding: "But finally, my family and close friends understand the reason behind my support."
World Hijab Day was initiated in 2013 to encourage women of all religions and backgrounds to wear the hijab on Feb. 1 in support of Muslim women worldwide.
https://www.aa.com.tr/en/culture-and-art/malaysian-women-mark-world-hijab-day/1381330
--------
London Celebrates World Hijab Day
02.02.2019
By Muhammad Mussa
LONDON
Muslim women in the British capital gathered on a wintry Friday evening to commemorate World Hijab Day, which celebrates the head covering and the women who wear it.
Marking the annual event for the first time in London, the women came together to discuss the issues faced by those who wear the hijab and how the rise in Islamophobia in the UK has inspired them to take pride in wearing the headscarf and see it as central to their identity.
Saima, a charity worker at the Human Relief Foundation and volunteer at the World Hijab Day event, spoke of the importance of understanding what the hijab means to Muslim women who wear it and how a day such as this is essential in overcoming discrimination and ignorance.
"I think it is really important to have a day where the hijab is recognized, especially in the current climate where Islamophobia is on the rise and there is a lot of ignorance surrounding the hijab and why Muslim women wear it," she said.
Speaking of peoples' views regarding the hijab, Saima said "there are two ends of the spectrum; on one end, there are those who see it as a piece of cloth which means nothing and which is why it is so easy for them to say 'Why don't you remove it?' or 'Why don't you take it off?'"
"And on the other end, it is not seen for its materialistic aspect; rather, it transcends materialism and holds a deeper meaning to the individual, and rather than being an article of clothing, the hijab plays a key role in the individual's identity."
Saima, who has been wearing the hijab for two years, spoke of her reservations when she first began donning the headscarf and the worry that her non-Muslim friends would treat her differently. Those fears were unfounded, however, as she spoke of her friends' acceptance of her decision to wear the hijab.
Besides issues faced by Muslim women such as in the workplace and other public areas of life, one pressing concern was the high level of ignorance within the Muslim community regarding the hijab and the difficulty for Muslim women who want to wear it to communicate with those closest to them.
World Hijab Day was founded in 2013 by Nazma Khan, a Muslim woman from Bangladesh living in New York City, and is commemorated every year in over 150 countries across the globe. The initiative encourages all women, regardless of faith or background, to wear the hijab and experience a day in the life of a Muslim woman.
"Growing up in the Bronx, in New York City, I experienced a great deal of discrimination due to my hijab," Khan said.
"In middle school, I was 'Batman' or 'ninja'. When I entered university after 9/11, I was called 'Osama bin Laden' or 'terrorist'. It was awful. I figured the only way to end discrimination is if we ask our fellow sisters to experience the hijab themselves," Khan said in a statement.
The event is held on Feb. 1 every year and aims to end negative stereotypes surrounding Muslim women who wear the hijab. Each year focuses on a theme, with 2019 looking at "Breaking Stereotypes; Shattering Boundaries".
https://www.aa.com.tr/en/europe/london-celebrates-world-hijab-day/1381492
--------
Saudi Woman Activist Israa Al-Ghomgham Spared Death Penalty: Rights Groups
1 February 2019
Saudi human rights activist Israa al-Ghomgham will not face the death penalty as feared, according to rights groups.
Imprisoned since 2015 over her campaigning on behalf of Saudi Arabia's Shia minority, rights groups have warned Ghomgham could become one of the first Saudi women to be beheaded.
However, rights groups on Friday said that she would no longer be facing the death penalty. There has been no official comment from the Saudi authorities.
The European Saudi Organisation for Human Rights said that, according to the Saudi prosecution, the recommendation of a death penalty had been replaced with imprisonment.
"The replacement of the death penalty with a 'lighter charge' is not justice," the group said in a statement.
"It is a continuation of the violations that she has already been subjected to, especially when taking into consideration that her charges are related to her peaceful activism and freedom of expression."
The group also said there were "serious questions" about the fates of four others being tried together with Ghomgham, who were still facing the death penalty.
"While the main reason for this change is expected to be due to pressure on the Saudi government, the fate of 58 detainees facing death sentences at various levels of litigation remains unknown, although most of them face charges that do not meet the criteria of the 'most serious of crimes' and have been sentenced following unfair trials."
According to the group, Saudi Arabia has carried out 22 executions in 2019.
Amnesty International hailed the news as a "relief".
"News that Saudi Arabia's authorities have dropped their outrageous call for Israa al-Ghomgham to be executed comes as a huge relief," said Amnesty's Middle East campaign head Samah Hadid.
However, Hadid added, "she is still facing a ludicrous prison sentence simply for participating in peaceful demonstrations".
While Saudi Crown Prince Mohammed bin Salman has projected himself as a reformer, lifting a long-standing ban on female drivers, opening cinemas for the first time and attempting to ween the kingdom off its reliance on oil, the changes have come with a severe clamping down on critical voices.
Hundreds of executives, former government officials, religious leaders and activists, including the women who first pushed for the driving ban to be lifted, have been imprisoned.
While the arrests of the businessmen and former officials, originally held at Riyadh's Ritz-Carlton hotel, were portrayed as an anti-corruption drive, critics say the detentions all serve to snuff out voices critical of the young crown prince.
Women activists detained by the Saudi authorities have reportedly been tortured and faced sexual abuse.
Ghomgham is believed to have been targeted as a result of her leading role in the anti-government protests that have erupted in the Qatif region since 2011, demanding an end to discrimination against the Shia minority in the country and the release of political prisoners.
Muslims belonging to the Shia sect – who make up nearly 10 percent of the population - have historically suffered marginalisation in the Sunni-majority Gulf Kingdom.
The targeting of the Shia community in Saudi Arabia has escalated in recent years, with a surge in death sentences primarily targeting Shia political activists. The majority of political prisoners currently on death row are Shia, while most of the executions carried out in 2018 targeted Shia activists, according to rights groups.
https://www.middleeasteye.net/news/saudi-woman-activist-israa-al-ghomgham-spared-death-penalty-rights-groups
--------
Shaikh Mohammad Pays Tribute to Women Everywhere
February 02, 2019
His Highness Shaikh Mohammad Bin Rashid Al Maktoum, Vice-President and Prime Minister of the UAE and Ruler of Dubai, has paid tribute to all the women in the world.
On his social media accounts, he posted a video with a poem that he wrote that is sung by Arab musician Kadim Al Saher. The song is an ode to women and to Dubai; the video shows glimpses of the beauty the emirate has to offer.
https://gulfnews.com/uae/shaikh-mohammad-pays-tribute-to-women-everywhere-1.1549098417191
--------
Record Number of Women in Lebanon Cabinet
February 01, 2019
Beirut: Lebanon's newly formed government has a record number of women ministers.
Lebanese political factions agreed Thursday to form a new government, breaking a nine-month deadlock that only deepened the country' economic woes.
For the first time, the cabinet includes four women ministers, doubling their representation. They include Raya Al Hassan, who was named to the powerful Ministry of Interior in charge of internal security.
Al Hassan, a member of Hariri's party, was a former Cabinet minister.
Lebanese Premier Sa'ad Hariri's party also named Violette Safadi to be state minister for women's affairs, a post previously held by a man.
May Chidiac, who lost her arm and leg in an assassination attempt in a 2005 bombing, was named state minister for administrative development by the Christian Lebanese Forces group.
Another woman, Nada Bustani, was named by the president's political faction to hold the strategic post of energy minister.
Celebrations broke out after the announcement, including huge fireworks that lit up the Beirut sky, and rallies in support of Hariri.
Hariri called the new government "a reflection of Lebanon's image in 2019."
The announcement was expected to ease anxiety over Lebanon's sinking economic credentials after international agencies downgraded the country's credit ratings over concerns about the government's ability to pay its massive debt.
Rival political groups had been locked in disagreement over the make-up of a new government since May, after the country's first parliamentary elections in nine years.
Lebanon's powerful Shiite group Hezbollah made significant gains at the expense of the largest Sunni party, headed by Hariri, further contributing to traditional horse trading among rival factions to form governments in Lebanon.
A breakthrough became possible after weeks of backroom deals as economic pressures mounted.
The rival factions worked out a compromise allowing representation of Sunni lawmakers backed by Hezbollah, increasing the group's allies in the government.
At a glance:
1) The new government will be headed by Hariri, the Western-backed Sunni politician who has held the job since 2016.
The post always goes to a Sunni politician under the country's political system.
2) The 30-seat government sees an increase in the number of ministries affiliated with the Iranian-backed Hezbollah group, which is under tightening sanctions from the United States that labels the group a terrorist organisation.
For the first time, the group now holds the Ministry of Health, which has one of the country's largest budgets. Hariri had warned against Hezbollah holding the Health Ministry fearing it would be hit with sanctions too.
The new health minister, Jamil Jabbak, is not a member of Hezbollah but is believed to be close to the group's leader, Hassan Nasrallah, and was his personal physician at one point.
The Finance Ministry remained in the hands of a Hezbollah ally, Ali Hassan Khalil.
3) Gebran Bassil, the son-in-law of the Lebanese president, remains foreign minister.
https://gulfnews.com/world/mena/record-number-of-women-in-lebanon-cabinet-1.61811470
--------
Suicide Of Young Women In Iran Indicates Pressure On Women, Girls
Feb 1, 2019
The upward trend in the suicide of women indicates the excessive pressures on women and girls in Iran. At least seven young women, including three teenage girls at the age of 16, have ended their lives in recent days.
Ms. Parisa Ravandi (daughter of Ayyub), 23, from Oshnavieh, ended her life on Friday, January 25, 2019, through an injection. The body of this young woman was found at home on Sunday, January 27, 2019.
In Tehran, a 34-year-old woman hung herself in a filmmaking office on January 27, 2019. She did not have a place to sleep in Tehran and spent nights in the office. (The state-run Rokna News Agency – January 27, 2019)
Zahra Zaban-Ran, a 23-year-old from Malekshahi, in Ilam Province, hung herself a week after her marriage and ended her life on Monday, January 21, 2019.
Another reported case was the suicide of a young woman through air injection while she was in an automobile next to a petrol station in Sowme'eh Sara. (The state-run Tabnak Website – January 20, 2019)
On Friday, January 17, 2019, a 16-year-old girl named Aida Alizadeh in Ravansar hung herself and ended her life. On Saturday, January 12, 2019, a 16-year-old girl named Sara in Sanandaj also hung herself and ended her life. Around the end of December 2018, another 16-year-old girl in Sanandaj named Shima Amjadi attempted suicide by hanging herself because of economic problems and died in the medical center several days after admission.
According to the annual statistics released by the Journal of Forensic and Legal Medicine in September 2018, in Iran, women's suicide rates in 2017 alone were more than 1,365 people, at least 4 women per day.
Officials and experts in the regime have repeatedly acknowledged that suicide rates in Iran are not fully reported and announced, and the statistics reported by government authorities should be considered as a minimum.
According to a social pathologist, last year, woman's suicide rate in Iran increased by 66 percent during a five-year period. (The state-run Khabar Online – November 3, 2017)
https://women.ncr-iran.org/2019/02/01/suicide-young-women-iran-pressure/
--------
URL: https://www.newageislam.com/islam-women-feminism/hijab-doesnt-hinder-womens-progress/d/117630
New Age Islam, Islam Online, Islamic Website, African Muslim News, Arab World News, South Asia News, Indian Muslim News, World Muslim News, Women in Islam, Islamic Feminism, Arab Women, Women In Arab, Islamophobia in America, Muslim Women in West, Islam Women and Feminism