New Age Islam News Bureau
31 August 2020
• Female Pakistani Lawyer Tortured for Speech Against Army, According to A Video Shared by Arif Aajakia
• Arab World's 1st Women-Only Motorbike Taxi Launched by Mother-Daughter, Rana and Carine Karazi, Duo in Lebanon
• Saudi Arabia Boasts 2,400 Elite Women Players: Official
• Tala Al-Jahlan, Executive Director of Legal Affairs at The G20 Saudi Secretariat
• Leadership Starts the Day You Are Born, Kamala Harris Tells South Asian Women
• Afghan Women Negotiators to Face Hardline Taliban In Peace Talks
Compiled by New Age Islam News Bureau
URL: https://www.newageislam.com/islam-women-feminism/haleema-mustafa-hijab-diversity-model/d/122758
--------
Haleema Mustafa, the Hijab Diversity Model Arrested for Trying to Join ISIS
August 31, 2020
Christine Douglass-Williams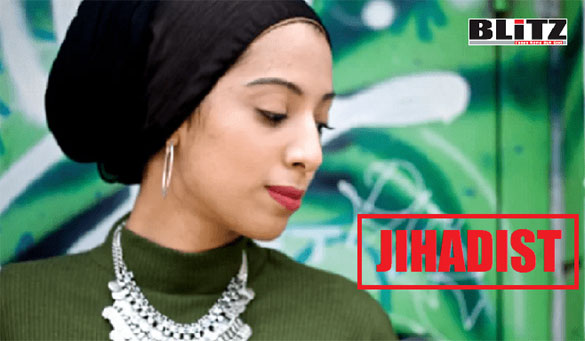 Haleema Mustafa
-----
The arrest of Haleema Mustafa is welcome news, especially in light of the fact that there is in Canada a greater threat of jihad terror than the Liberal government wishes to admit. In 2017, it emerged that dozens of jihadis were walking free in Canada, yet authorities wouldn't charge them. Now, in the space of just over a month, two arrests have been made: Haleema Mustafa was one, and in late July, terrorism charges were laid against another Muslim, Hussein Sobhe Borhot.
In 2016, Haleema Mustafa donned the hijab with pride in a CBC "diversity" exclusive entitled "The hijab is the 'centrepiece' of these outfits rocked by young Toronto Muslim women."
With the glistening Lake Ontario as her backdrop, Haleema Mustafa is strutting her carefully-curated outfit on the boardwalk-turned-catwalk.
The CBC used the same photo of Haleema Mustafa in its story of her arrest that it used in its feature about hijabi fashion, without telling its readers that Haleema had been in its pages before her arrest, for a quite different reason.
The Islamic veil, however, is anything but a fashion statement. Just ask the many women who are punished for not being veiled in many Islamic states. In Iran, they are treated as criminals, and "punished for encouraging corruption and debauchery." And for those who insist that full covering is cultural, not religious, consider these passages:
(Quran 24:31) And tell the believing women to reduce of their vision and guard their private parts and not expose their adornment except that which appears thereof and to wrap [a portion of] their headcovers over their chests and not expose their adornment except to their husbands, their fathers, their husbands' fathers, their sons, their husbands' sons, their brothers, their brothers' sons, their sisters' sons, their women, that which their right hands possess, or those male attendants having no physical desire, or children who are not yet aware of the private aspects of women. And let them not stamp their feet to make known what they conceal of their adornment. And turn to Allah in repentance, all of you, O believers, that you might succeed.
If a woman does not cover, she is fair game to be assaulted:
(Quran 33:59) O Prophet, tell your wives and your daughters and the women of the believers to bring down over themselves of their outer garments. That is more suitable that they will be known and not be abused.
"Woman arrested in Toronto area for allegedly trying to join ISIS," by Stewart Bell, Global News, August 26, 2020:
Ten months after returning to Canada from Turkey, a Toronto-area woman has been arrested for allegedly attempting to join the so-called Islamic State.
Haleema Mustafa was taken into custody at around noon on Wednesday in Markham, Ont., north of Toronto, and was to appear in court Thursday to face charges.
The Public Prosecution Service of Canada said Mustafa faced two terrorism counts: leaving Canada to participate in the activities of a terrorist group and participation in the activities of a terrorist group.
A woman who answered the door at the family home declined to comment. Mustafa's husband, Ikar Mao, was charged with the same two offences last December and remains in custody.
The couple left Toronto together in June 2019 and were caught in a Turkish city an hour's drive from the Syrian border. They were detained and returned to Canada separately in October.
Few women have faced terrorism charges in Canada.
While women have a long history of involvement in terrorist groups, Canadian authorities have charged just three women with terrorism since 2013 — and only one of them was convicted.
"In Canada, there's only been a handful of women who have been charged with terrorism offences,'' said Jessica Davis, the author of Women in Modern Terrorism: From Liberation Wars to Global Jihad and the Islamic State.
Rehab Dughmosh tried to join ISIS in 2016 but was stopped by Turkish authorities. Sent back to Canada, she planned an attack at a Toronto Canadian Tire and was convicted in 2019.
https://www.weeklyblitz.net/oped/hijab-diversity-model-arrested-for-trying-to-join-isis/
--------
Female Pakistani Lawyer Tortured for Speech Against Army, According to A Video Shared by Arif Aajakia
Aug 30, 2020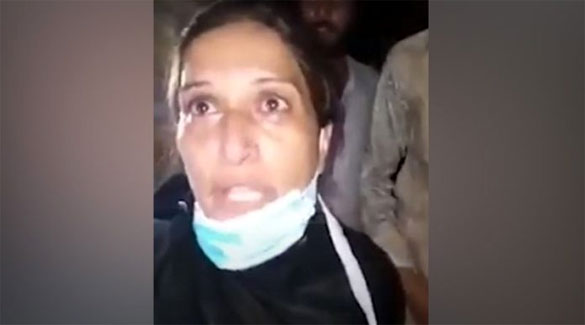 According to a video shared by Arif Aajakia, a human rights activist, the woman went on a tirade against the Pakistan Army, terming it an "enemy" during her address
-----
ISLAMABAD: A Pakistani female advocate, who recently delivered a speech critical of the country's armed forces, was abducted and tortured for days, before she was found by locals in a very bad condition in Mailsi of Punjab province earlier this month.
According to a video shared by ArifAajakia, a human rights activist, the woman went on a tirade against the Pakistan Army, terming it an "enemy" during her address.
According to last week's report in Geo News, the female advocate had been kidnapped from her office by unidentified men on August 14, police said. She was found in a semi-conscious state from a field near Dhoda Road in Mailsi.
The woman was discovered with her hands and legs tied and could not speak due to a cloth covering her mouth, police added.
In another video shared by Aajakia, the traumatised lawyer is being asked by locals about her condition. She said she was a resident of Dipalpur and confirmed that she was abducted, tortured and thrown into a field by four persons.
The advocate added that she was a mother of six.
She has been shifted to the Dipalpur tehsil headquarters (THQ) hospital, the district police officer (DPO) said, according to Geo News.
The police officer said that a first information report (FIR), including charges of kidnapping, was lodged by the victim's son. A special team investigating the case recorded the woman's statement.
The woman's critical condition shows how people in Pakistan face dire and often fatal consequences for criticising the Pakistan Army.
The Pakistani armed forces have been accused of eroding democratic values and have a say in the domestic and foreign policy of the country, reducing the civilian government to a mere puppet.
In a country where criticism of the military is frowned upon, an unprecedented crackdown has been launched on dissent, where the Pakistan Army and the ISI are committing human rights abuses against people including human right activists and political activists, for their critical views against them.
Several activists, who have escaped from Pakistan, continue to hold Pakistan Army responsible for the enforced disappearances, murders and other crimes against dissenters.
Instead of taking a stern response of tackling terror on its soil, Pakistan military, instead, harbours terrorists and allows them to carry out attacks in neighbouring countries, including India and Afghanistan, while continuing to clamp down on dissent.
For instance, Manzoor Pashteen, a Pashtun human rights activist, has been jailed for criticising the Pakistan Army and taking out protests against the armed forces. Pashteen's arrest sparked a huge demonstration in several parts of the country and many Pashtuns are demanding his release. He was subsequently released, but that has not quelled the protests against the Pakistani military.
Pashteen's Pashtun Tahaffuz Movement (PTM), which was founded in 2018, has organised regular demonstrations against Pakistan Army's heavy-handed operations in tribal regions even as the military has evidently chosen to crush the movement with its all too familiar tactics.
Apart from Pashtuns, several Balochis and Sindhis in Pakistan and abroad have also launched protests against the government-military nexus and the establishment's brutal crackdown on their communities.
https://timesofindia.indiatimes.com/world/pakistan/female-pakistani-lawyer-tortured-for-speech-against-army/articleshow/77834042.cms
------
Arab World's 1st Women-Only Motorbike Taxi Launched by Mother-Daughter, Rana and Carine Karazi, Duo in Lebanon
Bassam Zaazaa
31 August 2020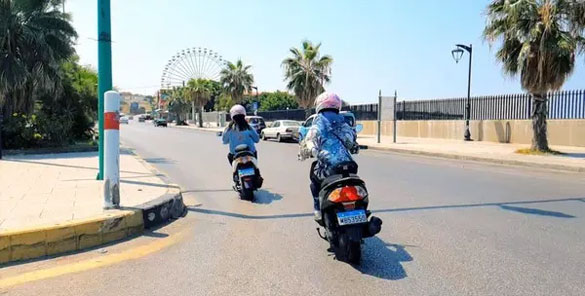 Rana and Carine Karazi, who have launched a women-only motorbike taxi service, are seen driving in Beirut, Lebanon. (Supplied)
-----
A Lebanese mother and her daughter have become the first in the Arab world to provide women-only motorbike taxi to help females commute cheaply, safely and swiftly.
Rana Karazi, a mother of two, lost her job at a security company in December 2019 amid Lebanon's rapid economic downfall. Needing to provide for her family, she started Moto Taxi by Rana to earn money and provide a service to Lebanese women.
As the country's ongoing economic and financial crisis set in, many have switched into survival mode. At the end of 2019, 45 percent of Lebanon was living below the poverty line, the World Bank estimated. Today, and in the wake of the devastating August 4 explosion at the Beirut port, that number has likely risen.
The recently out of work Karazi received a call from a busy friend a few months ago saying she would pay Karazi to drive her child to and from where the child needed to be.
The trip sparked Karazi's business idea.
"I drove her child back and forth and she paid me money. When I completed my mission, I told to myself why I don't make private business out of that transport service," Karazi told Al Arabiya English.
A mother of 20-year-old Carine and a younger brother, 39-year-old Karazi explains that she mastered the art of driving a motorcycle at the age of 35.
"In the few months, my daughter and I took to social media [Instagram, Facebook and WhatsApp groups] to promote our business... As our client list grew bigger, I had to train Carine how to drive a motorcycle and she became my partner," said Rana, who lives in Beirut's Tareeq Al Jdeede area.
Karazi said she's now had to hire a third driver to meet demand.
"We have proven to be a great success within three months. The coming days our schedule is nearly full that I had to ask my neighbor to join my team," she said.
Having studied travel and tourism, the single-mother said she now has a fleet of two motorcycles that requires constant maintenance and services aside from daily expenses.
She pays around 25,000 Lebanese pounds ($17 at the official exchange rate, which has now slipped dramatically) for oil changes for each motorcycle monthly, and the daily fuel cost is around 4,000 pounds. The mother-daughter duo charges 3,000 pounds per trip, which is around the price a standard shared taxi ride would cost in Lebanon.
As Lebanon's economy continues to contract, and political turmoil escalates, the shortage of dollars in the country continues to put pressure on the exchange rate and the value of the dollar has fluctuated for a year.
Along with the country's uncertainties, catastrophic economic situation and COVID-19 health hazards, Karazi said she has seen the number of clients rise in the past few months.
"Life has become more expensive and less safe. That was one of the major reasons why female clients have trusted me more. It's reasonable for families to send daughters, wives, sisters on a motor-taxi since it is cheaper, faster, easier and healthier – especially amid fears of contracting coronavirus. Passengers nowadays refrain from using car taxis to avoid interacting with drivers meanwhile on a motorbike, it is less risky as the passenger wears a facemask and gloves," she said.
She explained that her daughter, who is a college student, has been handling social media campaigns, advertisements and inquiries.
Karazi is proud that she and her daughter are believed to have become the first in the Arab world to provide this kind of transport service. In Bangladesh, Thailand, and Indonesia similar services have cropped up.
"I also feel self-assured that the public entrusts me for the safety of their wives, sisters and daughters, especially when they contact us to drive them around Beirut and its outskirts," she said stressing that her open-minded and modern family has been fully supportive.
Karazi hopes to expand her business very soon.
https://english.alarabiya.net/en/features/2020/08/31/Arab-world-s-1st-women-only-motorbike-taxi-launched-by-mother-daughter-duo-in-Lebanon.html
-----
Saudi Arabia boasts 2,400 elite women players: Official
August 30, 2020
JEDDAH — Minister of Sports and Chairman of the Saudi Arabian Olympic Committee (SAOC) Prince Abdul Aziz Bin Turki Al-Faisal inaugurated the first Saudi International Athletes Forum here on Saturday.
A galaxy of prominent local and international sports figures from around the world participated in the two-day event, and they include chairwoman of the International Olympic Committee (IOC) Athletes' Commission and Zimbabwe Sports Minister Kirsty Coventry.
SAOC, represented by the Saudi Athletes Commission, is hosting the virtual session, which concluded on Sunday.
Addressing the inaugural session, Prince Abdul Aziz thanked and appreciated the guests attending various sessions of the event, including Olympic champions from various countries of the world, for presenting their Olympic experiences and contributions in front of the young Saudi men and women sports figures so as to enable them to benefit for their performances in their respective sport events in future.
Prince Abdul Aziz said, "The athletes are affiliated with the international committee and it represents athletes around the world. A lot of athletes do not have a voice or a representation but they are our heroes and champions, so how could we learn about their needs if they do not have a voice.
"That is why we have to take their opinion and impressions especially that all sports are different, and the key purpose of the committee is to solve their problems and bridge the gap between athletes and sport officials."
Prince Abdul Aziz also added that its mandatory for every federation to start their athlete's committee; I have requested this but the athletes must address this as well. This is one of the things we are keen to develop between athletes within their federations."
He added, "Don't lose hope no matter what, always find a solution. If you think you don't have a problem or issue, you are wrong we all have challenges and we should take it as a way of learning from experiences, if we don't have challenges we won't be able to compete."
"The Saudi Athletes Commission is an independent committee with a different nature of work. The commission is concerned with communicating the problems of all Saudi athletes," Prince Abdul Aziz said, adding that they are about to launch new regulations after reaching an agreement with them so as to serve the rest of the players.
Meanwhile, president of the Saudi Athlete Commission Ibrahim Almoaiqel moderated the first session which included: Coventry, table tennis Olympic medalist and (IOC Athletes' Commission member Ryu Seung Min, and IOC Athletes Rights' Committee member and vice chair at the Athlete Commission at the Olympic Council of Asia (OCA) Tayyeb Ikram.
The guest speakers agreed on the importance of increasing the representation of athletes. As Coventry said, "To ensure the decision makers are not just hearing from us, but also to include us in the decision making. To allow organizations to better understand what athletes go through and help make better decisions."
Ikram added, it is good to let them plan things for themselves. It is about participation and not only in performance but also what is good for them as the Olympic movement is all about athletes."
Ryu Seung Min said, "We want to show the world that we would like to communicate with all the athletes and listen to them."
The main challenges in Asia were highlighted when Ikram said, "We are not different but we have a different culture and a traditional sport system, that's why on the mental side we need to update our sport system in which we need athletes to get involved in their environment.
"You can have a medal, but how much pressure and anxiety do you go through and how to deal with it. We are still working on that and that's why we have the athletes' committees. We have to identify those challenges and be active towards it."
Ryu Seung Min also shared his experience on the workshop they held to assist athletes prepare for their life after retirement and acknowledged the importance of continues feedback and evaluation to ensure its success and hoped it could be accessible to all athletes around the world.
A word of advice to the right way to move forward, Ryu Seung Min said, "Respect each other is key for things to work together and develop our communities and please go to athlete 365 register and benefit from all the valuable information to help athletes."
SAOC director of communication moderated the following session which included Sydney Olympic silver medalist Hadi Souan and Saad Al-Shehri, football coach and manager of the Saudi under-23 national team.
Souan said, "All athletes compete to get the same medal and being talented or over prepared may help but what will make a difference is sometimes small things such as your commitment, discipline, and taking what you do seriously.
"And I don't want to brag about myself but I believe this helped me in addition to being a good listener who listened and implement in addition to being trained in a productive environment."
He added, "Our aims are high, we don't want to look for another Hadi but to the things Hadi couldn't do because we always aim high and our Saudi athletes can do it."
SAOC sport performance committee member Turki Almisibeih moderated the following session, which focused on the importance of health and wellbeing.
Taekwondo athlete Abrar Bukhari, also emphasized on the importance of taking care of their nutrition and weight as martial art athletes are always on the watch to keep their focus and weigh category stable. This puts on them a lot of pressure contentiously but we need to learn how to control our stress and then how to moderate these elements mentally and physically in our favor.
"It's not easy to plan for everything, we are athletes and we definitely need to focus on our sport. I didn't have enough resources to help me bring out the best in me. So I started to educate myself with books and workshops and nutrition companies, as we didn't have someone who could help us with that," said Bukhari.
Abdul-Aziz Alnafisah, nutrition specialist at SAOC said considering the warm weather and nature of the country, athletes should pay attention to their health and fitness and balancing between them to ensure sustainable performance before, during and after competitions.
Dr. Qasim Almaidi, president of the Sport Medicine Federation, said, injuries tend to vary depending on the sport itself and this requires the specialist to be aware of what is needed. He added, "Providing programs in advance to prevent injuries are crucial and has proved its success such as the programs delivered by the FIFA."
Lama Alfozan, Saudi athlete committee member and fencer moderated the last session about empowering women with the participation of chairman of the Women and Sports Committee of the Olympic Council of Asia Sheikha Hayat Bint Abdul Aziz Al Khalifa, SAOC Sport Federations Services Committee CEO Princess Delayel Bint Naha Al Saud, and Olympic equestrian rider and athlete committee member Dalma Malhas.
Sheikha Hayat at the outset congratulated Princess Reema Bint Bandar Bin Sultan on the occasion of her winning the membership of the IOC. She also lauded the efforts of Minister of Sports Prince Abdul Aziz Bin Turki and Deputy Minister of Sports Prince Fahd Bin Jalawi for the Kingdom's advancement in the athletic sector reaching the global level.
"The Gulf women journey started in early 70s, Bahrain was leading in this field and we started on an Arab level. Now it's not only to participate but to compete and win victories. Empowering women is developing her participation in a way to allow her to be involved and make decision and to do that we need to provide her with resources with the cooperation of the government, education sector and private sectors.
"SAOC must put a clear strategy that women sports must become recognized to ensure sustainability, in addition to national federations. Women exposure in media should be balanced and equal, because of the IOC gender equality review with 25 recommendations. These outcome and guidelines will save time during the empowerment process," said Sheikha Hayat.
Princess Delayel also acknowledged the transformation of empowering women in Saudi sport, growing the inclusiveness of females in 25 Saudi sport federations, in addition to more than 2,400 Saudi women athletes representing the Saudi national team.
"Saudi women's sports have witnessed remarkable growth over the last decade, by winning 11 different medals in the 2019 Gulf Clubs Championship. There are 25 Saudi sports federations, which have their female teams," she said, adding that these federations are working to create a stimulating environment for female athletes in their respective federations.
In her speech, Malhas, a member of the Saudi Equestrian Team and the Kingdom's first female youth Olympics medalist, said that her winning the bronze medal in the Singapore Olympics 2010 was the turning point in her life that prepared her to participate in international tournaments. "It had also contributed to the complete transformation of my lifestyle," she added.
"The future of women, with the new vision to support the federation through asking them to provide strategies for four years to empower and support women, and we will ask them to provide a productive environment to and provide programs to all age categories to take the women athlete from the participating level to the competing level.
"The medal and exposure had a great impact on my life, before I used to concentrate on certain goals, now I'm mentally changed and I have a vision and this vision gave me the motivation to do better," said Malhas.
https://saudigazette.com.sa/article/597310
--------
Tala Al-Jahlan, Executive Director of Legal Affairs at The G20 Saudi Secretariat
August 31, 2020
Tala Al-Jahlan has been the acting executive director of legal affairs at the G20 Saudi Secretariat and heading the legal affairs and compliance department since this August.
She spoke about her role at the secretariat in an interview recently, saying that her team had an essential role as it supported other departments to facilitate daily tasks, organize relations locally and internationally and frame these relations on clear legal grounds.
"We are the result of our country's and leadership investments in the youth, we are an example of such support and empowerment," she added. "I'm proud to be a product of my country. I have been educated in Saudi Arabia and had my career in Saudi. I have been taught and trained by Saudis."
In addition to her job at the G20 Saudi Secretariat, she has been pursuing an education in commercial law at Prince Sultan University since 2019.
She studied for a law degree at the university between 2006 and 2011 and, prior to her current position, was a senior legal adviser at the G20 Saudi Secretariat from last October until August this year.
She started her career as an internship trainee at Al-Sulaim Al-Awaji and Partners Law Firm between Sept. 2010 and April 2011, becoming a senior legal adviser at the same firm between May 2011 and Oct. 2019.
Al-Jahlan has represented international and Saudi Arabian corporations and families in transactions connected to corporate restructuring, mergers, acquisitions, joint ventures, shareholder agreements, foreign direct investment, facility agreements, agency, and distributorship matters.
https://www.arabnews.com/node/1727191/saudi-arabia
--------
Leadership starts the day you are born, Kamala Harris tells South Asian women
31st August 2020
WASHINGTON: Indian-origin Senator Kamala Harris, the Democratic Party's vice-presidential candidate, has urged South Asian women to run for office and take up a leadership role in their communities.
Democratic presidential nominee Joe Biden and his running mate Harris are challenging Republican incumbents President Donald Trump and Vice President Mike Pence in the November 3 US election.
"To all the young women who are watching this, I want you to know that leadership begins the day you are born. You are never too young or too old to be a leader," said Harris, 55, at an event on Saturday.
Harris has scripted history in US politics after she became the first Indian-American and Black woman to get a major party's vice-presidential nomination.
"So get involved in your community, run for office. Whatever you do, it matters, so just lead," said the senator from California, in an audio message to the virtual event 'South Asian Women in Leadership: Ushering a New Wave of Diversity in the Biden-Harris Era' which was organised by South Asians for Biden.
The event was co-hosted by the American Impact Fund and the Indians for Biden National Council.
Panelists at the event included Dr Sadaf Jaffer, the first Muslim woman to serve as a mayor in the US, Kesha Ram, the youngest Indian-American woman to be elected to statewide office and Dr Nina Ahmad, candidate for Pennsylvania Auditor General.
Ahmed is vying to be the first woman of colour to hold statewide office.
Harbir Bhatia, who is running to be the first Sikh American woman in the Santa Clara City Council in California, also participated in the event.
Harris described each of the panelists as "incredible trailblazing women who are ready to usher a new wave of leadership."
The session was moderated by Mini Timmaraju, board member of Indian American Impact Fund.
"As you know, my mother Shyamala Harris came (here) from India at age 19 to pursue her dream of curing cancer. She dedicated her life to fighting for the promise of America, just like Joe Biden has," the Indian-origin senator said.
Harris said Biden's tenure will reflect America's strength in its diversity.
"Joe has been proud to stand with the Asian American and Pacific Islander community, and is committed to making sure that the Biden Harris administration reflects the diversity of America. As Joe Biden has said 'we are stronger because of our diversity and not in spite of it'," Harris said.
"South Asians for Biden is truly honoured to have Senator Kamala Harris provide remarks at our South Asian Women in Leadership event," said Neha Dewan, National Director of South Asians for Biden.
"Senator Harris has been trailblazer throughout her time in public office, and her selection as the Democratic nominee for vice president has particular significance to both South Asian and Black women, who will be inspired to seek public office in unprecedented numbers in the future," Dewan said.
https://www.newindianexpress.com/world/2020/aug/31/leadership-starts-the-day-you-are-born-kamala-harris-tells-south-asian-women-2190591.html
--------
Afghan Women Negotiators to Face Hardline Taliban In Peace Talks
AUG 31 2020
Their presence at the negotiating table is significant in patriarchal Afghanistan, though they will be outnumbered by the rest of the Afghan government's team of 16 men and the Taliban's male-only side.
"The Taliban have to understand that they are facing a new Afghanistan with which they have to learn to live," said Fawzia Koofi, one of the negotiators and a high-profile women's rights campaigner.
The politician has survived two assassination attempts during her career -- the latest was just weeks ago near the capital Kabul and came aer the Taliban and Afghan government said they were ready for talks to begin.
"Being in such an important role is not something which is very common in Afghanistan, so you really have to find your way among those people who do not believe in a woman's presence," Koofi told AFP before the shooting.
When the Taliban ruled Afghanistan from 1996 to 2001, her husband was jailed and she was threatened with stoning for wearing nail polish, she said.
Religious police whipped women in the street if they wore anything other than an all-concealing burqa, and those accused of adultery were sometimes executed at sports stadiums aer Friday prayers.
Today, the traditional patriarchal system remains the norm and life for most women in rural areas has improved little since the 2001 US-led invasion toppled the Taliban, who banned girls from going to school and women from working.
disproportionately low numbers.
Koofi is one of a few women who held unoicial talks with the Taliban in 2019 and knows the battle women negotiators will face.
"It's not just about what you are talking," she said. "People look at what you wear, whether your scarf is of the right size or not."
Washington signed a deal with the Taliban in February committing to withdraw foreign forces in return for a pledge from the insurgents to hold talks with the Afghan government, aimed at ending the war.
Both sides have said they are ready to fly to Doha for the talks aer a controversial prisoner swap has been completed.
Islamic law expert and negotiator Fatima Gailani, 66, told AFP that women were apprehensive about negotiations with the Taliban.
"Every woman in Afghanistan has a fear... we always have a fear that whenever there are changes in Afghanistan and whenever there is a political change, always women are hurt," said Gailani, a spokeswoman for the mujaheedin against the Soviets in the 1980s and now the president of the Afghan Red Cross.
But she said she has the support of the men on her team, who "believe in exactly what I believe in".
First, though, the talks should focus on "common values", such as Islam, and on achieving a ceasefire in Afghanistan's conflict, which has killed tens of thousands and le millions displaced since 2001.
"I'd like very much to see an Afghanistan where you don't see yourself in danger... If we don't achieve it now it will never happen," Gailani said.
The Taliban have made only vague comments about women's rights, saying these will be protected through Islamic values.
Another negotiator, Habiba Sarabi, who was barred from working under Taliban rule and forced to flee to Pakistan so she could continue to teach, wants to ensure Afghanistan remains a republic and not a Taliban-run "emirate" where religious law trumps constitutional rights.
line have changed, despite the group's political leaders moving closer to peace talks with the Afghan government.
"The fighters here in Afghanistan have the same ideology, they have the same behaviour," she said.
The other two women on the negotiating team are Shahla Fareed, who is a lawyer, women's rights activist and university lecturer; and Sharifa Zurmati, a former broadcaster and local politician in the eastern province of Paktia.
https://www.deccanherald.com/international/world-news-politics/afghan-women-negotiators-to-face-hardline-taliban-in-peace-talks-880334.html
--------
URL: https://www.newageislam.com/islam-women-feminism/haleema-mustafa-hijab-diversity-model/d/122758
New Age Islam, Islam Online, Islamic Website, African Muslim News, Arab World News, South Asia News, Indian Muslim News, World Muslim News, Women in Islam, Islamic Feminism, Arab Women, Women In Arab, Islamophobia in America, Muslim Women in West, Islam Women and Feminism