New Age Islam News Bureau
6 Dec 2016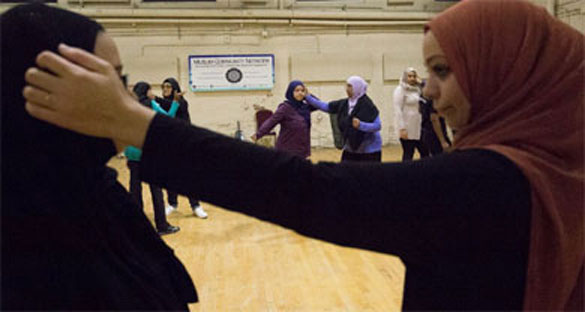 A Self-Defense Class for Muslim Women In NYC
---------
• US Embassy in Pakistan Hosts Discussion on Violence against Women
• Inside A Self-Defense Class for Muslim Women in NYC
• Edmonton Police Investigate After Man Ties Noose, Threatens Two Muslim Women
• Pakistan Prepares for Its First-Ever Women's Kabaddi Championship
Compiled by New Age Islam News Bureau
URL: https://newageislam.com/islam-women-feminism/hijab-clad-muslim-cop-called/d/109300
-------
Hijab-clad Muslim cop called 'ISIS', harassed in US
December 5, 2016
New York: An off-duty hijab-clad Muslim police officer was called "ISIS" and told to go back to her "country" by a white man who also pushed her 16-year-old son, the latest in a series of incidents in which headscarf-wearing women have been targeted in the US following Donald Trump's win.
Officer Aml Elsokary, who was off duty and wearing her hijab, dropped off her son in Brooklyn. After parking her car, she returned to the scene to find her son being shoved by the suspect, a white man in his 30s.
When the officer, a native New Yorker approached, the man said, "ISIS (expletive), I will cut your throat, go back to your country!"
Elsokary did not identify herself as a police officer, and was unarmed, the New York Daily News reported, citing police sources. The suspect then fled the scene. Police were trying to track him down.
The NYPD Hate Crimes Unit is probing the episode as a bias incident which took place on Saturday.
Officer Elsokary who proudly wears her hijab on duty was touted as a hero by the New York city mayor after she ran into a burning building to save an elderly man and baby girl in April 2014.
Responding to a call about a fire over the police radio, Elsokary and her partner had rushed to a smoke-filled building.
The decorated officer had joined the force shortly after the September 11 terror attacks to "show people that the terrible acts of that day contradicted the teachings of Islam," Mayor de Blasio had said at a 2014 dinner. The mother-of-five had received a medal for her bravery.
Saturday's incident comes amid a slew of intimidation and assault cases that have been reported across the country against hijab-clad women following Trump's win.
On Thursday, a Muslim student was allegedly assaulted aboard a subway train by three drunk white men who repeatedly screamed "Donald Trump!" and hurled anti-Islam slurs before trying to rip her hijab off.
Earlier this month, a Hijab-clad Muslim student was allegedly struck in the face with a glass bottle in broad daylight at the University of Washington campus in Seattle.
In another incident, a hijab-clad woman was allegedly accosted at a US store by another customer who called her a "terrorist" and told her to "get out" of the country.
Also, a Muslim student's hijab was allegedly ripped off and her hair pulled down by a classmate at a school in Minnesota.
http://www.siasat.com/news/hijab-clad-muslim-cop-called-isis-harassed-us-1079842/
-------
US Embassy in Pakistan Hosts Discussion on Violence against Women
December 06, 2016
Islamabad - The US embassy in Islamabad, in collaboration with the Islamabad Club, hosted a panel discussion with students and experts on ending violence against women as part of its commemoration of 16 Days of Activism against Gender-based Violence said a statement issued by the US embassy yesterday.
American Ambassador David Hale gave the closing remarks. The envoy said: "The 16 Days of Activism to End Violence against Women campaign offers an opportunity for action from everyone— men and women, boys and girls, government officials, and community leaders—to end violence against women and girls around the world."
Participants discussed the importance of gender equality and women's empowerment in building resilient, democratic societies; supporting open and accountable governance; ending extreme poverty; and to furthering international peace and security.
http://nation.com.pk/islamabad/06-Dec-2016/us-embassy-hosts-discussion-on-violence-against-women
-------
Inside A Self-Defense Class For Muslim Women In NYC
DEC 5, 2016 9
Nisma Zakria stood in a basement gymnasium in the West Village on Saturday afternoon, demonstrating how to strike an attacker grabbing her hijab. Her partner, also in hijab, gripped the cloth draped across her chest. "I'm going to take my arm inwards and out," Zakria said, raising her dominant arm up high and sweeping it down in a wide circular motion, hooking her "attacker's" arm up and away. Completing the circle, Zakria brought her hand down to her side. "I am slapping my thigh," she said with a smack. "You make them lose their grip."
A second-degree black belt from Staten Island, Zakria teaches self-defense classes through the Women's Initiative for Self-Empowerment (WISE), a self-defense nonprofit for Muslim women. Last weekend, the Muslim Community Network invited her to lead two sold-out workshops for Muslim women and their allies. Interest has been overwhelming—in large part, the organizers said, because of President-elect Donald Trump, who has stoked Islamophobia and called for a ban on Muslims entering the US. "We were not expecting that when we published the event the election would have gone the way that it did," said Emaan Moosani, Program Director at the Muslim Community Network. "Within ten hours it was sold out, [and] our Facebook event had 500 shares."
"We are here because we feel that we are being targeted," said Amirah Aulaqi, a 26-year-old modest fashion designer and one of Saturday's guest speakers. Reports of hate crimes have increased significantly in New York City this year to date. As of November 13th, 328 hate crimes had been reported in NYC, compared to 250 during the same period in 2015. Of that total, 25 have allegedly been committed against Muslims—a 108 percent increase from last year. Last week, men screaming 'Donald Trump' attacked a woman wearing a hijab on the subway.
Aulaqi took her first self-defense class last winter, following the Paris attacks and residual uptick in bias attacks on Muslims in the US. On Saturday she helped facilitate a class that was half self-defense, half emotional check-in—similar to classes she taught last year. "We didn't want to just do self-defense courses. We really needed a support group," she explained. Many of her participants have been recent immigrants. "We [worked] with a lot of mothers and women who wear full garments that are really normal to them back home, and when they get here [to America] they don't understand other people being fearful of them."
Zakria said she draws on her religious beliefs to diminish a hypothetical attacker. "In Islam we believe that men and females are created out of mud and god gives you life," she said. "That's how Prophet Adam was created. [So] I was like, since when are we afraid of mud?"
For forty-five minutes, women split off into pairs to practice offensive and defensive moves. One involved disarming an attacker who grabs your hair (grab their hand, step on their toes, then swing your free arm around to hit their elbow). The group also learned the attacker's most vulnerable body parts—eyes, nose, throat, knees—how to palm heel strike someone in the chin, and how to protect your head from a blow using fists and forearms.
Also, how to speak—and yell—in self-defense. "Repeat after me," said Tish Tabb, a volunteer instructor with the Center For Anti-Violence Education: No! No! No! No! NO! NO!
Another tactic—the "broken record"—is geared towards verbal harassment. "Let's say someone comes up to you and says, 'You're ugly. Why are you wearing that? What are you doing here?,'" Tabb said. "One of the things you can say is just the same phrase over and over again: "I don't want to talk to you. I don't want to talk to you. I don't want to talk to you. Go away. Go away. Go away."
Magda Kamel, in her early 60s, wore a bright blue hijab covered in white dots. She said that she has been verbally harassed many times since she moved to the US more than 35 years ago.
"Mostly they say the f-word and, 'Get back to your country,' and, 'You have no right to be here,'" Kamel recalled. Since the election, things have been worse. "It gives them affirmation to do what they want. It's okay to [say], 'We hate you.'"
The class, Kamel said, was a confidence boost. "Sometimes I get nervous and cannot explain myself in a normal way," she said. "This encouraged me to put my hand the right way."
Earlier, Aulaqi said one goal of the class was to help women simply go about their daily routines. "Even though something may have not happened to us already, it can probably happen to us," she said. "We cannot be crippled by the limitations that other people set on us."
http://gothamist.com/2016/12/05/self_defense_muslims.php#photo-1
-------
Edmonton Police Investigate After Man Ties Noose, Threatens Two Muslim Women
DECEMBER 05, 2016
Edmonton police are looking for a man who harassed two Muslim women at the University LRT station earlier this month.
Two young women, both wearing hijabs, were approached by a man while standing on the station platform about 8:20 a.m. on Tuesday, Nov. 8.
The man pulled a rope from his pocket and tied it into a noose before threatening the women, saying "This is for you." He then began singing O Canada.
One of the women recorded the incident on her cellphone.
Police said they were investigating the incident as a hate crime.
The suspect is described as a thin, balding white man in his 60s with grey hair. He was wearing glasses, a black jacket and green pants.
Anyone with information is urged to contact police.
twitter.com/ClaireTheobald
ctheobald@postmedia.com
http://www.edmontonsun.com/2016/12/05/edmonton-police-investigate-after-man-ties-noose-threatens-two-muslim-women
-------
Pakistan prepares for its first-ever women's kabaddi championship
December 6, 2016
By Natasha Raheel
KARACHI: Pakistan will be holding its first-ever women's kabaddi national championship from December 14 in Lahore with more than seven clubs expected to participate in the event, revealed Pakistan Kabaddi Federation (PKF) Secretary Muhammad Sarwar.
The four provincial teams, Islamabad, WAPDA, HEC and Army will be participating in the event while more teams are expected to join them in the inaugural championship.
Pakistani women break new ground at Kabaddi World Cup
Sarwar, who believes that the championship is a huge step forward, is hoping that the event will encourage women to pursue the sport.
"The event is a huge step forward. We want to encourage girls to develop an interest in the sport and even represent the national side in the future," he said. "We will be making selections for the national side based on the performances in this championship and hopefully this will give us a larger pool to select from."
Meanwhile, national captain Khazeema Saeed believes that the sport has come a long way since she, along with her national teammates, started playing the sport last year.
Kabaddi, Kabaddi, Kabaddi: Pakistani women will play World Cup
"I'm extremely excited about the start of this championship," Khazeema told The Express Tribune. "Since last year, the sport has really picked up with an increase in the number of girls trying out for the national side. I'm sure this championship would further increase the interest in the sport."
Khazeema, 19, was also part of the U19 squad that first went on a training tour in Iran. She then competed at the South Asian Games and again went back to Iran for a tournament where the team bagged bronze.
Pakistan women power through to semis
"It has been a learning experience as the various tours taught each and every one of us a lot," she said. "We are thrilled to be part of something big because when people say kabaddi, they imagine a bunch of men playing the sport. We want to change that and this championship will certainly help."
http://tribune.com.pk/story/1254303/pakistan-prepares-first-ever-womens-kabaddi-championship/
-------
URL: https://newageislam.com/islam-women-feminism/hijab-clad-muslim-cop-called/d/109300
New Age Islam, Islam Online, Islamic Website, African Muslim News, Arab World News, South Asia News, Indian Muslim News, World Muslim News, Women in Islam, Islamic Feminism, Arab Women, Women In Arab, Islamophobia in America, Muslim Women in West, Islam Women and Feminism