20 March 2022
• Hijab Ban: Muslim Girls Sandwiched Between Law And Religion?
• Arab Women In Jerusalem Study Hebrew For A Stronger Future
• Deadly Attacks On Women Rise Sharply In Iraqi Kurdistan
• As School Resumes In Afghanistan, Will All Girls Be Allowed To Go?
• Ukraine Crisis: Claims Mariupol Women And Children Forcibly Sent To Russia
• Hijab Ban: Muslim Girls Sandwiched Between Law And Religion? AIMIM Leader Responds
• 'Jameel Jeddan' Highlights The Experiences Of Saudi Women
• Al-Salem Johnson Empowers Saudi Women In HVAC-R
Compiled by New Age Islam News Bureau
URL: https://www.newageislam.com/islam-women-feminism/hijab-ban-muslim-law-religion/d/126611
--------
Hijab Ban: Muslim Girls Sandwiched Between Law And Religion?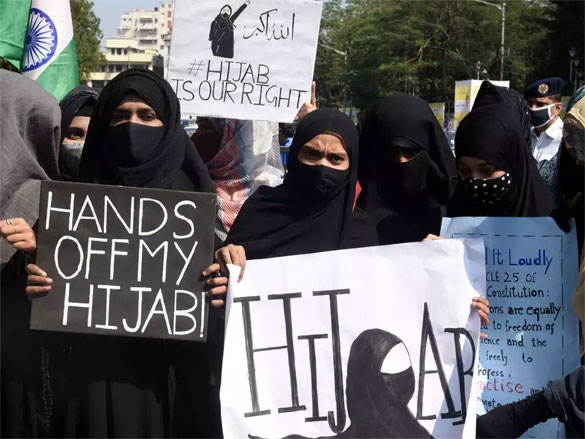 Representative Image
----
Mar 19, 2022
Even as the Karnataka High Court has given its verdict on Hijab ban in state's classrooms, the controversy is far from over. The Muslim girl petitioners from Udupi have now approached Supreme Court challenging the verdict of the Karnataka High Court on Hijab ban. On Thursday, Muslim-dominated areas of Karnataka observed a shutdown to register their protest against the Hijab verdict. All India Majlis-e-Ittehadul Muslimeen (AIMIM) headed by Hyderabad MP Asaduddin Owaisi has come out openly against the Karnataka High Court verdict and has decided to be party in the petition that has been filed before the Supreme Court. Waris Pathan, who is a close aide of Owaisi, speaks to Hindustan Times about the hijab ban and what his party plans to do in this regard. Watch this full interview for more. #TheInterview #Hijab #KarnatakaHighcourt #BJP #AIMIM #WarisPathan #Owaisi
Source: Hindustan Times
https://www.hindustantimes.com/videos/news/hijab-ban-muslim-girls-sandwiched-between-law-religion-aimim-leader-responds-101647690281835.html
-----
Arab Women In Jerusalem Study Hebrew For A Stronger Future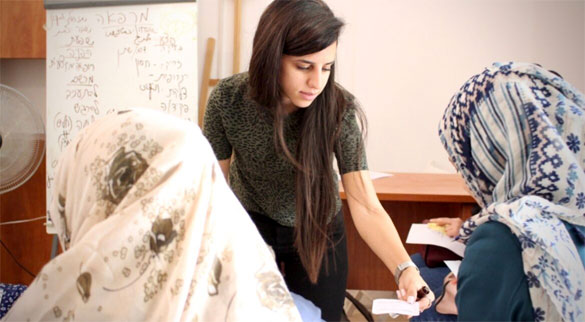 Lissan's 'Women Speaking Hebrew' program empowers women in east Jerusalem and gives them tools for greater independence. Photo courtesy of Lissan
-----
By Naama Barak
MARCH 20, 2022
Almost a decade ago, a group of women from the Arab Jerusalem neighborhood of Isawiya looked for a program where they could study Hebrew. They didn't find anything appropriate and ended up inviting two students from the nearby Hebrew University to teach them.
They enjoyed their studies so much, that a year later they sought to bring aboard all their female friends, relatives and neighbors.
That's how the "Women Speaking Hebrew" program began. Fast forward a few years, and it's now under the umbrella of the nonprofit organization Lissan (Arabic for "language" or "tongue") that promotes gender and social equality in Jerusalem.
"Hebrew is an absolutely vital need in east Jerusalem," explains Lissan CEO Talia Vekshtein. "Jerusalem is a city whose institutes and public bodies operate in Hebrew. To get any service, to speak with doctors at the hospital, to understand the letters from City Hall and to confidently and independently go around the place you have to know the language."
Vekshtein notes that 64 percent of the women in eastern Jerusalem don't speak any Hebrew, compared to only 12 percent of the men. "That keeps them dependent on their partners to carry out basic actions," she says.
Unlike elsewhere in the country, Hebrew wasn't traditionally included in the east Jerusalem school curriculum. Recent years have seen a rise in Hebrew lessons both in schools and by private tutors, but the level isn't always great and private lessons are expensive, especially for one of the poorest communities in Israel.
To empower these women and help them gain more independence, Lissan runs multiple all-women's language courses, makes information regarding issues such as national medical and social security rights more accessible, and offers courses geared at finding employment.
The Women Speaking Hebrew program is now comprised of 40 volunteer teachers, eight coordinators and 400 female students, ranging in level from beginners to advanced.
Nasra Dahdal from the neighborhood of Shuafat tells ISRAEL21c that she has wanted to learn Hebrew for a while. As an Arabic teacher and former employee of the University of Bethlehem, she didn't come across many Hebrew-speaking Israelis.
"To know a person, you should learn their language. Without talking to each other you can't learn about each other, so I thought that it would be good to join and learn," she says.
A few months into the program, she's enjoying the teaching and the level, and as a retiree has plenty of time to focus on her studies.
"Within three months, I read and write very well, although I still have problems with [differentiating between the Hebrew letters] kuf and kaf. But I'm practicing. I'm a teacher myself, and I know how to study," she says.
"This is a very, very good course for me. I'm enjoying it and having fun with the teachers, playing with learning, learning some songs – children's songs, but [it makes] you feel young," she laughs. "I say that no matter how old you are, you need to keep on with life and have to carry on. If not for you then for your children. If you educate your children, you open a window for them. Without the language you can't get around. It's very difficult."
"You receive a document from the bank, from the post office, from different places and you have to find someone to translate. I do Google Translate of course, but it's not really accurate for official documents like taxes, bank statements, HMO statements," she notes. "Everything is in Hebrew. Even when they say on the phone 'Press 1 for Arabic,' you find the recorder telling you many things in Hebrew."
Lissan is supported by philanthropic funds and private donors. Hebrew University provides the program with classrooms and grants credit points to students who volunteer as teachers.
One such student is Avital Ende, who's studying for her master's in art history. Last year she volunteered as a teacher, and this year she's a pedagogical coordinator.
"It's not as if they had complete grasp of the language, found a job or became completely integrated. And yet, I do think that even on the most basic level – of going to the mall and being able to ask where Zara is, or getting on the bus and being capable of asking where to get off, or going to National Insurance offices or to the local HMO, and for the language around you to be less alienating – I find that to be significant," she says.
"I'm originally from Jerusalem myself, and I think there's great value in bringing together [people from] different parts of the city. For me, it's also been an opportunity to meet this large part from which there's great detachment," she adds.
Originally from the Arab town of Iksal in northern Israel, she's now studying chemistry at the Hebrew University and working as a matriculation and psychometric teacher alongside her position at Lissan.
She stresses that learning Hebrew is empowering for women, and that their studies can have far-reaching impact on their surroundings.
"We see the importance of female empowerment and how women are a very important part of Arab society because they form the basis of the home. Most of the work inside the home is done by women, since they raise and educate the children. We want to promote women and empower them and also to give them the chance to go out to work," she explains.
The most important thing she wants the Lissan students to gain, she says, is the confidence to know "there's nothing that can get in the way of achieving their goals. They're not worth less than anyone else in Jerusalem. Whether they're just studying or going out to work, this empowerment is the most important thing for them and their families."
"Our goal is for every woman in east Jerusalem to have the liberty and independence to be in charge of her life, to exercise her rights and to have access to the rights and resources that she deserves," she says.
She looks forward to running Hebrew classes at community centers in east Jerusalem, also for men, in conjunction with City Hall; continuing Hebrew teacher training classes; and resuming Arabic-language courses geared at medical teams that were put on halt during Covid. There's also a pilot project in the works to teach Hebrew to Bedouin women in the Negev desert.
"We aspire to expand into more projects and to reach more women and audiences that require our services," Vekshtein concludes.
Source: israel21c
https://www.israel21c.org/arab-women-in-jerusalem-study-hebrew-for-a-stronger-future/
-----
Deadly attacks on women rise sharply in Iraqi Kurdistan
AFP
March 20, 2022
SULAIMANIYAH: A woman burned alive by her husband, others shot dead by a father or a teenage brother — bloody violence against women has spiked in northern Iraq's Kurdish region.
The autonomous area, keen on projecting an image of a relative haven of stability and tolerance in war-battered Iraq, has seen a sharp rise in femicide, killings motivated by gender.
"In the past two months, there has been an increase in femicide compared to the previous year," said Hiwa Karim Jwamir of the Kurdish General Directorate for Combating Violence Against Women.
In the first two months of 2022, 11 women were killed in autonomous Iraqi Kurdistan, most of them shot, said the official based in Sulaimaniyah.
On a Friday before dawn, a 15-year-old teenager was fatally wounded by six bullets fired by her father in the village of Soran. The man told police his daughter "went out with two boys late at night," according to a domestic violence unit which also records so-called "honor killings."
Across Iraq, gender-based violence rose 125 percent to over 22,000 cases between 2020 and 2021, says the UN children's agency UNICEF, which has also pointed to "a worrisome increase in depression and suicide among women and girls."
For years, activists have denounced violence against women and forced marriages in Iraq, which remains a conservative and patriarchal society.
"Cases of violence against women are on the rise," said long-time Kurdistan activist Bahar Munzir, director of local group the People's Development Organization.
A few days before International Women's Day on March 8, the body of a 20-year-old woman was found on the side of the road in Irbil, the capital of Kurdistan.
While he was still on the run, he spoke by phone to a Kurdish television channel and tried to justify the killing by charging his sister had failed to obey the family.
"Before dying, Shinyar told us the facts," said the bereaved father. "We recorded it, and we submitted the video to the investigators."
Kurdistan's prime minister Masrour Barzani denounced the "horrific case," saying he was "deeply troubled" by the spate of violent attacks against women.
In early February, Dohuk police said they had found the corpse of Doski Azad, a 23-year-old transgender woman who had been ostracized by family members.
"When a woman is killed, the procedures of the security services are not the same as when it's a man, the trial is not the same," said Munzir, the activist.
"Some cases don't even make it to court. They are subject to tribal resolution between the man's family and that of his wife, the victim."
Source: Arab News
https://www.arabnews.com/node/2046082/middle-east
-----
As school resumes in Afghanistan, will all girls be allowed to go?
FATMA TANIS
March 20, 2022
On the first day back to school in September 2021, one month after the Taliban took over Afghanistan, Maryam, a 15-year-old girl from Mazar-i Sharif, remembers the fear and uncertainty she felt on her way to school.
NPR is not using her last name so she can speak freely. She and other students were greeted by Taliban soldiers at the entrance. Later that day, they also came in to the classrooms
"The Taliban entered our class and most of the girls ran to the back of the classroom and turned around. They didn't want to see their faces. They don't want to see the Taliban," Maryam said.
The Taliban came in to classrooms every day to check that all girls were wearing headscarves and gloves to cover their hands. Maryam's assigned seat was in the very front in the first row, and she recalls the anger and defiance she felt each time they barged in. But she refused to leave her seat like her classmates.
Mazar-i Sharif, where she lives, is in Balkh, the only province that has kept schools open for older girls. Several other provinces have had some schools open for girls at different times, but for the vast majority of the country, girls above the 6th grade have not been allowed to go to school.
The inconsistency is due to disagreements about girls' education among the Taliban ranks, and without a cohesive policy on schools, the government in Kabul has left decisions to provincial Taliban officials.
But despite Taliban assurances that all girls will be allowed back in schools, students and teachers are still unclear about what will happen. Afghanistan's Taliban-run Education Ministry did not respond to NPR's repeated requests for comment.
In Kabul, 17-year old Fatima Sadat, who dreams of being a successful psychologist, hasn't been to school in seven painful months, she said. She's been worried about her future, and is constantly asking her teachers for updates on whether she'll be allowed to go.
"We're still not going to know until the morning of the 23rd, whether the schools are actually open or not," said Heather Barr, the Associate Women's Rights Director at Human Rights Watch, who is based in Pakistan and focuses on Afghan women and girls.
"There's the potential for some kind of photo ops at the same time that schools in rural areas may not get the same treatment," Barr said.
When it comes to girls' access to education in Afghanistan, the issue is broader than just schools being open. Class attendance for girls in provinces where schools were open dropped significantly.
Maryam from Mazar-i Sharif noted that of the 40 girls in her class, only 15 showed up at school for the rest of the term after the Taliban takeover. Barr says it's because the daily tensions with the Taliban have had a psychological effect on girls and their families.
"Everybody knows that the Taliban don't really want you to go and that's going to make people feel unsafe and it's going to undermine the efforts of girls who are trying to advocate for themselves and convince their families that they should be allowed to go," she said.
Another aspect is employment. Under the Taliban there are few sectors where women are allowed to work, mainly as teachers and health care providers to other women. And opportunities are few. Barr said that lowers the appeal for families to educate their daughters.
"Why would you study? Why would you and your family make enormous sacrifices for you to be able to complete high school, go on to university? You're not going to have the career that you dreamed of and you're not going to be able to provide the support to your family," she said.
After seven months of Taliban rule, most observers say not much has changed when it comes to their policies on women and girls. Barr notes the Taliban seem to be much more responsive to international pressure. But global attention on Afghanistan has waned.
"We will all be so happy if, God willing, schools reopen again for girls so that we can continue our education for the future of our country, to become successful servants and be able to stand our country back on its feet," she said.
Source: NPR
https://www.npr.org/2022/03/20/1087734423/afghanistan-girls-school-taliban
-----
Ukraine crisis: claims Mariupol women and children forcibly sent to Russia
Justin McCurry
20 Mar 2022
Authorities in the Ukrainian city of Mariupol have said Russian troops have forcibly deported several thousand residents to Russia, as reports emerged that Russian forces bombed an art school in the city where 400 people were taking shelter.
"Over the past week, several thousand Mariupol residents were deported on to the Russian territory," the city council said in a statement on its Telegram channel late on Saturday.
"The occupiers illegally took people from the Livoberezhniy district and from the shelter in the sports club building, where more than a thousand people (mostly women and children) were hiding from the constant bombing."
The claims have not been independently verified, but the council's statement is one of several reports about Mariupol residents being taken to Russia, where authorities have referred to "refugees" arriving from the strategic port.
In a statement posted Sunday on the Telegram channels of Mariupol council and the Ukrainian Verkhovna Rada, the council said women, children and elderly people were inside and "are still under the rubble" of the destroyed G12 art school in Mariupol's Left Bank district. The number of casualties was unclear. The Guardian has not independently verified the claim of the bombing.
The message accused the Russians of committing war crimes, echoing Ukrainian president Volodymyr Zelenskiy's earlier video address, in which he said of the attacks on Mariupol: "To do this to a peaceful city ... is a terror that will be remembered for centuries to come."
Intense street fighting in the city has hampered attempts to free hundreds of survivors trapped for days inside a bombed theatre as Ukrainian forces held out against a larger Russian force inside the strategically important southern port city.
Jakob Kern, the World Food Programme's emergency coordinator, described Russia's tactic of preventing emergency food supplies to Mariupol as "unacceptable in the 21st century". Ukrainian MP Dmytro Gurin described conditions in the city as "medieval".
Meanwhile, China has responded angrily to mounting western pressure to condemn the invasion, saying it stands on the right side of history over the crisis and is in line with the stances of most countries.
"China will never accept any external coercion or pressure, and opposes any unfounded accusations and suspicious against China," the foreign minister, Wang Yi, said on Saturday evening.
China has refused to condemn Russia's action in Ukraine or call it an invasion, although it has expressed concern about the crisis. Beijing has also opposed economic sanctions on Russia over Ukraine, describing them as unilateral and not authorised by the UN security council.
Wang's comments came after the US president, Joe Biden, warned his Chinese counterpart, Xi Jinping, on Friday of "consequences" if Beijing gave material support to Russia's invasion of Ukraine.
"We have always stood for maintaining peace and opposing war," Wang said, reiterating that China will make independent judgments. "China's position is objective and fair, and is in line with the wishes of most countries. Time will prove that China's claims are on the right side of history."
An official in Mariupol accused Russian forces of taking thousands of Ukrainians across the border into Russia, adding he feared they could be used as forced labour, the New York Times reported.
Pyotr Andryushchenko, an assistant to the city's mayor, said Russian forces had taken "between 4,000 and 4,500 Mariupol residents forcibly across the border to Taganrog" – a city in south-western Russia – the newspaper said. The residents had been taken without their passports, Andryushchenko said.
A Ukrainian police officer in Mariupol warned that it had been "wiped off the face of the earth", and pleaded with the US and France to supply the country with a modern air defence system.
In a video appeal from a street strewn with rubble, Michail Vershnin publicly reminded Biden and the French president, Emmanuel Macron, that they had promised assistance "but what we have received is not quite it", and urged them to save the civilian population.
"Children, elderly people are dying. The city is destroyed and it has been wiped off the face of the earth," Vershnin said, speaking in Russian in the video filmed on Friday that has been authenticated by the Associated Press.
He then appealed directly to the US and French leaders. "You have promised that there will be help, give us that help. Biden, Macron, you are great leaders. Be them to the end."
Pressure on China to abandon its neutral stance on Russia's invasion of Ukraine increased after the British prime minister, Boris Johnson, urged leaders in Beijing to get off the fence and join global condemnation of the Russian leader, Vladimir Putin.
"As time goes on and as the number of Russian atrocities mounts up, I think it becomes steadily more difficult and politically embarrassing for people either actively or passively to condone Putin's invasion," Johnson said.
"There are considerable dilemmas now for people who thought they could sit this one out, who thought they could sit on the fence. And, yes, I think that in Beijing you are starting to see some second thoughts."
China, however, has shown no sign of altering its stance. On Saturday its vice foreign minister, Le Yucheng, described western sanctions against Russia as increasingly "outrageous".
Le also acknowledged Moscow's position on Nato, saying the alliance should not further expand eastwards and force a nuclear power like Russia "into a corner".
"The sanctions against Russia are getting more and more outrageous," Le said at security forum in Beijing, adding that Russian citizens were being deprived of overseas assets "for no reason".
"History has proven time and again that sanctions cannot solve problems. Sanctions will only harm ordinary people, impact the economic and financial system ... and worsen the global economy."
The fall of Mariupol, a key connection to the Black Sea, would mark a major advance for the Russians, who are largely bogged down outside major cities more than three weeks into the biggest land invasion in Europe since the second world war.
Russian media have offered a very different explanation for the reported removal of Mariupol residents. The Tass news agency reported on Saturday that 13 buses were moving to Russia, carrying more than 350 people, about 50 of whom were to be sent by rail to the Yaroslavl region and the rest to temporary transition centres in Taganrog, a port city in Russia's Rostov region.
RIA Novosti agency, citing emergency services, reported last week that nearly 300,000 people, including some 60,000 children, had arrived in Russia from the Luhansk and Donbas regions, including from Mariupol, in recent weeks.
Russia's defence ministry said this month that more than 2.6 million people in Ukraine have asked to be evacuated – a claim that has not been independently verified.
Source: The Guardian
https://www.theguardian.com/world/2022/mar/20/ukraine-crisis-claims-mariupol-women-and-children-forcibly-sent-to-russia
-----
Hijab ban: Muslim girls sandwiched between law and religion? AIMIM's Waris Pathan responds
19-03-2022
Even as the Karnataka High Court has given its verdict on Hijab ban in state's classrooms, the controversy is far from over. The Muslim girl petitioners from Udupi have now approached Supreme Court challenging the verdict of the Karnataka High Court on Hijab ban. On Thursday, Muslim-dominated areas of Karnataka observed a shutdown to register their protest against the Hijab verdict. All India Majlis-e-Ittehadul Muslimeen (AIMIM) headed by Hyderabad MP Asaduddin Owaisi has come out openly against the Karnataka High Court verdict and has decided to be party in the petition that has been filed before the Supreme Court. Waris Pathan, who is a close aide of Owaisi, speaks to Hindustan Times about the hijab ban and what his party plans to do in this regard. Watch this full interview for more. #TheInterview #Hijab #KarnatakaHighcourt #BJP #AIMIM #WarisPathan #Owaisi
Source: msn
https://www.msn.com/en-in/autos/other/hijab-ban-muslim-girls-sandwiched-between-law-and-religion-aimims-waris-pathan-responds/vp-AAVgkKW
-----
'Jameel Jeddan' highlights the experiences of Saudi women
NADA AL-TURKI
March 19, 2022
RIYADH: On the evening of Feb. 7, young women all over the country sat in front of their screens watching a peculiar story unfold that sheds light on coming of age, love, coping with trauma, dealing with loss, quirky anime references, outdated taboos, and the acceptance of your own reality.
In a male-dominated industry, Sarah Taibah's "Jameel Jeddan" is the first Saudi show ever starring, written, and created by a Saudi woman.
The plot is anything but typical. Strong-headed Jameel wakes up from a five-year coma and is forced to finish her last year in high school and rejoin a society she no longer associates with. As a coping mechanism, she begins to experience glitches in the form of an animated alternative reality.
While encapsulating the complexity of the Saudi female experience in a mere six episodes seems far from realistic, Taibah comes pretty close. In many ways, "Jameel Jeddan" has proved to be every woman's story.
"I wanted to write about a character that comes back to society after a major thing happens," Taibah told Arab News, adding that the idea for the show was inspired by her time in quarantine.
The show aims to highlight the experience of women living in Saudi Arabia, its success nuanced by the collective effort to bring those experiences to life. "I'm beyond proud that more than 80 percent of the cast are female and almost 50 percent of the crew is female, which is something so rare," said Taibah.
"I'm very blessed to have a forward-thinking director who made sure that all his AD department will be women because he doesn't want to direct women wrongfully or depict them inauthentically," she added.
Anas BaTahaf, the director and editor of the show, and Taibah have collaborated on multiple projects in the past, including the anthology show "No. 2" and BaTahaf's feature film "Faye's Pallet."
"Jameel Jeddan" is, by all means, one of the most unconventional depictions of a woman on Saudi television. While the region's women are often seen as submissive and controlled in the eyes of Western media, the stubborn, deep, and free-spirited main character illustrates the dominant individuality of Saudi women and their diversities.
"It's very fresh. I am, and always will be, one of the supporters of giving women space and a voice. I think this industry has been dominated by males for so long and it's fresh to actually have female voices," BaTahaf told Arab News.
The director said he decided to bring on a female consulting director, Jawaher Al-Amri, to represent Saudi women's experiences authentically.
"No matter how much I tried to understand things from my society, and conversations I come from, eventually it's not the same when you're actually making a decision that will actually affect how you'll direct a certain character ... I care about representation, I care about diversity," he said.
The show also pioneers in the industry as the first Saudi TV series set in an all-girl high school. "I loved the details at the school. They were so realistic, especially for people who studied in Saudi Arabia. Personally, I related so much to Salwa, Jameel's friend, and that made me love and relate to the show so much more," said viewer Doa Al-Saadi, whose fan art was featured on the show's Instagram page.
While the series' target audience is teens and young adults, it has generally been well-received regardless of generational gaps, reaching the list of "Top 10 Most Viewed in Saudi Arabia" on the host platform Shahid.
"I was so surprised by the number of men that really enjoyed the show. They always say that 'Women watch action movies, but men don't watch chick flicks,' but if it's well-produced they're gonna like it. If it's good, it's good," said Taibah.
"It looks at the frustration that Jameel has with the society, without simply blaming every other member of the society. Instead, it looks at the complexity of the situation and how this ongoing conflict between emotions, beliefs, and desires is within reach of the characters surrounding the protagonist," he told Arab News.
"I think this is what made the show successful. Most cinematic works of the same nature as 'Jameel Jeddan' discuss these issues very blatantly and in a tacky manner. As a viewer, you lose the fun in it," said Al-Saadi.
In a way, the show acts as a live documentation of Jeddah. One of the locations on the show, Al-Baik in Al-Rawdah district, has closed down since the show's production.
The show takes you on a tour of the city, creating an authentic experience of what living in Jeddah is like. Taibah and BaTahaf chose to focus less on tourist attractions such as Albalad, and more on the ones common among locals, like the old corniche.
Source: Arab News
https://www.arabnews.com/node/2045891/saudi-arabia
-----
Al-Salem Johnson empowers Saudi women in HVAC-R
ARAB NEWS
March 20, 2022
This year's International Women's Day, observed on March 8, was themed "Break the Bias," envisioning a world free of bias, stereotypes and discrimination. Saudi Arabia is a shining example of a country that has put this theme into practice.
The Kingdom has made great strides in empowering women and increasing their economic participation through a series of legislative reforms and efforts in recent years. Indeed, Saudi women have become effective partners in the nation's development in all fields including economic, social, scientific, cultural and others.
As empowering women is one of the main pillars of Saudi Arabia's Vision 2030, this has contributed to boosting women's participation in all sectors of the labor market and at all functional levels, by providing them opportunities and expanding their work options.
The Kingdom's heating, ventilation, air conditioning and refrigeration sector is one such sector that has welcomed qualified Saudi women over the past few years. These women have proven their mettle and gone on to achieve important leadership positions, thereby opening the door wide for the significant presence of women in this field for years to come.
CEO of Al-Salem Johnson Controls in Saudi Arabia, Egypt, Lebanon and Yemen, Dr. Mohanad Al-Shaikh said the company has been a pioneer in hiring and promoting women in the HVAC-R sector, expanding the scope of women's employment in recent years by 107 percent to include managerial positions as well. At present, the number of female employees at Al-Salem Johnson Controls stands at 118 and leadership positions for women have seen a rise of 10 percent.
Al-Shaikh said that the company started its endeavor of empowering women more than 15 years ago by being keen on attracting women in several departments within the company, including IT, financial affairs, supply chain, data analysis and others. In recent years, a number of Saudi female engineers have joined the company's Young Leaders Program targeting areas that were mostly dominated by their male counterparts in the past.
With the opening of the YORK Manufacturing Complex in King Abdullah Economic City in 2021, the company is training Saudi women in various production lines, enabling them to be directly involved in the manufacturing and assembling of Saudi-made YORK units, and thus play a role in achieving the two major goals of Vision 2030, which include developing the local manufacturing sector and empowering women.
"The Saudi women working in the HVAC-R sector feel happy and proud because they are among the first to be working in this field in the Kingdom," the CEO added.
Source: Arab News
https://www.arabnews.com/node/2045961/corporate-news
-----
URL: https://www.newageislam.com/islam-women-feminism/hijab-ban-muslim-law-religion/d/126611
New Age Islam, Islam Online, Islamic Website, African Muslim News, Arab World News, South Asia News, Indian Muslim News, World Muslim News, Women in Islam, Islamic Feminism, Arab Women, Women In Arab, Islamophobia in America, Muslim Women in West, Islam Women and Feminism