New Age Islam News Bureau
1 Sept 2015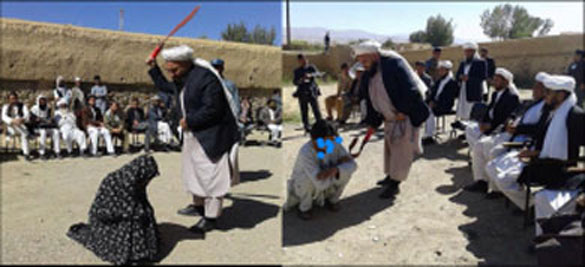 A young boy and girl were publicly punished on adultery charges in Ghor province.
• Pakistani Man Murders Daughter, Lover for 'Honour'
• Young Boy, Girl Publicly Punished On Adultery Charges in Afghanistan
• Car Booking App to Offer Free Rides to Saudi Women Voters
• Bangladesh Female Mps Must Work For Women's Issues
• Saudi Women Can Vote For the First Time Ever — but Only 16 Have Registered to Do So
• Child Abuse Cases in Pakistan Coming Out Of the Closet
Compiled by New Age Islam News Bureau
URL: https://newageislam.com/islam-women-feminism/here's-something-new-arab-world/d/104445
----------
Here's Something New for the Arab World to Grapple With: a Woman Wrestler
Aug. 31, 2015
DUBAI—A wrestler named the Vigilante picked up his tiny opponent and smashed her into the corner of the ring. Then he slammed her limp body onto his knee, tossing it to the mat for the referee to count her out.
A few minutes into her second bout, Joelle, the show's only female pro wrestler, had been vanquished. Disappointed boos rang from the crowd.
Using the pseudonym Joelle Hunter, Gheeda Chamasaddine wears fishnet stockings, black boots and a leather jacket for her partially scripted matches. The 17-year-old student believes she is the first female pro wrestler in the Arab world.
"Some people say, 'She's out there wrestling guys?' " says Ms. Chamasaddine, who stands 5' 4" tall with long curly brown hair. "They are not very cool with that."
Born in Lebanon and raised in Saudi Arabia, Ms. Chamasaddine herself is more than cool with it. In fact, the Muslim teen wants nothing less than to make a name for herself with the big U.S.-based promotional giant World Wrestling Entertainment Inc.
Ms. Chamasaddine is part of the 20-man Dubai Pro Wrestling Academy, a group of small-time smackdown enthusiasts, which includes local Emiratis and expatriates from the Indian subcontinent, Europe and other parts of the Arab world.
Although this form of wrestling, part physical and part theatrical, is called professional, the academy's members aren't paid for fighting and the level of wrestling is considered amateur.
The academy was set up last year by ex-WWE hopeful Caleb Hall, 31, an American who trained as a professional wrestler in Kentucky before moving to Dubai to work in real estate. He is now helping others realize their wrestling dreams.
Joelle's presence at the academy—half-clad and fighting men—is an unusual sight for many of the local men. Although Muslim communities in the cosmopolitan United Arab Emirates interpret Islam in different ways, the local population largely adheres to a conservative form of Sunni Islam.
Three sessions a week, Mr. Hall trains Ms. Chamasaddine and the others. They learn moves such as the back breaker, where fighters slam an opponent on a knee, the arm twister, where an opponent's arm is spun round the wrong way, and the clothes line, a straight arm swung in a face.
Most important, they learn how to time them all together, says Ms. Chamasaddine, so that the choreographed matches—and the violence inflicted upon one another—seems genuine.
So far, Mr. Hall has put on two low-budget shows. The latest was in front of about a hundred people gathered at the HM Fitness gym in Dubai, where Joelle fought the Vigilante.
The night billed six different fights with a 'Battle Royal' as a finale, which included all the wrestlers. In a room at the back, gym-goers pumped iron as wrestlers waited their turn in the ring.
Joelle's opponent, the Vigilante, (otherwise known as 19-year-old Michel Nassif from Lebanon), also isn't bothered about wrestling the opposite sex. He beat her in the first show and was this time more concerned with quieting her growing fan base.
"Just because she's the first female Arab pro wrestler, it's a big deal," the Vigilante says sarcastically. "I want to put a stop to the fact that [people] like her so much."
The show also featured 'The Arabian Knight' (donning a traditional red and white Emirati headdress), Savage Sam (a caveman-like behemoth), and Blue Lightning (a blue version of the red-wearing comic hero, the Flash). All men.
"In WWE, female wrestlers are very common," Mr. Hall says. "But out here in the Gulf, Joelle's the only one. We've been trying for a while to get another girl."
The Dubai Pro Wrestling Academy is riding a wave in popularity in the Middle East, thanks to the large local fan following of the WWE. The wrestling promotion firm has prioritized international expansion and the Gulf region has proved a successful frontier, according to Ed Wells, managing director for international operations at WWE.
Fans packed a stadium in Abu Dhabi earlier this year to see WWE stars John Cena, Dolph Ziggler and Bad News Barrett wrestle for championship titles. Earlier this year, WWE launched 24 hour-programming in the Middle East and is considering Arabic-language content.
Sami Zayn, a Canadian wrestler of Syrian descent, and Egyptian-born Mada Abdelhamid, who was on the reality TV show WWE Tough Enough, have both helped expand the popularity of the franchise in the Arab world, Mr. Wells says.
The WWE says it is aware of the cultural sensitivities of women wrestling in the Gulf. It hasn't put on a show with female wrestlers in the region yet. And while it offered a live show last year in conservative Saudi Arabia, only men were allowed to attend.
In April this year, Doha-based promotions firm Qatar Pro Wrestling, or QPW, also organized a three-day event that showcased ex-WWE pro wrestlers. Bilal Taha, business development director for QPW, says he decided not to have female wrestlers to abide by the "traditional culture and religion" of Qatar, which is less liberal than Dubai.
"We thought let's be on the safe side," Mr. Taha added.
Ms. Chamasaddine's mother, Nihaya Haimour had hoped her only child would also stay on the safe side of Arabian culture. Coming from beauty-conscious Lebanon, single-parent Ms. Haimour says she had "dreamed of having a girlie girl."
Instead, her daughter grew up idolizing the redheaded Irish WWE star named Sheamus. Today, they regularly sit in and watch WWE together, and will have heated debates about which wrestler is the best.
"This is a dream for her," says Ms. Haimour, a nurse.
A few moments ahead of her second professional fight against the Vigilante, Joelle slipped between the ring's ropes in her trademark tights and leather. She threw her hands in the air and screamed at the audience: "Come on!"
The crowd whooped.
Initially gaining the upper hand, Joelle twisted the Vigilante's arm and strained it so badly, the referee had to give the wrestler a break. Fired up, Joelle slapped at her opponent like a girl attacking a bully in the school playground.
But soon enough, the Vigilante flexed his muscle: Picking up Joelle, pulling her hair and eventually pinning her down.
"I came out here and I gave it my best shot," Joelle said between photographs with fans after the show. "I've proven I can wrestle men."
Write to Rory Jones at rory.jones@wsj.com
http://www.wsj.com/articles/heres-something-new-for-the-arab-world-to-grapple-with-a-woman-wrestler-1440979232
----------
Pakistani Man Murders Daughter, Lover for 'Honour'
September 01, 2015
SARGODHA
A man yesterday gunned down his daughter and her alleged paramour in the 'name of honour' on Monday.
The incident occurred in village 127 South in the Sillanwali police precincts.
The man killed his 17-year-old daughter along with a 20-year-old youth as he suspected them to have developed illicit relations. The bodies were shifted to morgue of the Tehsil Headquarters Hospital for autopsy. The police have registered a case against four accused and arrested one Zakir Hussain, uncle of deceased girl.
http://nation.com.pk/national/01-Sep-2015/man-murders-daughter-lover-for-honour
----------
Young Boy, Girl Publicly Punished On Adultery Charges in Afghanistan
By ZABIHULLAH MOOSAKHAIL - Tue Sep 01 2015
The couple received 100 lashes each by the order of primary court after they were held guilty of having illegal contacts with each other.
Ahmad, 21, and Zarmina, 22, were arrested from Feroz Koh city by security personnel and put in jail about 20 days before.
After spending several days and nights behind the bars, the Primary Court announced its decision to punish them in the yard of the court.
Local officials, community elders and other residence were also available while the couple was receiving punishment.
Atta Mohammad Farouqi, judge of the primary court said that Ahmad and Zarmina confessed to their crimes after which they were sentenced to lashes.
He said this punishment was announced to them based on the law.
Ahmad and Zarmina were released from the prison after receiving their punishment.
Farouqi said that Zarmina was transferred to a safe house for her own safety.
According to the court, Ahmad and Zarmina have a child as the result of their illegal contacts.
http://www.khaama.com/young-boy-girl-receive-100-lashes-each-on-adultery-charges-in-ghor-3857
----------
Car booking app to offer free rides to Saudi women voters
31 August 2015
It all started when Saudi-based journalist Ahmed Omran suggested on Twitter that new-generation car booking services Uber and Careem offer free rides for women wishing to vote in the kingdom's upcoming municipal elections.
The elections, which will be held in December, are the first allowing Saudi women to both run as candidates and vote.
Careem, which operates in 18 cities in the Middle East, including Saudi, decided it would take up Omran's idea.
"The idea to tweet about this came after a female friend of mine complained that she can't register to vote because she doesn't have a driver, and she wondered if the government would reimburse her if she used one of these apps," said Omran, who works as the U.S. paper Wall Street Journal's Saudi correspondent.
"I posted the tweet, and both Uber and Careem quickly responded with positive replies," he added.
According to Abdulla Elyas, one of Careem's founders, the firm had already been mulling the idea.
"We were actually thinking of launching this campaign before Ahmed's tweet came in," said Elyas. "There is a need for females to get easy travel access when they go to vote."
Ongoing debate
In Saudi Arabia, no legal code explicitly bans women from driving. However, authorities do not issue any licenses to women, who mostly rely on personal male drivers or relatives to get around.
"We want to be a part of the progressiveness surrounding Saudi women and the new developments that are helping them. So we're telling them that we will take care of their rides if they take care of their rights," said Elyas.
While women's rights groups and initiatives have tried for years to convince authorities to lift the ban, Careem does not claim to be endorsing an activist stance. Instead, the booking service is merely "trying to do their best" for their female customers.
"The debate on women drivers has been a critically discussed topic for many years now and I don't think our opinion will change or count as much. But what we can is act in a constructive manner and believe that women voting and getting elected is a first step," Elyas said.
"And what we can help in order for that to happen is offering the free rides to ensure Saudi women get to the polls on Election Day."
http://english.alarabiya.net/en/business/aviation-and-transport/2015/08/31/Car-booking-app-to-offer-free-rides-to-Saudi-women-voters.html
----------
Bangladesh Female Mps Must Work For Women's Issues
September 01, 2015
Female lawmakers of the ninth and 10th parliament yesterday emphasised the need to work together on women's issues irrespective of their political identities.
Kazi Sufia Akhter, secretary of Bangladesh Mahila Parishad (BMP), which organised a meeting meeting on women's political empowerment with regards to their participation in the national parliament and political parties at the capital's Cirdap, stressed the need for such a caucus that would push women's agenda in the parliament.
Begum Fazilatunnesa Bappi, member of the 10th parliament, said, "I will take the initiative to form a women's caucus after meeting with the honourable speaker of the parliament in the upcoming parliamentary session that starts on September 1."
BMP President Ayesha Khanom said even though women's political leadership exists in South Asia, its permanence needs to be discussed.
Rasheda Begum Hira, former BNP lawmaker, said, "Political parties do not play a positive role in sending female party activists to the parliament."
If a woman cannot hold an important position including that of president, general secretary or organising secretary in the district units, then it becomes difficult for her to gain popular support, she said.
Referring to the Representation of the People (RPO) Act 2009, which requires political parties to ensure that 33 percent of their central committee and other committees are comprised of women, she said only being a mere member of a committee would not help in empowerment.
In a concept paper BMP presented 20 recommendations to the government, political parties, election commission and women parliamentarians for women's political empowerment.
Increasing the reserved seat for women to one third of the total seats in the parliament and electing MPs through direct election, instead of the current system of selection by political parties, ensuring that political parties provide one-third of their nominations to women in the next election and being vocal about violence against women are among the recommendations.
http://www.thedailystar.net/city/female-mps-must-work-womens-issues-136036
----------
Saudi Women Can Vote For the First Time Ever — But Only 16 Have Registered to Do So
August 31, 2015
Despite initial excitement for what appeared to be a step forward for women's rights in Saudi Arabia, the registration of women to vote in upcoming elections for the first time ever has so far been slow in the conservative kingdom.
Local reporting indicates that just 16 women have registered to vote in three governorates since they were able to do so starting on August 22. The chairperson for the women's election circuit in the district of Al-Darb, Shaha Muhammad Asiri, said over the weekend that only five women registered in that district due to logistical difficulties and lack of awareness, according to the Saudi Gazette.
Registration for candidates began on Sunday, and it's possible that the low numbers are just a momentary speed bump. Fawziya Al-Hani, an activist who has helped promote the registration drive through a Facebook campaign called "Baladi" ("My Country"), told Arab News that as many as 80 women are expected to run in the country's various administrative provinces.
As more women register their candidacy as well as their ability to vote for themselves and others, they will hopefully lend increasing visibility to the cause of women's suffrage in Saudi Arabia while spurring supporters to get involved.
"Fighting an election requires courage because women will be exposed to the public, in addition to the risk of losing money in the elections if they lose," Al-Hani said. The Baladi initiative involves bringing in trainers from places like Jordan and Lebanon to assist female candidates and voters on how to manage campaigns.
Related: Saudi Women Are Registering to Vote For the First Time in History
Ali Alyami, the director of the Center for Democracy and Human Rights in Saudi Arabia, told VICE News that he the initial low voter turnout was likely due to the fact that it is still relatively early in voter registration and that he expects to see greater numbers as the deadline gets closer and word spreads throughout the country.
Alyami pointed out that the registration and voting process is done in stages and once it gets outside of the major cities, where the few reported instances of female registration have taken place, more women are likely to sign up.
The late King Abdullah announced four years ago that women would be allowed to vote and run in the municipal elections slated to take place this December, a development that was applaudedby those advocating for improved women's rights in the country.
Women "are seeking any venue to exercise their rights, so I would expect at least 60 to 70 percent of Saudi women, especially the younger generation, will turn out to vote if they are allowed to," Ali Alyami, the Director of the Center for Democracy and Human Rights in Saudi Arabia, told VICE News earlier this month.
The low turnout in female voter registration is unsurprising, said Adam Coogle, a Saudi Arabia researcher for Human Rights Watch, who pointed out that elections are essentially meaningless to Saudi citizens, either male or female. The average Saudi is probably unaware or does not care about the municipal councils, which are only responsible for local, small-scale administration. All of the real political decisions are made from the top of the hierarchy, for which there are no elections.
"I think the step that was taken to allow women to vote was symbolically important," Coogle told VICE News. Though he doesn't think it meaningfully changes the reality on the ground for Saudi women, Coogle agreed that it is too early to make a final judgment. "From piecemeal evidence it appears that the response is underwhelming, but I don't think we have a clear idea of what has gone on nationwide."
There are major logistical constraints that prevent women from participating in elections, signaling the deeper inequality that remains between men and women in the country. To register to vote, Saudis are required to provide a photo ID and proof of residency, but most Saudi women can't supply either of these. Legal housing documents are almost never in a women's name, and they are not permitted to obtain a driver's license. Saudi women can theoretically obtain personal ID cards on their own, but it is difficult to do so in reality without the approval of men.
Related: Saudi Women Record Themselves Behind the Wheel to Protest Ban on Female Motorists
These challenges illustrate how Saudi women are essentially kept under the control of men. Apart from cloaking themselves according to a strict dress code, they must be escorted by a male guardian called a "mahram" whenever the leave the house, and cannot get a passport or job without the permission of their husband or a male relative.
Coogle described the low voter turnout as "the nefarious effect of the male guardianship system itself." As long as Saudi women do not have control over their own movement, allowing them to vote in municipal elections is largely an empty gesture. If the country really wanted to establish substantive reforms, they would allow women to drive themselves to the polls, he noted.
"Generally speaking, if a male guardian does not want his female relative he is responsible for participating" in the election, Coogle said, "they're going to have a real hard time voting."
Nevertheless, advocates of democracy in Saudi Arabia caution that the significance of women asserting their right to vote in such a restrictive country should not be underestimated.
"The Saudi system, regardless of what they say, is very sensitive to global pressures," Alyami said. "It is the women who are actually leading the pack in terms of promoting reforms in the country… they are the most critical of the religious establishment and of their disenfranchisement."
There are a total of 1,263 polling stations across the country, 424 of which are segregated for women only. Voter registration lasts until September 14, while candidates have until September 17 to enroll themselves.
https://news.vice.com/article/saudi-women-can-vote-for-the-first-time-ever-but-only-16-have-registered-to-do-so
----------
Child Abuse Cases In Pakistan Coming Out Of The Closet
September 01, 2015
RAWALPINDI - There is no let-up in child abuse scandals in Rawalpindi division, as two more teenagers were sodomized by six men in Kallar Syedan and Chitti Hattian areas in separate incidents, reliable sources disclosed to The Nation yesterday.
According to details, three men namely Mudassir, Shahban and Shahid took a teenage boy Adnan to nearby fields in Kishan Dhoot area (Kallar Syedan) and sodomized him. Similarly, Amar Amin, 17, was sexually molested by three men including Ibrahim and Tariq in a house located at Chitti Hattian area. The accused filmed the satanic act through their mobile phones and blackmailed the victim, sources added.
They said that the station house officers of police stations concerned, who were earlier using delaying tactics to hush up the issues, got registered cases only after strict action on part of Regional Police Officer (RPO) Wisal Fakhar Sultan Raja. The police brought Amar to Benazir Bhutto Hospital for medico-legal report. A constable of PS Waris Khan has also been suspended on account of hiding Chitti Hattian child abuse scandal from police high-ups and for humiliating the victim family.
According to sources, a villager Sabir Hussain son of Jahandad appeared before police station Kallar Syedan officials and tabled an application in which he mentioned that his son Adnan Hussain left his house for meeting his uncle who lived nearby on August 29, 2015. He said the boy did not return home and they started searching him but all in vain. "When we found Adnan at 11:00pm, he was weeping bitterly. Upon inquiring, Adnan told me that three men namely Mudasir, Shahban and Shahid picked him up while he was coming back to home and took him to nearby fields and molested him," he stated. The father requested police to register a case against the molesters. Taking action, police lodged the first information report (FIR) under section 377 of Pakistan Penal Court and started investigation.
An official of police station Kallar Syedan, when contacted, confirmed the development. He said that police have been trying to arrest the accused.
In the second incident, a 17-year-old boy Amar Amin was sodomized by a gang of three men in a house in Chitti Hattian area. The accused filmed the satanic act through their mobile phones. Later, the accused started blackmailing the teenager by hurling threats that they would show the video to public if he would refuse to have sex with them, sources asserted.
Sources said that a citizen namely Shan Ali lodged a complaint with police station Waris Khan that Tariq, Ibrahim and their unknown accomplice picked up his nephew namely Amar Amin from Committee Chowk on August 14 and took him to a house in Chitti Hattian. Later, they molested Amar and recorded the objectionable video in their mobile phones, he said. He added that some days after, the boy told the tragic ordeal to his mother who informed his uncle about the saga. He said that the accused have been blackmailing the boy by showing video to public and forcing him to have sex with them again. He sought legal action against the accused.
Interestingly, sources said, a constable Usman, who is said to be a blue-eyed of the SHO, started misguiding the victim family and hid the application from SHO apparently after taking bribe from the accused. Later, RPO Wisal Fakhar Sultan Raja, while taking notice on a news item, ordered Acting SP Rawal Division Sardar Babar Mumtaz to look into the matter personally and provide the victim family with justice.
Sardar Babar Mumtaz called on the victim family; listened to their complaint and ordered SHO PS Waris Khan to lodge a case and arrest the accused.
The acting SP also suspended Usman on account of playing foul game with the victims and hiding the case from seniors.
"I am personally looking into the matter and have suspended Usman. Two of the accused, namely Arsalan and Ibrahim have been arrested," Sardar Babar Mumtaz told The Nation, when contacted. He added that FIR was registered under section 377 of PPC.
http://nation.com.pk/islamabad/01-Sep-2015/child-abuse-cases-coming-out-of-the-closet
----------
URL: https://newageislam.com/islam-women-feminism/here's-something-new-arab-world/d/104445