New Age Islam News Bureau
12 Jan 2019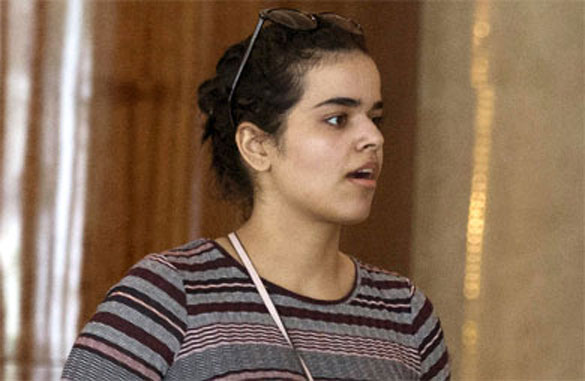 Rahaf Mohammed Alqunun is said to have boarded a plane Friday in Bangkok en route to Canada, where she has been granted asylum.
SAKCHAI LALIT / AP
------
• Canada Grants Asylum to Saudi Girl Who Fled Abuse, Oppression
• Pakistan Woman Takes 32 Years to Create This Quran
• Khadijah Safari, a Islam Convert Teaches Women Self Defence
• Sindh Has Highest Percentage of Child Marriages: WHO
• How One Woman Hopes To Revive the Literature Scene in Iraq
• Woman Public Prosecutor Shot Dead In Hafizabad, Pakistan
• Nigerian Judge For Out Of Court Settlement on Hijab
Compiled by New Age Islam News Bureau
URL: https://www.newageislam.com/islam-women-feminism/hefazat-e-islam-chief-speaks/d/117439
--------
Hefazat-e-Islam Chief Speaks Against Girls' Education
Jan 12, 2019
Hefazat-e-Islam chief Shah Ahmad Shafi has asked the parents not to send their daughters to educational institutions.
The Hefazat Ameer also took oath from the participants of a Chattogram Mahfil (religious gathering) not to educate their girls up above fourth or fifth grade on Friday.
Shafi was speaking in an annual Mahfil of Al-Jamiatul Ahlia Darul Ulum Muinul Islam Madrasa of Hathazari where he is the director general.
"Don't send your girls to schools-colleges. You can educate them up to fourth or fifth grade so that they can calculate the money and send letter to their husband." said Hefazat chief.
He then urged the participants to take the vow saying, "If you educate them up to eight, ninth or tenth grade, to MA or BA, they would no more remain yours. Somebody else would take them away. Don't you see incidents like this on newspapers?
In 2013, the Hefazat chief sparked controversies by comparing the girls with 'tamarind'.
https://en.prothomalo.com/bangladesh/news/189536/Hefazat-chief-stands-against-women-education
--------
Canada grants asylum to Saudi girl who fled abuse, oppression
Jan 12, 2019
The Canadian government has granted asylum to an 18-year-old Saudi girl who feared death from her family if she were deported to the Arab country from Thailand.
The girl had barricaded herself in a Bangkok hotel room after escaping what she called abuse and oppression by family members.
Alqunun has boarded a plane to Seoul in Bangkok and was expected to fly to Canada from there, Thai immigration police told The Associated Press on Friday.
"The UNHCR has made a request of Canada that we accept Ms. Alqunun as a refugee, and we have accepted the UN's request that we grant her asylum," Prime Minister Justin Trudeau told reporters Friday, referring to the office of the UN High Commissioner for Refugees.
When she arrived in Bangkok, Thai agents stopped Alqunun at the airport and seized her passport. She hid in a transit lounge hotel room and began tweeting in Arabic about her plight.
"I'm the girl who ran away to Thailand. I'm now in real danger because the Saudi embassy is trying to force me to return," she wrote in her first tweet.
She said she suffered physical abuse at the hands of family members and alleged they had tried to marry her off against her will. Alqunun's family so far hasn't commented publicly on the accusations.
Her tweets attracted the attention of the UN, the Australian government and reporters. The UNHCR granted her refugee status, and Australia's Department of Home Affairs told NPR that Australia would "consider this referral [for refugee resettlement] in the usual way, as it does with all UNHCR referrals."
Australia had said it was considering whether to offer her asylum, but a UNHCR spokesman hinted in an email to NPR that Ottawa moved more quickly.
https://www.presstv.com/Detail/2019/01/12/585541/Alqunun-Canada-asylum-Thailand-Saudi-Arabia-oppression
--------
Pakistan Woman Takes 32 Years to Create This Quran
Ashraf Wani
January 11, 2019
A woman from Pakistan, Naseem Akhtar, has produced a creative Quran. The religious text of Islam was written by Akhtar using needles and threads.
Akhtar hails from Gujarat in Pakistan. She was 30 years old when when she took up the production of this novel Quran. She completed the Quran in January, 2019. It took her 32 years to make this magnificent copy of Quran.
Naseem Akhtar, for the first 15 years, spent her days writing the Quran on pieces of White Irish fabric by hand. Another 17 years were then spent to create these words using needles and black thread.
Around 300 metres of cloth and close to 25,000 metres of thread were used to create the Quran. The compilation consists of 10 bindings; each contains three paragraphs of Quran.
These 10 bindings weigh 55 kilograms. The Quran created by Naseem Akhtar using needles and thread is put out for display at The Holy Quran Exhibition in Medina, Saudi Arabia (Kingdom of Saudi Arabia: KSA).
https://www.indiatoday.in/world/story/quran-needles-thread-exhibition-medina-saudi-pakistan-gujarat-1428959-2019-01-11
---------
Khadijah Safari, a Islam convert teaches women self defence
Jan 11, 2019
WASHINGTON: In a society increasingly concerned by Islamophobic hate crimes and terrorism, hijab-wearing mum-of-four aims to empower Muslim and non-Muslim women by training them in self-defence.
Khadijah Safari, from Milton Keynes converted to Islam in 2009 at the age of 27. She gave up her job as a graphic designer to get a black belt in Muay Thai and ended up marrying her instructor, a former world champion cage fighter.
Speaking to MailOnline, she said to have a 'stereo-typically negative view' about Islam. However, years later, she got a copy of Holy Quran from one of her friend and said, 'that was when everything started to piece together perfectly'.
"There is a lot of negative stuff in the media about Islam and women – there is this idea that Muslim women are oppressed. But a lot of that comes from the culture of countries where the majority of people are Muslim – not Islam itself."
The now 36-year-old has gone into business with her husband and the couple decided to teach separate classes for men and women.
"We were teaching in mixed classes and I didn't feel comfortable with that anymore and I had made the decision to wear hijab and I didn't want to train wearing it, I wanted to be able to remove it and train as I was before. So we set up mens only and womens only classes which was a huge risk because he had a lot of high profile clients which were women… but we did it, we went into it with full passion and it was successful from the first course that we launched," reported iTV.
Segregation of men and women only leads to integrating Muslim women more with non-Muslim women.
"I'm not segregating anything, I'm uniting and I'm integrating women into society and non-Muslim women and women from all different faiths and backgrounds are learning about each other… for me, when I was at university, I would never have made friends with a woman who wore hijab because I thought she would be very different to who I was and now women are learning, we're all the same."
Khadijah says that the self-defence gives women strength in all aspects of their lives.
"It's now become something bigger than I ever thought it would be because of what the women get out of it that train with us. When women come and they say this training saved me, this training was therapy for me, this training has got me through some of my hardest times, it's my responsibility now to spread that as much as I can and to give more women the opportunity to have that in their life."
https://www.siasat.com/news/khadijah-safari-islam-convert-teaches-women-self-defence-1454515/
--------
Sindh Has Highest Percentage of Child Marriages: WHO
Jan 12, 2019
World Health Organisation recently published a study stating that "more than 140 million underage girls are likely to get married between the years 2011-2020".
The report titled "Demographics of child marriages in Pakistan" also stated that "in Sindh, the percentage of child marriage remained high with 72 per cent girls and 25 per cent boys becoming victims to this menace, however, the highest number of girl child marriages were recorded in the tribal areas where 99 per cent of the girls are married under this unlawful traditional practice".
It further added that child marriage is still a serious issue in Pakistan as 21 per cent of the girls are getting married before the age of 18, especially in rural areas.
"The formal marriage or informal marriage occurs before the age of 18 throughout the world," the report said, adding that "however, being forced into marriage before one was able to give consent, violates the basic human rights of both boys and girls".
https://www.pakistantoday.com.pk/2019/01/12/sindh-has-highest-percentage-of-child-marriages-who/
--------
How One Woman Hopes To Revive the Literature Scene in Iraq
11 January, 2018
On Baghdad's famous al-Mutanabbi Street, 30-year-old bookstore owner Bara'a al-Bayati welcomes her customers with a big smile. She is the first female to open her own bookshop on the renowned street, which attracts many curious and passionate readers.
Considered one of the oldest places in Baghdad that dates back centuries with elaborate buildings from the Ottoman Empire era, al-Mutanabbi Street boasts several bookstores and is the perfect home for avid book lovers and poets. The street, filled with bookstores and outdoor book stalls, was named after the 10th-century classical Iraqi poet al-Mutanabbi and is often referred to as the heart and soul of the Baghdad literacy and intellectual community.
"I love al-Mutanabbi Street because it makes me feel like I'm in another era in Baghdad, like the 1960's or 1970's. It reminds me of an old Baghdad, the one my mother and father told me stories about," Bara'a begins. "You can definitely feel the love of culture on this street."
But a 2007 terrorist attack left locals in shock after a powerful suicide car bomb hit the market, killing at least 20 people and wounding more than 65. The area was then closed for more than a year.
"This did not destroy our spirit," Bara'a explains. "When the street reopened, it became even better than before. Yes, we live in sorrow for those innocent people who were killed in this tragedy, and despite the destruction of bookstores and cafes, the street was not left abandoned. Instead, we started again. And this to me is the biggest point of culture, to start again."
Bara'a is part of this vital reinforcement of the city's cultural roots and is helping to revive the love for literature.
"I have been passionate about literature since I was a child and wanted to become a journalist. But as I was growing up, the situation in Iraq was becoming even more difficult and dangerous. It was the beginning of the civil war in 2006, with sectarian violence high, and the security instability meant we could not move around freely.
"My father was against me taking on a journalism career as he was afraid it would be a dangerous career for me in the country, especially as a woman. He was simply afraid. In the end, I decided to study engineering and graduated in 2011."
However, Bara'a struggled to find a job in the field, despite her degree. She would then find herself on al-Mutanabbi Street, browsing the bookstores and just enjoying the ambience of the area.
"By chance I stopped at the bookshop Dar al-Sotoor and asked them if there was any voluntary work available. I then took on a social media role where I managed their online presence. After a couple of years, I felt it was the right time for me to go independent, so I found my own shop and opened up my own publishing house."
And so, she opened Dar Maktabe Bara'a, (Bara'a's Publishing House). Dar Maktabe Bara'a has so far published 15 books, including novels and law books, and Bara'a says she hopes to publish another 15 titles this year.
However, her idea to work as a bookseller in al-Mutanabbi Street, was not just down to her love for literature, but also down to her desire to give a message to the society, especially to the youth: "If there is something you really want to do, don't wait, pursue your passion."
She further hopes this message reaches to women.
"I wish all women in Iraq are given the opportunity to realise their goals and wishes. Women make a society and it is important to give them the chance to realise their potential and make it grow."
A spate of violence against women has gripped Iraq recently. Protests took place late last year in Baghdad condemning the ongoing violence against women, as the number of females being killed in Iraq, under the guise of honour, grows. Every year up to hundreds of women in Iraq are killed by men belonging to tribes. They accuse women of immorality and they proudly claim to possess them and their honour, while impeding them from any decision in life or free movement.
"This all needs to end," Bara'a urges. "And violence against women is not only killings, this can be in many forms, from forcing a woman to stay home and not get an education to child marriages."
This is why she is pushing the need for education for more women. "Educating women means educating a whole future generation in Iraq," she adds.
"Giving better access to education gives people a better access to culture, which plays such a huge role in our society. If the next generation is more cultured, it can make a change in the country.
"I consider the new future generation to be the foundation of society," Bara'a continues. "I think Iraq can then be the country it once was. There is space for women to be engineers, architects, lawyers, doctors – this is not something strange or new, it was like this before and we want it to be like this again."
In the same moment, while The New Arab was talking to Bara'a, a little girl runs into her store and comes and hugs her.
"This is binti," Bara'a says. "Her name is Sara, but I like to call her binti, 'my daughter'. She draws and acts – she is an artist already!"
The two take a photo together. "You see, I became very close to people," she tells The New Arab.
"My work is to welcome people. I give a reason to my customers to come and buy from Bara'a and not from any other bookshops. I welcome them, I advise them, I wait for them: readers, young readers, everyone is welcome. Children come to my shop with their parents because they know I have special stories for them."
Her passion for culture in her country is evident and highlighted through her zealous persona. It is not just the love for Iraq that pushes her to do what she does, but also the drive to see her fellow Iraqis succeed.
"Even if it is just a small project, you should go for it," Bara'a advises. "If I am able to fulfil my dream, then anyone here can."
https://www.alaraby.co.uk/english/society/2019/1/11/meeting-baraa-baghdads-first-female-bookseller-in-al-mutanabbi-street
--------
Woman Public Prosecutor Shot Dead In Hafizabad, Pakistan
January 12, 2019
GUJRAT: Assailants shot dead a public prosecutor of Hafizabad in front of her house on Friday morning.
Police said Assistant District Public Prosecutor Naila Amjad would routinely go to a gym along with her husband Muhammad Zaman, a teacher at a private school. On Friday, they said, the couple left the house and the husband went in an adjacent street to bring his car when two motorcyclists shot at her and escaped.
Critically injured Naila Amjad breathed her last while being shifted to the District Headquarters Hospital of Hafizabad where doctors later conducted autopsy of the body.
Police registered a case against two unidentified suspects under sections 302 and 34 of Pakistan Penal Code on the report of Sajid Ali Awan, the brother of the deceased.
https://www.dawn.com/news/1457065/woman-public-prosecutor-shot-dead-in-hafizabad
--------
Nigerian Judge For Out Of Court Settlement on Hijab
11.01.2019
By Rafiu Ajakaye
LAGOS Nigeria
A Nigerian high court judge has called on the Muslim community and a secondary school to settle the controversy over the hijab (head covering) out of court in the "interest of national peace and cohesion."
The judge, Laniran Akintola, told counsel to the parties that both sides should consider withdrawing the case to avoid "further dividing the country" along religious lines.
Last year, nearly a dozen Muslim girls were barred from wearing their religious head covering in the International School Ibadan (ISI) in southwest Ibadan that led to protests and the court case initiated by some parents of the schoolgirls.
"It will be appropriate if you resolve this matter amicably[…]," Akintola said.
The hearing has been adjourned until Feb. 20.
In 2016, Nigeria's appeals court ruled that the Muslim head covering qualifies as a fundamental human rights that is protected by the constitution and struck down a ban on it by the southwest Lagos state in its public schools.
https://www.aa.com.tr/en/africa/nigerian-judge-for-out-of-court-settlement-on-hijab-/1362402
--------
URL: https://www.newageislam.com/islam-women-feminism/hefazat-e-islam-chief-speaks/d/117439
New Age Islam, Islam Online, Islamic Website, African Muslim News, Arab World News, South Asia News, Indian Muslim News, World Muslim News, Women in Islam, Islamic Feminism, Arab Women, Women In Arab, Islamophobia in America, Muslim Women in West, Islam Women and Feminism